Customer Service Automation: Full Guide to Get Started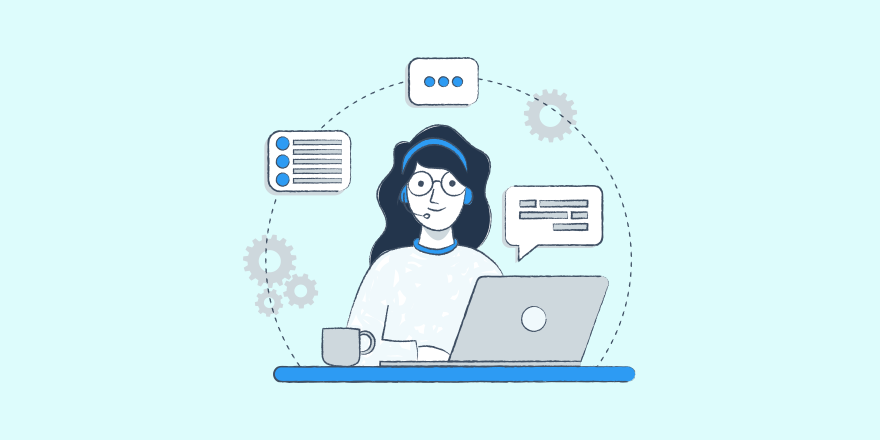 Interested in getting started with customer service automation but not sure where to begin?
Customer support automation is a great way to offer faster help for your customers while also reducing the burden on your human support staff.
However, if you want to get the most value from your automation strategies, it's important to do things right.
In this complete guide, you're going to learn everything that you need to know about customer service automation, including the following:
What is customer service automation?
Advantages and disadvantages of customer service automation
Five customer service automation examples to inspire you
Best practices for automating customer support
The best customer service automation tools to start implementing these strategies
What Is Customer Service Automation?
Customer service automation is a set of strategies and tools that you implement to try to solve your customers' issues with minimal human involvement. Or, in some cases, with zero human involvement.
This lets you offer faster responses to your customers (instant in many cases) while also saving on the human resources that are needed to respond to these requests.
That latter point means that you can reduce your support costs while also freeing up your support staff to help with more high-level issues that you might not be able to automate yet.
There are a number of different strategies for customer service automation, which we'll get into later in this post.
A few common examples would be automated chatbots, self-service knowledge base content/documentation, smart automated routing for support requests, interactive voice response for phone calls, and more.
Pros and Cons of Customer Service Automation
While customer service automation is a positive strategy to implement for your business, there are both advantages and disadvantages to using customer service automation.
Let's go through both…
Advantages of Automated Customer Service
Faster responses.
24/7/365 support.
Reduced costs.
Human support can focus on high-level issues.
Minimizes human error.
Match consumer intent.
Faster responses
By automating your service requests, you can eliminate or reduce waiting times and get customers the help they need much faster. For many low-level issues, you can even offer instant response times.
24/7/365 support
In addition to faster response times, you can also offer consistent support responses no matter what time it is. Automatic tools don't need to sleep or take off for holidays – they're always working!
Reduced costs
While you might need to pay for customer service automation tools, those investments usually offer a big ROI because you'll need fewer human employees to deliver the same level of support.
Human support can focus on high-level issues
By automating as many low-level customer support requests as possible, your customer service team can focus exclusively on helping with more complex, high-level issues.
Minimizes human error
No matter how well-trained your support staff are, there's always the chance for human error. With automation, you can eliminate these types of errors to always offer accurate information and support.
Match consumer intent
While you might expect that customers would always prefer human support, a lot of younger people actually prefer the automated, self-service approach.
Disadvantages of Automated Customer Service
No human connection.
There are always edge cases.
Requires new employee workflows.
No human connection
Because you're automating key tasks, customers might feel like they have no human connection with your business. This can be especially problematic for expensive, high-ticket products/services where customers expect more of a white-glove experience.
You can fix this by still giving customers options to talk to a human if needed.
There are always edge cases
No matter how well you automate things, there will always be edge cases that don't fit into your automation strategies. You need to set up your automation in a way that it can still handle these situations, typically by providing an option to re-route to human customer support when needed.
Requires new employee workflows
This isn't a long-term con…but if you've already built up your customer service workflows, there might be an adjustment period while your employees get used to the new tools and workflows.
Five Customer Service Automation Examples: How to Automate Support
There are a lot of different strategies that you can use for customer support automation. The exact strategies that you implement will depend on your customer base and which customer support channels you operate.
Here are some customer service automation examples for different strategies that you can implement:
Self-service knowledge bases and documentation
Standardized email responses (canned responses)
Live chat, chatbots, and other virtual assistants
Helpdesk with optimized tickets and smart routing
Interactive Voice Responsive (IVR) for phone support
Self-Service Knowledge Bases and Documentation
Self-service knowledge bases are one of the most common and useful examples of customer support automation.
By creating quality help content that solves common issues, your customers can help themselves when they run into any issues, which eliminates the need for them to reach out to your human customer support channels.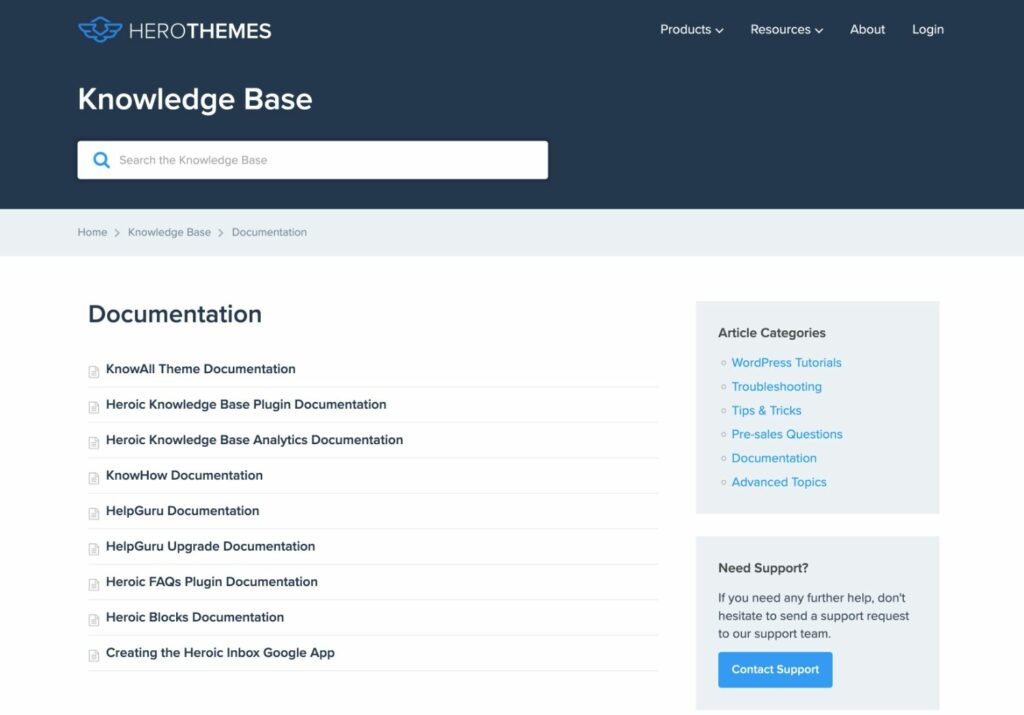 If you use high-quality knowledge base software, you can also help your customers find relevant content with features such as live search suggestions, categories, a table of contents, and more.
Quality software will also let you track which self-service articles lead to human support requests, which helps you detect where your automation efforts are leaking into human support. You can then optimize those articles to reduce human support requests and improve automation.
Standardized Email Replies (Canned Responses)
Another tried-and-true customer service automation example is using standardized email replies in your support efforts, also known as canned responses.
While canned responses don't completely eliminate human support agents from the equation, they do massively improve your human support staff's productivity by eliminating the need to type every response from scratch.
You can also use your canned responses to link to your self-service knowledge base content, which lets you tie different automation strategies together.
Live Chat, Chatbots, and Other Virtual Assistants
Live chat and chatbots are another very common example of customer service automation.
With a chatbot, the link is pretty clear. You build your chatbot one time and then it can start automatically responding to customer queries.
For low-level queries, the chatbot could answer the question directly. For more complex situations, it could automatically link to a relevant knowledge base article.
Even if you're using human live chat agents, though, you can still find ways to automate your customer service. Here are some examples of features and tactics to automate live chat support:
Canned responses to save time while typing.
Smart agent routing so the query goes straight to the person who can solve it.
Analytics and customer feedback surveys to optimize live chat responses.
Helpdesk With Optimized Tickets and Smart Routing
This ties with email support above, but an optimized ticketing system can also help you automate your email/customer service form efforts.
First, you can set up automatic routing rules to make sure incoming support requests go to the right spots.
Then, you can use other automation strategies to provide quality support in the most productive way possible. Here are some examples:
Canned responses help you respond faster.
The helpdesk can automatically pull in customer details and/or order history to give support agents key information.
View a customer's ticket history to track issues over time.
Use internal notes to improve team productivity.
Interactive Voice Response (IVR) for Phone Support
If you offer phone support, Interactive Voice Response (IVR) is one of the most common strategies for customer support automation.
If you're not familiar with this term, you've almost certainly experienced it in your life. It's essentially like a voice-based chatbot that can guide callers to access key information or reach the right support team.
Pretty much any modern phone-based support system will rely on IVR for general automation.
Five Best Practices for Customer Service Automation
If you want to start implementing customer service automation for your business, there are a few important best practices that you'll want to follow to make your efforts a success.
Give customers a way to reach human support.
Collect customer feedback.
Regularly audit your automation systems.
Personalize your support whenever possible.
Don't pretend automation is a real person.
Give Customers a Way to Reach Human Support
While your goal should always be to automate as many support queries as possible, you don't want to make your customers feel like they're locked into the automated system and completely unable to reach human support.
We've all probably experienced the moment of yelling or typing "human support! human support!" into an automated system. You don't want your customers to have that experience, so you should always give them a clear way to get in touch with a human if needed.
Collect Customer Feedback
How do you know how successful your automation efforts are?
Well, one way is to track your human support requests. If they go down, that's a good thing.
But that's only half of the puzzle – you also want to make sure that your customers are still solving their problems and not just getting discouraged and giving up.
To analyze this, it's important to collect customer feedback after key touchpoints. Here are some examples:
An option to rate knowledge base articles as helpful or unhelpful
In-app surveys after interactions with live chat, chatbots, or phone support
Email feedback surveys after interactions over email or via your helpdesk
Regularly Audit Your Automation Systems
In addition to auditing the customer feedback that you collect, you'll also want to regularly audit other aspects of your automation systems to ensure that they're still accurate and functioning properly.
For example, you might change something in your product that necessitates a change in your automated customer service. If you don't update the automatic systems, customers might be confused.
Similarly, one of your systems might not be functioning properly. If that happens, customers might feel like they're stuck and unable to get support.
Personalize Your Support Whenever Possible
Just because you're automating your support, that doesn't mean you still can't provide personalized experiences.
If you have information about your customers, you can personalize your responses with their real names or other details.
Many customer service automation tools can integrate with your CRM or other data to offer these personalized experiences.
Don't Pretend Automation Is a Real Person
Finally, be honest with your customers about what support is automated and what support is coming from a human.
Don't try to pretend your chatbot is an actual human – be honest that the customer is talking with a bot (and give them a chance to upgrade to a human if needed).
Best Customer Service Automation Software Tools
Now for the final piece of the puzzle – which customer support tools can you use to set up these types of customer service automation strategies?
Below, we'll summarize four useful tools to help you set up various automation strategies.
If you want to see even more options, check out our full collections of the best customer support tools or the best customer service software.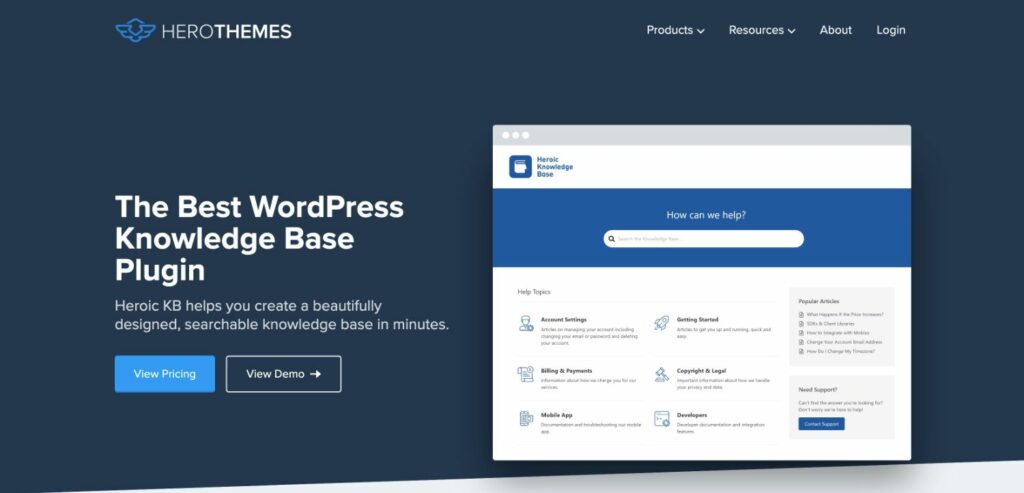 Heroic Knowledge Base is an open-source tool that helps you create your own self-service knowledge base using the popular WordPress software.
You and unlimited team members can add unlimited articles and organize them using categories and tags.
Then, your customers can easily browse the articles, including tools to help them find relevant content, such as user-friendly search with live suggestions.
Heroic Knowledge Base also includes tools to help you optimize your knowledge base on autopilot. It will automatically track analytics for the following:
Search terms, including terms that resulted in no content. This offers an opportunity to create an article to fulfill that self-service support need.
Article helpfulness, as rated by your users. By improving poorly rated articles, you can improve the effectiveness of your self-service content.
Which articles lead to the most human support requests. Again, this lets you improve those articles to reduce the work of your human support teams.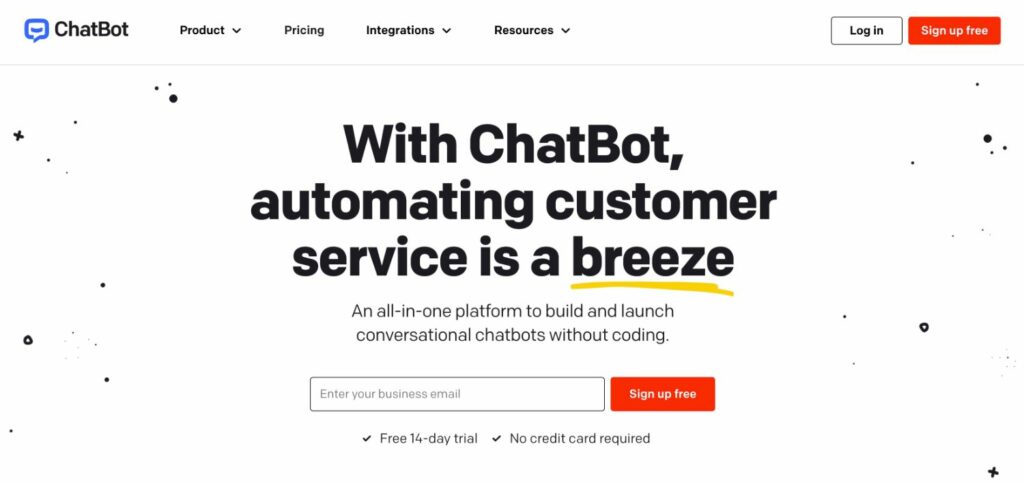 LiveChat and ChatBot are two connected services to help you offer high-quality, automated live chat support.
LiveChat focuses on human support while ChatBot lets you set up automated chat sequences using a visual builder.
Both services include tools for customer service automation.
With ChatBot, the automation possibilities are self-inherent. With LiveChat, you get access to lots of tools to improve human productivity, such as canned responses, smart agent routing, chat tagging, chat takeover, and more.
These tools also support an omnichannel chat approach, which means that you can also automate customer support on other chat platforms such as WhatsApp, Facebook Messenger, Telegram, and more.
To see some other options, you can browse our full roundup of the best chatbot tools for customer service.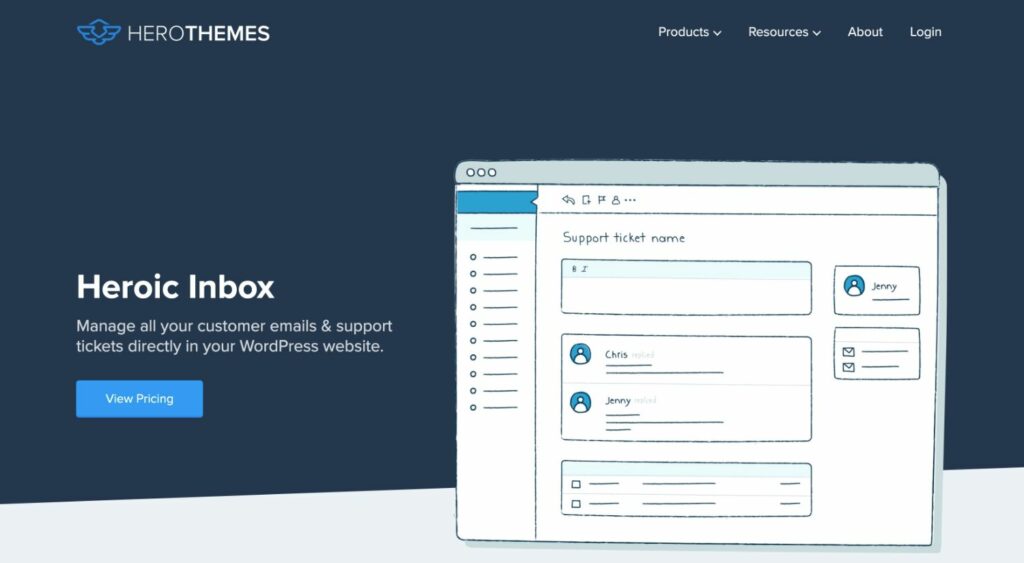 Heroic Inbox is an open-source helpdesk solution that, like Heroic Knowledge Base, is based on the WordPress software.
It can help you aggregate multiple inboxes into one centralized helpdesk and then use smart routing to make sure every request goes to the right spot.
Once those tickets reach agents, it also includes productivity-boosting automation features including the following:
Auto responders for incoming messages
Canned responses to help agents save time
Automatic import of customer data/order history
Internal notes/customer support history
Automatic collision detection to stop outgoing messages if a new customer query comes in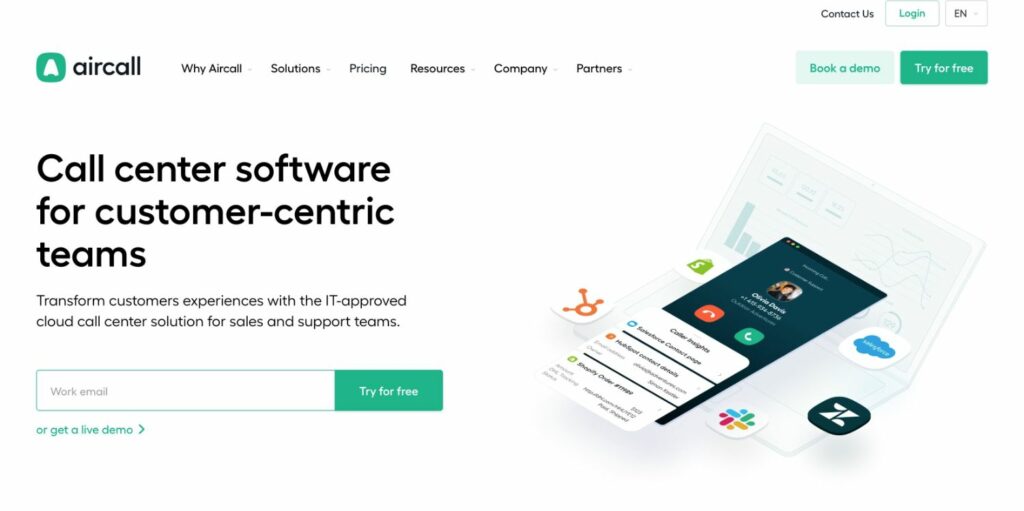 If you want to offer phone support, Aircall is cloud-based call center software that you can use to automate a lot of your efforts.
Here are some of the most useful automation features that you get with Aircall:
Interactive Voice Response to guide users to the right spot.
CRM integrations to easily pull up customer details (and log call histories).
Detailed analytics to see wait time, missed call rates, and more.
Team collaboration features such as internal notes, warm transfers, tagging, and more.
Get Started With Customer Service Automation Today
If you want to offer faster, more accessible support to your customers while also cutting down on your support costs, customer support automation is a great way to get the job done.
To get started, you can try automating just the most basic repeated tasks that your customer support team is dealing with every day.
For example, you could create a knowledge base that covers common questions and direct customers to those articles.
Once you start seeing the benefits of customer support automation, you can start automating more advanced tasks if possible.
Try it today and start offering better customer support with less effort!