9 Best Knowledge Base Software Compared (Pros & Cons)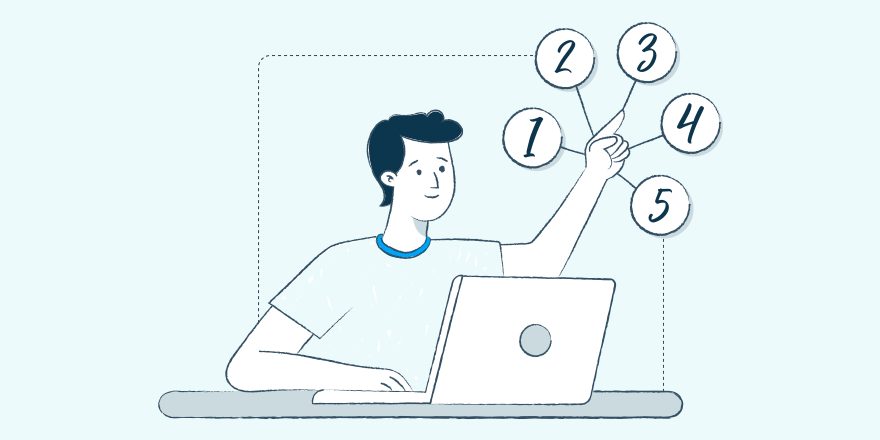 Are you trying to figure out which software is best to setup your knowledge base website? With so many options to choose from it can be a bit difficult to find the right knowledge base software for your website.
To help you save time and money we rounded up a list of 8 best knowledge sharing software systems. Whether you have a SaaS startup or a single product website, this list offers knowledge base solutions for all, including personal knowledge base software and internal knowledge base options.
We scoured the web to search for the best knowledge base tools. There were many but we managed to narrow it down to 8 competitors. In this guide, we take a closer look at these 8 great tools to figure out which is best for your business.
Before you jump to the software comparison, let's learn a little bit about what a knowledge base software is. And what kind of features make knowledge base systems perfect.
What Is A Knowledge Base?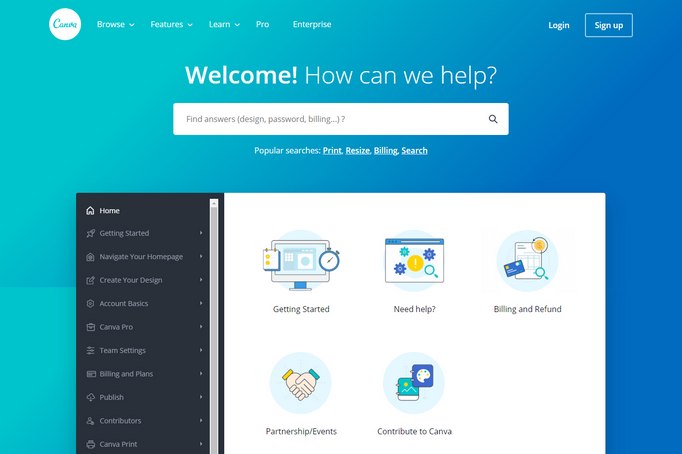 Back in the old days and before the Internet, manufacturers used to ship products with a giant manual. It's like a book with hundreds of pages that includes instructions about how to use the product. Of course, no one bothers to read them anyway.
Today, we have knowledge base systems. Unlike those old bulky manuals, a knowledge base website is much more innovative. It provides users a place to find answers to questions and guides related to a product, all by themselves.
Simply put, a knowledge base is a platform that includes a collection of questions, answers, guides, and documentation related to a product or service. Users are able to type a few words and find answers to common questions about the product.
There are also private knowledge bases. These are collections of documents you create as a resource for your teams. For example, you can create a private knowledge base for your customer support team to help them find answers to common questions much faster.
Why Create A Knowledge Base?
Usually, when you come up with a question related to a product or can't figure out how to perform a task, the first thing you do is contact the support team. This involves waiting hours until you receive a reply to your email. Or waiting on-hold on the phone, jumping from one support representative to the next.
Knowledge base systems are a great solution to this decades-old problem. It provides a convenient self-help service to users. More importantly, it helps save businesses lots of resources otherwise spent answering common user questions.
"51% of customers prefer support through an online knowledge base." – Social Media Today
Another benefit of making a knowledge base is discoverability. A knowledge base gives your business a huge boost in SEO to rank well on Google. You can rank for search terms like questions related to your product using your knowledge base articles as well.
Main Features Of Effective Knowledge Base Software
It's important to know what kind of features to include in your knowledge base to make it more effective. Start by making sure your KB software supports these features.
Search Function
One of the main features of an effective knowledge base is the search box. Users need to be able to search for articles and guides on your knowledge base to find solutions to their problems. As a result, a properly functioning search system provides is a must-have.
Simple Backend Dashboard
When building a knowledge base you should always put users first. But, you shouldn't disregard the importance of your own experience. You'll be handling hundreds of articles, guides, tutorials, questions, and much more using the knowledge base system.
Being able to easily create all these types of content using a simple and easy-to-use back-end system will go a long way to serve your customers better.
Easily Manageable Categories
With lots of knowledge articles in one database, you could easily get lost while updating and adding new content. A simple archive and categorization system help keep the entire knowledge base organized. As well as make it easier to browse.
File Attachments
Sometimes when sharing knowledge through an article you need to include additional downloadable content in your guides and posts. Like PDF files, templates, video files, etc. If your knowledge base software supports file attachments you can attach these additional files directly in the articles.
A User Feedback System
A great way to improve your knowledge base is to get feedback from users. A simple thumbs-up system is more than enough to learn if an article in your knowledge base was helpful to users or not.
Analytics & Reports
With analytics, you can learn which knowledge base posts perform better and which creates more bounces. This will allow you to keep improving your knowledge base and create more helpful guides.
By incorporating these features, you can ensure that your knowledge base is user-friendly, promotes customer satisfaction, and maintains web accessibility for all users.
Best Knowledge Base Software
Let's dive in and find out the pros and cons of using these knowledge base software.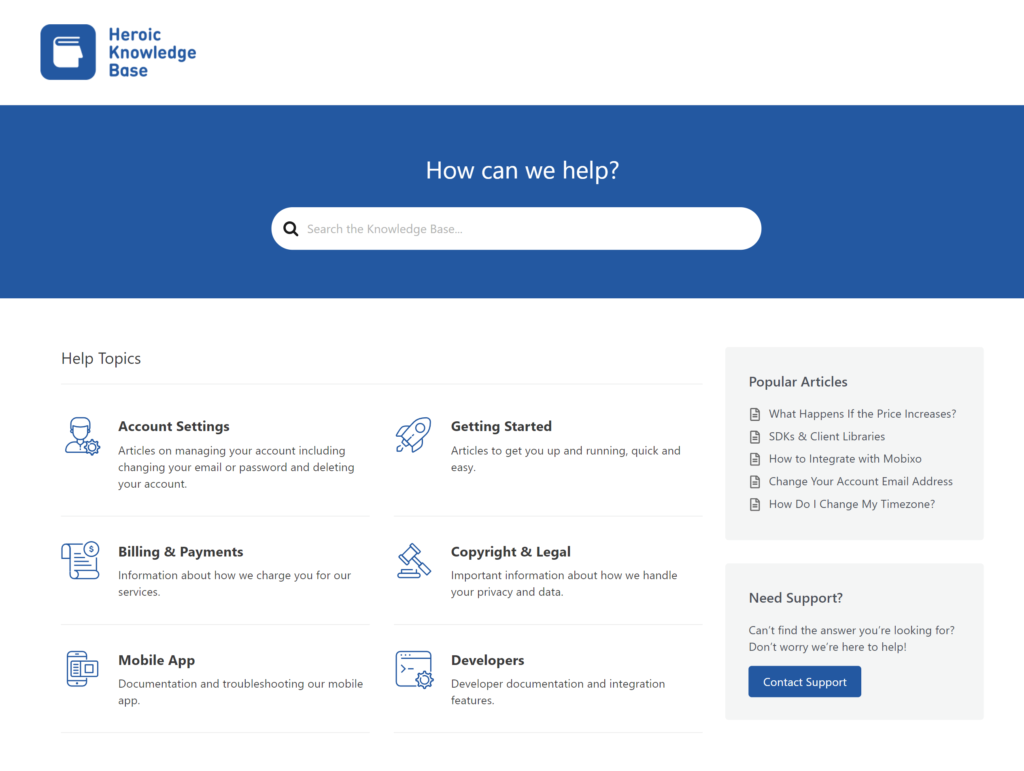 Heroic KB is our best selling plugin that allows you to build a fantastic knowledge base on your WordPress site without any coding knowledge.
Why is it our number one?
Built for WordPress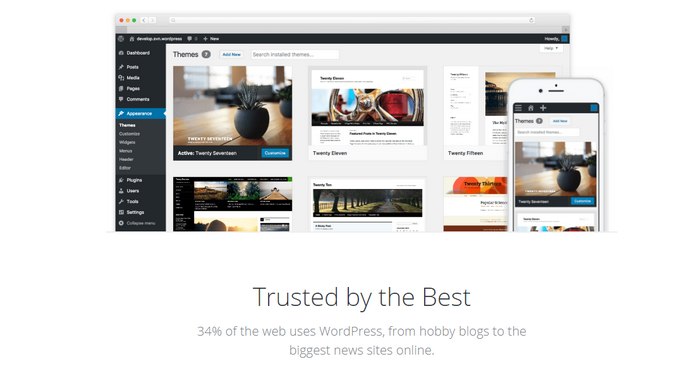 Heroic KB is a theme built for WordPress. WordPress is a free platform you can use to build all kinds of websites, including complex knowledge bases. It's powering over a quarter of the internet.
WordPress is a great choice for knowledge base software as it's free, no subscription and will allow you to completely customize every aspect of your knowledge base.
The Heroic KB plugin will add all the functionalities you need to build a well structured knowledge base. Plus by adding plugins to your WordPress site, you can add new features, functions, and integrate third-party apps with your knowledge base in just a few clicks.
Easy to use
Heroic KB has a beginner-friendly user interface, simple category management, and a great customizer to align the design of your knowledge base with your branding.
It's all plug and play, no coding knowledge needed. Thanks to its smooth editor you'll be able to create hundreds of knowledge articles with ease.
How to Make a Knowledge Base With WordPress
Create a Knowledge Base - The Easy Way!
Create a beautifully designed, searchable knowledge base in minutes.
Try Risk-Free
Setting up a knowledge base website using WordPress is really easy. We've made a quick guide to help you create your own.
Find a host
You need to start by hosting your website. You can set up a WordPress site for about $30 per month when using a managed hosting provider like Kinsta. Compared to other cloud-based knowledge base systems, this is much cheaper.
Install WordPress
Some hosts offer to install WordPress for you. If your host doesn't, you can download WordPress here, and follow these instructions to install it
Install Heroic KB
Once you have WordPress setup and installed, you can then get a WordPress theme and a knowledge base plugin to turn your WordPress installation into a complete knowledge base system.
Benefits of Using WordPress
Affordable Pricing: Compared to other knowledge base software, WordPress is much cheaper to setup and use.
Extensibility: You can easily add and extend features using WordPress plugins. Including third-party integrations like Zapier and HubSpot.
Choose Your Own Design: With thousands of WordPress themes to choose from, you can change the knowledge base design however you like.
Easier Management: Easily manage articles, media, and categories using the beginner-friendly WordPress admin dashboard.
Full Control: When using WordPress you're in full control of your knowledge base. You don't have to abide by the rules of a corporate company.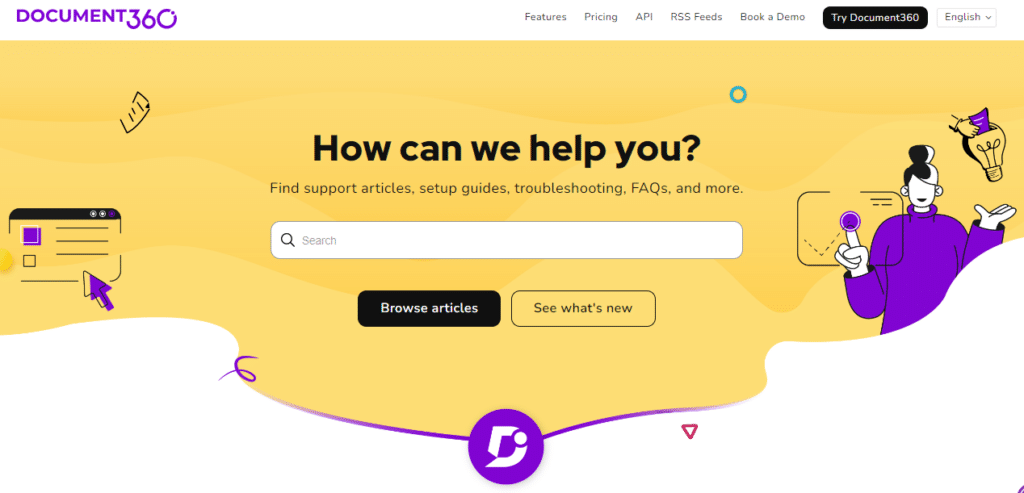 Document360 is an extremely simple software designed for doing nothing but creating well-organized knowledge base platforms. The software is trusted by many leading brands such as Microsoft and Harvard University as well.
The cloud-based app features a beautifully minimal and clean user interface for making both private and public knowledge bases. It also includes an easy-to-use markdown editor.
How to Make a Knowledge Base With Document360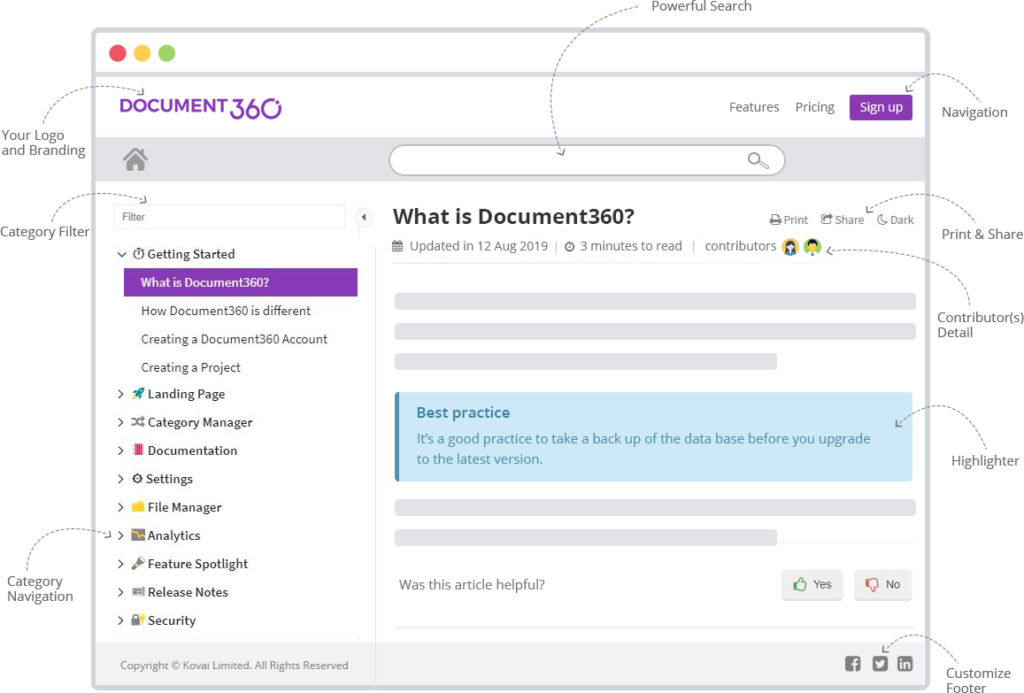 Document360 features a very beginner-friendly setup process. And it provides tools to serve both content creators and customer support, representatives.
To setup your knowledge base using Document360 all you need to do is signup for an account. The platform works completely online and lets you access it even from mobile devices from anywhere in the world.
Benefits of Using Document360
Ease Of Use: Document360 puts a complete focus on content and offers a very simple user interface to manage and organize your knowledge base.
Markdown Editor: Document360 editor supports markdown for easier content writing and editing.
Intelligent Search: The search system supports auto-suggestions when typing in the search box.
Private Or Public: You can also create private knowledge bases to serve your team as well as public knowledge bases for customers.
Analytics: Going beyond the user analytics to collect the feedback on the article, it more granulated to the team, search and user analytics. Search analytics collects all search queries, also the failed searches.
The team analytics features give some important metrics at the individual employee level including a number of article contributions, popular and latest
Downsides of Using Document360
Limited Features: Unlike WordPress and ZenDesk, you can't use Document360 as a complete customer support system.
Lack of Integrations: Document360 third-party integrations are limited to just a few apps like FreshDesk and Google Analytics.
Pricing
Document360 includes multiple plans starting at $0 per month with 2 team accounts. And the paid plan starts from $149 per month for 3 team accounts and 50GB storage, suitable for large enterprises.
HelpSite is simple knowledge base software that helps you publish a beautiful KB with your FAQs and articles, within minutes. It can create publicly-accessible support sites, a private internal-only KB, or a mix of both. It offers a powerful and fast search box, is mobile friendly, and provides a contact form that automatically suggests users answers as they type.
Your KB can be fully customized and hosted on your own domain name. HelpSite is an affordable knowledge base SaaS and even includes a forever free plan. They offer helpful support via email.
How to Make a Knowledge Base With HelpSite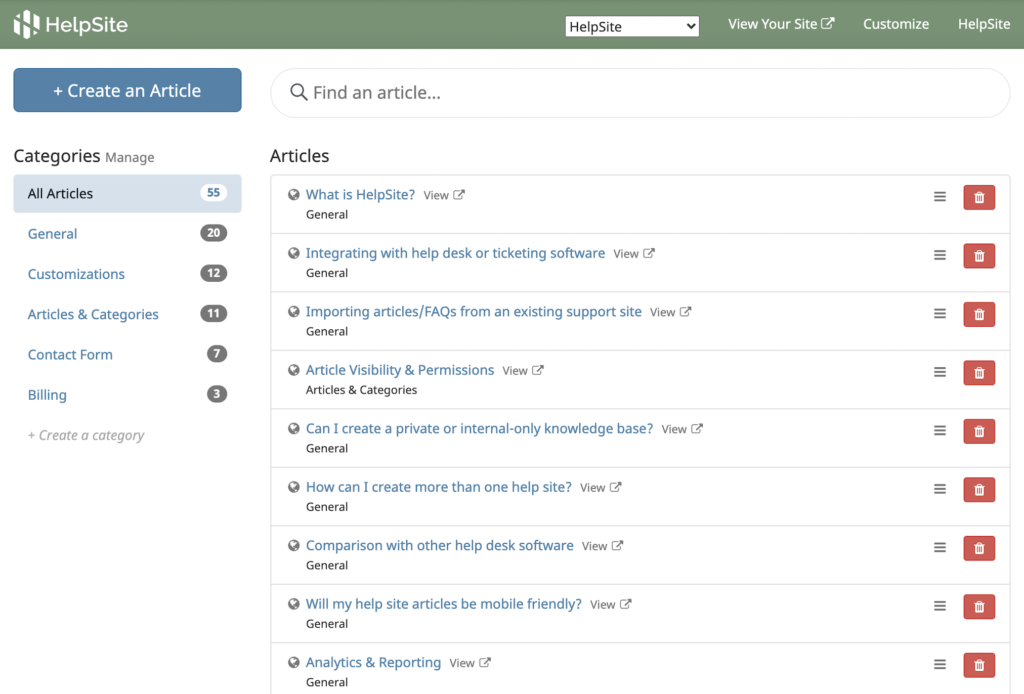 To get started simply sign up for a free (no credit card required) account. You'll get a 30 day trial of HelpSite's premium features but after that your account will just default to their free plan unless you decide to pay.
Creating your KB is very simple – give your site a name, follow the provided instructions to set up a custom domain (optional), and just start adding articles in their easy-to-use WYSIWYG editor. You can optionally customize your site's privacy or layout/design, or just use it out-of-the-box and you're all set!
With HelpSite, you can also create multiple KB sites under the same account in case you have multiple products or want to split up public versus private content.
Benefits of Using HelpSite
Easy to use: HelpSite is probably the easiest way to get a knowledge base site online in minutes and has a very simple user interface. It has a very fast search box which makes it easy for your visitors to find what they need.
Private or Public: HelpSite offers an extensive set of options for choosing between making your content public, partially private, or fully internal-only.
Fully Customizable: The layout of your HelpSite KB can be fully customized (using HTML/CSS) to match your organization's brand and the site's URL can use your custom domain.
Smart Contact Form: HelpSite provides a contact form that automatically suggests relevant articles as users type their message, saving time for both you and them.
Downsides of Using HelpSite
No ticketing tools: HelpSite is hosted knowledge base software and nothing else. If you're looking for an all-in-one solution with a ticketing system and live chat, HelpSite is not for you.
No built-in analytics: HelpSite doesn't offer built-in analytics, so you'll have to plug in an analytics provider like Google Analytics if you want to track your article view stats.
Pricing
HelpSite offers a forever free plan if you're just getting started or paid plans starting at $15/month. Its most popular plan is Gold at $50/month which allows full design customization, up to 5 knowledge base sites, 50 team members, 2500 articles, and options between public or private KB access.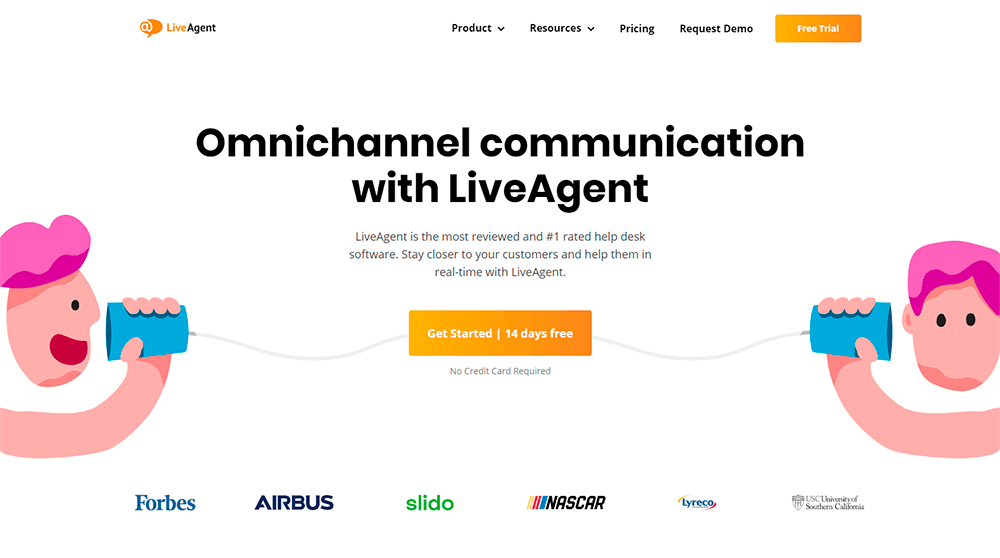 LiveAgent is a fully-featured help desk and live chat software. It enables you to streamline all of your communication channels into one unified dashboard, which can be easily accessed by your whole customer support team.
The software is a great choice for businesses of all sizes and industry types. It integrates with over 40 third party applications and has over 150 million end-users worldwide. LiveAgent is equipped with over 179 help desk features including a built-in call center, gamification features, reporting and analysis tools, automation, as well as knowledge base/customer portal management tools.
How to Make a Knowledge Base with LiveAgent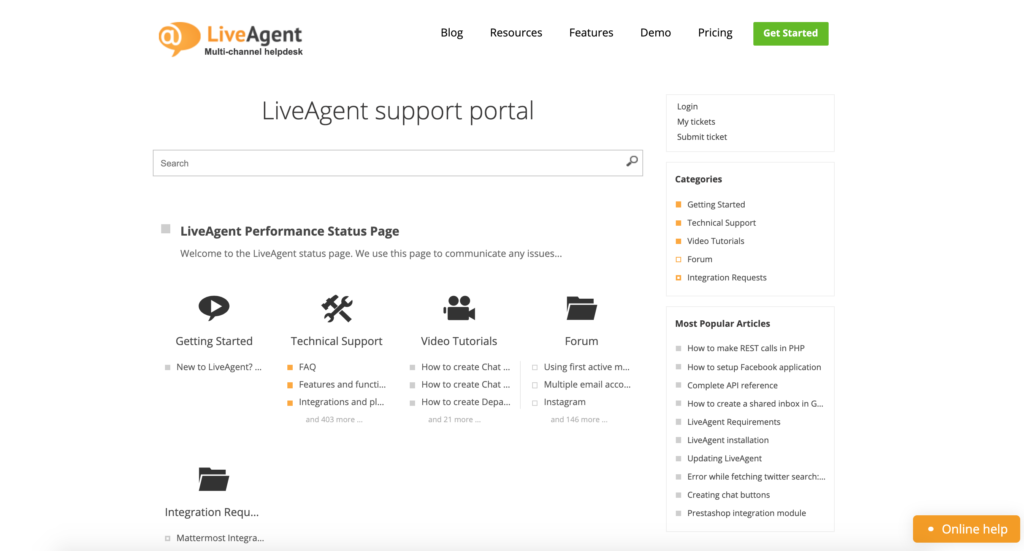 To start building your knowledge base in LiveAgent, either sign up for a free account or purchase a paid plan. You also have the option to sign up for a free 14-day trial.
Once you're logged into your LiveAgent account, you can start building your knowledge base which can consist of articles, videos, FAQs, feedback and suggestions, as well as community forums.
LiveAgent's knowledge base is fully customizable and therefore gives you full creative freedom. Easily modify colors, change themes, upload logos, or edit the HTML to match the style of your knowledge base to your company's website.
Benefits of using LiveAgent
Fully Customizable Software: Almost everything in LiveAgent is fully customizable. Customize your dashboard theme and colors, alert sounds, app language, live chat buttons, pre-chat forms, customer portals, and knowledge bases.
Advanced Tools: In addition to being a knowledge management solution, LiveAgent is a fully-featured help desk software with over 179 features.
Competitive Pricing: LiveAgent offers three paid plans, as well as a forever free plan.
Stellar Customer Support: LiveAgent's customer support is available 24/7 with an average email response time of 30 minutes.
Downsides of using LiveAgent
Advanced Software: Might require a bit of a learning curve for some users.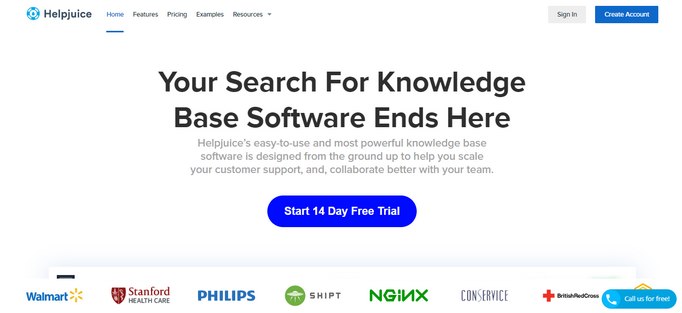 Helpjuice is a popular SaaS platform that specializes in knowledge base software. They provide a software that's geared towards companies with big teams. It also features a very beginner-friendly knowledge management system.
One of the best features of Helpjuice is its customer support service. They even provide free customization to setup your knowledge base fast and easy. And promises a 5-minute response time to your support tickets.
How to Make a Knowledge Base With Helpjuice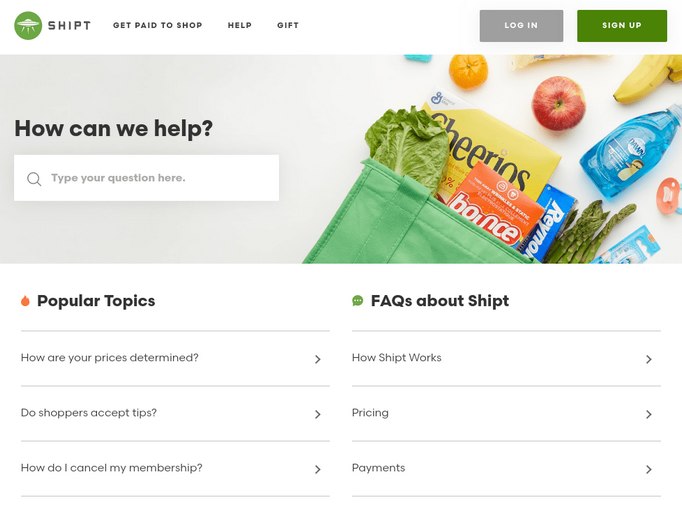 Helpjuice is a cloud-based knowledge base system. This means you don't have to do any heavy work to get your knowledge base up and running.
In fact, Helpjuice customer support team will even set it up for you. All you need to do is sign up and create an account. Then follow the step-by-step instructions to create your knowledge base.
You can also self-host Helpjuice on your own servers as well. Their team offers to help with the transition if requires.
Benefits of Using Helpjuice
Beginner-Friendly: Helpjuice features a very simple user interface and a beginner-friendly editor. You can use it to create, format, and edit content without an effort.
Google-Like Search: Helpjuice claims its search function to be as innovative as Google search.
Multiple Designs: Unlike most other platforms, Helpjuice lets you choose from dozens of themes to customize your knowledge base design.
Analytics: Helpjuice provides deep insights into your knowledge base statistics, including for searches.
Downsides of Using Helpjuice
Expensive: At $120 per month, Helpjuice is the most expensive option on our list. Which is not very friendly toward small business owners.
Limited Features: Helpjuice is limited in features compared to WordPress. It supports only a few third-party integrations as well.
HubSpot's Service Hub brings all of your customer service data and channels together into one central place. Customers of all sizes trust the product for its knowledge base, conversational tools, help desk, customer feedback surveys, reporting, and more.
With Service Hub's Knowledge Base functionality, you can easily build a library of help articles so customers can help themselves. Customize the look and feel of pages, make adjustments for different device sizes, and structure your pages to rank highly on Google. You'll also get built-in reporting dashboards to manage your performance all-in-one place.
How to Make a Knowledge Base With HubSpot
Getting started with the cloud-based HubSpot platform is easy. Create a free Service Hub account — or schedule a demo to have the HubSpot team help you quickly get started with Knowledge Base.
Once you're in the app, HubSpot is designed to make it easy to get started, regardless of your experience with creating a knowledge base. You can import articles with one click from other tools, create templates, and start building out answers to your customer's questions.
Benefits of Using HubSpot
Easy-to-use and customizable: Easily create knowledge base articles and templates. Customize the look of the knowledge base to match your brand, and organize everything using categories & tags.
All-in-one platform: Service Hub includes all the tools a customer service team needs — from help desk to live chat and surveys. Plus, everything is built on top of HubSpot's CRM, giving your business one unified view of customer interactions from Marketing to Sales to Service.
Multi-language support: Create and manage a knowledge base to answer your customers' in their preferred language.
Analytics: See what terms customers are searching for, monitor performance of articles, and see video engagement — to analyze your efforts and see where you need to create new articles.
Private or public: Restrict article access to make pages accessible by only certain people.
Downsides of Using HubSpot
Expensive for smaller companies: While Service Hub starts free, Knowledge Base is only available on the Professional and Enterprise plans, which can be expensive for smaller companies.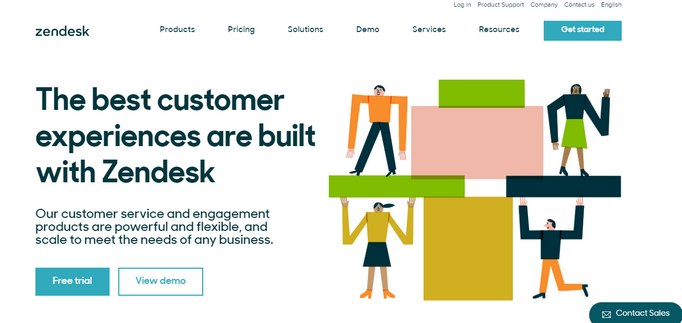 When it comes to creating customer support platforms and support ticketing systems, ZenDesk is one of the leading experts available today. The platform also doubles as a knowledge base system as well.
The ability to set up feature-rich knowledge base systems is not the only use of ZenDesk. You can also manage customer support and integrate your knowledge base with support tickets as well.
All of this can be done using the same platform. This makes ZenDesk one of the best choices for setting up advanced knowledge base portals.
How to Make a Knowledge Base With ZenDesk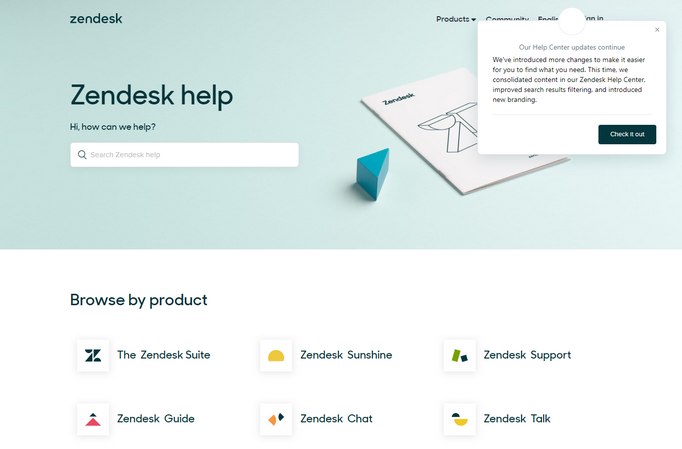 ZenDesk is a complete suite of tools and software made for companies for managing all-things customer support. The platform works completely on the cloud and offers many services catered for various sizes of businesses.
Much like Helpjuice, you can easily get started with ZenDesk by signing up for an account and following its step-by-step instructions.
Benefits of Using ZenDesk
Complete Suite: ZenDesk comes with a complete list of tools for creating an effective customer support system.
Support Tickets: In addition to creating knowledge base systems, you can use ZenDesk to manage customer support tickets, chat, and more.
Advanced Tools: ZenDesk also includes a CRM called Sunshine for managing your customers as well.
Better Designs: ZenDesk features modern and beautiful knowledge base designs.
Downsides of Using ZenDesk
Expensive: Compared to Helpjuice, ZenDesk is much cheaper. But it still asks for a greater price to provide customer support.
Advanced System: It requires a bit of a learning curve to get started using the platform.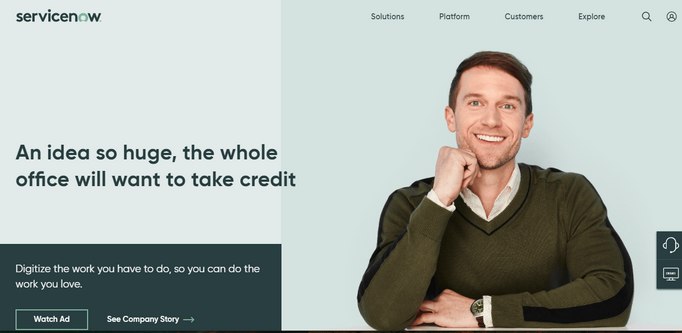 ServiceNow is a complete platform that allows companies to digitize their customer management and workflows. It includes solutions to cover IT, Employee, and Customer workflows.
You can use the ServiceNow platform to create a private knowledge base for your company team. As well as public knowledge bases to serve customers. However, ServiceNow is much more than just a knowledge base software. It even includes an app store with integrations made specifically for creating advanced knowledge databases.
How to Make a Knowledge Base With ServiceNow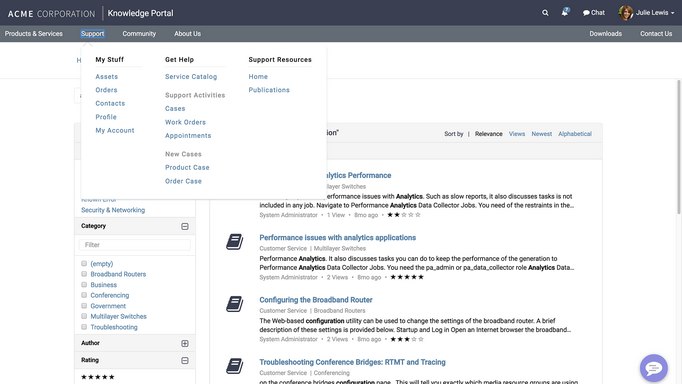 ServiceNow is a platform that's more suitable for bigger businesses. It's especially ideal for making onboarding workflows and transitions.
When it comes to creating knowledge bases, the platform uses an old-school design. It's familiar and user-friendly. And includes many useful functions for organizing the knowledge database.
ServiceNow will walk you through the process of setting up your knowledge base on the cloud. Along with your automated workflows and customer support system.
Benefits of Using ServiceNow
Advanced Tools: In addition to knowledge bases, you can use ServiceNow to offer better customer support with automated workflows, chatbots, and more.
Innovative Search: The platform also features a brilliant search function that matches terms with previous incidents to provide better results.
Machine Learning: With machine learning, the platform will also offer similar articles to customers and employees to find solutions to problems more easily.
Service Portal: With Service Portal integration, you can create a portal where users can access your knowledge base, customer support, support tickets, and more from one place.
Downsides of Using ServiceNow
Too Advanced: With so many tools and app engines bundled together, the platform can be overwhelming to small startups and businesses.
Expensive: With pricing well hidden from the public, the company is likely to charge different rates from different customers.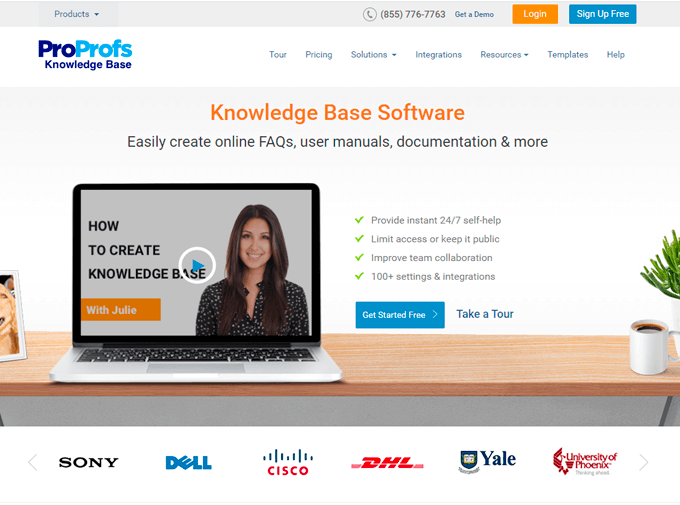 ProProfs Knowledge Base is a powerful tool that's noted for its unique features, smart settings, and robust integrations. The tool is of immense help when it comes to creating an online knowledge base, documentation, manuals, help sites, FAQs, and more. It assists you in all aspects of knowledge management right from content authoring and designing to customizing and finally publishing it.
The software is extremely easy to use – no HTML or coding skills required and plays well with powerful tools like Zendesk, Freshdesk, Wufoo, Salesforce desk, Google Analytics, and more.
The convenience and flexibility provided by ProProfs Knowledge Base software make it the favorite of small firms as well as large enterprises.
How to Make a Knowledge Base With ProProfs
The process of creating a knowledge base with ProProfs is extremely simple and straightforward.
All you have to do is sign up for a free enterprise-level account, that will be active for a period of 15 days. After signing up, you will get a variety of templates to choose from. The templates come with a set format with placeholders. All you have to do is replace the placeholders with your content, and start configuring your knowledge base.
In case you don't need a set format and want to do everything from scratch right from its HTML and CSS, the tool also provides that option. You can even self-host your knowledge base by setting up its domain name, just so it has an identity of its own. Also, if you require a fully customized knowledge base as per your requirements, the customer support team of ProProfs will help you do that easily.
Once your free account is over, you will get a message to upgrade it with a plan of your choice.
Benefits of Using ProProfs
Easy to Use – Thanks to its simple user interface, setting up a knowledge base is a breeze with this software.
Feature-rich – The tool has almost all features you can think of. From content authoring and publishing to customization and collaboration, name anything you want, and ProProfs has got it covered.
Plays well with other tools – ProProfs integrates beautifully with third-party tools like Zendesk, Freshdesk, Wufoo, Salesforce Desk, Google Analytics, and more.
Simple Pricing – ProProfs offers two paid plans and a forever free plan.
Downsides of Using ProProfs
Advanced Customization – Users might require to have some knowledge of scripting (Javascript, HTML, CSS) to make use of the advanced features.
Difference Between SaaS, Cloud, & WordPress Systems
After going through the list of knowledge base software, you might be wondering what are the differences between these tools.
Our top picks feature a variety of knowledge base software. Two of the main competitors are the web-based knowledge base software and self-hosted knowledge base apps.
The SaaS knowledge base services and platforms that allow you to manage your database online through their own website fall into the category of web-based apps. The self-hosted category includes software such as WordPress that you setup and manage by yourself.
In addition to the management differences, another key difference between these two systems is pricing. Self-hosted WordPress-powered systems are much cheaper and more flexible than cloud-based apps and SaaS platforms.
On the other hand, it comes at the cost of convenience. When using SaaS platforms, you can call customer support to fix any issues you're having.
Another important difference is the third-party app integrations.
Best Third-Party Integrations For Knowledge Bases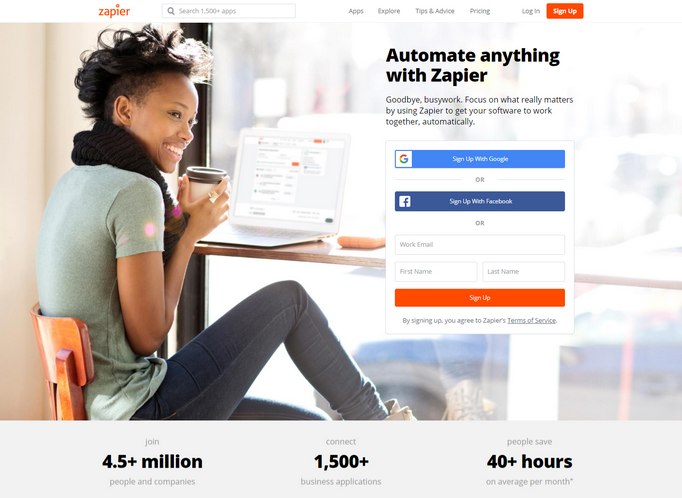 With third-party app integrations, you can bring more unique features to your knowledge base to make it more useful to both you and your customers.
Here are just a few great third-party apps you should be able to integrate with your knowledge base. Keep in mind that not all knowledge base systems will support these apps and services.
Which Knowledge Base Software Is Best?
Now that you have a wider understanding of knowledge base software, you might be wondering which option is best for your business.
If you have a new or a small business, we'd recommend going with WordPress to build your knowledge base. With the flexibility WordPress provides, you'll be able to easily extend your knowledge base further as you grow your business. Also, you can save a huge chunk of your budget as well.
However, if you have an enterprise-level business, you should consider investing in software like Helpjuice or ZenDesk. Which include easier management and advanced features required for running knowledge bases to serve thousands of customers and facilitate large teams.
In conclusion, it's up to you to decide what's best for your business. Be sure to explore all options before you settle for software to build your knowledge base.