6 Best WordPress Help Desk Plugins for Customer Support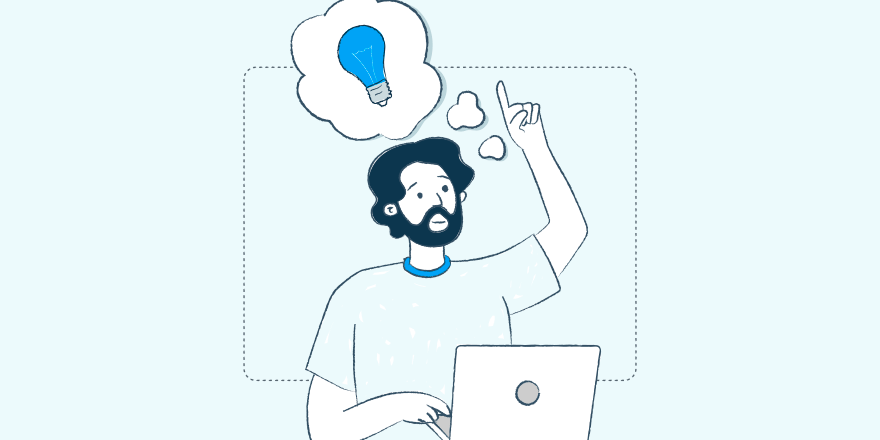 Are you looking for the best help desk plugins for your WordPress website?
Help desk plugins are an excellent way to boost your customer support team's efficiency by managing tickets, automating repetitive tasks, and enhancing communication. Ultimately, this will greatly improve the overall customer experience on your WordPress website.
In this article, we have carefully selected some of the finest help desk plugins for customer support that you can easily incorporate into your WordPress site.
Why Use Help Desk Plugins for Customer Support in WordPress?
As your business grows, it can become challenging to keep track of all the customer tickets that are sent to your email address. However, using a help desk plugin on your WordPress website can solve this problem by allowing you to manage customer support requests in one central location. This not only makes it easier to keep track of and respond to queries, but it also increases efficiency, saves time, builds customer loyalty, and improves user experience.
Help desk plugins offer a range of benefits, including the ability to provide quick and efficient customer support to clients. They also allow you to automate many customer support tasks, saving you valuable time. Additionally, these plugins come with built-in analytics and reports that can help you improve your customer support strategies. Plus, as your business grows, you can easily scale up your customer support efforts with the help of these plugins.
By utilizing help desk plugins, you can gain a competitive advantage and achieve better business outcomes. With that in mind, let's now explore some of the best WordPress help desk plugins available for customer support.
What to Consider in a Help Desk Plugin?
When looking for a helpdesk plugin, the following factors should be on the top of your list.
Easy Ticket Management: A good helpdesk plugin will allow quick access to information required for resolving a customer ticket, including contact form messages and purchase history.
Efficient Workflows: Consider if the helpdesk plugin provides you time-saving features and automation to help speed up ticket resolutions. A good ticketing system will speed up the process by which users submit tickets, upload any file attachments, give a clear overview of the ticket history, and so on.
Collaboration Tools: Depending on the size of your support desk, multiple team members with varying user roles may need to collaborate on a given support ticket. Your helpdesk plugin should facilitate prompt internal communication to get issues resolved as quickly as possible.
Performance Tracking: Another hallmark of a great helpdesk plugin is the ability to track and report on customer service performance. This helps ensure that you're meeting your support targets.
Compatibility: If your helpdesk plugin doesn't play well with your WordPress theme, or any existing tools or widgets you have in place (such as WooCommerce, Slack, and more), it can lead to a loss in productivity. You should be able to configure your helpdesk solution to work with everything you're currently using with minimal headaches.
Now, let's go over the best WordPress helpdesk plugins and see how they match up to these criteria.
Best WordPress Help Desk Plugins: The Comparison
Below is a rundown of the well-known WordPress helpdesk plugins in the market. We'll go over the main features for each plugin, a short tour of the interface, and any pros and cons you should be aware of.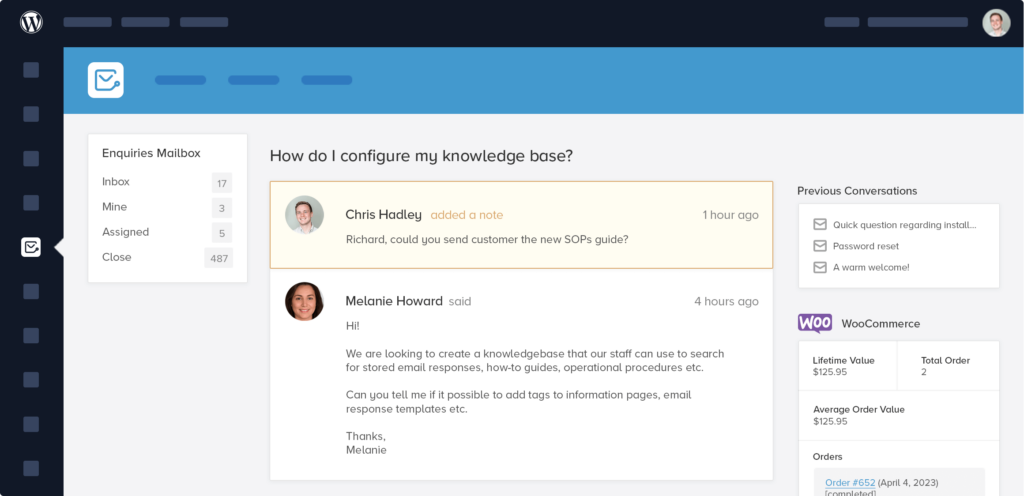 Heroic Inbox is a robust, feature-rich, premium WordPress helpdesk plugin that manages all your business emails, including customer service emails, in powerful shared inboxes.
The biggest draw of this plugin is that you can add your sales, customer service, support, partnerships, and other inboxes all in one place. You can link to any Gmail or GSuite account in a few clicks. It then fetches and lets you respond to all business emails from your WordPress site.
Notable features of this plugin include:
Multiple inboxes all in one place – manage all business emails from the same interface
Automated email tagging and rules
Unlimited conversations and users
Saved replies and templates for responses to common questions
Auto-responders for incoming messages
Draft replies for approval or review before sending
Assign messages to team members
Read receipts to see when customers read sent messages
Team notes to aid collaboration and communication within your team
Collision detection to stop scheduled messages from being sent when an incoming message is detected
View previous message history on a per-customer basis.
See user data in the sidebar next to the conversation, drawing data from past interactions and integrations
Performance tracking and user-friendly reports
Integrations with common WordPress tools like WooCommerce, EasyDigitalDownloads, GiveWP, and more.
A Tour of the Interface: When you're done activating the plugin and connecting it to your Gmail or GSuite accounts, you'll get access to a user-friendly and intuitive ticket management interface.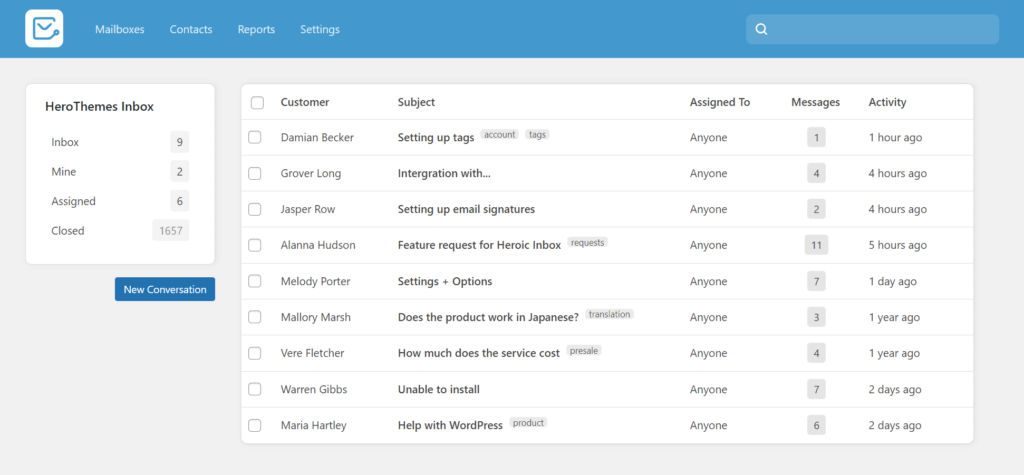 From there, you can click on a ticket to view the issue, make modifications, or respond to the customer.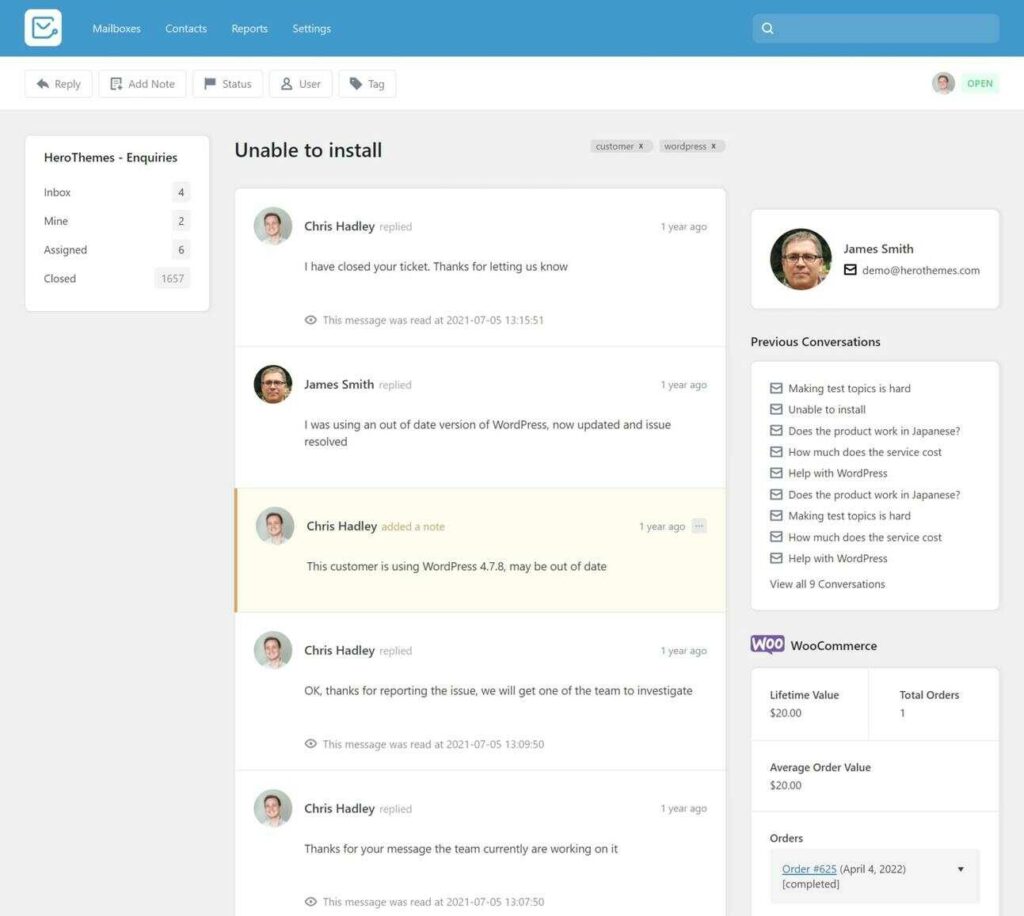 Heroic Inbox pros and cons
Pros
Cons
– Manage as many inboxes, emails, and users as you want Automated email tagging, rules, and replies
– Powerful collaboration tools – unlimited users, team notes, saved replies, templates, drafts, and more
– Deeper connections with your audience with interaction histories, read receipts, performance tracking, and more.
– Slightly costlier than other helpdesk plugins but justified by the wide range of powerful features
WSDesk is a premium WordPress helpdesk plugin. With the help of this plugin, you can get customer questions, concerns, and feedback in the form of support tickets, and there is no limit to the number of tickets and agents you can manage.
Notable features of this plugin include:
Supervisor profiles
Email piping, filtering, blocking, triggers, and automation
Auto-tagging and auto-assigning tickets
Custom ticket views based on tags and other filters
Canned responses for quick replies
Agents' satisfaction rating and customer feedback
Set automated actions based on specific triggers
Performance reports
XML backups and restore
Shortcode support
WooCommerce and Easy Digital Downloads integration
Customizable support form and fields
In addition, you also have to option to extend the capabilities of this plugin with premium addons like pay for support, SMS notifications, and agent signatures.
A Tour of the Interface: Once you get WSDesk up and running, your support agents will be able to manage tickets from an interface, as shown below.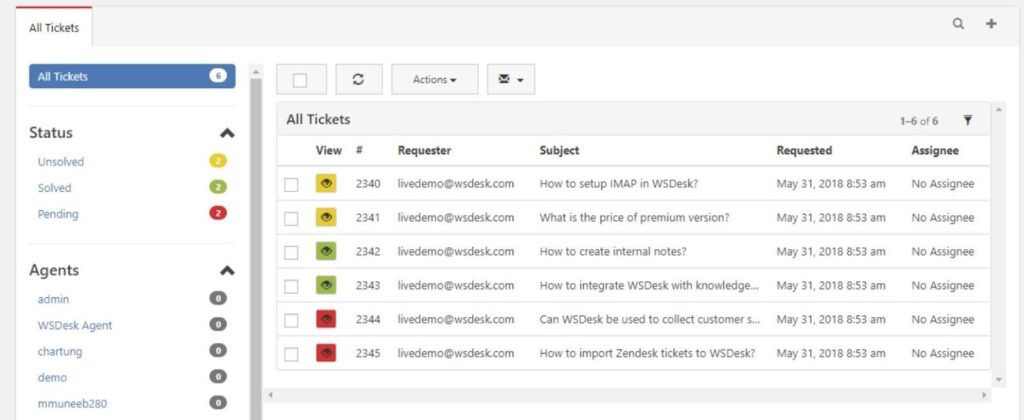 From here, agents can create tickets, change ticket status, merge tickets, access custom ticket views, and more.
Customers can raise a support ticket in two ways. They can either send an email to your support email address or fill a form on the customer support page.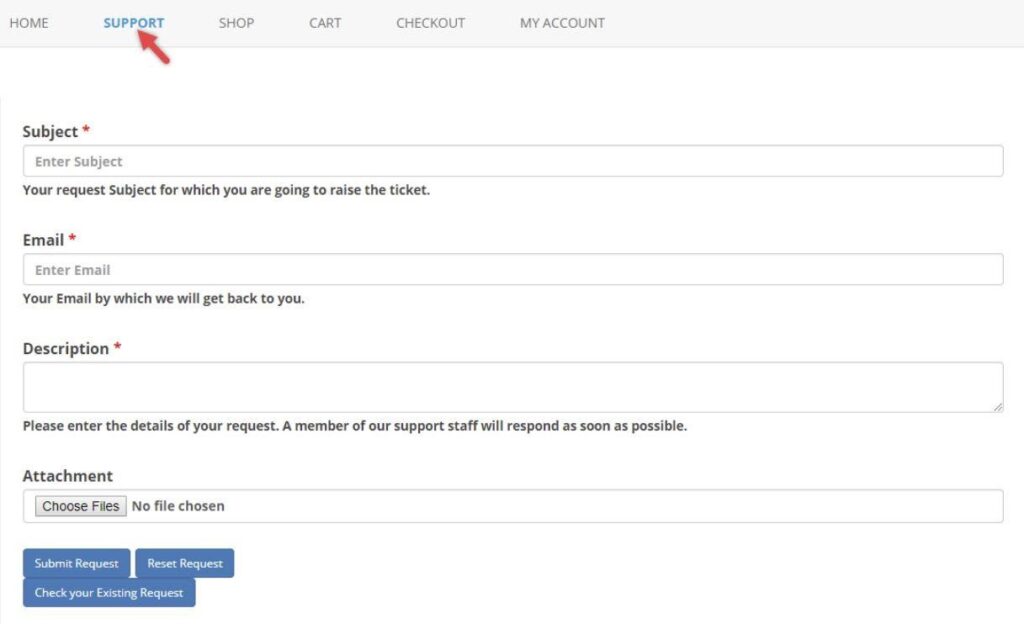 There is also a demo site you can visit to see all the features provided by WSDesk in action. You log in to the demo site as a supervisor or an agent to understand how the feature-set will change based on the role.
WSDesk pros and cons
Pros
Cons
– 30-day money-back guarantee
– Unlimited tickets and agents
-AJAX-based, user-friendly interface can reflect changes without reloading the page
– Extensive feature-set and customization options
– Not the cheapest option
TotalDesk is not just a premium support ticket plugin but an all-in-one helpdesk solution. This means that apart from resolving support queries, you can also create articles to answer frequently asked questions and use live chat support to interact with customers.
Notable features of this WordPress helpdesk plugin include:
Desktop, email, and Slack notifications about ticket changes
Support performance reporting
WooCommerce integration
Turn emails into support tickets
Chats are saved as part of the tickets
Save and use the same replies for frequently asked queries
Export tickets as an excel sheet
Customizable ticket submission form
A Tour of the Interface: Upon activating and configuring the TotalDesk plugin, your customers will be able to raise and view their tickets from the front end of your website.

Once a ticket has been received, it can be assigned to an agent. The agent can then respond to and modify the status of the ticket from an interface that looks similar to the classic WordPress page or post editor.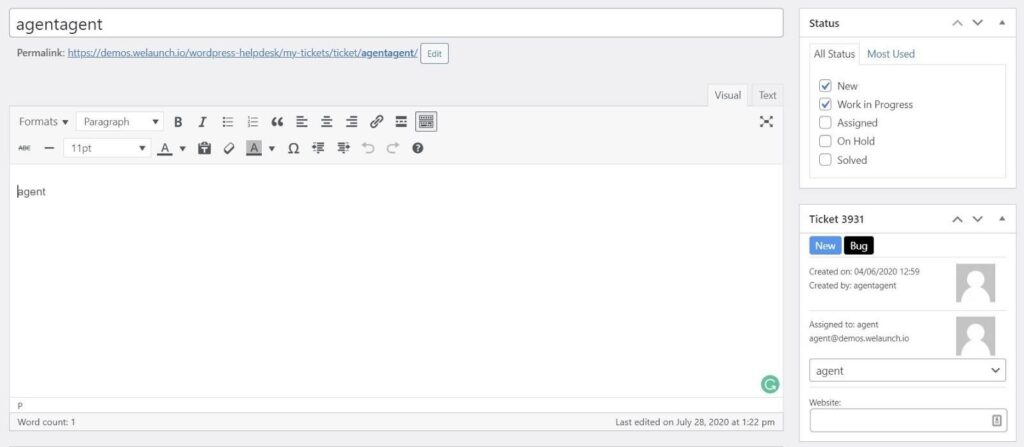 TotalDesk also provides you with a demo site to see all the features of this plugin in action.
TotalDesk pros and cons
Pros
Cons
– All-in-one solution with ticketing, knowledge base, and live chat.
– Low price
– Uses native WordPress functions for most features, which makes it easy to use and customize without additional tutorials
– Tries to capture all the helpdesk functions but doesn't go deep into any.
– The interface isn't as quick to navigate as some AJAX-based plugins on our list. Lacks any automation apart from canned responses.
SupportCandy is a free support ticket system for WordPress. It has the basic features required to resolve and manage customer tickets, and it supports unlimited tickets and agents. The plugin comes in 4 versions: Free, Starter, Econom, and Standard, with each version offering additional features.
Notable features of the free version include:
Unlimited tickets and agents
12+ fields to customize ticket form
Guests can create tickets (without account creation)
Ticket filtering by custom fields
Email notifications
Agent roles and agent-only fields
AJAX-based user interface
Canned replies
Features can be extended with premium addons
The standard version gives you complete access to all the premium addons and features, including:
Email piping
Service level agreements
Advanced reporting
Assigning agent rules
3rd-party integrations (WooCommerce, Easy Digital Downloads, etc.)
Grouping of agents and users
A Tour of the Interface: Here's how the ticket management interface looks like when you start using SupportCandy. The color-coded status, SLA, and priority values make it easy to identify tickets that need to be prioritized and the actions to be taken on them.

Agents can create and manage tickets from the front end, similar to the customers. However, they can be given access to see certain additional information that customers should not see.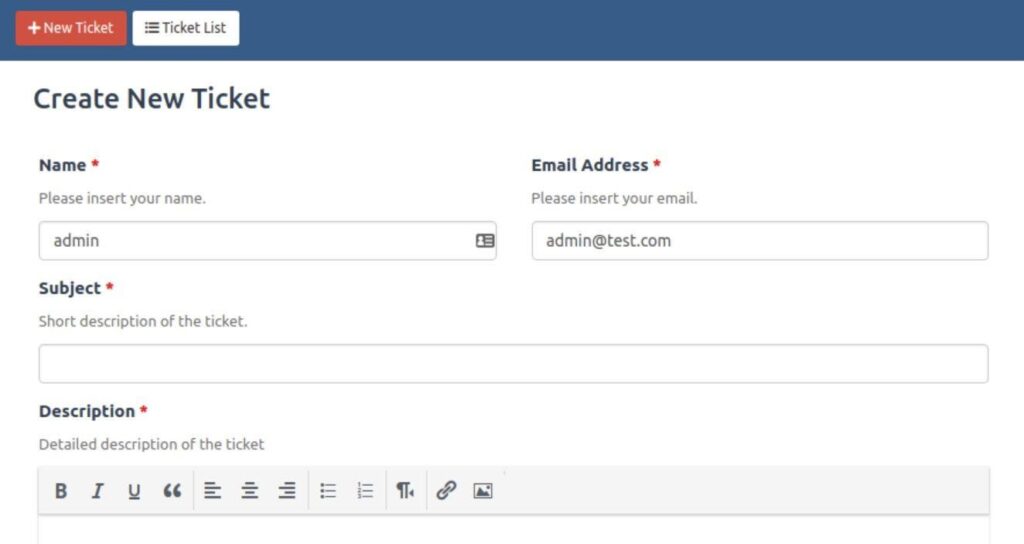 SupportCandy pros and cons
Pros
Cons
– Free version available with basic features from WordPress.org
– Unlimited tickets and agents.
– Quick and easy to use AJAX-based interface
– Premium addons available to extend features in the free plugin
– Navigating the pricing and features in each version can be complicated.
– The Starter and Economy versions seem unnecessary, as the most significant features are in the Standard version only.
JS Help Desk is another free and user-friendly solution when considering WordPress helpdesk plugins. It helps you track, prioritize and provide assistance in response to customer support tickets. Similar to SupportCandy, it can be extended with premium addons.
It's an open-source plugin built with developers in mind. So they can customize the plugin code and also add custom features. Notable features of the free version include:
Front-end ticket creation
Visitors/guests can also raise support tickets
Filters to customize viewing of tickets
Assign department to tickets
Email notifications for new tickets
Custom fields for ticket form customization.
Unlimited departments
The Pro version gives you complete access to all the premium addons and features including:
Agents and permissions management
Merge and export tickets
Notifications and Auto-responder on new ticket creation
Canned responses to common questions
Custom fields for ticket creation.
Unlimited agents and departments
Knowledge base and FAQ integration.
Support performance reporting
A Tour of the Interface: JS Help Desk provides users with a front-end dashboard to view and submit support tickets. They can raise support requests with or without logging in.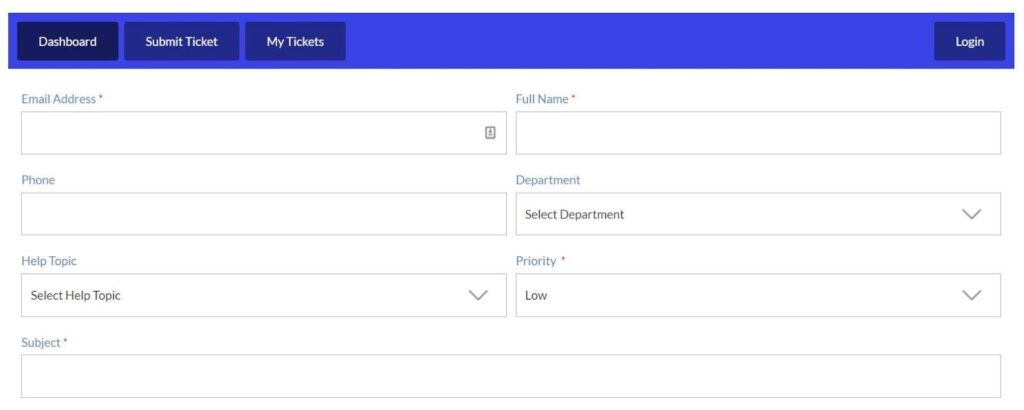 With this support plugin, agents can create, edit, delete and view the status of tickets from a very modern interface. They can also search or filter tickets based on specific criteria.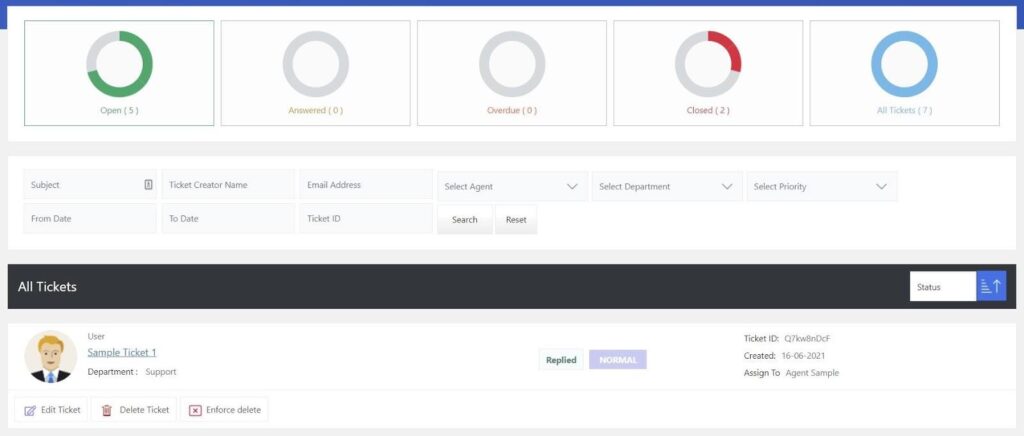 However, it's not AJAX-based as in some of the other solutions on our list. So it takes some time to add and update support tickets. You can view a full demo in action here.
JS Help Desk pros and cons
Pros
Cons
– Free version available with basic features
– Open source code
– Addons available to extend features
– Unlimited agents and departments
– Navigating the pricing and features in each version can be complicated.
– Agent interface is a bit slower than AJAX-based plugins
The WooCommerce Support Ticket System is a premium WordPress helpdesk plugin that integrates with your WooCommerce installation to manage order support requests.
It enables customers to raise two types of tickets. If their query is related to a specific order, a customer can raise an order ticket. For general support, he or she can raise a user ticket.
Notable features of this plugin include:
Email notifications for new tickets and changes in tickets
Message threads
Add multiple agents to collaborate on tickets
Large files can be attached to messages
Backend ticket management
A Tour of the Interface: Customers get a dedicated area in the front end to submit and see the status of their tickets. The interface is fast and modern. Ticket conversations are shown via message threads, and each message can also have attachments.

The ticket management interface in the backend shows all the main information like status, subject, date, etc. The color codes associated with ticket status make it easy to navigate through resolve tickets.
From here, you can edit and reply to tickets with an interface that uses native WordPress functions. As with most of the plugins in our list, WooCommerce Support Ticket System also has a live demo you can try to see how it works.
WooCommerce Support Ticket System pros and cons
Pros
Cons
– Low price
– Attractive interface
– You can attach large files without additional server configuration
– Best suited for those running an e-commerce store based on WooCommerce
– Limited feature set
What is the Best Help Desk Plugin for WordPress?
As we discussed, a WordPress helpdesk plugin makes it easier to create, track and respond to support tickets, allowing you to help customers in a more intimate manner. As a result, you delight customers, improve their experience, and increase conversions while saving time and labor.
Even if you have a knowledge base in place, we strongly recommend Heroic Inbox as the best WordPress helpdesk plugin. It can take your customer service to the next level. And if you're looking to implement a knowledge base solution first, check out Heroic KB.