Top 13 IT Ticketing Systems and Software for Solid Tech Support in 2023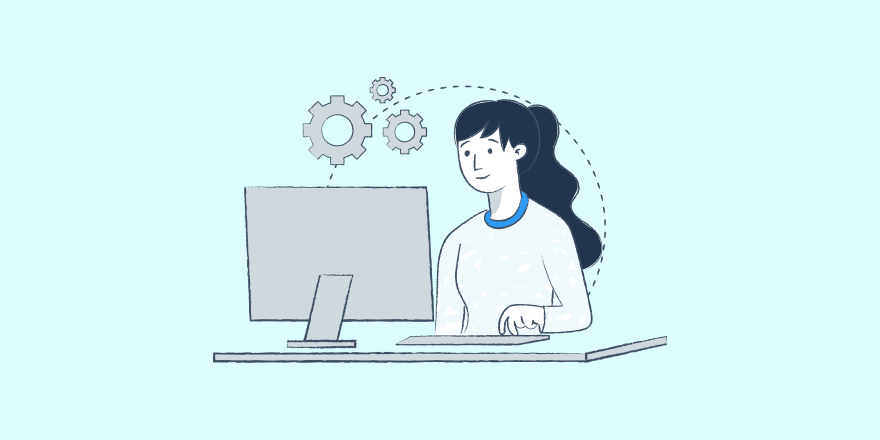 IT support is expected to handle numerous tasks at a rapid pace, including service requests, phone calls, defective tools, and customer complaints.
If your team is still relying on legacy solutions like Outlook to handle these tasks, you're not just leaving money on the table, but also spending more on keeping additional IT support technicians.
In fact, HDI reports that the typical price of an on-site support case is around $37.52.
Needless to say, it's important to get the most out of your IT service representatives. And to do that, you need an IT ticketing system. So in this article, we'll walk you through the leading IT ticketing software to consider for building an effective service desk.
But before that, let's discuss the meaning of an IT ticketing system and how to select one.
What is an IT ticketing system?
An IT ticketing system (also known as an IT help desk) is a solution that helps automate routine customer service tasks and lets IT service representatives manage support requests and complaints from start to finish.
A 2021 survey found that 60% of fast-growing companies have a ticketing system in comparison to slow or zero-growth businesses.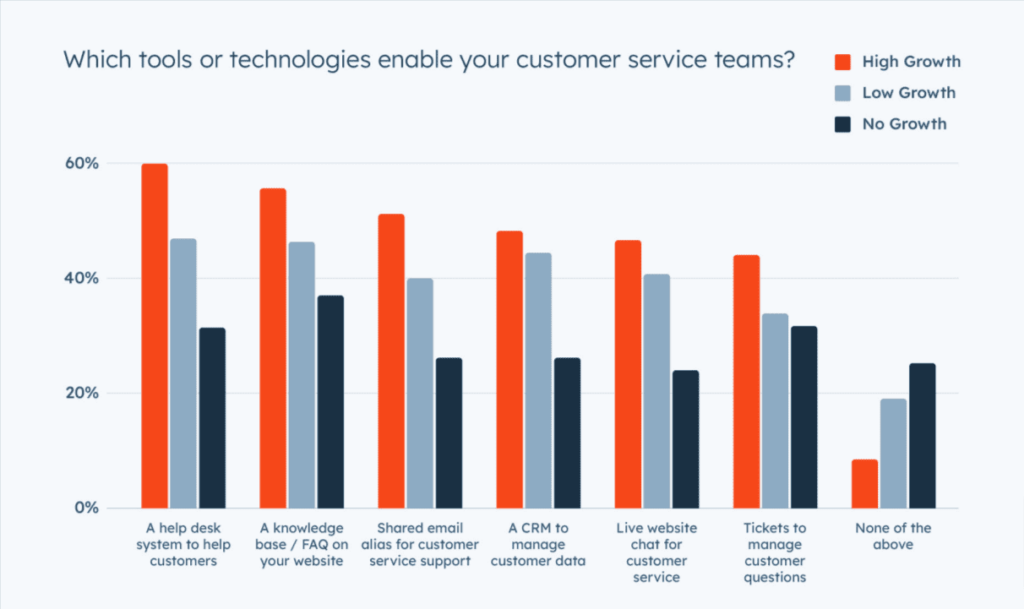 And for good reason, since an IT help desk system puts automation on routine jobs and enables support agents to handle tickets from start to finish.
It focuses mainly on organizing customer requests and generates a ticket whenever an issue is raised. The ticket includes pertinent information about the buyer and the whole case.
Certain solutions even offer cutting-edge features for asset management, network troubleshooting, IT change management, and incident management.
What is the difference between an IT help desk and an IT service desk?
"IT service desk" and "IT help desk" are often considered the same. But technically, they refer to two different ideas.
A service desk focuses more on providing manual help to workers and buyers. According to the ITIL guidelines, a service desk is "the primary source of contact between the company and those who use the company's solutions."
On the other hand, IT help desks initially emerged in the 1980s and served merely as a medium for documenting and fixing incidental issues as and when required.
The distinction between the two becomes even muddier if your IT division also serves as your customer support team. Luckily, the majority of IT support desks can provide support to both workers and customers.
How to choose the best IT ticketing software?
To pick the best IT ticketing system, look for features such as a unified shared inbox, privacy and security, performance reporting insights, the ability to scale, a self-help platform, automation capabilities, compliance with industry standards, and 3rd party integrations.
When selecting a support ticketing software, it's crucial to take into account your requirements as well as your IT technicians' processes. Here are the main criteria to consider.
Unified shared inbox
As per a Commbox survey, the means of contact that consumers frequently utilize (ranked from highest to lowest) are automated live chat (44%), Facebook (42%), WhatsApp (34%), text messages (32%), email (28%), and Twitter (19%).
So the capability to generate requests from numerous channels and turn them into tickets is among the important functions of an IT support ticketing system.
If you have a unified interface to see and handle every new ticket, your staff's effectiveness will increase. And this centralized mailbox should allow you to:
Raise requests manually on behalf of customers, if needed
Utilize simple canned messages for frequently reported problems
Deliver an automated reply to the customer when they raise a query
Upload documents
Store previous chats and calls in the same case to retain information
Avoid overlapping responses from multiple representatives (aka collision detection)
Work on a ticket as a team (for example, by adding internal comments)
Privacy and security
A Pew Research survey found that 79% of participants have high or moderate levels of worry about the way brands utilize their information.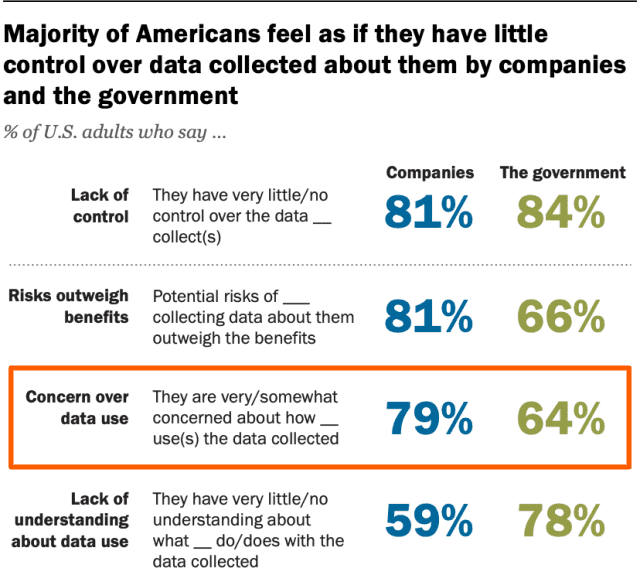 In IT ticketing software, critical customer data is often associated with the cases. For example, a customer may have to share a password for an agent to look into a problem. That's why a support center must be able to keep delicate information safe.
You can either go for in-house deployment or web-based support ticketing software. Although both systems have advantages and disadvantages, data protection is a priority in each scenario. So when evaluating IT support desk systems, look for the following key security functions:
IP-based permissions to make sure no one except your team can access the backend
Data encryption to secure critical information
Restriction of access to specific users and their rights in your company
Screening for malware and other malicious attachments
SSL certification for web-based software
Performance reporting insights
A Pega report established that the prompt resolution of the problem is the key component of great customer support for 59% of consumers.
So when it comes to IT help, the speed of support matters a lot. This is why the majority of customer service agents have SLAs (service level agreements) they must adhere to.
And good IT ticketing software comes with robust analytics features to let you see right away whether your support agents' are matching up those SLAs. For example, it offers live insights about the number of issues resolved and the average handle time.
Plus, your support desk system should allow you to gather buyer feedback and assess customer satisfaction, whether through NPS surveys, CSAT surveys, or other means.
Ability to scale
What happens when your business expands? If your team doubles or triples, what will be the expense?
When selecting an IT ticketing software, you may need to take into account its scalability potential. Consider factors like the upper limit on users allowed, storage capacity, and the number of buyers you can handle on the system. And see how the pricing changes when there is a shift in these factors.
Self-help platform
Another important capability is creating self-help platforms for your buyers as well as the IT support team. This is because it benefits both. Here's how.
For customers
69% of buyers want to solve their issues independently prior to taking assistance from support staff, as per a 2020 report.
When you provide an external knowledge base, you enable your users to resolve frequent issues on their own. This results in fewer low-urgency requests for the support desk and its representatives.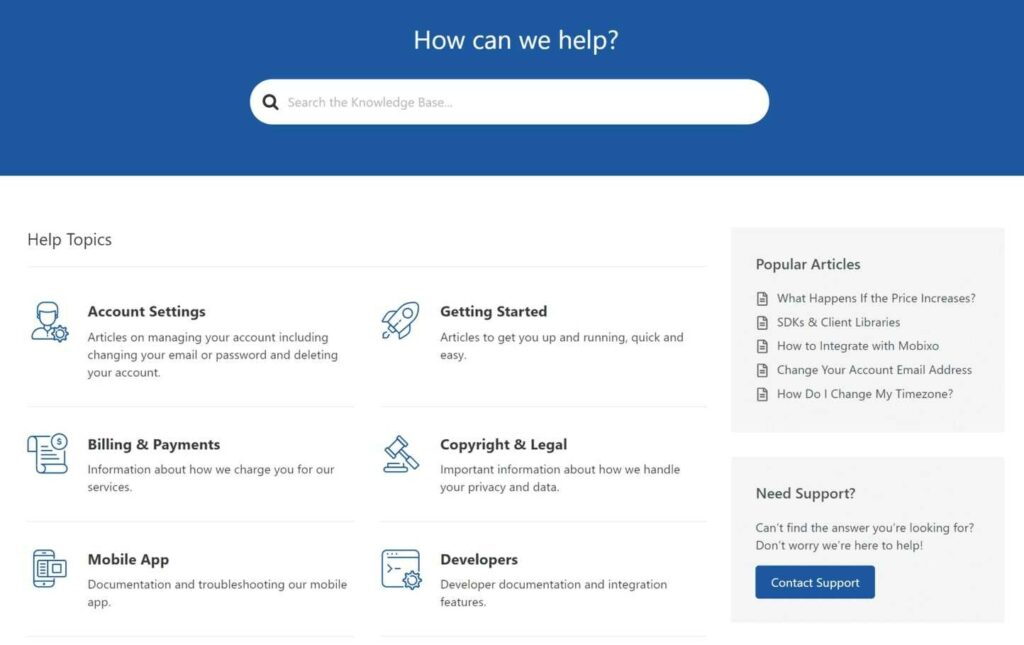 Overall, it creates a unique scenario where everyone wins. Buyers are happy to address frequent issues on their own, which lowers the number of support requests and your customer service expenses.
You can utilize an external knowledge base to post common customer queries, news on offered goods and solutions, and how to handle errors.
Users should be able to easily search or scan the knowledge portal by topics and keywords. This way, they can avoid submitting new requests and get instant access to the data they want.
For IT technicians
An internal knowledge base enhances the productivity of your IT service representatives as it empowers them to find answers on their own. So they can quickly locate solutions when performing their tasks.
Your team will cherish the convenience of finding the required information without wasting time. Plus, it can greatly benefit support desk representatives when handling service queries.
Internal documentation lets your team build SOPs for ticket management, troubleshooting guides, and standard protocols.
Automation capabilities
In a 2020 survey by Opinion Matters, 65% of IT leaders in the US state that smart self-help has been a crucial factor in surviving the pandemic.
The majority of IT ticketing software enables you to set up rules and triggers to modify the status, level of importance, and other ticket parameters. Also, you can create an automated reply to send to buyers as a confirmation of their request.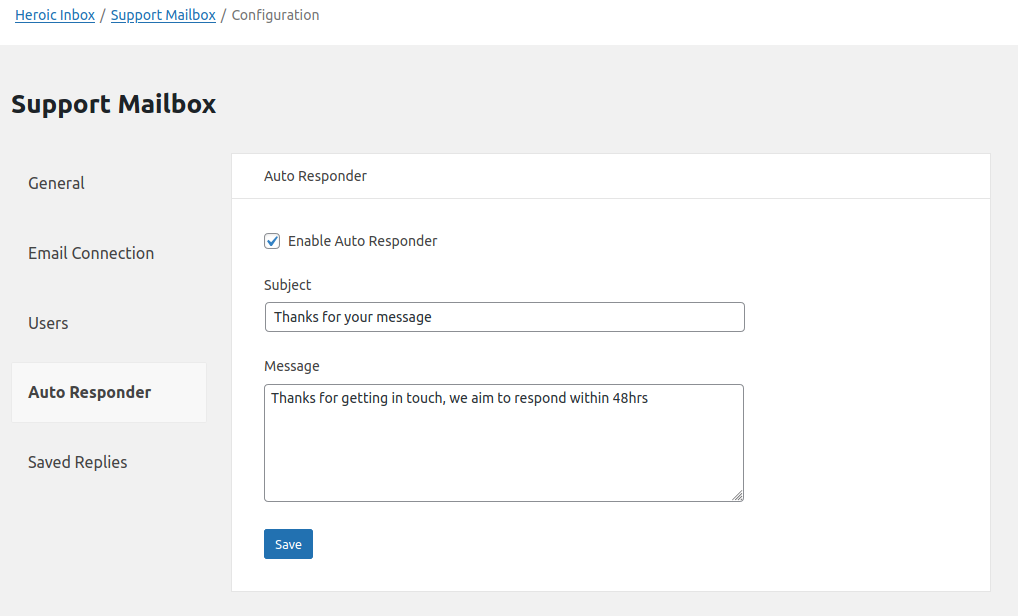 Certain IT ticketing software can also let you create automated workflows. For example, you can classify and prioritize support requests depending on factors like email address, subject of the email, and words used in the ticket.
Using such a feature, you can set up a trigger to categorize requests arising from a particular email address. Then, allot those requests to your most qualified agents.
Compliance with industry standards
Another important consideration is the market regulations and standards that must be met. For example, if you are in a medical business, your support desk must adhere to HIPAA guidelines. And if your business needs to be in compliance with ITIL, your support desk must meet these standards.
In light of this, consider these requirements and include them in your IT support desk evaluation criteria.
Support for 3rd-party integrations
When working in a big firm, integration with your existing software stack is a crucial factor to consider when selecting an IT ticketing system. For example:
Linking the service desk with your customer relationship management (CRM) system can provide you with a better understanding of buyers, including their purchasing patterns, online behavior, and preferences. This information will help your IT support team offer personalized assistance.
Connecting the service desk with your IT asset management software can enable you to detect defective tools or technology that has to be fixed or updated, allowing you to handle issues better.
Integrating the service desk with your issue-tracking system can let you be on top of debugging tasks.
What are the top IT help desk ticketing systems?
The top IT help desk ticketing software includes Heroc Inbox, Hubspot's Help Desk, ServiceNow, SolarWinds' Web Help Desk, JitBit, Freshdesk, Zendesk Support, Spiceworks, osTicket, ConnectWise, and Jira Service Desk.
As we discussed, IT support ticketing software is a crucial tool for businesses to manage and resolve technical issues efficiently. So let's look at some of the top IT ticketing systems.
Heroic Inbox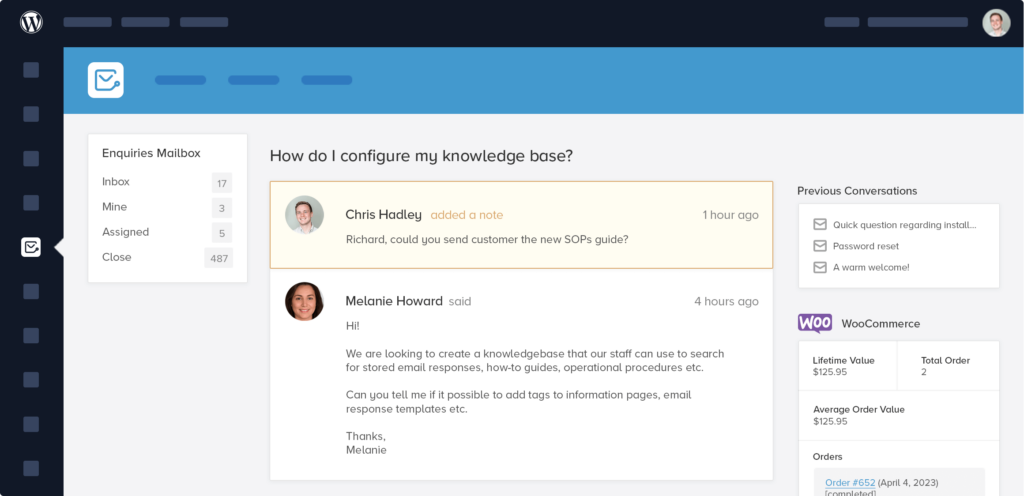 Heroic Inbox is a top-notch centralized mailbox and supports ticketing software for people running a WordPress site. This plugin transforms a self-hosted WordPress site into a full-fledged support desk.
Nested within your site's other backend options, it reduces disturbance and improves operations for the help desk team.
The key feature of this plugin is that it allows you to manage your sales, customer service, collaborations, and additional mailboxes from a central location.
You can easily integrate it with your Google Workspace or Gmail account. And it will begin showing your emails on the WordPress control panel, allowing you to reply to them from the same location.
With Heroic Inbox, you also get secure user authentication settings and a large variety of online support ticketing functions at an economical cost. These features make Heroic Inbox the perfect IT ticketing software to offer top-notch assistance and customer service.
Not just that. If you have an online shop that uses WooCommerce, Heroic Inbox can pull a customer's information from WooCommerce.
Key features
Allows you to self-host your support desk, giving you complete command and rights to your information
Manage unlimited email addresses, mailboxes, communications, and users from a single location
Automatic email categorization, rules, and responses. Automated replies for support inquiries
Strong collaboration capabilities with limitless members, comments, stored responses, templates, ticket allotments, and drafts
Integration with WooCommerce, Easy Digital Downloads, GiveWP, and other tools
HubSpot
HubSpot's Support Desk software enables you to document, categorize, and monitor customer service tickets on a unified control panel available to your staff. Agents can see every interaction on the support case and supervise the resolution journey until the issue is resolved.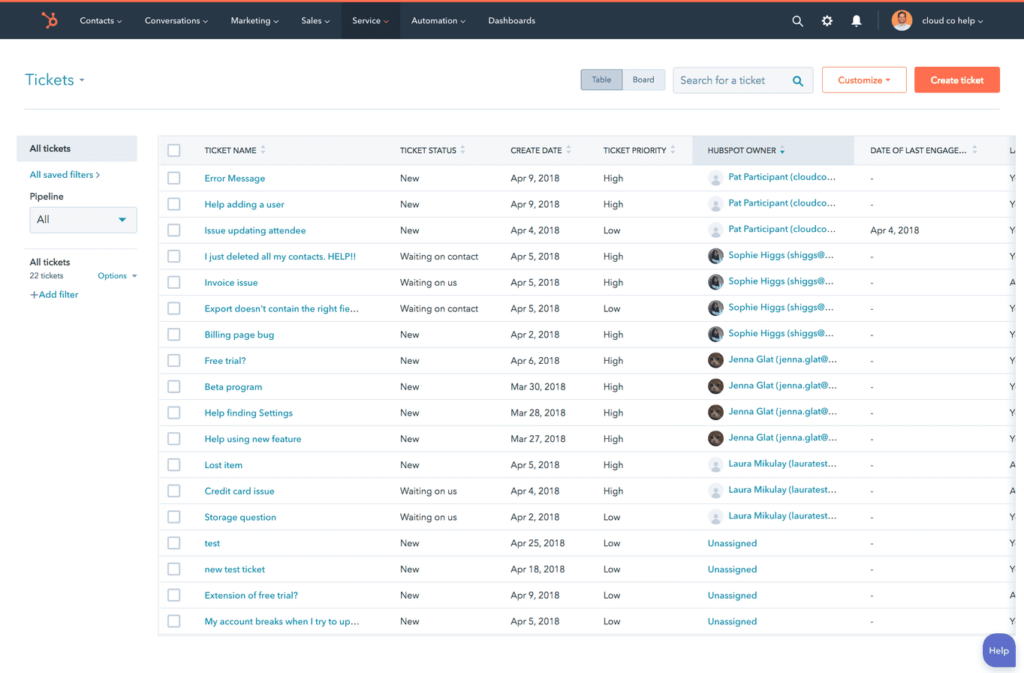 Support requests are connected with buyer data, simplifying the task of customer support agents. This is because they can check the customer's previous communications with the business.
The Help Desk function of HubSpot generates a support ticket automatically whenever a buyer submits a form, emails an issue, or contacts via live chat.
On top of that, HubSpot offers analytical data to monitor your help desk staff's efficiency. This includes KPIs such as how long it takes for reps to reply and the number of support cases. So you get insights into whether the crew is fulfilling customer needs.
If the agents are falling behind, higher-ups can examine the operation of each agent and find out critical barriers stopping them from reaching company objectives.
Key features
Record, arrange, and monitor buyer problems in a centralized location
Automate service requests
Organize tickets based on severity for prompt resolution of urgent problems
Generate data-driven insights for resolved requests, agent efficiency, and resolution time
Can be connected with HubSpot's free CRM
ServiceNow
ServiceNow is an IT ticketing software that can do more than record basic details about incidents. The goal of this tool is to consolidate every IT process, ranging from DevOps, ITSM, and governance, into a single location.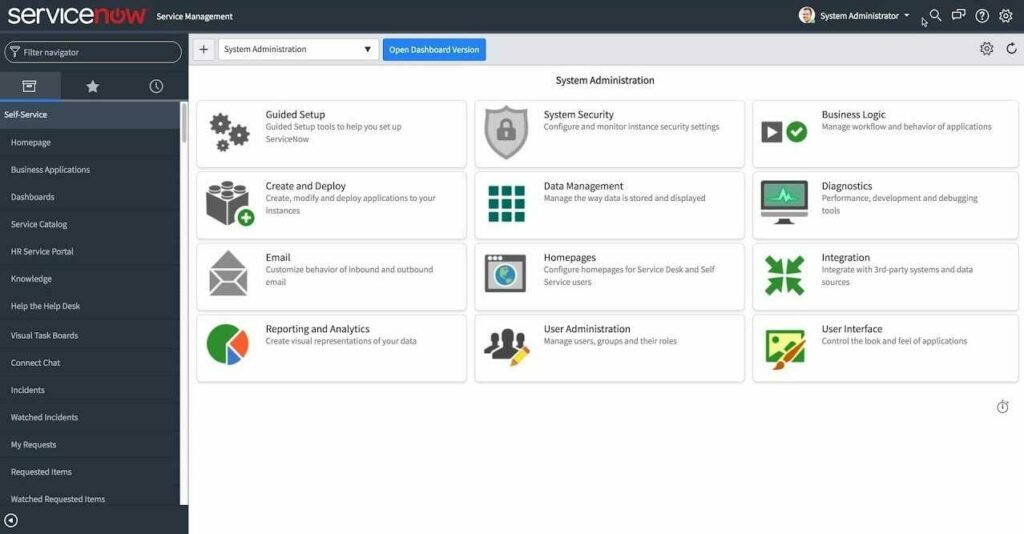 The platform is focused on improving productivity. For instance, it allows you to bring every one of your IT solutions, infrastructure, and tools into a unified control panel.
Other than that, it enables you to monitor selected performance indicators and establish custom operations for team members, buyers, and IT technicians. It can also function as project administration software.
Key features
Troubleshooting and incident management
Configuration and asset management
Engaging reports with your chosen KPIs
Custom workflows a variety of IT protocols, including ITSM, customer service, and asset management.
A vast selection of integrations and applications
Web Help Desk by SolarWinds
SolarWinds Web Help Desk is specifically created to manage asset management and buyer questions. If you require IT ticketing software for internal assistance, SolarWinds has a separate platform named Service Desk.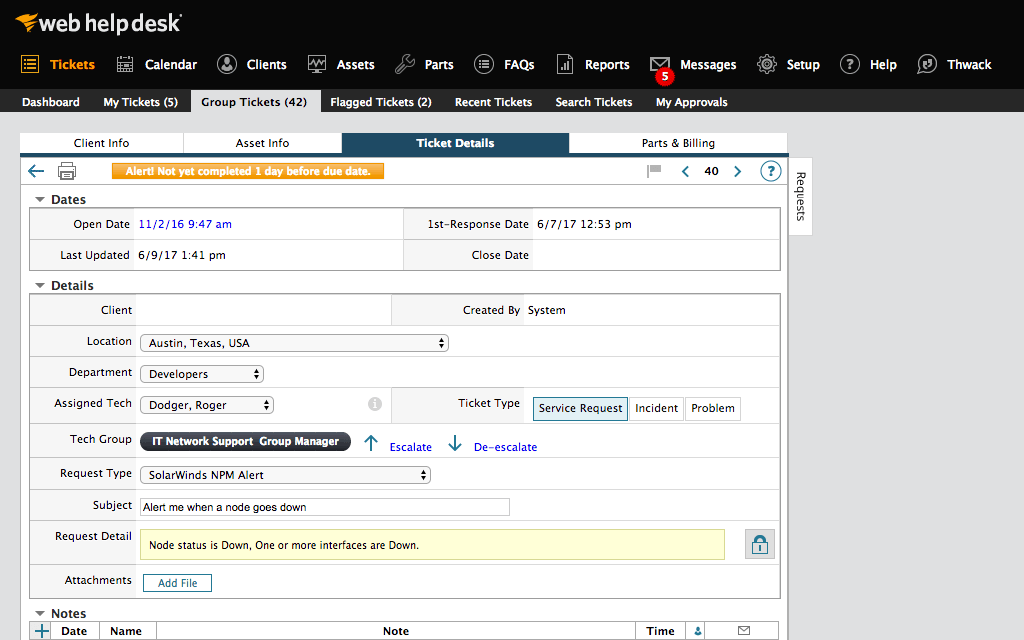 With that in mind, Web Help Desk is also a downloadable software that can handle service requests, IT resources, and change management inquiries.
An outstanding function of the Web Help Desk is the "SLA breach approaching" option, which lets you create SLA notifications. For instance, "If a support request remains untouched for 30 minutes, alert the team leader."
Key features
Support request coupling for smooth handling of connected requests
Direct API connection with LDAP and Active Directory
Set up automatic feedback questionnaires
Compatibility with external software for IT asset management
JitBit
JitBit is an IT ticketing software that provides cloud and self-hosted options with an emphasis on minimalism. But this doesn't imply that the IT ticketing system is lacking in essential features.
Beneath its simple design, there are robust automation rules. These features enable you to set up auto-responses, assign agents to service requests, and put deadlines on support cases.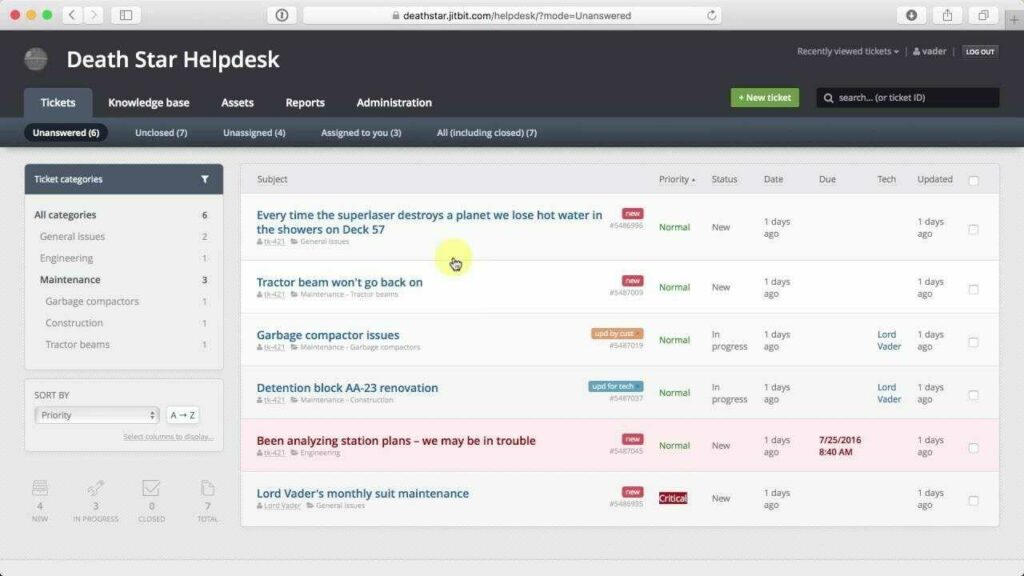 Jitbit is pre-equipped with connections with 3rd-party software like Github, Slack, and Jira. Furthermore, it can be linked to Zapier, providing access to over 500 additional applications. Or you can utilize the REST API to create specific software connections.
Key features
Automation functionalities in the support desk
Support desk application for smartphone
Support for SSL protocol
Asset management
Freshdesk
Freshdesk is an online IT ticketing software that brings every essential IT support function in a single platform. The feature-set changes depending on the package, but each package has support ticketing, teamwork tools, social media integration, and analytics capabilities.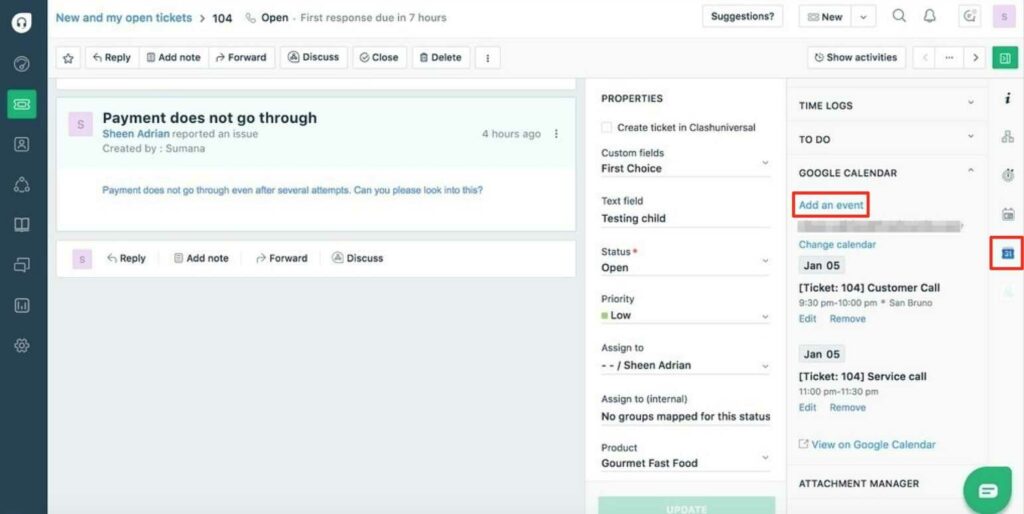 A particularly useful aspect of Freshdesk is the contact management hub. Here, people and businesses are linked to support requests, simplifying the handling of communication.
Representatives and supervisors can quickly identify pending service requests according to several factors to make sure every problem is handled promptly.
Also, note that Freshdesk is not designed for IT service management. They have separate software for this purpose known as Fresh Service.
Key features
Automation and task allocation depending on agent skills in premium packages
Staff data panels allow you to keep track of crucial performance indicators
Gamification functionality to encourage help desk representatives
Provide support across various avenues like chat messages, website portals, emails, and social media platforms
Zendesk
Zendesk Support is a component of the Zendesk package, serving as a help desk. Created for standard customer support operations, it lacks IT-oriented functionalities like asset management.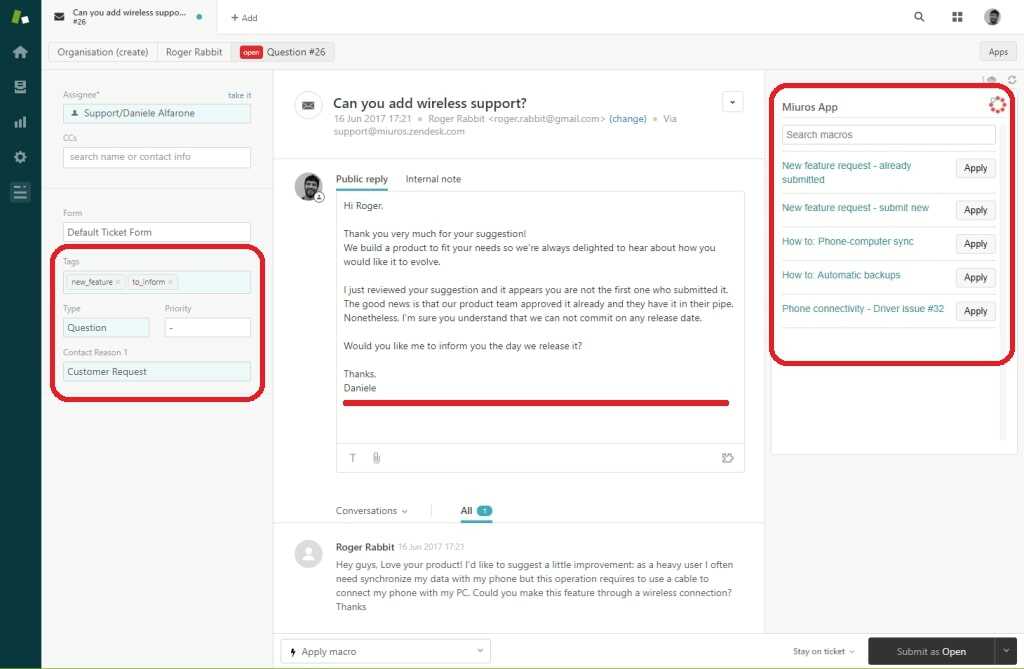 On the other hand, this IT ticketing system excels in assisting through various avenues. The service requests can be submitted from a variety of channels, including social media platforms.
Among its strong points is the capability to execute rules. For instance, support staff can activate a particular automatic process when there's an update in a support case's properties.
Another Zendesk feature, Views, might also be useful as it lets you identify support requests according to specific factors.
Key features
Adjustable displays and ticket expiry dates
Flexible analytics reporting with custom parameters to generate desired insights
The per-user price can go up to $200 for big support desks
Spiceworks
Spiceworks is extremely flexible free IT ticketing software. Based on your requirements, you can expand it with a wide range of IT applications for activities and operations. These could include asset management, virtual assistance, and network surveillance.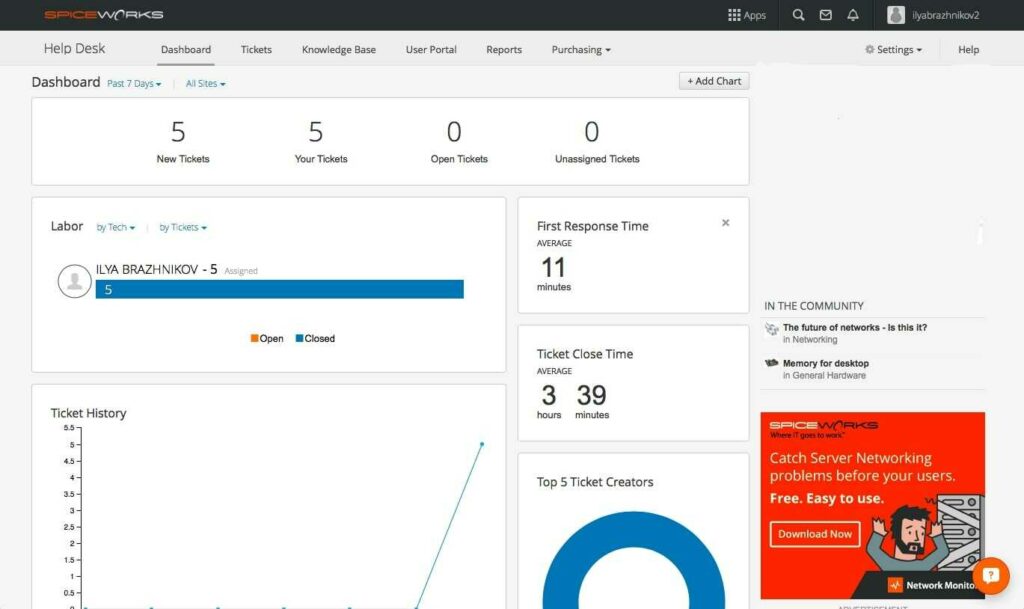 Spiceworks provides on-site and cloud options, along with smartphone applications for iOS and Android devices.
For people looking to communicate with colleagues and share knowledge, there is a big and well-known Spiceworks forum. It consists of network architects, system administrators, and similar IT experts.
Key features
Free and flexible IT support desk system
Supported by ads that are shown in the software
Support request forms can be modified for different situations
Unlimited support cases, and connected machines
osTicket
osTicket is an IT help desk ticketing system that includes every common feature you might require for IT support, and it could be modified based on your needs.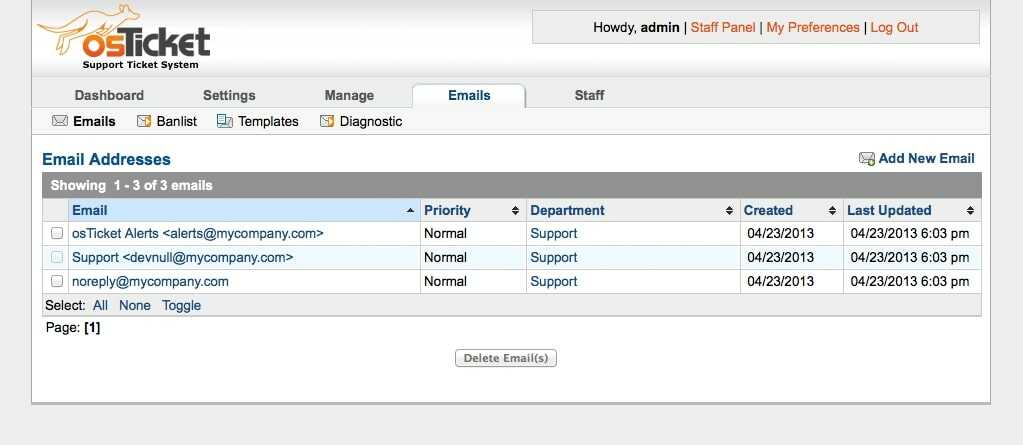 You can select either a free open-source option or a cloud-based one for a per-month plan.
A key benefit of osTicket is its capability to automatically categorize support tickets upon submission. You can create specific input fields, forms, and queues after receiving customer service requests to direct them to the appropriate technician or department.
Key features
Free, cloud-hosted, and enterprise versions
Prevents technicians from overlapping on the same ticket
Rules to route new support requests
SLA functionality
Data analytics
ConnectWise
ConnectWise goes beyond being simply an IT ticketing system. It is a complete enterprise workflow automation software created for businesses that require overseeing multiple service processes within an online platform.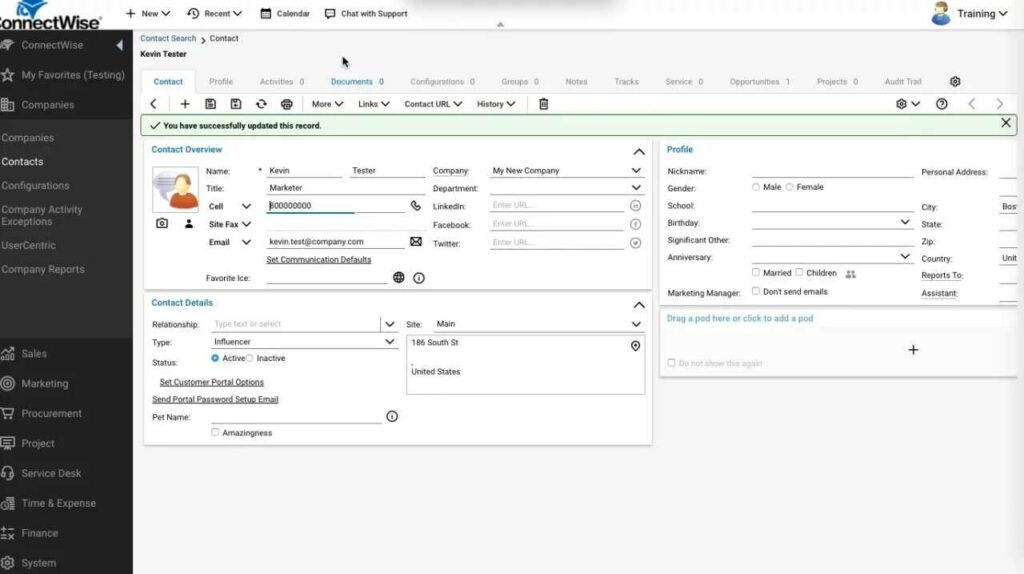 Aside from help desk software, ConnectWise contains numerous additional features such as task administration, timesheets, data analytics, invoicing, and product sourcing.
For extra capabilities, it can also be modified with any of the over 300 API connections. Its adaptable contract administration allows you to manage several work agreements effortlessly.
Key features
Support desk and IT ticketing software
Time tracking and data-driven insights
Product billing, procurement, and shipping
Public API and over 300 3rd-party connections
Jira Service Desk
Jira Service Desk is an appropriate IT support ticketing software for customer service and IT service management. Since it was created by Atlassian, it integrates smoothly with their well-known task management program – Jira Software.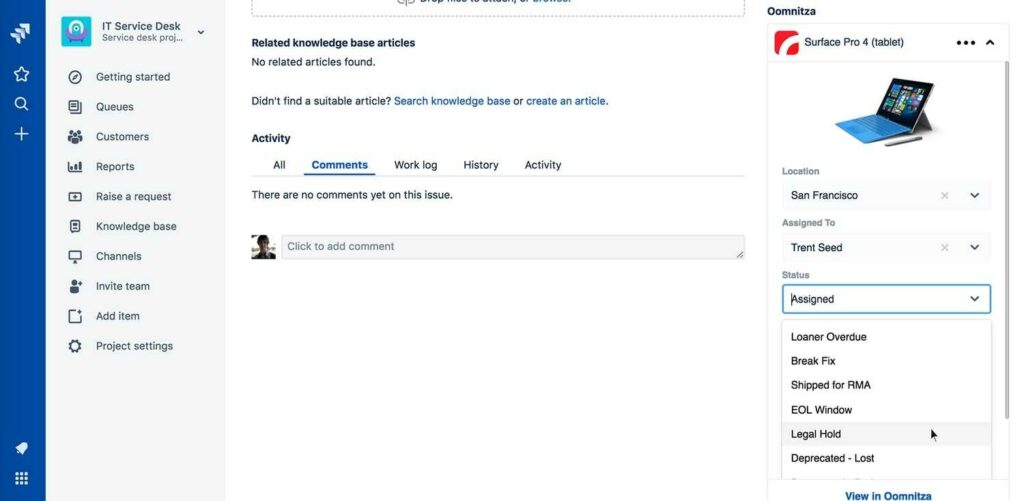 You can expand the service desk with over 350 external integrations. These consist of software for conducting questionnaires, handling customer relations, asset management, and various IT-oriented activities.
The program also has robust automation functionalities that allow you to optimize operations such as request routing and level-one alerts.
Key features
Redundant process automation
SLA features
More than 350 extensions on Atlassian Marketplace
Customer satisfaction analytics (CSAT)
Zammad
The next option on our list of IT ticketing systems is Zammad. This online, open-source service desk allows you to offer customer service through various channels, including phone calls, Facebook, Twitter, messages, and email.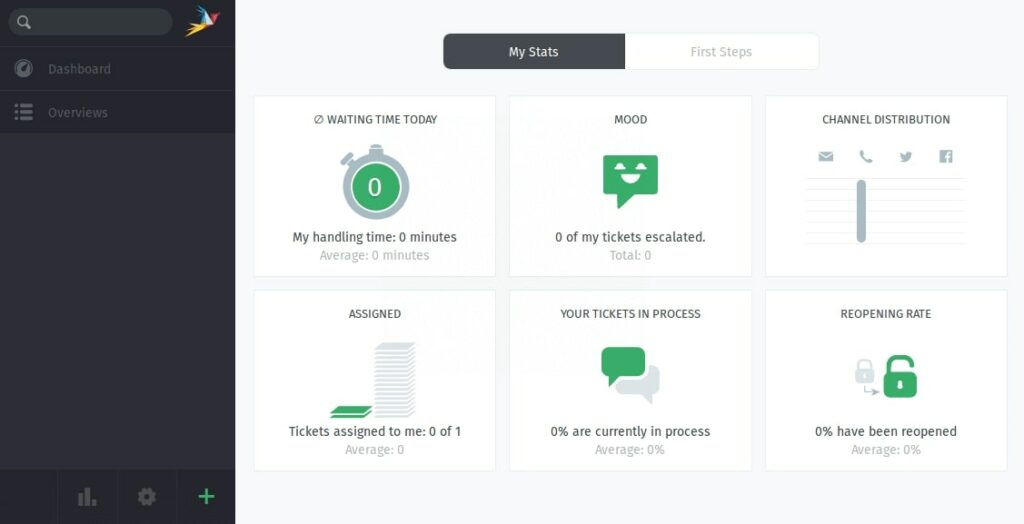 Zammad's ticket escalation criteria and preferred due dates can be used for requests, buyers, and companies. This will help you easily build and track your SLAs.
One of the standout features of this software is activity logging, allowing you to check the history and view the modifications made, and who made them.
Key features
Search capability for support requests as well as other uploads
Collision detection and autosave
Customizable escalation rules and time limits for issue resolution
Request Tracker
Request Tracker is an open-source, free help desk system that lets you monitor support cases and handle operations. Its web-oriented UI is fully adaptive, allowing tickets to be available on a mobile or computer.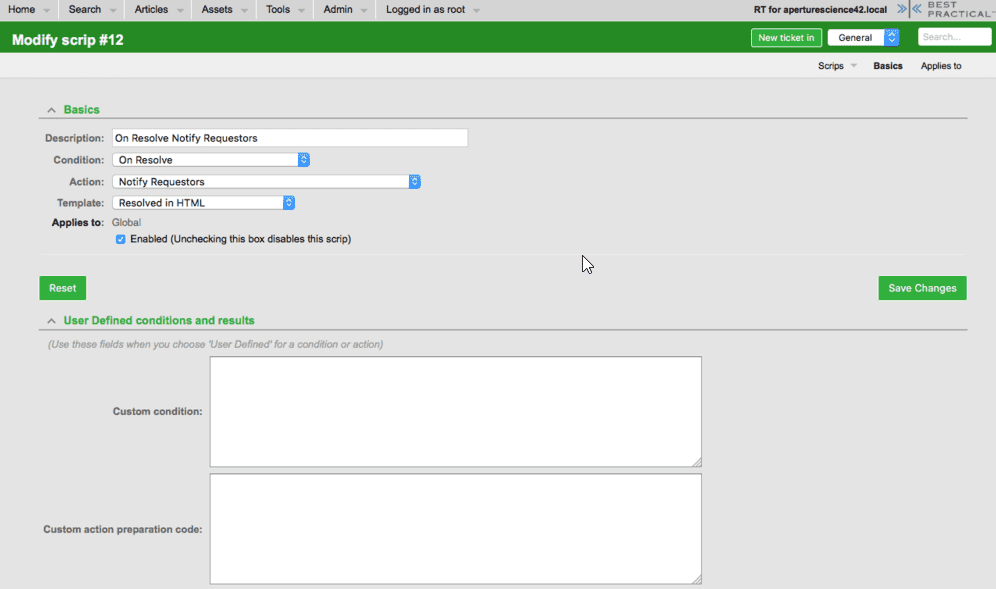 It is a safety-compliant software that includes full PGP compatibility for the encrypting, deciphering, and signing of documents. In contrast to other IT ticketing software in this article, Request Tracker doesn't have a superior user interface. Its UI might appear old to certain individuals.
Key features
Reply to customer requests anywhere with an email application or a smartphone browser
Timesheets and analytics reporting functionalities
Premium service packages are available
Lack of Service Level Agreement capabilities and support for dynamic documents
What are the best ways to optimize your IT help desk ticketing process?
The best practices for optimizing your IT help desk ticketing process include creating focused teams, establishing SLAs early on, having a self-service portal, categorizing tickets on submission, conducting customer surveys, and ensuring that handoffs include customer history.
Now that we have assessed the leading IT ticketing systems available today, let's look at an overview of methods to improve your IT support desk.
Create focused teams
Having your entire IT support team constantly switch between system architecture, device maintenance, and change requests is not ideal. Alternatively, you can create dedicated departments that handle groups of connected activities. This lowers pressure and lets your service desk staff be more focused.
Establish SLAs early
Service Level Agreements (SLAs) aid you in clearly laying out the requirements of end users and also assessing the service quality of representatives.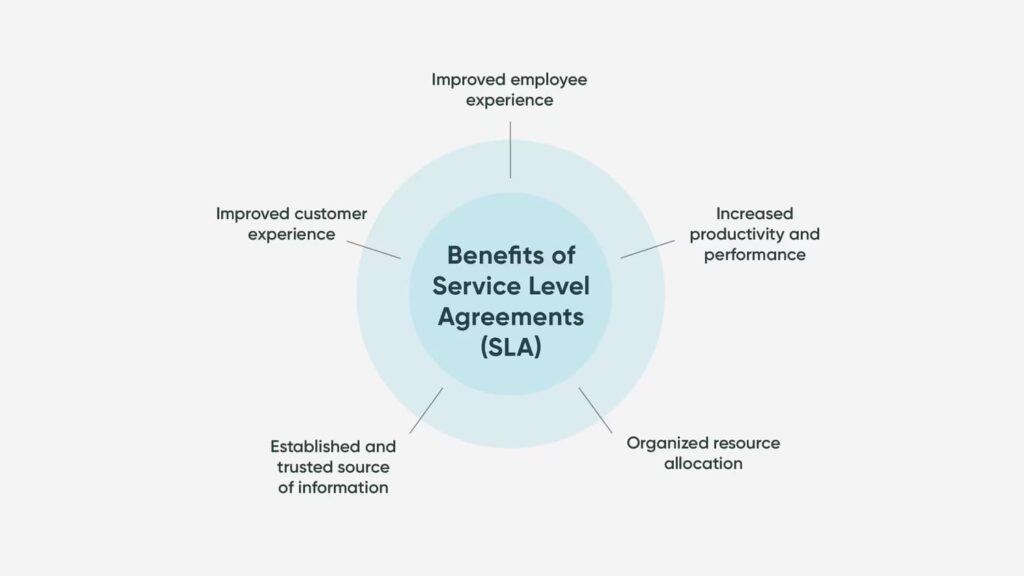 To fulfill your SLA commitments, ensure that you have a sufficient number of representatives to manage all incoming help tickets and that your IT ticketing software has the adequate ability to assist your support department.
Have a self-service portal
According to Salesforce Research, 68% of customers would choose to utilize self-help mediums – like knowledge bases or self-service portals – for basic queries or problems.
Needless to say, you should encourage self-help by releasing plenty of documentation on your knowledge base. Also, ensure that it is simple to raise a support request and that there is an intelligent search bar capable of allowing buyers to locate all the details related to their problem.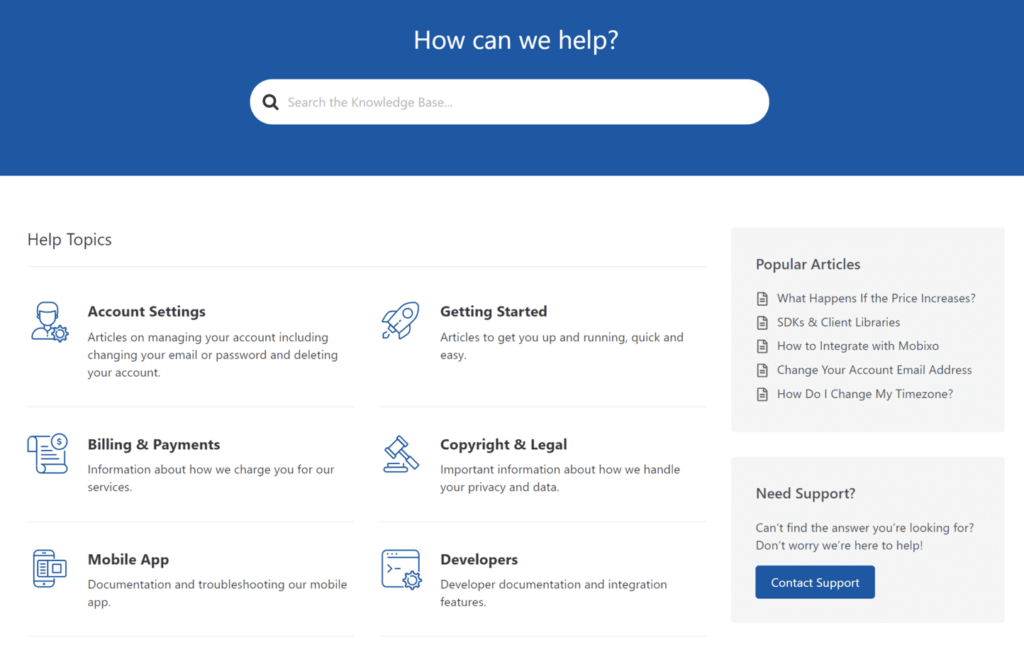 Categorize tickets on submission
To quickly resolve tickets and decrease human labor, set up automation triggers that allocate a particular kind of query to a particular representative or division. You can do this based on the source of the ticket, the words used in the query, or the category chosen by the customer.
Conduct customer surveys
Data analytics reporting provides useful information, but reviews from your buyers give you a holistic view of the real insights.
Usersnap's State of Customer Experience Patterns study states that quantifying CX involves around 2.7 methodologies. For B2B organizations, a survey is the most widely used approach, with 64%. Just below that are user interviews at 60% and net promoter score (NPS) at 50%.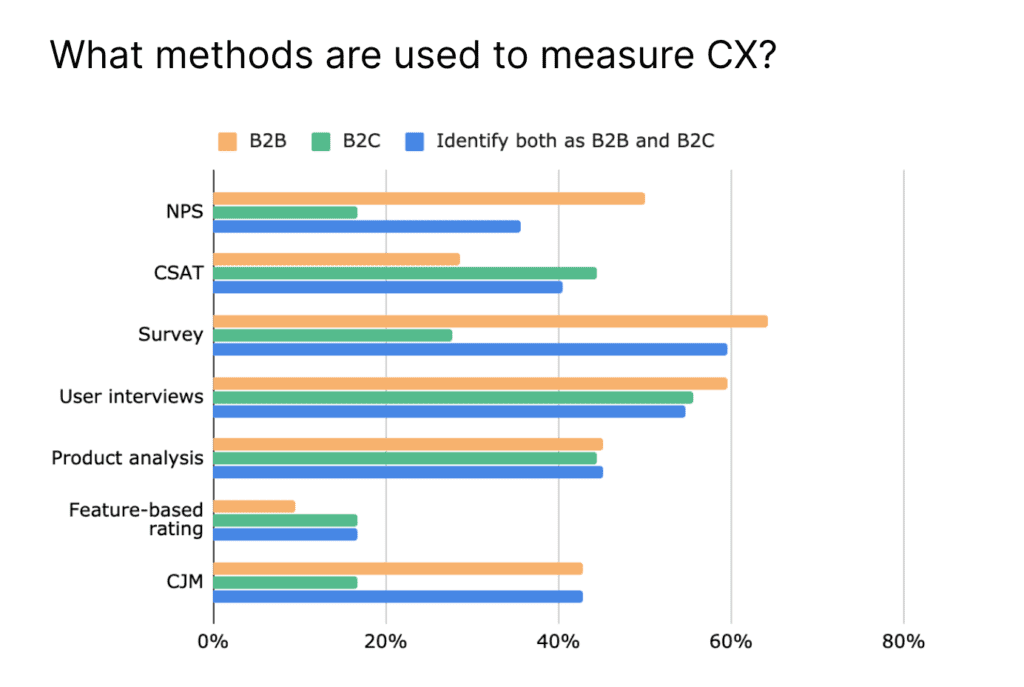 Ensure handoffs are done with customer history
Customers think that it is crucial for brands to know their personal identity (66%), previous communication (56%), and purchase records (55%), says research by Gladly and Zogby Analytics.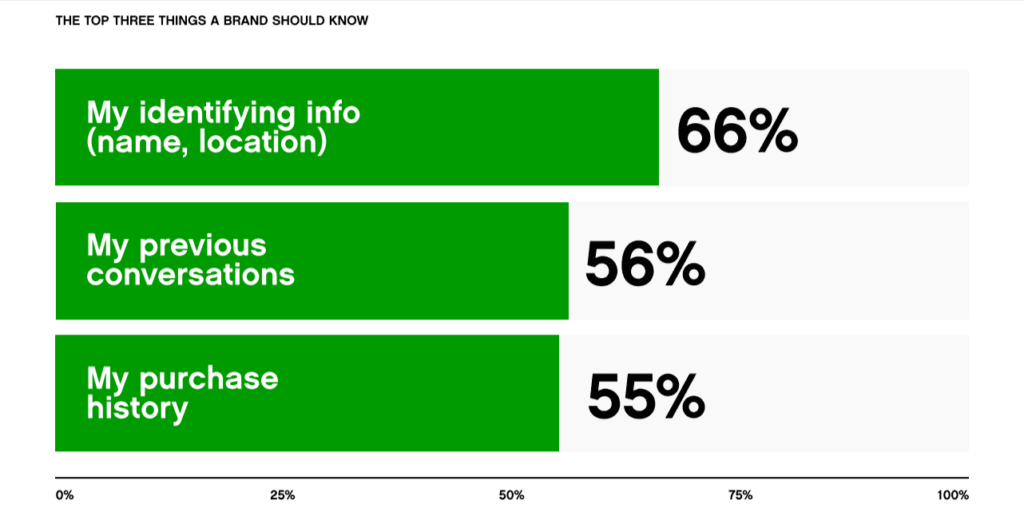 So you should ensure that customer service representatives get all these essential basic details to solve support cases.
Final thoughts on IT ticketing software
Many of the options mentioned above are capable of managing a wide range of IT ticketing projects. They allow you to handle support cases, assets, buyer inquiries, and workers' problems all on one software.
Because of such a rich feature set, these IT ticketing systems can be a favorable choice in situations where you are willing to invest time in training your team or put in a lot of money.
But in many cases, you just don't require an all-in-one solution. If you don't need too many bells and whistles, you can follow a modular approach. Use multiple IT customer service tools, each of which excels in a different area of IT services.
Heroic Inbox, for instance, is an IT help desk solution that prioritizes delivering excellent ticketing support. And it can be incorporated into your overall customer service setup along with other software.
For example, Heroic Inbox can be used with Heroic KB (our home-grown knowledge base software) to receive the most for your investment, obtain a streamlined interface for representatives, and deliver quick self-help and human assistance to buyers.