8 Best Customer Service Software Providers Compared for 2023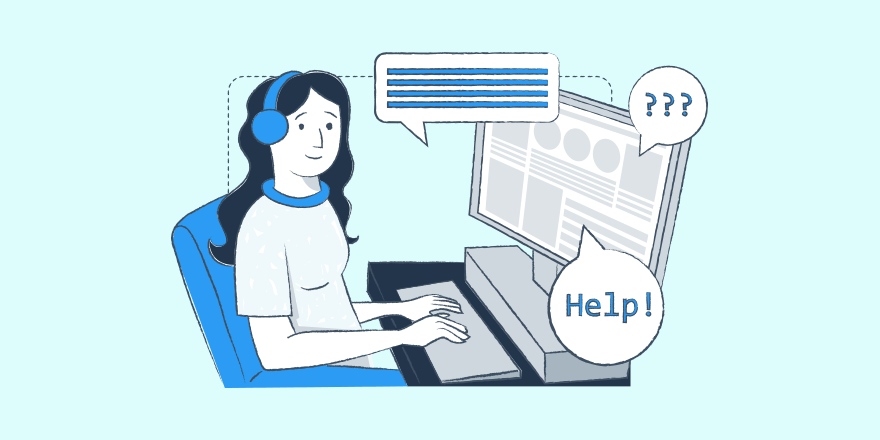 Searching for the best customer service software to deliver top-notch support with maximum efficiency?
If you want to offer quality support without wasting time, you definitely need the help of some optimized tools. Jerry-rigged methods can work when you're small, but customer service software is what helps you scale.
Customer service software can come in all different shapes and sizes, too, which can make it tough to choose. You have helpdesks, live chat tools, knowledge base software, phone call centers, and more.
Basically, there are a lot of options out there.
So, to help you cut through those options, we did the work to curate a list of the absolute best customer service software to help with all aspects of customer service.
In total, we'll cover eight different tools across a few different categories.
Your customers' support needs won't wait, so let's get started.
What Are the Different Types of Customer Service Software?
When it comes to the best customer service software, you'll typically find different tools for different purposes. That is, you might have one tool to create your knowledge base, another for live chat support, another for your helpdesk, and so on.
While there are a few tools that go for an all-in-one approach (typically at a price premium), you might find it more efficient and affordable to go with a specialized tool for the specific areas of customer service that you want to focus on.
In total, our list will focus on the following types of customer service software:
Knowledge base software
Helpdesk software
Live chat software
Phone call center software
We'll also include both software as a service (SaaS) tools as well as some open-source customer service software that you can host on your own server (and usually save a bundle by using).
With that introduction out of the way, let's look at the eight tools that we've chosen to feature…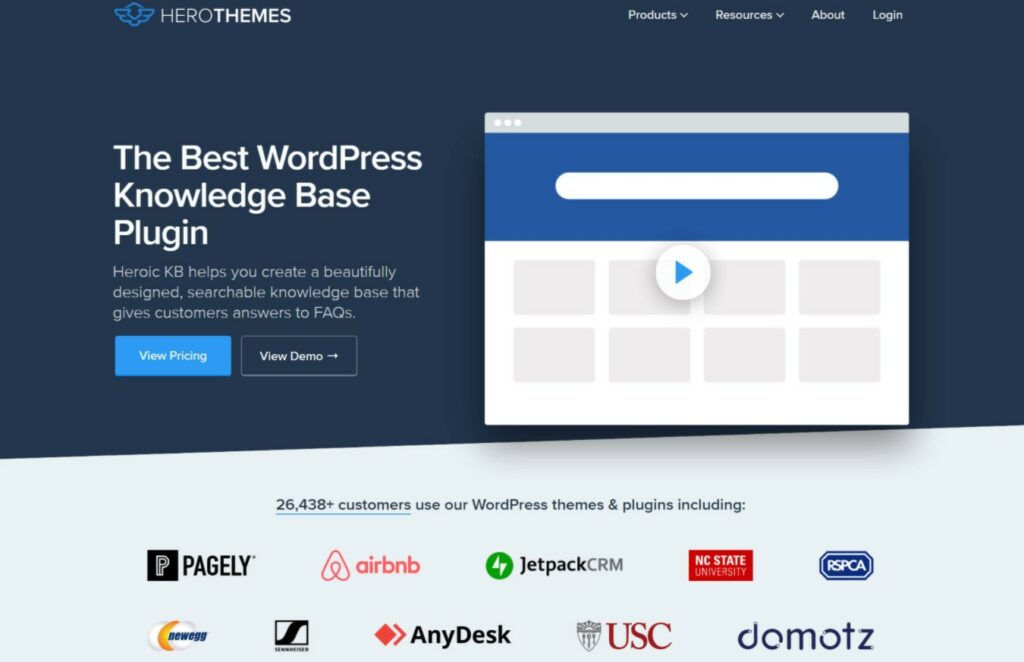 With the Heroic Knowledge Base WordPress plugin, you can create your own customer service knowledge base powered by the open-source WordPress software.
Nowadays, a lot of knowledge base software providers use the SaaS approach. That's totally fine in a lot of cases, but it limits how much you can customize your customer service platform and it can pack a punch to your wallet in the form of hefty recurring monthly fees.
By using WordPress for your knowledge base, you'll not only save money but you'll also have more flexibility to create the optimal customer experience for your customers.
If you're already using WordPress for your business's website, you can add a knowledge base to your existing site. Or, you could create a dedicated WordPress install just for your knowledge base.
Either way, the Heroic Knowledge Base plugin offers everything you need to make a knowledge base powered by WordPress.
Key Features
Powered by the open-source WordPress software, which gives you a lot of flexibility for customizing the customer service experience.
Live Ajax instant search suggestions.
Search analytics to see what help topics your customers are searching for.
Article feedback so that customers can thumbs up or thumbs down articles and you can improve articles where needed.
Built-in knowledge base analytics.
Easy article versioning via WordPress's built-in revision system.
Article file attachments.
2. Freshdesk – Omnichannel Customer Service Software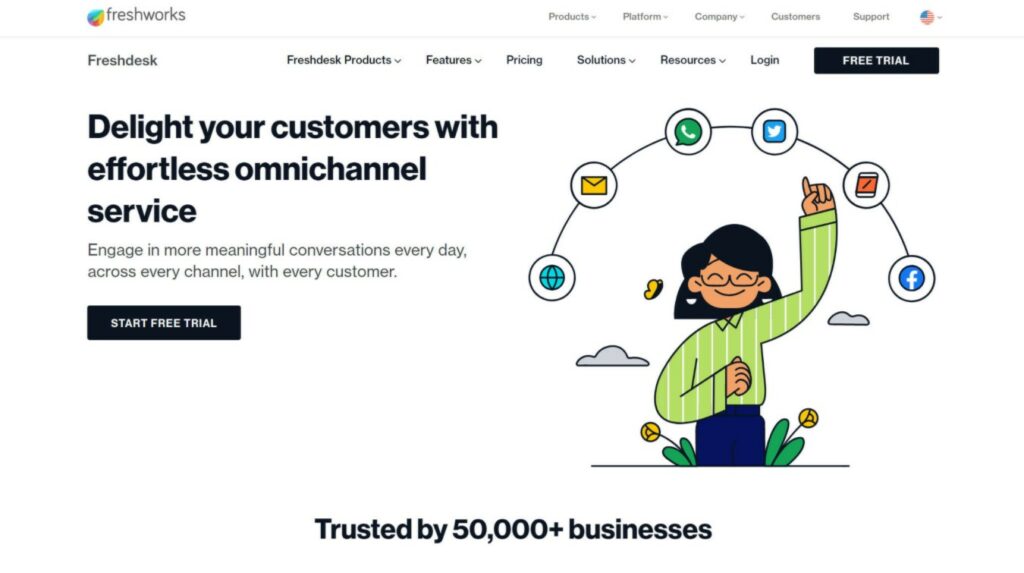 Freshdesk is a flexible customer support tool that helps you deliver omnichannel customer service across four key areas:
Helpdesk for customer tickets and responsive management.
Messaging for live chat and chatbots.
Call center for phone support.
Customer success to increase customer lifetime value and build stronger relationships.
Overall, it's one of the most comprehensive customer service tools that you'll find because it lets you engage with customers across so many areas. However, it can be pricey if you want all of the features and have a lot of customer service agents.
Key Features
Note – the exact features that you get with Freshdesk depend on if you're using just the support desk plan or the pricier omnichannel service plan. We're going to focus on the omnichannel plan because it's the most unique offering, but keep in mind that the support desk plan also exists.
Note – the omnichannel plans include every feature in the regular support desk plans plus all of the new omnichannel features:
Full-featured helpdesk.
Offer customer service via email, social media, messaging, telephone, ticket, and so on.
Chatbot builder and chatbot analytics to offer customer service automatically.
Omnichannel knowledge base.
Custom routing, including holiday routing rules.
Canned responses including automatic canned response suggestions to save even more time.
Co-browsing for more detailed customer service.
Pricing
Freshdesk's prices vary depending on whether you just want the helpdesk or you want the omnichannel customer service features.
For just the helpdesk, plans start at $18 per agent per month and range up to $79 per agent per month for enterprise features.
For the omnichannel features, plans start at $35 per agent per month and go up to $119 per agent per month.
One nice option is that you can purchase "day plans" to add some extra agents during short-term, high-volume support times. These last 24 hours and range in price from $2 to $15 depending on your plan.
3. LiveChat: Customer Service Live Chat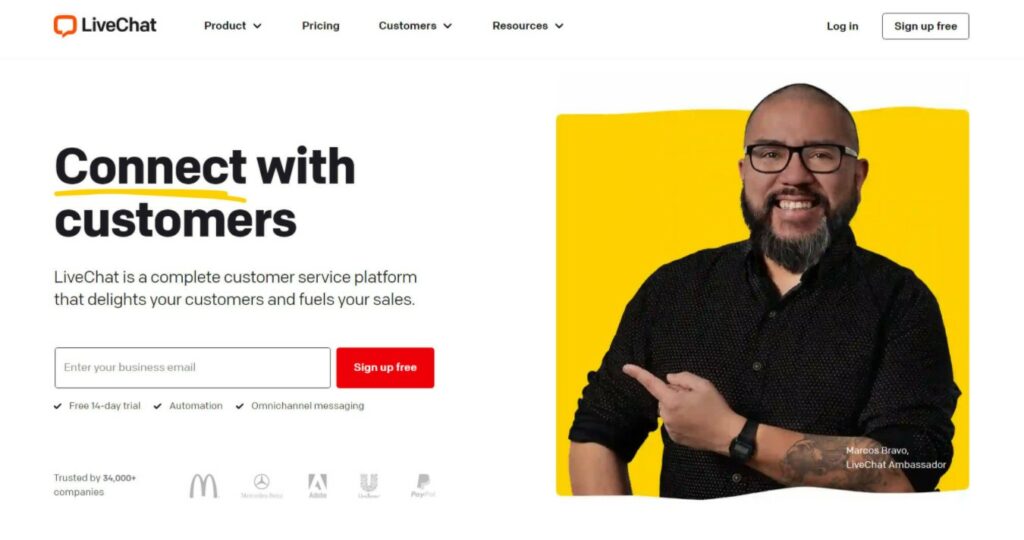 As the name suggests, LiveChat helps you implement one specific type of customer service – live chat support.
Because it focuses on a single area, it's able to offer advanced features and an omnichannel approach that lets you chat via both your website and other chat apps such as Facebook Messenger, WhatsApp, and lots more.
If you want one omnichannel live chat customer service tool, this is a great one to consider.
Key Features
Omnichannel chat that lets you chat via your website, apps, SMS, and more.
Automatic chat routing to send requests to the right agent.
Easily see customer details in the live chat interface.
See what customers are typing in real-time and create canned responses to save time.
Create chatbots and automation rules to more efficiently offer customer service.
View detailed reports to analyze customer satisfaction, agent effectiveness, and more.
Chat via your web browser, desktop apps, mobile apps, and more.
Integrates with 200+ tools, including some of the other best customer service software providers on this list.
Pricing
LiveChat charges based on the number of customer service agents that you have. Monthly prices start at $19 per agent and range up to $50 per agent depending on the features that you need.
4. HubSpot Service Hub – CRM and Customer Service Software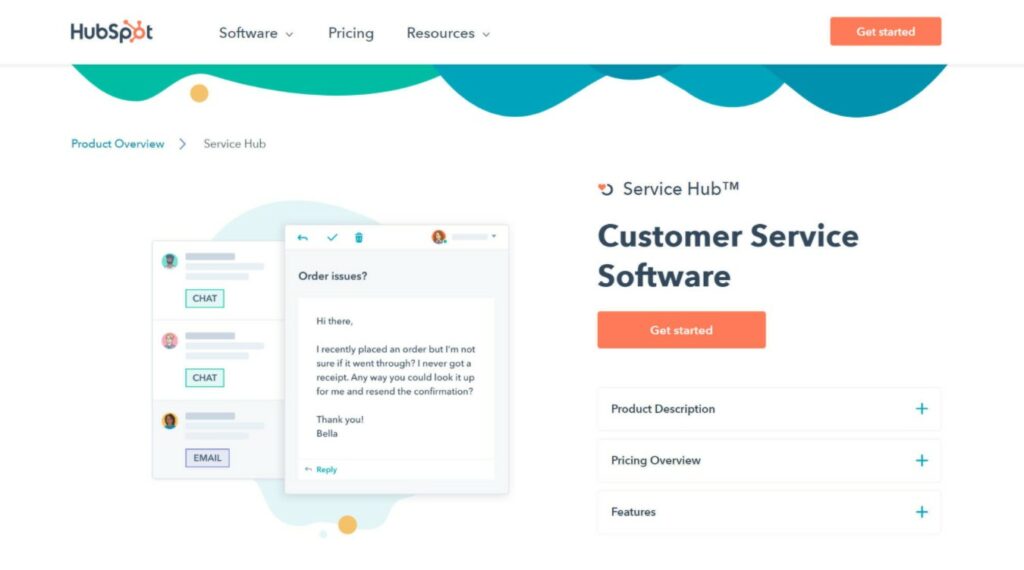 HubSpot Service Hub is a suite of customer service-focused features that are part of HubSpot's customer relationship manager (CRM). If you're already using HubSpot as a CRM or if you're also on the hunt for a CRM, the Service Hub can be a great way to do everything from one tool.
It can also be a more budget-friendly solution as HubSpot doesn't use a per-agent billing model like a lot of the other SaaS customer service software providers. Instead, you'll pay a flat rate to unlock the premium features.
Key Features
Everything is integrated with the HubSpot CRM.
Helpdesk and ticketing support.
Live chat support.
Create custom chatbots.
Set up other types of automations, such as automatically sending an email if a ticket response takes more than a day.
Option to create a knowledge base.
Call customers directly using VOIP (note – HubSpot doesn't function as a call center to receive calls – the feature is only for outbound calls).
Pricing
The core HubSpot CRM is free. However, to access the advanced Service Hub features, you'll need a paid plan. There are three plans:
Starter – $45 per month.
Professional – $360 per month.
Enterprise – $1200 per month.
5. Zendesk – Omnichannel Customer Service Software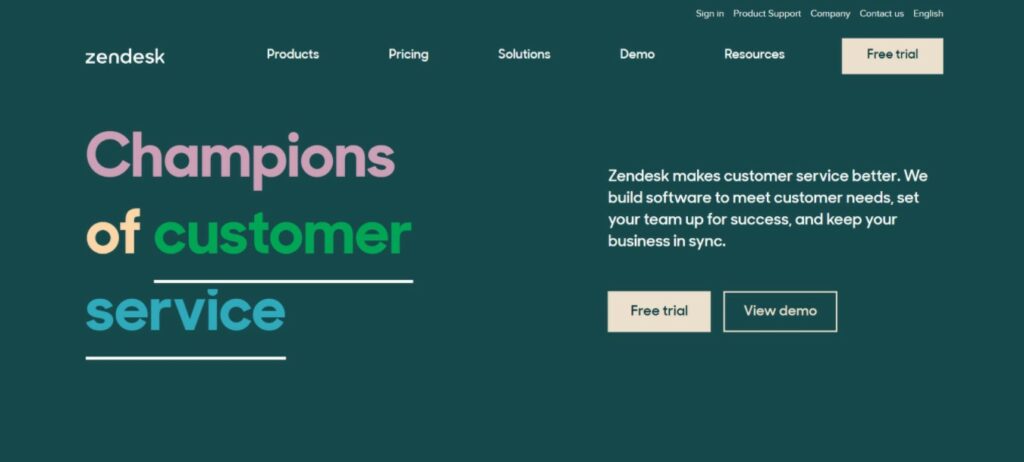 Zendesk is another popular customer service software provider that offers a full-service helpdesk solution with omnichannel support. You can think of it as a similar tool to Freshdesk as they serve fairly similar purposes (though at different price points depending on your feature needs).
If you want to manage all of your customer service efforts from one tool, this can be another good option to consider.
Key Features
Full-service helpdesk/ticketing system.
Omnichannel messaging across web, mobile, and social media.
Supports email, voice/telephony, live chat, and more.
Automation and workflow builder to save time on customer service.
AI-powered automated answers and canned responses.
Tool to create a knowledge base or help center.
Integrations with 1,000+ tools and services.
Built-in analytics and reporting to understand how effective your customer service efforts are.
Pricing
Zendesk's customer service plans start at $49 per agent per month and range up to $99 per agent per month for all of the features.
If you're on a tight budget, there are also "foundational support" plans with much more limited features that are mainly focused on just ticketing. These plans start at $19 per agent per month.
6. Heroic Inbox Plugin + WordPress – Self-Hosted Customer Service Helpdesk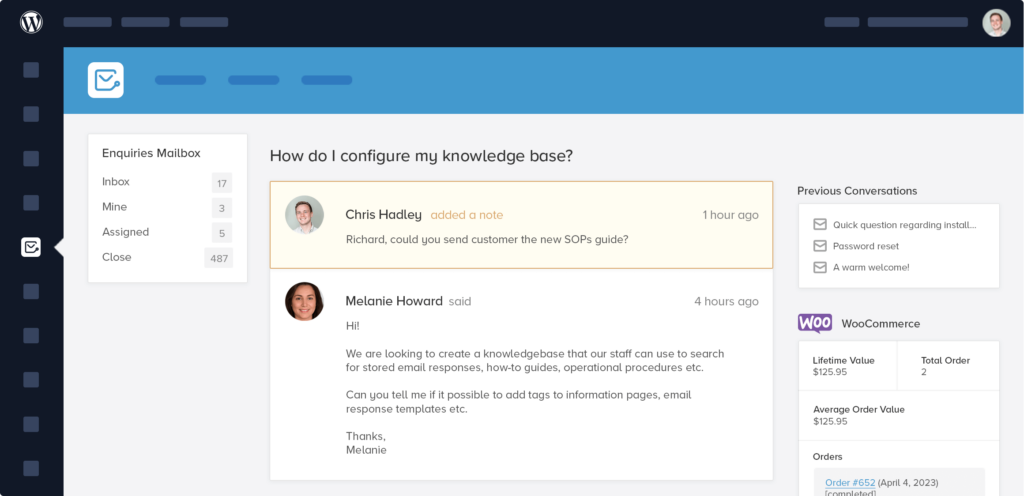 Earlier, we talked about the benefits of using the open-source WordPress software when it comes to creating a knowledge base. But one of the really cool things about WordPress is that you can also use it to offer customer service in other ways.
More specifically, with the Heroic Inbox plugin, you can turn your self-hosted WordPress install into a fully functioning helpdesk.
Because you're using the open-source software, there's no per-agent billing and you can have as many agents and inboxes as needed.
If you're running an eCommerce store powered by WooCommerce, this approach can also be especially great because Heroic Inbox can automatically import each customer's details from WooCommerce.
Key Features
Based on the free, open-source WordPress software.
Lets you self-host your helpdesk, which gives you full control and ownership of your data.
Add multiple inboxes and track them all in one place.
Add unlimited customer service agents.
Assign inboxes to team members.
Automatically pull in the customer conversation history.
Canned responses and internal notes to save time.
Read receipts to see when customers read a message.
Integrates with popular WordPress eCommerce plugins such as WooCommerce to quickly see customers' order histories from the ticket interface.
7. Aircall – Customer Service Over the Phone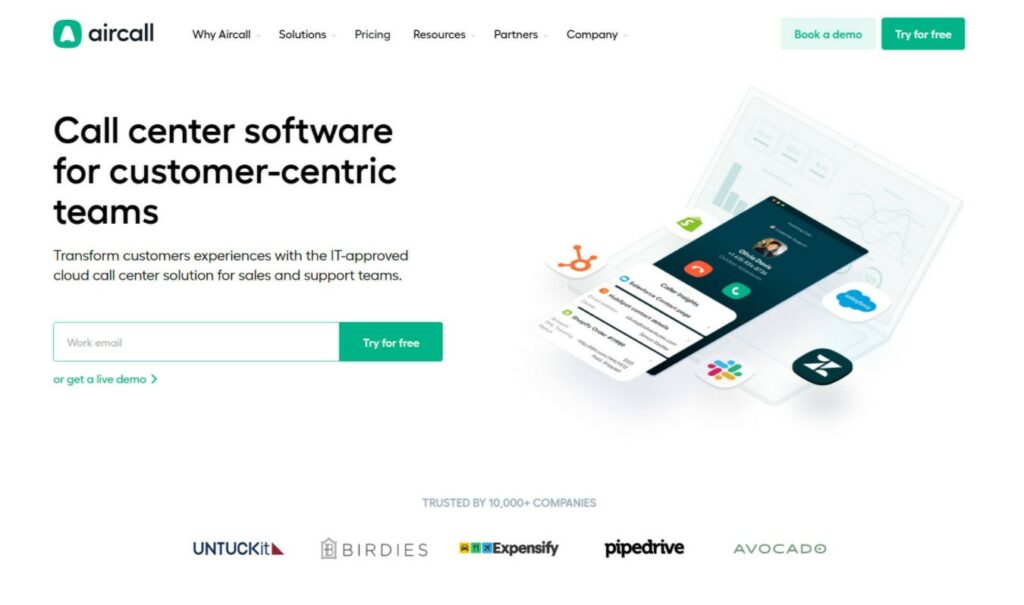 If you want to offer customer service over the phone, you'll need software that can support that. So far, many of the other customer service tools are focused on helping you deliver customer service via your website and tools such as live chat/email.
Aircall, on the other hand, is specifically focused on helping you create your own cloud customer service call center. Your agents can be anywhere in the world and Aircall can handle managing and routing everything so that all of your customers experience top-notch customer service.
Key Features
Easy set up – no special hardware needed.
Unlimited inbound and outbound calls within the USA and Canada at no extra cost. International calls might require an international calling bundle.
Voicemail support.
Interactive voice responsive (IVR) to set up your own call routing flows such as "Press 1 for X".
Live call monitoring.
Integrations with 80+ other tools and services, including some of the other customer service software on this list.
Pricing
Aircall bills you based on the number of users you have and the features that you need. Plans start at $40 per user per month and range up to $70 per user per month for all features and a dedicated account manager.
There's a three-user minimum on the two preset plans. There are also higher-tier custom plans for businesses that need more customization.
8. Zoho Desk – Budget-Friendly Customer Service Software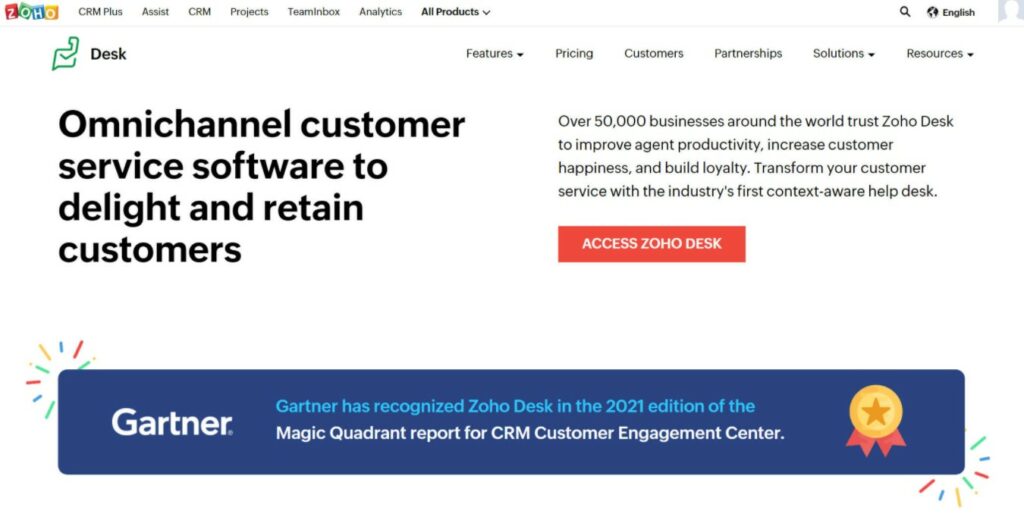 Zoho Desk is a budget-friendly SaaS helpdesk alternative that's more affordable than Freshdesk or Zendesk.
In return for that affordability, you will make some sacrifices when it comes to the interface and features. But if you're on a tight budget, you might be willing to do that because the cost savings can be quite significant.
Key Features
Email ticketing (free) along with omnichannel support for social media, live chat, and telephony with the premium versions.
Multi-department ticketing with routing rules, agent collision, and round-robin ticket assignments.
Knowledge base software.
Customer happiness ratings to see how effective your customer service is.
Multiple business hours and holiday rules.
Reports and dashboards to track everything that's happening with your customer service.
Multi-level IVR for telephony support.
Pricing
One of the biggest advantages that Zoho Desk has over Freshdesk and Zendesk is its comparatively low prices.
First off, there's a limited free plan with basic features that allows up to three agents. After that, paid plans start at just $14 per agent per month. Even the highest tier is just $40 per agent per month, which is significantly lower than Freshdesk and Zendesk.
You can also add on "light agents" for just $6 per month when needed.
Which Is the Best Customer Service Software?
When it comes to the best customer service software, there's not a single tool that can work best for all companies.
Instead, you'll likely want to choose multiple tools that can work together to help you offer top-notch customer service.
One option is to build your own self-hosted customer service platform instead of relying on SaaS tools. This can have benefits in the form of reduced prices (e.g. no per-agent billing) and improved data ownership.
For example, you could use the free, open-source WordPress software along with the Heroic Knowledge Base plugin to create a knowledge base and the Heroic Inbox plugin to act as your helpdesk.
On the other hand, you might like the simplicity of the SaaS approach and be willing to pay a premium in exchange for having a service manage everything for you. In that case, you might like Freshdesk, Zendesk, or Zoho Desk for their all-in-one approaches.
Or, you could build your own stack by focusing on use-specific software such as LiveChat (for live chat), Aircall (for phone service), HubSpot Service Hub (for integrated CRM), and so on.
Do you still have any questions about choosing between the best customer service software providers? Let us know in the comments!