11 WordPress Ticket Systems Compared & Installation Guide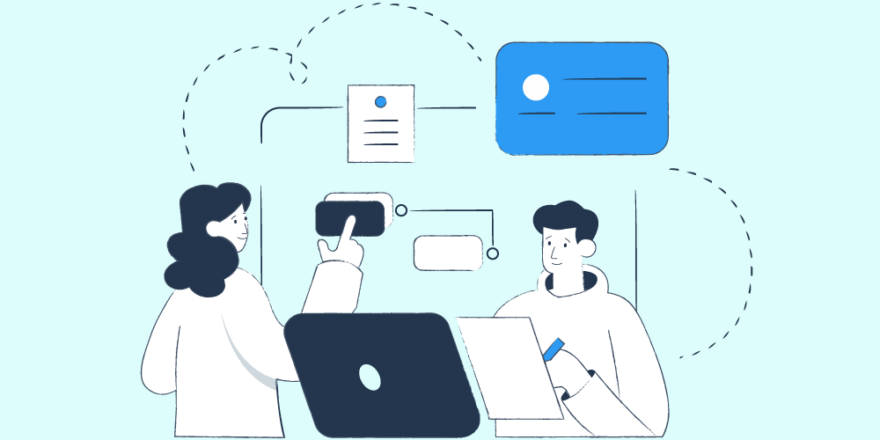 A ticketing system gives you a centralized way to handle customer support tickets and inquiries through your email inbox. It's different from support systems such as:
A knowledge base, which is a portal with extensive documentation to help customers find answers on their own, or
An FAQ page, which is a page with content that answers common customer questions
It's good to have proper documentation, but leaving your visitors to work things out for themselves is not enough if you run a complex business and your customers need a more personalized support ticket system. That's where a ticketing system can fill the gap and help you build an efficient workflow. With a ticketing system:
It's easier to track individual customer support cases than standard email
You can collaborate with other support agents in your team
You can resolve problems faster and with more efficiency
Monitor all your support cases from a single interface
That's why in this post, we'll discuss the various ticketing systems available in the market, along with how to pick and install the best one on your WordPress website.
How to Pick The Best Ticketing System
When it comes to choosing a WordPress ticketing system, you have two broad options: A SaaS solution or a WordPress plugin.
With a SaaS solution, your data is hosted on a 3rd-party server, and there are often limits on usage. For example, SaaS systems usually increase your pricing for each additional user.
With a WordPress plugin, your customer support system and data are fully integrated with your website. Moreover, you can have multiple users at a flat annual fee, which is much lower than the cost of using a SaaS system.
In addition, there are several aspects you need to evaluate when choosing a WordPress ticketing system.
Easy Ticket Management: Manage tickets easily with as many details as possible such as past messages, purchase history, and so on.
Time-Saving Features and Automations: Serve customers faster and more accurately at scale.
Collaboration Tools: Get all members of your team to collaborate and contribute to customer support.
Performance Tracking – Insightful reports to make sure you're meeting your support targets.
3rd-Party Compatibility: Integrations with other services you use to get in touch with customers.
Best WordPress Ticket Systems
1. The Best WordPress Customer Support System: Heroic Inbox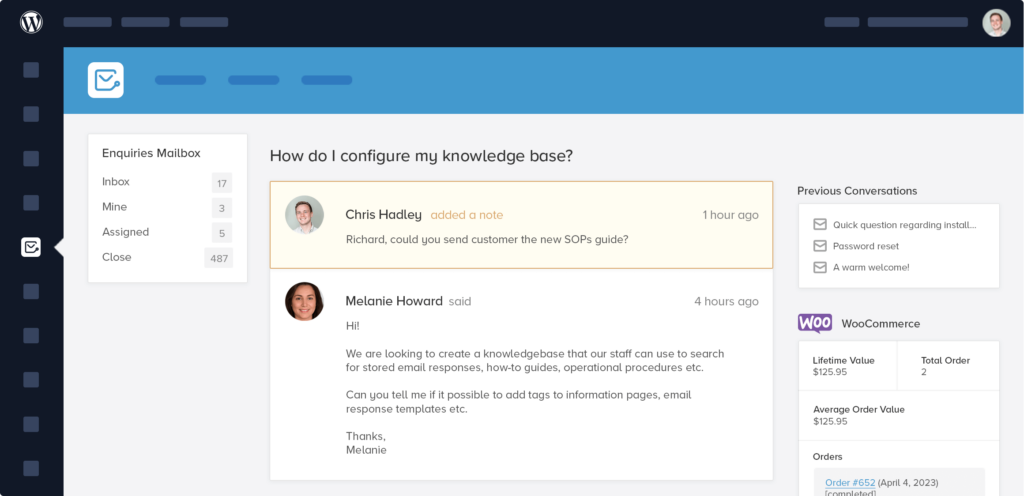 Heroic Inbox is a full-fledged, robust, premium WordPress ticketing plugin. It can handle all of your business emails, including customer support, through its powerful, shared inboxes.
The main highlight of this ticketing solution is that all of your sales, customer support, partnerships, and other inboxes can be managed from one place. It only takes a couple of clicks to connect your Gmail or GSuite accounts, and Heroic Inbox will start pulling your emails to the WordPress dashboard, from where you can also respond to these emails.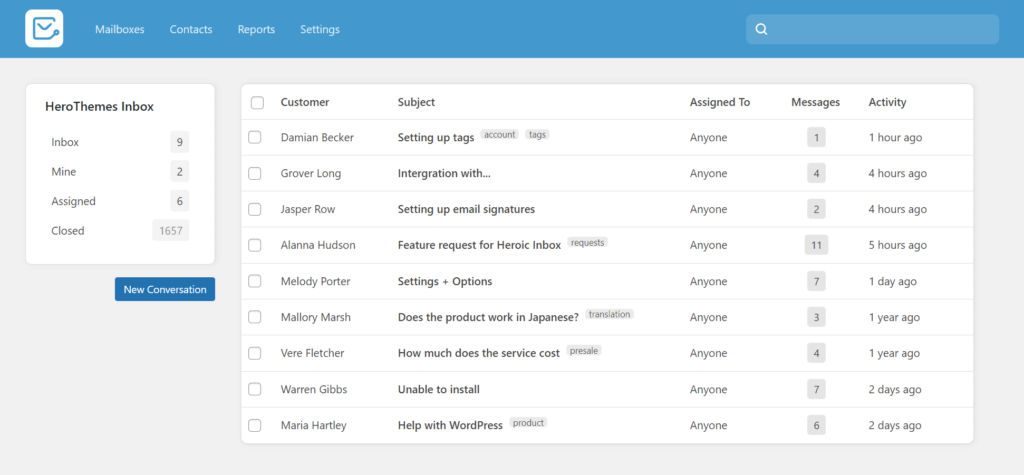 Notable features of this ticket system plugin include:
Multiple inboxes in a single place – you can handle all professional emails from the same interface
Manage as many inboxes, users, conversations, and emails as you want
Automated email tagging, rules, and replies
Powerful team collaboration with unlimited users, team notes, saved replies, templates, drafts, case assignments, and more
Form deeper connections with your audience with interaction histories, read receipts, and more
Saved replies and templates for responses to common questions
Draft replies for approval or review before sending
Auto-responders for incoming messages
Collision detection to stop scheduled messages from being sent when an incoming message is detected
User-friendly performance reporting and tracking
Integrations with WooCommerce and more in development.
2. Awesome Support
Awesome Support is a well-known, open-source WordPress ticketing system plugin with many features. Even in the free version, you can handle unlimited users, tickets, products, departments, and agents. And you can upgrade to the premium plan for advanced capabilities like service level agreements (SLAs) and automation.
Awesome Support features:
Automated agent assignment
28+ addons
e-commerce integration
Custom form fields
View ticket history
Configurable email notifications
Unlimited file attachments
Time tracking
Unlimited customer support agents
3. WordPress Advanced Ticket System
WordPress Advanced Ticket System is a simple WordPress ticket system. It uses WordPress's native functionality for better performance and can be integrated with any WordPress theme. For example, the standard single post template is used to display a ticket. With this plugin, you can set custom fields, assign new tickets to agents, and record internal notes.
WATS features:
Accept tickets through the frontend, backend, and email
Unlimited custom fields
Ticket visibility customization
Email notifications
Basic reporting
Ability to export tickets
Service level agreements
4. SupportCandy
SupportCandy is a free ticketing system for WordPress with the basic features you need to handle support tickets. Tickets can be submitted from the front or back end forms, along with email. Higher plans come with additional features such as time-tracking, SLAs, knowledge base, and WooCommerce integration.
SupportCandy features:
Guests can create tickets (without account creation)
Ticket filtering by custom fields
Email notifications
Unlimited tickets and agents
Private notes
Canned replies for common support requests
Service level agreements
Accept and respond to tickets through email
5. JS Help Desk
JS Help Desk is a freemium ticketing plugin with a decent amount of features, most of which require a premium subscription. It has an elegant dashboard to manage and view tickets with many sorting filters. Advanced features can be accessed through individual add-ons or higher packages. These include time tracking, knowledge base integration, e-commerce integration, email piping, and desktop notifications.
JS Help Desk features:
Mailchimp integration
Custom fields and priorities
Unlimited agents and tickets
FAQs and knowledge base
Time tracking
Social logins
Canned replies
6. HappyFox Helpdesk
HappyFox HelpDesk is a versatile WordPress ticket system to manage all customer interactions including complaints, feedback, and queries in an organized manner. It's a cloud-based software that integrates with your WordPress website with a plugin or an API call. Once integrated, you will be able to view and manage tickets from the admin dashboard.
HappyFox Helpdesk ticket system features:
Responsive interface that can be accessed from mobile phone
Restriction access control and visibility preferences.
Supports 35+ languages
Automatically sort incoming tickets by departments
Ticket submission from multiple channels
7. LiveAgent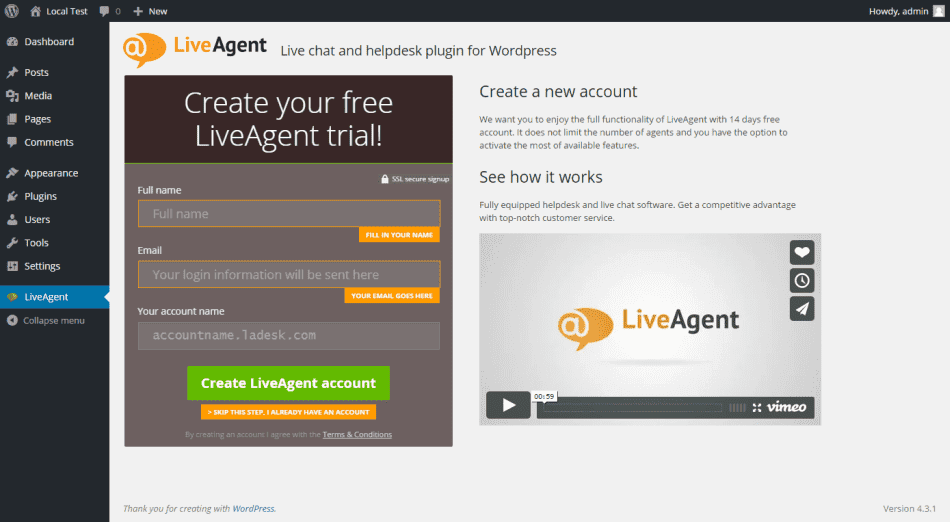 LiveAgent is a cloud-based solution that adds ticketing and live chat capabilities to your WordPress website, with more emphasis on the live chat aspect. LiveAgent's universal inbox gathers tickets from several channels into one location. This live chat plugin also has support for a knowledge portal, a virtual call center, a context-rich CRM, and performance reporting.
LiveAgent features:
Customizable chat widget
Time tracking
Analytics reporting for chats
Multi-brand support
Integration with social media
Omnichannel ticketing
40+ integrations
8. Help Scout
Help Scout is a ticketing and knowledge base software that offers integration with WordPress. The platform allows email ticket management, phone ticketing, and live chat. With the Help Scout support ticket plugin, you get a shared inbox for ticketing, and other features such as knowledge base, 3rd-party integrations, and performance reporting.
Help Scout features:
Private notes, canned replies, and automation
Real-time collision detection to avoid having two agents respond to the same case
Email, browser, and mobile notifications
Ticket creation through email, chat, and phone
Mobile apps
Advanced search
Integrations with other tools
9. InkTicketing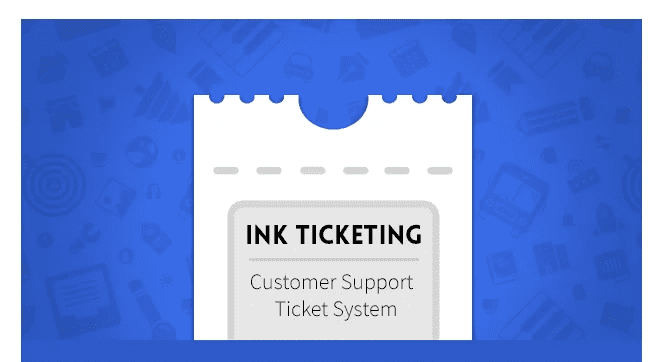 InkTicketing is a combination of a ticketing system and knowledge base plugin. With this plugin, you can filter tickets by username, query type, product type, status, department type, and date range. Unlimited agents can be created and mapped to specific departments if needed.
InkTicketing Features:
Knowledge base integration
Automated email alerts
Query filtering according to many parameters
Prioritize cases based on the type of ticket.
Unlimited agents, products, and departments
Assign tickets based on department
10. Appy Pie Desk
Appy Pie Desk offers omnichannel support, which means that you can submit tickets via various channels such as email, social media, chat, and more. It also lets you set automations in the form of canned responses and triggers.
Appy Pie Desk Features:
Integrations with 3rd-party tools
Knowledge base to assist customers
Notifications on the ticket status and responses
Ability to build a support forum alongside ticket management
Performance reporting and analytics
11. WPHelpDesk

WPHelpDesk is a popular, premium WordPress helpdesk plugin with all the basic features necessary for a customer support ticket system for your WordPress site. When raising a ticket through the submission form, customers can also choose its department and priority.
WPHelpDesk features:
Get tickets from a front-end contact form or email inbox
Allows searching and filtering of tickets
See full history of customer requests
Addons to integrate with WooCommerce, Easy Digital Downloads, and Ninja Forms
Installing a Ticketing System with Heroic Inbox
It's really easy to add a WordPress ticket system with the Heroic Inbox plugin, even without any advanced technical skills or knowledge of HTML.
Once you have installed and activated the support plugin, click "Login to Google Account" for access to the account needed to handle your mailboxes.
Then click Enable the Gmail API in the Google Account and build a Google App for Heroic Inbox. Upon completion, you will be provided with a Client ID and Client Secret codes to enter in the Heroic Inbox setup screen.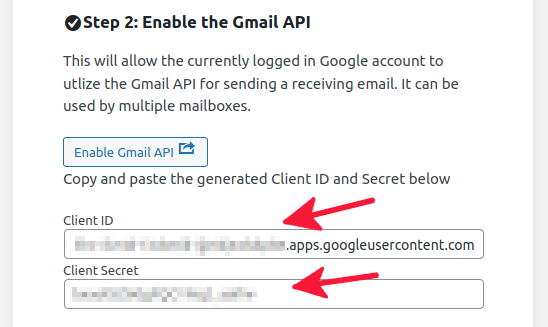 Next, to authorize access to a Gmail inbox, click Authorize and follow the steps presented on the screen. You'll get an Authorization Code to paste in the Mailbox Authorization Code box.
That's it. Once the process is complete, you can also test if everything is working fine by clicking Send Test Mail and sending an email to yourself.
Conclusion
Customer satisfaction cannot be taken for granted. You have to put in the effort to earn it. Use the Heroic Inbox plugin to let your customers know that you care about their grievances.
A support ticketing system like Heroic Inbox can help you handle customer questions right away and build a solid relationship with your prospects. So install it today and take your business growth to the next level.