The Top 12 WordPress Wiki Plugins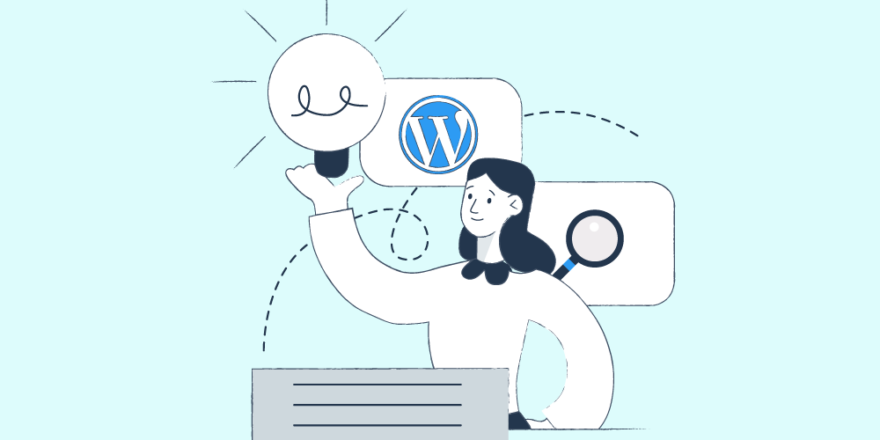 If you're planning to scale an online business with a WordPress website, you should consider creating a wiki as your first line of support.
A wiki allows you to create a knowledge base around your product or service, or to share a wide range of information for a certain subject. It is searchable and organized hierarchically in order to make it easy for users to quickly find the right articles. With a wiki, you can:
Empower customers to find answers to their questions on their own
Reduce reliance, and save money, on support staff
Improve conversion rates by addressing objections or concerns right away
Provide round-the-clock support and improve customer satisfaction
The best way to create a wiki on your WordPress site is to use a wiki plugin. It allows you to create a beautiful wiki without fiddling with code.
Another option is a wiki theme or template. But this is really only suitable if you're building a dedicated wiki website. If your wiki is going to be an extension of your business website, using a wiki plugin is the way to go. In fact, using a wiki theme in such a scenario could be a disaster. It will force you to make major alterations to your website that may not fit your brand.  
In this post, we'll take a look at the things you should consider when evaluating the different WordPress wiki plugins in the market, and the best plugins available for customer support.
Choosing a WordPress Wiki Plugin
Running a wiki on your site is about more than just creating and organizing content. You must do all you can to provide the best experience to your visitors and customers. 
Keeping that in mind, here are the factors that you should consider when evaluating a WordPress wiki plugin:
Speed: As your business grows, so will your customer base and their informational needs. Your wiki plugin should enhance your website's ability to handle customer queries quickly and efficiently.
Compatibility: When considering a WordPress wiki plugin, theme compatibility is important. Make sure it works with any WordPress theme, and any other plugins you have running on your site.
Ease-of-Use: A wiki plugin should be easy to use for your visitors from the front end, as well as for you and your staff from the backend.
Responsive Design: A good wiki plugin should ensure that your WordPress knowledge base articles look great on any device your users access them on.
Analytics and Feedback: You can't improve what you can't measure. The ability to see which wiki articles are getting the most views and upvotes and which ones need improvement is crucial for a WordPress wiki plugin.
Attachments: A good wiki plugin should make it easy for users to download any additional files (such as PDF manuals or additional documentation) quickly.
Top 12 WordPress Wiki Plugins
We've handpicked the plugins listed below for you to create and publish wiki articles on your WordPress website. These will help you create a beautiful and user-friendly wiki that looks great on both desktop and mobile devices.
Heroic Knowledge Base
Heroic Knowledge Base is a knowledge base plugin and also the best wiki solution for WordPress. This premium WordPress wiki plugin is easy to set up and manage. With Heroic Knowledge Base, you can add a user-friendly wiki to your site which is compatible with any WordPress theme, allowing your visitors to get instant access to support knowledge. 
One of the best features you get with this plugin is a powerful, AJAX-based search function that can suggest articles as a user types their query. You can also configure search results for certain queries such that your selected articles show at the top.
On top of that, you get access to robust analytics reports to help you assess what visitors search for and whether they are finding the information they want. Customers can also provide feedback on the articles.
Key features of Heroic Knowledge Base include:
Easy to use and integrates seamlessly with your WordPress site
Great design that means your wiki site looks fantastic out of the box
Lightning-fast AJAX-based search enables customers to find what they need in seconds
Collect feedback on articles so you can pinpoint which articles are helping the customers
Built-in analytics to find out how well your knowledge base is helping users
Drag and drop category ordering so you can order everything your way
Password-protect and hide articles from different user roles
Provide your visitors with downloadable files in articles with built-in support for attachments
Multiple widget types to display articles, categories, and authors across your site
Compatible with most well-coded themes, with responsive styling
Translation-ready with WPML compatibility
Fully localized
Fantastic support from dedicated experts with in-depth WordPress knowhow, as well as a wide range of tutorials to help you get your wiki set up.
Heroic Knowledge Base Plugin
Build a knowledge base and help your customers help themselves.
Get the Plugin
Helpie WP
Helpie WP is a premium solution that combines the features of a wiki and knowledge base into one plugin. It allows you to create public wiki sites on topics like movies, business, video games, and more.
Helpie WP focuses on collaboration. Visitors can sign up and submit articles from the front end of your website. And you can set permissions for who can edit and publish content.
Key features of Helpie WP include:
Set user capabilities to edit, publish or approve articles
Saving and rolling back to previous revisions
Set restrictions for users based on topics
Style customization
Integration with page-builder plugins such as Elementor
AJAX-based live search and breadcrumbs
Password protection
Article voting to encourage a collaborative wiki community
Support for shortcodes
Yada Wiki
Yada Wiki is a free WordPress wiki plugin with essential features to help build your wiki site. It adds a new post type to your WordPress setup. This means that you publish wiki articles separately from the standard posts, with their own categories and custom tags.
You can display your wiki articles in different parts of your website with shortcodes and widgets. There is also a sidebar widget you can use to show a table of contents or article titles for a particular category.
However, a downside of Yada Wiki is limited customization. It inherits most of its styles from your theme. So there isn't much you can change without messing with code. It's probably suited for those willing to spend some time structuring a wiki on their own.
Key features of Yada Wiki include:
New wiki post type with custom categories and tags
Support for shortcodes
Table of contents
Link wiki pages together with page titles
Sidebar widgets to show recent articles or articles in a category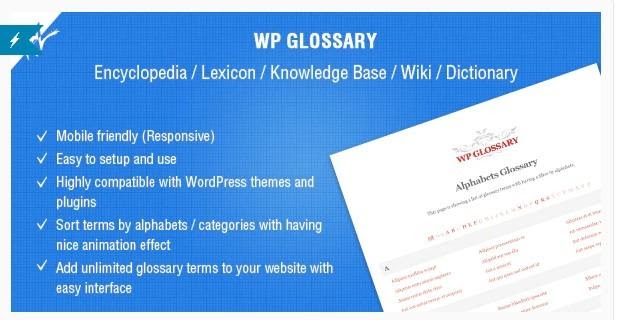 WP Glossary
WP Glossary is a premium plugin that allows you to create a wiki with content organized by categories, and glossaries that organize terms in alphabetical order. It creates a new custom post type for wiki content, but you can also use the existing post types. Your posts are then compiled into an index page with a clean design.
It has a simple design and built-in styles so that you don't need to customize it a lot to blend in with your website. However, you can customize things like tooltip popups, text colors, and more as required.
Key features of WP Glossary include:
Show glossary terms with animation effects
Hyperlink terms with posts to improve SEO
Show a tooltip on mouse hover
Custom styles
Add wiki to any post or page with shortcodes
Compatible with BuddyPress, WooCommerce, etc.
Encyclopedia / Glossary / Wiki
Encyclopedia / Glossary / Wiki is a free, multipurpose plugin you can use to build an online dictionary, lexicon, wiki, or encyclopedia.
It creates a new custom post type based on the native blog post functionality in WordPress. You can publish new articles similar to how you publish WordPress posts, along with a dedicated index page where all these articles appear in reverse chronological order, just like your blog.
Key features include:
Automatically generated index page
Tags and categories to classify wiki articles
Automatic cross-linking of articles appearing in post and page
Translation-ready and supports WPML
Saving revisions for wiki articles
Comments on wiki articles
Supports WordPress user rights and capabilities
Dedicated search with a sidebar widget
Auto-complete and article suggestions for search queries
Widget to display articles, tags, and categories in the sidebar
WP Knowledgebase
WP Knowledgebase is a simple and customizable free WordPress knowledge base plugin, which, as the name suggests, adds a knowledge base section to your website. It's possible to alter the URL slug for this section as per your preferences.
You can organize wiki articles with tags, taxonomies, and categories, and customize different aspects of your wiki, including colors, sidebar layouts, order and amount of articles to display, and categories.
Key features of WP Knowledgebase include:
Drag and drop to reorder articles and categories
Search engine with predictive text
Comments on your wiki articles
Breadcrumbs
Editable slug
Responsive
There is also a pro version that gives you additional features:
A widget to gather visitor feedback
View search analytics
Restrict wiki articles to specific users
Very Simple Knowledge Base
Very Simple Knowledge Base is a free and lightweight WordPress wiki plugin that gives you a simple way to create and arrange wiki articles.
However, if you're looking for a solution that helps you manage your wiki content separately from the other content, or for your visitors to be able to search only your wiki content, then you should look elsewhere.
Key features of Very Simple Knowledge Base include:
Create an FAQ, wiki, or link portal
Using a shortcode or a widget, you can display the contents of your existing posts and custom post types in several responsive columns
Tweak shortcodes and widgets to filter the posts by categories
Change the order in which posts appear when using a shortcode or widget
MinervaKB
Another premium knowledge base plugin to create a searchable wiki platform is MinervaKB. The search page is modern, simple, and customizable. Because of integration with Elementor and Visual composer, configuring the layout of your wiki page is also easy with MinervaKB.
However, if you're a new WordPress user, or looking to create a simple wiki, this plugin may be too much for your needs. It can get overwhelming.
Key features of MinervaKB include:
Live AJAX search
Like and dislike buttons
Color customization
Content shortcodes
Analytics dashboard and Google Analytics integration
Content restriction
Nested topics
Dynamic table of contents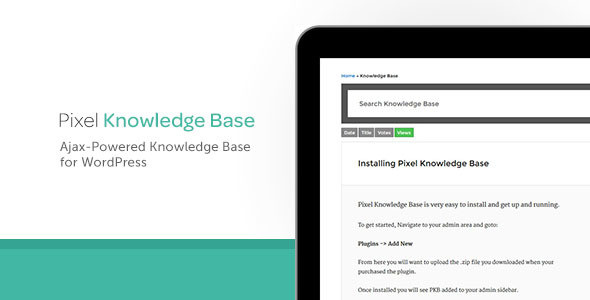 Pixel Knowledge Base and Wiki Plugin
Pixel Knowledge Base is one of the more affordable premium WordPress wiki plugins. It comes with the basic features that you need to create a wiki site. It lets visitors sort articles by title, date, votes, or views without refreshing the page.
Key features of Pixel Knowledge Base and Wiki plugin include:
Voting system
Categories with up to 4 columns per row
Front-End content submission
Restricting categories by user roles
Smart ajax live search
Advanced sorting options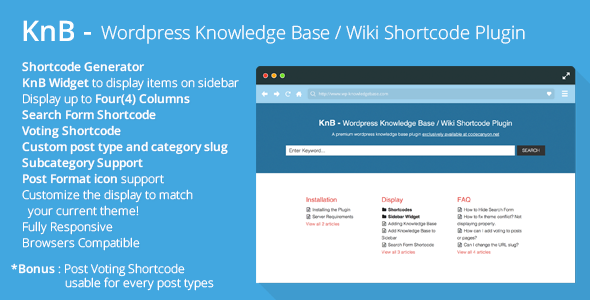 KnB
KnB is another free plugin to create a customizable and responsive wiki. You can modify various aspects of design and publish the wiki anywhere on your website with shortcodes and widgets.
A user can also vote on an article with a thumb up or down, allowing you to get feedback on the usefulness of your wiki articles.
Key features of KnB include:
Search form shortcode
Voting shortcode applicable for any post types
Custom post type and category slug
Customize the display to match the current theme
Shortcode generator
Widget to display items on your site's sidebar
Customize color style
Mobile responsive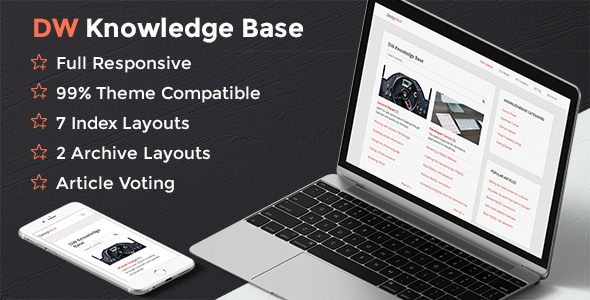 DW Knowledge Base Pro
DW Knowledge Base Pro is a premium and affordable WordPress wiki plugin. It allows you to create a wiki with a good user experience with various layouts, clean designs, and more.
Key features of DW Knowledge Base Pro include:
Predefined layouts for archive page and index page
Search form that auto-suggests articles
Comment forms
Breadcrumbs
Article view statistics
RDP Wiki Embed
RDP Wiki Embed is a free wiki plugin that lets you embed an external wiki page or section of the wiki page into a WordPress website using shortcodes. You can also modify how the page looks, with options for displaying infoboxes, customizing links, and showing a table of contents.
However, it is not coded to work with the new Gutenberg block editor. So you will need to use it with another plugin that restores the classic editor.
Key features of RDP Wiki Embed include:
Fetch content from any Mediawiki website (such as wikipedia.org)
Strip and reformat pulled content
Visitors can read wiki articles without leaving your site
Conclusion
The way you provide answers to your current or potential customers can make or break your reputation. Building a wiki doesn't just provide traffic, but also makes your business more efficient and improves customer satisfaction. 
With the plugins listed above, you can create a wiki in just a few clicks. Whether you need a small and simple wiki or a large enterprise-level wiki plugin, Heroic Knowledge Base is your best bet. Get it here today.