13 Best WordPress Knowledge Base Plugins to Boost Customer Service in 2023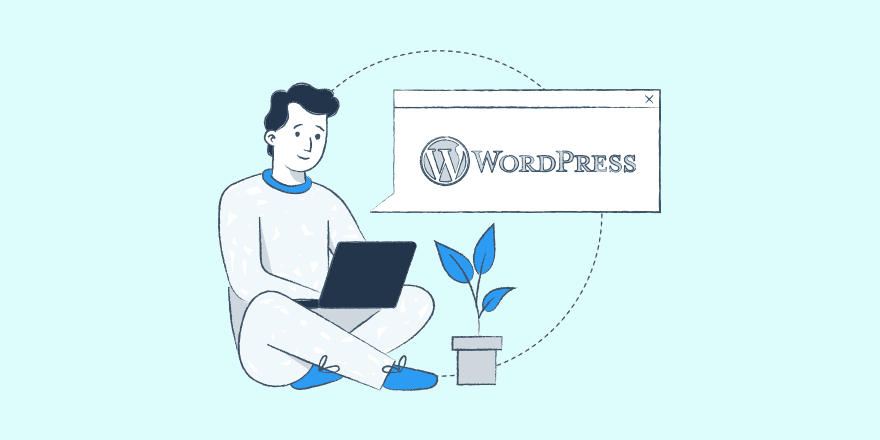 Are you looking for a knowledge base plugin for WordPress?
With a knowledge base plugin, you can effortlessly publish all your documentation, tutorials, and helpful how-to articles. What's even better is that you can keep these resources separate from your blog and landing pages, making organization a breeze.
Nowadays, consumer loyalty does not come with just providing great products. Offering superior post-sales support is also important.
Your customers will have queries, and they'll expect quick solutions. But that doesn't mean they want to contact you right away. A recent report finds that 69% of buyers seek to handle their problems by themselves. And when facing an issue, 63% of customers refer to a company's website and other online collateral.
So how can you help customers help themselves? With a knowledge base, a portal where they can go to find the information they need fast. So they don't have to start with raising a support ticket or initiating a live chat.
The good news is that if you use WordPress, there are many plugins that can turn your website (or a part of it) into a knowledge base. Not just that. You can use such a plugin to build a knowledge portal without writing a single line of code.
So let's take a look at what a knowledge base plugin can do for you, and a list of the best knowledge base plugins for WordPress in the market today.
Why use a WordPress knowledge base plugin?
Generally, there are two ways to add your company's knowledge to WordPress. The first one is to put create standalone pages using the Pages option. The second one is to create Posts and arrange them using categories and tags.
But with these approaches, it's not always easy to maintain your documentation independently. It gets mixed up with your landing pages and blog articles.
A knowledge base plugin, on the other hand, can offer many benefits:
You can create and edit informational guides, user manuals, and other help docs as easily as posts and pages.
You can effectively categorize and organize knowledge, while keeping it separate from your sales pages and articles.
You get valuable features like instant search, proper navigation, and more to help users locate what they need.
Now, let's get to the top WordPress knowledge base plugins.
Best WordPress knowledge base plugins
Below, we cover the best knowledge base plugins for WordPress to improve how you handle customer issues.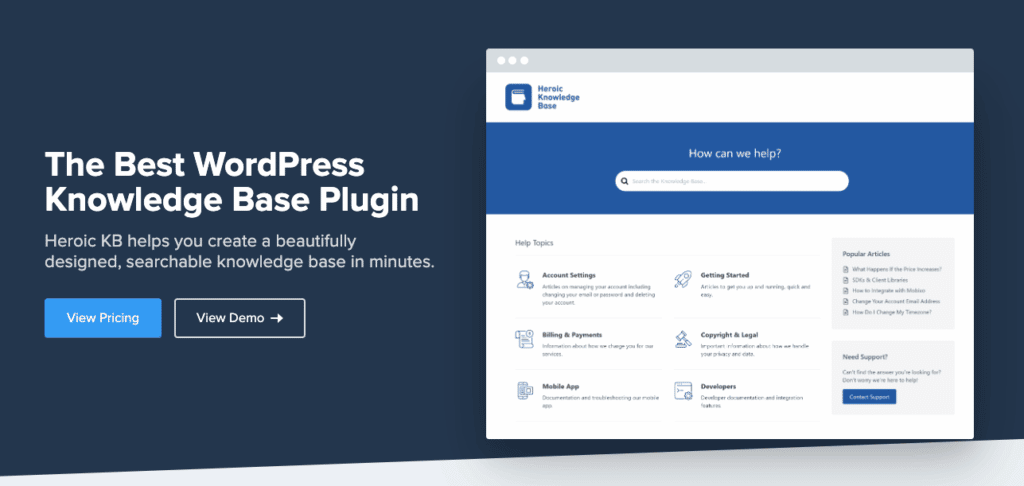 Heroic Knowledge Base, created by HeroThemes, is a top-notch knowledge base plugin for WordPress. It works with almost any WordPress theme, and is perfect for creating an effective, navigable knowledge base with live search capability.
Plus, you get all the capabilities a robust knowledge base solution should have, like drag & drop article ordering, uploading attachments, website widgets, and content categorization.
Your prospects will love it when they can instantly find answers to their problems, and your team will appreciate how simple it is to use Heroic KB to manage knowledge base content.
With Heroic KB, users have the option to leave votes and comments on support documentation. And it gives you built-in metrics to track what the customers are searching for and figure out whether they are truly getting the solution or not.
Pricing
The cost of Heroic KB's Essential plan is $149 per year for one website. If you buy the Plus package for $199 per year, you will be able to add two more websites along with article feedback and search analytics features.
The third option is the Heroic KB Pro plan. It costs $399 per year for five websites. This package includes Slack, HelpScout, and Gravity Forms integration, along with priority support.
You also get a 30-day money-back guarantee on all plans, which is an incredibly generous offer when compared to the trial and guarantee periods offered by other WordPress knowledge base plugins.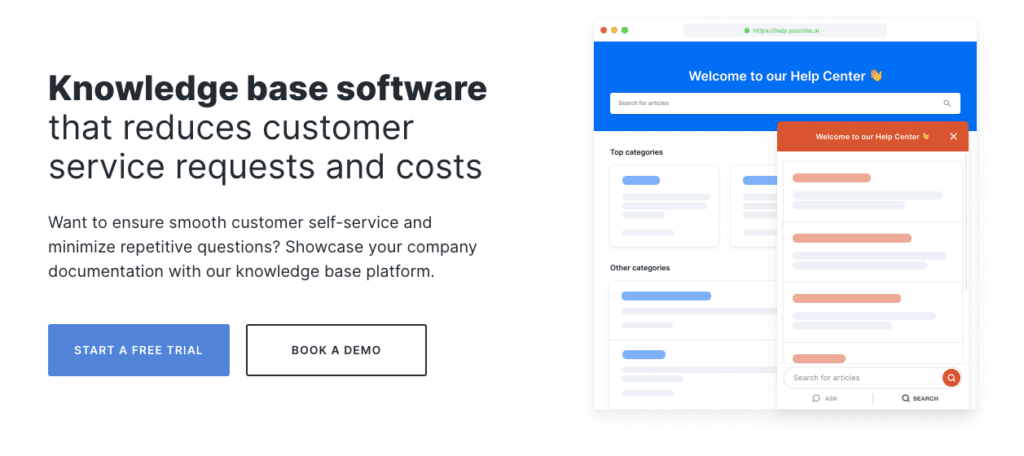 HelpCrunch is one of the best knowledge base plugins for WordPress. Apart from adding a knowledge base, it provides a variety of other capabilities like email autoresponders and live chat.
With this WordPress knowledge base plugin, you have the option to classify your support guides using tags and categories. And you can modify the appearance of your knowledge base by selecting the backdrop, color schemes, and more.
Pricing
HelpCrunch offers three types of pricing plans: Basic, Pro, and Unlimited. The platform offers unlimited contacts of all plans and free migration from other platforms. You also get a 14-day free trial.
The Basic plan costs $12 per month for one team member (up to five members allowed) with limited features like a monolingual knowledge base, basic automation, and a HelpCrunch watermark in the knowledge base and widgets.
If you buy the Pro plan ($20 per month for one team member with up to five members allowed), you will get a multilingual knowledge base, advanced customization and automation, 15 chatbot flows, and a watermark-free knowledge base and widgets.
The third option is the Unlimited plan which costs $495 per month for unlimited team members. This package offers all the above features, along with unlimited widgets, auto messages, popups, chatbot flows, and a personal onboarding assistant.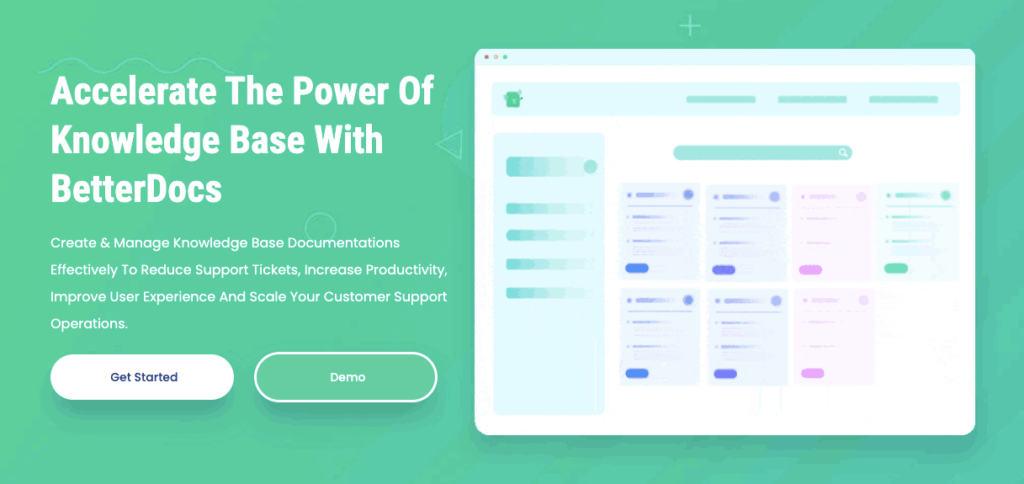 BetterDocs is an outstanding knowledge base plugin for WordPress, even in its free version. Both its free and premium versions are user-friendly and deliver extensive features.
The layouts of BetterDocs follow the latest design standards, are skilfully built, and are customizable with simple drag-and-drop. This enables you to provide a smooth user experience to your prospects and users. And with the help of shortcodes, you can make your own structure and add knowledge base content wherever you want.
Along with the real-time search results and automatic table of contents, BetterDocs also includes a chatbot to give quick responses to general questions asked by customers.
This WordPress knowledge base plugin also lets you control what different types of users can see and do. And provides data that helps you understand your customer preferences.
Pricing
The Individual plan costs $55 for one website​, with provision for multiple knowledge bases and insightful analytics. And the Small Business plan will cost you $119 for unlimited websites with all the features offered by the Individual plan. BeterDocs does not offer a free trial, but you get a 14-day money-back guarantee.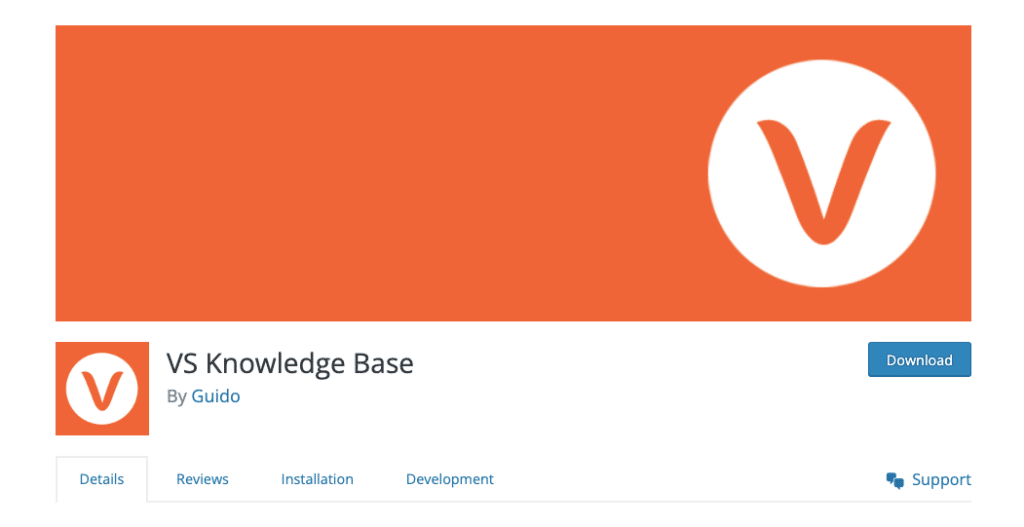 Very Simple Knowledge Base offers a simple, easy-to-use, and fast plugin for WordPress-powered websites. When using this free plugin, you just have to add a shortcode or a widget to show your current posts and custom post types in various mobile-friendly sections.
You have the option to modify the shortcodes and widgets to show specific categories of posts, or to alter the sequence of the posts. And the plugin can be used for all custom post types along with 'products' and 'events.'
Although this plugin is customizable, it lacks the functionality offered by other WordPress knowledge base plugins mentioned in this list.
For example, if you require a plugin that allows users to search your knowledge portal, or that allows you to handle a knowledge base independently from other content, then you should consider another option.
On the other hand, if you already have knowledge base content and you just need a basic way to organize it, Very Simple Knowledge Base is the no-fuss option you will appreciate. Plus, you can use it for free.

HelpieWP is a WordPress knowledge base plugin that lets multiple users create and edit content together. It gives you a simple method to build and exchange information within workgroups and build attractive documentation for your business.
The main characteristics of Helpie WP cover control over which team members can edit and confirm modifications, a revision system to revert to old versions, and a front-end editing interface.
The plugin also comes with integration features and comprehensive design settings. And it supports Elementor integration.
Pricing
Helpie WP offers two pricing plans to fit your requirements, with a 7-day free trial on all plans. The Basic plan costs $49 annually for docs and a simple knowledge base. It offers features like advanced styling & layout options, shortcodes, automatic table of contents, Elementor elements, Insights, and advanced search.
The Pro plan is for an advanced wiki knowledge base and is priced at $69 annually. This package covers additional features like front-end editing,​ access control, advanced publishing capabilities, and a revision system.

Echo Knowledge Base is a famous freemium plugin for integrating a knowledge base into any WordPress-based site.
This WordPress knowledge base plugin provides a selection of frontend designs in reference to the traditional knowledge base structure that users will anticipate. It also lets you modify the design to match your website's styling.
No matter which plan you go with, the initial setup is simple. After your knowledge portal is set up, you can fill it with support content. This plugin generates the content as a new custom post type, and you get an option to allocate tags and categories to every article.
This knowledge base plugin for WordPress supports 'hierarchical organization,' which means you can create up to five levels of documentation. And you get to decide the sequence of articles or posts.
Other features include FAQ templates, live search, navigation through breadcrumbs, and the ability for users to leave comments for your help content.
Pricing
The base version of Echo Knowledge base is free for any number of websites.
The Basic Add-ons plan costs $66, with extra features like widgets, user ratings, and help dialog. The renewal fee for this plan is $33 per year. The Professional plan is priced at $149 and offers additional features like multiple knowledge bases and advanced search.
And if you opt for the Access Control plan, you need to pay $243. It offers more bells and whistles like access manager, KB groups, and custom role options. Echo knowledge base comes with a 30-day money-back guarantee.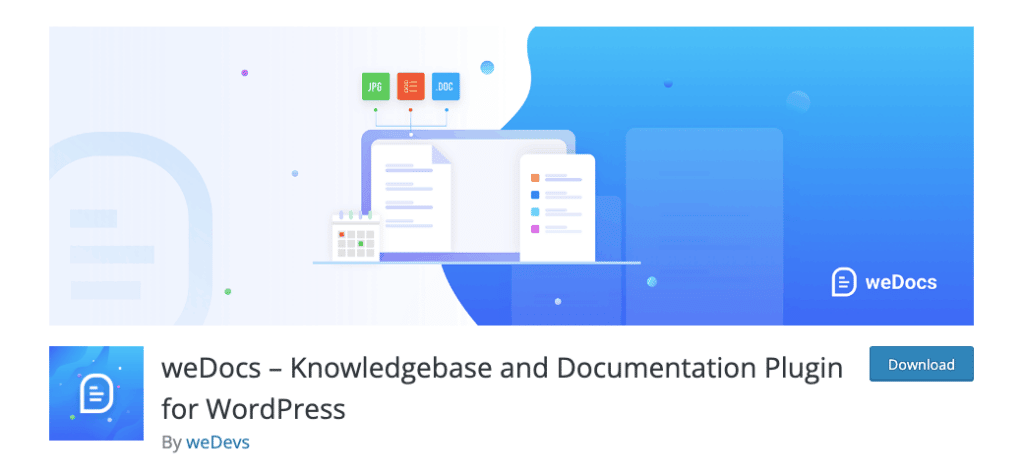 weDocs is another free-to-use option among knowledge base plugins for WordPress. It assists you in arranging your help content or documents into a helpful knowledge portal.
The knowledge base structure is straightforward yet effective with sidebar widgets and breadcrumbs navigation. It allows you to see and control all support content from the dashboard section.
If you have a collection of knowledge-base content that you wish to organize, you can categorize these articles into different segments and structural levels.
The appearance of weDocs for a user is basic and straightforward. But it is a good option if you want a simple knowledge base for your website without any charges.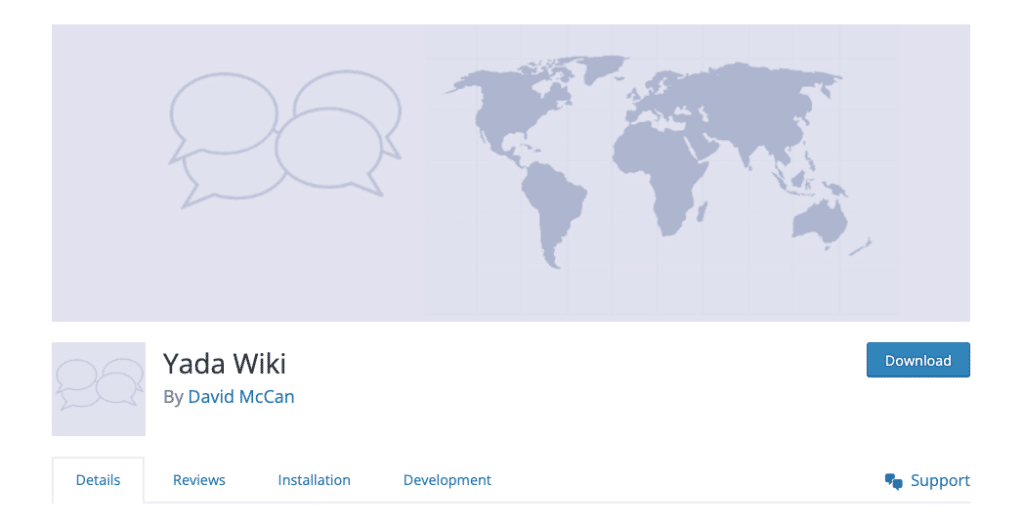 If you just wish to organize your website's knowledge base articles with no requirement for a search or an exclusive knowledge portal page, consider Yada Wiki.
This free solution generates a new wiki post type, categories, and tags for your knowledge portal. Not just that. Yada Wiki also creates a table of contents for knowledge base articles. It is ideal for people who can devote time to organizing a basic knowledge portal on their own.
Yada Wiki includes two shortcodes for connecting to other wiki pages. It allows you to link your knowledge base content and insert useful links at the correct places.
You also get an option to create a table of contents that can be integrated into other articles. Each time you create a new wiki article, connect to it in your index. This modification will be seen throughout your website.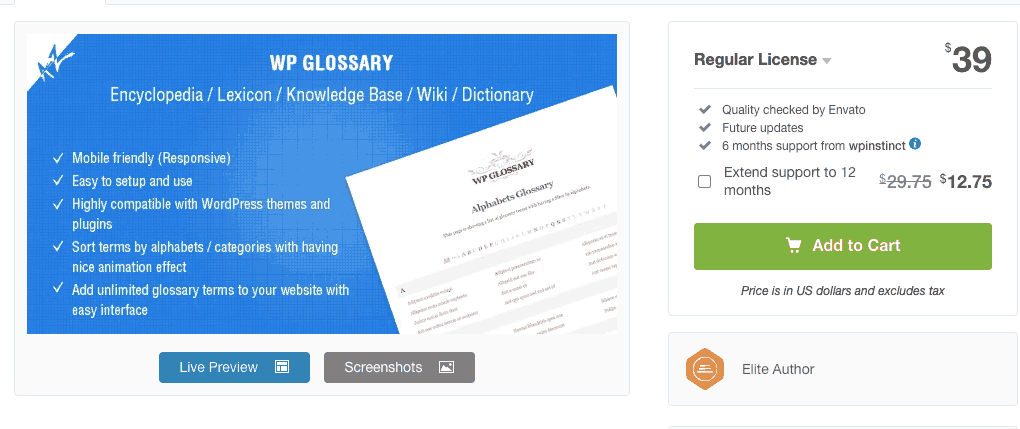 Want to include a list of words and their meanings on your website? WP Glossary offers you the tools required to create an effective one.
This premium WordPress knowledge base plugin can create a new post type or let you use an existing post type for your glossary entries. It assembles them into a listicle and presents them in a simple layout. The visitors can find and sort the glossary terms based on their requirements.
WP Glossary also offers a few more helpful features. For instance, you get an 'auto-linking' function that searches your pages and articles for the words used in your glossary. This feature, then, connects to the glossary page to assist in your SEO efforts.
You can also configure the plugin to display an info tip popup each time a user points to any word. Almost all aspects of its appearance can be modified. And it works with commonly-used plugins like WooCommerce and BuddyPress.
Pricing
The regular license for WP Glossary will cost $39 for use by you or one client, in a single end product. The extended license is priced at $125 for use by your or one client, in a single end product.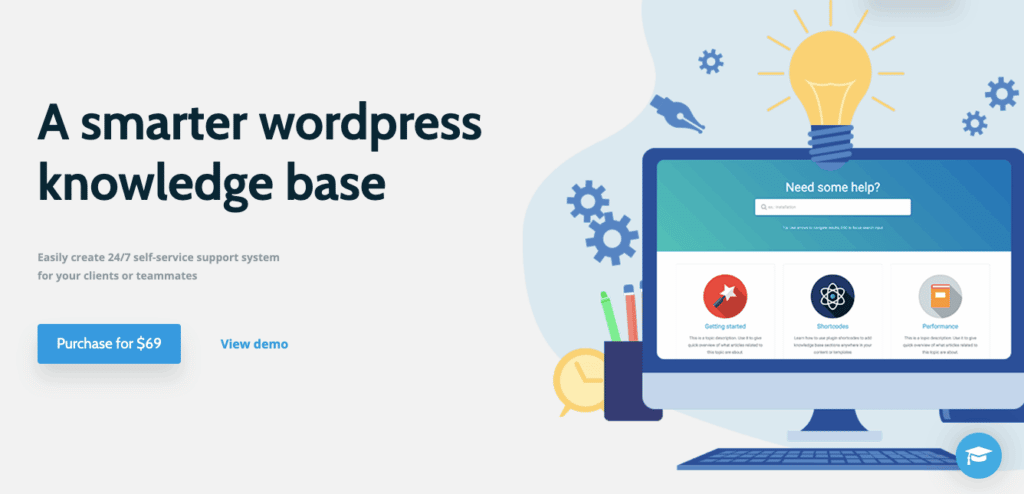 MinervaKB is a feature-rich paid plugin that integrates a knowledge base to your site with the ability to conduct searches.
The search page has a professional look and feel. It's easy to use, and you can also control how the results appear on the search page.
Modifying how the pages are structured is easy as this WordPress knowledge base plugin supports page builders like Visual Composer and Elementor. The plugin is compatible with WooCommerce sites as well.
Some of the other paid capabilities are content access control, analytics data, an option to leave votes, suggestion forms, and an automatic index that changes itself as per the modifications made in the knowledge base articles.
Pricing
The Regular license will cost $69 for use by you or one client. The Extended license is priced at $99 for use by you or one client, in a single end product which end users can be charged for. MinervaKB has a 14-day refund policy, so you can try the plugin first.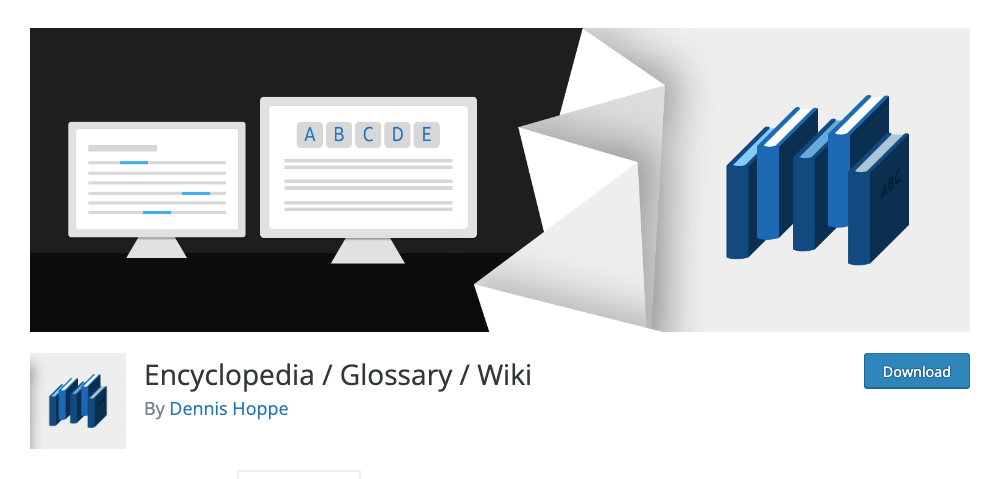 Encyclopedia / Glossary / Wiki is a highly customizable knowledge base plugin for WordPress. It lets you arrange your support pages in encyclopedia style. You can organize them in alphabetical order or by tags and categories.
This plugin has a basic layout to include all the encyclopedia entries. You have the option to insert a search widget, allow users to post comments on every support content, and insert a filtered index to organize content alphabetically.
The plugin also works well with WPML and is suitable for sites offering content in multiple languages.
Pricing
The basic version of the Encyclopedia plugin is free of cost. The Pro version is available for $55 for one website ($75 for up to five sites and $99 for up to 15 websites).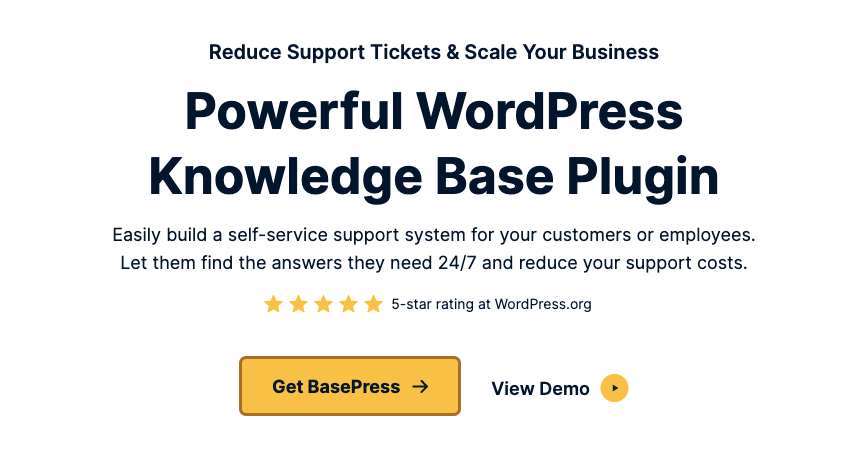 BasePress is a helpful knowledge base plugin for WordPress. It enables you to create help guides and knowledge base articles in a simple way.
You can select from the three designs available, along with a sophisticated search box that makes it easy for buyers to locate solutions.
This plugin lets you arrange your documentation by tags, categories, and sections with a simple drag-and-drop layout. And it allows you to insert a picture and summary for each section. This makes an appealing index page that buyers can explore.
Pricing
The Essential plan of the BasePress plugin costs $59 for one website. The available features include content restriction, multiple knowledge bases, article voting, user feedback, insightful analytics, and live search.
The Pro plan is priced at $259 for five websites. The third plan is the Elite plan, with a price of $559 for 10 websites. This plan covers all Pro plan features along with design customization to match your website branding.
BasePress offers a 14-day money-back guarantee if you are not happy with the product.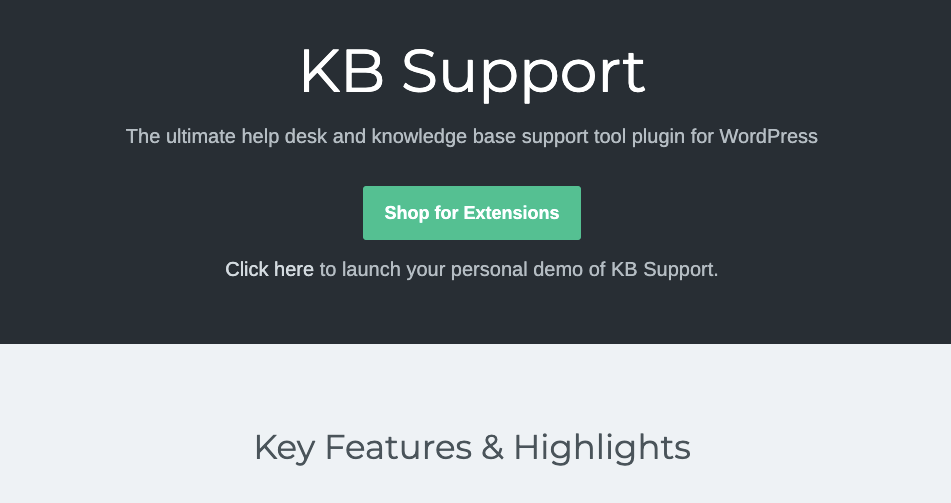 KB Support is yet another WordPress plugin that supports building a knowledge base. It's simple to use, and you can also expand its feature set with extensions.
This plugin provides both a support ticketing system and a knowledge base solution. So you get a comprehensive customer service platform for your WordPress-based website.
You can organize the documents using tags and categories. Then, you can use a light shortcode on any WordPress page to showcase your knowledge base content.
When users are unable to look for a solution, they can raise a support ticket. This ticket then shows up on your WordPress panel, and you can respond to the customer one-on-one.
You can also buy add-ons to expand the plugin's capabilities. These include email communication, WooCommerce knowledge base compatibility, template responses, etc.
Pricing
The KB Support Starter plan is for small businesses and costs $74. It allows you to manage tickets via email. The second plan is an Ecommerce plan for eCommerce stores and is priced at $102. It includes all Starter pack features along with eCommerce store integration.
The Enterprise plan is the lifetime license option and costs $150. Along with all features of other plans, this package includes all extensions offered by KB Support and offers Zapier integration.
How to build a WordPress knowledge base
Now that you know the best knowledge base plugins for WordPress, the next step is to build a knowledge portal. If you are ready to create a knowledge base for your WordPress or WooCommerce-based website, here's how you can start.
Analyze your goals and requirements
What difference will a knowledge base or a wiki make to your business? Think about who it's primarily meant for — your customers or your staff.
If it's for customers, for example, there will be many situations and channels where buyers interact with you. These include your ticketing system, support agents, social media accounts, live chat, and so on. You can easily gather common queries from those avenues to answer through your knowledge base.
Source answers from all departments
By now, you will have a good idea of the key questions you want to answer with a high level of priority. But don't frame the answers to those problems in isolation. Take inputs from the subject matter experts in your company to shape your knowledge base content.
For example, your development team would have the best knowledge of installing and configuring the product, while the accounts department can answer questions about billing.
Set up a WordPress knowledge base plugin
Next, you need to pick a plugin from the options we listed above. You can choose the one you think is the best knowledge base plugin as per your requirements. Our top recommendation is Heroic KB.
The major benefit of using a knowledge base plugin like Heroic KB is a consistent user experience across all your documentation.
Plus, you get a user-friendly setup wizard and the option to prepopulate your portal with sample content in just a few clicks. To learn more, check out our complete guide to building a knowledge base with WordPress.
Even if you run an ecommerce business, you can easily integrate Heroic Knowledge Base with your WooCommerce website.
Add and organize content in your knowledge base
The key to an effective knowledge base is the ease with which users can search and navigate to find what they need. Proper organization is what separates the best knowledge bases from the rest.
So make sure to organize your knowledge base with categories and tags. Plus, for each article, use relevant words and phrases that a typical user will type in the search box.
Monitor content performance
Like any campaign or part of your website, the usefulness of your knowledge base should be measured on a regular basis. Once customers start using it, a great knowledge base plugin can provide you with analytical insights to keep improving your content, leading to an increase in customer satisfaction.
With Heroic KB, for example, you can see insightful data like which articles are being viewed the most or which searches aren't leading to satisfactory results. So you can improve existing articles and create new ones to satisfy unmet needs.
Frequently asked questions about WordPress knowledge base plugins
Here are some commonly asked queries about knowledge base plugins for WordPress and their answers.
What is a knowledge base?
Customers stay loyal to a brand that delivers excellent customer support through different channels like a ticketing system, support agents, live chat, etc. But a key part of this support is a knowledge base or wiki. It's a well-organized and searchable repository of all types of user documentation about making the most of a product or service, along with solutions to common problems.
Why is a knowledge base important?
Modern consumers want instant solutions for their issues with a product or service. The availability of a knowledge base goes a long way in meeting this expectation, as it lets users find answers quickly on their own.
With a WooCommerce knowledge base, for example, you don't just enhance customer experience, but also see a reduction in support tickets to be handled by your customer service staff.
A comprehensive collection of product guides and tutorials helps your employees as well. Team members can complete their tasks and solve customer problems fast when they have all the information they need at their fingertips.
Summing up: the best knowledge base plugins for WordPress
If a prospect buys your product but can't use it, you'll find yourself in a situation worse than if they hadn't purchased the item in the first place. If you want to build a strong and sustainable business, you should be proactive about expecting and answering customer questions.
Of course, you will need to have a customer service team to support customers through live chat or other communication channels. But it will be more efficient to keep them focused on highly specific requests. Leave the common issues to be resolved by a well-organized knowledge base or a wiki.
The above WordPress knowledge base plugins make it easy for businesses to set up a knowledge base without much effort. Plus, you will get professional features like real-time search and proper navigation to make your answers easily discoverable.
If you're still confused about which plugin to choose, we highly recommend Heroic KB. It will help your team create and maintain a knowledge base with ease, leading to a massive boost in customer happiness and retention. So start building your knowledge base today.