How To Create A Knowledge Base On WordPress The Easy Way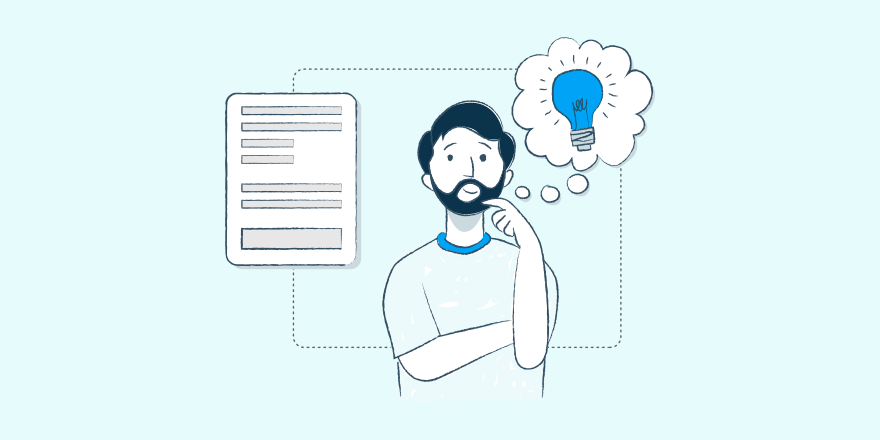 As the world's most popular content management system, WordPress is well-suited to serving up a helpful knowledge base to your visitors.
But if you want to create a fully-functioning knowledge base on WordPress, you're going to need help from some third-party solutions – regular WordPress posts and pages just aren't going to cut it.
To help you find those solutions, we're going to show you how to create a WordPress knowledge base using both some of our products, as well as an alternative free knowledge base plugin that's available at WordPress.org (we think our products are swell – but we always aim to be objective!).
Here Are The 2 Approaches To Create A WordPress Knowledge Base
If you're familiar with WordPress, you know that there are two types of extensions for WordPress sites:
WordPress knowledge base solutions come in both forms. That is, you can find both knowledge base themes and plugins.
Which one is better? Well – there's not really a right answer for all situations. Each approach has its place.
Using a knowledge base plugin is nice because it integrates into your existing WordPress install. But because the plugin isn't designed specifically to work with your theme, you might need to add some custom styling and theme-specific functionality before things look just right.
On the other hand, using a knowledge base theme pretty much guarantees that your knowledge base will look perfect right off the bat – no customization required. But the downside is that, because it's a standalone theme, you'll need to create a separate WordPress installation just to power your knowledge base.
Again, neither approach is inherently better – it just depends on your specific situation and how you want to approach things.
How To Create A Knowledge Base In WordPress With A Plugin
Heroic Knowledge Base Plugin
Build a knowledge base and help your customers help themselves.
Get the Plugin
Heroic Knowledge Base is our knowledge base plugin solution to help you add a knowledge base to an existing WordPress installation and using your existing WordPress theme.
In addition to helping you create a separate knowledge base section complete with articles and categories, here are some of the features that we think make Heroic Knowledge Base stand out:
AJAX predictive live search to help visitors find relevant help articles
User feedback to see how helpful your articles are
Analytics to view unanswered user searches + more
An option to transfer visitors to your human support system (and track which knowledge base articles cause that to happen)
Here's how you can add a knowledge base to your existing WordPress site with Heroic Knowledge Base:
Step 1: Install Heroic Knowledge Base Plugin
As with any WordPress plugin, stop number one is to actually install and activate the plugin.
Once you do that, you'll be taken to the welcome screen. Here, you can either set up a sample knowledge base using dummy content with just one click or start writing your own articles: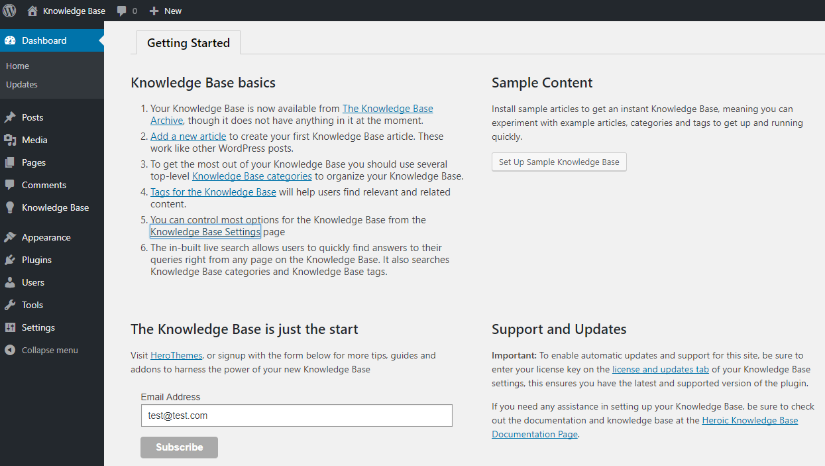 Step 2: Write Your First Knowledge Base Article
While the plugin does include a detailed settings area, it's set up so that you can pretty much start creating your knowledge base articles immediately after activating the plugin.
That is, the settings are for tweaking functionality – they aren't a requirement to start using the plugin.
To create your first article, head to Knowledge Base → Add New Article.
There, you can write your help article using the familiar WordPress editor, with a few additions.
On the right side, you can add:
Both of these taxonomies are specific to your knowledge base and won't affect your other content.
And in meta boxes below the text editor, you can configure:
Article file attachments
User feedback voting options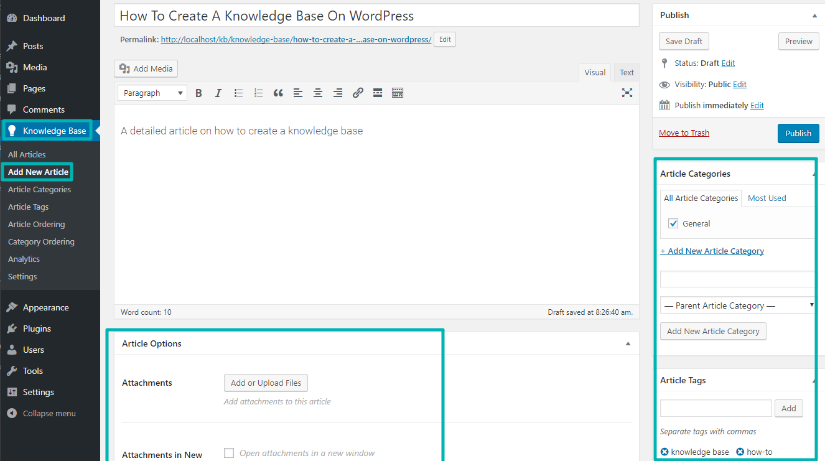 Once you publish your article, it's instantly live on your site: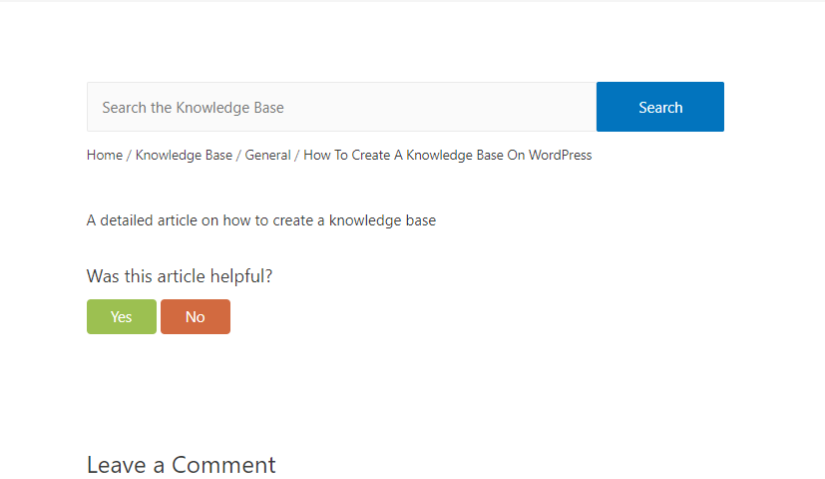 Step 3: Configure Ordering For The Archive Page
By default, Heroic Knowledge Base creates a homepage for your knowledge base at:
yourdomain.com/knowledge-base
Here's what it looks like by default using the Astra theme: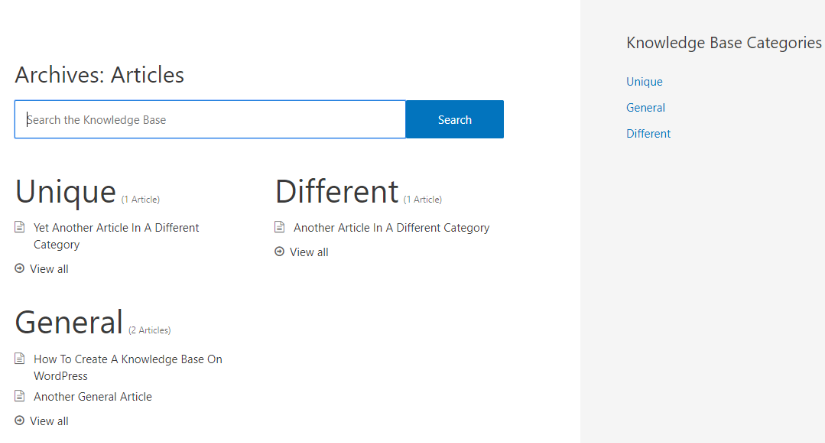 You might want to rearrange the categories and/or articles, though. To do that, go to either:
Knowledge Base → Article Ordering
Knowledge Base → Category Ordering
And rearrange the articles as needed using drag and drop: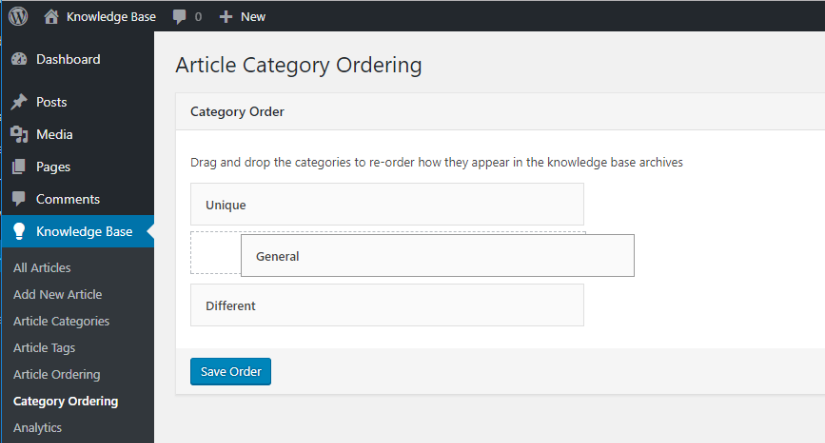 Step 4: Add Knowledge Base Widgets
The Heroic Knowledge Base plugin includes a number of widgets to help you display knowledge base information in your sidebar or any other widgetized area on your site. To add them, go to Appearance → Widgets and drag over your desired widgets: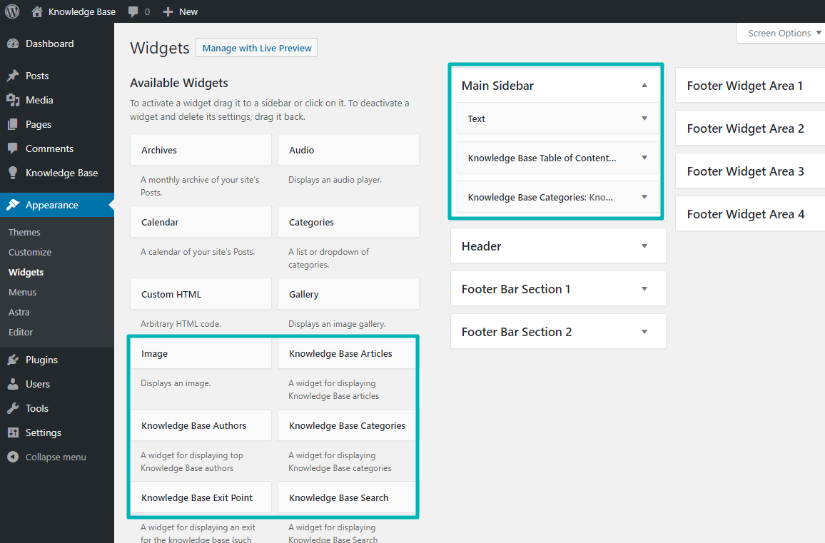 Step 5: Tweak Settings As Needed
At this point, your knowledge base should be pretty much good to go! But if you want to tweak its functionality, you can always access the settings panel by going to Knowledge Base → Settings: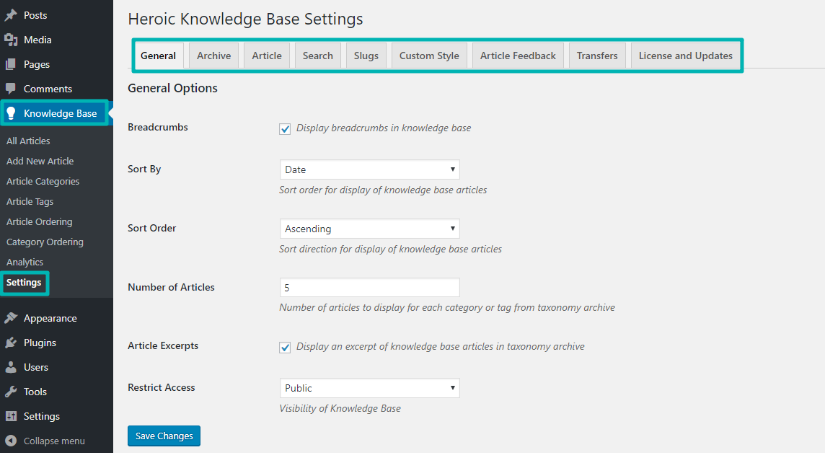 Some of the things that you can do here are:
Restrict access to your knowledge base
Change how many columns/articles display on your archive page
Change the URL slugs for various parts of your knowledge base
Add custom CSS styling
Set up a transfer URL to send visitors to your human support solution
And that's pretty much all you need to do to get up and running with a WordPress knowledge base!
How To Create A Knowledge Base On WordPress With A Theme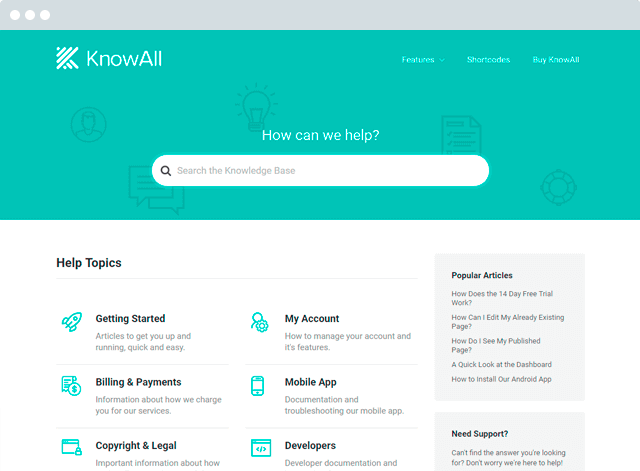 KnowAll Knowledge Base Theme
Build a knowledge base and help your customers help themselves.
Get the Theme
In contrast to Heroic Knowledge Base, KnowAll is a standalone WordPress knowledge base theme, rather than something you integrate into your existing WordPress site.
KnowAll is actually based on the Heroic Knowledge Base plugin, so much of the functionality remains the same as the section above.
The main difference is that KnowAll brings the style to match Heroic Knowledge Base's function.
That is, your knowledge base can look like this from day one: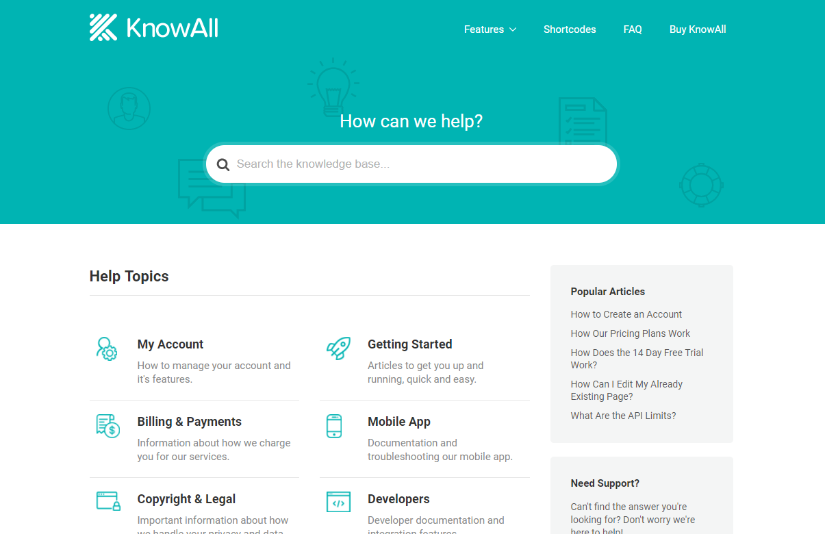 But on the inside, you'll still be able to manage your knowledge base using the Heroic Knowledge Base interface outlined above: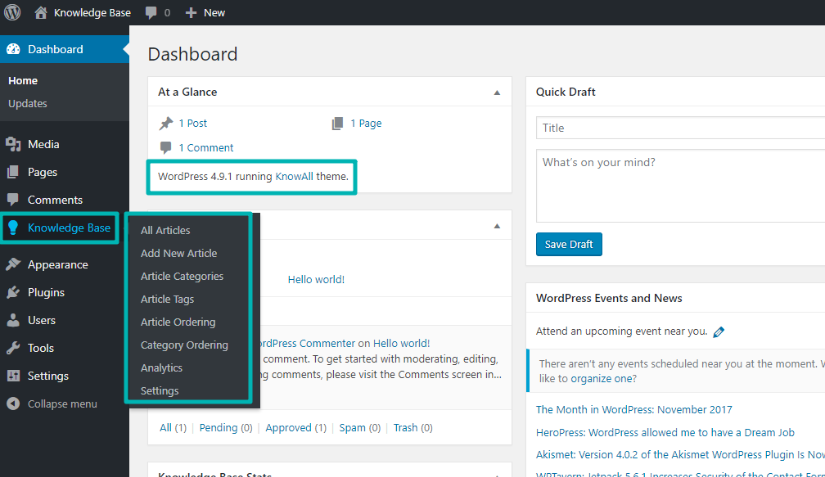 How To Create a Knowledge Base With A Free Knowledge Base Plugin
Beyond the two premium knowledge base solutions that we featured above, there are also free knowledge base plugins that you can use to create a knowledge base in WordPress.
Of those options, WP Knowledgebase is the most popular solution.
It can help you set up a basic, responsive knowledge base with different categories and a predictive text search box. And it also includes some sidebar widgets to help you further flesh out your knowledge base.
It's solid for basic uses, but some of the features you might be missing are:
Article feedback from users – there's no option for visitors to vote on how helpful an article is.
Analytics – there's no way to track searches and see which queries you need to provide content for.
Attachments – there's no option to attach downloadable files to your articles.
Live support transfer – there's no dedicated solution to transfer visitors to human support (or track which articles cause that to happen).
Like Heroic Knowledge Base, you can create new knowledge base articles using an interface that's similar to the WordPress editor. And you can also add categories and tags in the sidebar, though there aren't any meta boxes to control more advanced functionality: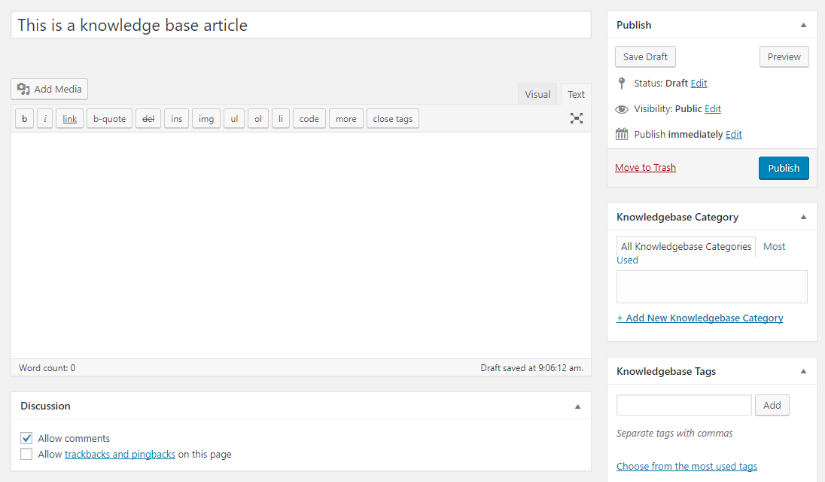 Once you add some articles, you can preview the full list on the knowledge base archive page:
As you can see with the search box's positioning, you might need some custom CSS to get things working just right.
Your WordPress Knowledge Base Isn't Just Software – It's Also Content
No matter which solution you choose to build a knowledge base with WordPress, it's important to remember that your knowledge base is more than just code.
That is, if your actual knowledge base content isn't helpful to visitors, it doesn't matter how many features your knowledge base solution has – it's still not going to be a great experience.
To help you create better knowledge base content, we've written a number of articles that we think are pretty useful. We encourage you to give them a read as you build out your WordPress knowledge base:
Now get out there and create a customer-helping, support-reducing knowledge base with WordPress!