6 Best WordPress Form Builder Plugins Compared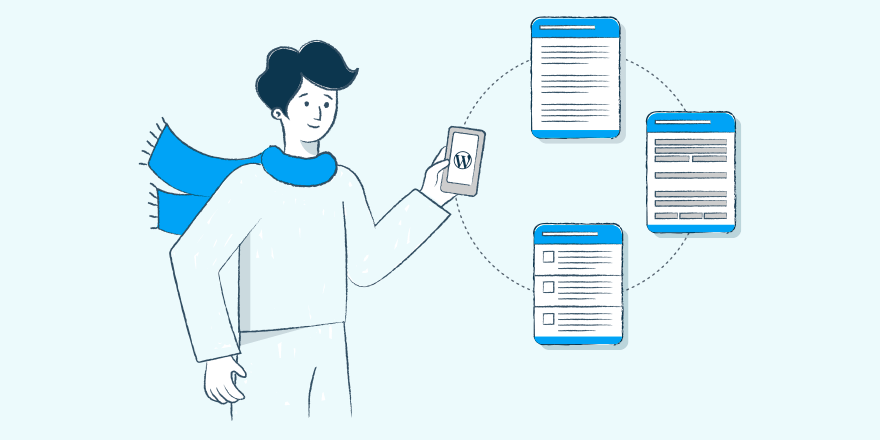 Forms are a must-have feature for every website. Whether it's a contact form, user registration form, login form, or even a file upload form, websites need forms to function properly.
When it comes to WordPress websites, there are hundreds of plugins that allow you to create different types of forms. Usually, whenever you need to add some type of form to your website, your first impulse is to install a plugin.
For example, if you want to add a contact form you look for a contact form plugin. If you want to add a registration form, you install a registration form plugin. This is not a good practice and can harm your website in many different ways.
What if there's a way you can create all types of forms using just one plugin? This is where form builder plugins come to help.
In this guide, we take a closer look at the top WordPress form builder plugins you can use to make all kinds of forms. Keep reading to find out which plugin is best for your website.
What Is A Form Builder Plugin?
Just as the name suggests, a form builder plugin is a tool that allows you to create your own forms. Form builder plugins come with a beginner-friendly editor. Once installed, you can use it to design custom forms for all kinds of purposes directly from inside the WordPress dashboard.
If you've ever wanted to create a contact form with advanced spam protection. Or a user registration form that collects more details from users. Or create an upload form to accept user submissions. A form builder plugin is a great choice for your website.
Benefits Of Using Form Builder Plugins
When using a form builder plugin you'll no longer need to install a new plugin every time you need a different form. There are many more benefits to using form builders as well.
Create All Kinds Of Forms
The main benefit of using a form builder plugin is the ability to create many different types of forms. Here are just a few types of forms you can create with them.
Contact forms
Registration forms
Login forms
File uploading forms
Payment forms
Email signup forms
Survey forms
And more
Drag and Drop Builder
Using the drag and drop builder you can design a form that suits your needs. For example, let's say you want to collect the location details of users from your registration form. All you have to do is drag and drop a custom field to the form design to collect the data. It's that easy.
Protection From Spam
With form builder plugins, you don't have to worry about spam entries. You can easily integrate Google reCAPTCHA or even a custom math-based question to filter out bots and spam.
Third-Party Integrations
Form builder plugins can also be integrated with other tools and services. This helps add more advanced features to your forms. Like processing payments or grow your email list.
Pre-Made Templates
If you don't have the time to create forms from scratch, use a template. Form builder plugins include lots of templates. You can use them to create different types of professional forms instantly.
Without further ado, let's dive into the list of plugins.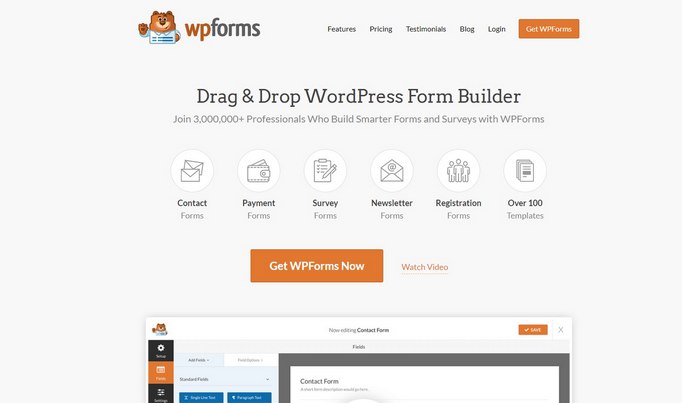 Price: $79 per year
Best For: Bloggers and Businesses
WPForms is one of the most popular form building plugins available on WordPress with more than 3 million downloads. When it comes to making forms, this plugin is like the jack of all trades. There's nothing you can't do with this form builder.
WPForms is capable of handling all aspects of form building. You can use it to make even the most basic contact forms to advanced survey forms, upload forms, payment forms, and so much more.
Main Features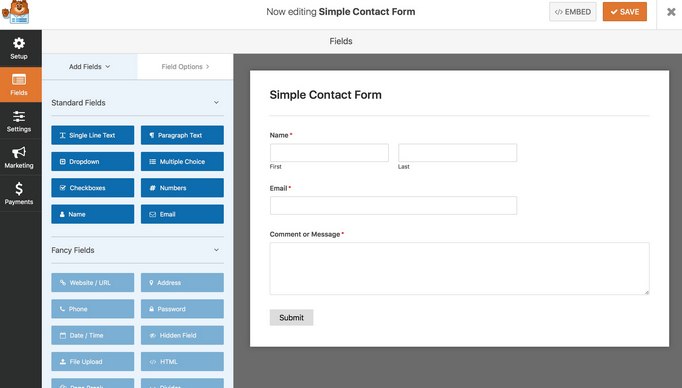 A simple and beginner-friendly drag and drop builder
Create all kinds of forms including multi-page forms and surveys
Integration with PayPal and Stripe for adding payment processing to forms
Integration with MailChimp, AWeber, and more for making email signup forms
Zapier add-on gives access to 500+ apps
Pre-made form templates
Who Should Use This Plugin?
WPForms can be integrated with Zapier. This opens doors to endless possibilities. With Zapier, you can connect WPForms with so many different third-party apps. For example, you can create a Zapier integration to automatically store a copy of all user file uploads on Dropbox.
This feature alone makes WPForms a great tool for businesses and web developers for making forms with more advanced functions.
Pricing Plans
WPForms pricing starts at $79 per year. However, in order to get access to all the best extensions and Zapier, you need to buy the $399 per year plan. WPForms often go on sale so keep an eye out.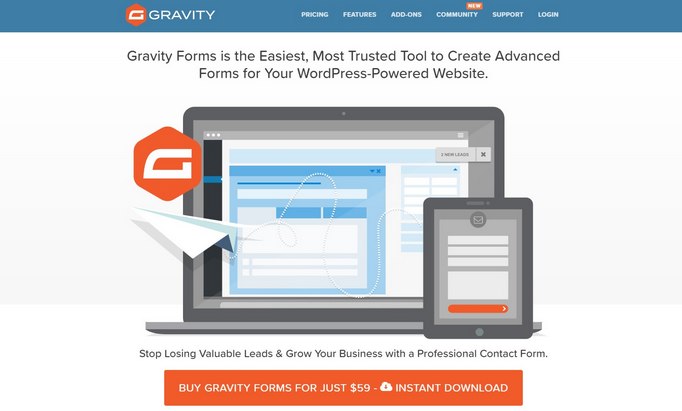 Price: $59 per year
Best For: Web designers and developers
Gravity Forms is one of the veterans in the WordPress plugin industry. It's been around for nearly a decade helping web designers make advanced forms.
The plugin has a very advanced set of features and a powerful form builder. However, compared to other plugins, its builder user interface feels a bit outdated. Thankfully it doesn't interfere with the overall experience and the usefulness of the plugin.
Main Features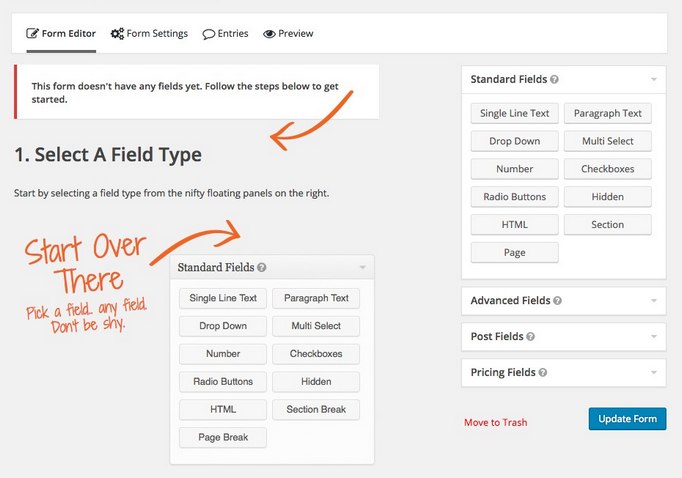 A visual form builder for making all kinds of forms
Choose from more than 30 different form fields
Use conditional logic to design more advanced forms
Protection from spam
Integration with payment processors and CRMs
Integrate with many other useful Gravity plugins
Who Should Use This Plugin?
Gravity Forms is an advanced form builder plugin with access to more third-party services and tools. This makes it most suitable for advanced users such as web developers and big brands.
For example, the plugin supports integration with popular CRM tools for easily importing data collected from forms into your CRM software to manage customers more easily.
Pricing Plans
Gravity Forms pricing plans start at $59 per year but with access to only the basic add-ons. To access all the add-ons you'll need to buy the $259 per year plan.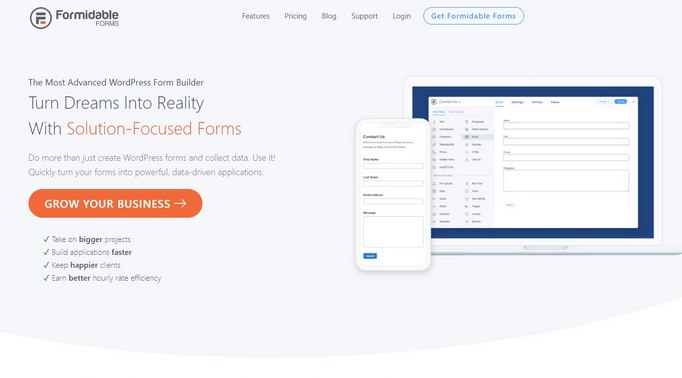 Price: Free / $149 per year
Best For: Businesses and Developers
Formidable Forms is another great form builder that comes with a sleek and modern user interface. This plugin is also designed with advanced users and developers in mind.
The form builder plugin features a set of useful functions for businesses. Like for creating listing and directory websites. It also includes options like repeater fields and dynamic fields for gathering data for advanced users and developers.
Main Features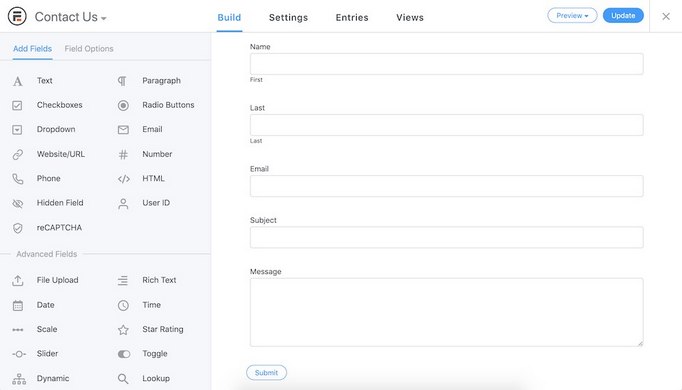 Modern drag and drop form builder for making all kinds of forms
Gather statistics with reports and charts
Create forms to make user-submitted blog posts
Build advanced forms with conditional logic and repeater fields
Access to lots of third-party integrations including Zapier
Who Should Use This Plugin?
Formidable Forms is a great form builder for web designers and developers. You can use it to make forms with advanced functions. However, its expensive pricing plans make it less appealing to regular users.
Pricing Plans
Formidable Forms pricing starts at $149 per year with access to the basic add-ons. For full access, you have to switch to the $599 per year plan.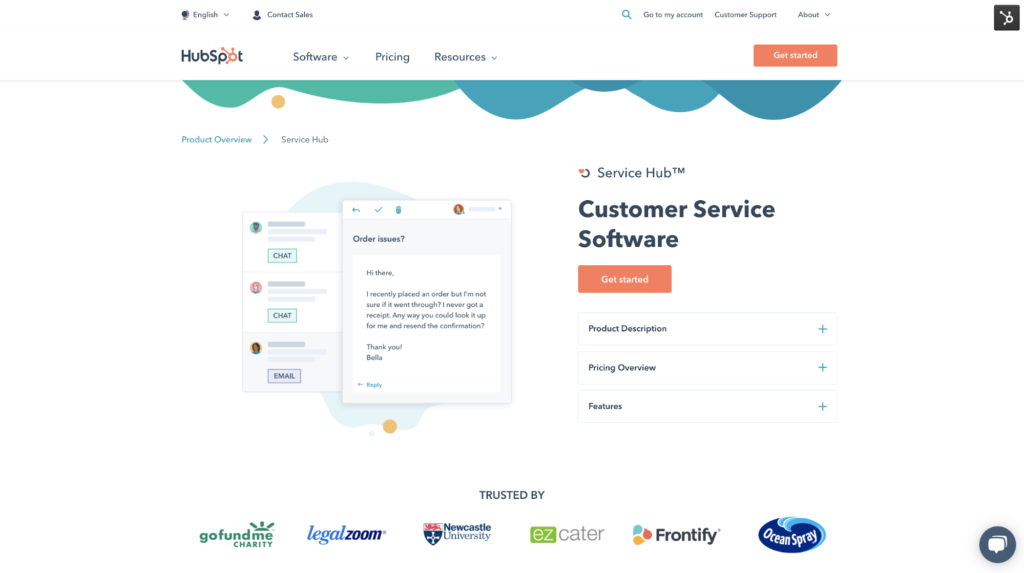 Price: Free
Best For: Businesses and Developers
HubSpot's WordPress Plugin is an easy way to add forms and popups to your WordPress website. With its intuitive drag-and-drop builder, you can create beautiful forms in minutes. Customize your forms to match your site, then trigger automatic actions once a visitor completes a form. Store captured contacts in the HubSpot CRM and see a unified timeline of a contact's interaction with your website.
Main Features
Start from a template (Registration, Contact us, Support, etc) or build your own design from scratch
Add up to 1000 form fields and dozens of form field types
Edit form styling to match your site
Trigger thank you messages, redirects, or emails upon form submission
Rather stick with your existing forms and popup tools? HubSpot integrates with most form and popup builders out of the box
Who Should Use This Plugin?
Marketers, business owners, and developers looking for all-in-one value and a unified view of their visitors & customers will love the HubSpot plugin. In addition to forms, you also get live chat, bots, analytics, CRM, and email marketing from within the same plugin.

The plugin syncs forms with the HubSpot CRM, giving you a timeline of a contact's page views, live chat conversations, form submissions, and more.
Pricing Plans
HubSpot's WordPress plugin (and it's included forms functionality) is free to use. HubSpot's first paid plan, Starter, starts at $50 per month.
Price: Free / $99 per year
Best For: Bloggers and Businesses
Ninja Forms is a very popular form builder plugin on WordPress. Thanks to the free version of the plugin, Ninja Forms has been downloaded by more than 20 million users over the years.
Ninja Forms is popular for a reason. It has an advanced form builder with a simple user interface. Even complete beginners can easily learn to use the plugin without an effort.
Main Features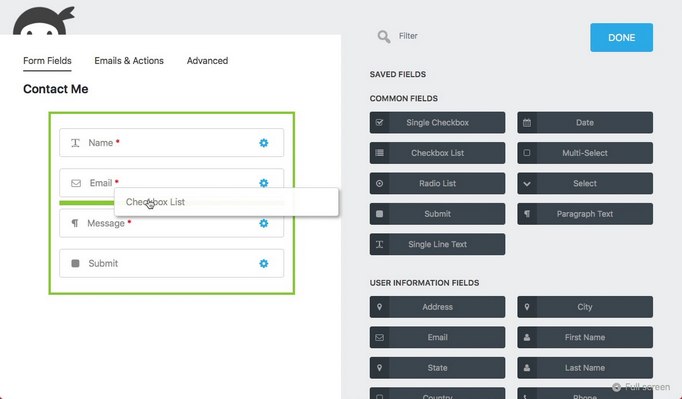 Beginner-friendly form builder user interface
Create all types of forms with the ability to export data as spreadsheets and PDF
Integration with payment processors for making payment forms
Integrations with email marketing tools and CRMs
Lots of add-ons to choose from
Who Should Use This Plugin?
Ninja Forms has a beginner-friendly and easy to use user interface. This makes the plugin a great choice for everyone from bloggers to businesses.
Especially with the ability to integrate with Zapier and many popular CRM software, Ninja Forms can be used as a great tool to gather data for brands and businesses.
Pricing Plans
Ninja Forms pricing starts at $99 per year. Full access costs $499 per year. However, it also has a $29 per year plan by customizing the add-ons you need for your site. The free version of the plugin is also great for making simple forms.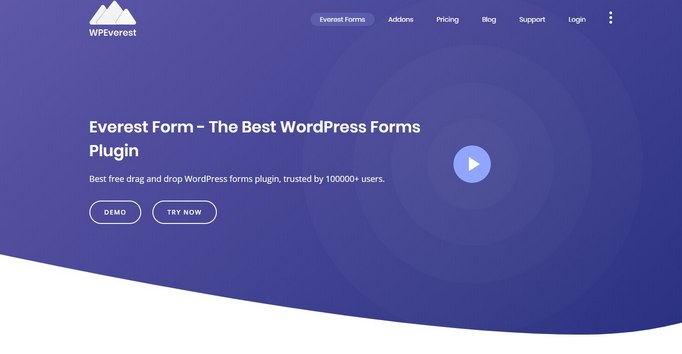 Price: Free / $69 per year
Best For: Bloggers and Businesses
Everest Forms is a new player in the form builder plugins market. With more than 100,000 plugin installs, this form builder is already starting to prove a worthy opponent for others.
One of the best features of Everest Forms is its beautiful and modern form builder. It looks so smooth and easy to use. Even a child could use it to build a form within minutes.
Main Features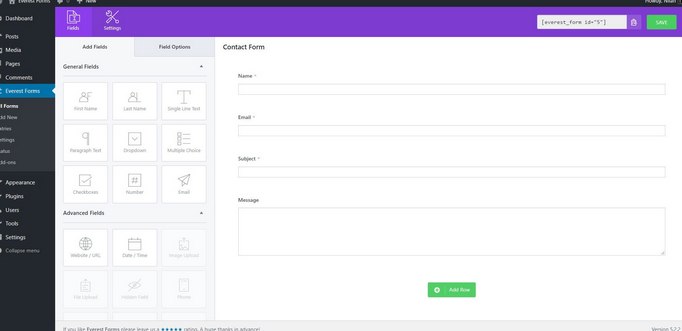 Beautiful and easy to use form builder for making all kind of forms
Create forms with multiple columns
Create surveys, polls, multi-part forms, and more
Build advanced forms with conditional logic
Integration with PayPal and Stripe for making payment forms
Connect with Zapier to integrate with hundreds of more apps
Protection from spam and ability to add translations
Who Should Use This Plugin?
Everest Forms is a great choice for beginners and experts in all industries. The sleek user interface makes it easy to manage the plugin and create all kinds of forms without an effort.
Especially the free version of the plugin packs a lot of features that you normally get from a paid plugin. Making it a great choice for small bloggers.
Pricing Plans
Everest Forms pricing plans start at $69 per year. To get access to all add-ons and features, you'll need to buy the $249 per year plan. The free version also includes lots of great features.
Which Form Builder Plugin Is Best For You?
The short answer is it depends on your needs and budget. Having said that, our recommendation for everyone is WPForms.
WPForms has the perfect blend of features to make it appealing to both beginners and advanced users. It also supports more useful functions like the ability to store data in databases. And create forms with advanced functionalities like payment processing and more. All at an affordable price.
Although, it's worth taking a look at the newer plugins like Everest Forms. Which features a smooth form builder made with a focus on ease of use. Especially its free version is more than enough for making basic forms for a small blog.
We'll leave it up to you to decide. Be sure to check out the free versions of the plugin before investing in a premium version. It'll help you make the right decision.