WordPress CRM: Best Plugins For Turning WordPress Into A CRM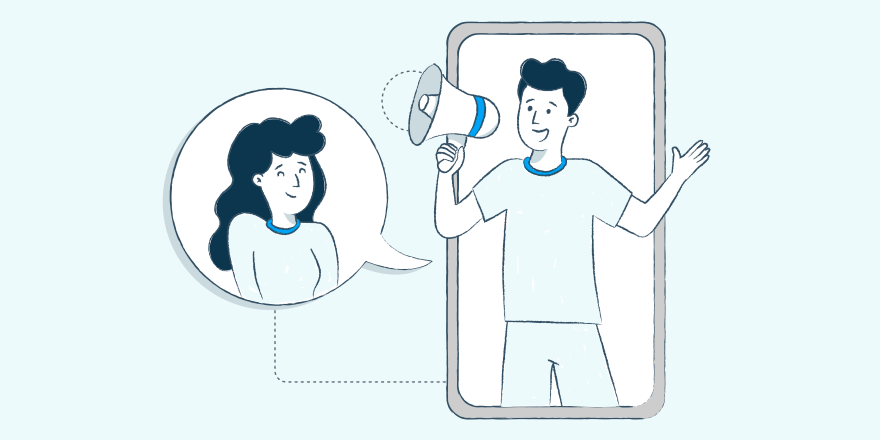 Are you struggling to manage and convert your leads? Or keep track of your existing customers? Then the solution to your problems is CRM.?
In this guide, we detail how you can leverage a CRM system to manage your leads and customers in one place. Build meaningful relationships with your customers.
We also explain why WordPress is the perfect platform for setting up a CRM system. And, of course, we'll help you pick the right WordPress CRM plugin as well.
Let's get started.
What Is A CRM?
Customer Relationship Management, or CRM, is a method businesses use to manage their existing customers, potential customers, and leads in one place. It allows businesses to build more engaging and effective relationships with customers.
CRM is also an important part of the conversion funnel. With a CRM system, you can easily keep track of your leads that are in specific stages of the process.
Most businesses use CRM software to manage customers and leads. These software allow you to create detailed profiles of each customer (buyer persona) as well as to strengthen the relationships. And overall, provide better customer service.
Why Use WordPress As A CRM?
There are many different types of CRM software available today. Most of them are hosted SaaS apps that let you manage leads in a simple and modern environment.
However, WordPress is the perfect platform for making a more effective CRM system. Especially when thinking long-term, WordPress as a CRM brings more benefits than using hosted software.
Here are just a few of the reasons to use WordPress to build a CRM system.
It's Affordable
Being able to choose your own pricing is one of the biggest benefits of using WordPress as a CRM. For example, Salesforce CRM could cost your somewhere between $25 to $300 with limited features.
With WordPress, you only have to pay for web hosting. And, if you already have a WordPress website, you can setup the CRM for free directly alongside your existing website.
Integrate With eCommerce Sites
Online stores powered by WooCommerce and other eCommerce websites made with WordPress can also benefit from a CRM system. When your CRM is integrated directly with WordPress, you can easily collect more information from your customers. Each sale you make will add more data to your CRM. Allowing you to easily launch upsell campaigns and market new products.
Extend Features With Plugins
Do you want to collect leads from discussion forums? Or send email campaigns? WordPress CRM systems make it possible. With a WordPress CRM, you can easily add more features and functions to your system with the help of third-party plugins. It will allow you to make a CRM system more powerful than any other.
Take Control Of Your Data
Customers care about how you use their data and where you store them. When using WordPress as a CRM, all data is stored on your website. You don't have to let a corporation handle the data or abide by their rules. You will be able to assure your customers their data is safe.
Note: Some of the WordPress plugins and apps are hosted by companies. Read their ToS and privacy policy to understand how they handle data.
Easy To Setup And Manage
Unlike most other sophisticated CRM software, WordPress is fairly easy to understand and manage. You'll be able to easily setup the CRM and integrate it with your website without any technical help.
Best WordPress CRM Plugins
There are several plugins and platforms you can use to build a CRM system with WordPress. These are some of the best and beginner-friendly plugins out there.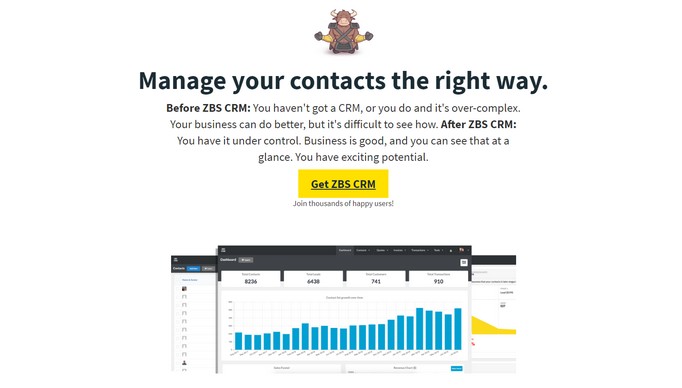 Price: Free / $11 per month
This WordPress CRM plugin is simple and straightforward, just like its name. It's easy to setup, free to use, and includes everything you need to build an effective CRM in WordPress.
Zero BS CRM is a plugin backed by Automattic, the developers behind WordPress. It includes all the essential features of a CRM, including lead management, detailed reports, and much more. The plugin even supports integration with WooCommerce and Stripe.
Best Features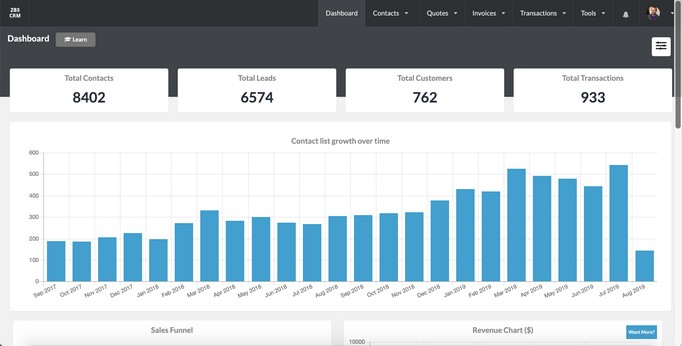 Easily manage leads, clients, and customers in one place
Track leads and check on their progress on the sales funnel
Send invoices, proposals, and quotes
Ability to manage unlimited contacts
Lets you take control of your customer data
It's free to use with paid extensions
Who Should Use It?
Zero BS CRM has many different features that make it a great option for various businesses and professionals. WooCommerce integration makes it suitable for online stores. With the ability to generate invoices and send quotes, it's a good choice for freelancers. Even startups and small business websites can benefit from it.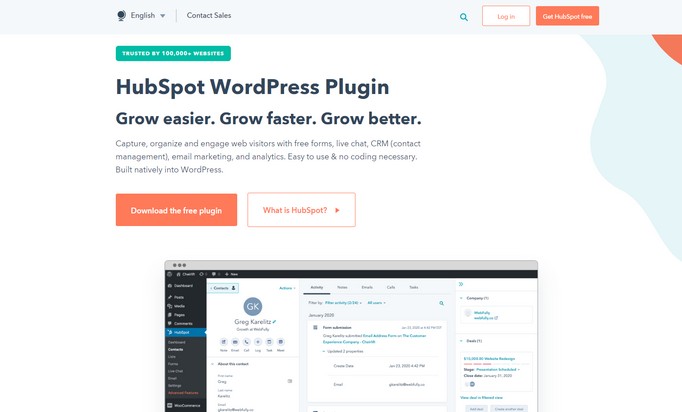 HubSpot is one of the most popular marketing platforms available today. It's an all-in-one solution that includes CRM, live chat, email marketing, and more. It has a free WordPress plugin as well.
Using the plugin, you can easily manage all your leads and campaigns directly from the WordPress dashboard. Although, your customer data will be hosted by HubSpot company.
Best Features
Access to CRM, email marketing, live chat, and other tools
Collect up to 1 million leads and contacts for free
Track website activity of leads
Engage with your potential customers using live chat
Integrates with Gmail and Outlook
Includes forms, email templates, and ticketing
Detailed stats and analytics
Who Should Use It?
HubSpot CRM is perfect for everyone from bloggers to corporate brands and everyone in between. The free plan offers more than enough features to easily manage all your leads and create an effective sales funnel for your website.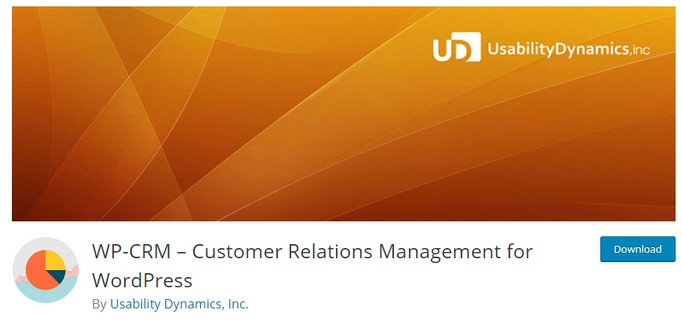 WP-CRM is another great free plugin you can use to transform your WordPress website into a complete CRM system.
In addition to all the great CRM-related features, this plugin comes with a unique option that makes it stand out from the rest. This plugin lets you convert your CRM contacts into WordPress users. It's a great function for building a much stronger relationship with your customers. And for building a loyal audience around your brand.
Best Features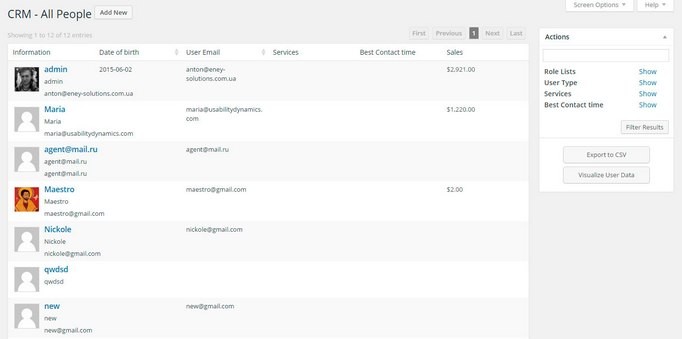 Easily add and manage contacts directly from WordPress
Ability to save contacts as WordPress users
Add custom data fields for each user/ contact
Create forms using a front-end builder
Gather stats and data using dynamic charts
Organize and manage users with filters
Who Should Use It?
WP-CRM is most suitable for bloggers, entrepreneurs, and small businesses. Especially for entrepreneurs who sell coaching and training programs. The ability to convert contacts into WordPress users will be quite useful for building membership sites.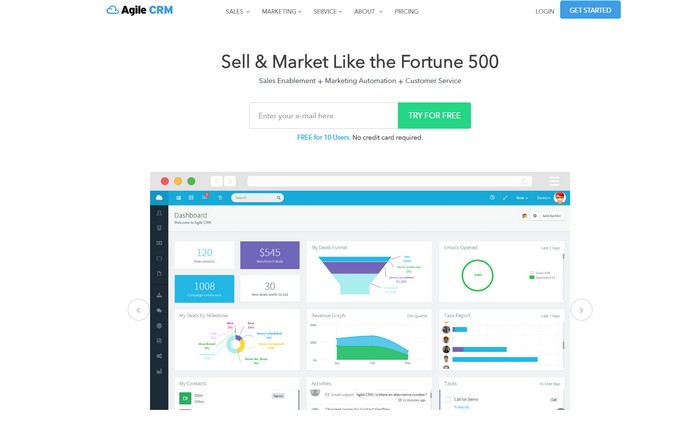 Price: Free/ $8.99 per month
Similar to HubSpot CRM, Agile CRM is another hosted CRM system that comes with WordPress integration. However, unlike HubSpot, Agile CRM plugin doesn't let you access the CRM from the WordPress dashboard.
But, we wanted to include this CRM in this list for one great reason. That's because Agile CRM has a plugin that directly integrates with WooCommerce. This will allow you to easily gather customer data from your online store sales.
Best Features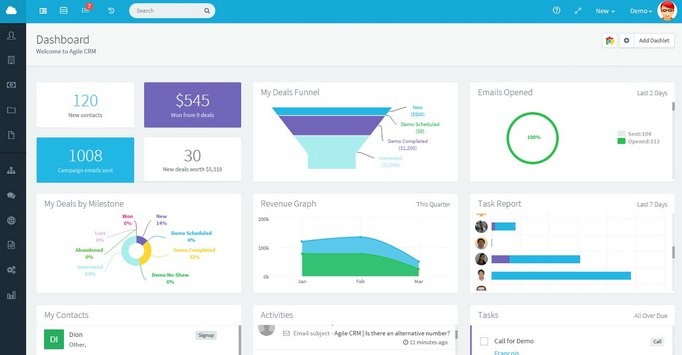 Collect up to 50K contacts for free with access for 10 users
All-in-one solution for CRM, marketing, and customer service
Ability to add custom data fields to contact profiles
Track the leads and stages they're on
Manage projects and schedule appointments
Email marketing tools with email tracking
Who Should Use It?
Since Agile CRM has a useful WooCommerce plugin, we believe it's most suitable for online stores and eCommerce sites built with WordPress and WooCommerce. Of course, other types of businesses can benefits from it as well.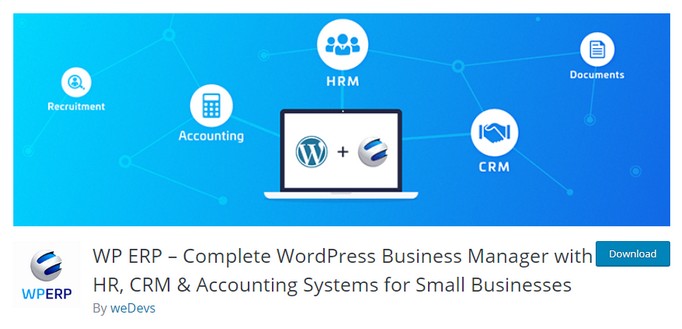 Price: Free / $149 per year
WP ERP is a popular free WordPress CRM plugin that includes basic functions for managing leads and contacts without a hassle.
This plugin comes in 3 different modules built into the system. Including an HR management module, an accounting module, and the CRM module.
The plugin also comes with paid add-ons for extending its features as well.
Best Features
Manage and track contacts with life stages
Ability to create company profiles
Organize contacts into groups
Schedule meetings and calls with potential customers
Get detailed reports on customer activity and business growth
Zendesk, HelpScout, and WooCommerce integration
Who Should Use It?
WP ERP is ideal for both small businesses and online stores. The combination of CRM, accounting, and HR modules will allow you to build a complete company management system using WordPress.
Which WordPress CRM Plugin Is Best?
Zero BS CRM plugin is the clear winner. It's the perfect solution for all sizes of businesses. Since it allows you to get started for free, the plugin is perfect for beginners as well. Best of all, it puts you in complete control over the customer data.
Another good option is the Hubspot CRM. It's completely free. It has a very beginner-friendly user interface with access to other useful marketing tools. It's perfect for managing customers without a hassle. The only downside is your data will be hosted by a third-party company.
A CRM system is a must-have for every business and brand. It doesn't matter which plugin you choose as long as you get started. In the long run, it will prove to be the best investment you've ever made.
Speaking of investing for the long term, do you have a knowledge base system for your website? Check out KnowAll, the best WordPress theme for making knowledge base systems.