10 E-commerce Customer Service Best Practices to Go from Good to Great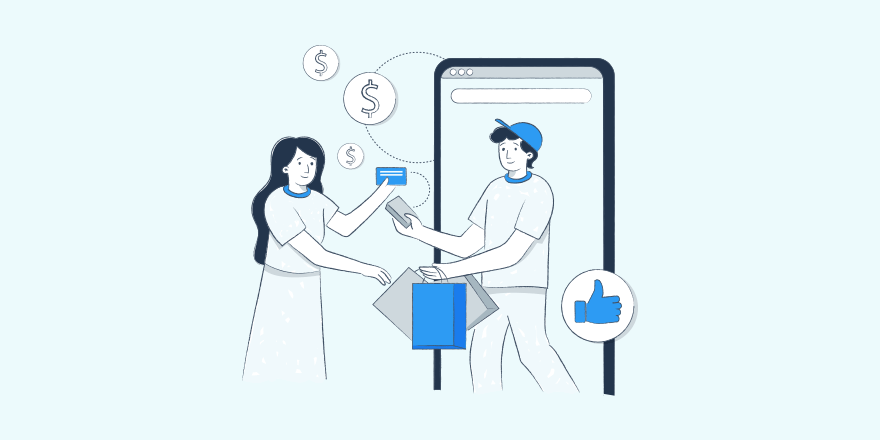 E-commerce customer service presents some unique challenges that most B2B and service businesses don't struggle with.
A large customer base coupled with the volume of transactions result in a high influx of tickets (that can easily spiral out of control during peak seasons!).
So how do you offer stellar e-commerce customer service when you only have a couple people on your service team and need to serve a few hundred customers or more?
These ten e-commerce customer service best practices are a good starting point.
1. Identify areas your customers need support with.
To get a handle on your e-commerce customer service, it's important to know the areas that generate the most support requests.
For most online stores, these are the "problem" areas:
Returns
Refunds
Cancelations
Exchanges
Orders
Shipping
Tracking
Loyalty Points
Credit/ Gift Cards
Membership
So review your tickets to find your recurring support themes. The insights you learn will help you 1) diagnose the problematic areas of your store that need improvement, 2) plan your resource allocation, and 3) develop support resources that can help lighten the support load.
2. Add support content addressing the "self-serve" requests.
A closer look at your ticket queue can show you how a significant percentage of your support requests don't need "real" or "human" support.
In other words: you can easily "deflect" a lot of tickets you might be serving with live help by offering content that users can use to resolve their issues on their own.
Think support requests about recovering deleted gift card codes or seeking information on when refunds might get credited, and so on.
A knowledge base works well to serve such self-serve support content. When done right, a knowledge base can help resolve about 20-40% of tickets without needing any human intervention, as per a Gartner estimate.
And it's not just reduced tickets; resolutions via self-service options like knowledge bases are 80 to 100 times cheaper than resolutions involving live help.
It's popular with customers too — about 91% of customers prefer using a knowledge base over reaching out for "real" support.
To create a knowledge base, identify the topics that trigger the most tickets and can be dealt with without contacting support, and write content that resolves them. That's it. Here's an example of such content (a size guide for kids) from an online store:
Here are a few options for creating a knowledge base and tips to build one (on WordPress) from scratch.
3. Create a catch-all support page; a contact page; and a customer-service "super-footer."
An e-commerce customer service information study by Nielsen found that online shoppers often have "to work hard to find the information" they seek on most store websites. Based on the research, Nielsen recommends online stores to have at least the following support elements to help customers help themselves:
A catch-all support page
This support page acts as the linchpin of your e-commerce customer service; Nielsen suggests that you call it "Customer Service."
The essentials your customer service page should have are 1) a link to your contact page, 2) a link to your FAQs or an embedded FAQs widget, 3) guidance on how customers can use all the support content and options, 4) links to your most sought after knowledge base topics/articles, and 5) your general support policies.
You should make this page accessible all the time no matter where a user is inside your online store — a placement in the footer is ideal.
A contact form
A contact form is a critical touchpoint in an online shopper's buying and support experience. Naturally, it should be easy to use.
A "super-footer."
A super-footer is one that's loaded with support information and assistance you'd like to make available to your shoppers all the time. This information could be links to your FAQs; to your most popular knowledge base articles; and your contact information.
Here's a super-footer that does it right: (While you're at it, also notice how it uses icons that speak directly to buyers about their key concerns.)
4. Write FAQs addressing the top (quick) questions.
For most e-commerce businesses, some questions are as certain as taxes.
Such questions with one-line answers like "Do you accept PayPal?" and those needing a little explanation like "How does try and buy work?" go straight to your FAQs.
To add FAQs, glean through your support requests and note your most frequently asked questions. Then check out these tips on framing the actual questions for your FAQs and best practices to answer them and add them to your website.
As a rule, your FAQs should be always accessible to your users. A link in the footer is a good placement.

Here's an example of this self-serve channel in action, making offering 24/7 e-commerce customer service possible:
5. Keep the contact option easily accessible.
Most customers don't want to reach out to your support staff; they can't help it always, though.
For such times, stay accessible.
Post your contact information — including your support email and phone helpline info, if you offer phone support — right inside your footer.
Image source
Sure, this could get some of your users to avoid the self-serve options and reach out… but a few additional tickets are a smaller issue than frustrating all the customers who want to contact.
6. Collect feedback all the time.
Every support request offers an opportunity to collect feedback — and you must use it.
Thoughtful surveys and feedback forms can collect valuable qualitative and quantitative insights that can be used to improve your customer support experience.
Here's a primer on how to collect feedback that translates to (actionable insights) and tangible improvements in your e-commerce customer service metrics.
7. Benchmark for insights.
One sure way of improving your e-commerce customer service is to compare how you're doing against your competitors.
A simple user testing exercise can help you with this.
To run one, just pick a few of the most common support request scenarios and hire real users to engage in support experiences with your website and that of your competitors'.
For instance, you could get testers to review and score your support article on Returns and get them to review those of your competitors too.
You could also assign a question to them about how you approach refunds and then ask them to find the answer on your website. And to repeat the same for websites of competitors. If they can't find it or take too long to do so on your store, but find it easily on the other stores, you might want to make your information more accessible.
You could ask testers to contact support with a pre-sales question both at your store and those of your competitors and compare those experiences as well. Even five responses can uncover invaluable insights.
8. Support all the channels your customers use (especially social media).
Customers don't request support only at your support@yourstore.com email. They do so everywhere, right from social media platforms like Facebook to Twitter to third-party review websites.
According to one study, 67% of customers request customer service on social media platforms. Moreover, a positive social media customer service experience gets 71% of them to recommend your brand to others. It's social media, after all — giving a high-five is easy!
It may not even be an obvious request for support; perhaps just a complaint, but an opportunity to show you care.
9. Set KPIs and Optimize.
Here are a few KPIs that you must always monitor closely if you want to improve your e-commerce customer service:
Customer satisfaction (CSAT) score: The how-satisfied-were-you-with-your-experience metric is the single most important e-commerce customer service metric you need to monitor. It's a reflection of how well you do on your other metrics!
Net promoter score (NPS): The will-you-recommend-us-to-your-friends metric measures how well your service wins your customers' loyalty.
Hit rate: The hit rate for a product page is the number of sales it gets divided by the number of times customers reach out for support for it. Pages with high hit rates need to be optimized.
Service counts: The number of support emails, calls, and chat requests your team gets.
First response time: A low first response average means you respond to tickets quickly.
Average resolution time: A low resolution time average means you resolve your customers issues promptly.
10. Explore the chat option.
If you haven't already added the live chat option to your e-commerce customer service strategy, now might be a good time.
The chat support channel is the fastest growing support channel for online stores. In e-commerce Fastlane's study, 60% of the participants said they used it already, and 55% of those not using it said that they planned on adding it within a year.
Online shoppers, too, prefer the chat option as it offers real time help. In a survey of 2000 consumers, eDigital's Customer Service Benchmark report found live chat to have the highest satisfaction levels (at 73%).
Also, with just basic automation, you can create a chatbot that can use your support content and offer "live" help 24/7 to your store's visitors.
Wrapping it up…
So there you have them… ten ways to instantly improve your e-commerce customer service.
Most are low-effort and you could start now…
Over to you: Already practicing some of these? Share your experience in the comments!