4 Best Chatbot Tools for Customer Support and Service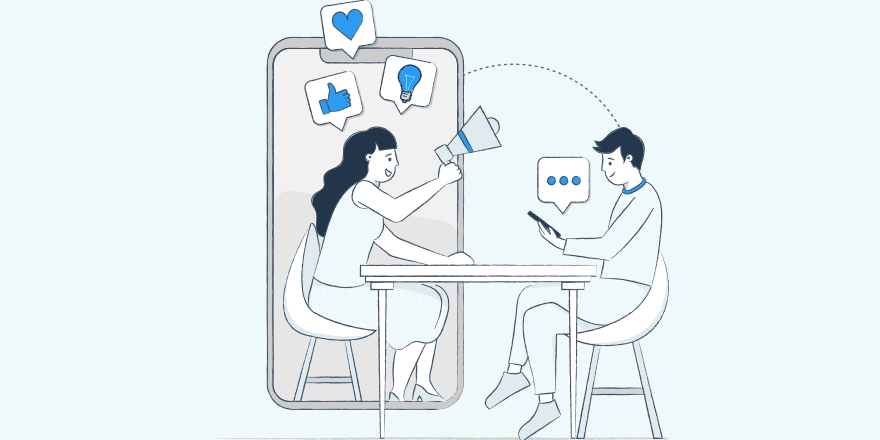 Looking for a customer service chatbot tool to offer support to your visitors/customers?
Here at HeroThemes, we're all about finding ways to take the burden of customer support off of humans. And while one of our favorite ways to do that is with your own knowledge base, chatbots provide another avenue for hands-off support. You can even combine the two and use your customer service chatbot to direct people to relevant knowledge base articles.
Thanks to new services, creating a chatbot is now more attainable than ever before, even if you've never written a line of code in your life.
To help you get started with your own customer support chatbot, we've collected four of the best customer service chatbot tools.
These services range in price from free to $50 per month to even higher. Let's get right into the tools…
ChatBot is a customer support chatbot tool from LiveChat, one of the entrants on our list of the best live chat WordPress plugins.
In addition to having an exceptionally creative name, ChatBot is specifically designed to help you automate your customer service.
Key Features
No programming required – can build chat flows using a non-technical interface
Multiple interactions – e.g. you can provide text answers, buttons, images, etc.
Third-party integrations – connect to Facebook, Slack, LiveChat, and more
Conversion archives – lets you see your bot's chat history and manually follow up if needed
Dedicated AI training area – this helps you improve your bot based on real interactions with customers
How You Build Your Bot
To create your bot, you'll build different "stories", which are basically conversation scenarios.
You'll build your story using if/then flows. And for each step, you can enter custom chatbot messages and actions using the options on the left.
For example, with the Quick Replies option, you can let customers click on the response that fits their situation: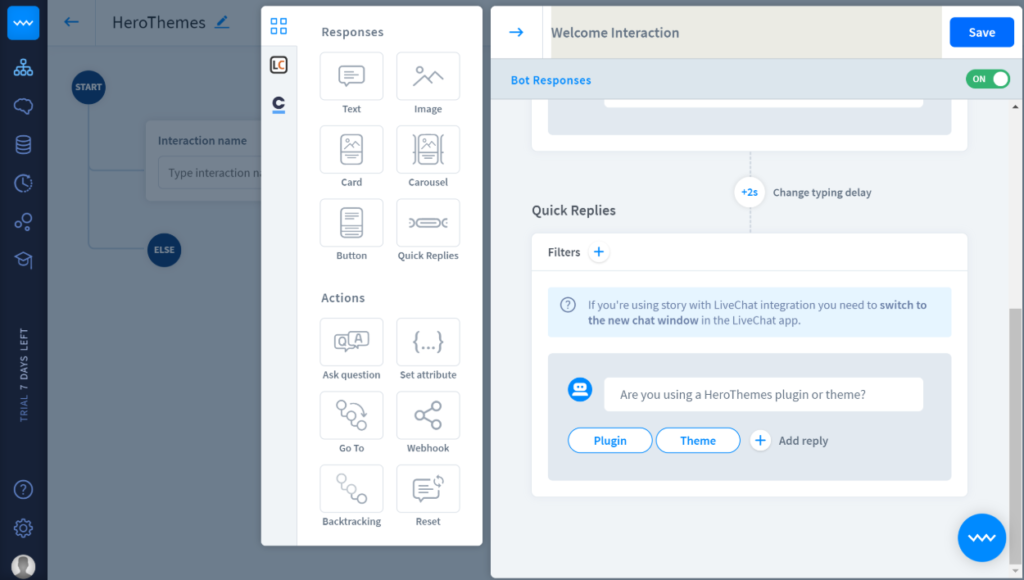 There's definitely a learning curve. But once you get the hang of the various options, you can be building chatbots in no time.
Here's an example of the beginning of the sequence in action: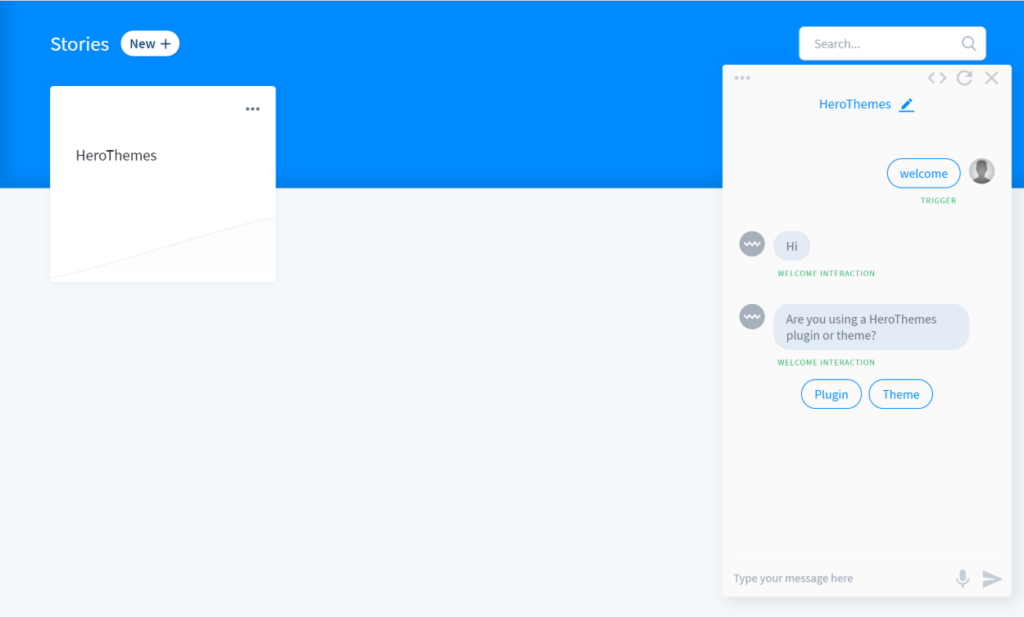 ChatBot Pricing
ChatBot offers a 14-day free trial with no credit card required.
After that, paid plans start at $50 per month for up to 1,000 conversations and unlimited bots. After that, you'll just pay a penny ($0.01) for each additional conversation that your bot has with customers.
Botsify is another user-friendly customer service chatbot tool that you can start using without the need for any special technical knowledge.
Botsify is a good simple option, though it doesn't offer quite as much flexibility/intelligence as you get with ChatBot.
Key Features
Integrations for Slack, Facebook, and others
Human takeover feature lets a human step in when the bot doesn't have the answer
Use conversations to collect information rather than standard forms
Very simple setup interface – the simplest of any tool on this list
How You Build Your Bot
During the signup flow, Botsify has you add the most common questions and answers for your business: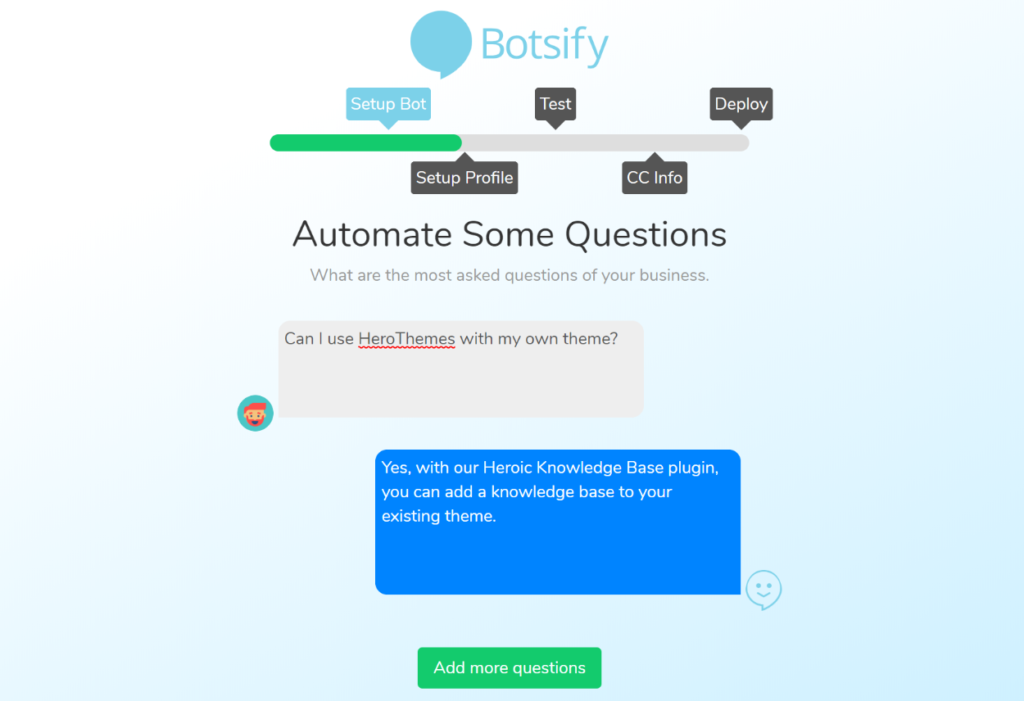 Then, you can customize your chatbot and give it a test. Notice how Botsify is able to provide the right answer even though I phrased the question a little differently: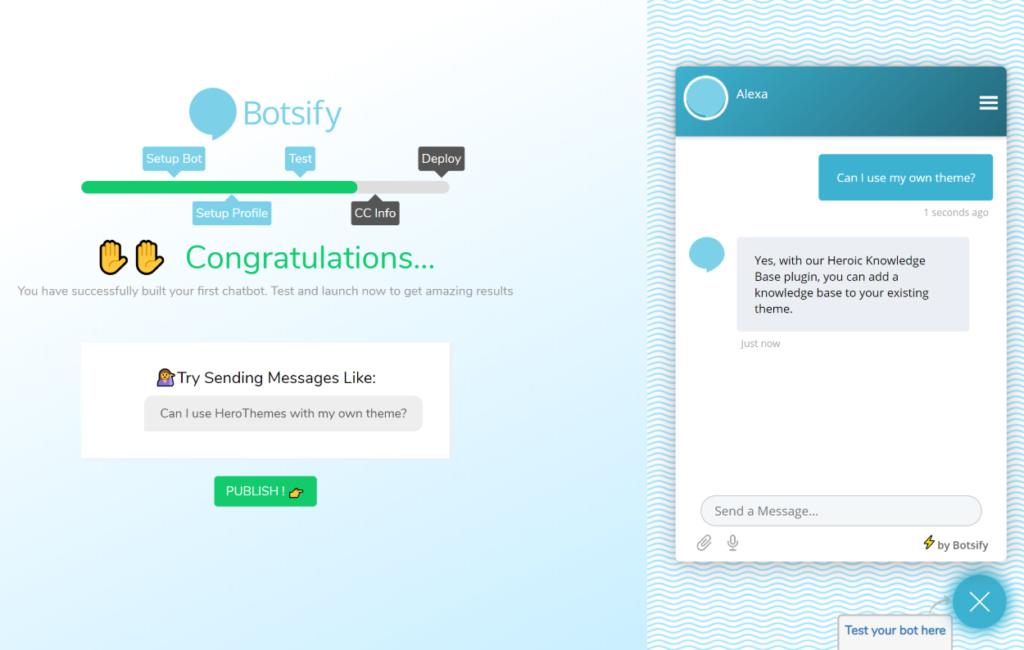 Once you're happy with your bot, you can publish it to your site.
Again, you don't have as much flexibility for the types of responses/interactions as you get with ChatBot, but Botsify also has a much simpler setup process.
Botsify Pricing
Botsify offers a 14-day free trial.
After that, paid plans start at $50 per month for up to 10 chatbots and 30,000 unique users. There's also a $300 per month plan that offers unlimited usage, as well as free chatbot development help from the Botsify team.
Ada offers enterprise-focused customer service chatbot functionality. It's one of those "request a demo" services, rather than something with public prices that you can just sign up for, so don't expect it to be cheap.
But if you've got the budget, Ada offers a human-friendly chatbot builder with lots of advanced functionality, like the ability to save and insert variables that are unique to each customer.
Key Features
Human-friendly chat flow builder
Multimedia responses, with the option to include pictures, GIFs, videos, links, etc.
Collect and save customer information via chat
Dynamically insert customer information into chat using variables
Give premade responses to customers to help guide them
Integrate with a variety of platforms, including Facebook Messenger and Twilio, as well as various helpdesk solutions
Hand-off customers to human chat agents when needed
How You Build Your Bot
To build your bot, Ada gives you a simple interface. You can insert responses, actions, and variables without needing to have any special technical knowledge: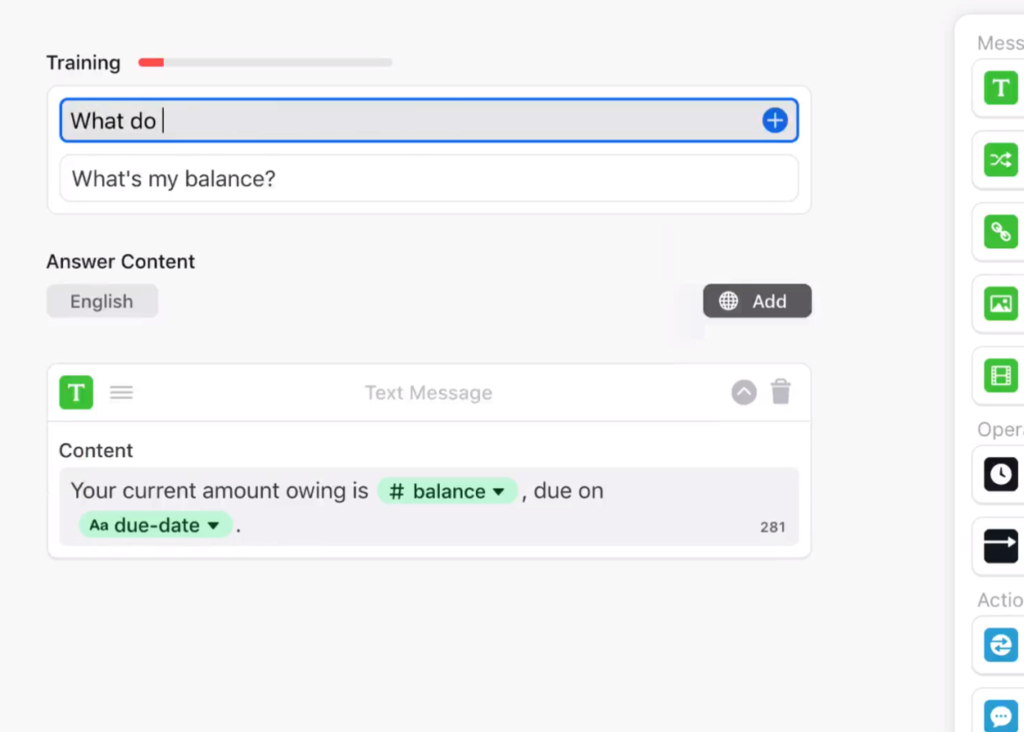 Then, here's an example of what the actual customer service chatbot looks like: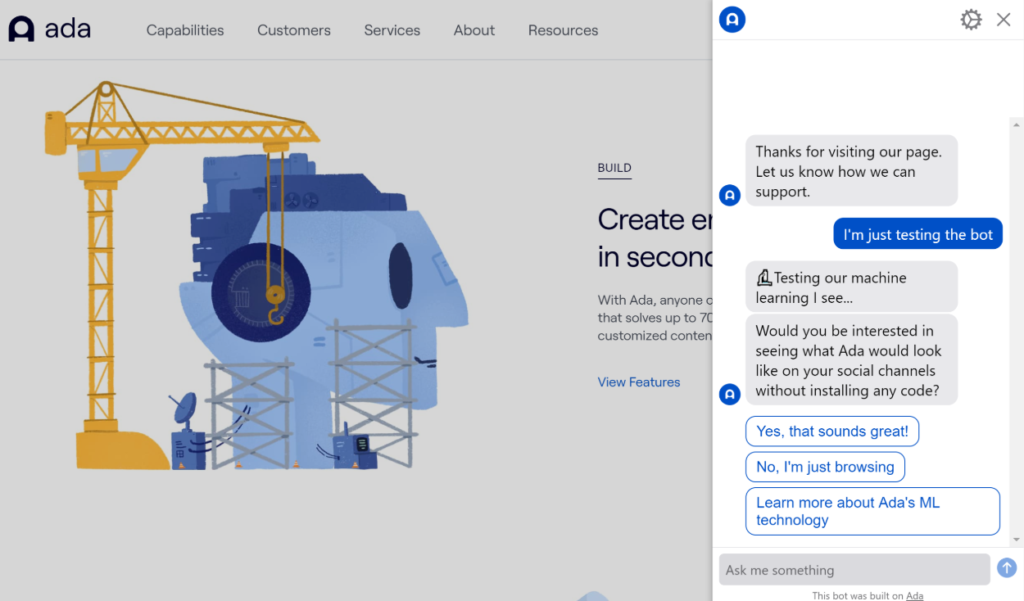 Ada Pricing
You'll need to sign up for a demo and speak to sales to get information about pricing.
IBM Watson Assistant is the first option on this list that has a dedicated WordPress plugin, though the other tools can certainly be integrated with your WordPress site. It's also the first option that lets you use it for free (beyond a free trial), which is another bonus.
This eponymous plugin makes use of the cloud-based IBM Watson Assistant to help you train a chatbot to answer frequently asked questions and help people navigate your site.
Key Features
Create AI chatbots powered by the IBM Cloud
No coding required – build your chatbots using a human-friendly interface
Include images and clickable responses in your chat
Add straight to WordPress via an official plugin
Control which WordPress pages your chatbot is active on
Escalate chats to a human agent if needed
How You Build Your Bot
To build your customer service chatbot, you'll need to sign up for a free IBM Cloud Lite account.
Then, you'll create "skills" and deploy them with "assistants".
When you create a "skill", you'll add different "intents" to train your assistant based on what customers might say.
Then, you can add "dialogs" to control how your chatbot responds: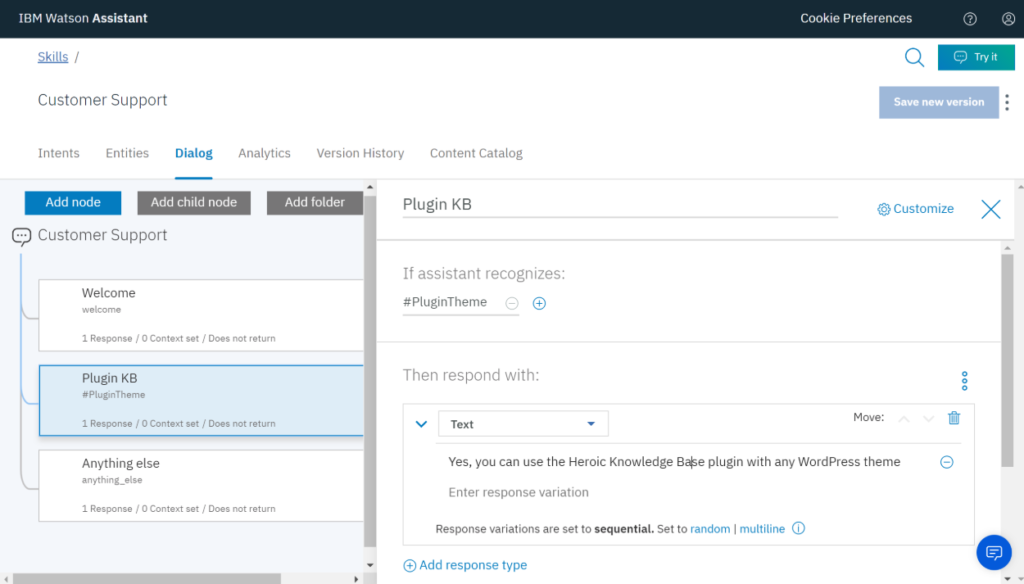 The learning curve is definitely a little higher than some of the other chatbots. But once you get the hang of things, you have a lot of flexibility.
There's also a free course you can take to help you get up and running if you feel overwhelmed trying to figure things out by yourself.
IBM Watson Assistant Pricing
IBM Watson Assistant is free for up to 10,000 messages per month. After that, you'll only pay based on what you use. The current rate is just $0.0025USD/message after the first 10,000 free messages.
Which Customer Support Chatbot Is Right For You?
Now for the important part – which customer support chatbot service is right for you?
Let's start at the beginning…
If you're on a budget, IBM Watson Assistant is the only one that has a viable free tier for ongoing use. There's a bit of a learning curve to set up your chatbot, but it's quite powerful once you get the hang of things, and the free course can help you level up your knowledge.
Additionally, it's easy to integrate into WordPress thanks to the dedicated plugin.
On the next tier up, you have ChatBot and Botsify, both of which offer 14-day free trials and then start at $50 per month after that. Of the two, ChatBot gives you more flexibility for how you structure your chatbot, while Botsify is a little simpler to set up and use.
Finally, if you're looking for an enterprise-level tool, Ada is quite powerful with how it makes it easy to integrate customer data into your conversations.
And remember, you don't have to put everything on your customer service chatbot! Creating a knowledge base is another great way to help your customers without taking up a real human's time.
To learn more about how HeroThemes can help you create a knowledge base, check out our Heroic Knowledge Base plugin and KnowAll theme.