10 Best Customer Support Tools in 2023 for All Needs and Budgets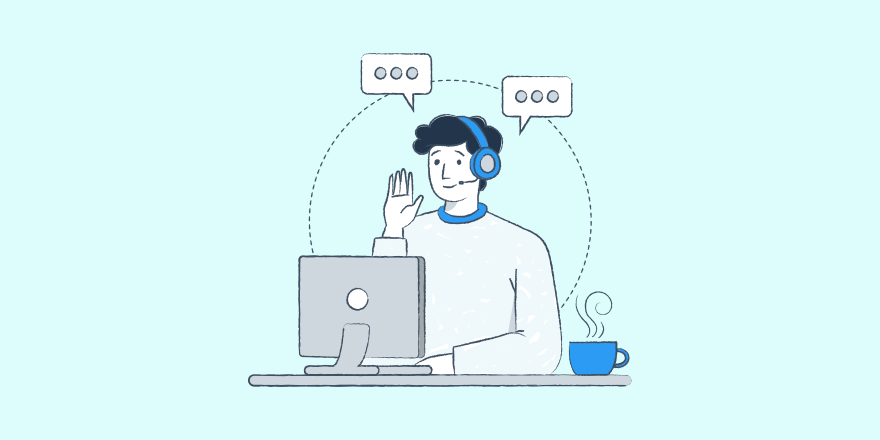 Searching for the best customer support tools to help your customers get help when they need it?
A good customer support tool should accomplish two high-level goals:
It should make it easy for customers to get help and/or create a better experience for them.
It should lower the burden on your team. That is, it should make it easier for you to deliver quality support in less time and with less effort.
Within those broad goals, you have different types of tools for different customer support channels. For example, you might have separate tools for a knowledge base, a help desk, live chat, phone support, etc.
In this post, we've curated our picks for the ten best customer support tools to help you deliver quality customer service to your customers.
To create a well-rounded customer support strategy, you'll likely want more than one of these tools because our list covers a range of use cases, from knowledge bases to help desks, live chat, call centers, social media service, and more.
Let's get started so that you can begin offering better support to your customers.
Our Picks for the Ten Best Customer Support Tools
Here are our picks for the ten best customer service tools, in no particular order.
For each tool, we'll add a heading that indicates its main function – e.g. creating a knowledge base or offering live chat support.
1. Heroic Knowledge Base – User-Friendly Documentation/Help Articles
Having a well-written knowledge base is key to your customer support efforts because it provides a place for your customers to learn about your product and fix issues without reaching out to your human support channels.
Heroic Knowledge Base offers an easy way to create your own self-hosted knowledge base powered by the popular open-source WordPress software.
In addition to making it easy to add unlimited new articles, Heroic Knowledge Base also offers a bunch of useful features to help you offer a better experience and improve your knowledge base:
Instant search suggestions to help your customers find relevant articles (Ajax live search).
Search analytics so that you can see what people are searching for.
Article feedback to see how useful each article is. Your customers can vote up or down on each article and you can see that feedback in your dashboard.
Integrations with Slack, HelpScout, and Gravity Forms.
File attachments to easily attach files to articles when needed.
Article versioning via WordPress' built-in revision system.
Full translation support if you need to create a multilingual knowledge base.
Heroic Knowledge Base also works with all popular WordPress SEO plugins (like Yoast SEO) so that you can optimize your knowledge base content to rank in search engines.
Pricing: The Heroic Knowledge Base WordPress theme starts at $129/year. You can have unlimited users, so you can easily create accounts for your whole team. You also have unlimited storage (up to the limit on your web hosting).
2. Tidio – Live Chat, Messaging, and Chatbots
Tidio helps you offer customer support via three main chat methods:
A live chat widget that you can add to your site.
Automatic chatbots to answer queries when you're not around.
Other chat platforms such as Facebook Messenger. That is, people can send you messages via Facebook Messenger and you can respond to those queries from Tidio.
You can respond to customers from the Tidio web interface, its desktop apps, or its mobile apps for iOS and Android.
You'll also get useful live chat customer support features like the following:
Canned responses to quickly respond to common queries.
Typing sneak peek to see what customers are typing so that you can respond faster.
Internal notes.
Another strong point of Tidio is that it's very easy to integrate with your website. It also offers dedicated plugins/apps for popular platforms like WordPress and Shopify, which makes it a great solution for WordPress live chat.
Pricing: Tidio is free for basic features, unlimited chats, and up to three chat agents, which makes it a good option if you're on a budget. After that, plans start from $15/user/month.
3. Sprout Social – Social Listening and Customer Support
Sprout Social is a social media management tool that can help you offer better support on social media platforms such as Twitter and Facebook in two ways:
It offers engagement tools so that you can more effectively offer customer support to people who reach out directly to your brand.
It offers social listening features so that you can see what people are saying about your product/service and jump in to help if needed.
For customer engagement, you can respond to customers on social media as a team and delegate responses to different team members. You'll also get analytics to see how each team member responds.
For social listening, you can automatically track mentions of your brand, including sentiment analysis so that you can see when people are upset and step in to help them fix the problem.
Pricing: Sprout Social's plans start at $89/user/month. You can try it out with a 30-day free trial.
4. Aircall – Phone Support (Call Center)
Aircall is easy-to-use call center software that helps you set up your own cloud call center. That is, this ain't your traditional call center where everyone has to gather in the same spot – your agents can work from anywhere and everything is managed by Aircall's software.
The setup process is painless and you can be up and running very quickly. It also supports useful features like:
Call recording.
Interactive voice response (IVR). You can set up your own flows like "Press 1 for…" to route customers to the right spot.
Voicemail.
Integrations with 80+ other services, including other customer support tools.
Live call monitoring.
…lots more.
If you want an easy way to offer phone support, this one is a great option.
Pricing: Aircall's prices start at $30/user/month and go up from there for plans with more features.
5. Heroic Inbox – Help Desk and Ticketing Tool
Heroic Inbox is a self-hosted help desk tool that, like Heroic Knowledge Base, is powered by the free, open-source WordPress software. Because they're both based on WordPress, you could set up one WordPress site to handle both your knowledge base and help desk.
As a help desk, Heroic Inbox gives you one unified interface where you can respond to emails and support tickets from all of your various support channels.
For example, you might have one email for pre-sales support and another for paying customers. With Heroic Inbox, all of these emails go to one spot (with automation features to help you stay organized, like automatically tagging emails).
You'll also get team management features so that you can add internal notes or chat with team members.
If your business is based on WordPress, Heroic Inbox also integrates with popular plugins like WooCommerce and Easy Digital Downloads so that you can see customer data right in your help desk.
Finally, you'll get built-in reports to understand how each team member performs.
Pricing: The Heroic Inbox WordPress plugin costs $199/year with no limits on agents or tickets. This can save you a lot of money vs SaaS tools that will charge you per agent/user.
6. LiveChat – Live Chat, Messaging, and Chatbots
As the name suggests, LiveChat is a customer support tool that's focused on helping you offer live chat support to your customers.
But beyond its own live chat widget, it also supports other chat-related features like chatbots (via a separate but integratable product) and social messaging (e.g. Facebook Messenger, WhatsApp, SMS, and so on).
You can quickly add a customizable chat widget to your site and you'll get great customer support features like the following:
Canned responses to save time responding to common queries.
Chat routing to make sure new chat requests go to the right people.
Integrations with other platforms to import customer data.
See customer responses as they're typing so that you can respond faster.
Reports and analytics to help you understand and improve your live chat support.
Chat transfer to let agents transfer a chat to another agent.
Pricing: LiveChat's prices start at $16/user/month, but you can try it out for free with a 14-day free trial.
7. Intercom – Live Chat + More
Intercom calls itself a "conversational relationship platform", which is a pretty good descriptor of what it does.
At a basic level, it helps you offer live chat support. But where it excels is that it also integrates other support methods, like letting customers search your documentation from the chat widget before they submit a request. This lets you encourage people to check your knowledge base before they start chatting.
You can also offer proactive support, like sending outbound messages to keep customers informed about new changes or scheduled outages.
Intercom also includes chatbots so that you can automate support, including letting customers rate a chatbot's responses so that you can see how effective they are.
Overall, if you want to go beyond basic live chat, Intercom is one of the best customer support tools out there.
Pricing: Intercom offers small business plans starting at $79/month + $19/month for each additional chat agent (you get one agent included with the price). However, most businesses will want to chat with sales for a custom plan.
8. Document360 – SaaS Knowledge Base Software
Document360 is a SaaS knowledge base tool that makes it easy to create a customer-facing knowledge base. You can use it for product help docs, technical documentation, user guides, FAQs, and more.
You can customize the knowledge base design to match your branding and you can also set up a custom domain, like docs.yoursite.com or yoursite.com/docs.
Other useful features include…
Live search suggestions that display results as soon as your customers start typing.
Article rating and feedback to let customers rate articles up or down and provide additional text feedback if desired.
Read time estimates that let people know how long an article is.
Integrations with other popular tools, including the Intercom tool we mentioned above.
Pricing: Document360 starts at $59/month for one knowledge base, 5 GB of storage, and two contributing users (e.g. authors).
9. Loom – Record Video Support
Loom is a bit of an oddball on this list. It's not a platform by itself. Instead, it's a useful tool that your customer support agents can use to provide responses to customers.
How's that?
Well, Loom makes it easy to quickly record screencasts with or without audio. You can use these screencasts to explain how to perform an action or to teach about your product.
For example, if a customer sends in a ticket to your helpdesk, you could use Loom to record a more detailed response that includes a screen recording of exactly what the customer should do.
Or, you can also ask the customer to record their own Loom video so that you can better understand their problem or any bugs that they may be encountering.
Pricing: Limited free plan. Paid plans from $8/user/month.
10. Franz – Unified Messaging
Franz gives you one unified messaging tool where you can respond to queries from WhatsApp, Facebook Messenger, Telegram, Discord, Slack, Android Messages, Hangouts, and more. You can view the full list here.
From the unified interface, you can quickly switch back-and-forth to different messaging platforms to offer your customers support wherever they need it.
There are also team plans that let you manage different agents and create different workspaces.
Overall, if you want to offer support via different social messaging apps, Franz is a great tool to bring everything under one roof.
Pricing: Limited free plan for up to three services. Support for unlimited services costs $5.99/user/month.
Get Started With the Best Customer Service Tools
That wraps up our collection of the best customer support tools for your business in 2022 and beyond.
As we mentioned in the introduction, this isn't just about choosing a single tool from this list – you'll likely want multiple options to round out your customer support strategy.
For that reason, we tried to include tools that cover different areas of customer support.
For example, you could use Heroic Knowledge Base to create a knowledge base, Tidio or Intercom for live chat support, Heroic Inbox for your help desk, Aircall for your call center, and so on.
Choose the tools that fit your needs and you'll be offering delightful customer support in no time.
Have any questions about these tools? Know another great tool that deserves to be on a list of the best customer support tools? Let us know in the comments!