Top 7 Customer Engagement Software Plugins For WordPress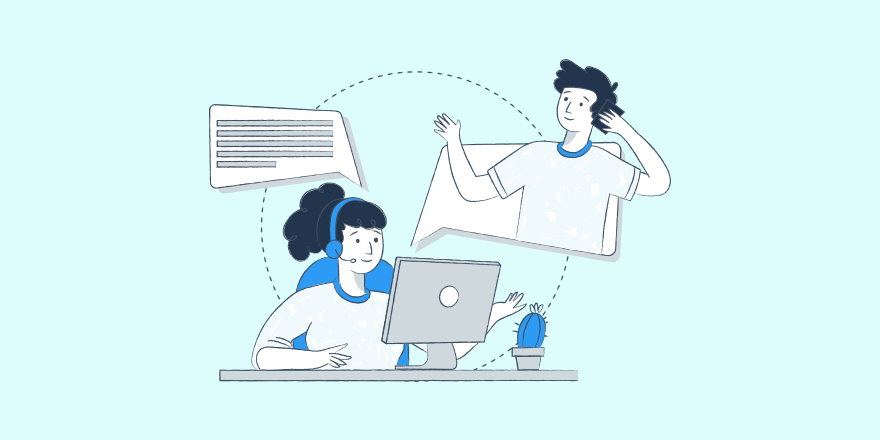 Customers that are more engaged have better experiences, which leads to the repeat purchase and word of mouth benefits.
And this, of course (…need we say…) is GREAT for business.
The following is our business case for why you ought to invest in customer engagement plugins for your WordPress website today.
In 2022, now more than ever:
"…[the] opportunities for companies to transform engagement with their customers are multiplying", according to Twilio's State of Customer Engagement Report.
And oddly enough, the opportunity to gain commercial advantage through transforming your customer engagement strategy comes not because companies are failing to engage.
But rather because they are failing to do it properly.
So despite (or on the contrary, actually because of) the average person receiving over 122 emails a day, a new and prosperous path has opened up for businesses to strike a meaningful chord with customers.
It's called: customer engagement – with savor.
Here are the winning ingredients for a profitable approach to customer engagement:
sharp (to the point) communication
manner which is accommodating of personal taste
Courteous (with a dash of friendliness), yet professional and memorable
In achieving these points, the chances are that more than often you'll successfully engage your customers, increasing your enterprise's ROI.
And the calculated benefits are worth it.
In fact:
"…the average top line revenue increase among companies that invested in digital customer engagement over the past two years [was 70%!]."

(Source)
So, the bottom line is: it pays to engage.
But the question remains, how do customers want to be engaged?
(In other words, what steps should you be taking to improve customer engagement ROI?)
You might be glad to know that you can spare yourself the cost of bolstering up your staff overhead (if that's where you were headed).
Actually, according to a leading customer engagement study…
"…36% of consumers say they'd rather lose their internet connection for a day, go through airport security or shave their head than contact customer service teams*"
(*No offense intended to customer service agents, but this does build a case for self-service).
The statistic above would therefore lead us to believe that improved customer engagement doesn't always equal more talk time.
A supporting statistic from American Express confirms that:
"Over 60% of US consumers prefer an automated self-service, such as a website or mobile app, for simple customer service tasks."

(Source)
So this then points us confidently in the direction of investing in solid digital systems that underpin our customer facing efforts for optimal returns.
The key components hinted in the quote above being a website or mobile app (or even perhaps both).
So, the first step would always be choosing the right platform to build on.
Preferably, one that is fully featured, easy to use and is cost effective.
And on that note, that's exactly why we put together this article.
To show you exactly how with only 7 plugins you can successfully transform your humble WordPress website into a smashin' customer engagement juggernaut.
But first, let's lay down some principle on topic:
What is a customer engagement platform?
Customer engagement platforms (CEPs) facilitate and nurture positive interactions between your organization and its customers.
These proprietary software programs develop and optimize the customer journey.
This enables companies to not only analyze and manage their customer relationships, but also achieve meaningful exchanges that drive transactions and maintain customer loyalty.
Effective customer engagement software generates data that provides valuable insights into customer behavior.
This is then used to develop better products and services.
CEPs are an emerging class of software applications that draw from and innovate existing marketing software and tools including:
CRM,
Helpdesk,
and cross-channel marketing software.
Companies can configure these software applications to serve B2B or B2C customer relationships.
The most sophisticated versions take an omnichannel, customer-centric approach that can engage the customer online and offline – seamlessly.
What do customer engagement platforms do?
CEPs foster a personal connection with the customer by enabling your brand to meet the customer in the channels they use.
These platforms manage the automated delivery of targeted messaging and content on channels such as:
social media,
apps,
blog posts,
email and;
SMS.
Timely, unobtrusive but well-informed contact can influence customer behavior, promoting the brand and encouraging sales.
Key features of customer engagement platforms
CEPs are powerful software that can drive sales and establish a competitive advantage.
Every CEP has these 5 key features:
1. Channel integration
A CEP needs to be able to deliver messages to customers via the leading marketing channels. The best software seamlessly integrates with social media channels, email, blogs, SMS, and websites.
2. Segmentation
CEPs can process customer data to segment the audience by a variety of demographic and behavioral traits. This makes the content and communications delivered by the software more targeted, increasing the opportunity for conversion.
3. Personalization
These platforms are engineered to use customer data to personalize communications for greater engagement.
4. Automation
Powerful automation software goes beyond punctuality and actually uses behavioral insights to deliver contextual communications that are 100% user-centric.
5. Analytics
CEPs have the internal processing power to equip your organization's decision-makers with customer journey analytics and tracking that keeps campaigns focused on strategies that work.
3 Benefits of using a customer engagement platform
A CEP can transform how your organization attracts and retains valuable customers. Here are some notable benefits of using a customer engagement application:
1. Create a unified brand experience
A competent CEP is an essential part of any omnichannel marketing strategy.
Because it synchronizes and harmonizes customer interactions, a CEP can deliver a remarkably consistent brand experience.
This is valuable to your sales funnel as each interaction also has the potential to lead to a sales transaction, converting customers who may have been hesitant or distracted prior to the contact.
The best use of the CEP is to be wherever your customers are whenever they want to hear from you.
When customers are properly segmented you can create well-targeted moments that are meaningful and memorable for the customer. This will make customers open to hearing from your company again and again.
The unified approach also builds the reputation of your brand as being responsive and reliable, making it easy for the customer to decide in your favor when it comes to purchasing products and services from your company.
2. Cement customer loyalty
Considered interactions with your customers lets them know that they and their custom is valued.
The powerful automation of CEP can help to shape the customer journey by generating the positive feelings that strengthen customer loyalty.
With segmentation, targeting and automation handled by the CEP, your company's content marketers can focus on creating the creative and informative content that keeps your brand relevant.
Over time brands become trusted, preferred and even recommended for their products and services.
Used skillfully, the CEP becomes a feeder of content and communications for word-of-mouth marketing with your customers as your champions.
3. Respond to customer feedback
CEPs make your business open and accountable to its customers as they allow customers to interact by asking questions or voicing concerns.
Use the feedback generated by the CEP to create actionables that can improve your products and enhance your customer experience.
With CEP, you can really satisfy your customers and demonstrate the responsiveness and willingness to correct problems that builds trust and prolong customer lifetime.
3 Tips For Making A Better Choice of Customer Engagement Software
So, the commercial benefits of better customer engagement are undoubtable.
And understandably, as a customer engagement platform is the digital equivalent to relationship management.
In other words, keeping a personalized discourse with prospects and customers which nurtures the relationships to optimal mutual value.
But the question remains:
How should you go about choosing the best customer engagement software?
The following 3 tips are gathered from the aforementioned Twilio State of Customer Engagement Report:
#1 Deliver rich customer experiences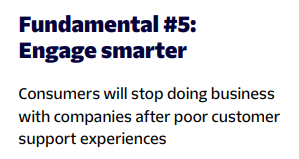 As many as 56% of customers say they'd ditch a business that performs poorly in the area of customer experience, according to Twilio's latest study.
When asked about the exact reasons why, the respondents rated the following as their motives: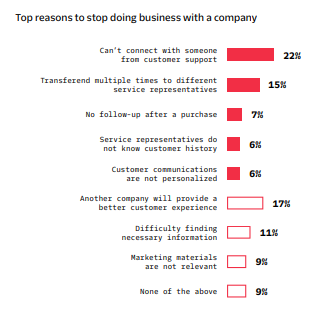 When digging below the surface value of information quoted within the bar chart above, it's clear to distinguish a pattern.
Also 9 data points are references above, they neatly fall into 2 main categories or themes, namely:
Poor staff communication
Poor availability of information
Besides this, "Another company will provide a better customer experience" indicates that alternatives are always on the mind during the customer experience journey.
Therefore, retention of ROI against those hard earned marketing budgets is largely dependent upon adopting a 'wisdom rich, LIVE(-ly) response & manner with customer engagement.
Said differently, having just the information that the customer needed and delivering it exactly on beat (…as if you read their mind) is the way to win in customer engagement.
And ideally, this should be as automated and prescribed (or pre-programmed) as possible, for maximum deflection of queries away from staff resources. Saving cost.
So, your choice of software must support easy message delivery automation and well-organized content navigation, both for customers and agents.
#2 Get personalized
Personalized is a broad term.
It doesn't always mean familiar. But in the context of customer engagement it does mean useful, relevant and according to the request of the recipient.
In the interest of:
saving lost time,
promptly resolving issues and;
minimizing fuss or failed attempts by customers
…personalization has distinctly promising benefits.
It breathes a refreshing scent of hospitality into every customer facing encounter and delivers an air of being competently catered for.
It says, "we've got you and made ample preparation for your arrival".
No wonder the statistics almost unanimously show a global preference for personalization among consumer segments.
Sure, personalization takes effort and investment on your behalf, but for the impression that it leaves with your customers – you could say it's a priceless touch.
Here's the official line from Twilio's study on what customers say about personalization:

The gauge on the right hand side of the graphic above indicates as much as 61% of consumers "say they'll stop using a brand if their experience isn't personalized".
So, that confirms it. It's a small detail, but personalizing your customer communications could prevent almost 2/3rds customers walking out.
This brings us on to tip #2 for choosing your customer engagement software. Make sure it helps you personalize customer communications. Even just a little, will make a big difference.
#3 Invest, sooner rather than later
As with every investment decision, there's always an acceptable window for prudent consideration.
Beyond this timeframe we stray into procrastination.
Often, prolonging the consideration occurs when we are doubtful about our potential return on investment.
So in fear of incurring a loss from making an unfruitful investment decision – we remain frozen.
Much like a deer caught in the headlights of an upcoming car. (If only we'd make the leap either forwards or backwards.)
Sadly, in both cases (for the deer and our investment) there is a 'cost of waiting'.
And this is true for every potential investment.
It's actually a very real cost too. You can literally count it up as lost revenue against your business's bottom line.
This might naturally lead us to ask the question:
How much would it cost your business to delay investing in customer engagement?
Here's word from the Twilio State of Customer Engagement Study: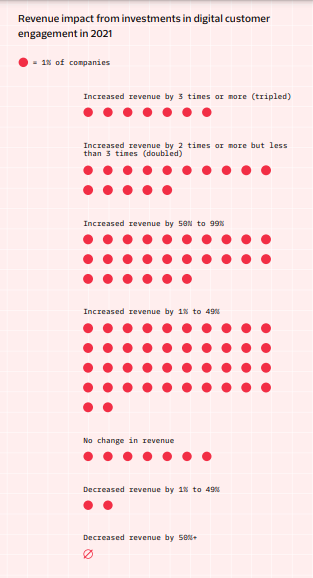 The largest impact customer engagement has on business we see is an increase of 300% in revenue. (This impressive increase was experienced by 7% of businesses that implemented customer engagement improvements).
The highest incidence of benefit was an increase in revenue between 1-49% (experienced by 42% of businesses surveyed).
Only 9% of businesses recorded either no change or decrease in revenue from making customer engagement investment.
All in all, 91% of businesses unanimously claimed that investing in customer engagement resulted in some gain in revenue.
The takeaway lesson?
Don't wait to invest in improving your customer engagement.
You have a 91% chance of earning more revenue because of it.
Top 7 Customer Engagement Software Plugins For WordPress
Did you know that WordPressis a lot more than just a web builder or blogging platform?
More accurately, most would describe WordPress as a content management system.
And they're not far off.
But said more illustratively, some (like me), would liken WordPress to a sort of digital Swiss Army Knife for building web apps.
Got an idea of a web-based tool that you'd like to build online?
(No really, anything…)
9.9 times out of 10 WordPress can do the job competently with only the aid of a plugin or two on top.
In the case of customer engagement, you can literally transform WordPress into a world-class multi-channel platform with these 7 additions: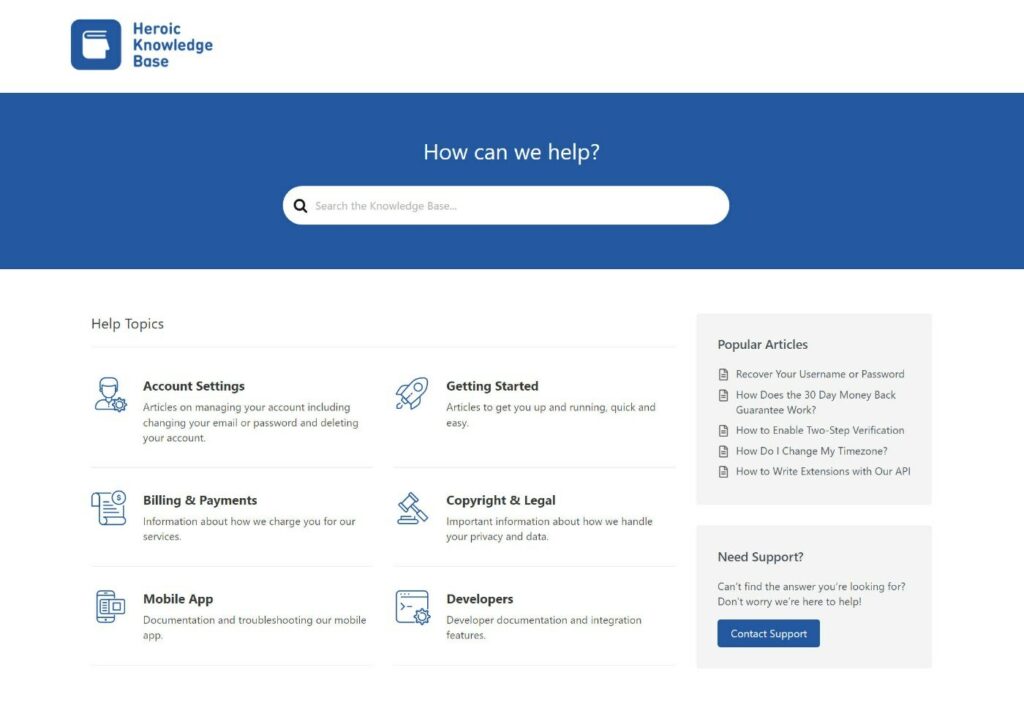 Heroic Knowledge Base (HKB) is the no.1 knowledge base plugin for WordPress websites.
Need to effortlessly convert your WordPress installation into a fully-featured and functioning knowledge base?
HKB is your go-to tool.
With a simple no-code custom styling interface and an innate knack of picking up your theme colors as default – Heroic Knowledge Base is a fuss-free set up.
There are some great out-of-the-box features on offer here, that'll add heaps of engagement value from kick-off:
LIVE search bar: instant answers to customer questions
Voting system: let customers rate your content for effectiveness
Feedback form: a free-text form for users to say whatever they like about their customer experience
User-friendly navigation links: always have relevant article links to click on nearby, increasing time on site.
Floating contact us CTA button: if customers still want agent intervention, the contact button will take them to a contact page with instructions.
But the plus points don't just stop here with HKB. You can also expect to benefit from the following:
Search effectiveness analytics: analytical reporting on how successful your knowledge base has been on delivering answers to customer questions.
Transfer tracking: identify which pieces of content consistently produce requests for agent help and therefore need pruning or perfecting to help deflect tickets.
Help Assistant: an embeddable widget which makes a mini-floating version of your knowledge base available on any page (of any website) – much like a chat bot.
Download Heroic Knowledge Base plugin today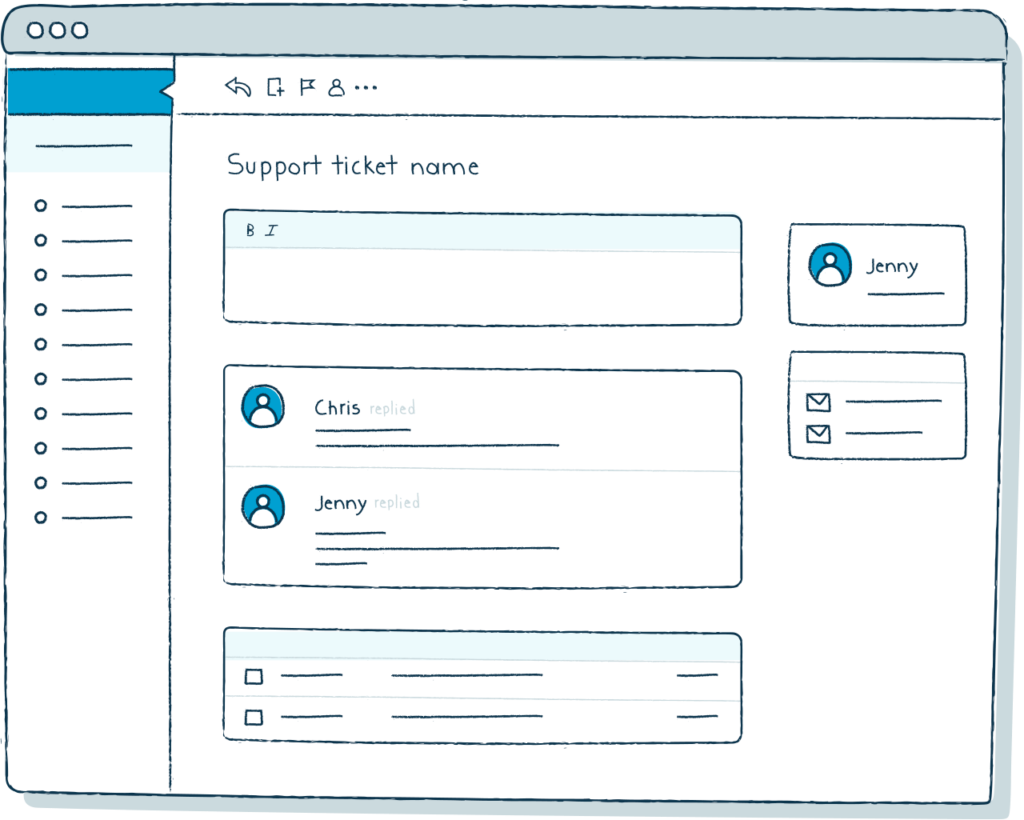 Heroic Inbox is the best shared inbox and ticketing solution for WordPress website owners.
Do you have a business support function with multiple agents sharing a single inbox?
Heroic Inbox will help you bring together all those conversational threads into one neat location behind your WordPress admin panel.
With secure user access and a comprehensive range of digital helpdesk features, Heroic Inbox is the ideal tool for providing a 1st class support and customer success function, at an affordable price.
There are just a few of the features that come as standard with the Heroic Inbox:
Manage all your emails in WordPress: no need for your agents to pogo between browser tabs continually, they now can handle all their mail correspondence inside Wordpress
One shared inbox: bring together all departmental email traffic into one single convenient shared inbox
User permissions: grant each user and user group their own custom configured permissions to view the action
Email management: assign support cases to named individual team members and facilitate collaborative efforts in communication
Customer profile panel: give your agents a CRM summary of the prospect the are in conversation with in the side panel, to assist them in delivering a personalized level of support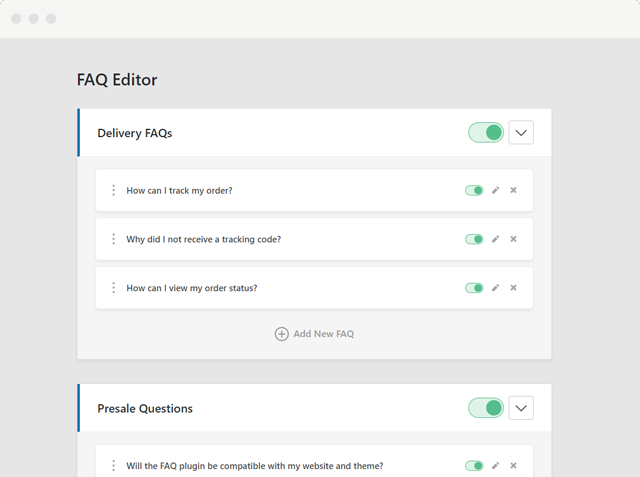 Heroic FAQs plugin is a frequently asked questions framework for WordPress websites.
And it's way more than just an accordion style content container. It's a FAQ management system – saving time and assisting with lightning quick replication across your site.
Simply produce headings under which to store common questions and like filling up a bucket, conveniently storing your FAQs in collections that are easily embedded in pages and posts.
The result is a very intuitive system for publishing FAQs to the benefit of customers and agents alike.
Here is the low down on features and benefits of the Heroic FAQs plugin:
Drag and drop builder: easy to use no-code assistance on building your FAQs
Single page editor: one simple administrative interface for editing all your FAQs
Rich content: add rich media to your FAQs without any complexities – video, images, audio and more is as simple as using the WordPress page editor
Simple to add FAQs to content: a configurator that makes displaying a set of FAQs effortless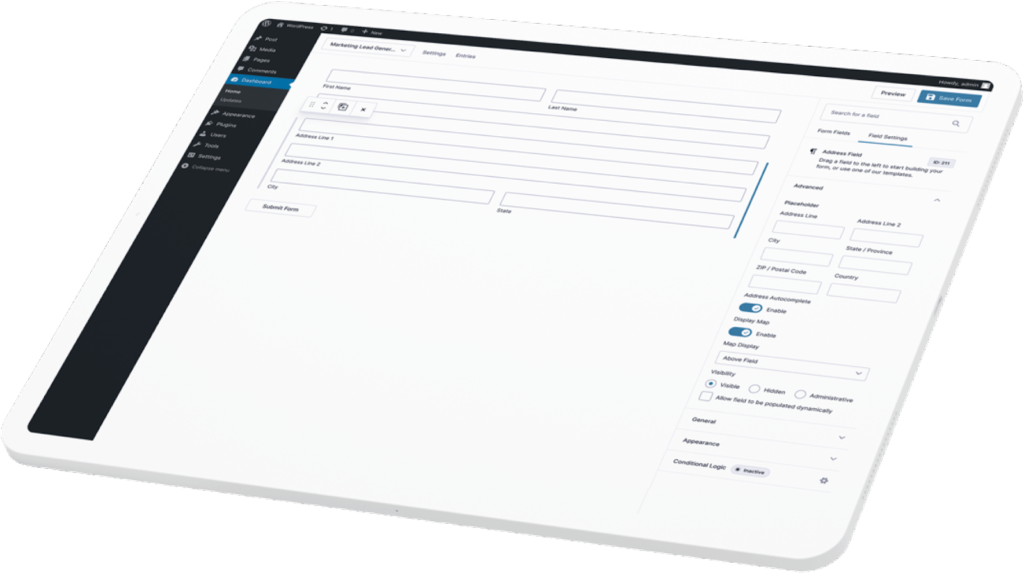 Gravity Forms is the market leading web form builder for the WordPress ecosystem.
Starting out in 2009 and still under the control of the original founding members, Gravity Forms is deservedly a veteran by plugin status.
But you wouldn't guess the age of Gravity Forms by looks. Just like its brand theme – Gravity Forms has a sci-fi futuristic aesthetic.
Yet is very much a solid, nuts and bolts, well-engineered, foundational framework – a rock of sorts to build almost any web form application in WordPress.
Here are the customer engagement based features and benefits of Gravity Forms:
Drag and drop: easily build web forms for collecting zero-party data and connecting directory with customers
Conditional logic: remove all respondent workflow friction with conditionally showing customers only the form fields that really concerns them
Email logic: apply smart configuration on email routing ensuring emails of a given theme reach the desired destination inbox for optimal response time
Field validation: set-up simple dependencies to ensure submission aren't released until mandatory information is gathered
Calculation, quizzes, surveys, polls and discount codes: a fully array of interactive functions that convert your Gravity Form into a specialist web app
Download Gravity Forms plugin today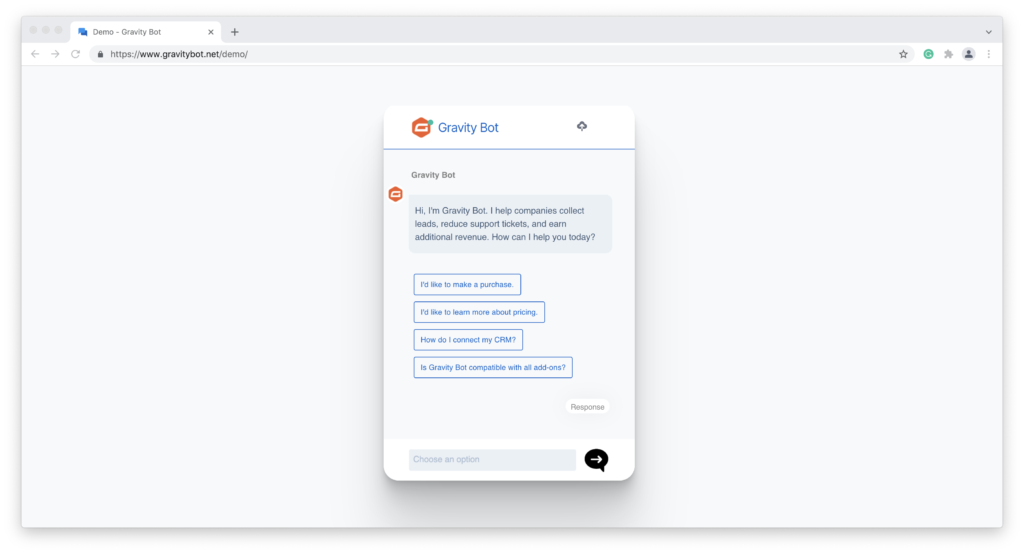 Gravity Bot is a game-changing add-on to the already hugely competent Gravity Forms plugin.
Have you ever thought, I wonder if there is a simple but accomplished chatbot plugin for WordPress?
Whilst there are many out there, there is only 1 which has built upon the super-impressive data capture and processing abilities of market leading web form software, Gravity Forms:
Gravity Bot.
It's sleek, smart and stable – arguably the most capable and potent chatbot solution for the WordPress platform.
Here are the exact details on what to expect with Gravity Bot:
Officially recognized and promoted by Gravity Forms: this 3rd-party add on is fully acknowledged by the Gravity Forms developers (Rocket Genius) as a worthy chatbot adaptation.
Automatic responses: personalize a conversational online chat with customers taking them through preliminary support steps without your staff's intervention
Quick: this software lives on your servers – it doesn't have to connect with an external server provider
Convenient data capture: record all customer contact via chatbot in your WordPress database inside the Gravity Forms tables
CRM integration: connect all your customer chat sessions to your CRM records
Download Gravity Bot plugin today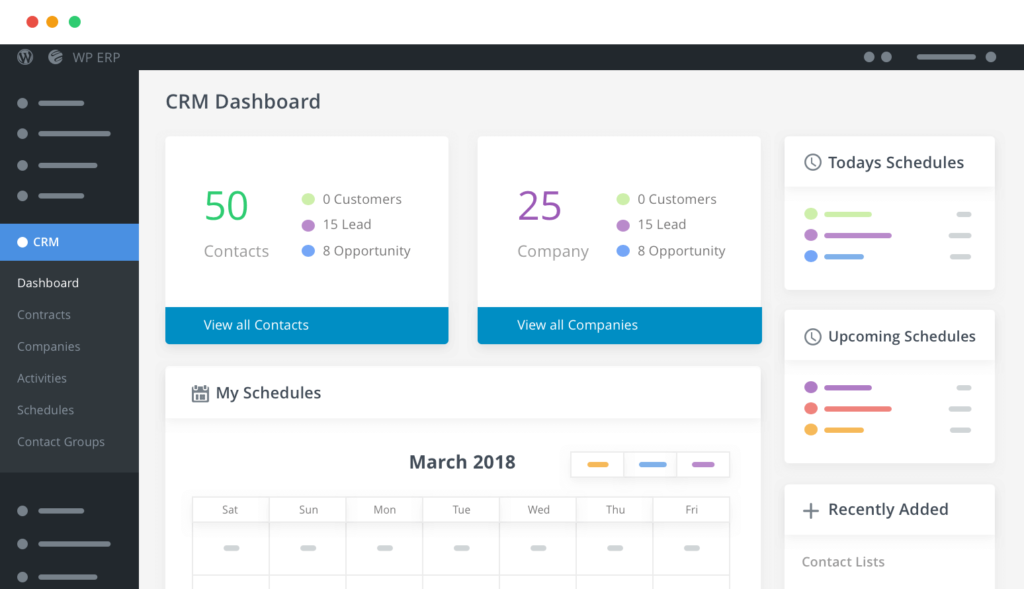 WP ERP CRM is an entirely in-built WordPress exclusive CRM that brings all your customer intelligence data and analysis behind the WP admin panel.
A great feature of the WP ERP CRM is that it comes with all the features you would expect of a SaaS CRM – but without the external dissociation of using SaaS.
This plugin also belongs to a comprehensive suite of ERP tools under one umbrella. Everything from accounting to project management is solved by this toolkit. And of course CRM is a major foundation stone of the line up.
Here's a quick summary of WP ERP CRM's features and benefits:
Detailed contact management: input contact details and CLT (customer life time) stage to have a comprehensive
Built-in mail: send emails to contacts without having to leave the WordPress admin panel and keep your productivity at an all time high
Schedule meetings: keep your diary organized all in the same app without having to jump tabs
Smart filter and search: screen your contact database against multiple parameters to locate exactly who you need to communicate with – immediately
Download WPERP CRM plugin today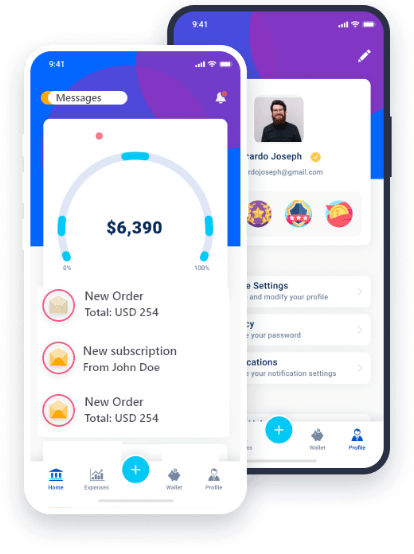 WP SMS is a mobile phone SMS enabler for WordPress site owners downloaded over 250,000+ times.
With over 11 add-ons to further extend its reach the WP SMS plugin is a solid solution for integrating SMS communications into your customer engagement loop.
Available in all countries, WP SMS is a great tool to have on your side in the quest for excellent customer engagement.
Here is a closer look at what WP SMS has to offer:
Automated SMS: set-up an automated workflow of SMS communications that is triggered by customer interaction
Real time: ensure high open rates with systematically issued SMS messages that are delivered with immediacy
Personalization: make sure you top-off every customer contact with a level of personalization that nurtures the relationship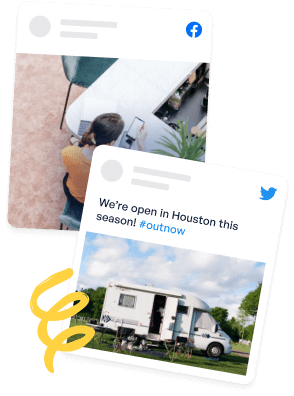 Smash Balloon is a fully customisable social media feed manager for WordPress. And it's not just any plugin – it comes with the pedigree of a plugin development house with over 20 million recorded users.
This solution is the ideal method for bringing all of your social media feeds under the roof of your WordPress website, in real-time.
Easy to use, zero-code and plenty of configurability – this is the easiest way of keeping a single eye on what progress is happening on social feeds whilst being plugged into your WordPress.
Here's a quick list of features benefits that you can expect from the Smash Balloon plugin:
1, 2, 3-eesy feed creation: in just three codeless steps you can integrate any social media feeds from Facebook, Instagram, Twitter and YouTube into your WordPress website
Customize feed appearance: highly intuitive customization engine for blending your feeds with branding and site styling
Prevent downtime: keep feeds running continuously and never suffer the shame of error messages on your site
Speed optimizer: quick and never a drag to use. This plugin makes social feeds frictionless to use on your site
SEO booster: made with SEO sensibilities in mind this plugin only helps to enhance the search engine compatibility of your site
Download Smash Balloon plugin today
Conclusion
So, that's it.
Customer engagement at its best – the WordPress way.
If you haven't already started, according to statistics you're already missing out on a potential revenue increase.
Why wait any longer?
Why not invest today in becoming a customer engagement hero and begin turning the tide of lost profits.