How To Create a Multilingual Knowledge Base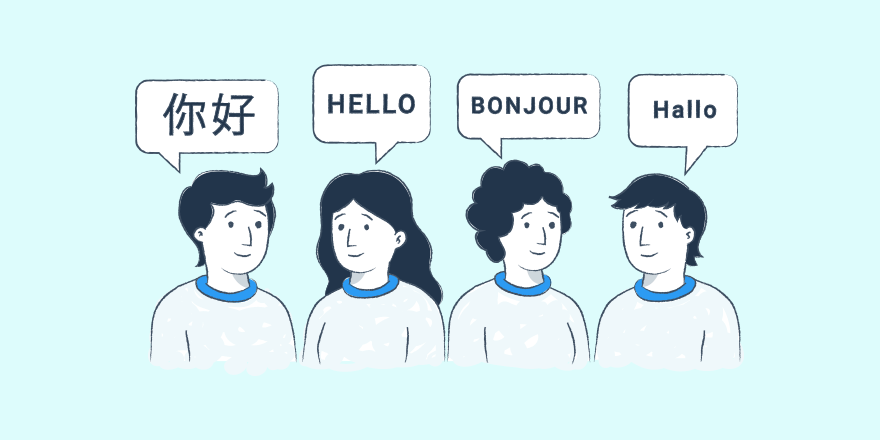 If your business is international you'll have customers and potentially team members, all over the world, speaking different languages.
You could assume they all understand English, but it's not always the case. Taking the extra step to support your customer in their own language could be the thing that differentiate us from your competitor.
While hiring support for a multilingual support team might seem too much at this stage, having a multilingual knowledge base is actually easy and inexpensive.
With the right plugin and setup, you could translate your knowledge base today.
How to manage the different languages of your knowledge base
Depending on your needs and your appetite to translate and manage different versions of your knowledge base, you have three options:
Option 1: Multi-sites for a multi language knowledge base
It's a great option if you want different articles for each language. If you offer different services or features depending on your customer's country and you need different articles for each country that the setup you'll want to choose.
The advantage is that each site will have their own design and flow so you can customize your customer experience based on their language/country. The downside is that you have to manage multiple sites/subdomains, that might be too much if you're a small company. If you're looking for something simpler then the next
Option 2: Manage multiple languages as different categories in your knowledge base
As per the option above, it's a great solution when you want to customize the articles and flow of the knowledge base based on the language. But this time you can have it all on the same site.
The downside is that the main categories of your knowledge base will be the language, which might not be ideal for the overall design of your site, and will force you to have sub-sub categories. It might become a bit difficult to manage all the categories and subcategories in one place.
Option 3: Translating your knowledge base
It's by far the easiest and most common options for small to medium businesses.
If you're simply looking to offer the same articles in different languages, then translating your knowledge base is the way to go. It will make it lighter and faster and will avoid duplicating articles. It will all be managed by the translation plugin.
Furthermore, it's the only option that allows you not to translate the article manually but let an auto translator do it. However you might want to check the accuracy of the translation, as we all know it can end up a little bit funky, even nonsense sometimes.
However the potential downside compared to the two solutions above is that you need a dedicated plugin for this feature, and they are often premium plugins. So if you're on a tight budget, maybe the other options will fit you better.
You don't have a knowledge base yet? Check out our Heroic KB. It's a powerful yet light plugin that allows you to set up a knowledge base in a few clicks. And it's compatible with all the multilingual solutions offered below: I used Heroic KB for all the step by step guides bellow.
Best multilingual plugins to translate your knowledge base
Translate your articles with the best premium multilingual plugins
WPML is the most popular translation plugin for WordPress sites. It is quite easy to use and offers a lot of design and additional features such as customizable language switcher buttons, translation of categories, option to upload a different version of the same image for each language (so practical for infographics).
WPML Multilingual CMS integrates seamlessly with Heroic KB allowing you to create and manage a multilingual knowledge base easily.
Who is WPML for?
WPML is the solution for you if you want the simpler but most powerful translator plugin and you're ready to pay for it, WPML is the one for you
How much does WPML cost?
You'll need the Multilingual CMS at $79 package to translate your articles. It renews at $59 per year after the first year.
How to translate your knowledge base with WPML
The setup is pretty simple and intuitive, thanks to their install wizard.
Step 1: You start by setting up the language of your site, the language of your existing content. For me it's English.
Step 2: Set the other languages you want available. You have the choice between over 50+ languages.
Step 3: Set up the customisation options such as the switch button or the different version for media files. There are plenty of options to make it work as you want it.
Step 4: Back to your knowledge base articles, you'll notice that a new column appears next to the titles with a little flag that indicates the language and for each article you can click on the + sign to add a translation for this language.
When you click on the + it will bring you to a brand new article, completely empty. It's up to you to add the translation. You can notice in the top menu bar that the flag shows which language this article is associated with in WPML.
At the bottom of the main section you'll find the translation options. These options apply to all the articles. If you choose "show as translatable", it will only show the language you have created a translated version for. So if you haven't translated an article it won't show other languages available.
If you choose to "show the articles as translated" it will show all the languages on all your articles even if they haven't been translated yet. It might seem pointless but that would allow your customer to see an article in English even when they are browsing your site in their own language, instead of not having an article at all.
After translating an article you'll see the change in the icons in your list of articles. Instead of a + sign it will show a pencil icon (for 'edit').
Additionally, you can also filter by language and see which articles have been translated.
For these two articles I translated, when I view them in my website, they appear as available in English and French.
You have several options available when it comes to the design of the language switcher. I chose to have a toggle in my footer to allow viewers to change the language and indeed I see my two icons in the footer.
When your viewers click on an icon they'll be led to the article in the language chosen.
Automatic translation feature
Furthermore, an interesting additional feature is the auto translate functionality, so you don't need to translate it manually. However it's a paid feature.
Best free translation plugin for your knowledge base
Polylang is a great free plugin that will allow you to translate your articles.
Who is it for?
Anyone that wants to translate their knowledge base for free.
How much does Polylang cost?
It's free. Nontheless, there is a premium version Polylang Pro for 99€ that adds a few extra, but the free version is already good enough for you to give it a good try.
How to translate your knowledge base with Polylang
Step 1: Set up the languages wanted. Watch out you also need to add the initial language your site is, for example for me it was English, but I forgot to add it the first time I set it up, so annoyingly all my initial content was designated as French instead of English. Don't make the same mistake.
Step 2 : Choose the option of the media files. Do you want to upload different images for each language?
Step 3: Setup the default language. For me it will be English.
Step 4: Translate your articles. In the sidebar on the right you'll find the translation option in 'Languages'
Click on the sign 1 to add your translation. It will lead you to a brand new article where you'll write the transcription of the article. You can see in the sidebar which article it is associated with.
This is how it will look like in your list of articles with on the right the different columns to show the languages. The only regret here is that you can't filter by language like with WPML.
When it comes to the settings it's not as complete as WPML and less easy to use. I'm still unsure how to add the language switch button.
Moreover, beware that by default the plugin will change your URL (adding the language slug) so make sure your arrange the settings if you don't want your URL to change based on the language.
Automatic translation feature
An extra feature you find in the Lingotek is the option to auto translate your site
TranslatePress is another translation plugin that will allow you to build a multilingual knowledge base. It's noticeable by its very different translation interface.
Who is TranslatePress for?
TranslatePress will be a good fit for you if:
You're looking for a free multilingual plugin
You don't have a lot of content
A WYSIWYG and visual translation solution is a crucial feature
How much does TranslatePress cost?
It's Free. There is a premium version Polylang Pro for 99€ that adds a few extra, but the free version is already good enough for you to give it a good try.
How to make your knowledgebase multilingual with TranslatePress?
Step 1: There is no install wizard so you'll have to go to the settings to find their setup page.
Step 2: To translate the articles is to view them and then add "?trp-edit-translation=true" at the end of the URL. It will open the translation console.
You'll have to translate the sentences one by one and save it everytime for every sentence. That can be long.
Once installed and the language setup, you'll see a little button at the bottom of the screen (following you when you scroll up or down) on your site offering you the different languages.
Automatic translation feature
Finally Translatepress also has the automatic translation feature. However it requires a Google Translate key
Translate your knowledge base automatically
It's a very light and easy to use plugin that offers Google translation.
Who is GTranslate for?
TranslatePress will be a good fit for you if:
You're looking for the quickest solution to translate your knowledge base into multiple languages
You don't mind the sometimes awkward translation by Google
You don't mind about the SEO for the translated pages
How much does GTranslate cost?
Free. If you want to get rid of the limitation of the automatic translation and be able to edit the translation, there is a premium version of GTranslate starting at $7.99/month that adds this feature.
How to translate your articles with GTranslate?
Well there is not much to do as everything is automatic.
Firstly, there is no setup wizard but when you activate the plugin it automatically starts to offer translations. You can set up the languages in Settings >GTranslate . In my knowledge base I have decided to "Show floating language selector" at the bottom right.
Then on your site you'll see the different languages available with the floating language selector and when you click on a language the page will be automatically translated.
Conclusion
Getting a multilingual knowledge base is not diffictlu. You have different solutions, some premium and some free that will allow you to set it up.
Which solution to choose, it all depends on your timeframe, budget and level of perfectionism.
If you want the best translation, you'll have to do it manually.
On the other hand, if you want the quickest one then I'd advise you to use one of the translation plugins GTranslate for a free automatic translation and you don't mind about not getting the SEO for the translated page, WPML if you don't mind paying for it.
I hope this article helped you set up additional languages in your knowledge base. If you need some examples to inspire you to build a multilingual knowledge base, checkout our article on the Best User Documentation Examples, you'll find a selection of fantastic customer support knowledge bases, and most of them are multilingual.
Amy Hadley
Cheshire based WordPress developer, Envato elite author and WooCommerce Partner. I write tech content about everything WordPress at
Copyific