Best User Documentation Examples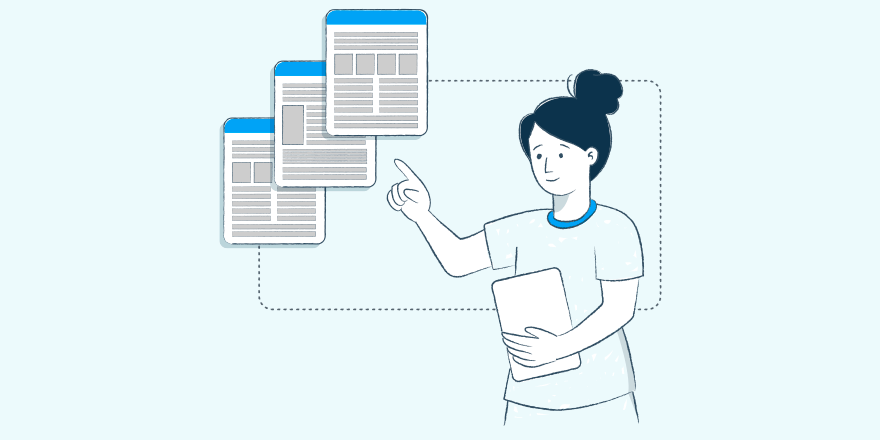 User documentation is arguably one of the most important parts of your product development. For users to truly understand how your product works, they're always going to need a reference point.
And when it comes to digital products or services – user documentations, sometimes known as knowledge bases, are one of the best ways to explain all aspects of your product.
Econsultancy found that more than 50% of customers prefer using a digital knowledge base, and more than 70% of customers prefer to use online documentation as opposed to calling in for support. These stats alone reaffirm the importance of user manuals and documentation.
Benefits of User Documentation
Let's take a look at why user documentation is important, but also why it's beneficial to your business in the long-term.
Customer satisfaction. The last place a customer wants to be is on the phone with your support team after having failed to understand your product. An easy to access documentation can guide your customers through the most basic to the most complex features in real-time.
Support team productivity. Having a consistent reference point can remove an enormous amount of strain from your support team. Questions that might take 15 minutes to resolve can be solved by pointing customers in the right direction in your user manual.
Customer experience. More often than not, customers will remember bad experiences more than good ones. As such, ensuring that customers get the most out of your product through online documentation is one way to prevent them from getting confused or dissatisfied with your service.
And if you go back to look at the products you're using on a daily basis, you'll find that 99% of them have a user manual already in place. In fact, creating a knowledge base yourself is relatively easy.
As a WordPress user, you can use specific documentation themes to create a WordPress knowledge base in a few minutes. And if you don't use WordPress, there are plenty of knowledge base system platforms you can use outside of it.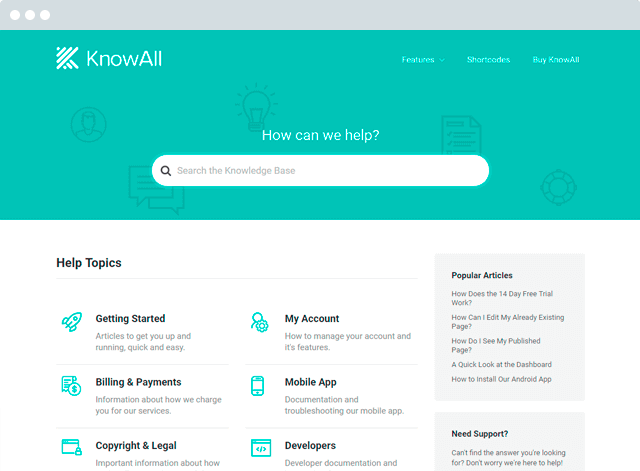 Create a Knowledge Base - The Easy Way!
Build a knowledge base and help your customers help themselves.
Get the Theme
For this article specifically, we're going to be focusing on examples of great user manuals and online documentations. Looking at what other brands are doing successfully can help you understand how to structure your own user manual.
Are you ready to get started? Let's take a look.
Best User Documentation Examples
#1: Slack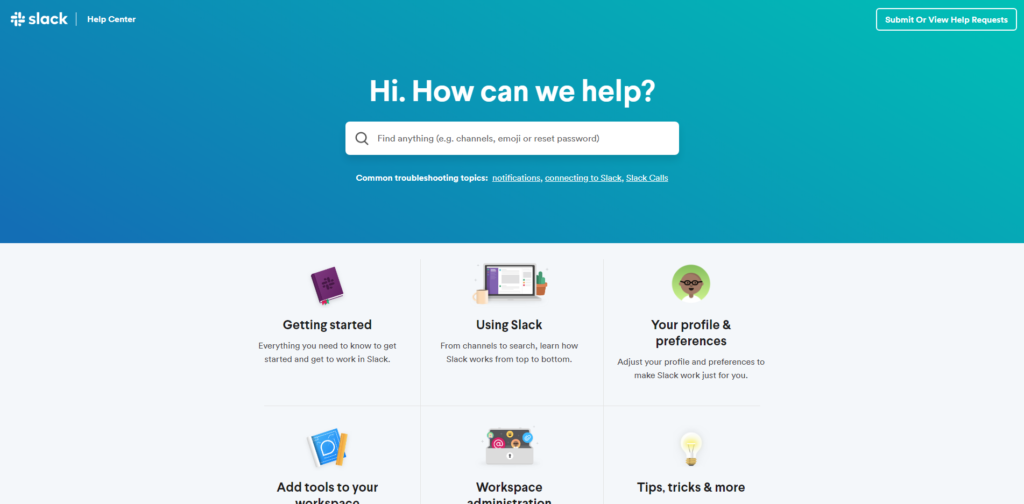 Slack is one of the most popular instant-communication tools in the world. The platform helps millions of businesses to conduct important work-related discussions in real-time.
And, although straightforward as far as communication goes – Slack offers a plethora of features and tools that boost business productivity. It goes without saying, understanding how to use Slack efficiently without its Help Center documentation would be impossible.

The first thing users will see when visiting Slack's help center is a big search form, with suggested keywords for common questions users have. This lets users to immediately start looking for answers to pressing questions.
In a lot of cases, a search form alone is sufficient to help resolve a large proportion of questions your customers might have. But, it's always nice to take it a step further and provide stepping stones. For example, by adding links to pages that users are most interested in.

This section of the Slack's Help Center homepage leads users in 6 different directions, each designed to address a specific use case for the product itself. Apart from learning the basics of Slack, customers can also go to pages that explain more advanced features, including interesting tips and tricks that might not be apparent at first sight.
In other words, you can use your knowledge base or user manual to help users understand your product in-depth.

Last but not least, be thorough in your approach. A great documentation page covers everything from basic to the most advanced features. Even though Slack uses an intuitive user interface, the Help Center covers all aspects of using the product to its utmost capacity.
#2: KnowAll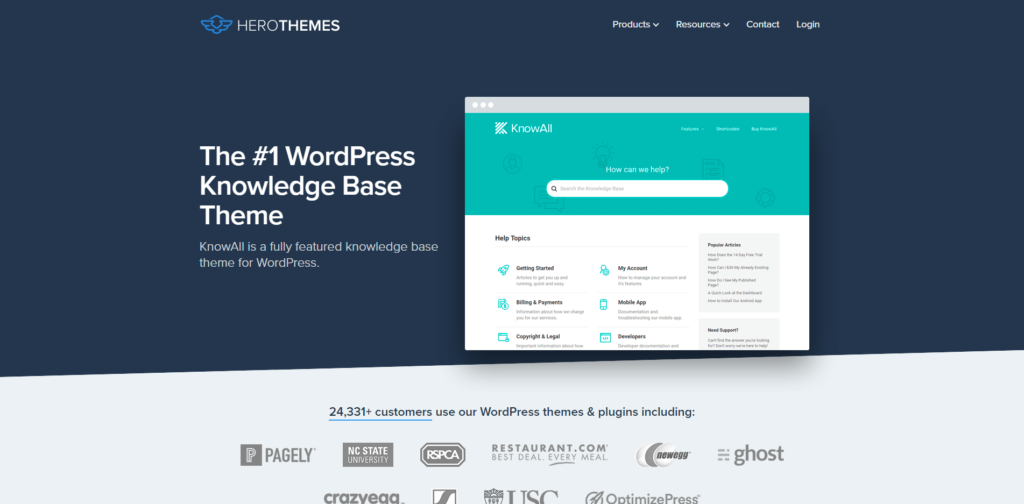 KnowAll is the world's leading WordPress-based knowledge base theme created by yours truly. Brands like Pagely, Apptentive, OptimizePress, and many others are using KnowAll to provide their customers with helpful guides and answers to critical questions.
It only makes sense that we would use KnowAll's Help Center as the basis for a thorough overview of this theme.
Like other online documentation pages, KnowAll also embraces the introductory search form that's impossible to miss. It is the bread and butter of any kind of user manuals.
A nice little addition here is that KnowAll uses real-time search:

Search results are fetched in real-time and displayed as part of the search form itself. This saves customers a few clicks as they can immediately find help pages related to their keyword of interest.
Help pages themselves are structured similarly to blog posts. Allowing you to explain specific topics in great detail, with the use of all traditional content editing elements you're already familiar with.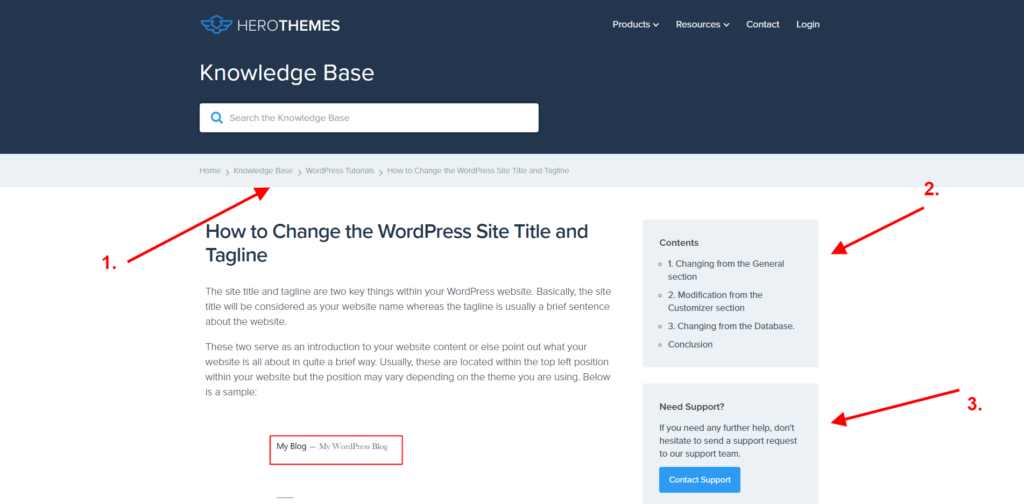 In this example, there are 3 important user interface factors to take into consideration:
Breadcrumbs – an effective way to let customers know on which part of the page they are, but also to let customers quickly jump back to a specific support category if they wish.
Contents – in-depth help pages should have a Table of Contents widget so that customers can jump to the section they're most interested in.
Support – lastly, a means for customers to get in touch with your support team if the help page proves to be insufficient.
These factors reassure that customers can always get the support they need, even if something isn't thoroughly understood.
And, finally, there's the question of mobile support. More and more customers browse the web from their mobile or handheld devices, which means that having a responsive website is critical to your success.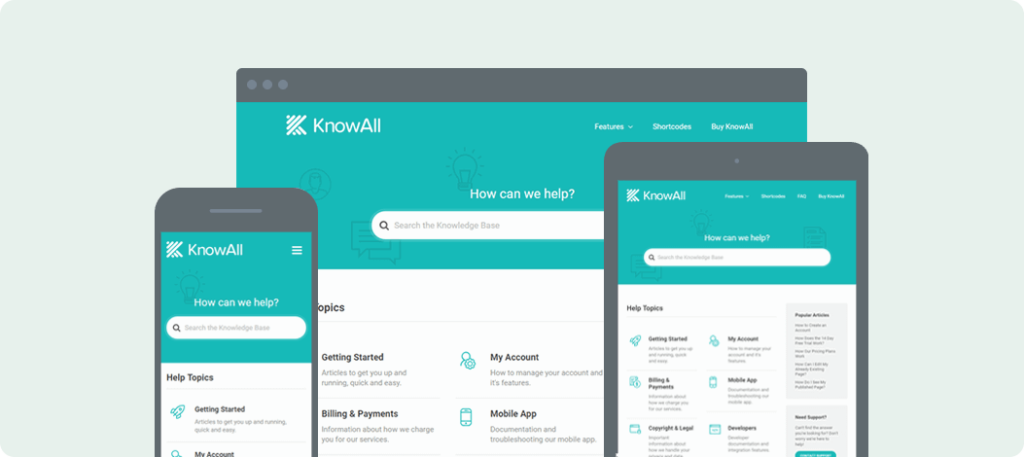 KnowAll's integrated responsive design ensures that your knowledge base will look stellar on both desktop and mobile devices.
#3: Google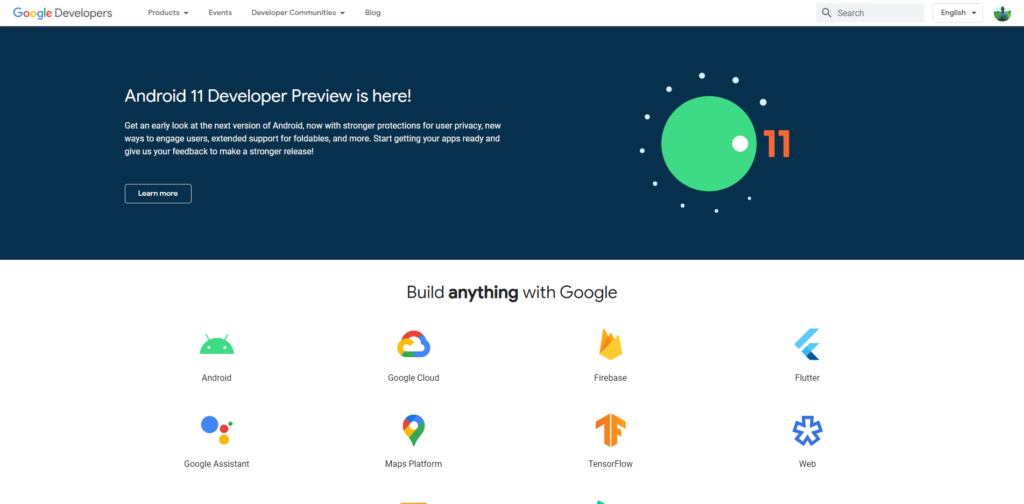 Google is the most popular website in the world. Whether it's Search, Gmail, or Android – billions of people land on Google's services each day. The company owns hundreds of products and tools, and in most cases, each product has its own documentation page or a user manual.
The most common questions and feedback is handled through the Google Help portal. There you will find knowledge-base style answers, and community forums for submitting feedback or questions.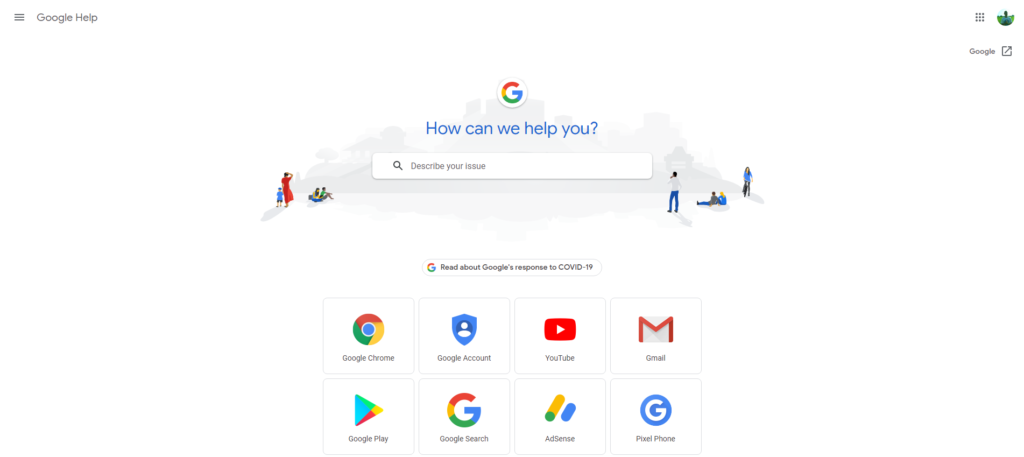 And for a brand the size of Google – it makes a lot of sense to maintain an online forum where users can help each other with peculiar questions. It gives customers a chance to explain issues that might not be covered by your documentation, but also to engage in discussion about potential features that customers would like to see added in the future.
One of the approaches that Google takes is an "Upvote" feature. This lets all of your customers jump in on issues or feedback that is most important to them.
Similarly to how you allocate priority to certain support tickets with your helpdesk software.
Additionally, customers can either subscribe to new replies or leave a comment of their own.
In the long run, this will help to identify unique issues, but also help you create a much larger directory of answered support questions.
#4: DigitalOcean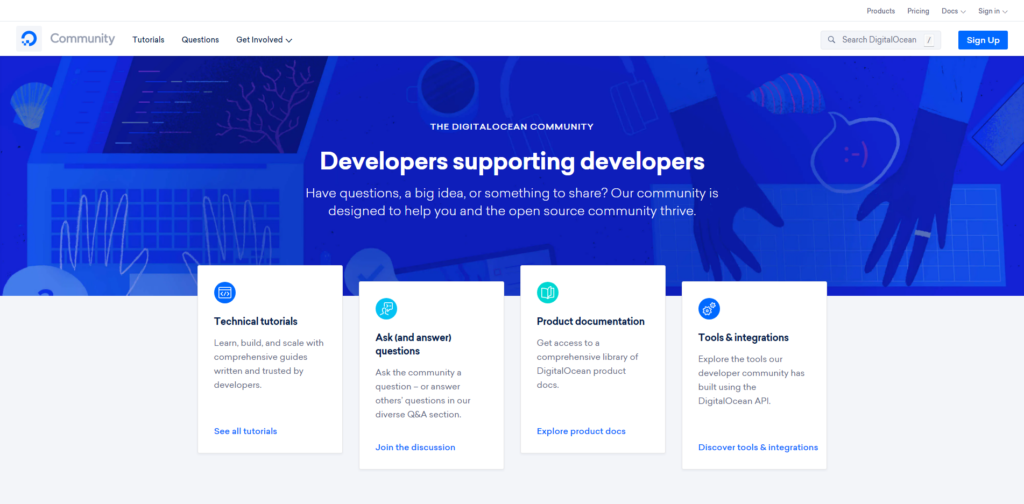 DigitalOcean is one of the leading cloud hosting providers for developers. And, unlike traditional help pages – DigitalOcean maintains its documentation resources entirely through the Community page. As the name implies, most of the support is provided by the community itself.
This comes in the form of written tutorials, questions on the forums, and standalone documentation pages for DigitalOcean products.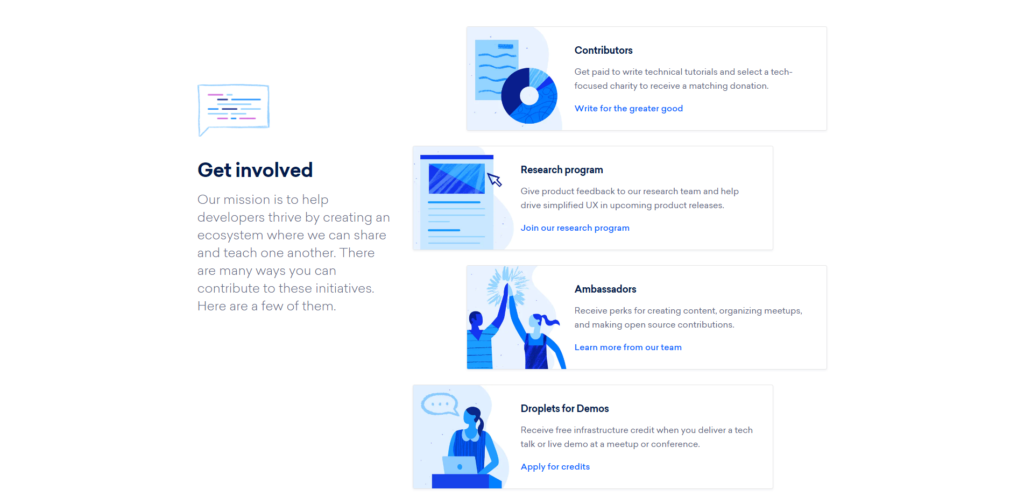 An approach to documentation driven by a community can have enormous benefits to your bottom line. And here's why.
It encourages customers to get involved with your product or service beyond its basic functionality.
You can generate specific content which is then indexed and ranked by search engines. As such, providing you with valuable SEO benefits.
An active community helps to foster a positive reputation in the eyes of potential new customers.
Understandably, the benefits of a community-based approach are largely dependent on the type of product or service you provide. But it's something to think about, seeing as how successful it can be.
#5: Ahrefs
How does one of the leading SEO tools – Ahrefs – manage its user documentation for a seemingly complex product? The answer is, with simplicity. The Ahrefs Help Center gets straight to the point when it comes to providing help with answers that customers might have.
Though, one thing stands out more than the rest.
Which is the actual help pages themselves. Ahrefs treats their documentation like they would a blog page, with detailed and thorough articles explaining each unique feature for their product.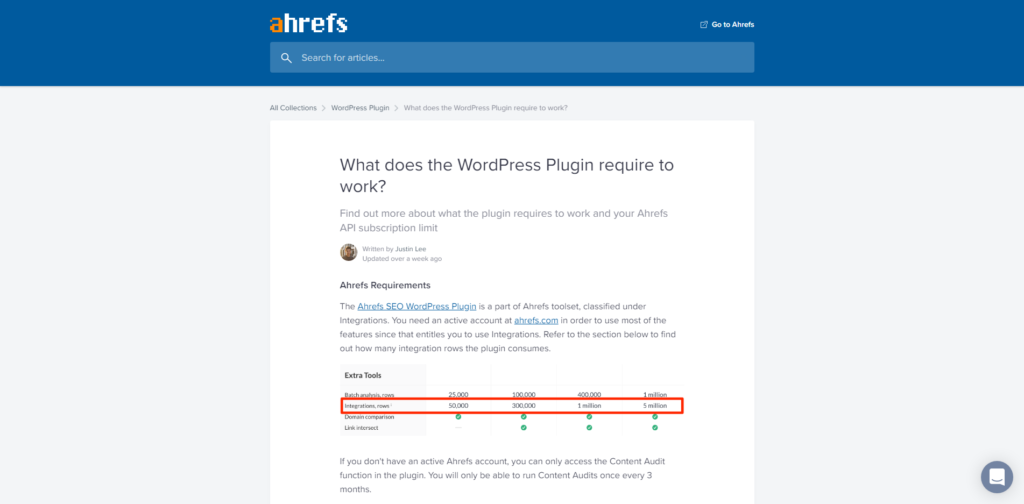 Since the product itself is relatively complex with a steep learning curve, writing blog-style documentation pages helps customers to get a much tighter grasp on how to use the product. Without the need to rely on third-party manuals.
Needless to say, this allows you to rank your own documentation pages in search engines. Chances are, customers will be looking for unique interactions with your product, and having that information published will help boost your customer retention.
Tips to Improve Your User Manual
The examples we have looked at throughout this article should be plenty to help you get started with fresh ideas.
And to close it out, let's look at some ways in which you can further enhance your user manual and/or documentation pages.
Use visuals. Visual learning is far more accessible than in long paragraphs. Customers should feel like they can find an answer in a matter of seconds because otherwise you risk making the product seem more complex than it actually is.
SEO. Some products outgrow themselves. As a result, customers will flock to search engines to find answers to unique questions and/or interactions. Make sure you write your documentation pages with the intent of them being found through search engines, as well.
KYC – Know Your Customer. What is their technical prowess? Why are they using your product? Understanding the persona behind your ideal customer will help you adapt to the style of communication that you use in your documentation pages.
Monitoring the questions that customers ask you directly will also help to shape your documentation. Likewise, keep an eye out for mentions on social media and Q&A sites. You never know how customers wish to use your product until you see it for yourself.
Conclusion
The primary goal for user manuals and documentation is to reduce the amount of time it takes for a customer to understand your product. And, as we learned in this article, there are numerous ways to approach it.
Clear, well-instructed, and organized user manuals will set your customers on their way to use your product to its fullest potential. And, it will spare your support team plenty of time that can be spent dealing with critical issues.