Boost your SEO using Heroic KB with Yoast SEO
Can you use Heroic KB with Yoast SEO? Absolutely and it's quite easy and quick when you know what to check.
Your knowledge base can be a real asset for your SEO. It's not just an internal source of knowledge, or a support tool. All the content you add to a knowledge base is very valuable and can help your site rank better.
As for any content, it's not just about having a knowledge base, but it's all about building it well, with the right tool and the right goals in mind.
If you already know about SEO, knowledge bases, Heroic KB and Yoast SEO, you can skip ahead to the tutorial part right here.
How can the Heroic Knowledge Base help my SEO and make my site rank higher?
Search engines will always want to put high quality, relevant content first for its users.
It's important for search engines to be able to judge the relevance of your content for the search terms – also known as keywords – that people are searching.
Firstly, Google picks up the keywords in your content to understand what it is about.
If you write your knowledge base well, each article will add numerous keywords that search engines will pick up. It's a great opportunity for you to rank for all these terms.
Moreover you usually pack your knowledge base with valuable content that helps your customers and audience and that's exactly what Google and other search engines love. They will value informative content over purely marketing content. That doesn't mean you shouldn't advertise your products or services in your knowledge base. But by answering common questions and educating readers rather than selling, you'll have more chances to appear in the first page when people want to learn more about this specific topic.
Imagine you're looking for the best SEO plugin, one site is trying to sell you their amazing solution that does everything for $99 per year, while the other, that also sells a plugin, focuses on teaching you what SEO is, helps you understand the mechanism of search engines and what you can do for free, and then offers you a little helper with their product. Which one would rather read?
Personally, the second one would be my choice. I'd get so much more value than from the cold pitch.
Search engines know that and they want you to be happy with what they show you. That's why they are working hard on finding the valuable content and ranking it higher.
A knowledge base is a great way to get that valuable content for your site.
Don't have a knowledge base yet? Heroic KB is the WordPress knowledge base software you need! You can add a knowledge base to your site in a click and easily create and organize articles to share your knowledge and answer your customers' most common questions. It's a great way to allow your customers to help themselves instantly, and reduce the amount of support you receive.
There are a few helping tools to make sure your articles are optimised for these keywords. By far the most popular is Yoast. Let's dig into it and see how you can use it with your knowledge base to boost your SEO.
How to use Yoast SEO with Heroic KB?
What is Yoast SEO?
Yoast is one of the top 10 most downloaded plugins for WordPress. It is the number one SEO tool you can install on your WordPress site.
What does it do? It helps you optimize your content to rank for keywords by analyzing the content and generating a readability and relevance score for the targeted keywords.
Moreover Yoast SEO doesn't stop there, it offers more features to help you produce a click worthy content such as:
Full control over your breadcrumbs
Internal links suggestions, to help you build a strong internal link network which will help rank better
Content insight, showing you the words you've used the most on a page
Preview of your page: you can see how the article will look once shared on Facebook, Twitter and Google of course.
All these features are going to be useful to optimize your Knowledge base and rank your articles.
How to use Yoast SEO to optimise your Heroic KB articles
I've put together a step by step guide, to make sure you use Heroic KB and Yoast SEO to their maximum potential. In this tutorial we'll focus on optimizing Heroic KB pages, not your entire site. But they're still a lot of SEO tricks you can use on your knowledge base articles.
First, let's make sure that you have installed and activated both plugins. You can download the free version of YOAST here and the premium version here.
Once activated YOAST SEO will add a box at the end of all your knowledge base articles. In this box you'll find all information and customizable features to help you optimize your articles organized in four tabs:
SEO
Readability
Schema
Social
First things first, open an existing knowledge base article or create a new one. Once you've written the content, let's optimize it.
To show you how to optimise your article, we'll do it for an example: how to schedule your content for maximum reach.
Optimise your content for SEO
The first tab of the Yoast box is called SEO, a self explanatory title. It will help you optimise your SEO and get your keywords picked up by search engines.
Focus Keyphrase
The first step is to enter your focus keyphrase. Your focus keyphrase is the main keyword you want this article to rank for. In our example it could be 'schedule your content'.
It's important to start by this keyword to focus your optimisation strategy.
Metadata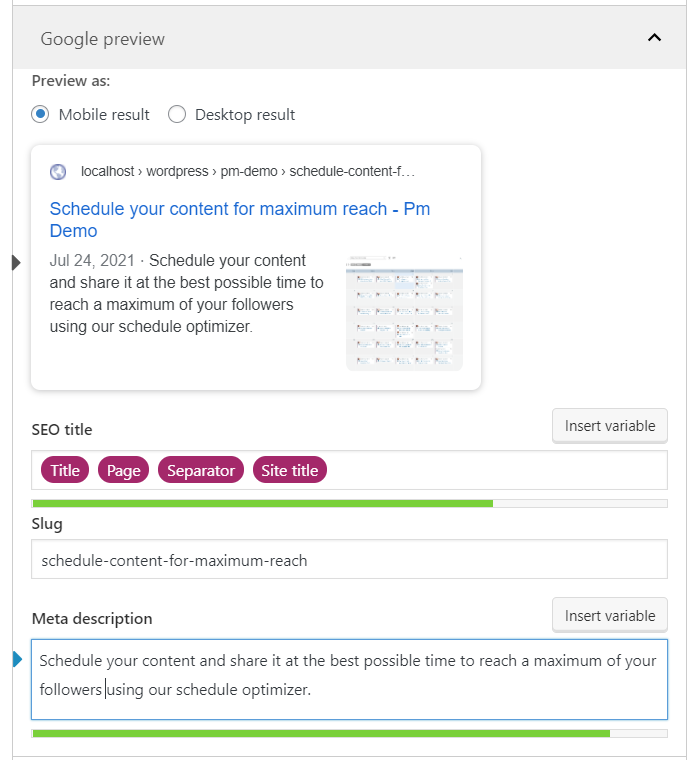 The next step is to edit Metadata. Yoast allows you to edit the key information picked up by search engines and used in the search page to present results: the title, slug and description. That's what people will see when they scroll through a list of results.
You want to optimize them with your keywords to confirm that your article is about what they are looking for and convince them to click on it to read it.
In our example I'm making sure that 'schedule' and 'content' are in the title, slug and description. And I'm writing an engaging short description that will intrigue readers:
"Schedule your content and release it at the best possible time to reach a maximum of your followers in three easy steps using our schedule optimizer."
You'll be able to see a live preview of this information as Google will display it, in the Google Preview just above the editing box.
Content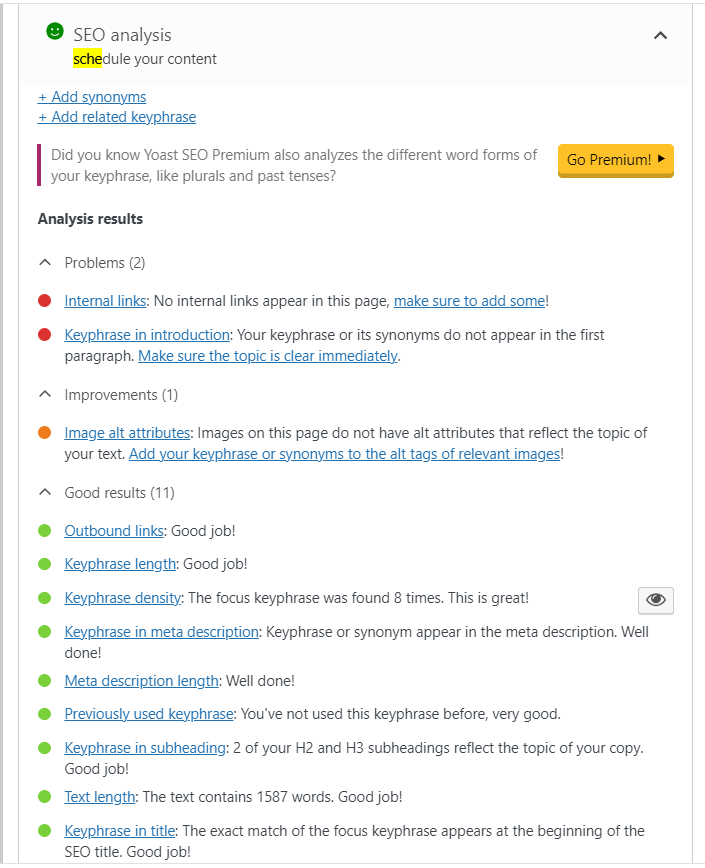 Yoast SEO will then analyse your content and give you advice on how to make it better to rank for your focus keyphrase.
It will count how many times you used the keyword in your text and headings and tell you if you used it enough. The goal is to use it in the title, headings, description and across the entire article. Yoast will check all that and tell you if it's enough. Additionally, it will also scan your images to check your "Alt" text as well as the internal and external links essential for good natural referencing.
Furthermore Yoast SEO will highlight the different things you can improve using a traffic light system, including inbound and outbound links…
The ideal is to have all the signals green. But it's not required and not always possible. Remember that your main target is the human behind the computer, not just search engines. The key is to write content that is USEFUL to users.
Readability
In this tab, it's all about how easy it is to scroll and read your article. Yoast will help you simplify and streamline your writing to make sure to retain your reader's attention.
The main tricks are:
short sentences
short paragraphs
using transition words often
Avoiding passive voice (which is boring)
avoiding repetitive sentences
organising the content in equal subheadings
Similarly to the SEO analysis, it uses a traffic light system. You don't need to have it all green, but a green smiley is always a good sign for your content.
Schema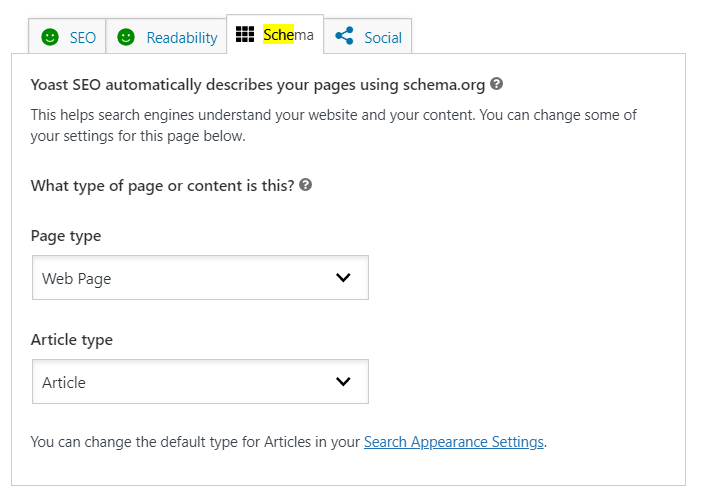 Schema.org is a standard defined by big search engines to describe the type of content in your page. It's supposed to help the scroller know what kind of content it is, marketing, listing, product, profile, FAQ…
Unfortunately Schema.org does not have any specific Page type or Article type that would apply for knowledge. It's a shame given how many tutorial articles there are out there and how useful they are.
I personally choose Web Page as a Page type and Article as an Article type. However if you have a medical or tech knowledge base you can apply the specific type of page (medical web page) and a specific type of article (tech article).
Social
Finally, the last tab is the social media one. It won't directly help you with SEO, however it will allow you to control how your articles look when they are shared on social media (image, description…. The more aesthetic and appealing and the more people will want to share your link, giving you important links that will build the credibility and relevance of your article and help it rank better.
That's it!
Here you go, you're all done, ready to publish an optimized post.
These won't guaranty you'll get to the top rank, however they are great checks to increase your odds of appearing on the first page.
Optimizing the page of your website for search engines is a standard practice done by everyone. Businesses often overlook doing it for a knowledge base. That's where you can stand out and get a competitive advantage. Rank your knowledge base articles before your competitors and get that traffic of people looking for answers.
Want to learn more about knowledge base and SEO? Head over to our other article 'How to SEO Optimize Your Knowledge Base'.
Amy Hadley
Cheshire based WordPress developer, Envato elite author and WooCommerce Partner. I write tech content about everything WordPress at
Copyific