What Is a Helpdesk? Plus Why You Need One and How to Get Started (2023)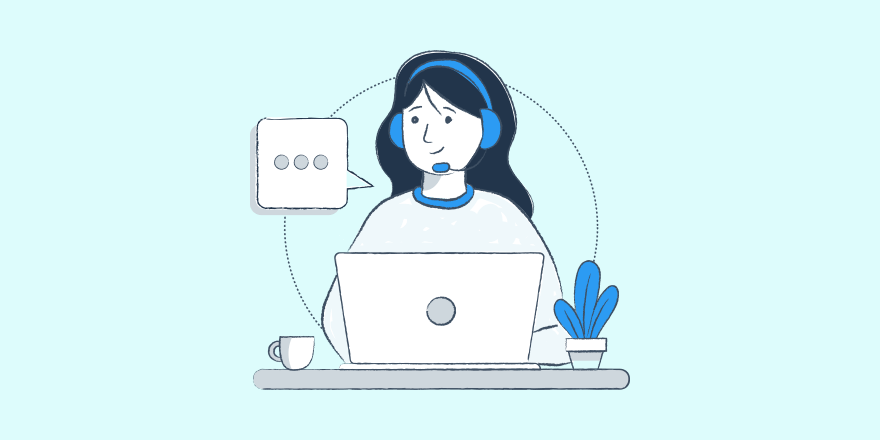 What is a helpdesk? It's software that helps you organize communication with your customers and respond more efficiently and effectively.
Basically, it's one centralized place where you can view all of the communication/requests from your customers and then respond to them if needed.
If you need to offer support to your customers (or any other group of people, like employees), a helpdesk is a great way to improve and streamline your communications.
In this article, we'll explore the key features in a helpdesk, the benefits of adding a helpdesk to your business, and how you can get started with your very own helpdesk.
Let's dig in!
Key Features in a Helpdesk
Above, we told you that a helpdesk is software that helps you organize communications and respond to customers. So – let's talk about some of the important helpdesk features that go into making that happen.
Ticketing System
The core of a helpdesk is its ticketing system.
When a customer submits a form or sends in an email, that will create a ticket in your helpdesk where you and your team can manage and respond to that request.
This also lets you track the history of every interaction with all of your customers and make sure issues are getting solved.
Typically, you'll be able to view all of your tickets using something that looks like an email inbox, though the exact interface will depend on your chosen helpdesk tool. Here's an example:
For each ticket, you'll get an interface to respond to individuals and perform other actions, like adding a tag or internal note:
Omnichannel Support
A good helpdesk should support multiple different channels so that you can centralize all your communication in one spot. Customers should be able to use different forms, email addresses, and other communication methods.
No matter where the communication comes from, it should show up as a ticket in your helpdesk so that your staff can respond from one spot.
Staff Management
If you're the only person responding to customers, you might not need this. But if you have a team responding to customers, you need a way to manage all of those team members and make sure that tickets are routed and assigned to the right people.
Your staff should also be able to transfer tickets if needed and communicate with internal notes that are only visible to team members.
Automation
A good helpdesk doesn't just facilitate manual work, it should also offer automation features to help you work more effectively. For example, you should be able to automatically apply tags based on a topic, route incoming tickets to the right person, use canned responses to speed up replies, and more.
Your helpdesk should also be able to automatically identify high-priority issues and make sure they get the attention that they deserve.
Customer Data
Your helpdesk should also provide information on your customer in the ticket so that you can more easily respond. For example, if you have a helpdesk for an eCommerce store, you should be able to easily view a customer's order history when you're responding to a ticket. This will help you save time and access important context for your responses.
Similarly, you should be able to quickly see previous conversations – you can see how it might look in the sidebar on the right:
Analytics and Reports
A good helpdesk will also help you learn more about your customers and support staff. You should be able to track metrics such as average response time, the number of tickets that have been answered, customer satisfaction, and more.
Who Can Benefit From a Helpdesk?
A helpdesk can benefit all types of businesses, from solopreneurs to small businesses and large enterprises. It can also be useful for both B2B (business to business) and B2C (business to consumer) businesses.
Basically, if you need to interact with customers and offer them support, a helpdesk can help you be better at that.
Helpdesk vs CRM
When talking about tools to help you interact and engage with your customers, another common tool you'll find is a CRM, short for customer relationship management.
The key difference is that a CRM is more focused on sales and account management, while a helpdesk is more focused on offering support.
Typically, a CRM will assign a single salesperson or account manager to each customer and that person will manage all interactions with the customer.
A helpdesk, on the other hand, is more focused on providing support to customers and responding to inquiries. You might have multiple agents or teams geared up to respond to inquiries as they come in.
The two types of tools can be complementary. For example, you could use a CRM for sales and account management while also using a helpdesk to respond to customer inquiries and offer support.
Benefits of Using a Helpdesk
Now that you can answer the question of "what is a helpdesk", let's talk about some of the benefits of using a helpdesk.
Improve the Effectiveness and Efficiency of Your Support
The main benefit of using a helpdesk is that it helps you improve the efficiency and effectiveness of your support.
For example, having access to all your different emails and support channels in one spot eliminates the need to jump around between different interfaces. Similarly, automation features help you respond more quickly to those messages and make sure they're routed to the right spot.
But a helpdesk doesn't just help you work faster, it also helps you work better. For example, being able to instantly see a customer's history gives you valuable context that you can use to offer better, more tailored support to that customer.
Improve Customer Satisfaction
The benefits above also tie tightly to increasing customer satisfaction.
If customers can get faster responses to their questions and issues, they'll be happier than if they had to wait. Similarly, they'll be happy that they don't have to provide unnecessary information because you and your support agents already have that context.
For example, instead of needing to ask the customer to provide their order number or list the items they're having issues with, you can instantly see that information in your helpdesk. This reduces the effort and friction required for your customers to get the support they want.
Scale More Effectively
Another big benefit of a helpdesk is that it helps you scale your customer support efforts as your business grows. When you're just getting started, it might be easy to manage all of your customer interactions via your email inbox.
But once you grow to a certain point, that approach will no longer be feasible. A helpdesk can step in to help you keep up with the increased demands on your customer support team.
How to Create Your Own Helpdesk Powered by WordPress
At this point, you might be wondering how you can go ahead and get started with your own helpdesk.
Well, one option is to use a SaaS tool and pay a recurring monthly fee for as long as you use your helpdesk. Typically, your costs will also grow as the volume does.
Another option is to self-host your own helpdesk software using the world's most popular website building tool, WordPress, and the Heroic Inbox plugin.
The Heroic Inbox plugin turns your WordPress site into a fully functioning helpdesk complete with all the key features we discussed above such as:
A centralized inbox to manage all your emails in one spot.
User permissions and team collaboration features to help your whole team work more efficiently.
Automatically imported customer data. This is especially useful for sites using WooCommerce, Easy Digital Downloads, GiveWP, LifterLMS, and more because you can easily pull in all of that WordPress-specific information.
Automation features like autoresponders and the option to assign messages.
Built-in analytics and reports to track all the important metrics in your helpdesk, like average response time, the number of emails that you've answered, customer satisfaction, and more.
With this self-hosted approach, you'll pay one flat fee for unlimited usage.
To set up your own helpdesk with WordPress, purchase the Heroic Inbox plugin today.
Do you still have any questions about what a helpdesk is or how your business can benefit from one? Let us know in the comments!