The 3 Types of Customer Service (and How to Implement Each)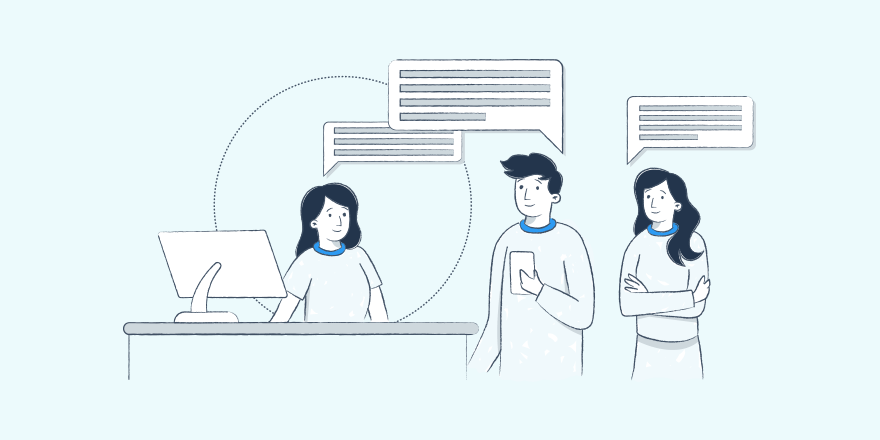 There are just three types of customer service.
One is hands off, works 24/7, and can resolve 20% to 40% of support requests.
The second involves "real" human help. It (ideally) gets involved when the first doesn't (or can't) resolve, and costs about 80 to 100 times higher.
And the third is about combining the knowledge from the first type with the expertise from the second type and throwing in engaged, advanced users for crowdsourcing support.
In general, most businesses need to combine the first and second types to offer happy customer service experiences. So let's look at each of these customer service types in detail, along with the steps you need to implement each.
Self-serve customer service
This customer service type is — or should be — every company's service frontline as it can field a significant percentage of its live support volume. The focus here is on sharing support knowledge with customers via tools like knowledge bases and FAQs, enabling them to resolve their issues on their own.
For a SaaS business into, say, hosting, this could mean showing customers how to connect a domain to hosting:
Or answering common questions around offering free SSLs or uptime guarantee with FAQs.
An e-commerce business could use it to answer hundreds of questions:
Likewise, a services business that offers, for example, email management, could use this customer service type to help its clients resolve common issues like fighting SPAM:
As you can tell, this customer service type takes effort as you create your support content; it also needs regular updating.
But once it's "up," it's helping your customers all the time. It also pays for itself fast.
Channel-wise, this customer service type covers these:
FAQs: FAQs are the easiest kind of support content to create and can answer many simple user requests effectively. FAQs don't offer support as such, but address many of the pre- and post-sale queries. For one business, FAQs might be a list of 7-10 questions placed prominently on the homepage or on the pricing or sales pages. For another, though, this might be a list of 500 questions neatly categorized topic-wise.

Knowledge Bases/Documentation: Anything that helps users use your product or service or resolve their issues — such as how-tos, product installation manuals, troubleshooting guides, handbooks, SOPs, glossaries, etc. — goes here.
Chatbots: You can configure chatbots to answer many common user queries and also fetch and offer results from support content to the users.
Implementation-wise, adding FAQs is the easiest. You just need to add a plain list of questions with answers, and you're done. If you're looking for a "proper" solution, check out our Heroic WordPress FAQs Plugin. It's a top-selling WordPress FAQs plugin that comes with five beautiful styles for presenting FAQs:
Knowledge bases too can be implemented easily. You can start by adding a new category to your website called "Knowledge Base," and write posts under it.
For a complete knowledge base solution that comes with features like search, feedback, and analytics, among others, check out Heroic Knowledge Base.
Live customer service
This customer service type is for addressing issues that are more involved, and can't be resolved without actual help. The focus in this customer service type is on connecting the customers requesting support to skilled resources who can assist with the resolution.
Metrics like the first response time, first contact resolution rate, and average resolution time, and the feedback of the customers tell how good you are at this service type.
For a web hosting SaaS business, a customer might need live support if their website is down or hacked. This customer service type takes up issues that self-serve service can't address.
For most e-commerce businesses, live support is for issues or escalations around refunds, tracking, and returns, among others.
IT services providers, on the other hand, have to offer live customer service for several instances. For example, when a user tries the maximum number of login attempts and gets locked out, only to be allowed in by the "admin."
When you implement the self-serve service type, almost all the live service volume you get will be for resolving the more complex issues. Naturally, because most of the easier issues would have been taken care of already. So, you must plan your bandwidth accordingly.
To go about this, B2B businesses often assign a single resource (often a customer success manager) to a few hundred customers. This person becomes their contact point for requesting such support. This has also been done by B2C companies — that sell complex B2C products like a home router — at scale. It tends to work well when done right.
This customer service type works with multiple channels:
Walkins
Phone
Online Tickets/Emails
Chats
Social Media/Third-party websites
The key to offering successful live support lies in maintaining a thorough internal knowledge base, because poor productivity on the backend can lead to poor customer experiences. For instance, if you make exceptions to your refund policy, making this information available quickly to a customer rep chatting with an angry, dissatisfied customer can make all the difference.
The crux is that knowledge needs to be documented well, even for offering quality live support.
Your internal knowledge base also needs regular updating — much as your customer-facing knowledge base. Here are some solutions you can use to build and maintain a good internal knowledge base; a special shout out for WikiPress, that lets you create a company-wide Wikipedia, powering all the knowledge you need for everything, including your customer service ops.
Community customer service
Forums — that power communities and this customer service type — are categorized as a self-serve customer service channel. Although because it needs regular participation and moderation from in-house support staff, it's not exactly a self-serve channel.
In fact, if you want to offer this customer service type where users can post their support issues or other questions in a forum, you NEED a community customer service specialist on your team.
But it's not like your in-house support resource will only keep helping the users in your forum. Many of your advanced users will assist too.
Here's an example of a forum done right. We've a user here who's posting a very specific query. And we've another user answering (and resolving) it:
This post got 566 hits/views, which means it helped quite a few people.

Now, intuitively, this isn't a query one would add to a knowledge base as it's not that general. Though it would have caused tickets as it's reasonably popular. This is exactly the kind of customer service that you want to deliver via your forums.
In many support requests on your forum, your in-house resources will have to jump to help, even when the resolution is only to direct users to knowledge base articles covering them.
On another note, recurring threads on the same topic might indicate that it should be made into a knowledge base article.
Research has found that such service/product communities can get tangible results. You can get an increase in branded SEO (many support requests that result in forum threads start with Googling "brand + 'issue'"), sales, engagement, and retention.
All that said, this customer service type isn't for everyone.
For example, an eCommerce store might not need one at all. Sure, a store selling minimal jewelry could set up a style forum to dive engagement… but service-wise, there won't be any value.
This service type is specifically for the more complex products, and needs effort to build the initial momentum. It also needs daily participation. Another challenge it represents is that forum posts are for everyone to see. So if an issue isn't handled right, everyone sees it. Not just that a rant by an unhappy customer can trigger a lot. Said another way: this customer service type needs to be used with care.
Also, measuring an active forum' performance as a customer service channel is tricky, because forums don't always have a way for users to indicate if their issues were resolved. Also, unless there's a way to categorize a forum post as a question, it's difficult to monitor how many questions are getting posted and answered via the forum.
To implement this customer service type, you need a forum solution that focuses on the customer service side of things… and not just on driving engagement. If you have a WordPress website, check out ForumPress, a WordPress forum theme for building beautiful customer service forums:
Wrapping it up…
Having the right types of customer services in your service mix can help you offer better customer experiences, and make service more cost effective. If you're like most businesses, a combination of self-serve and live customer service types should suffice for you.
Just remember that at the heart of good customer service — no matter what customer service types you use — lies knowledge sharing. Whether it's sharing knowledge with your users or within your company or encouraging users to share it with their peers, this practice can transform how customer service happens at your company and help you go from good to five-star!
Over to you: What are the different customer service types you use?