The Best WordPress Q&A Plugins In 2023 Compared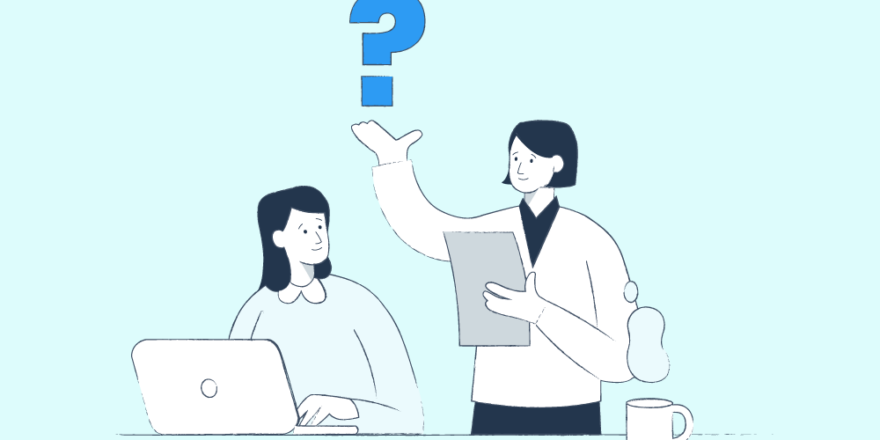 When it comes to getting product support, more and more customers are preferring to use self-service options. In fact, a report from ZenDesk states that 50% of customers believe in solving their product or service problems by themselves.
Needless to say, to keep your customers satisfied, you need to think of ways to empower them to resolve their queries on their own.
If you run a WordPress website, one such way is sharing and answering customer questions using a high-quality WordPress Q&A plugin. By doing this, you'll not just improve customer satisfaction, but also save on customer service costs.
So in this post, we'll take a closer look at why you need a WordPress Q&A plugin, what to look for when picking such a WordPress plugin, and review some of the best WordPress Q&A plugins available online.
Why Use A WordPress Q&A Plugin?
A WordPress Q&A plugin can help you answer a variety of customer queries easily on your WordPress site, leading to a number of great benefits:
Accelerate Conversions
With a WordPress Q&A plugin, you can create a questions and answers section to help potential customers find answers to any questions they have without having to ask someone.
For instance, if you run a restaurant, customers may want to know if your restaurant has a good food hygiene rating before they reserve a table. So including your latest food hygiene rating as part of FAQs on your WordPress site can go a long way in increasing reservations.
Improve Customer Experience
Addressing customer questions on your website gives you an easy way to provide 24/7 answers despite keeping a small support team. Being able to provide round-the clock-support with an answers site will make your brand look more professional and trustworthy.
For example, let's say you sell electrical products to customers in multiple countries through a WordPress ecommerce store. Many buyers will naturally wonder what kind of adapter your product ships with, and whether it will be appropriate for the electrical sockets they use. They may also have questions about how long your products will take to deliver to their specific country.
Having a place for questions and answers on your website is a perfect way to address such queries and provide a great support experience. You can mention details on a different adapter if they would need one, or a range of delivery times categorized by locations. Satisfied by this experience, your customers will be more likely to stick with you and recommend you to others.
Now that you're well acquainted with the advantages of setting up a WordPress Q&A plugin for your website, let's see how to pick the best option for your needs.
What to Look for in a WordPress Q&A Plugin
As we'll see in a moment, there are a number of WordPress Q&A plugins in the market.
However, not every WordPress plugin will suit your unique needs or have the features necessary to make things easy for both you and your customers.
That's why it's good to have a handy list of things you need to look out for. When you're considering a WordPress Q&A plugin, you need to think about:
Responsiveness: It should work without any loss of functionality on mobile, tablet, and desktop devices.
Ease of Use: It's important that the plugin is designed to save you time. It should be quick and easy to install, set up, and add content.
Customizable Styling: It should allow your questions and answers to match the look and feel of your brand and website.
Support for Rich Content – You should be able to add not just text, but also video, images, and more.
Support for Translation: When it comes to their language of communication, your customers aren't limited to just English. So neither should you.
With that in mind, here are the best WordPress Q&A plugins for you to choose from.
Best WordPress Q&A Plugins
Here are the WordPress plugins to consider when adding questions and answers to your website.
Heroic WordPress FAQs
Heroic FAQs WordPress plugin is among the simplest and most powerful plugins to add questions and answers anywhere on your website.
Its drag and drop interface allows you to easily create, group, and reorder questions and answers in any way you like, without any markup knowledge. You can edit everything on a single screen, and add rich content to your Q&As, including images, video, lists, block quotes, and more. In addition, you get:
Readymade Styles: 5 predefined styles with unlimited configuration possibilities for your FAQ page to match your site's branding.
Responsiveness: Heroic FAQs works on desktop, laptop, tablets, and mobile devices, and are optimized for touchscreens.
Instant Theme-Integration: Heroic FAQs is compatible with any WordPress theme. Use shortcodes to add FAQs anywhere on your site, including posts, pages, and widgets.
That's not all. The Heroic WordPress FAQs plugin also adds schema markup to improve SEO, supports CSS3 Animations, and allows for easy multilingual translation.
If you're looking for an affordable, no-fuss solution for adding questions and answers to your website as easily and quickly as possible, the Heroic WordPress FAQs plugin is a no-brainer.
Click here to get your license, and you can start setting up your questions and answers in no time.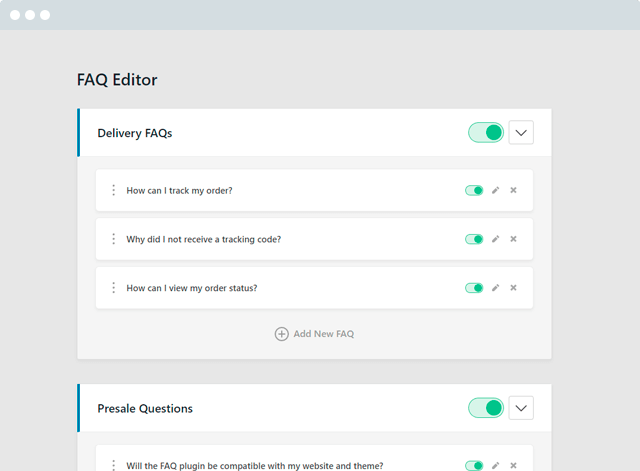 Heroic FAQs Plugin
A complete Frequently Asked Questions management plugin for WordPress.
Get the Plugin
DW Question & Answer
The DW Question & Answer plugin allows you to create a user-generated Q&A section. Users can submit, filter, and order questions on the front end, as well as vote for their favorite answers.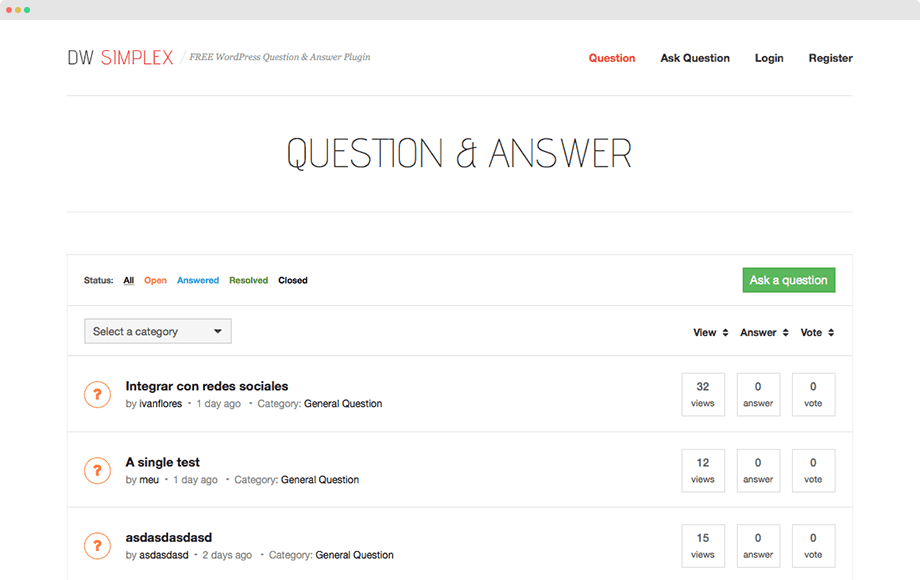 It also offers an add-on that allows you to add questions and answers in different areas of your website. There is also a settings page to easily manage all features such as editing email templates and user access control.
Apart from that, DW Q&A includes email notifications, support in over 11 languages, captchas, and social media sharing.
CM Answers
Made by Cminds, CM Answers is a premium plugin for those looking to create a question and answer site, similar to Quora or Stack Overflow.
Similar to DW Question & Answer, this plugin allows users to post questions, leave answers, vote, and upload files in a discussion forum format.
As an admin, you can customize Q&As, filter unwanted content, and add your own answers. You can also create several forum categories and restrict user capabilities, so that the plugin acts more like a helpdesk than a forum.
It has several premium extensions to add extra features, such as micropayments, anonymous posts, and ask the expert.
AnsPress
Another forum-style solution, AnsPress allows users to vote and get notifications on answers.
Similar to Yahoo Answers, a user who asks a question can also select one of the answers to the question as the best answer.
AnsPress has a great interface and color scheme, along with many customization options to modify the look and feel of the forum. Moreover, you can integrate commenting and notification features with both the questions and answers.
It also comes with a built-in user profile page system, the ability to create private questions and answers, and support for category taxonomies for the questions.
WP Answers
WP Answers is a straightforward Q&A plugin. The WP Answers plugin allows you to create community-driven Q&A functionality with gamification features.
As part of the Q&A website, members can join to answer questions, gain points to ask questions, and get featured on a leaderboard.
Another key feature that makes it stand out from other WordPress Q&A plugins is social integration. In other words, users can log in directly via Facebook or Twitter, as well as automatically post content to their profiles.
The plugin can integrate with any WordPress theme, but it also comes with its own special theme that you can use as an alternative.
Sabai Discuss
Sabai Discuss is a feature-rich Q&A plugin you can use to create members-only forums, category-based Q&A pages, or Q&A sections anywhere on your website.
With Sabai Discuss, you can also choose to keep the Q&As internal or external, or protect them with passwords.
Users can also upload files, vote on answers, post comments to both questions and answers, and flag inappropriate content.
YITH WooCommerce Questions and Answers
The YITH plugin is designed specifically for WordPress websites using WooCommerce to power up their online store.
Using this plugin, you can add Q&A sections directly into WooCommerce product pages, below the product listings.
This way, customers can ask questions about a specific product right on the product page and can get answers from you or other customers.
Many times your existing customers will jump in to answer questions from potential customers, eliminating the need for you to spend time doing the same.
However, using this plugin will require constant monitoring because allowing anyone to participate can also backfire in several ways. For example, people may start adding questions or answers which make your product look bad.
If you're not ready to moderate a question and answer section, it's better to simply add the questions and answers on your own.
bbPress
bbPress is the classic forum plugin for WordPress, managed by Automattic. As a result, it integrates seamlessly with WordPress and is easy to use.
Users can ask and answer questions, and you can manage the forum from within your WordPress admin dashboard.
It's a lightweight and fast option to add questions and answers to your website.
However, the customization potential and functions are limited, as you might expect with a free plugin. There is a visual editor, but you can't do a lot with how the forum looks and operates without manually modifying code.
BuddyPress
BuddyPress takes the Q&A forum idea even further and allows you to build a full-fledged Q&A site with social networking features like user profiles, instant messaging, and more.
In fact, it's like creating a mini-Facebook or Stack Exchange on your site.
You can easily create not just profiles, but also user groups and monitor the activity of members.
Moreover, you can even give your members the ability to create micro-communities, and add extra features with available extensions.
However, if your goal is to create a simple Q&A section or page, this might be too overwhelming.
Conclusion
We hope this list of the best WordPress Q&A plugins will help you choose the best solution for your needs.
Remember, when it comes to using a Q&A plugin for your website, you must ensure that your chosen solution is easy to use and user-friendly, as well as supports responsive design, rich content, and translations.
That's why we highly recommend Heroic FAQs, as it has all of these features and more to create a delightful support experience for your existing and potential customers.
Get your copy now and see how easy it is to install, set up, and customize to fit your needs.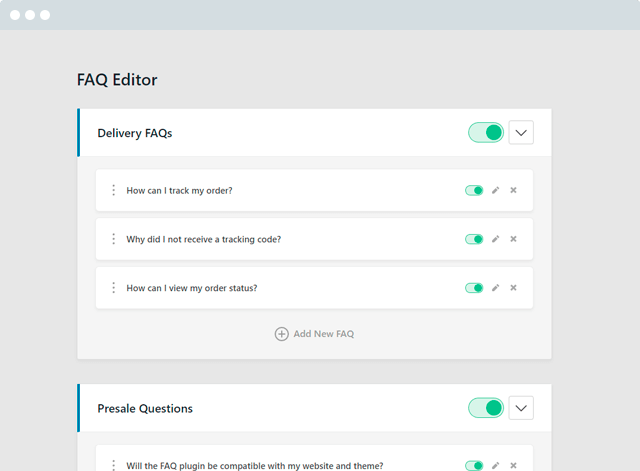 Heroic FAQs Plugin
A complete Frequently Asked Questions management plugin for WordPress.
Get the Plugin