8 Best BuddyPress Themes for WordPress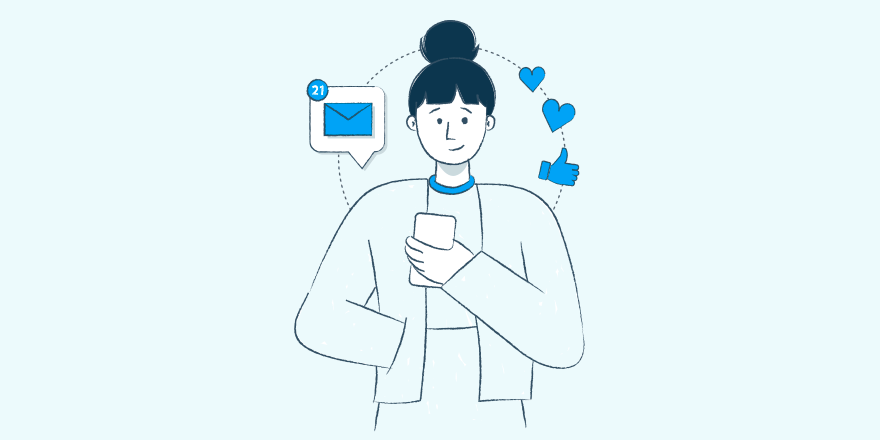 Are you planning on building a private online community? Or making a Facebook-like social networking platform of your own? Then we'll help you find the right design for your community website.
In this list, we feature some of the best BuddyPress WordPress themes you can use to build unique online communities, social networks, and membership platforms with ease.
Have a look.
What is BuddyPress?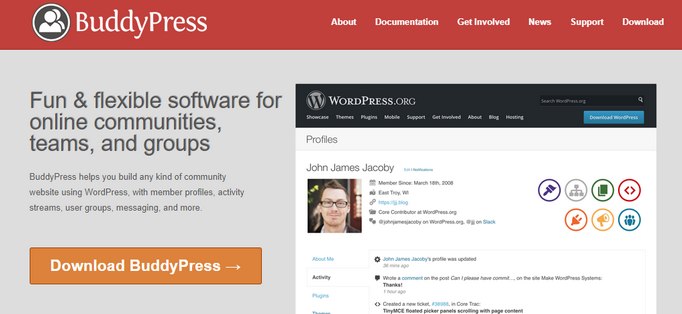 BuddyPress is one of the most popular WordPress plugins out there. It allows you to transform ordinary WordPress websites into powerful online communities. Featuring account registrations, user profiles, groups, account feeds, and much more. The best part is the plugin is completely free to use.
BuddyPress can be used to make many different types of community websites. You can make a branded community for your loyal customers. You can create a members-only platform to sell exclusive content. Sell online courses and training programs. Make social networks that look like Reddit, Facebook, or Twitter. And so much more.
Why Use BuddyPress Themes?
BuddyPress works and functions with almost any WordPress theme available today. So why buy themes specially made for this plugin?
Well, even though the plugin is compatible with most themes that doesn't mean you can use them to build a BuddyPress community. Especially not a professional community.
For example, a community built with BuddyPress usually includes various pages and sections like user profiles, activity feeds, groups and more. Normal themes don't have layouts designed for these sections.
Themes designed specifically for BuddyPress comes with stylish page layouts and sections crafted to cover all aspects of creating a professional community.
Not only that, but BuddyPress themes also receive updates to work well with the latest version of the plugin. As well as to smoothly function with other BuddyPress-related add-ons and integrations.
If you're thinking about making a professional community, you should invest in a premium BuddyPress theme. Here are a few themes worth checking out.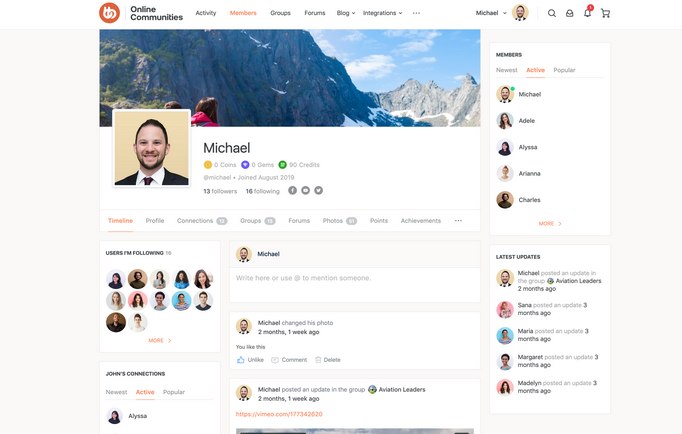 BuddyBoss is a complete bundle of a BuddyPress solution that comes with a plugin and a fully-optimized theme. With BuddyBoss, you can make a feature-rich and professional community platform for selling courses and memberships.
Unlike BuddyPress, BuddyBoss is designed with a modern interface that makes it suitable for both expert developers and WordPress beginners. The plugin integrates well with LearnDash for selling high-quality online courses. And it can be used to make online training programs and even gamify your community platform.
Main Features
Two-in-one plugin and theme lets you create a complete community without a hassle
Optimized theme designs for making professional communities
Ability to sell memberships and courses
Includes private messaging, member invites, notifications, and more
Comes with multilingual and RTL language support
Supports LearnDash, GamiPress, Elementor, and many other plugins
Price: $228
Who Should Use It?
BuddyBoss is perfect for all kinds of brands and businesses. It's especially great for bloggers and entrepreneurs selling online courses. As well as for non-profits and businesses for creating private and public communities.
CommunityTheme allows you to launch your own social networks, communities, memberships, or courses. It's highly customizable, allowing you to incorporate your brand identity and is compatible with BuddyPress, bbPress, and the BuddyBoss platform, allowing you to get the best of both worlds.
This theme comes with all the features and options to create a successful social community site.
Main Features
Bundled with premium plugins to help you create your community faster
Plug and play template packs
Key feature includes private messaging, notifications, social groups, and more
Mobile-ready with Multilingual language support
Supports LearnDash, The Events Calendar, Elementor, WooCommerce, and many other plugins
Price: Free
Who Should Use It?
If you want to create a social network, community, membership site, or online course, then you should definitely try CommunityTheme. It's free to get started.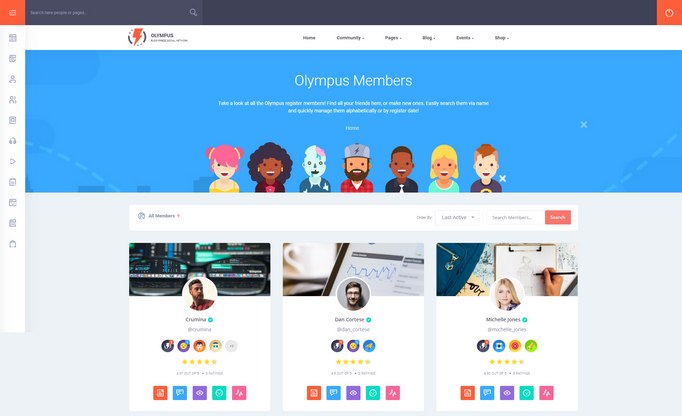 If you've ever dreamed of making a social networking site of your own or making a community that looks as polished as Facebook or Twitter, this WordPress theme will help make that dream come true.
Olympus is a modern BuddyPress theme that features a beautiful design. It's fully optimized to work with BuddyPress and for creating advanced communities. The theme also has colorful and beautiful page layouts as well.
Main Features
Comes with a beautiful landing page template for making website homepages
Includes blog, shop, and events page layouts
Integrates with Youzer plugin for designing beautiful user profile pages
Compatible with bbPress, Events Calendar, and WooCommerce plugins
Features WPBakery page builder plugin for easily customizing the design
Price: $59
Who Should Use It?
Olympus is perfect for creating complete social networking websites. Businesses can also use it to build private communities as well.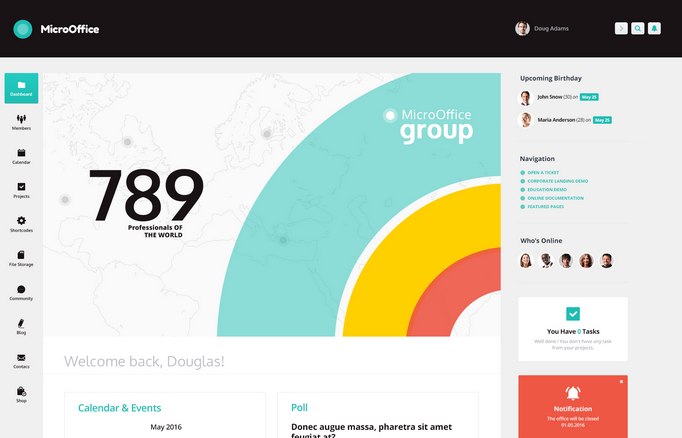 Micro Office is another unique BuddyPress theme that's most suitable for making intranet and extranet platforms and communities.
With this theme, you can build a powerful and professional private community that only your company employees can access. As well as to create a community that's shared with other teams and third-party members.
Main Features
Beautiful and modern user dashboard with useful widgets
Educate employees with training programs
Run polls, quizzes, and share files with users
Compatible with Gutenberg editor and WPBakery page builder
Supports WPML plugin for adding translations
Price: $59
Who Should Use It?
Micro Office is perfect for startups, brands, and small businesses for making an online platform to manage teams and projects.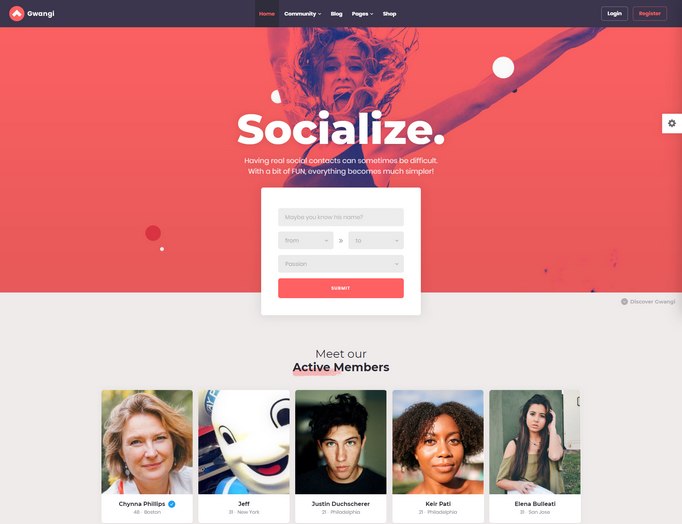 Gwangi is a modern WordPress theme that works for all types of community websites, including membership sites and social networking sites.
This theme also includes a set of modern template designs. Each template is built with specific businesses in mind. For example, there are pre-built templates for making dating websites, online learning platforms, mentorship programs, and even for religious and spiritual communities.
Main Features
More than 8 different theme templates for making different types of websites
Ability to create dating websites, sell online courses, coaching and training programs, and more
Beautiful membership profiles and page layouts
Integrates with WooCommerce for selling products online
Supports BuddyPress, bbPress, WPML, Elementor, and other plugins
Price: $59
Who Should Use It?
Thanks to its multipurpose collection of templates, you can use Gwangi to make many different types of communities and social networking sites.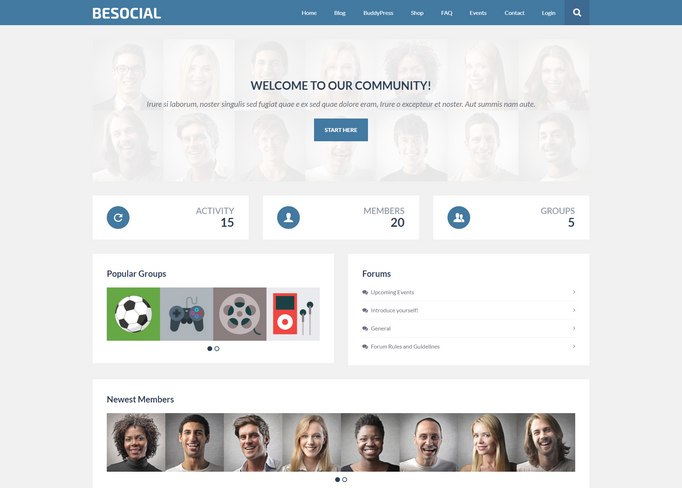 BeSocial is a simple yet effective WordPress theme that can be a great option for small businesses for setting up a community website for their customers and clients.
The theme comes with multiple styles of homepage designs including website landing pages. It also comes with all the necessary features you'll need to create a powerful community website. And includes a WooCommerce-powered shop layout as well.
Main Features
Clean and effective community layout designs
Includes layouts for blogs, shops, landing pages, FAQs, and more
Supports BuddyPress, bbPress, WooCommerce, and Events Calendar plugins
Fully responsive and easily customizable design
Price: $59
Who Should Use It?
BeSocial is most suitable for small businesses and brands. Especially for making branded communities and platforms for customers.
Thrive is another BuddyPress WordPress theme designed for building intranet and extranet platforms. However, it also comes with templates designed for social networking sites and communities as well.
This theme features a quite modern and clean design. It's also fully compatible with LearnPress, which enables you to create training programs and online courses for employees.
Main Features
Choose from 4 different community templates to make unique intranet and extranet platforms
Ability to make training programs, file sharing features, instant messaging, and more
Supports Elementor and WPBakery page builder plugins for easier editing
Supports WooCommerce for selling courses and memberships
Price: $67
Who Should Use It?
Thrive is a multipurpose theme and it can be used to make various communities and even online learning sites. But it's most suitable for making community platforms for businesses and brands.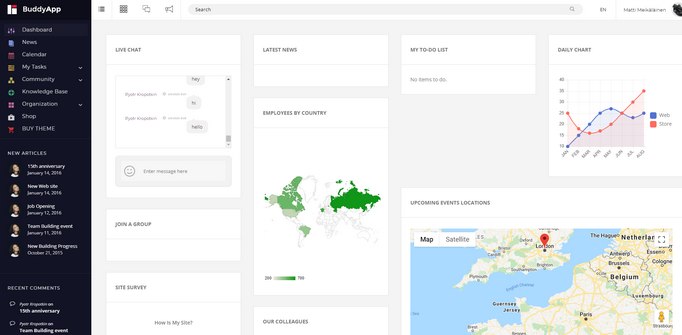 BuddyApp is a community WordPress theme made with a mobile-first design. If you want to make a community that targets mobile users, this theme is perfect for your business.
In addition to the community theme template, BuddyApp also includes designs for making an online store and a website for a creative agency. So if you wanted to make a community for your online store customers or create a private platform for your agency team, this theme will come in handy.
Main Features
Optimized for mobile devices and it's perfect for making mobile communities
Includes live notifications, live chat, file management, and more features
Comes with landing page templates, shop design, and website designs
Supports bbPress for setting up forums
Easily customize the design using WPBakery page builder
Price: $39
Who Should Use It?
BuddyApp only has one BuddyPress layout and it's made for intranet websites. So this theme is ideal for making a private community for a brand or a business.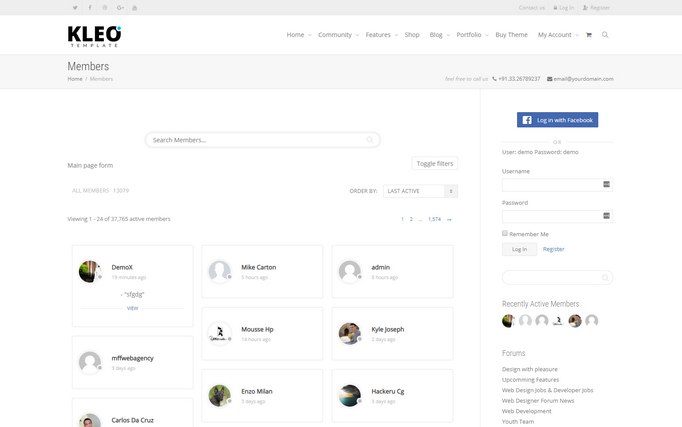 Kleo is a multipurpose WordPress theme. This theme can be used to not only build community websites but many other types of websites as well.
Kleo comes with more than 20 different website templates. Allowing you to make different types of community websites such as communities for creatives, video game enthusiasts, professionals, brands, and more.
The theme is compatible with both BuddyPress and bbPress. And it includes templates for making forums websites as well.
Main Features
With more than 20 website templates, you can make many different types of websites using the theme
Build community, forums, online learning, shops, and directory websites
Compatible with BuddyPress, bbPress, Elementor, WooCommerce, and more plugins
Includes blog layouts and landing page layouts
Responsive design with support for RTL languages
Price: $59
Who Should Use It?
Kleo is great for making private communities for small businesses. As well as for schools for selling online courses.
Conclusion
BuddyPress works great for making online community websites. If you want to turn into a members-only forum, you can use bbPress with BuddyPress to create a completely unique forum website.
If you want to make a knowledge base website, check out our KnowAll theme and Heroic KB plugin.