8 Best eCommerce WordPress Themes: Conversion-Optimized And Curated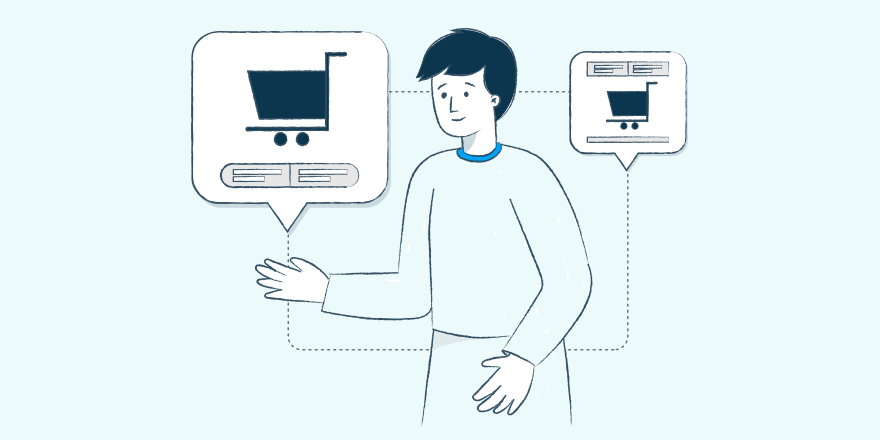 Looking for the best eCommerce WordPress themes? While you can find plenty of lists with 40+ options, we decided to be a little more selective with this list. Quality over quantity, right?
Because we know that the main shop page isn't the only important part of a WordPress eCommerce theme, we'll also give you screenshots of the cart and checkout pages so that you know how each theme handles those vital aspects of user interface.
And no matter which one of these themes you choose, you'll still be able to use our Heroic Knowledge Base or Heroic FAQs plugins to provide your shoppers with top-notch customer support (sorry for the self-promotion, but we've got to keep the lights on!)
Let's start with a quick discussion of what makes a great WordPress eCommerce theme, then we'll jump into a detailed look at each theme.
What Makes A Theme One Of The Best eCommerce WordPress Themes?
Picking a good WordPress eCommerce theme isn't just about finding a pretty theme that includes "WooCommerce compatible" on the feature list.
If you want your store to be as successful as possible, there are some specific areas that you should pay attention to beyond the aesthetics of the design:
Performance. It's important for all sites to load fast, but the stakes are extra high with eCommerce. According to Akamai, just a 100 millisecond delay can hurt your store's conversion rate by 7%, and even mobile visitors want eCommerce stores to load in under 3 seconds.
Mobile-friendly. Speaking of mobile – did you know that mobile sales now make up the majority of eCommerce sales according to eMarketer estimates? Yeah – your theme needs to work great on mobile.
Optimized cart and checkout pages. These pages can make or break your conversion rate. You want them free of distractions, unless they're trust seals or other conversion-boosting content.
Conversion-friendly features. Look for features that can boost your conversion rate, like sale countdown timers or opportunities for cross-sells.
While not every theme on this list includes every single feature, we tried to make sure that they all ticked as many boxes as possible.
1. Shoptimizer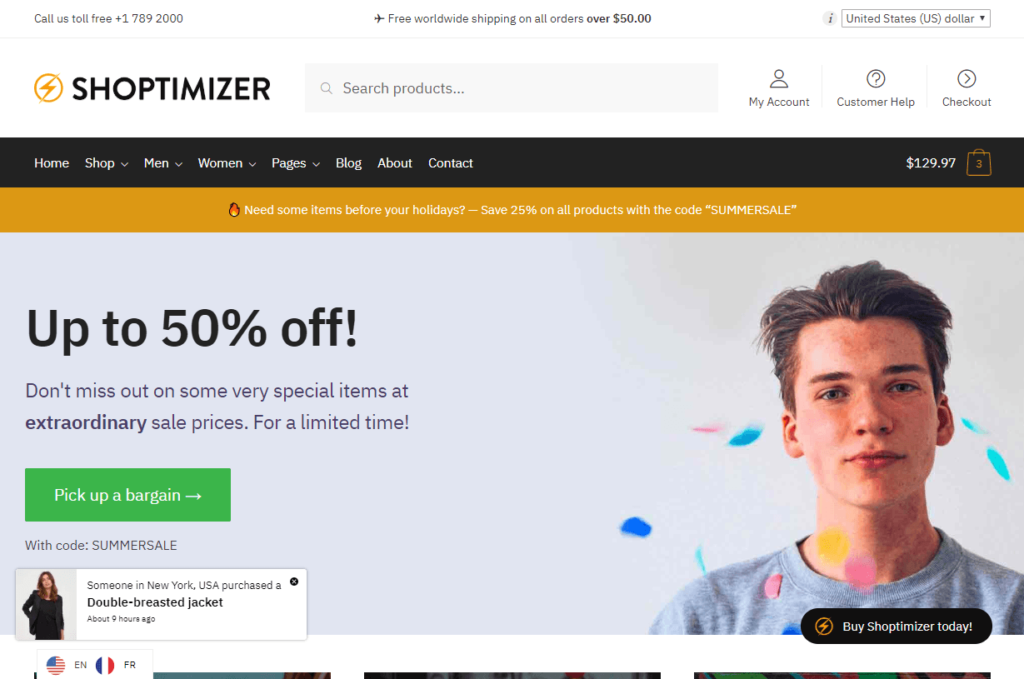 Shoptimizer is a performance-optimized eCommerce offering from CommerceGurus.
This theme primarily emphasizes two key concepts:
Performance
Conversion rate
When you're running an eCommerce store, those two topics should be near and dear to your heart, which is why this theme gets a spot on our list of the best eCommerce WordPress themes.
Key eCommerce Functionality
Optimized performance, including nice touches like automatic minification (you can see all the performance data on the theme's sales page).
Conversion-optimized checkout page. You can even hide the theme's header, footer, and sidebar on the checkout page to eliminate all distractions.
Smart microcopy, like the ability to include your return policy and free shipping right below the add to cart button.
Request a call back functionality. This unique feature makes a great option for high-value items where customers might want to ask questions before they make their purchases.
Sticky product details on scroll. Another neat unique feature that "sticks" important product details to the top as users scroll down the page.
Integrated trust badges. You can easily display trust badges on your cart and checkout pages.
Sales timers. Add some urgency by displaying a countdown timer or limited stock on the product page.
Core pages built with Elementor. This lets you edit them using simple drag-and-drop editing.
Slide-out cart page. Customers can easily view their shopping cart without reloading the page thanks to a neat slide-out cart.
Shopping Cart Page
A few things worth noting here are the:
Simple steps at the top to let customers know where they stand in the process.
Trust badges underneath the checkout button.
Smart microcopy at the bottom (free shipping, easy returns, etc.).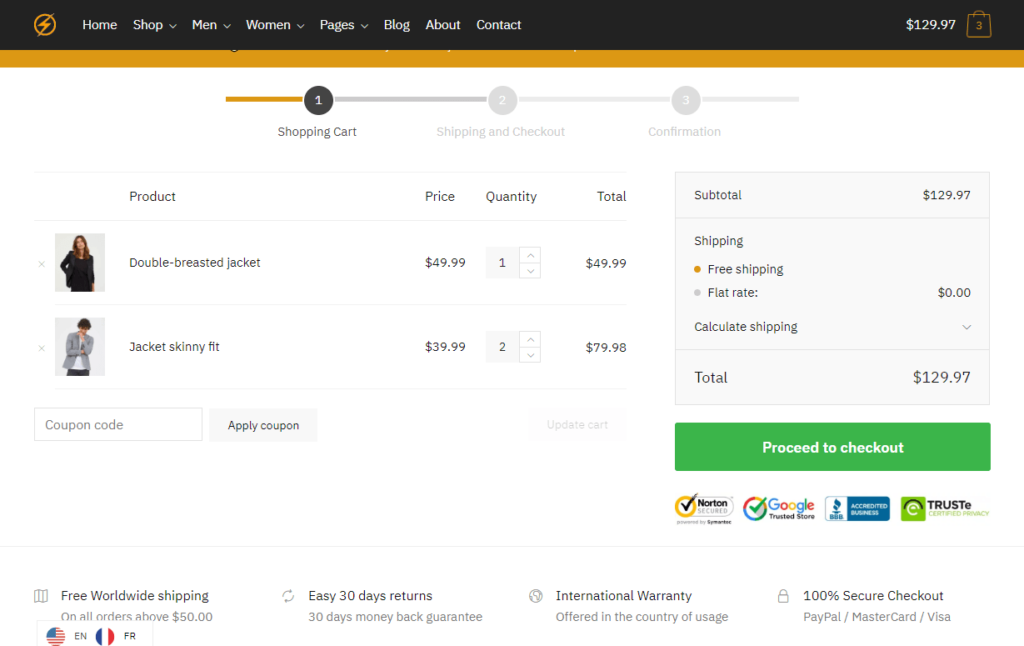 Checkout Page
Here's what the default checkout looks like (remember, you can also hide the header, footer, and sidebar for a true distraction-free checkout):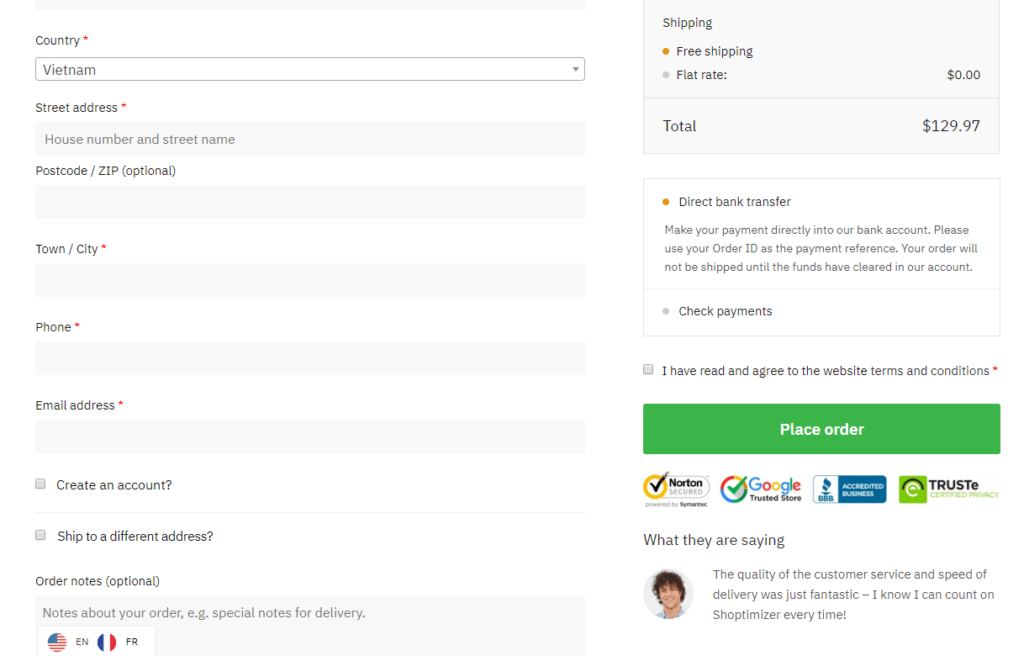 Another nice touch here is the customer testimonial underneath the trust badges. That's another great conversion-boosting strategy.
Shoptimizer Price And Demo
Shoptimizer costs $99.
2. Astra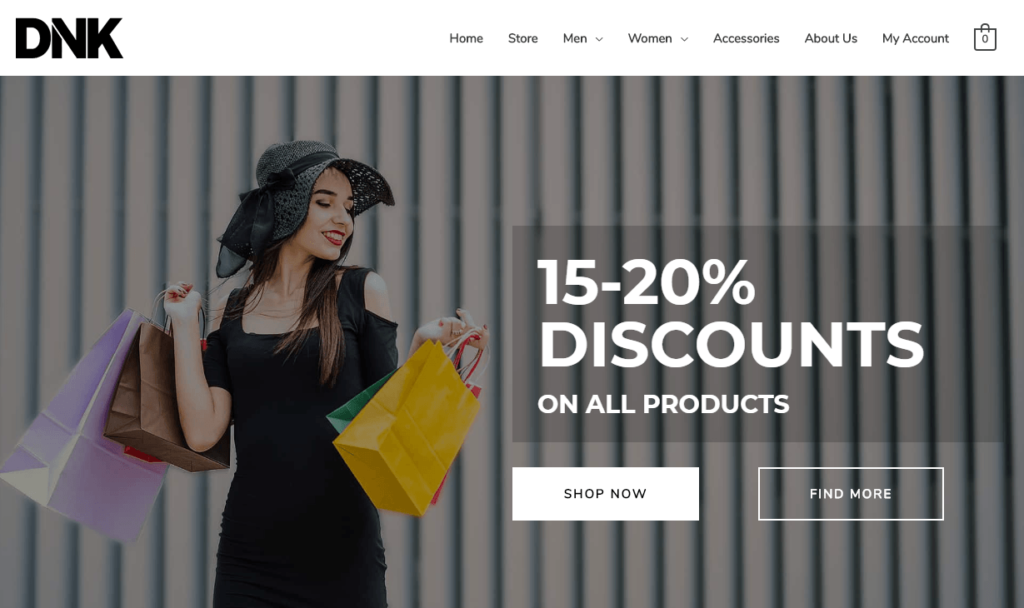 Astra is a lean, mean multipurpose theme that's especially popular with people who build WordPress sites for clients.
While it is a multipurpose theme, it has a great dedicated WooCommerce integration, with plenty of options for controlling how your store looks. It's super easy to customize and make your own. Or, you can choose from one of the many included demo sites to get a headstart.
Key eCommerce Functionality
Awesome performance. In Tidy Repo's huge analysis of 100+ WordPress themes, Astra was the third fastest theme, only behind super minimalist themes.
Customizer controls that let you change up how your product page looks.
Off-canvas filtering. A sidebar slide-in lets users access deep product filters.
Product quick view. While I've seen mixed reports on whether or not quick view is a good thing, Astra includes the functionality.
Simple two-step checkout process. An easier checkout means less friction.
Distraction-free checkout. You can enable distraction-free checkout mode just by selecting a box in the WordPress Customizer.
Shopping Cart Page
Astra's cart is pretty simple, which ensures that nothing distracts your shoppers: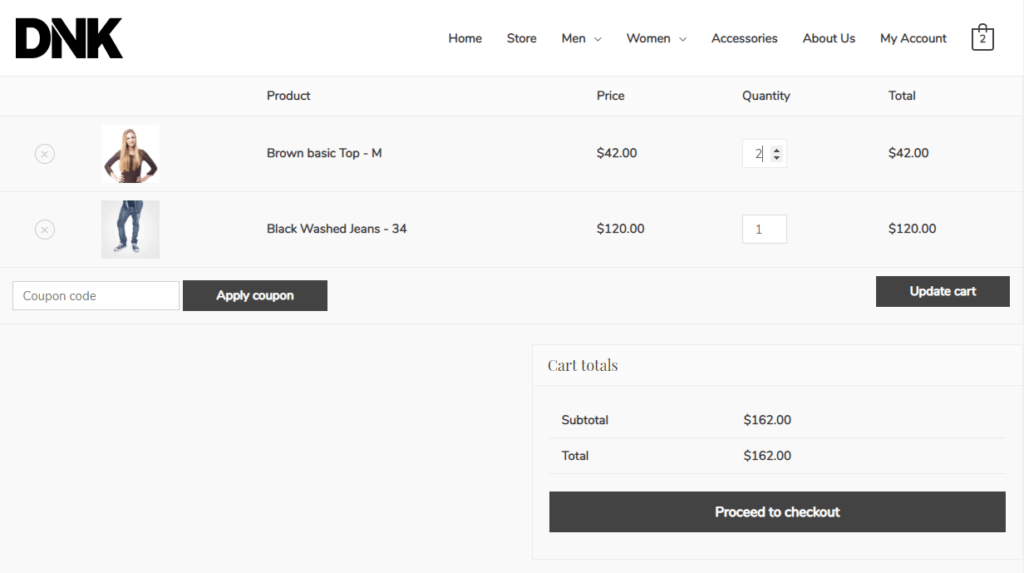 Checkout Page
The checkout process is similarly simple (again – that's a good thing!):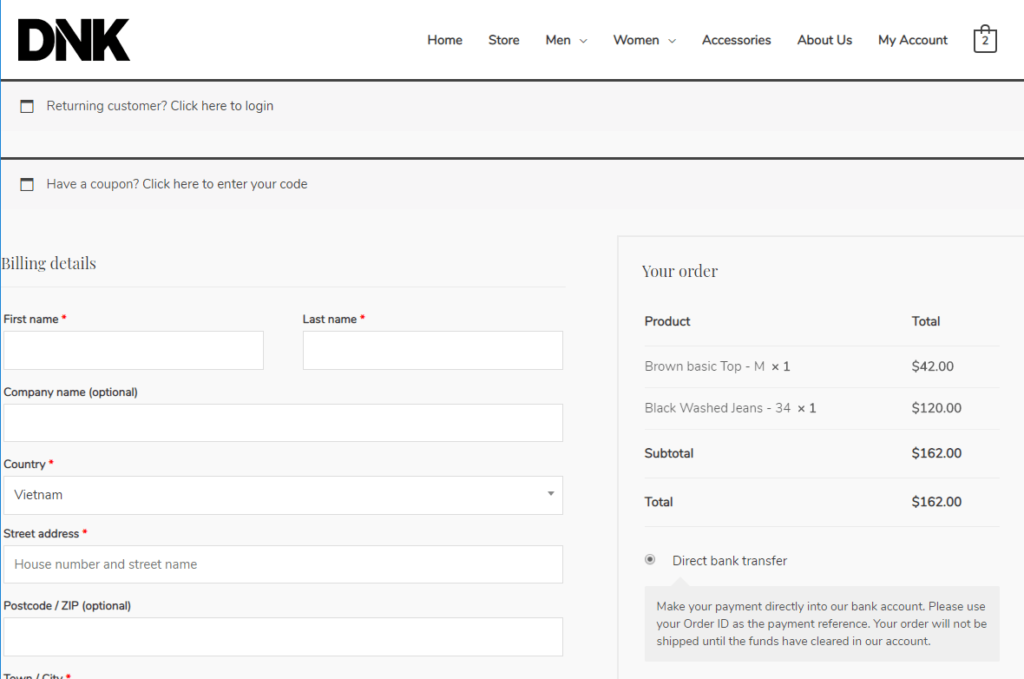 You can also hide the top menu with the distraction-free mode, or add progress icons for the two-step checkout.
Astra Price And Demo
While there is a free version of Astra at WordPress.org, you'll need the Pro version if you want the best WooCommerce functionality. The Pro version costs $59.
3. Newspaper
Newspaper is an elegant, responsive WordPress theme, specially built for blog or online shop owners, newspaper and magazine websites. Entirely frontend editable, the Newspaper theme by tagDiv is powered by the tagDiv Composer page builder and comes with several one-click installable prebuilt shop websites that are customizable.
Key eCommerce Functionality
Amazing performance. Lightweight, responsive, and retina-ready layouts.
Multiple eShop ready pre-built websites, entirely customizable.
Flexible WooCommerce Shortcodes that you can drag and drop on your product and category pages.
Creative product page layouts that are editable on the frontend.
Amazing-looking category pages that are customizable.
Product archive templates that can be used to build any type of page design.
Advanced product filtering -a great system that helps users find the products they need in a bit.
Product search layouts are incredible ways to match users' searches with the matching items.
Selling shop based pages are modern templates that serve as landing pages for listed products.
Gallery of 1500+ pre-made design layouts called tagDiv Cloud Library
Header and Footer Builder
tagDiv Composer, unique frontend page builder
Easy to monetize through any ads placement
WPML fully compatible
Shopping Cart Page
The shopping cart is minimal, with two columns that display information about the products, pricing, quantity, amount, coupon codes, as well as the Cart total pricing prior to checkout. There's also an option to update the cart after the items' number is modified:
Checkout Page
In the Newspaper theme, the checkout page is simple and straightforward. You can see your order, enter discount coupons, select the payment option, and include the billing details, as well as additional information:
Newspaper Price and Demo
Newspaper costs $59 at ThemeForest, which includes free lifetime updates for a single site, and six months of free technical support.
4. Monstroid 2
Monstroid 2 is a popular multipurpose theme by Zemez on the TemplateMonster marketplace that includes detailed WooCommerce compatibility to help you create an eCommerce store.
You'll get a range of importable demo sites (called "skins"), all built with Elementor for easy drag-and-drop customization.
If you want something flexible for virtually any eCommerce niche, it can get the job done.
Key eCommerce Functionality
100+ importable demo sites and 1,000+ total templates, all built with Elementor for easy visual, drag-and-drop customization.
Built-in JetWooBuilder so that you can use Elementor to design your single product and shop archive templates.
Built-in JetMenu and JetElements so that you can use Elementor to design custom headers, footers, mega menus, and more.
Display cart on icon hover so shoppers can easily check their cart. There's also a direct checkout button.
Shopping Cart Page
Monstroid 2 includes a lot of different store templates, but I'll be using the Marronis fashion store template for these examples.
The shopping cart has a nice modern design with a big, eye-catching checkout button:
Checkout Page
The checkout page of this demo site uses a distraction-free single-column design:
Monstroid 2 Price and Demo
Monstroid 2 costs $95 at TemplateMonster, which includes lifetime updates for a single site.
5. WoonderShop
WoonderShop is a mobile-first eCommerce theme that, like Shoptimizer, puts a special focus on conversion optimization with features like a built-in cross-sell widget and distraction-free checkout.
It's also easy to customize thanks to the visual Customizer and the integrated SiteOrigin Page Builder.
When you see the demos, you'll notice a lot of similarities to Amazon (never hurts to learn from the King, right?).
Key eCommerce Functionality
Performance focus, with default Google PageSpeed scores in the high 90s.
Mobile-first design ensures that mobile visitors have a great shopping experience.
Search autosuggest to help shoppers find the right products.
Built-in cross-sell widget to display related products or products that are frequently purchased together.
Distraction-free checkout so that you don't lose shoppers at the last minute, with an option to include trust badges as well.
Built-in AJAX product filters to eliminate page reloads.
SiteOrigin Page Builder for easy drag-and-drop editing
Shopping Cart Page
The shopping cart page is nice and simple. You can also see the mobile-first design in those big buttons to change the quantity of an item: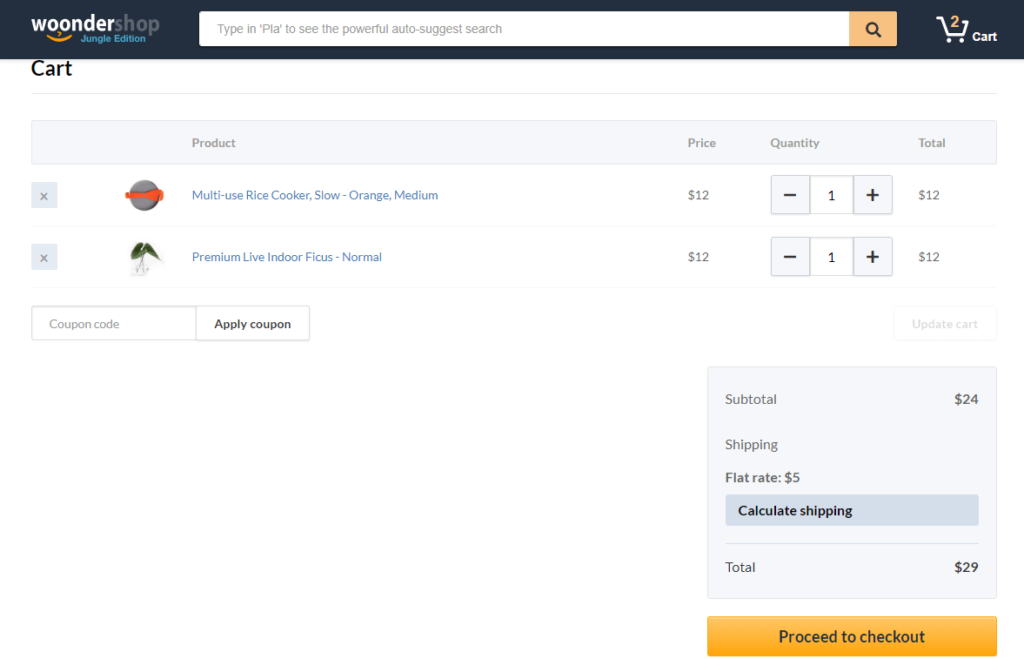 Checkout Page
The checkout page has a great urgency-boosting feature that displays a countdown timer for how long the visitor's cart is reserved. You also get the trust badge option at the top, as well as the phone number right there in case shoppers run into issues.
You also do get a spot for microcopy at the bottom, which we weren't able to fit into the screenshot: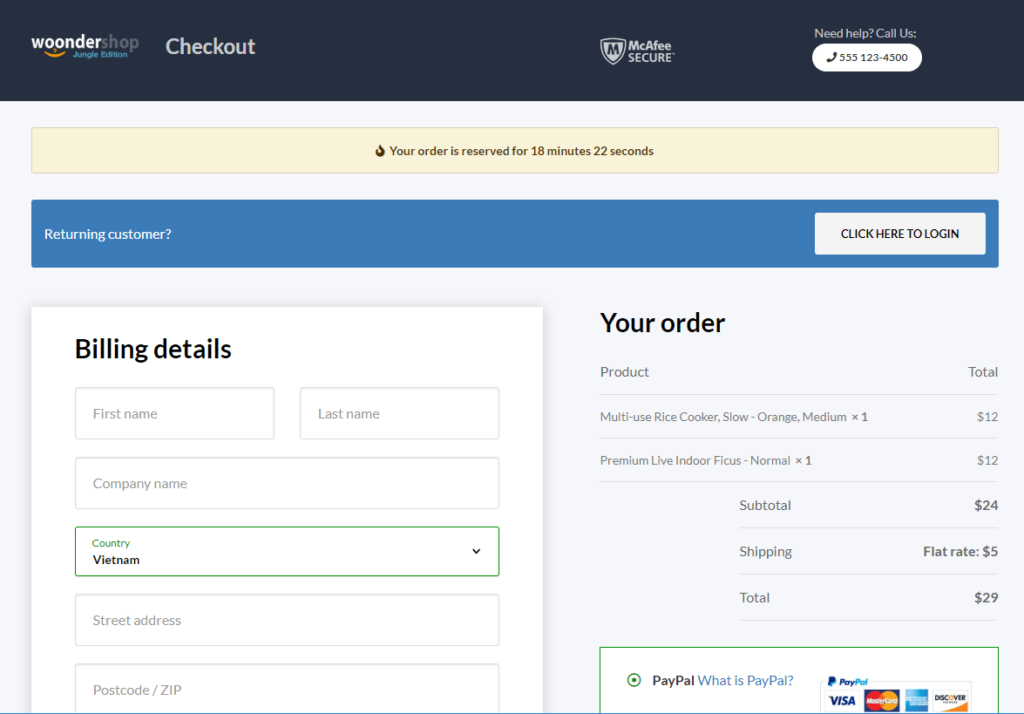 WoonderShop Price And Demo
WoonderShop costs $79.
6. Cosmetro
Cosmetro is an Elementor-powered WooCommerce theme that's focused on the beauty and cosmetics niche, though you could easily adapt it to any other niche where that aesthetic works well.
Because all of the demo content is built with Elementor, you can easily customize everything using drag-and-drop. It also includes bundled Elementor add-ons so that you can use Elementor to design mega menus and other key areas.
Key eCommerce Functionality
Nine different eCommerce-focused demo sites, all built with Elementor for easy drag-and-drop customization.
Dedicated integrations for product wishlists, comparisons, quick view, and more.
Single-column checkout page that creates a nice minimal, distraction-free interface.
100+ premium Elementor widgets including JetElements and JetMenu plugins for easy customization.
Display cart on icon hover to let shoppers easily check their cart and go straight to checkout.
Shopping Cart Page
For reference, we're using the standard Cosmetro demo for these examples, though Cosmetro includes other importable demo sites.
The shopping cart page has a minimal design with eye-catching buttons:
Checkout Page
Like the Monstroid 2 demo that we showed you, Cosmetro uses a single-column, distraction-free checkout layout:
Cosmetro Price and Demo
Cosmetro costs $59 at ThemeForest, which includes lifetime updates for a single site.
7. Flatsome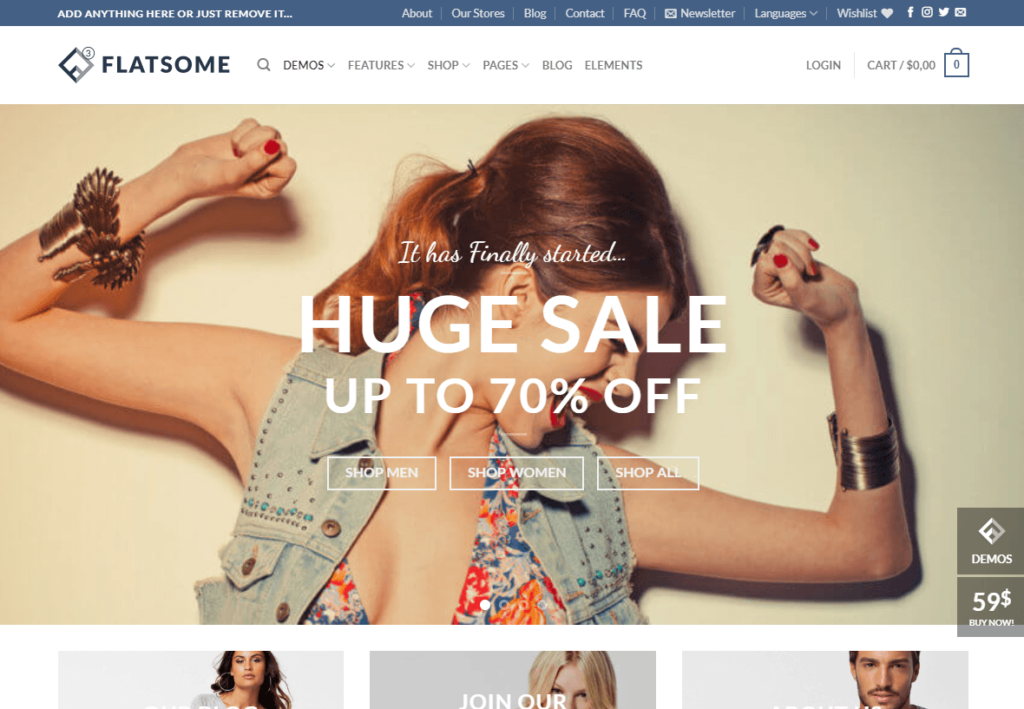 Given that it's the best-selling WordPress eCommerce theme at ThemeForest, we'd be remiss if we didn't include Flatsome on this list. It has over 77,000 sales, while still maintaining a 4.80-star rating out of 5.
One of the things people love is how flexible it is – Flatsome comes packed with tons of pre-built demos, as well as a custom page builder.
Key eCommerce Functionality
Mobile-optimized design for a great mobile shopping experience.
Live search so that customers can find the right products.
Unlimited product page layouts to make things look just right.
Great-looking account pages so that users can manage their orders.
Built-in wishlist functionality (self-explanatory!).
Built-in product quickview functionality (though again product quickview isn't always a good idea)
Shopping Cart Page
The shopping cart is a little bit busy, but you could remove those bottom widgets if you wanted a more distraction-free approach: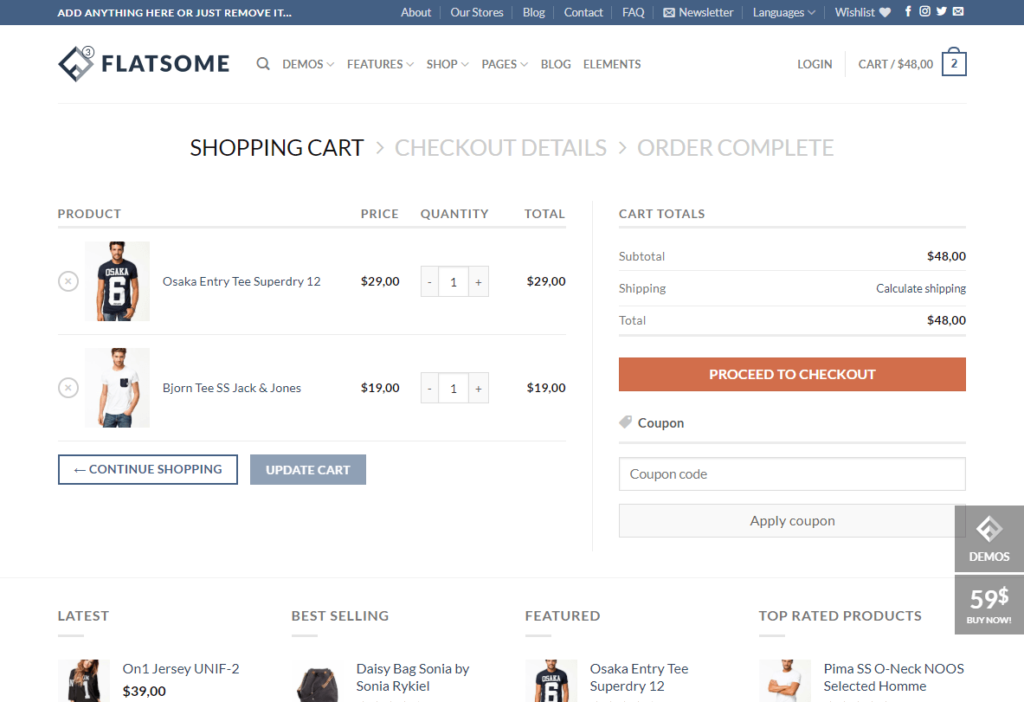 Checkout Page
The checkout experience looks nice, but again you'd probably want to remove the bottom widgets (you can't see them in the screenshot):
Flatsome Price And Demo
Flatsome costs $59.
8. Shopkeeper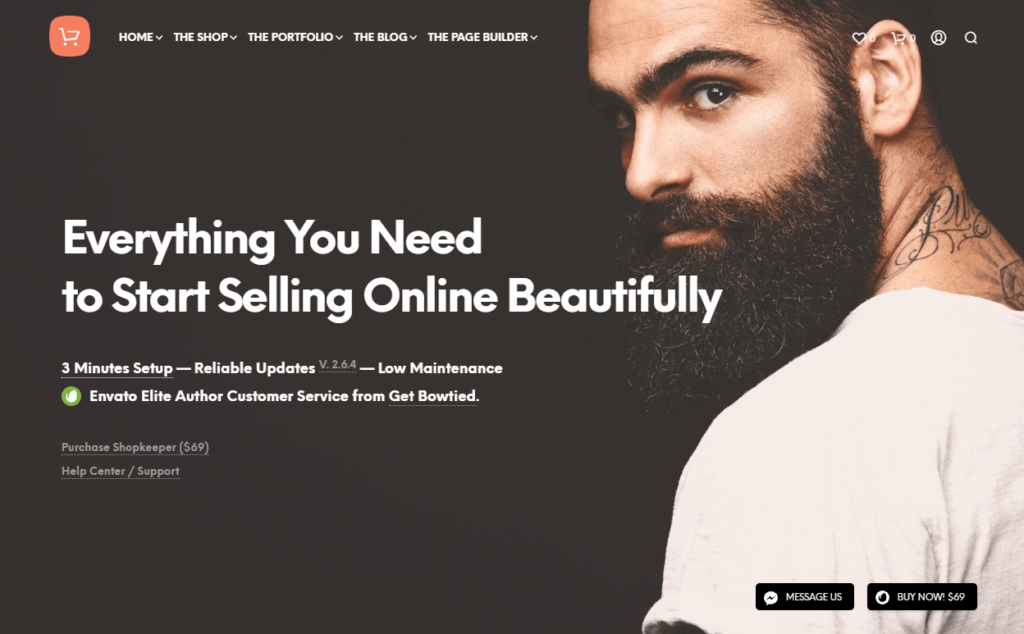 Shopkeeper is another one of the best-selling eCommerce themes at ThemeForest. While it's not quite as popular as Flatsome, it's been purchased over 23,000 times and has a stellar 4.62-star rating out of 5.
Shopkeeper has more of a creative, modern aesthetic, which makes it a great option for stores with that type of branding. It's also flexible and keeps things pretty minimal to put the focus on your products.
Key eCommerce Functionality
Easy to customize thanks to the WordPress Customizer and a built-in page builder.
Built-in product quickview if you want it.
Built-in wishlist functionality.
Related products widget to help with cross-selling.
Integrated product video feature, which is great to show your products in a more detailed video format.
Simple distraction-free cart and checkout to boost your conversion rate.
Shopping Cart Page
As you read above, Shopkeeper offers a simple cart page that's free from distractions: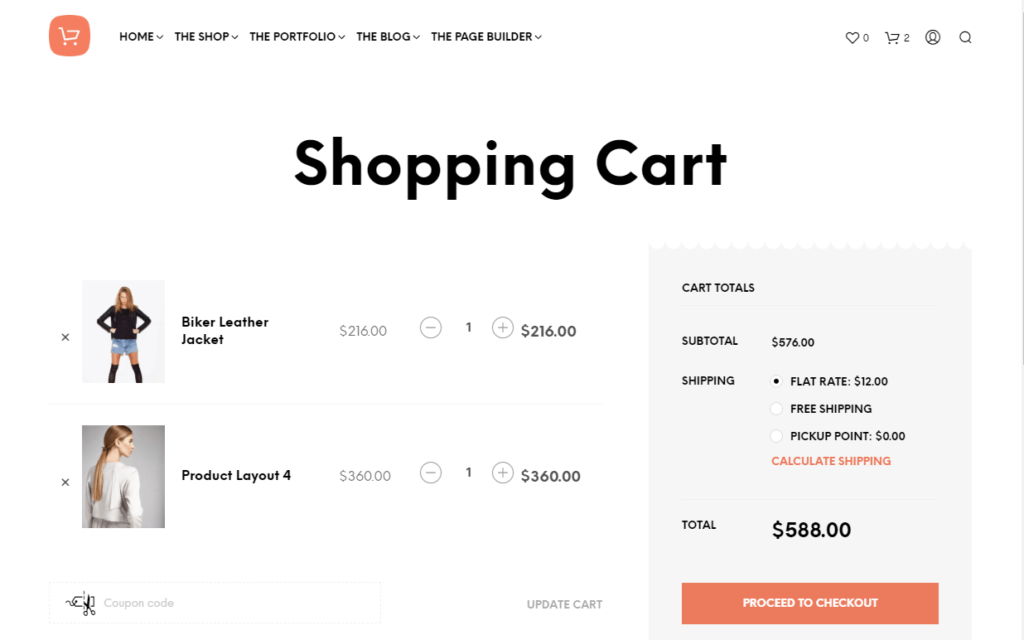 Checkout Page
Similarly, the checkout page is also pretty straightforward: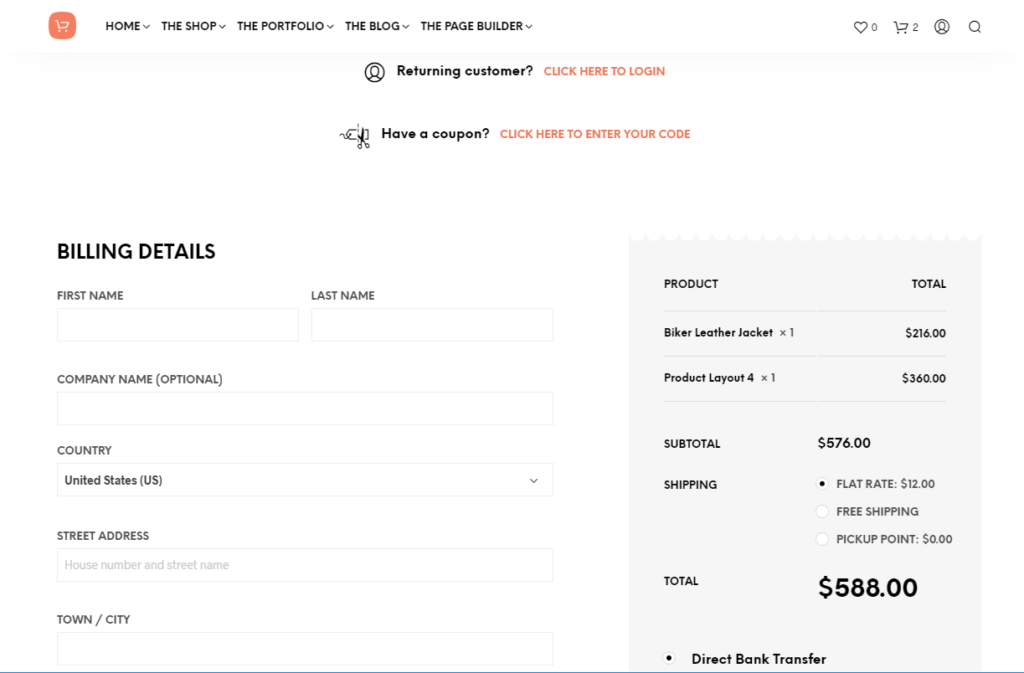 Shopkeeper Price And Demo
Shopkeeper costs $69.
Which Of These Best eCommerce WordPress Themes Is Right For You?
So which one of these themes should you actually go with? Let's run through a few scenarios…
If you geek out over conversion-friendly design and want a WooCommerce theme that's built to convert right out of the box, Shoptimizer and WoonderShop are probably your best bets.
On the other hand, if you're more concerned with a theme that's flexible and easy to make your own, the many pre-built demos of Flatsome, Monstroid 2, Cosmetro, or Shopkeeper might be up your alley. Astra is another solid bet here.
Finally, while all of these themes should load quickly, Astra or Shoptimizer seem to be the absolute fastest WooCommerce themes on this list.
And once again, remember that your customers will need support! And when they need support, a knowledge base built with Heroic Knowledge Base is a great complement to any of these themes.