The Best WordPress Email Plugins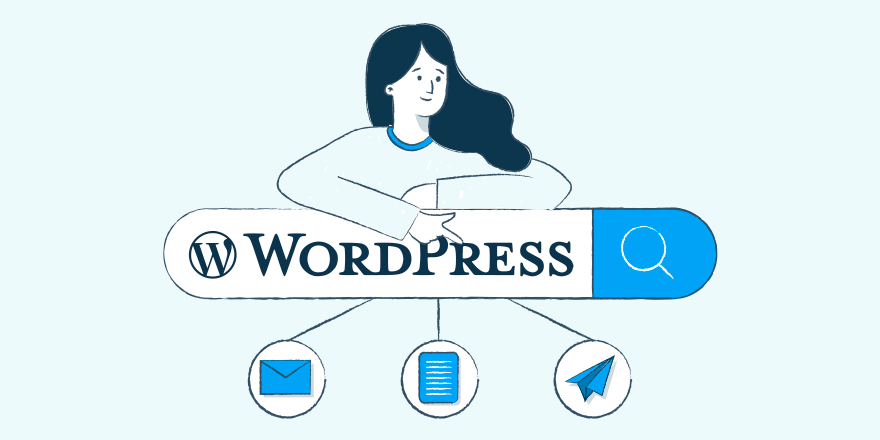 We've all been there: Waiting for the account activation email that never came. Or the password reset link that never arrived. Blame it on the "WordPress-Not-Sending-Emails" issue, but it's no fun having to contact support for such stuff.
As a business, you need to ensure that such key email communications — or transactional emails — get delivered instantly to your users.
Not just that, your marketing emails (think newsletters, lead nurturing drip sequences, and promotional/sales campaigns), too, must land in time in your subscribers' inboxes (and not hours later in their SPAM folders!).
Trusting the default WordPress email system and your web host for a 100% deliverability of your transactional and marketing emails is not a good idea for various reasons. Your web hosts usually have daily email sending limits and sometimes can even have compromised reputations on shared hosting. To ensure good deliverability of all your emails, you need to use some of the WordPress email plugins that let you send your WordPress emails via trusted email sending services. Let's look at the best WordPress email plugins that let you do this.
Here goes.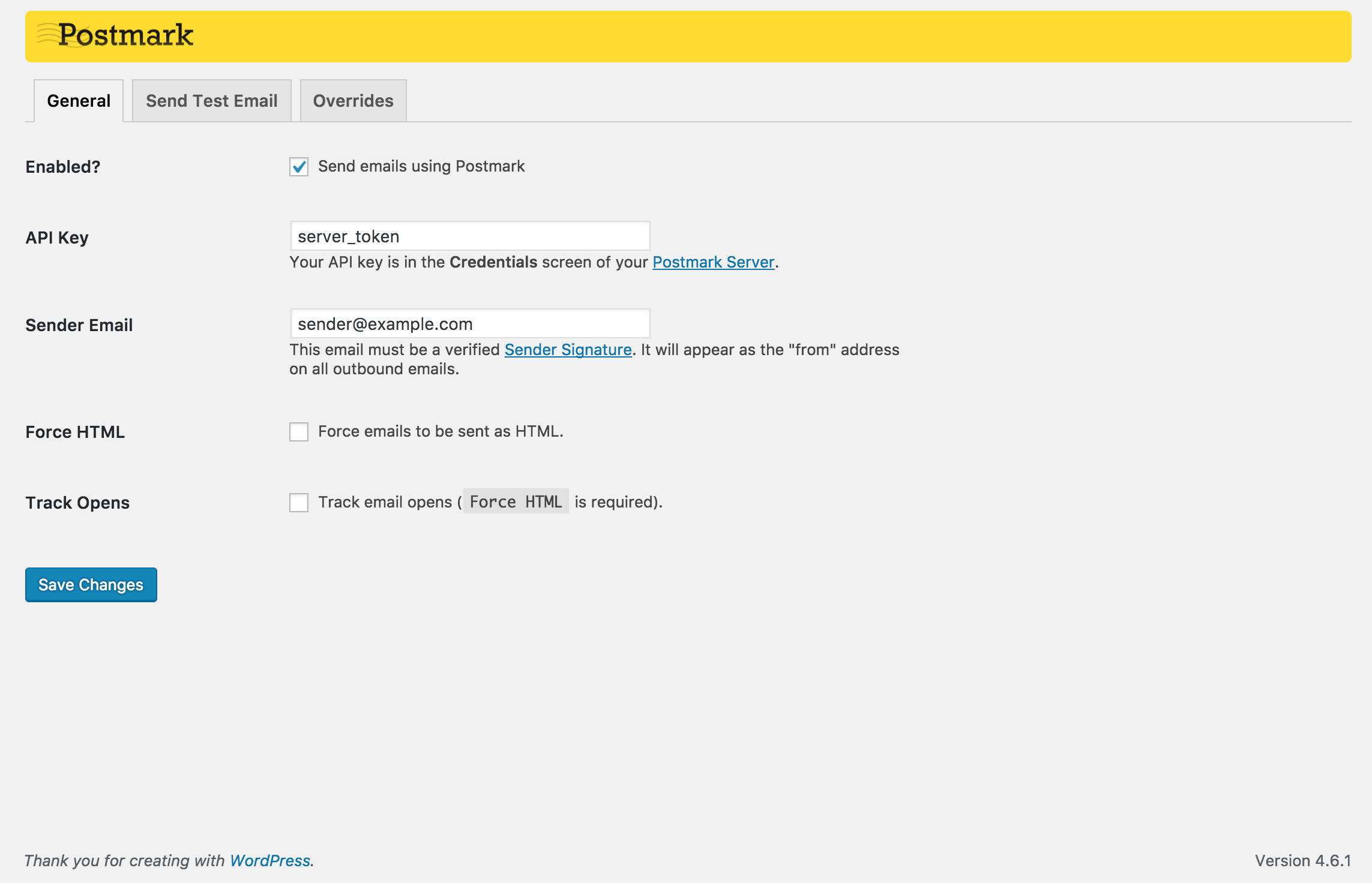 If you're looking for a reliable service that handles all your transactional emails and delivers them unfailingly from your WordPress website — right from password reset emails to comment notifications — Postmark could be the answer. This service comes with a great deliverability rate and a high quality sender reputation and promises "on time, every time" delivering of your emails.
The Postmark for WordPress email plugin lets you use Postmark for all your WordPress website's transactional emails. Because Postmark only works with transactional emails, that naturally get high open and engagement rates, it has a great sender reputation. Which means your users' inbox clients will find your WordPress emails to be relevant and you'll get good and fast deliverability for your emails. You can also track your emails' performance with open and link tracking features.
Postmark for WordPress integrates with many of the popular form plugins such as Contact Form 7 and Gravity Forms. You can also get Postmark for WordPress to work seamlessly with the forms you've built on your website with Divi. Which means you can use all these singup and form plugins for collecting emails and still get the email sending on your end happen via this transactional email WordPress plugin.
Pricing: The Postmark for WordPress email plugin is free for 100 transactional emails/mo. And its SMTP's (Postmark's) paid plans start at $10/mo and let you send 10,000 emails monthly. You can pay $1.25 more for every 1,000 additional emails you send in this plan.
With fallback mailing (i.e., resending emails from an alternate server because the original ones failed), a chrome extension that alerts you on your failed WordPress emails, and compatibility with many of the popular SMTP mailing services, this WordPress email plugin lets you send transactional emails from your WordPress website that get delivered.
This plugin works seamlessly with tens of contact form plugins such as Contact Form 7, Elementor Forms, and Gravity Forms among others.
In addition to using SMTP service providers (like Mandrill, Mailgun, and SendGrid), you can also use this plugin to send emails from your Google, Microsoft, and Yahoo ids. With its OAuth 2.0 security feature, you can ditch the traditional password-based authentication and integrate these services even without entering your accounts' passwords. This plugin even comes with an email logger that helps you debug your email deliverability issues, support for multi-site setups, and the ability to send emails even with an HTTPs configuration.
Pricing: The plugin, per se, doesn't seem to have a paid plan. The costs you incur will depend on the SMTP service providers you use. SendGrid, for instance, lets you send 100 transactional emails each day for free.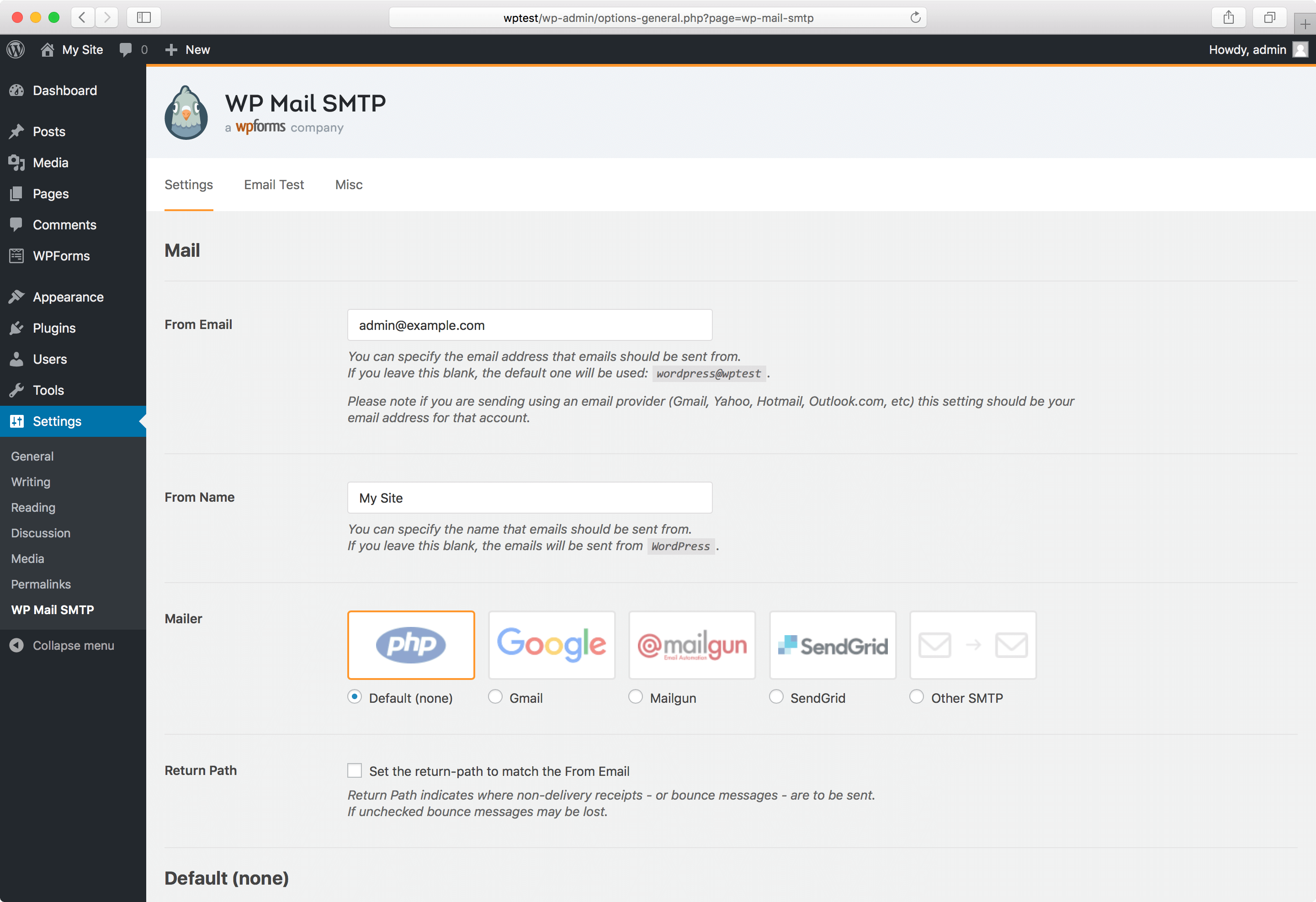 With support for all the top SMTP providers (including Sendinblue, Mailgun, and SendGrid), WP Mail SMTP offers easy and reliable sending of emails from your WordPress website. It aims to ensure that "your emails reach the inbox…" If you're just looking for a plugin that works-out-of-the-box with an SMTP provider of your choice, then this might be it.
Features like email logs and controls and testing and verification of email delivery are available in its pro version.
Pricing: Free. Its paid plans starting at $49/year and unlock premium support and support for the Microsoft and Amazon SES SMTP solutions. In addition to this, you'll also have to shell out the charges of your SMTP service provider.
Easy WP SMTP lets you connect your WordPress website with a host of email servers including the Gmail, Yahoo, and Hotmail ones. You can easily test Easy WP SMTP's configuration with its basic testing and debugging features that let you send yourself a test email. You also get the log feature to diagnose and debug your email deliverability issues.
Pricing: Free.
Mail Bank wants to enable a "fast and 100% confident email deliverability" for your WordPress emails. It uses the Zend framework to power your website's email functionality and supports a large number of SMTP service providers including Mailgul and SendGrid. With Mail Bank, you can also send your WordPress emails with your Gmail, Outlook, and Yahoo accounts via the oAuth 2.0 authentication protocol (that doesn't need you to use your actual login credentials).
This plugin's email logger feature lets you understand your emails' deliverability issues and also debug them. It even allows you to take individual and bulk actions such as resending or deleting all the emails that didn't deliver.
With compatibility with most of the other WordPress email and contact form plugins, usage access control (allowing different users different levels of access to the plugin's settings and data), email sending and port and connectivity testing, this WordPress plugin doesn't just make sending transactional emails easy and hassle-free for you but also offers insights into how your emails are doing performance-wise.
Pricing: Free. Its premium version starts at €29.99/year and unlocks support for premium support and features like integration with APIs, detailed analytics and statistics, notifications and more.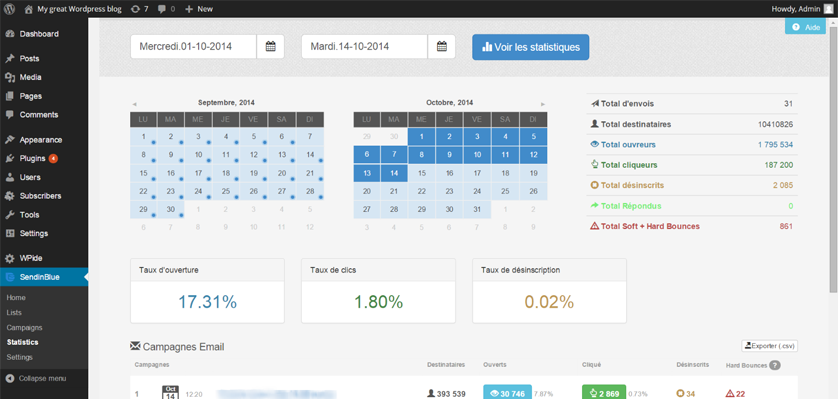 This is SendinBlue's official WordPress plugin! And because SendinBlue is an email service that supports both transactional and marketing emails, you can use this plugin to manage both.
SendinBlue is a trusted email solution for many businesses and with its WordPress plugin, it brings all its power — including its solid sender reputation for transactional emails, useful list segmentation features for identifying and personalizing email communications segment-wise, and detailed, real-time reporting of email performance including open and click data — natively to WordPress users.
This WordPress plugin also adds a dash of automation magic to your website as you can use it to set up and schedule email sequences to deliver to leads who visit certain pages or do a certain action on your website.
SendinBlue Subscribe Form and WP SMTP also comes with many striking signup forms that you can add inside your posts and pages and even in your website's sidebar. You can easily get it to work with most of the WordPress contact form and list-building plugins.
Pricing: The plugin is free. The SMTP server powering it, SendinBlue, also offers a generous free plan with support for 9,000 emails/mo. As you outgrow this limit, you can explore its premium plans that start at $25/month and allow up to 40,000 emails per month.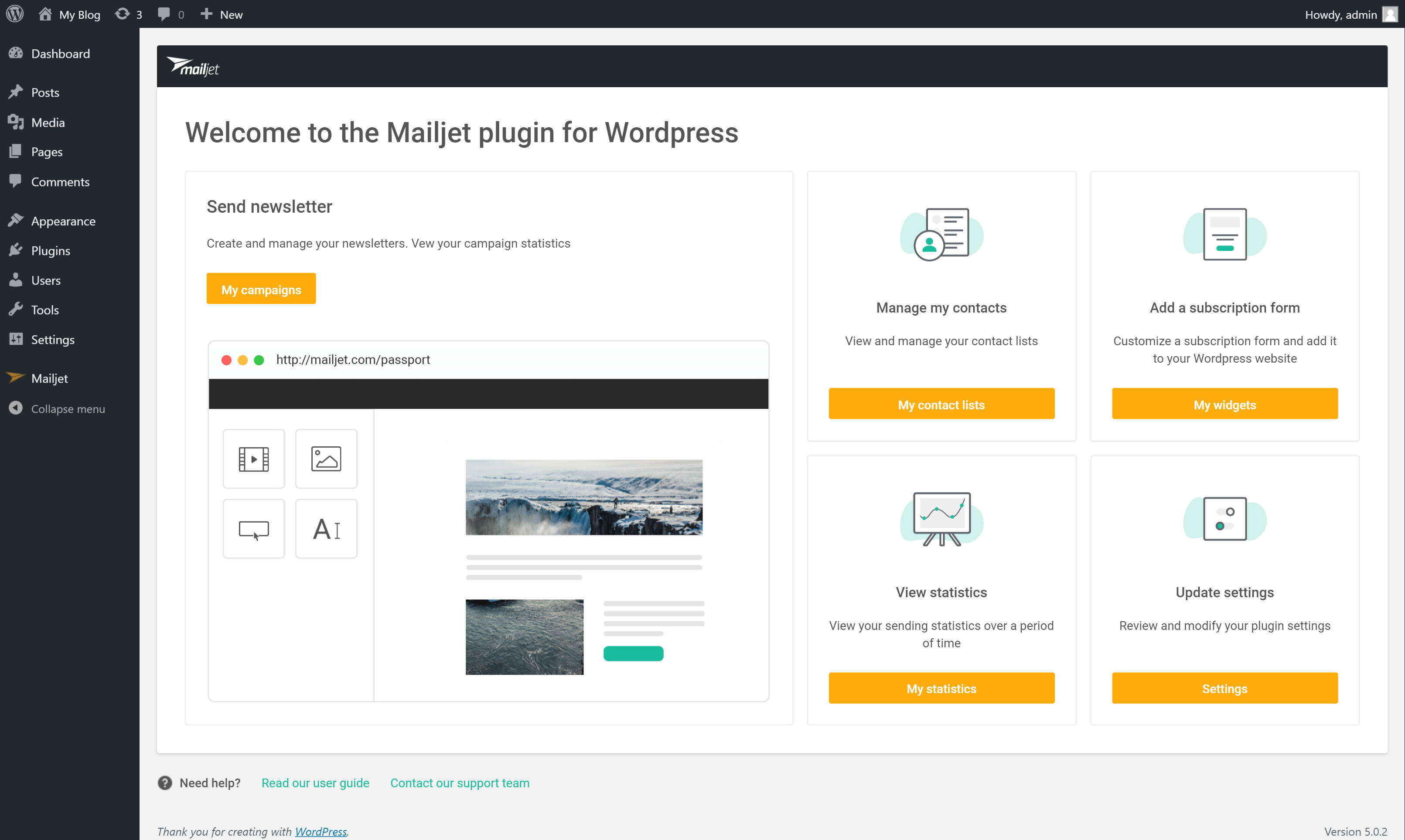 This is Mailjet's official WordPress plugin. Just like SendinBlue, Mailjet, too, is a transactional and marketing email service. So you can use this plugin to manage both your transactional and marketing emails
From adding signup forms to your (post-purchase) thank you page to adding opt-in options to your comment boxes so that those who comment can subscribe, Mailjet offers many ways for users to sign up for your email communications. Not just that, it also lets you add these users from different sources to different segments of your lists.
From real-time insights into how your marketing and transactional emails are doing to stats that show your average performance, Mailjet offers a lot of data to optimize your campaigns' performance.
Unlike SendinBlue, Mailjet lets you compose your emails right from your WordPress dashboard. It offers a drag & drop builder that opens inside your WordPress admin panel that you can use to make beautiful, responsive emails.
Mailjet: The plugin is free. So is the service powering it, Mailjet — for 6000 emails a month (capped at 200 per day). Its paid plans start at $8.69/mo for 30,000 emails per month with no daily sending limit.
If you're looking for a great free email marketing plugin for your WordPress website, look no further than the HubSpot WordPress plugin! HubSpot lets you create beautiful, responsive email campaigns to send to your contact database — all from within your WordPress dashboard. Choose from over 20 beautiful templates to get started quickly, and use the drag-and-drop builder to create professional, well-designed emails (all without IT or designers needed).
With HubSpot, you can also personalize subject lines, content, links, attachments, and calls-to-action based on subscriber's lifecycle stage, list membership, or any information in their contact records. Also included with the tool are A/B testing and performance analytics.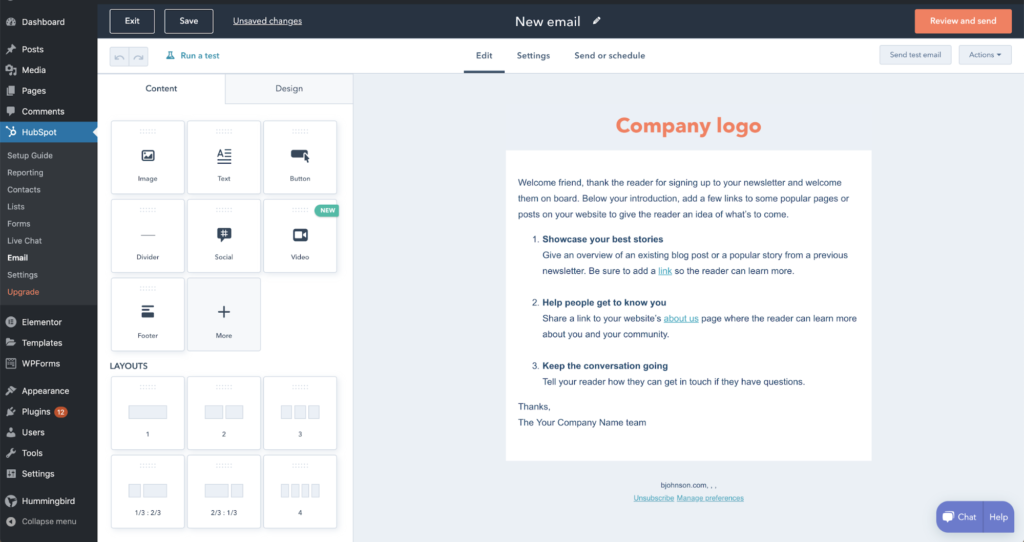 And with the plugin, you get a ton of extra marketing value — all from within your WordPress dashboard. Using the plugin, you can also set up live chat, analytics dashboards, forms, and CRM — all from within your WordPress dashboard.

Pricing: The HubSpot WordPress plugin is free to use. With the plugin, you get email marketing built-in. Send up to 2,000 email sends per month, with upgrade solutions starting at $50 with Marketing Hub Starter.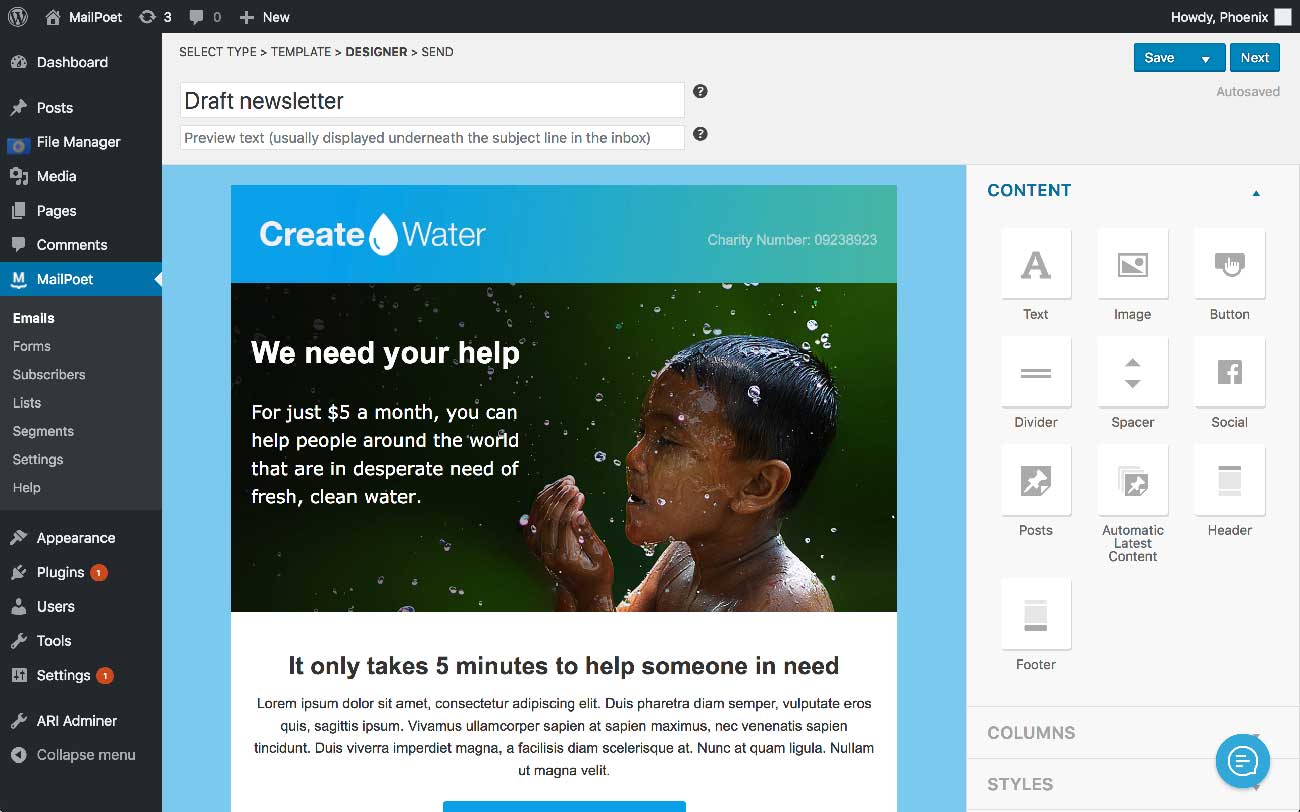 MailPoet is one of the most proven WordPress email plugins that lets you compose and send your marketing emails right from your WordPress dashboard. This is THE WordPress newsletter plugin with more than 300,000 users trusting it for shipping their newsletters!
Creating an email with MailPoet is as simple as writing a blog post. You also get access to many beautiful, mobile-friendly templates that can be a great starting point.
MailPoet also lets you add many types of signup forms across your website. You can add signup form widgets to place inside your posts and pages and sidebar and even in popups and bars. You could even add a signup form to your website's sidebar.
Naturally because the entire MailPoet ecosystem lies inside your WordPress admin area, you can access and manage your subscribers from right inside it. In addition to sending newsletters, you can also setup automated welcome emails with MailPoet
Pricing: MailPoet Premium unlocks all of MailPoet's premium features and its sending service and is free for up to 1,000 subscribers, with no limits on the number of emails you send. Its premium plans that include using MailPoet's email sending service and unlocks features like advanced analytics work on a pay-as-you-go-basis — for example, billed at 250€/year for 2000 subscribers or 500€/year for 3500 subscribers. Or you can just sign up for the pro version of the plugin (sans its sending sending service) and integrate it with a third-party SMTP service such as Amazon SES
This WordPress plugin lets you compose your marketing emails right inside your WordPress admin area using your web host's email service. It comes with a simple intuitive editor for creating emails and basic email tracking where you can see all opens and clicks.
Pricing: SendPress's premium plans start at $39 however the $99 plan comes with all the essentials including support for major third-party SMTP providers.
With features like support for opt-in boxes, single and double opt-in mechanisms, automated welcome emails (that get sent as soon as subscribers sign up or verify their subscription), and more, this WordPress email plugin lets you do powerful email marketing right from your WordPress dashboard.
In addition to automated post notifications, you can also send scheduled broadcast campaigns with this plugin. Also, its basic reporting should feel enough for most email campaigns.
Pricing: To use this plugin with a third-party SMTP provider, you'll have to sign up for its $49/year plan. This plan also unlocks premium support, access control, and premium templates among other things.
This WordPress newsletter plugin lets you send newsletters right from your WordPress dashboard via your SMTP service provider. Not just that, it plays nicely with most of the email plugins used for list building and transactional email functionalities.
You can extend this plugin's functionality with its free addons like Archive (that lets you create a page with a list of all your email campaigns), Locked Content (that helps you lock your content and seek emails for unlocking), WP Registration Integration (that lets you add your registered users as subscribers) and others. It also comes with many premium addons that make it 10X times more powerful.
Pricing: Free. It also comes with an annual $65 plan that unlocks access to all its 20+ pro extensions, multiple integrations with third-party services and other plugins, and premium support. You'll also need to spend on an SMTP provider like Amazon SES, SendGrid, etc. to send emails with this plugin, unless you're going to use your web host's free option.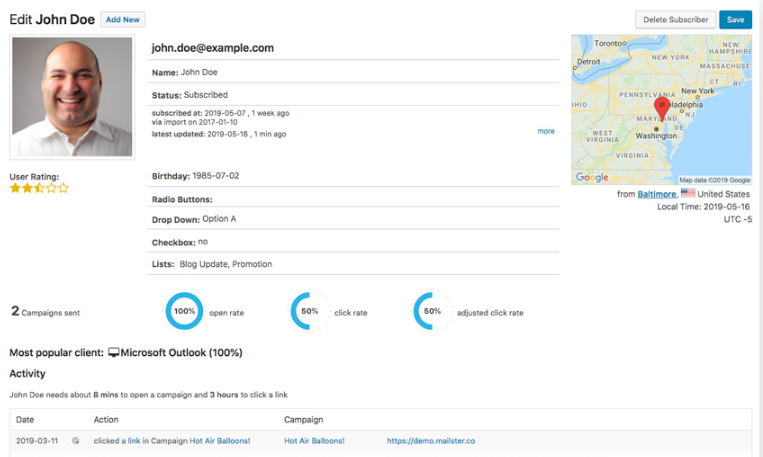 This is a very actively maintained and supported WordPress newsletter plugin that comes with many bells and whistles. From a blazing fast drag & drop editor to web versions of your newsletters and support for autoresponders and advanced list segmentation features, this WordPress email plugin rivals many of the shiny email marketing SaaS solutions out there.
It also comes with insightful campaign analytics reporting your opens and clicks, and also environments (i.e., devices).
It works right inside your WordPress admin area and works seamlessly with dozens of SMTP providers and your existing email list building and form plugins. Just hook it up with a cost-effective SMTP provider, and you'll get your own WordPress email marketing solution that can compete with all those heavy-weights! Setting up your sign up forms, lists, and campaigns is also super-easy with this plugin.
You also get features like support for single and double opt-ins, personalization tags, email forwarding, and social sharing.
Pricing: You can upgrade to this plugin's pro version for $59. The pro version offers premium support for six months (that can be extended for a small fee).
Wrapping it up…
Agreed: These WordPress email plugins can't replace a solution like MailChimp or Campaign Monitor. But when it comes to transactional emails, these aren't your solution anyway. And as far as marketing emails go, scaling can get expensive with these solutions. Besides, not all businesses need advanced automation features. Sometimes a combination of a plugin and a few addons can do the trick and get the job done for the fraction of the cost these solutions charge.
So tell us… do you use any of these WordPress email plugins for sending your transactional and marketing emails?