10 Best Remote Working Tools & Software + Tips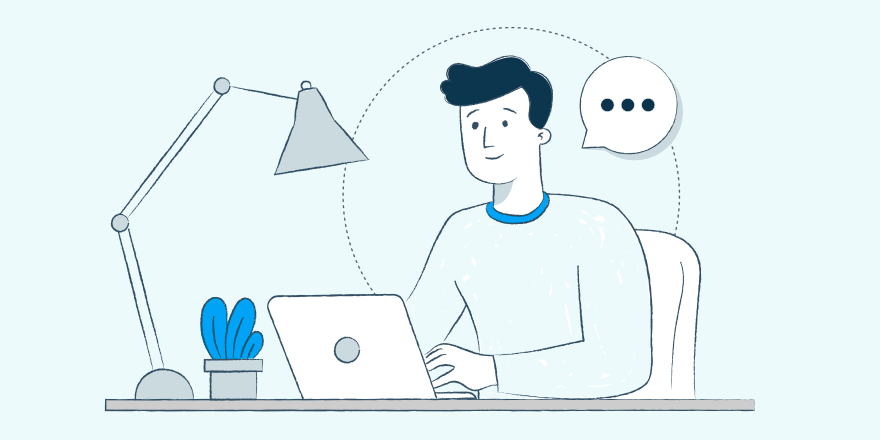 Managing a remote team and working from home used to be a dream for most people. And for most companies, the entire concept seemed impractical and impossible. Well, not anymore.
The CoronaVirus was a big wake-up call for most businesses and companies around the world. Almost all businesses, including the governments, were forced to work from home. While it can be challenging, remote work is nothing new.
Automattic, Buffer, Hubstaff, Groove, InVision, and many other companies have been employing 100% remote teams for years. If they can do it you can too.
At a time like this, we have no choice but to adapt and overcome. If you're in the process of switching to a remote working environment, we're here to help. We've rounded up some useful tips, tricks, and tools you can use to smoothly transition your team into a remote team. Take a look.
Challenges Of Working From Home
The thought of working at the comfort of your home. Without having to get stuck in traffic every day. Or having to waste hours of time in commute. It all seems like a dream job.
However, there are many challenges to working from home as well. Especially for parents, it can be difficult to create a productive work environment with kids at home. And having to do daily house chores and responding to video conference calls at the same time is not the ideal dream job one would hope for.
Employers can make this process much easier for their teams. By making a remote working system that makes them feel like going to a regular office job, from home. This will not only give employees a reason to get dressed in the morning but also work more productively as well.
Top Tips For Working Remotely
These tips will help you setup an effective system to make sure your team stays productive during the remote working period.
Setup A Virtual Office
Shopify was among the first companies to implement a remote working system for their teams. The company actually gave its employees $1,000 to buy whatever gear they needed to setup a work environment at home.
It was a great initiative that showed how committed the company was about its employees.
Of course, not many companies can afford to give away a bonus like that to all of their employees. But instead, you can create a system for the team to work together. Like a virtual office-like environment where the team can easily communicate, check-in every day, and keep track of projects.
This means you'll have to get your team on-board with a few remote working tools. You'll need a combination of several tools to create a true virtual office environment. It won't cost a fortune. Refer to the remote tools section below for suggestions.
Use Apps & Tools To Document Everything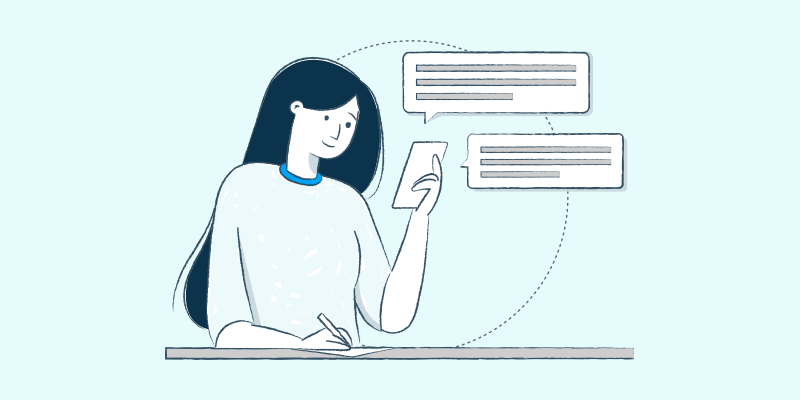 One of the important parts of handling a remote team is documenting a workflow for the team. Since you can't oversee the team all the time, you have to make sure everyone stays on track and keep each other up-to-date.
The best way to manage this is to use remote working tools to create processes, assign tasks for each employee, and overall create a workflow that everyone can easily get into and keep track of. You can use project management tools to get this job done.
Put Together A Remote Work Playbook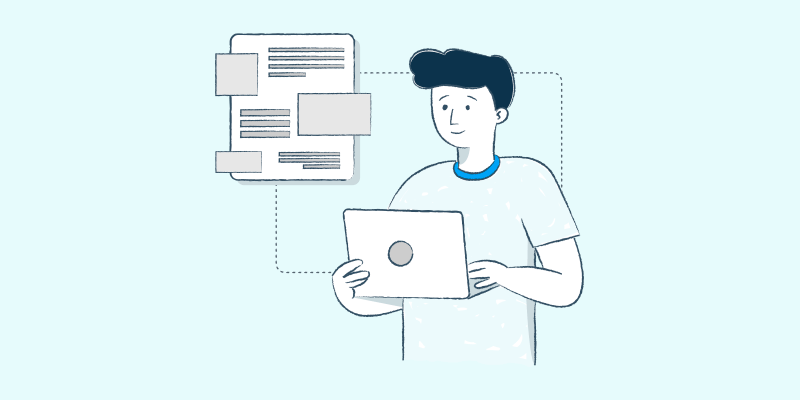 You'll be using a lot of new remote working tools. This means you'll have to create an onboarding process to help your team familiarize themselves with how to use the tools.
Creating a remote work playbook is the best way to tackle this task. It will not only help you get the team onboard the tools but also help them understand how the entire virtual office system works.
You don't have to create an actual book for this. A simple landing page with all the information, a frequently asked questions (FAQ) section, links to software downloads, as well as tips and tricks would be helpful.
Having a knowledge base will also immensely help in such a situation.
Create A Knowledge Base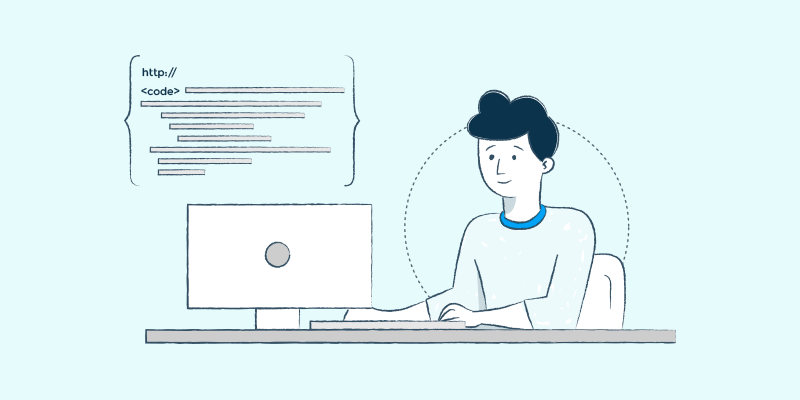 If you don't have a knowledge base already now is the best time to create one. With a private knowledge base, you can create sections for each sector of your company. And help each team member understand their tasks and learn more efficiently.
For example, you can create a section for the customer support team in the knowledge base to teach them how to handle specific support inquiries. How to respond to customer questions. And even train them on how to solve problems.
The best part is the team can learn everything all on their own by reading guides and watching tutorials in your knowledge base.
Adding a remote work section in the knowledge base will also help your team understand how things work in the virtual office.
You can actually setup a private or public knowledge base using WordPress. It's easy and cost-efficient.
Set Expectations For Each Employee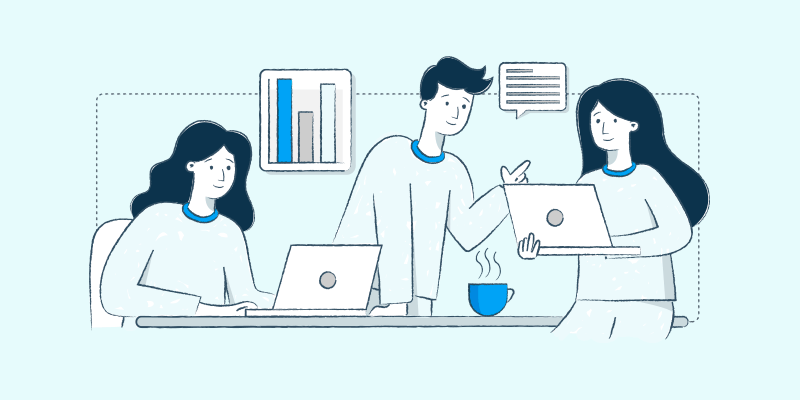 From the very beginning, let the team know what you expect of each employee. Make sure that the team knows you expect them to set aside time for work even while at home. That you expect good attendance and communication during conference calls and project collaborations.
Create a schedule with daily tasks and deadlines. So that everyone can get into a routine and complete projects without getting confused about who's in charge of which tasks.
Check-In More Often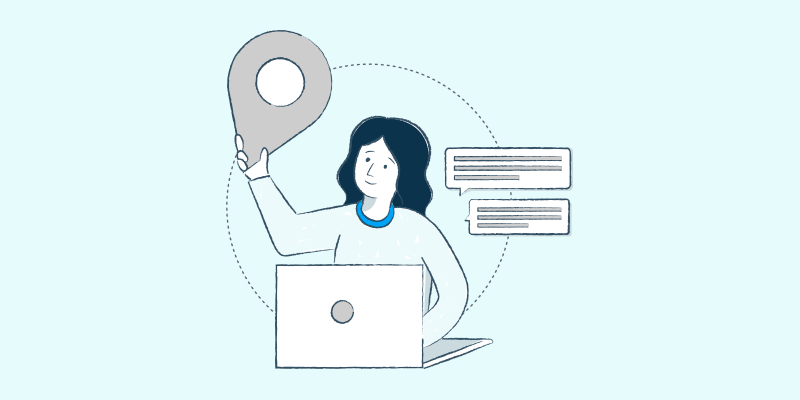 Maintaining employee morale and productivity is much more important when they're working remotely. Check-in more often. Not just to keep track of work progress but also to check on their mental health.
Hosting regular conference calls, one-on-one video chats, or even instant chats as a team would go a long way to boost the team's confidence and happiness.
Keep Your Team Happy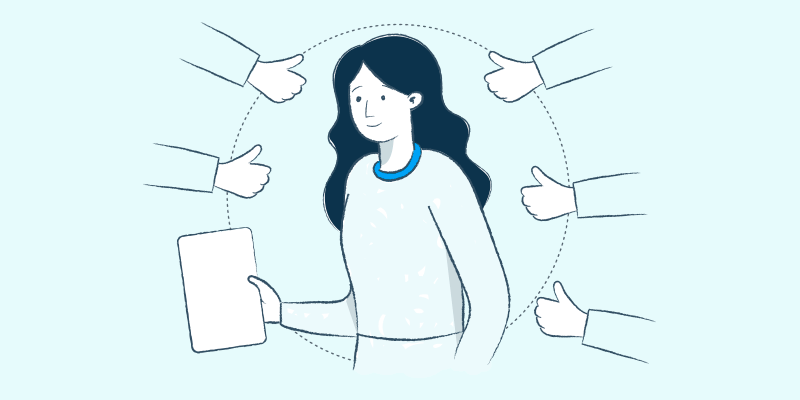 As an added bonus, you can give something for free to make your team happy and help them make the most of their extra free time at home. It could be something thoughtful like free access to an online learning platform like Lynda or even a free Netflix membership.
Best Tools and Software for Remote Work
There are so many great tools you can use to create an efficient remote working system. These are just a few suggestions you can try out.
1. Zoom – For Video Conferencing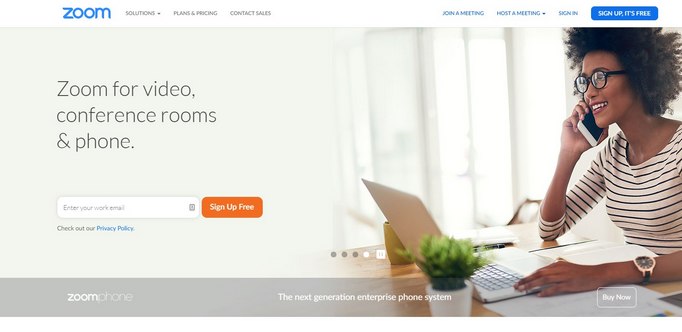 Zoom is a convenient and flexible video conferencing tool made just for businesses. It's built for hosting video chats among teams and it works much better than Skype and other video conferencing apps.
Zoom also has a generous free plan that lets you host up to 100 people in 40-minute video conferences. And have unlimited one-on-one meetings. Paid plans start at $14.99 per month.
2. Asana – For Assigning Tasks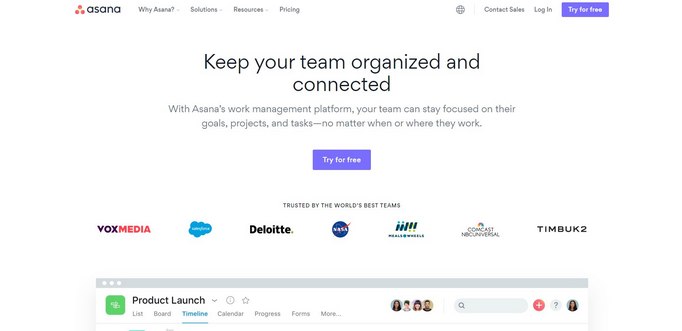 Asana is a great tool for project management. Using the tool, you can streamline a process for the entire team and assign tasks for each and every employee in your team. This way they'll know exactly what to do to contribute to the projects.
The app is also fairly easy to learn so the onboarding process will be quite simple for beginners. Asana free plan lets you work on projects with up to 15 people. The paid plans start at $10.99 per month per user.
3. Slack – For Team Communication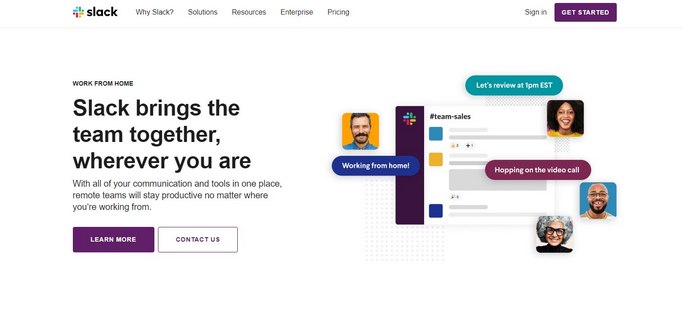 Slack is well-known as a replacement for email. The tool makes instant messaging much easier and lets you avoid getting lost in dozens of email threads. Slack is a must-have tool for team communication, especially for sending quick and short messages to check in with the team.
Slack has a free plan that's more than enough for small teams. It lets you view the history of up to 10,000 messages history. If you want more, you can upgrade to the $6.67 per month per user plan.
4. Basecamp – For Managing Projects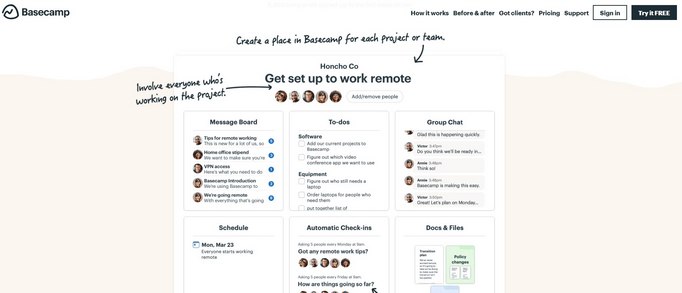 Basecamp is another project management tool. It's similar to Asana but with a mix of a user interface that works like Trello. This combination makes it a great alternative and an option for teams who aren't tech-savvy.
The free plan only supports up to 3 active projects with 20 people. Basecamp for Business costs a flat rate of $99 per month. With no additional charges per user.
5. Dropbox – For File Sharing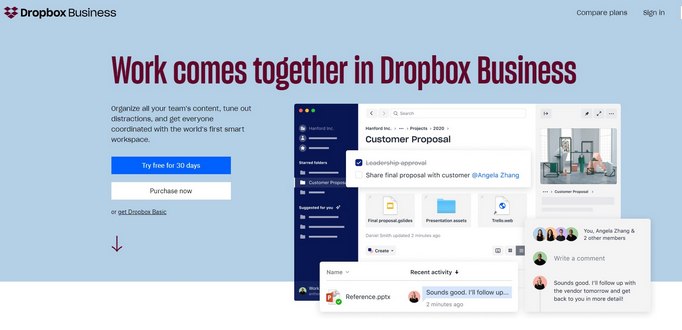 Dropbox is a cloud storage service that'll help you store and share large files among your team. The tool will help you create a more collaborative environment for a shared storage environment. So that the team can easily find and access files when collaborating on projects.
Dropbox Business pricing starts at $12.50 per month per user. It offers up to 5TB of secure cloud storage.
6. Toggl – For Time Tracking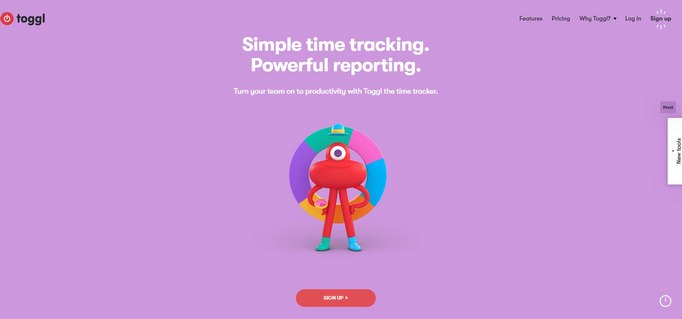 It's important to let your team work more comfortably at home. But, you also need to make sure they stay productive. Toggl is a tool you can use to create a time-tracking system to manage the working hours of your team.
Toggl is useful if you have employees who live in different time-zones. But, it will come in handy to create an office hours system for the team as well. Pricing starts at $9 per user per month.
7. Spark – For Better Team Email Management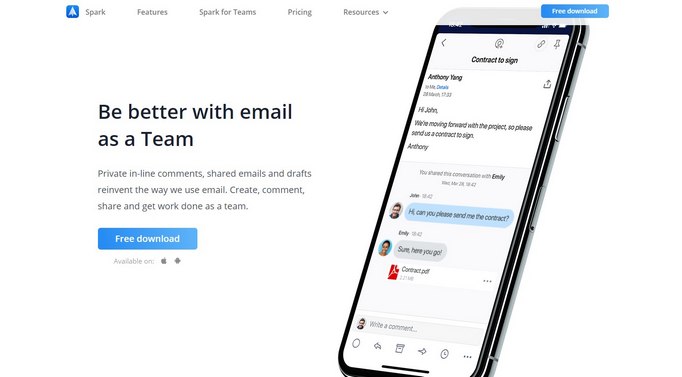 If Slack is not suitable for your team and you still prefer email for quick communications, use Spark to manage your email threads better. Spark is an email client with a more user-friendly interface. It'll make emailing look like instant messaging.
Spark has a free plan with limited features that only allows chats between 2 members. The premium plan costs $6.39 per user per month with unlimited collaborators and 10GB of file sharing storage per user.
8. Status Hero – For Tracking Goals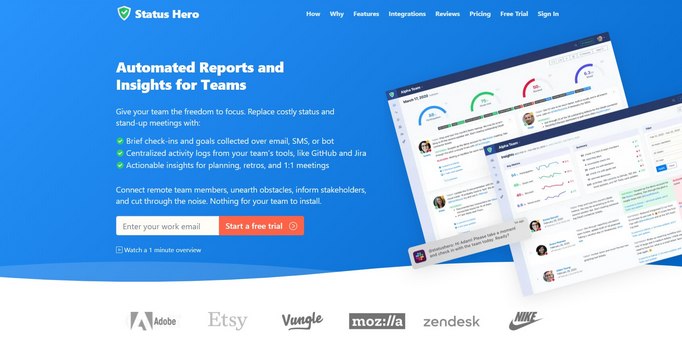 Creating goals for the team is another important part of managing a remote team. It not only helps the team stay more productive but also ensures they stay on track to deliver projects on time. Status Hero is a great tool you can use to achieve that goal.
This app lets you create goals for the team and keep track of them. It will make the entire process of checking in on your team much easier. It costs $3 per month per user.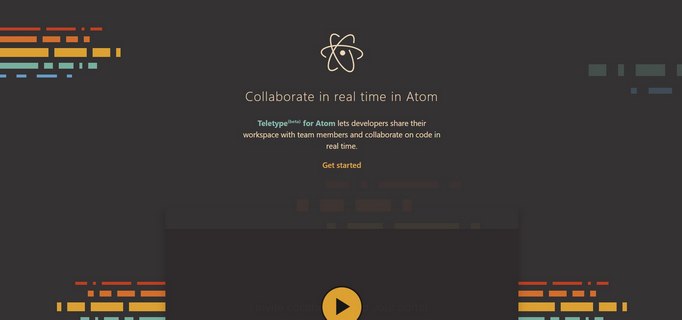 Teletype is an extension for Atom, the popular code editor. This extension allows web designers and developers to share their code editor with a team. And collaborate on projects by coding together.
The tool is quite easy to use. You simply share a link to your code editor to create a peer-to-peer work environment. Then others can see your code and write code alongside you. The app is free to use just like the Atom editor. And it's most suitable for small teams of coders.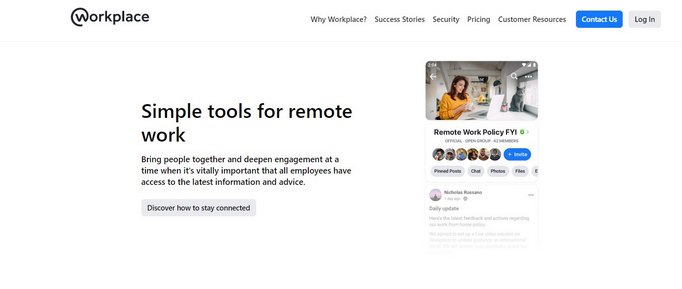 Facebook Workplace is an all-in-one tool that includes all the tools you need to manage a team. You can use it to create groups for teams for assigning different projects. Host group video calls. Live video streams. And more.
The free plan supports up to 50 groups. Given the history of Facebook's questionable privacy policies and practices, some wouldn't feel comfortable using this tool. In such cases, Microsoft Teams would be a good alternative.
Conclusion
Switching from an office environment to a remote working environment is certainly a challenge for all. But, it's not impossible. With the right systems and routines in place, you can make this entire process something good and healthy for your company and the employees.
In fact, you might even be able to adapt to this change permanently. And run a 100% remote team in the future. Just imagine the time and expenses you'll be saving with a fully remote team.