12+ Best Technical Writing Tools and Software in 2023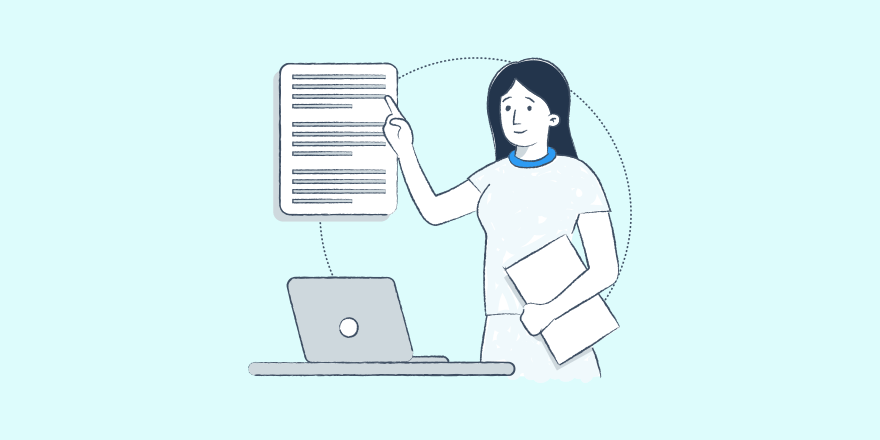 Searching for the best technical writing tools and software to help you more effectively create great technical content?
There are lots of useful free and premium tools out there to help you create better technical content and save time while doing so.
In this post, we've collected 12+ of our favorite options covering a range of different use cases. To make it easier for you to browse the tools, we've divided them into three different categories:
Writing and Editing
Creating/Managing Media (Images and Videos)
Publishing and Multi-Platform Authoring
Let's get right into the tools!
Technical Writing Tools for Publishing and Multi-Platform Authoring
This last group of tools helps you actually take your technical content and publish it, either on the web or in multiple formats.
HeroThemes – Create an Online Knowledge Base
HeroThemes can help you create your own online knowledge base using the free WordPress software, which is the most popular way to make a website.
It's a great way for publishing your technical writing online and making it accessible to your customers. You can organize your technical articles into categories, add user-friendly features like live search suggestions, and track what your users are searching for and how helpful they find each article.
To create your own self-hosted knowledge base, you can use either the KnowAll WordPress knowledge base theme or the Heroic KB plugin to add a knowledge base to any WordPress theme.
To get started, you can follow our guide on how to create a WordPress knowledge base.
Document360 – Technical Documentation Software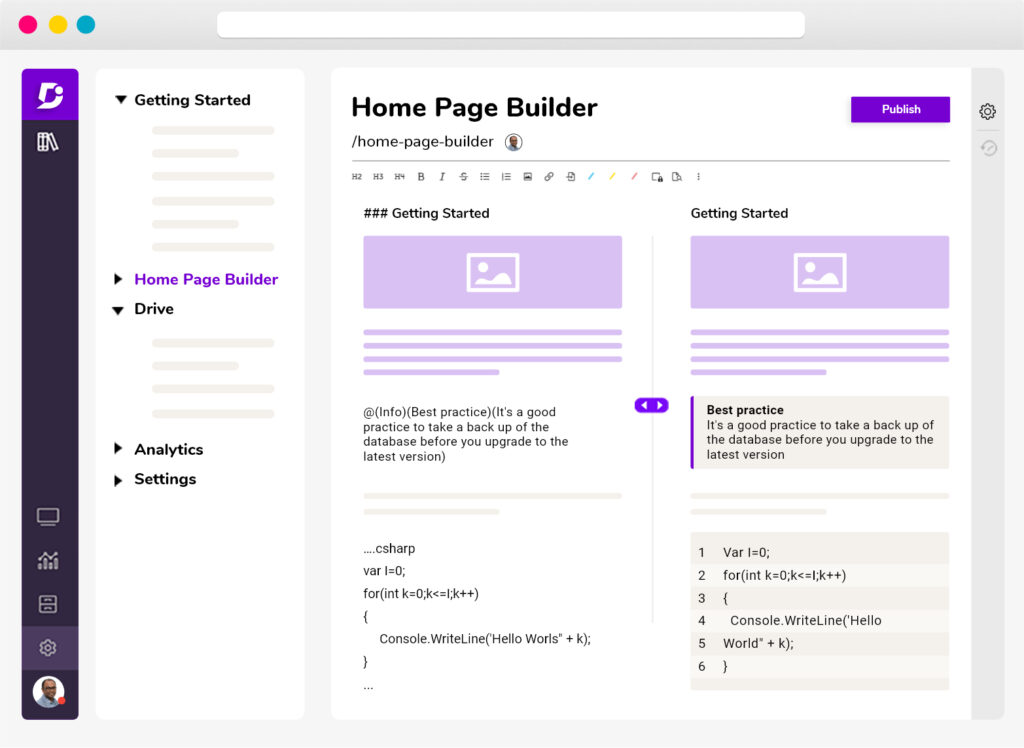 Document360 is a technical documentation software delivers everything you need to support your technical writing.
It comes with all the documentation features you need out of the box such as AI-Powered search, Markdown editors, WYSIWYG, Version control, Localization, and more to create User guides, User Manuals, FAQs, and manage multiple projects. The platform offers comprehensive security features, including SSL and database encryption, 100% cloud-based architecture, enterprise SSO, auditing, backups, versioning, etc. It integrates with Microsoft Teams, Slack, Zendesk, Freshdesk, Zapier, and more
This authoring tool is easy to use and provides a world-class authoring experience that can be customized to meet the expectations of small and large enterprises alike. You may use the tool to create the content, manage users, collect comments, and keep your content safe. It enables your internal teams to respond quickly to customer queries and relay the information they need. Also helps your customers to solve their queries instantly
You can get full access to Document360 with a 14 days free trial. The plans start at $0/month with 2 team accounts.
Adobe RoboHelp is a popular help authoring tool for technical content.
It lets you create content in a variety of formats including Markdown, HTML5, Word, and more. You can manage your content in one spot and then publish it across different platforms including HTML5, PDF, Microsoft Help (CHM), a mobile app, and more.
All in all, it can be a good option if you're part of an organization that needs multi-platform publishing for technical content.
Adobe RoboHelp starts at $29.99 per month.
MadCap Flare – Multi-Platform Authoring
Like Adobe RoboHelp, MadCap Flare is another popular multi-platform solution for technical writers and content teams.
You can import content via Word, Excel, HTML, PDF, images, etc. Once you have your content, you'll get tools to review it and even translate it into new languages if needed.
Then, you can publish your content across multiple platforms including web, print, desktop applications, and mobile applications.
Overall, it's another solid option for heavy-duty technical writing and multi-platform publishing.
Prices for MadCap Flare start at $149/user/month.
Technical Writing Tools for Writing and Editing
These tools help you write, edit, and manage your technical writing content.
It should almost go without saying, but Google Docs is the de facto writing tool for a lot of technical writers. It not only gives you full word processing right in your browser, but it also allows for easy comments and collaboration with other team members.
And oh yeah, it's also free!
Google Docs (or Word) includes its own spelling/grammar checker. But for a more heavy-duty look, you can use Grammarly, which offers a comprehensive check for both grammar and style.
One of the nice things about using Grammarly for editing technical writing is that you can set "goals" for your writing which lets Grammarly adopt its style suggestions to your writing goals:
Trello is a really useful tool for managing technical writing projects. It doesn't help with the writing itself, but it does help with managing your writing and tracking its status.
If you're not familiar with Trello, it lets you use Kanban boards to manage any type of project.
For technical writing, you can create cards for each piece of content that you're working on. Then, you can organize those cards into different boards such as:
Assigned
In progress
In editing
Submitted
Published
Etc.
Overall, it's just generally a great tool for staying on top of where you are in the content creation process for each piece of writing.
Adobe Acrobat is a useful tool for viewing or creating PDF files. It's a must-have if you need to create technical content in PDF format, as it allows for both basic text editing and rich formatting.
You can get started with a free trial of Acrobat, but you'll need a paid plan to create your own documents. The full-featured Acrobat Pro paid plans cost $14.99 and work on Windows and Mac.
Technical Writing Tools for Creating/Managing Media (Images and Videos)
These tools help you work with media content for your writing…
SnagIt is a great tool for capturing short screen recordings or screenshots and marking them up with basic annotations as needed.
By using a keyboard shortcut or mouse click, you can quickly start a recording or take a screenshot of your entire screen or just a specific portion.
For screenshots, you can also easily add annotations like text, arrows, boxes, etc. to make the screenshot clearer and draw readers' attention to certain areas.
Other useful features include:
Step tool to automatically document multi-step processes.
GIF/Video creator to easily create a video or GIF from a series of images.
Grab text feature to extract the text from a screen capture or video and paste it into your content editor.
All in all, it's just a really versatile tool for screenshots or short screen captures.
SnagIt has a free trial but costs $50 per user after the trial ends.
Snipaste is a really useful free alternative to SnagIt for taking annotated screenshots on a budget. It's cross-platform, with versions for Windows and Mac, as well as a Linux version on the way.
Using a keyboard shortcut or mouse click, it lets you take a screenshot of your entire screen or just a portion. You can then add basic edits like text, arrows, boxes, blurring, and more.
It also includes some useful features for working with images, such as:
Snipping suggestions to capture the right dimensions.
Pinning a screenshot to your screen (great for writing instructions).
Copying an image instead of saving it.
Loom is a user-friendly and free alternative to SnagIt for creating short videos, with or without your webcam.
You can create a video of some or all of your screen and choose whether or not to overlay your webcam feed on top of the video.
To use it, you can either use cross-platform desktop software or you can just use a browser extension for most popular web browsers.
Loom is free for basic features and up to 100 videos. Unlimited plans start at $8/user/month.
Pixlr is a great tool if you need more heavy-duty image editing than Snipaste or SnagIt allow for.
It's 100% browser-based, so there's nothing to download. But at the same time, it gives you really flexible image editing on par with Photoshop.
There are two versions of Pixlr:
Pixlr X – quick photo editing for lightweight edits.
Pixlr E – heavy-duty photo editing (think Photoshop).
Both versions have free versions as well as paid versions that add more features.
Overall, if you need flexible image editing but don't want to install software, Pixlr is a really useful tool for technical writers.
While Loom and SnagIt are great for short-form, quick-hit explainer videos, sometimes you'll need something more powerful that allows for editing and other tweaking. That's where Camtasia comes in – it's a multi-platform video editing tool that helps you create and edit short or long-form video content.
You can record some/all of your screen, along with the option to include audio and/or your webcam feed. If needed, you can also import other video clips in addition to your recordings.
From there, you get a full video editor to cut and enhance your video as needed.
Overall, for cross-platform video editing, Camtasia is one of your best options.
Try These Technical Writing Tools Today
All of the tools on this list can help you improve your technical writing, whether that's finding the right tool for creating content, getting help with images and videos, or publishing your content to your own self-hosted WordPress knowledge base or to multi-platform destinations.
Try out the tools that you find most interesting and enjoy a more streamlined technical writing workflow.
Have any questions about these tools? Or want to share a technical writing tool that you love? Let us know in the comments!