5 Benefits Of Building An Open-Source Knowledge Base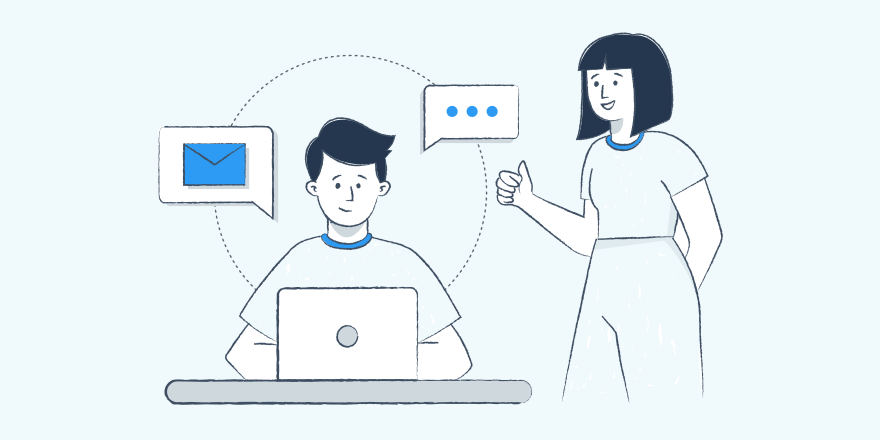 One of the most effective and convenient methods of building a knowledge base is to use open-source software.
Why? Because it's Free! But, there are other benefits too.
Today, we're highlighting some of the biggest benefits of creating an open-source knowledge base. To show you why it's better than using SaaS platforms.
When it comes to building a knowledge base there are many different options you can choose from. Usually, the first choice is to use a SaaS app. These apps provide solutions for building specific types of knowledge bases in one place for a hefty monthly subscription.
However, none of the SaaS apps were able to match the features and benefits of using open-source software.
What Is An Open-Source Software?
For those of you who are unfamiliar with software development models, here's a brief intro to open-source software.
Open Source is a system used by software developers. When making open-source software, developers make their source code publicly accessible. Allowing anyone to study the software code, modify it, and improve it.
A great example of open-source software is WordPress. WordPress is a software that's completely open-source and released under GNU General Public License. The software itself is also free for anyone to use. You can use it to build websites, blogs, online stores, membership communities, forums, and of course even knowledge base websites. For free!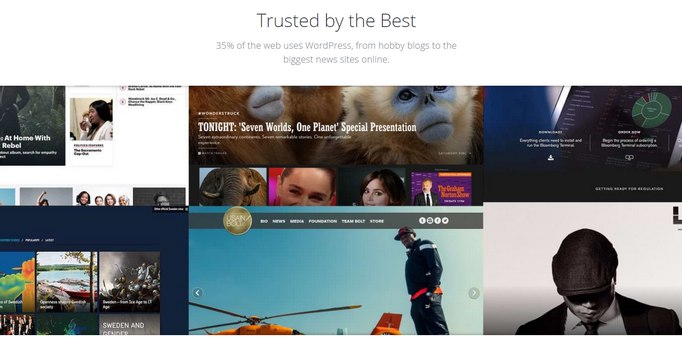 35% of the websites on the Internet gets powered by WordPress
In fact, WordPress is also the best option for building an open-source knowledge base as well. Here's why.
1. You're In Control
Most knowledge base SaaS platforms are owned and operated by a corporation or a startup. When you make a knowledgebase on such a platform, you have to abide by their rules.
Whenever the company increases the prices of the software, you have to pay extra for the same old features. Whenever they remove a feature, you have to learn to live without it. And, worst of all, these companies even have the power to remove or ban you from their platforms as well.
This is why open-source software like WordPress has been a popular choice among many brands and businesses.
When you have an open-source knowledge base, you're in complete control. You make your own rules. You can pick your own web hosting according to your budget. You can even choose to move your knowledge base anytime and anywhere you want.
2. Extend With Additional Features
SaaS platforms mostly attract beginners. Since the software includes minimal features with a clean dashboard, beginners feel right at home. After a short while, these users realize that these features aren't enough to provide a better experience to their own customers.
Unlike these SaaS apps, open-source knowledge bases give you the freedom to expand your knowledge base with more features, options, and functions.
For example, WordPress's official database offers more than 50,000 plugins. Plus there are thousands of more plugins available on third-party marketplaces.
You can use these plugins to add more features to your knowledge base. Like file downloads, membership systems, forums, eCommerce solutions, and more.
3. No Limitations
A cunning strategy SaaS platforms use to get their customers to pay more is adding ridiculous limitations to their pricing plans.
For example, HelpJuice is a popular knowledge base SaaS platform that charges $120 per month for its lowest plan. This plan is limited to only 4 users. If you want to give access to more users you have to pay more.
When operating an active knowledge base, your entire team needs to be able to access it. To add more knowledge articles. Or even to educate your employees from a private knowledge base.
Open-source knowledge bases provide a great solution to this issue. You can bring in as many users as you want when you have a WordPress-powered knowledge base.
In addition, you'll have the freedom to customize, change, and improve your knowledge base design however you like as well.
4. It's More Affordable
It could cost you around $1400 per year to setup a knowledge base using a SaaS app like HelpJuice. Even one of the cheapest knowledge base software, Zendesk Help costs $89 per month. That's over $1000 per year.
But it costs less than $200 to make a knowledge base website with WordPress.
To setup a knowledge base using WordPress all you need is to buy a theme and a domain name for a one-time price. Then you only have to pay for the web hosting. Which costs around $30 per month. That's just $360 per year!
5. Scale As You Grow
Your small business won't stay small forever. Eventually, it will grow bigger. You will launch new products. Add more features. And your customers and teams will seek more answers in your knowledge base.
Usually, you have to upgrade your pricing plan to increase the size of your knowledge base. This is the case for most knowledge base SaaS platforms. But, not for open-source knowledge bases.
You don't need special permissions or upgrade pricing plans to scale your open-source knowledge base. Add as many users and content as you want and whenever you want.
How To Make An Open-Source Knowledge Base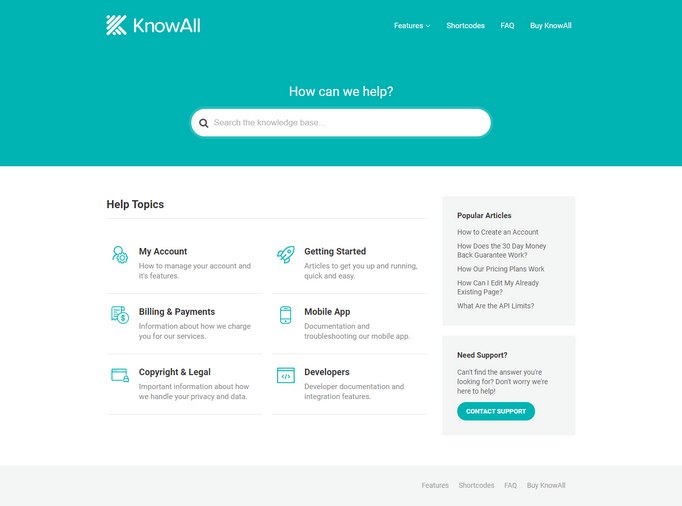 Now, you're probably wondering how to make a knowledge base using WordPress. Well, it only takes a few steps.
Get a domain name ($10): The first step to setting up a website with WordPress is to get a domain name. Or you can create a subdomain name to setup the knowledge base (eg: support.yourwebsite.com)
Get web hosting ($30/mo): Even though WordPress is free to use, you still need a server to host your website. And make it publicly available. We recommend Kinsta for WordPress hosting. It only costs $30 per month.
Get KnowAll Theme ($149): Our KnowAll Theme is specifically designed for knowledge base websites. You can install it with just one-click and add many useful functions required for a knowledge base.
Customize: Now you can customize your knowledge base however you like. You can edit the design. Add more functions with plugins. And much more.
Conclusion
Making a knowledge base using open-source software can be a bit more difficult than using SaaS apps. However, it brings more benefits. In the long run, you'll also be able to save a ton of money otherwise spent on SaaS subscriptions as well.
Here at HeroThemes, we develop WordPress themes and plugins for building powerful enterprise-level knowledge bases, forums, and FAQs. Make sure to check out our products. Or browse our blog for more tips and guides.