10 best knowledge management software platforms in 2023 (with pros and cons)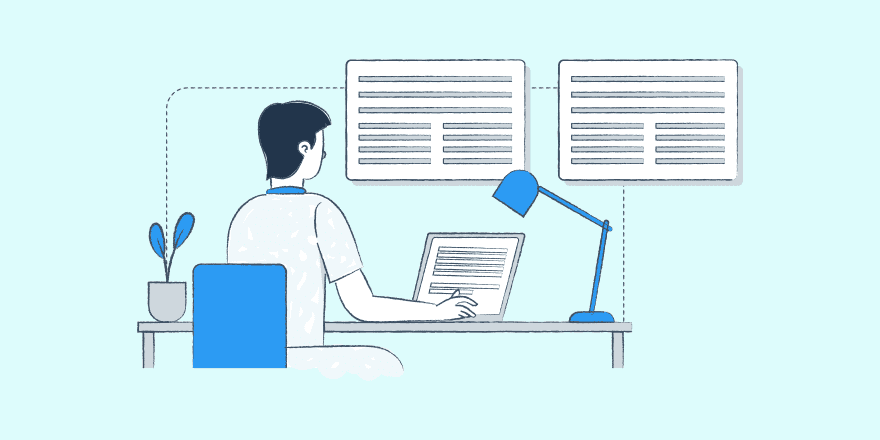 If one of your key employees were to leave in a week, how soon do you think you can get someone to take over their responsibilities?
As your company grows, the more likely it is to have complex job roles, a diverse range of products and services, and a high number of customer queries.
To keep things running smoothly, it's essential for everyone to be able to share and organize knowledge. That's why the concept of knowledge management has emerged as a vital part of running a business.
With that in mind, this guide will take a look at the best knowledge management software and the factors to consider when choosing one for your needs. Let's begin.
What is knowledge management software?
Knowledge management software refers to digital tools and platforms that can be used to save and store useful information. Using these knowledge management tools, administrators can publish and structure information in such a way that it's easy for users to navigate and search.
This way, the users can find answers to their questions and get the guidance they need to solve problems fast.
The ability to manage and share information makes knowledge management software suitable for two main purposes. You can use it to:
A knowledge management system is usually hosted on the web. So its major benefit is the convenience and ease of publishing and consuming information from anywhere, and at any time.
The best knowledge management software
Here's the list of best knowledge management software you should consider for your business, along with the best features, pros, and cons that make them stand out.
Heroic KB
WordPress is a free content management system that has been powering millions of websites. It's easy to use and comes with features that are very similar to what you would expect from any knowledge management software. That means you can create, edit, and categorize content as you like.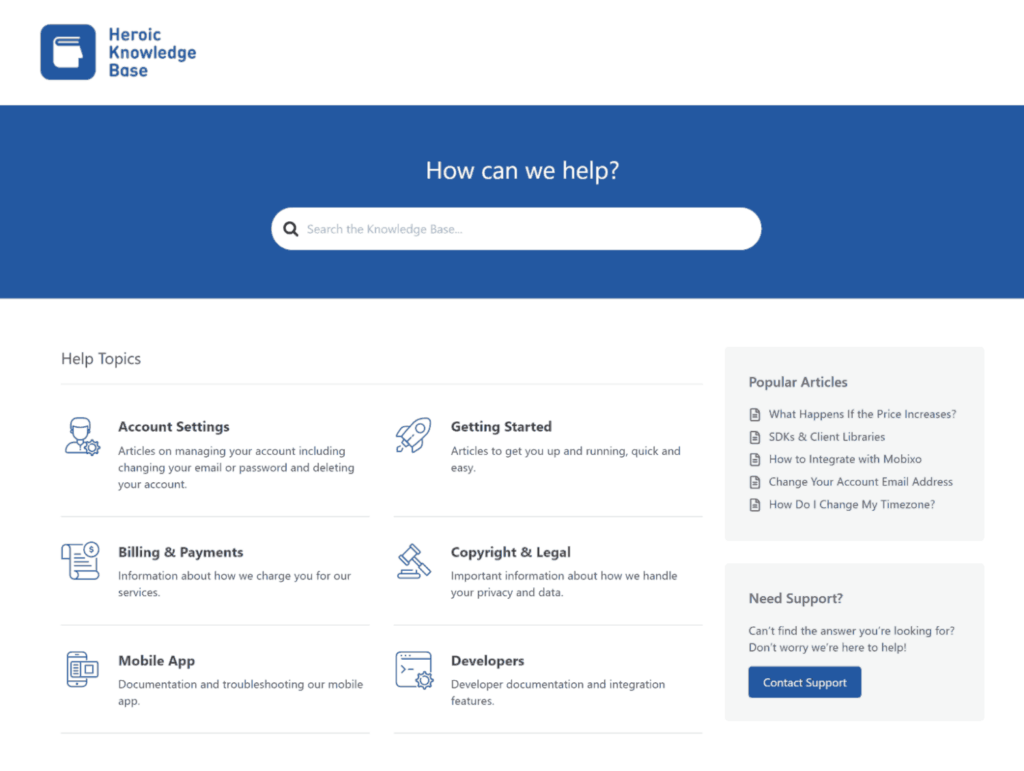 If you choose to use WordPress, you'll need to get your own hosting and domain name, which would cost you about $40/year and $10/year respectively.
But even with this expense, using WordPress for knowledge management is significantly cheaper than alternative solutions. And while other knowledge management solutions don't require you to purchase hosting separately, the hosting charges are included in their fees.
Another benefit of using WordPress is that you'll have full control to customize the look and feel of your knowledge management portal. And there are thousands of ready-made templates for you to pick from.
While WordPress is primarily meant for launching websites, it is possible to extend its functionality. Using the Heroic KB plugin, you can get features that will convert it into a full-fledged knowledge management platform. These include instant search, user feedback, article analytics, and more.
On top of that, Heroic KB comes with an intuitive interface, easy category management, and a simple customizer to match your knowledge base with your brand identity. And you can use its analytics capabilities to find out how well your knowledge management solution is satisfying user needs.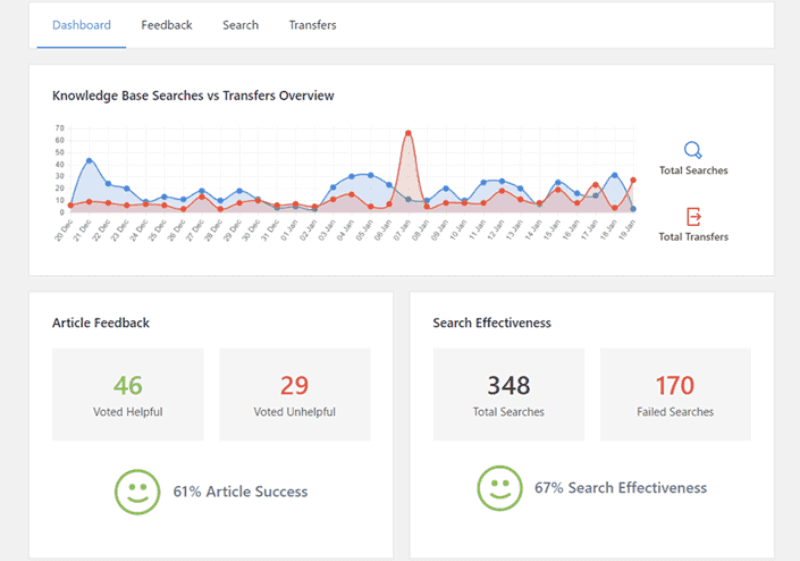 Setting up a knowledge management platform with WordPress and Heroic KB is super simple. Most web hosts offer one-click installation of WordPress, since it's the most popular CMS.
So once you get hosting and install WordPress, all you need is to install Heroic KB and let the setup wizard guide you through the remaining steps.
Pros
Excellent out-of-the-box front-end experience
Modern knowledge base designs
Considerably cheaper than SaaS solutions
14-day money-back guarantee
Cons
No free version or trial
You manage hosting and software updates
ProProfs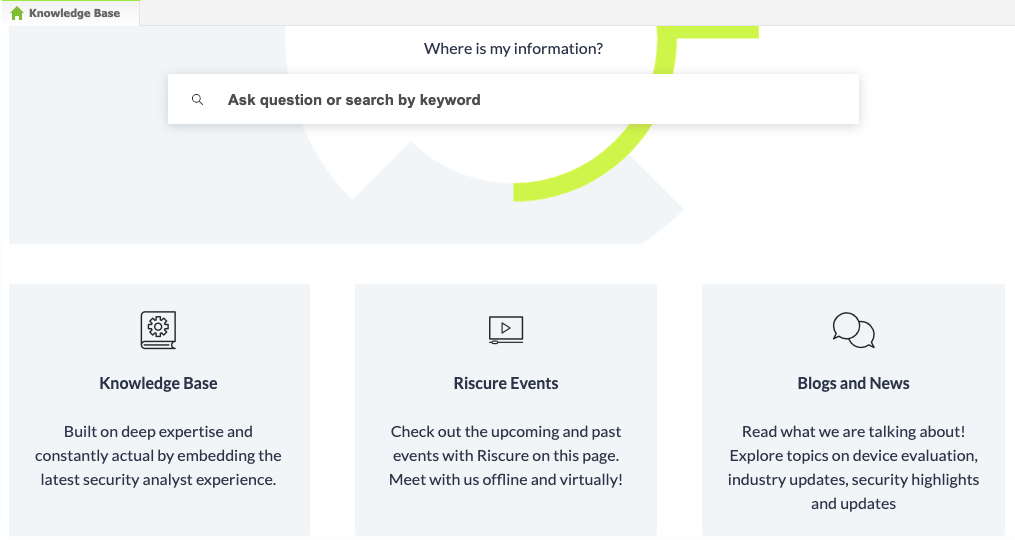 ProProfs is a complete toolkit for creating a help center, which includes knowledge base documentation for both internal and external purposes.
ProProfs focuses heavily on team collaboration and integration with services such as Freshdesk and Zendesk. It also comes with a collection of pre-made templates to get started quickly.
You can easily customize styling, including the colors, font, and aspects to match your brand. Other features include support for localization in 90 languages and performance reporting.
Pros
Easy to set up and use
Many themes to determine how the knowledge hub looks
A number of valuable integrations
Cons
Can get expensive for larger knowledge bases
Often prone to bugs/crashes
Trial period of only 15 days
Pricing
ProProfs' pricing depends on whether you want to use it for employees or customers.
The cost of a public help center for customers starts from $30/user/month. In this plan, you can have up to 3 users, create 500 pages, and serve unlimited views. The next available premium plan costs $40/user/month, with an allowance for up to 10 users, 1000 pages, and unlimited views.
If you are creating a private knowledge base for employees only, you can start with $2/user/month, with up to 75 users and 500 pages. If you want to add more users and pages, the premium plan costs $3/user/month.
Document360
Document 360 is one of the best knowledge management software that lets companies build private and public self-service portals. With it, you can write, publish, and organize knowledge.
Team members can make edits collaboratively, and compare the changes made by one another to be on the same page. You also get access to analytics reports to understand which articles have the most views and engagement.
Document360 has several extensions that you can use to integrate with your existing helpdesk, chat, commenting, and translation tools. These include FreshDesk, Slack, Zapier, and more.
And it also lets you style your knowledge base to align with your brand. You can use a custom domain and customize navigation with links, social icons, and CTAs.
Pros
Support for markdown when editing content
Intuitive user interface
Easy to set up
Cons
Prone to crashing often
There can be formatting issues
Costlier than alternatives
Short trial period
Pricing
Document360 offers a 14-day free trial to see if it's the right fit for your business. And there is a free plan that lets you have 5 team accounts, 50 articles, and 1GB of storage. The premium plan starts at $99 per project per month, and it goes up to $499 per project per month for large enterprises.
HelpCrunch
HelpCrunch gives you a clean interface for knowledge management. And it's ideal for newcomers at both small businesses to large companies. Plus, it includes the live chat and search functionality for users.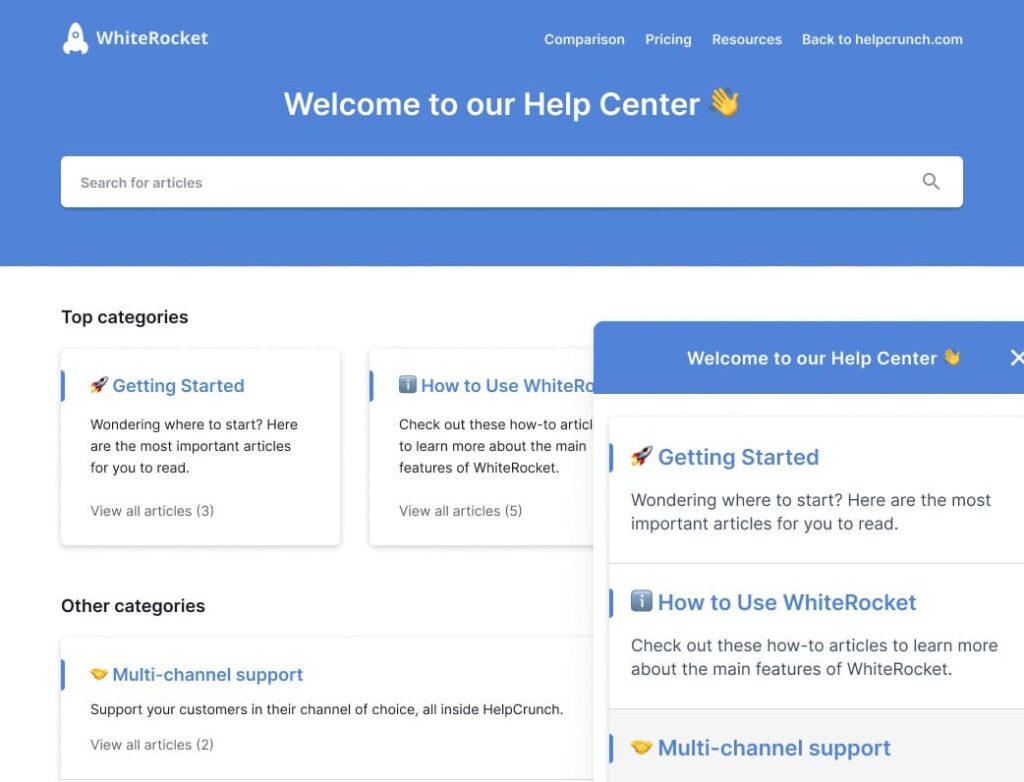 For each piece of knowledge you create, HelpCrunch shows you a panel to add SEO metadata. This helps you optimize articles for search and make them easy to find.
On top of that, you also get search analytics with useful metrics to improve your knowledge management platform. For example, you can see which searches did not yield any results for users and then create articles to fill the gap.
You can also show a widget in your help center for customers to search the knowledge hub before contacting your customer service agents.
Pros
Give you more control to customize appearance
Can be integrated with live chat for a better customer experience
Cons
May not be ideal for internal knowledge management
Doesn't support role-based access control
Pricing
HelpCrunch has three types of pricing plans, all of which include unlimited contacts and free transfer from other platforms. There is also a 14-day free trial.
The Basic plan costs $12 per team member per month, with limited features such monolingual knowledge hub. Plus, there will be a HelpCrunch watermark on your knowledge base and widgets.
You can remove this watermark with a Pro plan at $20 per team member per month, and get advanced features such as a multilingual knowledge base and chatbot automation.
Happeo
Happeo is a social workspace and one of the best knowledge management software that integrates teamwork, interactions, and knowledge hub into a single platform.
It combines effortlessly with Google Workspace, Microsoft 365, and other software that your business might currently have in place.
The files saved on OneDrive or Google Drive can be conveniently linked to Channel messages, which could then be posted straight to Slack or Teams to inform everybody.
Another key feature is the universal search, which lets you scour the whole system. The data you can search also includes the files connected with integrations like Microsoft 365 and Google Drive. Plus, you can keep a tab on important performance indicators with its analytics capabilities.
Pros
Simple to operate and intuitive
Allows for engaging team conversations
Compatibility with Google Workspace is useful, particularly the search feature
Cons
It doesn't have a free version
Unavailability of customer care via phone
Pricing
Happeo offers three kinds of pricing packages: Essential, Recommended, and Custom. The cost is based on how many people are using the system along with any extra functions that you select.
ClickUp
ClickUp is a robust collaboration system for companies of various sizes that operate in different fields. It lets you organize thoughts, work better, and consolidate your documents in a single location.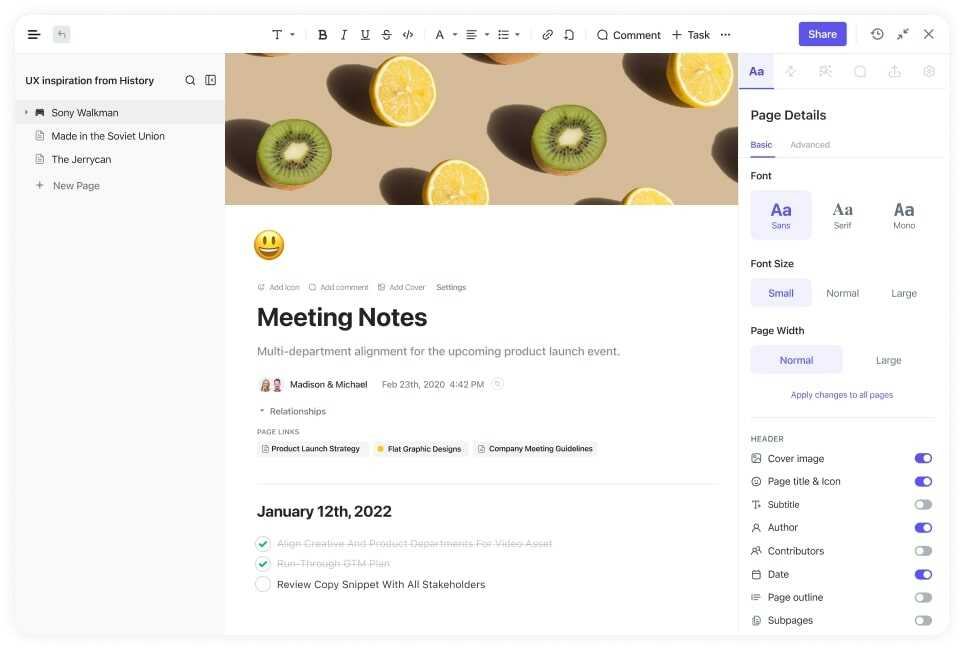 Being one of the best knowledge management software, ClickUp Docs comes with a flexible content editor designed to fulfill every one of your requirements.
The real-time editing feature of ClickUp Docs enables you to collaborate simultaneously with others. Users can also leave comments to give their input on the articles being created and keep all team members on the same page.
To organize and enrich the knowledge you share with ClickUp, it supports nested pages and the ability to customize headers, lists, tables, and other aspects to highlight crucial details.
Not only that, ClickUp is compatible with more than 1,000 different productivity software. This further enables you to easily add information to your Docs from pretty much anywhere.
Pros
Simple to operate
Constantly adds new functionalities
Reasonable cost
Comes with a smartphone app
Cons
The speed could use some improvement
Requires some effort to understand its features
Pricing
ClickUp has a free forever plan which is great for individual usage. It includes 100MB of file space and no limits to tasks and users.
For small groups, ClickUp has an unlimited plan that costs $5 for each user monthly. It has all the things offered in the free plan, and there are no limits on storage space, integrations, and dashboards.
Flowlu
Flowlu is a CRM, task manager, and communication software, as well as a knowledge management system.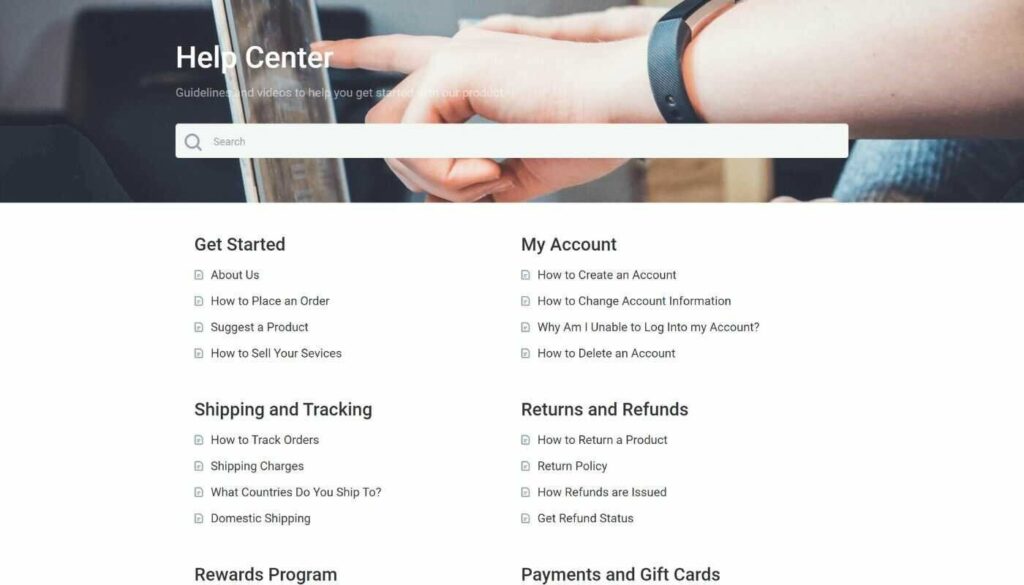 The UI is designed involving cards, similar to a Kanban board, contrary to the encyclopedic style of many knowledge bases.
You can utilize its straightforward editor to collaborate with team members and lend some extra style to your posts with tables, photos, and videos. Then tag and connect your pages to improve information architecture.
You can also align the knowledge base with your company's brand. This is done by customizing the logo, colors, domain name, and so on.
Pros
Clean and handy UI
Simple to navigate
Affordable and comes with a free version
Cons
Functions don't offer anything fresh
May be delays in customer support
Pricing
Flowlu offers a $0 version with only two users and 1GB of space. It includes a knowledge base for your team. Upgrading to the Team plan lets you add 8 users with 10GB storage at $29 per month.
Zoho Desk
Another platform that can't be ignored when discussing the best knowledge management software is Zoho, a full-fledged CRM platform.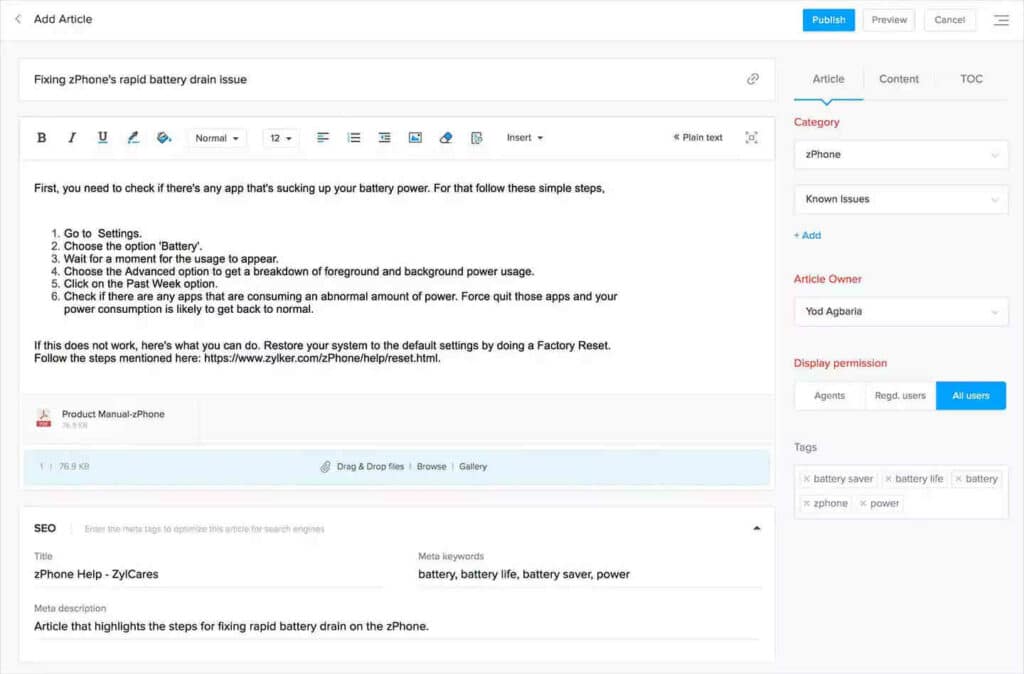 Its helpdesk system, Zoho Desk, is a hybrid of support ticketing software and a knowledge management platform. It is capable of offering quick responses to consumers, with a high level of automation.
One of its features, Domain Mapping, allows you to utilize your own domain name while easily syncing with Zoho's system. And you can modify its look and feel with custom HTML and CSS.
You can also add your brand logo and customize other aspects of your knowledge hub's design. These include page layouts, form fields, tabs, and more.
Another key feature is to modify who has permission to view content. For example, you can choose whether to show a post to everyone or just to a select group, such as logged-in consumers or staff members.
Pros
Strong connectivity with other Zoho tools
Extremely customizable
Reasonable cost
Cons
Certain essential capabilities only in expensive plans
Slightly outdated UI
A bit complicated to operate and modify
Pricing
Zoho Desk offers 4 packages starting from $0 to $40 per agent per month. A free trial of Zoho Desk is also available which gives access to 3 agents.
If you want to support unlimited agents, the paid plans start from $14 per month per agent. Plus, you get advanced features such as table view, ticket tracking, and more.
Nuclino
Nuclino is a collaborative knowledge management platform to foster knowledge distribution and teamwork within a company.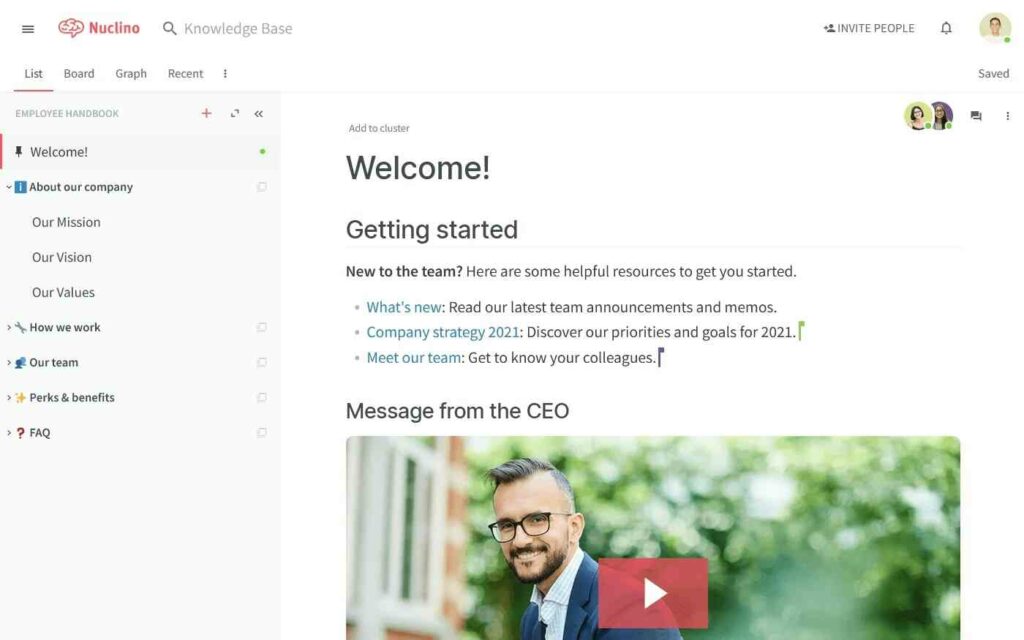 All content in Nuclino can be collaboratively edited in real-time, automatically saving every change in the version history and preventing version conflicts.
Integrations with 25+ different apps allow interactive media embeds, including videos, maps, slides, spreadsheets, and more.
Plus, you can combine it with a number of unique 3rd-party tools to enrich your content with media attachments such as presentations, tables, maps, video recordings, and so on.
Another great feature is to structure your articles with a @ symbol. You can use it to embed links in one piece of content to other related pieces. This lets users find answers fast.
Pros
User-friendly
It takes less time to onboard team members
Cons
Not compatible with several project management programs
Limited control over styling to match your brand
Pricing
Nuclino has a free basic plan suitable for new groups in the beginning stages. The free plan includes a maximum of 50 documents and 2 GB of overall space.
The premium plan starts at $5 /month for a single user that includes an infinite number of documents, admin controls, single sign-on(SSO), version history, allotted space of 10 GB per user, and much more. You can also claim a 14-day free trial to see if it's the right fit for your business.
Tettra
Tettra is one more dedicated internal knowledge management solution that is not offered as a component of CRM software.
So, it is pre-configured to fetch data from GitHub, Dropbox, and Google Docs, as well as supports straightforward data sharing.
Additionally, there are a variety of premade layouts, such as those for employee records or for common procedures that your employees must follow.
It contains an intelligent search engine that can detect frequent typing errors. It also allows staff to simply give recommendations within the knowledge hub rather than visiting another channel to recommend new content.
Lastly, it links with Slack, allowing you to respond to staff inquiries with an instant link to the knowledge hub rather than writing the same responses repeatedly.
Pros
Simple to operate and user-friendly
Prompt customer care
Cons
Content structuring could be improved
Limited feature set
Pricing
Tettra offers a free plan for compact teams in the beginning stages of knowledge sharing. You get limited access to 10 users, 1 GB of space, only Google connectivity, and no analytics.
For expanding businesses seeking to increase workforce knowledge, the premium subscription starts at $8.33 /user/month for a maximum of 250 users. The paid plan includes compatibility with Slack, Zapier, MS Teams, and infinite storage space. You can also avail a free trial of the paid plan for 30 days.
Intercom
Intercom is a customer care and CRM application that includes a knowledge management solution.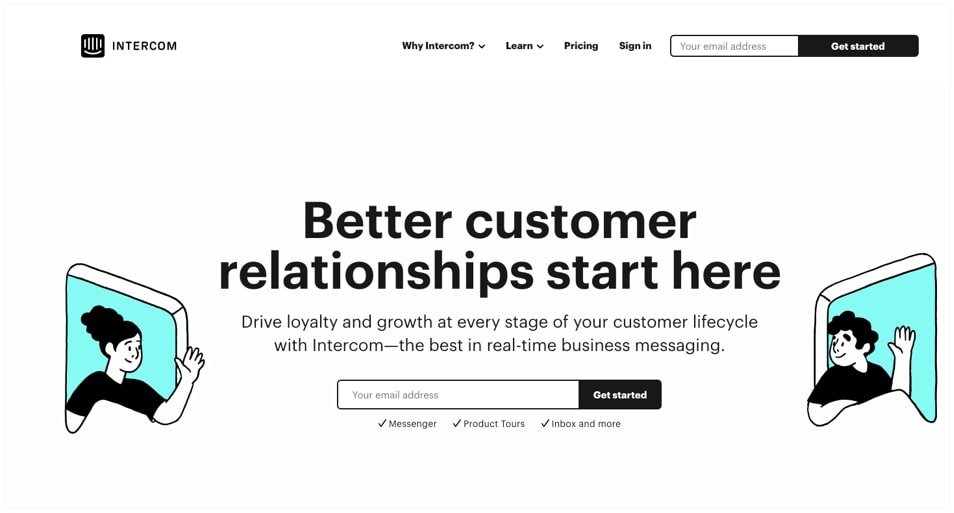 Intercom is known for being multilingual, and as a result, they have an integrated framework for translating your material into different languages.
You can utilize their content editor to seamlessly upload video recordings, photos, call-to-actions, and interactive tutorials. You can also limit access to a specific group of users.
You can customize it as you like to ensure that your knowledge hub is consistent with your business by personalizing the logo, shades, domain, header, and so on.
Pros
Configuring Intercom is easy
Syncs with your website
Cons
Delays in customer service
The price is on the higher side
Pricing
Intercom offers its users a 14-day free trial. For small startups, the premium subscription starts at $74 every month, to be paid yearly. You can also modify your package with additional extension packages with features like polls, WhatsApp connectivity, and product demos.
What should you look for in the best knowledge management software?
Now that you're ready to try out some of the options we covered above, let's see the key aspects you should consider when evaluating knowledge management software.
Simple to set up and use
The harder it is to use your knowledge management portal, the more reluctant your employees and customers will be to use it to publish and find information. The best knowledge management software makes it a breeze to create a knowledge hub and add/edit content. Both the admins and users should be able to use it with minimal training.
Document management
Nothing annoys team members more than issues in uploading their desired file types, or having to convert them into another format. Your knowledge management software should have the ability to handle all the commonly used file formats and media, such as PDF, videos, audio files, spreadsheets, and so on.
Effective navigation and search
What's the use of creating all this great knowledge if users can't find it? One of the key capabilities of the best knowledge management software is to let you organize and optimize information to make it more searchable. And also to provide a search function that lets users solve problems fast.
Team collaboration
When many people are adding and editing articles in a knowledge base, it gets hard to track and review all the changes. So a good knowledge management solution allows for a collaborative editing, review, and approval process.
Content and user analytics
Knowledge management is an ongoing process. And you'll need insightful data to make improvements to your knowledge hub on a regular basis. This includes details such as:
The most popular articles
User searches
Article votes or ratings
So make sure to check whether your knowledge management software has performance reporting capabilities, and what type of data you can get.
3rd-party integrations
If you are already using other help center, live chat, or communication tools, you shouldn't need to replace them or use them in isolation. By integrating your knowledge management system with your tools, you can take your team's efficiency to a whole new level.
Frequently asked questions
What is knowledge management?
Knowledge management is the practice of creating, saving, distributing, and managing knowledge in an organization. Its goal is to help employees and customers find answers to their questions and solve problems in an efficient way.
Why is knowledge management important?
Effective knowledge management helps you empower your workforce, enhance productivity, boost employee engagement, and retain customers. In contrast, inadequate knowledge management can be detrimental to employee happiness, customer satisfaction, and overall revenue.
What are the benefits of knowledge management software?
The best knowledge management software helps reduce the cost of providing customer service, makes it easy to access required information, lets team members avoid redundant tasks, speeds up customer support, and promotes organizational growth.
Summing up: best knowledge management software
With this holistic overview of the best knowledge management software, we hope you're now fully equipped to make the right decision for your business. Start by outlining your company's knowledge management needs. Then try the various knowledge management platforms covered above to see which one meets those needs best.
If you're part of a small or medium size business, we strongly recommend choosing a combination of WordPress and Heroic KB for knowledge management. This approach will give you full control over customization and cost you just a fraction of what you'll have to pay for a SaaS solution.
This way, your knowledge can grow along with your business and evolve as your needs change. Good luck!