15 best document management systems and software in 2023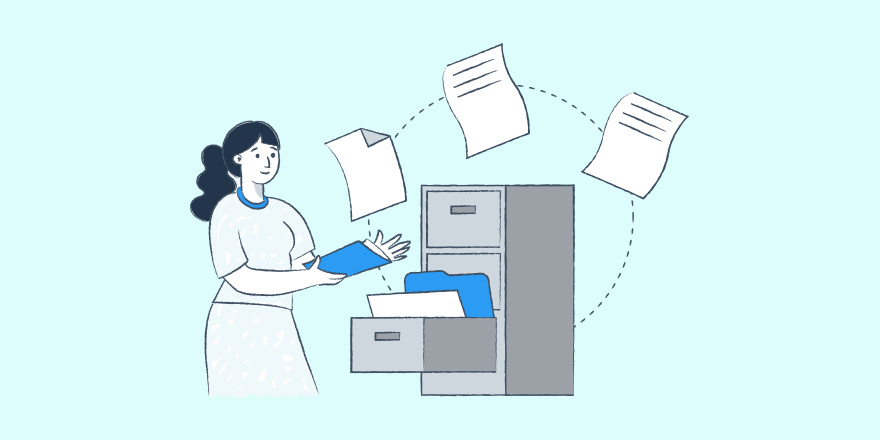 The worldwide market for document management systems is projected to hit the $11.06 billion mark by 2028.
And rightly so. Files and documents are a fundamental part of any company. Regardless of the size of your business, it's likely that you're working on and managing a number of documents.
And you also want to store them securely and systematically so that your employees and customers can conveniently retrieve them.
That's where document management software can help. It lets you save and share documents from any browser, device, or location, assuring smooth collaboration among all parties involved.
Needless to say, selecting the appropriate document management software is vital to run your organization seamlessly.
From ensuring the timely retrieval of required documents to granting permission to all authorized people in your firm, a reputable document management program can assist in achieving all your objectives.
So in this list, we have assessed and reviewed the best document management systems, enabling you to select the most suitable solution for your needs. But first, let's see the meaning of a document management platform.
What is a document management system?
Document management systems refer to platforms that are designed to upload, organize, save, handle, and monitor digital documents.
On top of that, numerous document management platforms have features that allow you to effortlessly transform physical documents into digital copies by utilizing scanning technology.
Once the documents are digitized, it becomes simpler to browse through them. So your employees can reduce the time spent searching for documents and focus on using the information they need.
Why should you use document management software?
Handling large amounts of information in physical form can be challenging and lead to a loss of productivity. Document management software is vital for any business to create an electronic archive for storing documents and enhancing efficiency.
The trend of companies transitioning to the digital space has led to a growing interest in document management platforms.
Managing a large volume of information can be difficult, particularly when the document is in hard copy format. Many companies experience decreased efficiency due to resolving the hurdles of document management.
So document management software is an essential component of any company. In place of physical document cabinets and drawers, document management solutions build an electronic repository that authorized people can open and modify.
As a result, it lets you manage time efficiently, enhance security, comply with regulations, and foster teamwork.
What features should you look for in a document management system?
A document management solution may have several capabilities beyond just storing documents. The type of solution you choose will depend on your requirements and the paper files your organization handles. Some of the features that you may want to explore when selecting a document management solution are:
Ease of use
Ease of use is an essential part of a document management solution. It can be packed with amazing functions, but they will not help you if the software doesn't have an intuitive user interface.
A lot of platforms provide free trials prior to making a decision. If it's feasible, let your employees experiment with the application during the testing phase.
High-quality previews
While using a document management platform, it shouldn't force you to repeatedly download files when you want to take a look at them. The platform should provide a clear view of documents on demand.
Document collaboration
The latest document management software permit authorized professionals to share documents and modify them as a team.
Certain platforms let multiple people modify documents at the same time, while others have an in-built mechanism that allows just a single person to edit the document at any given time. And there are those that provide both alternatives.
To decide the most suitable option for you, identify how your team functions and the kinds of files that need teamwork.
Bulk photo scanning and document uploads
The ability to scan photos and change them into text using OCR technology is beneficial for organizations. Because it lets them convert high volumes of paper-based documents into digital format.
So the best document management systems use optical character recognition (OCR) technology to add metadata automatically. This further simplifies the process of locating documents in the future.
Version control
Also known as versioning, version control is an essential attribute of a document management platform.
Accidental user mistakes can lead to the modification or deletion of essential data.
So version control allows you to view the changes a document undergoes on different occasions. If required, you can go back to an earlier edition. This feature is crucial when multiple professionals work on a document.
Storage
The application should let you save your files in a central database so that you can effortlessly find and fetch documents.
Numerous integrations
The solution should make it easy for you to connect it with external programs such as Salesforce, MS Outlook, Gmail, and Google Drive, among others.
User roles and permissions
A crucial aspect of document management software is to give managers a way to establish distinct privileges for each team member.
You can authorize specific individuals to access or modify documents. And other team members may be restricted from viewing files within the network. It creates an effective safeguard mechanism and makes the team more efficient.
Mobile-friendliness
Several document management platforms come with a smartphone app. You may not use the platform on a handheld device, but there is a chance that your team will.
All document management solutions will not fulfill these criteria. So when selecting a solution, determine which functions in the platform serve your business' purpose the best.
What is the best document management software?
The best document management systems include solutions like DocuWare, Dropbox, IsoTracker, DocuPhase, Zoho Docs, Smartsheet, M-Files, Evernote Business, HighTail, Onehub, FileHold, Document Locator, eFileCabinet, InfoRouter.
In order to let you select the best document management platform for your organization, we evaluated numerous platforms available in the marketplace.
And we examined factors such as ease of use, security, version management, and document collaboration. So here's a list of the top document management systems for you to consider.
M-Files: best for ease of use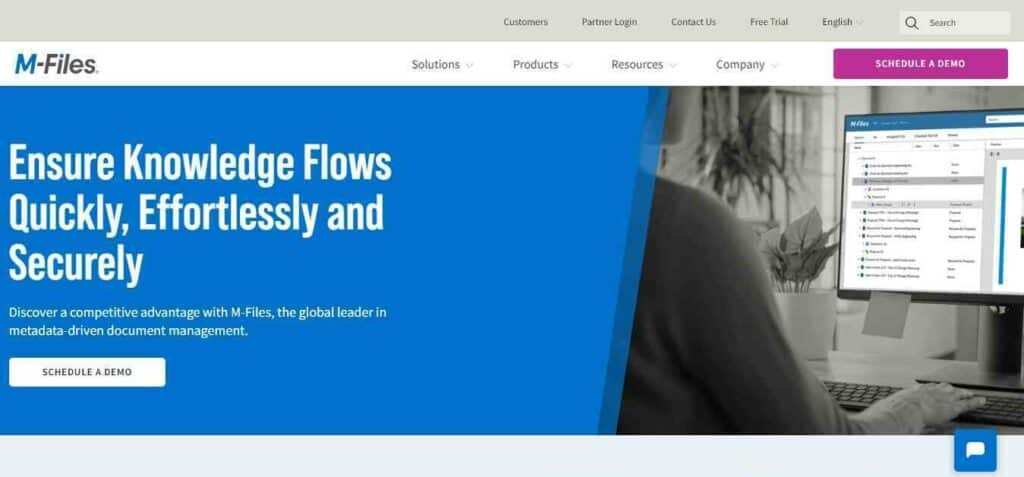 M-Files is a complete document management platform with a user-friendly and easy-to-use platform. It is equipped with multiple functions that facilitate the smooth categorization of documents, the scanning of physical documents, and process automation.
Key benefits
M-Files offers connectivity with Parashift, a technological firm known for document retrieval through machine learning. By leveraging this integration, you can streamline and automate your workflows.
Rather than physically viewing information and categorizing files, you can handle a vast array of semi-structured, structured, and unstructured files automatically.
Instead of depending on a conventional folder-based approach, M-Files employs metadata to categorize materials by tags, keywords, groups, and so on. This simplifies the process of finding and handling all kinds of documents.
Offline smartphone access is available with M-Files, enabling you to effortlessly view files from your smartphone, even without internet connectivity.
M-Files provides seamless integration with an extensive range of tools, such as Google Workspace, Salesforce, Microsoft Office, and others.
Limitations
The automatic tag categorization feature may take some time to get accustomed to.
The UI of the platform is a bit dated.
Pricing
To try out M-Files, you can get the 30-day trial version by completing a questionnaire. Or you can contact them to request a demonstration.
Zoho Docs: best for saving and managing documents easily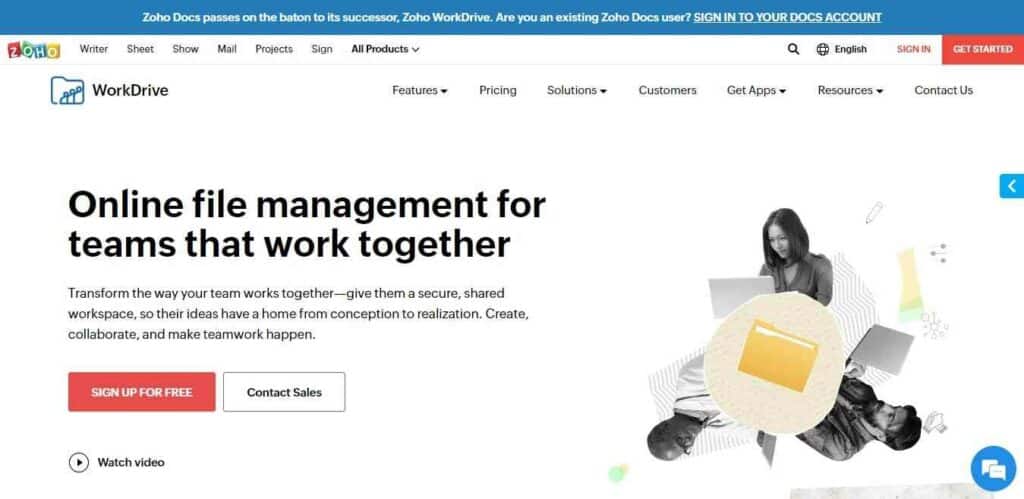 Zoho Docs is among the best document management systems featured in this collection.
Zoho Docs allows you to save and handle all your files in the cloud, along with providing efficient collaboration features. It lets you share your documents and enables you the convenience of producing and modifying them on the move.
With Zoho Docs, you can transform your MS office documents into PDFs and share them among team members instantaneously.
Key benefits
It allows you to save massive files effortlessly, such as video recordings, directories, and even whole repositories.
With Zoho Docs, you can seamlessly make parent folders and child folders for the neat organization of files based on tasks, roles, and file formats.
You can perform your tasks on your desktop computer whether you are online or not – files are automatically synchronized once you reconnect to the internet.
It generates automatic backups of files to avert information loss.
It lets you form a group to share documents with a number of people simultaneously. Additionally, it provides an audit trail function to manage modifications made by other coworkers.
It offers an instant messaging system inside the program to cooperate with multiple employees.
It ensures strict security by encoding files with an RSA-based 2048-bit key generated using Perfect Forward Secrecy (PFS).
Limitations
The UI seems outdated and rudimentary.
The loading speed of the software could use improvement, especially when a lot of documents are involved.
Pricing
Zoho Docs provides a free edition that can accommodate up to five individuals. Its premium packages start at $4 per month and beyond. You can take advantage of its 15-day free trial version before purchasing.
Docuware: best for 3rd-party integrations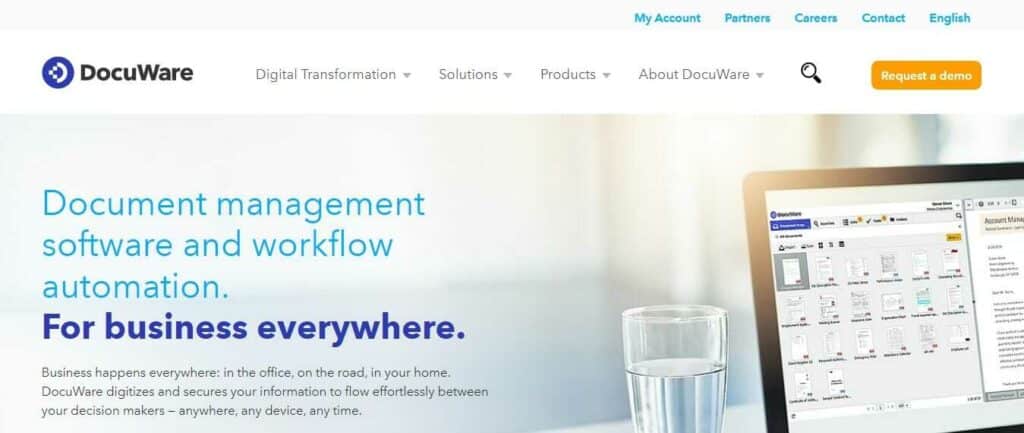 If a company employs a variety of tools, DocuWare could be the ideal document management software for its requirements. By connecting with other software, it provides uniformity, as well as provides up-to-date information instantly.
Key benefits
DocuWare provides API connections with more than 500 various software. Regardless of the sector, you can manage your files easily, along with keeping up work productivity.
It allows for various approaches to achieve integration, ranging from basic point-and-click connectivity to complex API connectivity options.
It offers specialized connectors designed for prominent programs such as Outlook, SAP, and so on.
It ensures data security and complies with regulations like GDPR and HIPAA.
You can allow decentralized and remote groups to access files from any location at any time.
You can utilize DocuWare's artificial intelligence to transform any file into a readable version for automated and rapid indexing.
Versioning enables employees to modify files together while preserving prior editions.
Limitations
The starting package offers a maximum of 20 GB of archiving capacity, which might be inadequate for bigger corporations.
The cost of DocuWare can be quite high.
Docuware's site lacks sufficient tutorial content.
Pricing
DocuWare Cloud offers adaptable licenses tailored to various sizes of organizations through a subscription model. You have to determine the number of individual licenses and storage space required for your company.
Digital Drawer: best for importing files and folders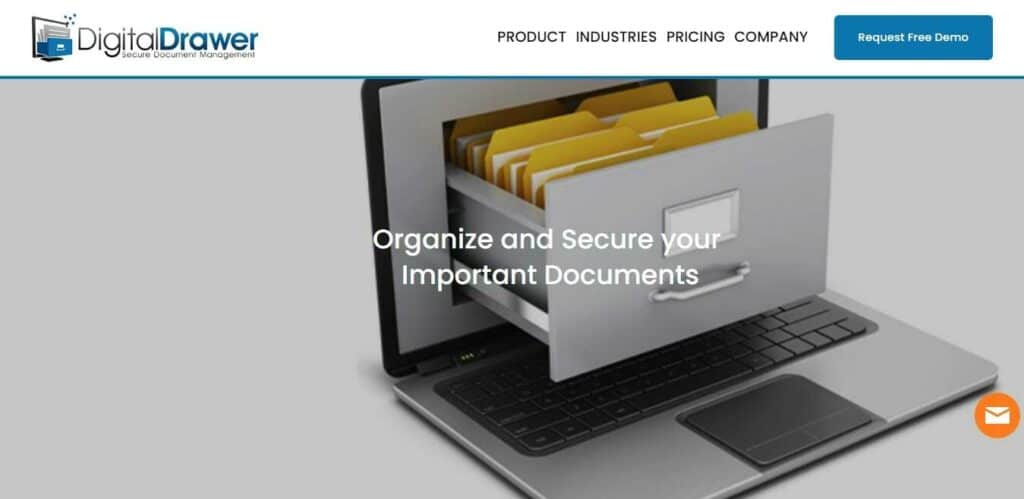 If you're searching for a platform that lets you scan, save and protect files, Digital Drawer might be the best document management system for you.
The platform can help you save time through the automated process of saving and scanning files. It also provides file storage on-site for an extra degree of security.
Key benefits
This software lets users effortlessly arrange all the files in a single place using a file-folder hierarchy similar to Windows.
With this solution, you can seamlessly combine files or append pages to older files. You can also label them again with distinct indexes.
You can utilize functions like scan, copy-paste, drag-and-drop, and import capabilities to add documents.
It provides robust security for all files with AES-128-bit encryption.
Digital Drawer enables you to seamlessly work together with various employees by assessing the alterations to the document instantly.
Using powerful search, you can discover documents saved in any directory on the storage effortlessly.
This program synchronizes modifications made to the documents across all devices.
Limitations
This document management software has a limited range of functionalities, which may not be adequate for bigger corporations.
The cost of a single-time purchase can be particularly burdensome for small businesses.
Pricing
Digital Drawer provides a free trial version for 10 days with full functionality. For purchasing, you can choose between a single payment of $1200 for one license for a single member, or an annual membership package for $500.
Dropbox: best for comprehensive document management

Dropbox is a renowned, full-featured document management system (DMS) that enables the administration of both multimedia and conventional files.
Dropbox is known for its intuitiveness and wide range of functionalities, such as connectivity with different tools, file version control, OCR support, and fine-tuned role management.
It also permits file modification, and alterations are instantaneously made available for all employees.
Key benefits
The Account Transfer feature enables you to safely share corporate documents across different employees in the case of a reorganization or replacement.
With Dropbox, you can present all your work through professional-looking pages and monitor viewer interaction with your documents.
Dropbox supports seamless integration with over 300,000 apps.
It comes with a 'remote wipe' function, which enables you to immediately erase documents from compromised profiles and stolen gadgets to protect sensitive information.
It enables you to track the actions of your employees via the administration panel.
It lets you restore trashed documents by recovering prior editions of the file.
This platform offers synchronization across a range of systems and devices.
Limitations
Dropbox's smartphone app is not as easy to use as the desktop edition
Document uploads are not as fast as expected
Pricing
Dropbox offers several premium packages, each with its own set of sub-packages. Dropbox's personal plan costs $9.99 every month. Its professional package costs $16.58 every month.
eFileCabinet: best for searching within documents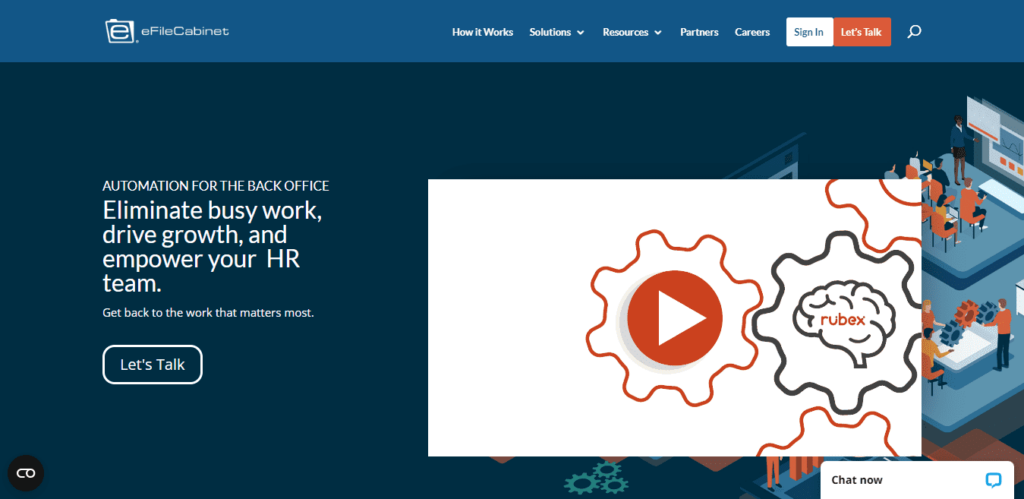 eFileCabinet is one more advanced document management software that lets you transform paper documents into digital files. This enables you to save them on your desktop or online to view or use them from any place and when you want.
The program even lets you share one document in several file types using URLs locked with a password. It is also simple to classify and find files.
Key benefits
It helps you locate a document in any directory with the help of an advanced search option that can search the content within documents.
The application categorizes, automatically identifies, labels, and saves files based on the details contained in them.
You can take advantage of readymade folder structures that you want to use across the platform. It even enables you to create files with custom labels.
Using the File Request function, you can let virtual customers and employees share documents from their location on the platform without registering first.
It enables you to request digital signatures. And to maintain records of events and changes in files with digital signatures for security and adherence to standards and regulations.
It has smartphone apps for Android and iOS phones as well as a program for desktop computers.
Supports 2FA (2-factor authentication) and provides access to users based on their roles to strengthen security. It offers complete encryption while saving documents and providing access to others.
Lets you link the platform with external programs, such as MS Office and Salesforce.
Limitations
Its user interface could be more intuitive
It can be overwhelming for beginners to learn
Pricing
You have to contact eFileCabinet to receive an estimate for your organization. You'll have to buy during the evaluation period via the test account.
FileHold: best for digital document scanning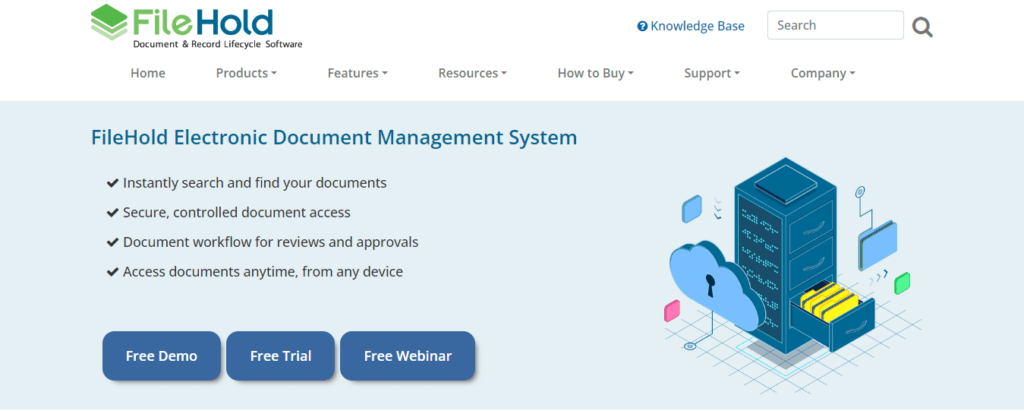 FileHold is a document management software for large businesses. It is economical and simple to set up. It enables you to digitize, save, and catalog files using a single system.
Capabilities like perusing and scanning files for the effortless saving help you make sure that all files are present. It also lets you conveniently locate files when you require them. For complete security, you can set up the application on a local host.
Key benefits
It has a safe document-sharing process that even comes with a confirmation that the recipient(s) has received the file.
Become paper-free by converting files into digital formats straight away to transmit them to various recipients around the world.
It has an effective mobile app that allows hassle-free administration of the entire set of files.
It has a comprehensive search option similar to Google. That allows you to use the metadata of files to get more appropriate search results.
You can connect it effortlessly with MS Office. That gives you a gateway to applications such as Word, Outlook, Excel, PowerPoint, and Visio.
It doesn't allow someone to edit a document if another employee is already editing it. It averts the risk of the contents of the document getting compromised.
It lets you edit files even if you're not connected to the internet. Any modifications you make will be updated once you reconnect to the internet.
Limitations
In case you are a novice, it could be slightly difficult to grasp all the capabilities of this document management system.
FileHold's on-premise program is incompatible with Mac.
Pricing
You have a choice to register for a free trial account or view a web seminar to understand FireHold's price setup. The application is reasonably priced, and you can get it based on a per-user billing plan. Billing depends on how many employees use the program and the add-ons you choose.
HighTail: best for mobile document previews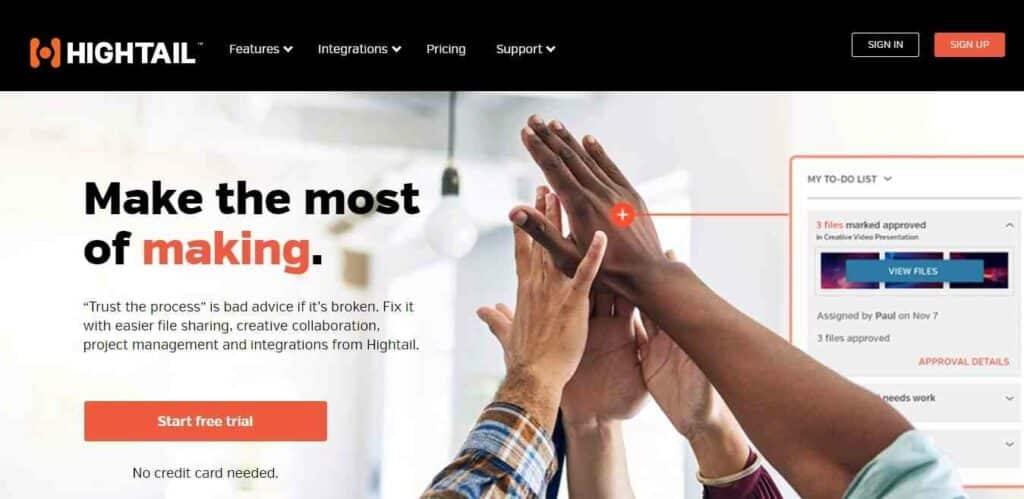 HighTail is a document management software that makes it easy and more natural to manage digital files. Besides, it lets creators provide access to large-sized documents, in addition to videos, photographs, slideshows, drawings, and the like.
Key benefits
It allows you to look at large-sized documents with no need to save these files.
It enables you to review documents with the help of illustrations like boxes, lines, arrows, freeform shapes, or some other types of annotation to media-rich documents.
You can compare two versions of a document by placing them alongside each other on your computer to see modifications and seamlessly provide evaluative comments.
After giving access to files, employees don't have to sign in to view or use them.
The application has 256-bit AES encryption as well as high-quality safety measures to ensure tight safety throughout the network.
It offers notifications when files reach intended recipients and they download them, via its Send Tracker feature.
Cons
The links that you share for files lapse in a short time.
The search option is slow and requires additional filters to optimize it.
Pricing
The premium subscription begins from $12 a month and can increase to $36 each month.
Document Locator: best for building efficient workflows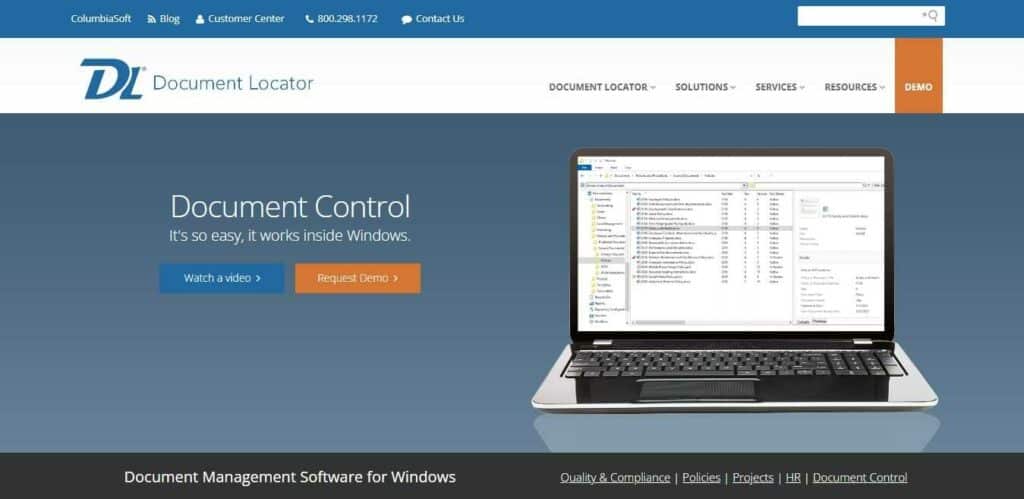 Document Locator is a document management system that allows you to connect with Windows as well as the cloud to manage and share documents effortlessly.
A few capabilities it offers are version control, scanning paper documents into digital files, file control, and managing emails.
Key benefits
This document management software lets you transform paper files into digital files that are completely indexable.
It allows you to capture documents and get metadata with essential file details.
It has a number of automation capabilities, such as time-out, workflows based on user roles, quality control points, and editable alert templates.
It allows you to record confirmation of digital files for accountability and compliance with regulations with ease. It can even handle all the stages of one-person approval and the more intricate multi-people approval.
It lets you record metadata of scanned documents through cover sheets, zones, or barcodes. Or, you can use the preview function in Document Pro to select different parameters one by one on your computer.
It can run on browsers, smartphones as well as desktops.
Limitations
The UI is a bit disorganized.
It does not host training sessions too often.
Sometimes, the platform can be slightly sluggish while moving across a workflow, especially when multiple people are using it.
Pricing
You can get in touch with Document Locator representatives to find out more about the license choices, membership plans, cloud or onsite server application, and a virtual demo.
IsoTracker: best for its customer support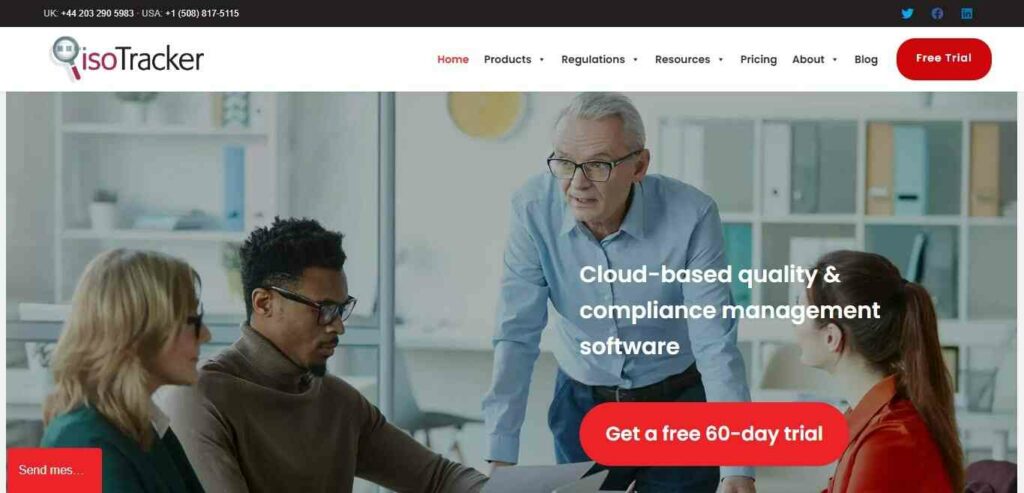 Among all the document management software we evaluated, IsoTracker offers the finest user support. Those who require assistance can use instant messaging to reach help desk staff. Also, there is an option to call a support agent right away, or to submit a contact form.
Key benefits
The platform offers you effective versioning and document change control.
It offers you a centralized file database that you can reach when you want and from where you want.
Storing and cataloging files, sending alerts for tasks, and file approval activities can be automated.
To keep the application secure, it backs up files every day, has encryption and granular access control, and records file-related activities.
Limitations
The menu settings and layout could be better
The UI feels a bit outdated, making it a little hard to use.
Pricing
Though the platform does not clearly state the cost, users can use an online calculation form to assess if IsoTracker meets their requirements and budgets. The platform offers a free trial for 60 days.
Evernote Business: best for managing notes and screenshots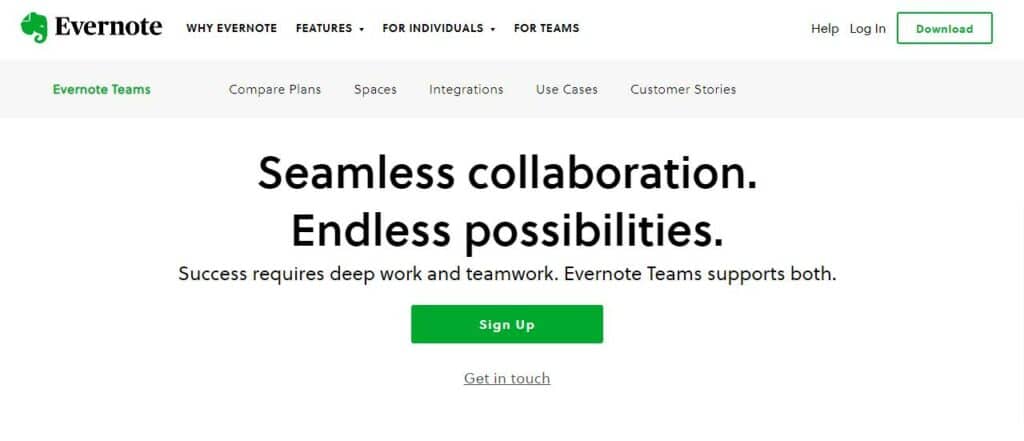 Undoubtedly, Evernote Business is among the widely known software for organizing documents. It lets you effortlessly generate and share documents and memos, to make a more intelligent and efficient work environment.
Key benefits
With the web clipper, you can quickly save snapshots of sites for later use. It allows you to digitally store all relevant data, making it easily accessible whenever required.
By utilizing Evernote's pre-designed templates, you can conserve time and energy when fulfilling particular requirements.
It provides comprehensive integration with various external software. This includes Gmail, Google Drive, Salesforce, Slack, and Outlook.
It lets you search notes written by hand, whiteboard images, and scanned pictures. It is proficient in recognizing 11 languages written by hand and 28 typed languages.
It allows you to scan hard copies of files and store them securely as digital files.
Limitations
Note management could be more systematic for experienced users who deal with a large amount of data.
Uploading and downloading documents can be somewhat sluggish, especially if the file size is too large.
Pricing
There are different tiers of subscription packages available, each offering a range of features and benefits depending on the needs of the user. The starting package is monthly $7.99 for each user.
Smartsheet: best for project management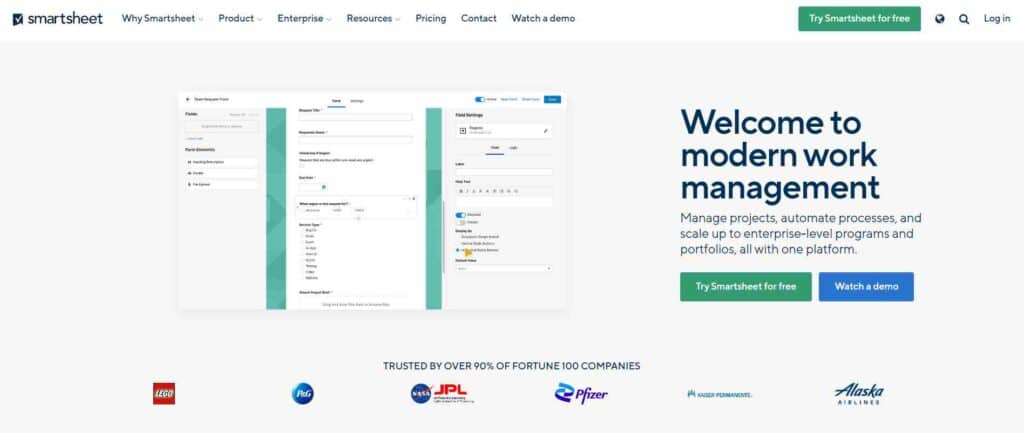 Smartsheet is frequently favored by organizations as one of the best document solutions for seamless task organization, document management, and teamwork.
A standout characteristic of this tool is its ability to comprehensively connect with 3rd-party tools. These include Salesforce, Zapier, Dropbox, Google Apps, and many others.
Key benefits
It simplifies work routines and operational procedures by utilizing the pre-designed templates provided.
With this document management software, you can seamlessly work as a team on content by tracking the production progress from a single sheet.
It also allows you to delegate tasks, configure automated alerts, enable others to evaluate the content, and post thorough comments in the form of attached notes.
It prioritizes the security of your files by backing up data on several sites, hosted with AWS and Equinix.
It allows you to save time by automating recurring tasks via approval requests and update notifications.
You can also streamline your work routine by simply merging various steps and conditional paths.
It lets you effortlessly import information from Excel sheets, CSV documents, and Google Sheets.
You can view documents on your phone via mobile apps for Android and iOS.
Limitations
Understanding all of its capabilities can be overwhelming in the beginning
Smartsheet is lacking in some essential Excel features, like the lookup feature
Pricing
The paid plans of Smartsheet begin with a Pro plan, which costs monthly $7. There is also a business variant that requires a minimum of three users and costs monthly $25 for each user.
InfoRouter: best for real-time document tracking

Another document management software worth considering is InfoRouter, which allows efficient file handling.
Unlike some other document management systems, InfoRouter must be implemented on the server-side without any client-side elements. Fortunately, the tool has huge scalability potential and is able to utilize nearly 100 hosts to ease the load.
Key benefits
With this tool, you can administer your important documents securely by sending them through pre-established work routines and monitoring live progress.
It provides a combined analysis of day-to-day occurrences.
It supports multiple languages, allowing you to receive emails in your preferred language.
It automatically fetches the documents within monitored directories in preset folders.
You can also transform pictures into PDF documents with ease using this tool.
There is no limit to the number of folders that can be created.
It facilitates HTTPS as well as SSL, ensuring secure connections.
You can also edit the content and templates of your emails according to your preferences.
Limitations
It can get slow when uploading sizable documents.
The current UI has too many features on the home screen, which may lead to confusion for users.
Pricing
The pricing information for this tool is not publicly available and must be requested directly from the vendor.
Onehub: best for keeping your documents secure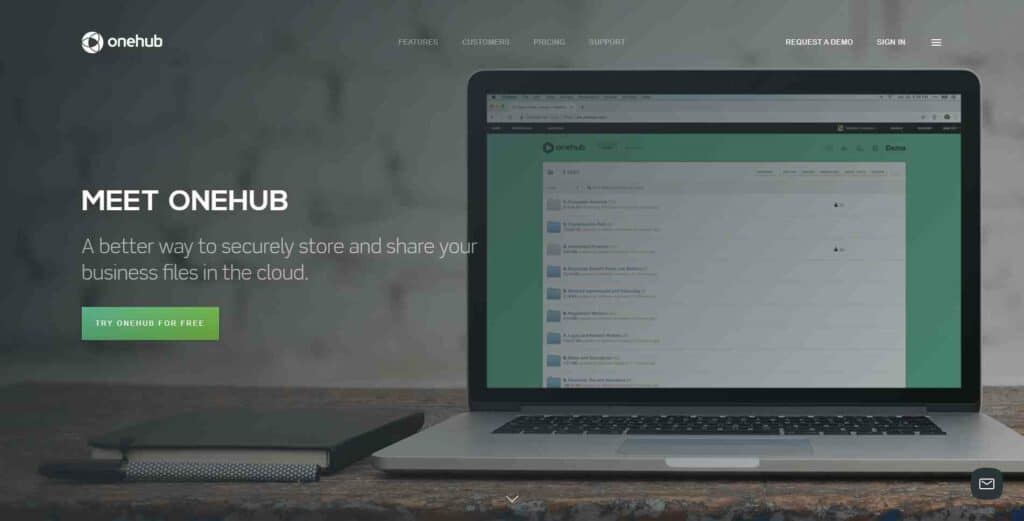 Onehub is one more effective document management system for our collection. Its drag-and-drop capability makes document uploads simple. Additionally, it enables customers to organize documents in subfolders, keep them secure, and manage versions.
Key benefits
You can import documents quickly using the drag-and-drop attribute. Besides, it enables you to use a folder-file structure, a protected FTP gateway for uploading a large number of files, and an automated document version control as well.
This platform implements numerous safety protocols, such as authorization based on user roles, two-factor authentication, and session logouts.
With Onehub, you can effortlessly preview documents and files without saving them, be that on a smartphone or an internet browser.
This document management system enables you to contact coworkers through messaging, reviews and approvals, and folder comments.
This platform connects effortlessly with OneDrive and Google Drive.
It lets you keep track of all uploading and customization activities. You can utilize audit trails to cancel permissions immediately if any suspicious activity is detected.
Limitations
Dividing members of a group into smaller groups is not possible
Hard to learn and lacks sufficient training materials
Pricing
Onehub's premium packages begin at $12.50 per month and extend up to $500 per month. Additionally, all packages come with a free trial version of 14 days.
DocuPhase: best for enhancing productivity
DocuPhase has several capabilities and functionalities that enable groups to work more systematically and effectively.
Key benefits
The application uses AI-driven auto-indexing technology that enables users to set labels in advance and separate and categorize documents on receipt.
The advanced search option allows users to locate file details fast.
With automatic document routing, you can share document details with relevant professionals.
DocuPhase is a flexible application. It has functionalities that are useful for groups that handle a lot of files.
Systematically organizing and monitoring documents can be automated.
Limitations
Upgrading or applying security patches is challenging without assistance from the help desk.
Beginners may find it overwhelming to learn the different functionalities.
Pricing
Your department can evaluate a customized demo before buying the application. The price structure depends on the functionalities your team chooses, as the needs of every group are unique.
Final thoughts on document management systems
With digitization becoming the norm, paper files are disappearing. And virtual storage is definitely the most favored alternative.
These are a few of the best document management software. But these applications have unique functionalities and distinguishing features.
Certain companies may want advanced capabilities. These may include connecting to a certain API, routing documents through different systems for extra security, or complying with ISO standards.
But if you don't require the extra bells and whistles, setting up a document management system is smooth and straightforward. You can start using document management software right away. Just assess different applications and their capabilities and choose the best fit for your needs.