How to Create a WordPress Document Library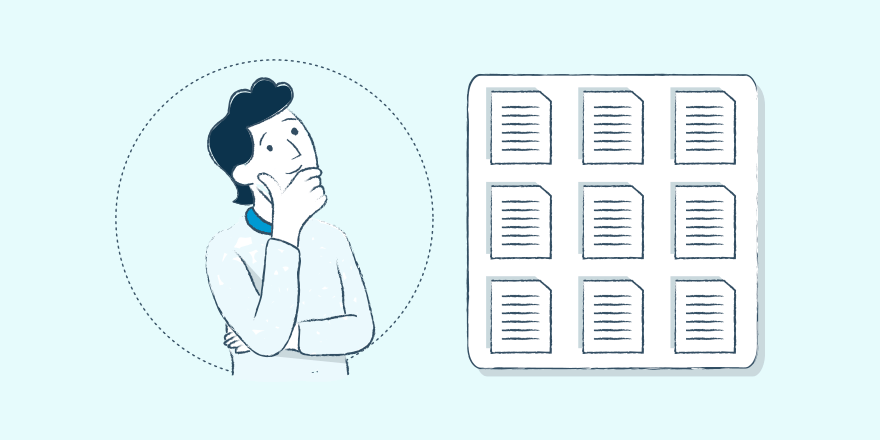 Among the few things you most probably need but don't know that you need is a WordPress document library. Why? Well, because document management is a real problem, with real impact. And WordPress offers an effective solution.
Because documents make a big part of a company's documentation and knowledge-sharing mix, struggling to find them results in tangible productivity losses — about 4.5 hours a week!
Now, you have quite a few options for creating a digital document library to solve this issue. You have full-blown document library solutions like Sharepoint (a popular choice with Microsoft users). You also have your Google Drive. And, of course, options like Box and Dropbox work just fine, too.
The problem here, though, is that your documents end up being everywhere, making searching difficult. Plus, all your employees need accounts on all these solutions for seamless access. So when they're working on something and need a document to complete it, they need to visit a service to fetch it.
The solution? Building a WordPress document library
A good solution to this document management challenge is adding a document library right to your WordPress website, so all your website's members — your employees — can access the docs they need quickly in one single place.
A WordPress document library doesn't just help you share documents internally within your company but also publicly with your customers.
So let's see how you can create a WordPress document library and bring all the documents that your employees and customers use straight to your WordPress website. Think of this as creating a light-weight WordPress-based documentation management system.
Step #1: Build a structure for your WordPress digital library
To create the most complete and usable document library that hosts all the documents it should, you need a solid structure. This structure tells you which documents you need and where each belongs (so your library doesn't end up being a digital document dump).
To go about this, think in terms of the different categories your documents belong to. For example:
Job templates, drafts for appointment letters, employee survey forms could all go to the HR category.
Notices, templates for terms of use agreements, confidentiality agreement templates could map to the legal category.
Manuals, user guides, spec sheets would all fit in the technical category.
And so on.
At the end of this step, if you're building a WordPress document library for internal use, you should have mapped a list of documents for all your internal processes. You can also think team-wise and simplify this. To do this, note down all the teams at your company and then list the documents that each uses.
Likewise, if you're building one for your customers, you should know what documents/files they need to do what they're looking to do. Review your support topics to see what these could be. For instance, if you run a career consultancy and help your users' create good resumes as a service, you could upload an ideal resume format to your support content and offer it as a downloadable right on your support page.
You get the idea.
Step #2: Define access levels for every single document
Using your WordPress website to power a private, company-wide document library is pretty easy as WordPress lets you restrict access to your content to just logged-in users — your employees. Naturally, because you won't be saving any sensitive documents here, this arrangement works well. Many plugins also help you restrict access to your website's content.
Sharing documents publicly (via, let's say, a resources tab or a public self-service support content base) through WordPress is even easier as WordPress's pages and posts, even the ones that you've uploaded attachments/documents to, are public by default.
Step #3: Add the documents!
Now, WordPress doesn't support a document library right out-out-of-the-box, but with KnowAll, you can quickly build one.
Basically, KnowAll is a WordPress-based knowledge base software that lets you build both internal and customer-facing, public knowledge bases. And because knowledge base content — especially the one from internal employee knowledge bases — often needs documents, KnowAll is ideal for building one. You could say that with its support for documents, it doubles up as a light-weight WordPress document solution, at least as it relates to support content.
To upload your documents, just do the following:
Implement the structure you finalized in the first step by adding the relevant categories to your WordPress website.
Populate your categories with the appropriate knowledge articles.
Upload documents to all the knowledge base articles that need them.
So there you have it! Your very own WordPress document library. (By the way, if you only work with PDFs, here are some more ways to add them to your WordPress website.)
It's not meant to do everything a document management system does… but it can offer documents to your employees/customers when they need them. And that's the idea!
To maintain your library, keep returning to it from time to time to upload the most recent documents if newer versions get available. Also, delete unused files as they count toward storage.
Wrapping it up…
The best part about creating a WordPress document library is that you can give access to all your documents to all your employees without getting each a subscription plan. And one single system (your knowledge base!) holds everything together right from the actual knowledge to the documents that power it or are needed for implementing it. So no one gets stuck.
Adding documents, too, is as easy as attaching files, so anyone on your team can upload more files as the need arises; they don't need to know any coding.
Over to you: Up for creating a WordPress document library to power your knowledge workers? Check out KnowAll. Also, tell us how you currently manage documents at your company.