What Is The Best WordPress Survey Plugin? 5 Options Investigated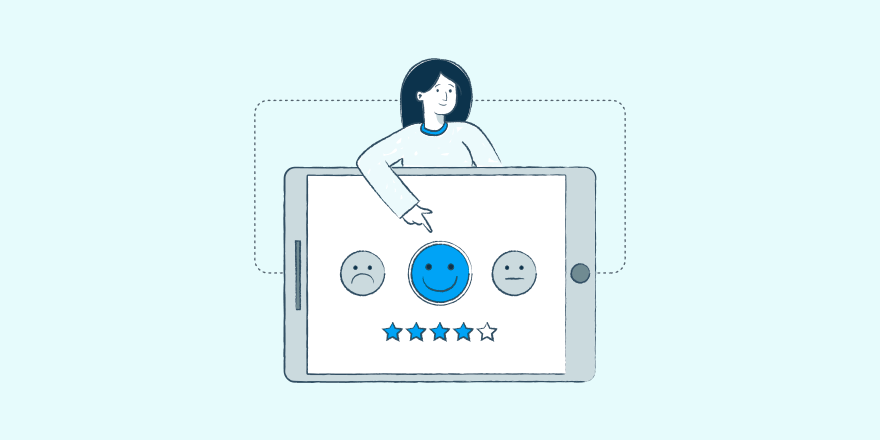 As creators of WordPress products that help businesses offer better support, we understand how important it is to understand what your visitors are thinking. And one of the best ways to do that? Ask them!
It sounds simple, but surveying your customers lets you know how they feel and what they're thinking.
If you're using WordPress, it's also surprisingly easy to implement surveys on your site using a dedicated WordPress survey plugin. And to help you find such a plugin, I'm going to spend this post going hands-on with 5 popular WordPress survey solutions.
Best WordPress Survey Plugin 2023: The Comparison
Here are the 5 survey plugins that I'll be looking at in this post. For each plugin, I'll go hands-on and show you how it actually works with real screenshots:
1. Quiz And Survey Master
Quiz And Survey Master, formerly known as Quiz Master Next, is one of the most popular survey plugins at the WordPress.org plugin repository. Beyond its popularity, it's also managed to maintain a stellar 5-star rating on over 500 user reviews.
The core Quiz And Survey Master plugin is free. The developer also sells add-ons for exporting data, charts and graphs, and more.
Quiz And Survey Master Feature List
Multiple question types
Unlimited results pages depending on how a user answers, each with custom text
Send email with user's results after they finish the survey
Show all questions at once or create multi-page surveys
View survey results in WordPress dashboard (better reporting with paid add-on)
Export survey results (with paid add-on)
Installation And Use
Once you install and activate the plugin, you can create a new survey right from your WordPress dashboard.
Here's what the basic survey creation interface looks like: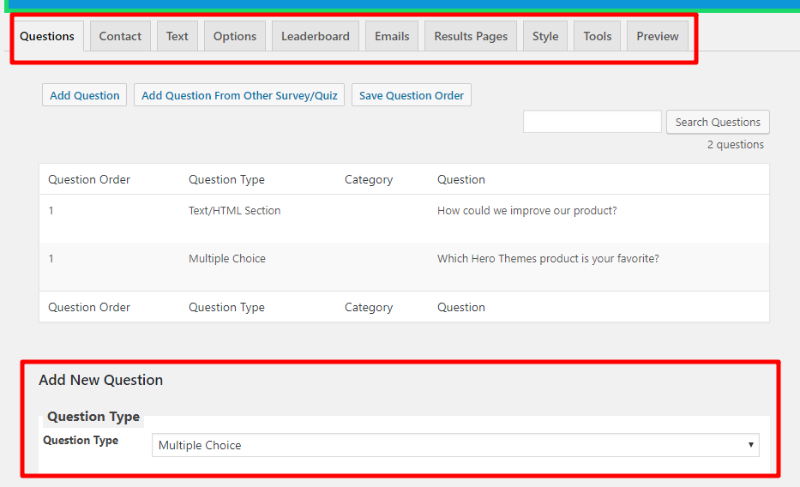 You can add new questions on the first page and manage a plethora of other details on the additional tabs.
For example, if you want to collect contact details for your survey respondents, you could head over to the Contact tab and choose what contact information to ask for on your survey: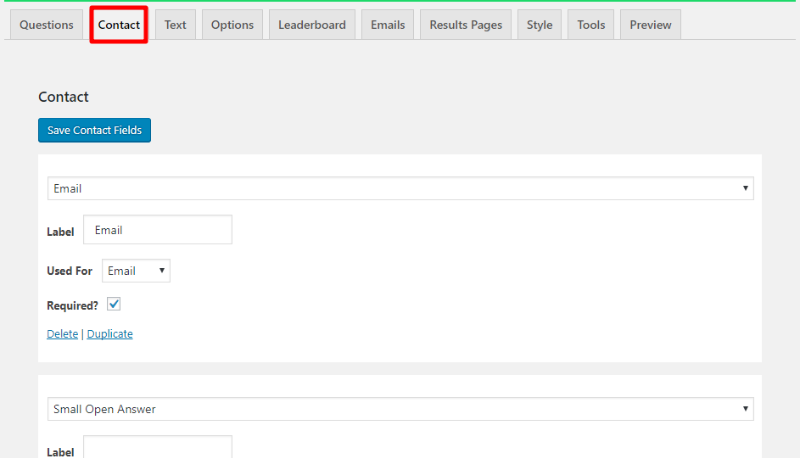 And another nice thing is the ability to insert dynamic information in your surveys via the plugin's Template Variables feature: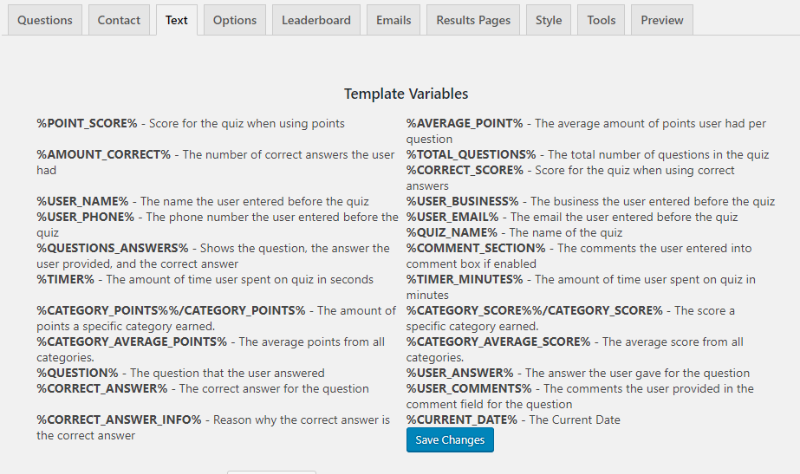 Once you finish configuring your survey, you can insert it anywhere on your WordPress site using a shortcode:

And once you start getting some survey responses, you can view the data from the Results area:

Without the paid add-ons, the results area isn't especially helpful, though.
Quiz And Survey Master Pros and Cons
Pros:

Plenty of control over the questions and text on your survey
Dynamic information via template variables
A variety of question types

Cons:

The results area isn't especially detailed or helpful unless you purchase the paid add-on
It lacks user friendly styling options
The shortcode display makes it hard to embed surveys in slide-ins or popups without third-party help
2. GetSiteControl
GetSiteControl is technically standalone service, but it offers a dedicated WordPress plugin to make the integration process seamless. The service lets you integrate 9 different "widgets" into your WordPress site.
One of those widgets is…you guessed it! Surveys. If you just want to implement short, attention-grabbing surveys, then GetSiteControl is probably your best option.
GetSiteControl offers a limited free plan. Paid plans start at $19 per month.
GetSiteControl Feature List
9 different display locations, including pop-ups and slide-ins
Detailed targeting and trigger options
Integrates with popular email marketing services
User friendly survey creation interface
Conditional logic and survey branching
Helpful graphical interface to view survey data
Easy data export
Installation And Use
To actually integrate GetSiteControl into your site, you can use their free plugin listed at WordPress.org. You'll do everything else at the GetSiteControl website, though.
The GetSiteControl survey widget creation interface is divided into 5 tabs:
Appearance – control the position, colors, and fonts for your survey
Content – add questions and choose logic
Behavior – choose how to trigger your survey
Targeting – target your survey to specific pages or based on referring traffic, location, and more.
Integrations – sync up to email marketing services or Zapier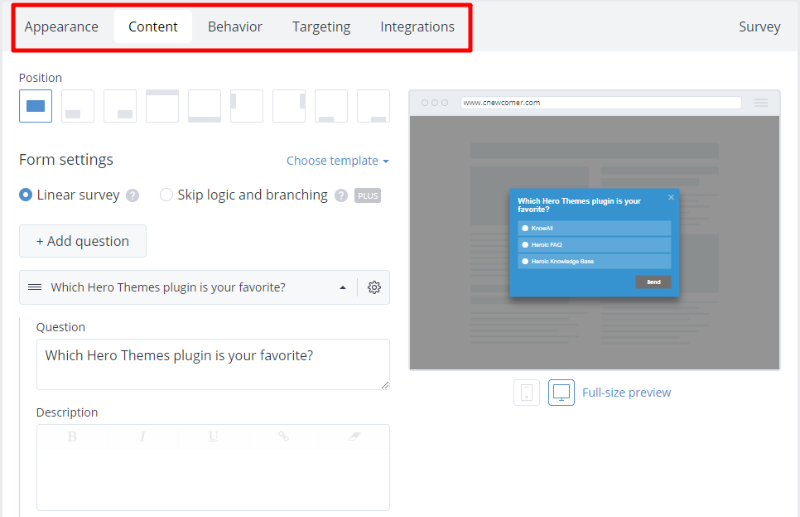 Assuming that you've already set up the GetSiteControl plugin, your survey will be live as soon as you activate it.
And once you start getting responses, you'll be able to view your data in a nicely designed interface, complete with graphics to help you quickly understand your survey responses: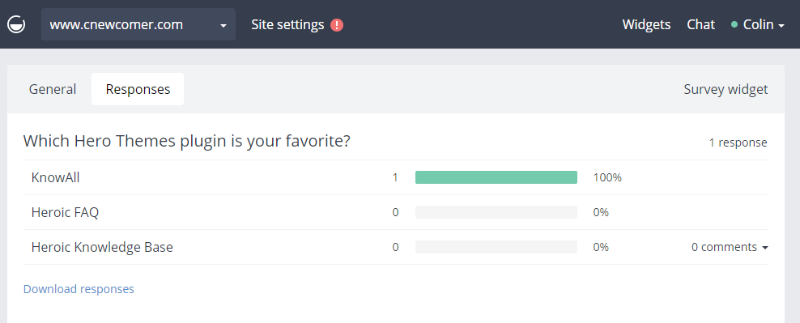 You can also download your survey responses as a .xlsx file whenever needed.
GetSiteControl Pros and Cons
Pros:

Great for short surveys because of its display options
User friendly interface
Detailed targeting and triggering options to control exactly who sees your survey (and when)
Nice reporting interface to quickly understand your data

Cons:

Not the best solution for lengthy surveys
3. Opinion Stage
Opinion Stage is the maker of the popular Poll, Survey, Quiz, Slideshow & Form Builder plugin at WordPress.org.
Like GetSiteControl, Opinion Stage is technically a standalone service, though it includes a popular WordPress plugin for easy integration.
Opinion Stage offers a limited free plan that works for basic surveys. Pro plans start at $19 per month.
Opinion Stage Feature List
Beautiful front-end survey designs
Multiple question types
Collect emails or social profiles
Manage surveys across multiple sites from one dashboard
Prevent people from taking the survey multiple times
Include images and videos
Installation And Use
In order to use the plugin, you'll first need to connect it to your Opinion Stage account, which only takes a couple seconds to create.
Once you've done that, you can click the CREATE button in your WordPress dashboard to jump over to the Opinion Stage interface to build your survey: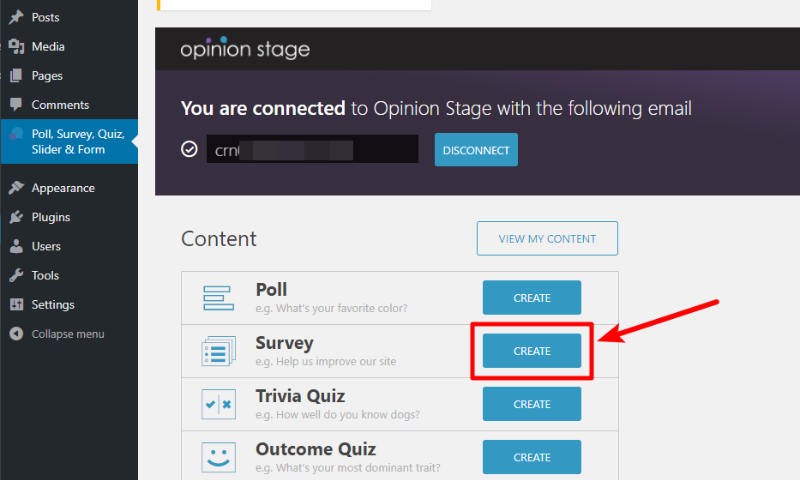 There, you'll see a user friendly interface that lets you:
Choose your survey cover page
Add questions
Choose what to display at the end of your survey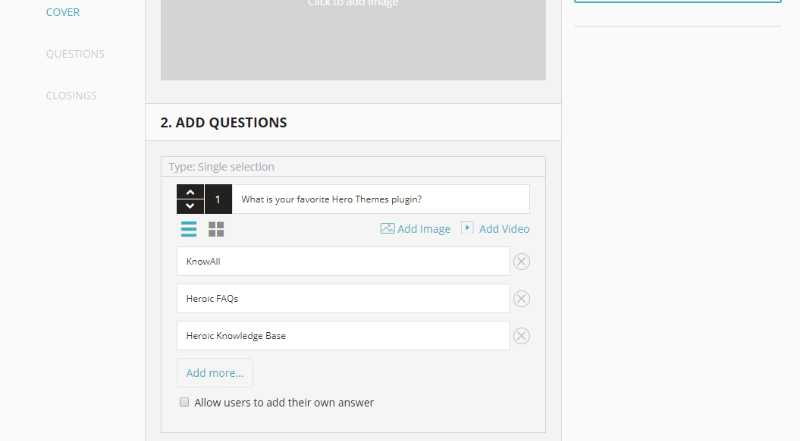 Once you're finished, you can Publish your survey. Then, you can grab a shortcode right from the Opinion Stage interface: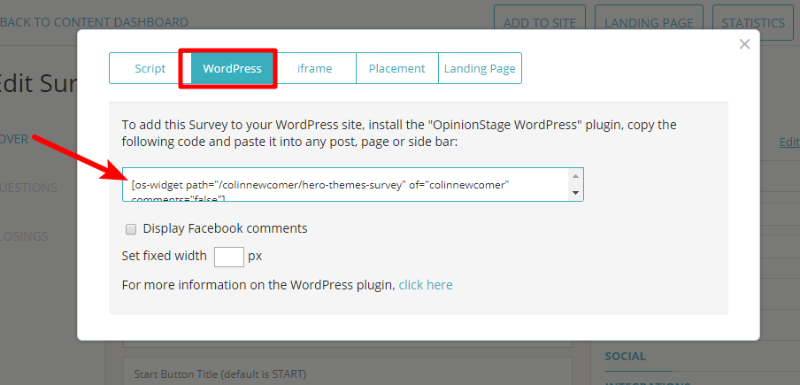 And you can also insert surveys directly from the WordPress editor thanks to a new button in the WordPress editor interface: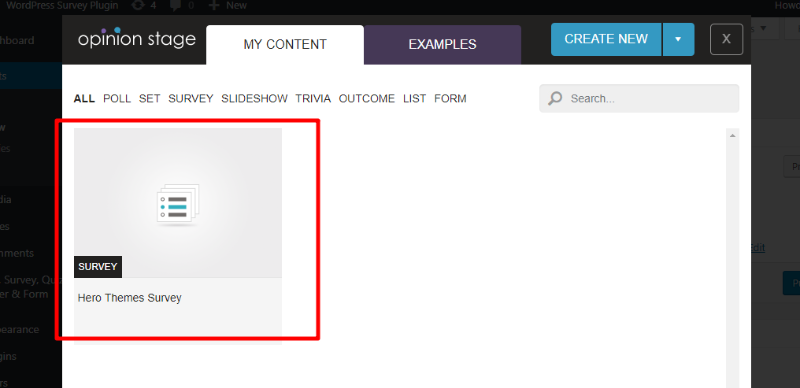 Finally, once you start getting some responses, you can view them in the Opinion Stage interface: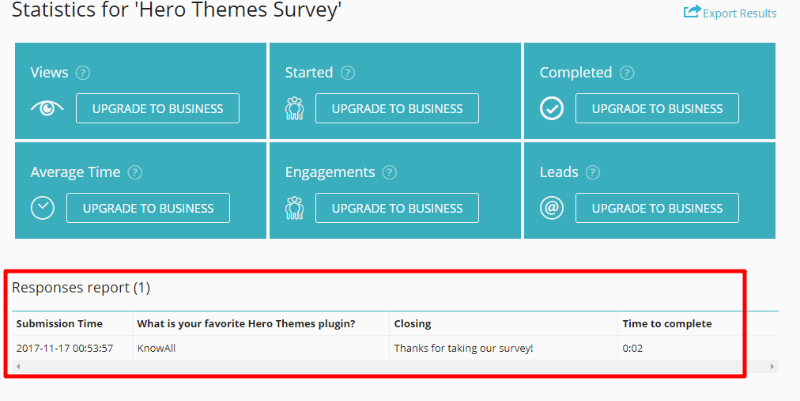 You can only export your survey responses with the paid Business plan, though.
Opinion Stage Pros and Cons
Pros:

Beautiful survey designs
The survey creator interface is easy to use
Dedicated shortcodes/WordPress editor button make it easy to insert surveys

Cons:

The statistics area doesn't include any charts or graphs which makes it hard to visualize data
Can only export data with the paid version
Free version shows Opinion Stage branding
4. Formidable Forms
Formidable Forms is a very popular WordPress survey plugin, with over 300,000 active installations and hundreds of positive reviews on the WordPress.org plugin directory. Since a survey is essentially just a web form in disguise, it should be no surprise that Formidable can handle surveys extremely well.
The core Formidable plugin is free with a generous set of free features. If users wish to expand to more advanced features, they can upgrade to one of the three premium plugins.
Formidable Forms Free Features List
Drag and Drop Form Builder
Text Question Field
Paragraph Question Field
Dropdown Field
Dropdown Field
Email Notifications
Checkboxes & Radio Buttons
Here's what the basic form building interface looks like: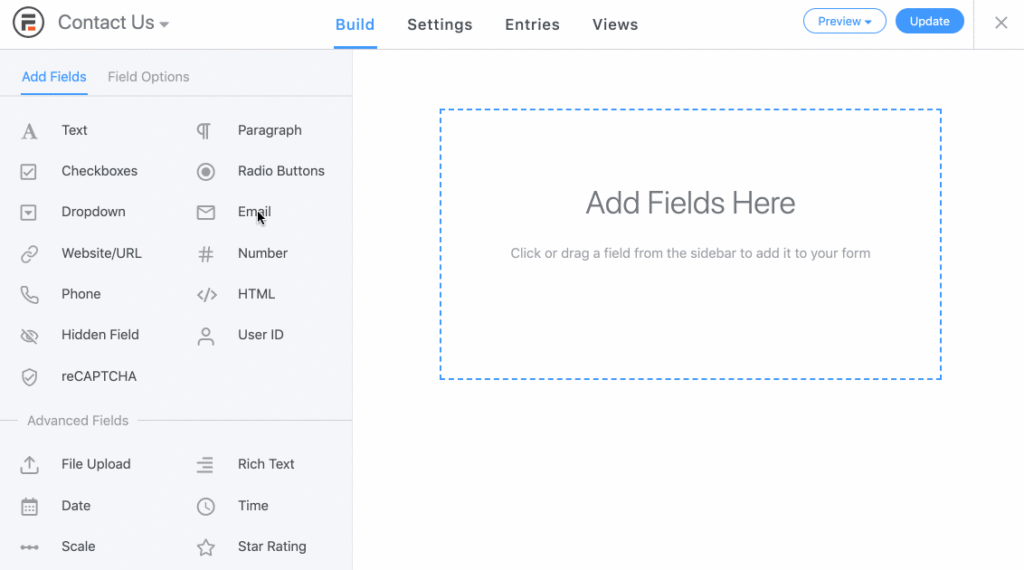 Since Formidable is a form builder, you can build surveys just as you would build forms.
Simply drag and drop the survey fields from the left part of the builder over to the right. Once that's done, you can also edit the field options however you want. Building surveys with Formidable is actually very fast.
Advanced survey fields
Star Rating Field

Number Slider

Scale Field

The premium version of Formidable Forms unlocks a number of useful survey features, including the above advanced survey fields.
Survey Form Templates (and Beyond)
Formidable features several survey form templates, in addition to dozens of other templates for polls, questionnaires, and many other standard online forms.
Insert Survey Forms with Shortcode
Publishing a survey form with Formidable can be done with a shortcode as usual. Users can also publish Formidable directly through the Gutenberg editor using a block.
Display Survey Results
Using the Formidable's Views feature, as well as the reports and graphs feature, there are a number of flexible options that allow users to display survey and poll results in real-time or in custom reports.
Formidable Forms Pros and Cons
Pros:

Control the look of your survey with drag and drop form builder
Free plugin version offers generous set of features
Can create more than only surveys and polls

Cons:

Some advanced features are only found in premium versions
Slight learning curve required to master more challenging features
5. Gravity Forms Survey Add-on
Gravity Forms is a popular WordPress form builder that can be used to create any type of form. In its highest package, Gravity Forms also includes an official survey add-on that extends that functionality to surveys.
Gravity Forms Survey Add-on is only available in the Elite package that costs $259.
Note – because Gravity Forms is a premium plugin, I was unable to go "hands-on" with Gravity Forms and the survey add-on. But in doing my research and reading WordPress Facebook groups, this was one of the most common solutions for developers. So despite not being able to personally try it, I still wanted to include it because it seems to be universally praised.
Gravity Forms Survey Add-on Feature List
Create surveys using the popular Gravity Forms form builder
Filter survey data as needed
Set a specific end date or a maximum number of surveys
Do…anything else that Gravity Forms lets you do.
Installation And Use
You can build your survey by adding Survey Fields via Gravity Forms' drag and drop interface.
Once you build your survey, you can display it using the normal Gravity Forms shortcode. And you'll also be able to view results via a dedicated Survey Results tab in the Gravity Forms interface.
Gravity Forms Survey Add-on Pros and Cons
Pros:

Gravity Forms is flexible and developer friendly
The drag and drop interface makes it easy to create your surveys

Cons:

Expensive – the Survey Add-on is only available in the $259 Elite package
Get Gravity Forms Survey Add-on
6. Google Forms
Ok, Google Forms isn't actually a WordPress survey plugin by itself. But it is a powerful survey solution that you can easily add to your WordPress site via a third-party plugin from Mike Walsh or the built-in Google Forms embed code.
Google Forms is free.
Google Forms Feature List
User friendly form builder interface
Unique question types like multiple choice grids
Helpful graphs to visualize responses
View individual survey responses or aggregate data
Easy to embed in WordPress
Installation And Use
To create a new survey with Google Forms, head to Google Forms and click the Plus button:

You can then build your survey using a slick interface, as well as configure it using the options at the top: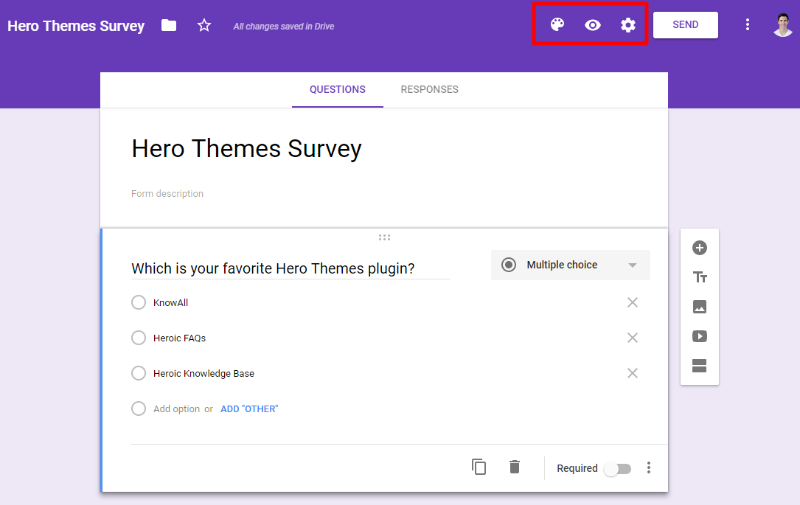 Once you're finished building your survey, click the Send button in the top right.
To insert your Google Form into WordPress, you can either grab the Embed HTML from Google and place it in the Text tab of the WordPress editor: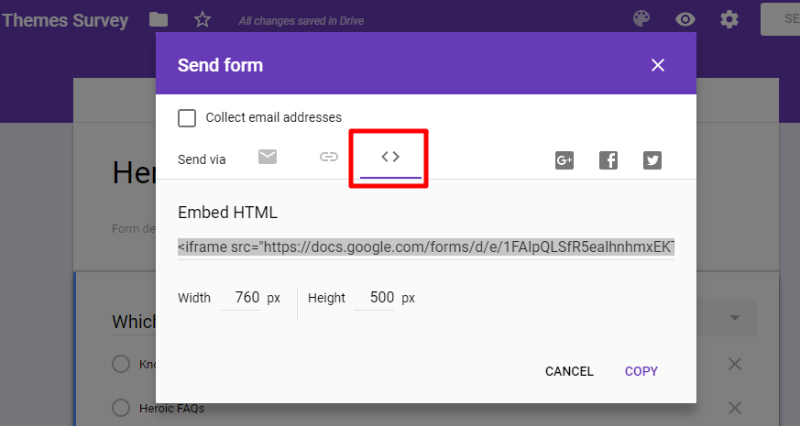 Or, you can use the free Google Forms plugin to handle things for you and get a little more flexibility: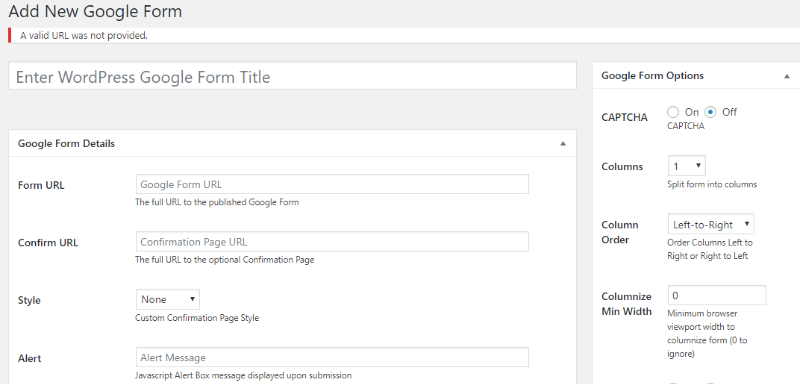 And once you start getting responses, you can view them right away in the Responses tab: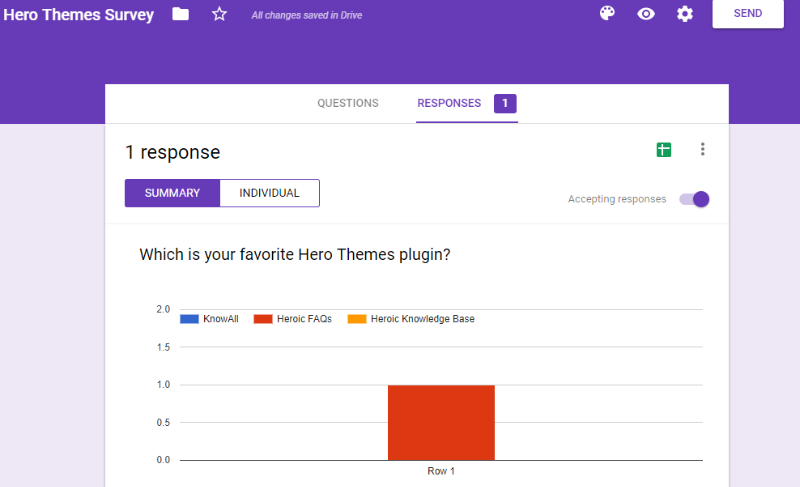 Google Forms Pros and Cons
Pros:

One of the best form builders
Easy to embed in WordPress
Flexible question types
Helpful interface to analyze responses
Can quickly switch between aggregate data and individual responses

Cons:

Google Forms might not look professional, depending on what your survey is for
The "thank you" page has Google branding
Which WordPress Survey Plugin Should You Choose?
Struggling with which WordPress survey plugin is right for you?
Before you make your choice, consider some questions like:
Do I want a WordPress-specific solution or am I ok with a third-party tool that integrates easily?
Am I willing to spend money?
How important is it that my solution offers detailed reporting with charts and graphs?
Based on those answers, here are some recommendations:
For A WordPress-specific Solution
Use Quiz And Survey Master if you need a free solution and Gravity Forms Survey Add-on if you're willing to pay the $259 price tag.
For A Third-Party Integration
Use GetSiteControl if you're planning to only create short surveys and Opinion Stage if you're planning to create lengthier surveys.
For The Best Results Reporting
Use Google Forms if you're ok with the Google branding and third-party integration. Otherwise, consider Gravity Forms Survey Add-on for a WordPress-specific (albeit much pricier) solution.