5 Best WordPress LMS Plugins For Creating & Selling Online Courses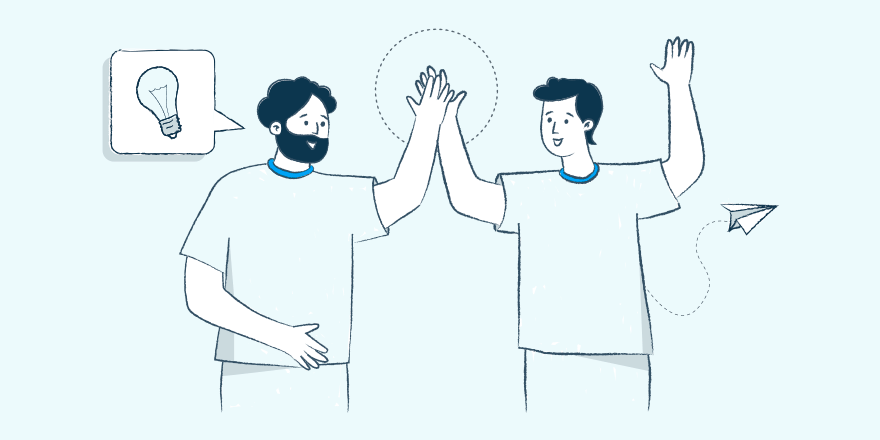 Are you thinking about creating your own online course? Wondering which platform is best for hosting your course? We'll help you choose.
In this guide, we explain why WordPress is the best platform to host and create online courses. And we also showcase the top WordPress LMS plugins to help you get started the right way.
There are bloggers and creators earning over $100,000 a year selling courses online. Some even make millions. If you also have a skill or experience you want to share, creating a course is the best way to share your knowledge and also monetize it at the same time.
To create online courses, you need an LMS. You can build your own LMS using WordPress and plugins. Keep reading to find out how.
What Is An LMS?
LMS, or Learning Management System, is like a platform or a tool you use to create online courses and training programs. An LMS provides you with all the necessary tools for creating courses rich with multimedia content, quizzes, surveys, and more.
LMS tools also help you manage your students, track their progress, and streamline the program to create a step-by-step program for each course.
There are two different kinds of LMS systems. There are ones online and hosted by corporations like Udemy and Skillshare. And then there are ones you can self-host to build your own courses and have complete control.
Whether you're an expert or just starting out, we recommend using the self-hosted route. Here's why.
Why Use WordPress?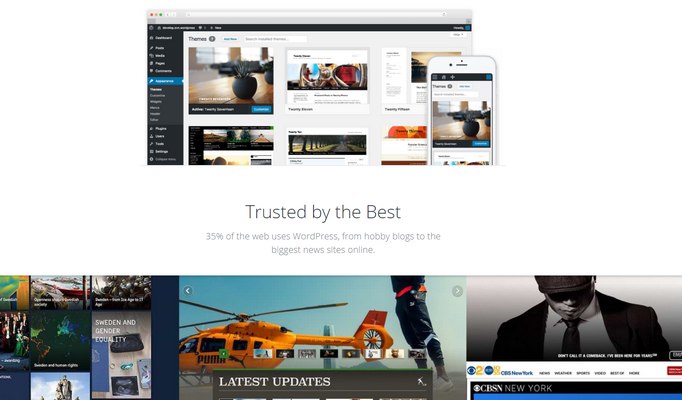 When you create and sell your course through a hosted platform like Udemy, they are in control of your course. They take a percentage off of every sale you make. So you only earn around half the price of your course.
You also have to follow their rules. And create courses according to their standards. These platforms also run sitewide sales from time to time. Making your courses sell cheap. Losing your potential customers who are willing to pay full price.
When selling courses through your own website, you don't have to worry about any of that. Because you're in complete control. You can sell your course at any price and earn full profit. Include any kind of content in the lessons.
The best part is you can create your own LMS to sell courses using WordPress. All by yourself. You only need a WordPress installation, an LMS plugin, and an LMS theme.
Once it's all setup, you can create courses from the WordPress dashboard. And sell courses directly from your website.
Benefits Of Using LMS Plugins
There are many benefits to using WordPress LMS plugins. Here are just a few worth knowing.
Easily Create Courses With Multimedia Content
All LMS plugins come with a course builder. It allows you to easily create courses filled with different types of lessons and content. In addition to creating beautifully formatted lessons, you can also add quizzes, polls, and other interactive elements as well.
Sell Subscriptions, Bundles, and Memberships
Unlike a hosted platform where you can only sell courses, LMS plugins let you monetize in many different ways. You can sell a subscription to collect recurring payments. You can bundle multiple courses together to sell deals. And you can also sell memberships for coaching and training programs.
Add More Features With Add-Ons
Thanks to extension plugins and the help of third-party WordPress plugins, you can extend your LMS with more advanced features. You can connect different payment processors. Create a forum or discussion board. Add live chat. And much more.
Track Progress And Give Certificates
LMS plugins also include built-in analytics and reports. These help you track the progress of your students and see how they learn. You can also award students with certificates and badges as well.
No Platform Fees
When using an LMS plugin, you don't have to worry about paying a platform fee or a corporation taking half of your earnings. You earn the full amount of the course. And you have the full freedom to create courses with any type of content you want.
Now that you're convinced of the benefits of using LMS plugins, let's take a look at the best options available on WordPress.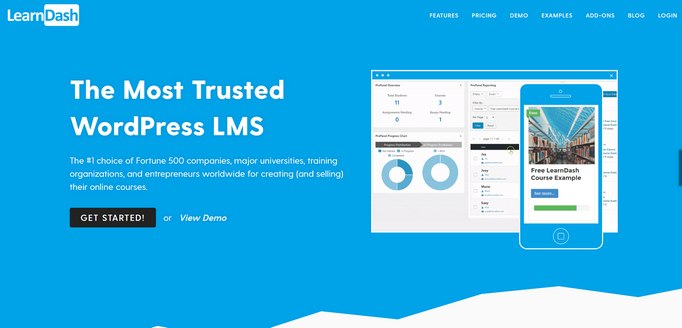 Price: $199 per year
Best For: Online courses and training programs
LearnDash is the most popular LMS plugin for WordPress. And it's popular for a reason. This plugin is the most versatile solution for building online courses.
LearnDash provides you with everything you need to create all kinds of courses, training programs, coaching, and more using a simple WordPress installation.
You can even use it to build a complete online school as well. In fact, it's being used by some of the biggest Fortune 500 companies and universities as well.
Main Features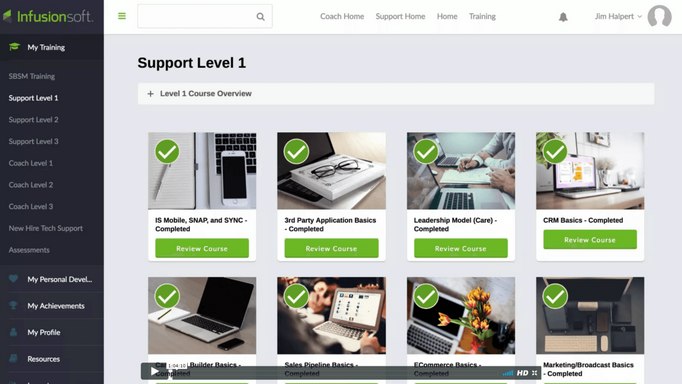 Create and sell all kinds of courses and training programs
Beginner-friendly setup process and course builder
Reward students with certificates and gamify courses with the points system
Create drip content to release lessons according to a schedule
Create discussion forums for each course
Ability to sell subscriptions, memberships, and course bundles
Get detailed reports on student progress
Who Should Use It?
LearnDash is perfect for types and sizes of businesses from bloggers to corporate companies. The plugin is easy to use so it's great for beginners as well.
Pricing Plans
LearnDash costs $199 per year for a single site license. It includes 1 year of support. You can use the plugin with up to 10 sites with the $229 plan. Or up to 25 sites with the $369 plan.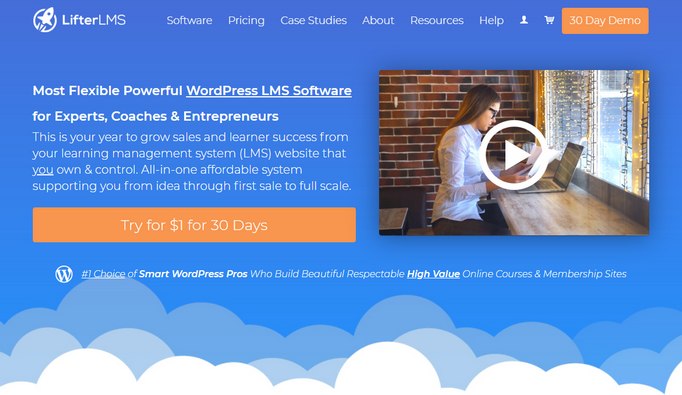 Price: Free / $99 per year
Best For: Online courses and training programs
LifterLMS is another popular learning management system plugin that comes with a set of advanced tools and features. This plugin is most suitable for advanced and experienced WordPress users.
LifterLMS base plugin is more than enough for making courses with simple lessons. But, you need access to add-ons for making more advanced courses. And for adding features like assignments, quizzes, etc, which needs to be bought separately.
Main Features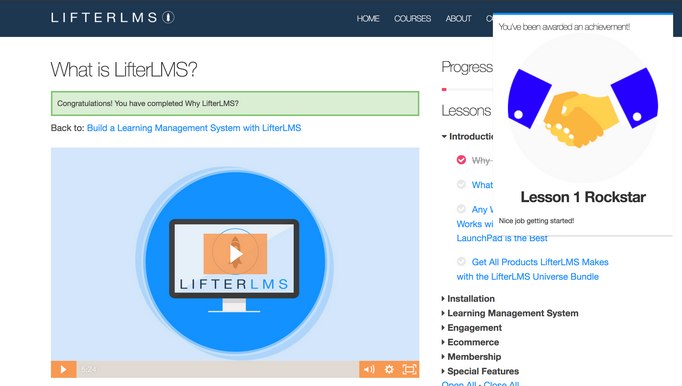 Create multimedia lessons with quizzes, videos, images, and more
An advanced course builder for making all kinds of courses
Supports drip content for scheduling course availability
Add assignments for each lesson
Lots of add-ons for extending features and functions
Sell subscriptions, bundles, and recurring payments
Ability to add payment plans and coupons
Who Should Use It?
LifterLMS is ideal for bloggers for making online courses. As well as for big agencies for making employee training programs. However, the tool is not very beginner-friendly.
Pricing Plans
LifterLMS pricing starts at $99 per year. This plan doesn't include any add-ons. The $299 per year plan gives you access to a few useful add-ons and the ability to install the plugin on 5 sites. The $999 plan gives you unlimited access.
You can also test drive the plugin using the free version.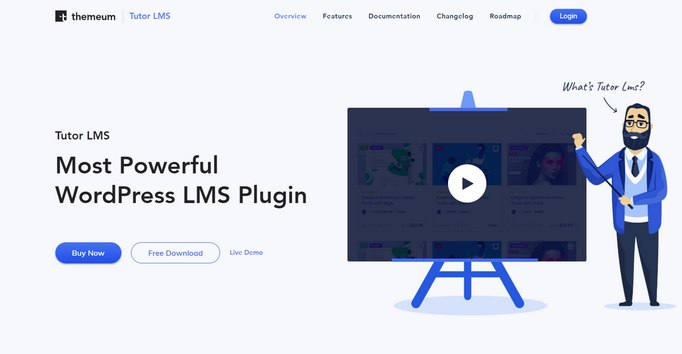 Price: Free / $149 per year
Best For: Online courses and training programs
Tutor LMS is much similar to LearnDash. The plugin has been around since 2013 and comes with plenty of useful features.
One main difference is Tutor LMS has a much smoother and modern user-interface. Making it a much better choice for beginners. Also, the free version of the plugin offers enough access for making professional courses as well.
Main Features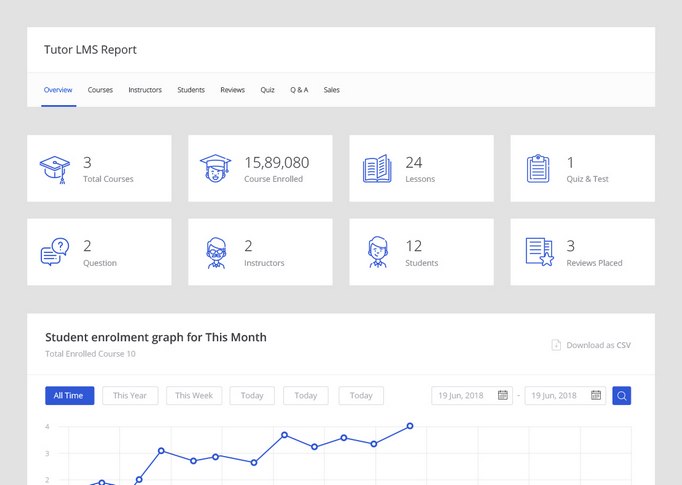 Beginner-friendly user interface
Front-end course builder with drag and drop editor
Create lessons with multimedia content and advanced quizzes
Ability to add multiple instructors
Reward students with certificates
Get detailed yet simplified reports related to courses and students
Supports integration with WooCommerce, EDD, and more
Who Should Use It?
Thanks to its modern and beginner-friendly user interface as well as the course builder, Lifter LMS is a great option for beginners. Of course, you can use it to make advanced courses and programs for businesses as well.
Pricing Plans
Lifter LMS free version is great for testing the plugin and even for creating basic courses. For more advanced features like offering certificates and access to front-end course builder, you can subscribe to the $149 per year plan. And it's $299 per year to use the plugin on unlimited websites.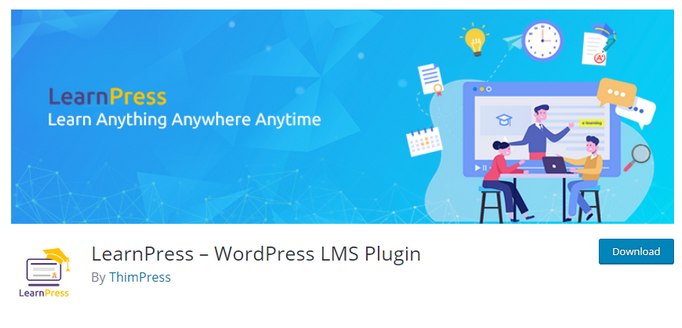 Price: Free /$49
Best For: Online courses
LearnPress is a completely free WordPress plugin you can use to make online courses. This tool provides you with all the basic tools you need to create and sell courses for free.
However, the plugin also offers paid add-ons and bundles for creating more advanced courses. It does require a little bit of a learning curve so it might take some time for you to learn the ins and outs of the plugin.
Main Features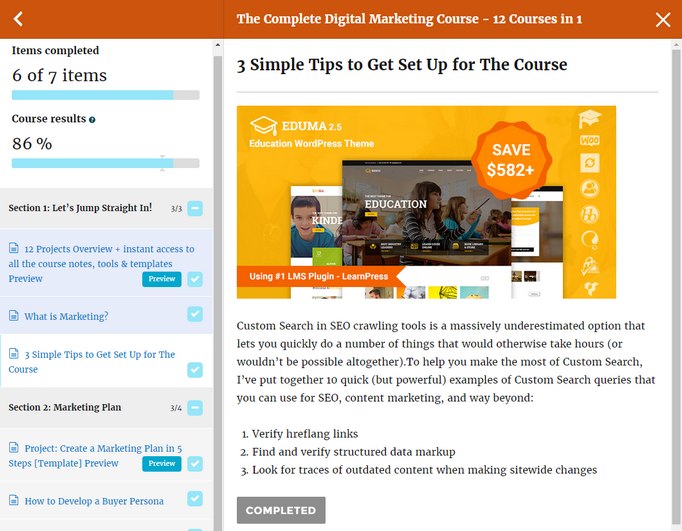 Create courses with multimedia content and quizzes
Add unlimited instructors and create unlimited courses
Process payments with PayPal or offline payments
bbPress and BuddyPress integration for adding discussion boards
Lots of paid add-ons for extending functions and features
Who Should Use It?
LearnPress free version has very limited features. Compared to other plugins, it has a slightly outdated course builder as well. This makes it a suitable option for bloggers who wants to experiment with online courses.
Pricing Plans
LearnPress is completely free to use. And it's more than enough for making a basic online course.
However, you can extend its features with paid versions starting at $49. Paid versions include features like the ability to integrate with WooCommerce, reward certificates, create drip content, and more.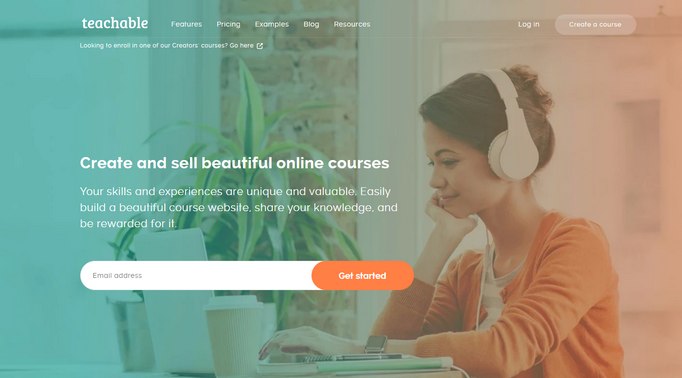 Price: Free / $29 per month
Best For: Online courses
If you don't want to go through the hassle of setting up your own WordPress website. Or don't mind giving up control in exchange for convenience. Teachable is a great option that's worth considering.
Teachable is a hosted platform where you can create online courses quite easily. It doesn't require WordPress, buying web hosting, or installing plugins. Just signup and start creating courses.
Main Features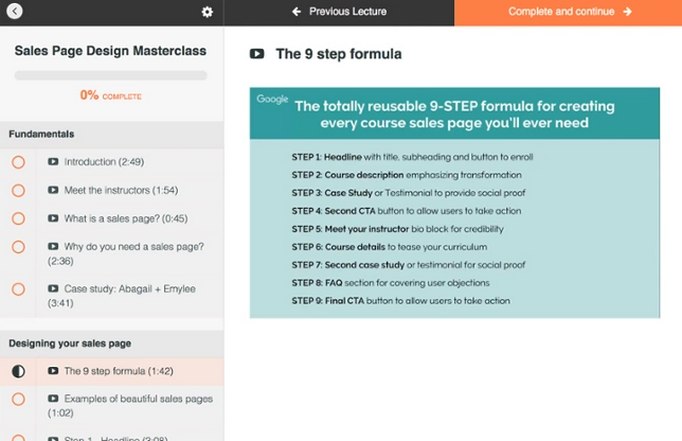 Easily create courses without having to use WordPress
Beginner-friendly course builder
Create all kinds of online courses rich with multimedia content
Gives your own sales page to promote the courses
Create drip-based content and courses
Detailed analytics gives you insight into courses and sales
Zapier integration for connecting more apps and functions
Who Should Use It?
Teachable is a great option for complete beginners. Since it has no setup process, you can get started on making your course within a few minutes.
However, it's not a great option for making training programs or coaching programs. Keep in mind that you don't have complete control either. You'll never know when the platform may raise prices or change their terms of use.
Pricing Plans
Teachable has a free plan where you can create unlimited courses for free. But you'll have to pay a hefty $1 + 10% commission on each sale.
You can switch to the $29 per month plan to add a custom domain name and cut the commission fee down to 5%. Or use the $79 per month plan to get rid of the commission fee entirely.
Which LMS Plugin Is Best For You?
Whether you're a beginner or an experienced WordPress user, LearnDash is the best solution for creating online courses. It has a simple user interface. Beginner-friendly course builder. And includes lots of add-ons for making the most of the LMS system.
TutorLMS is a good alternative to consider if LearnDash is too expensive for you. The free version of the plugin is definitely worth checking out.
If you can't be bothered with WordPress or building your own LMS platform, Teachable is a good option for you.
Whichever option you choose, you can't go wrong with any of the plugins we featured above. They all have their own unique traits and solid features for making all kinds of courses and programs.