7 Best Knowledge Management Systems For Building All Types Of KMS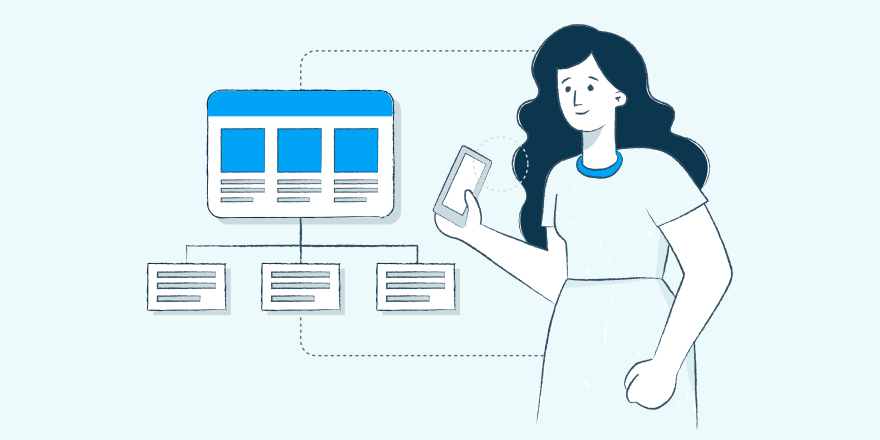 A knowledge management system (KMS) is an essential part of almost every successful business. Yet why do many new businesses and startups disregard it as an optional component?
The expensive costs of managing a knowledge base and maintaining it regularly are the main reasons. The struggle of updating knowledge articles using complicated tools is another reason why businesses avoid building knowledge bases.
However, with the right KMS, you can avoid all these issues. And build an easily manageable knowledge base on a tiny budget.
We found several knowledge management systems that are made for businesses just like yours and many more. In this guide, we take a closer look at the systems to find the right KMS for your project.
Let's get started.
Best Knowledge Management Systems & Solutions
We wanted to find the best knowledge management systems and solutions you can use to build different types of knowledge bases. Below you'll find our top picks.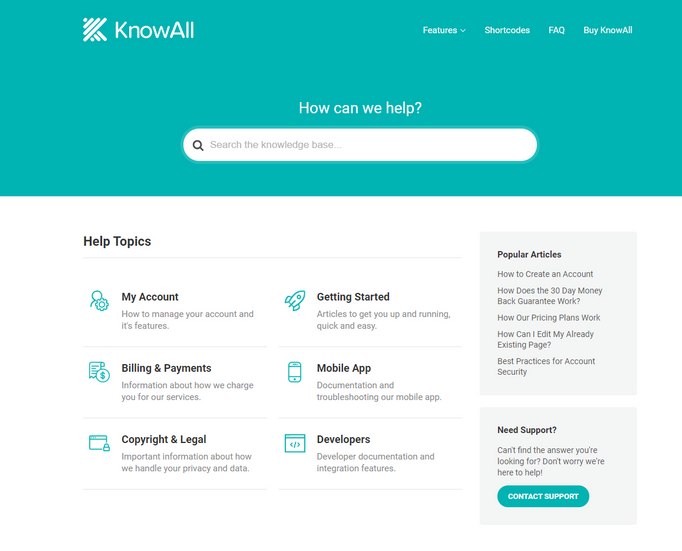 Best For: Customer Support and Education
Price: from $149
KnowAll is a complete solution for building all kinds of knowledge management systems for businesses and education.
The main benefit of using KnowAll is it's easy to start with. It's basically a plug and play theme for WordPress. Everything is made to help you build your knowledge base in no time and to customize it to align it to your brand.
With KnowAll, building your knowledge base is as easy as starting a blog. You can create new articles in a few clicks, order them and organize them in categories and subcategories. The theme offers multiple design options to cater to your needs in terms of user interface.
But that's not all, the value added on top of the knowledge base is the statistics. With KnowAll you'll be able to see what are your most viewed articles and ask your readers for some feedback so you get to see which articles were useful and which ones need improving.
Best Features Of KnowAll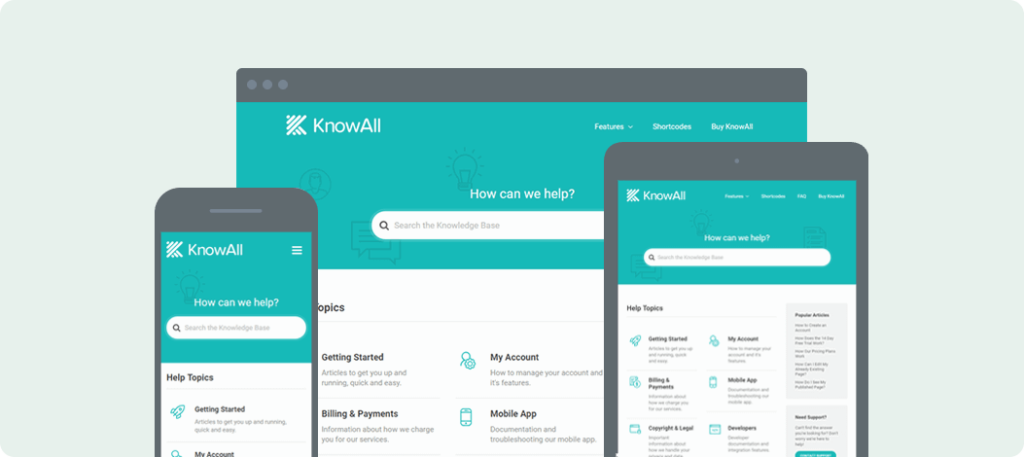 Easy to start: install the theme and you're ready to publish your first articles.
Easy to organize: create multiple categories and subcategories to organize your articles and display your articles in the order of your choosing
Multiple Design Options: you can choose from several designs and customize them to match your branding.
Analytics and reports: get user feedback on your articles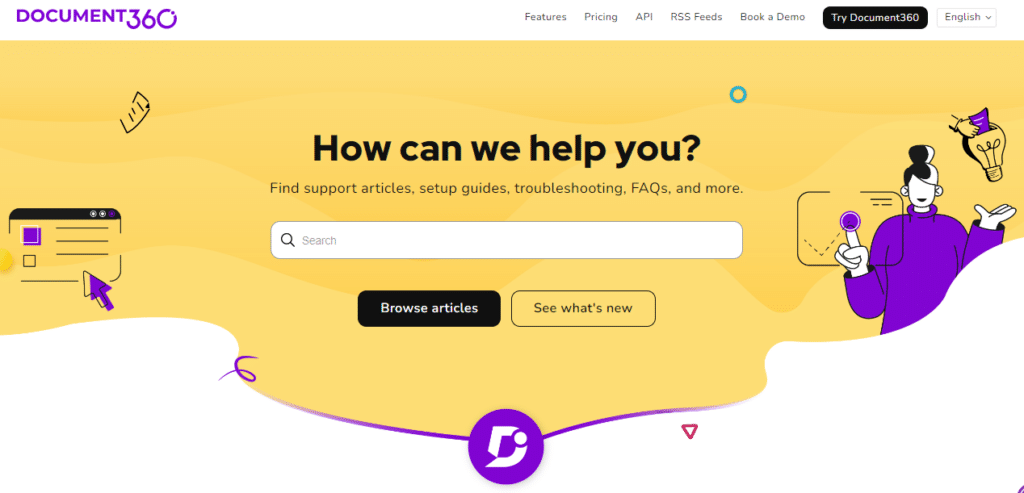 Best For: Public or Private knowledge bases
Price: $0 per month with 2 team accounts (Free 14-day Trial)
Document360 is a self-serve knowledge base software that falls under the discipline of the knowledge management system. It is a complete solution for collecting, organizing, retrieving, and sharing knowledge for your customers and internal users which you can define.
Best Features Of Documents360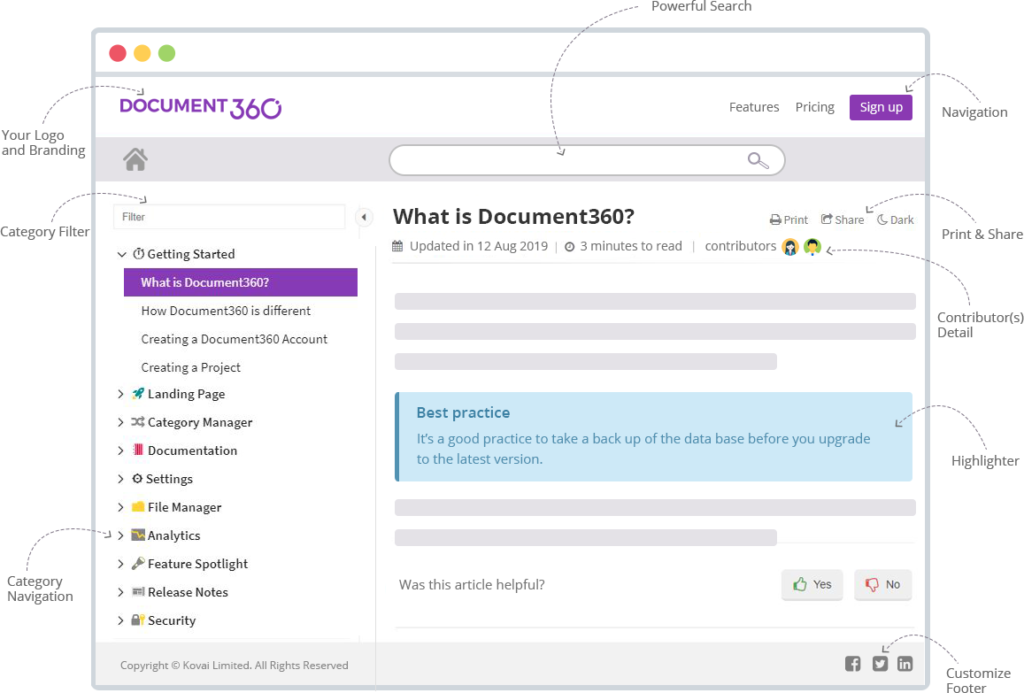 Multiple Dashboards: It supports numerous projects or documentation websites so that you do not have to look anywhere else when your product list expands.
Powerful Editor: Support Markdown editor and WYSIWYG (What You See is What You Get) editor for efficient and structure writing.
Google-like-Drive: Store and manage files, images, videos and insert them to your knowledge base at any time.
Versioning & Rollback: The ability to rollback to previous version of the article with ease.
Third-Party Integrations: It can be integrated with Intercom, Freshdesk, Microsoft and Zendesk, and many more.
Security at Category Level: Document360 comes with advanced security access at multiple levels to cover all your scenarios. You can provide access to your Readers at different levels.
Analytics & Reports: Powerful insights giving detailed reports on customer geography, performance, and search overview.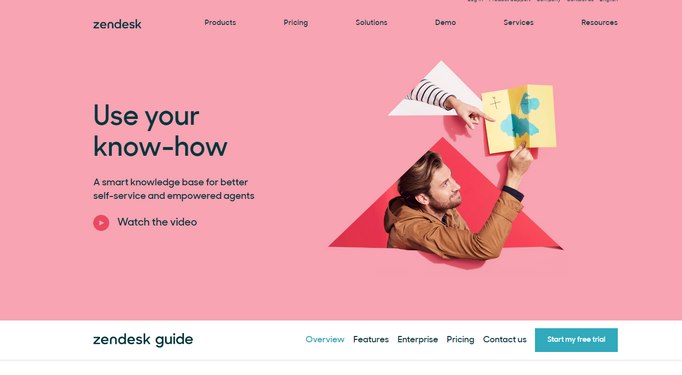 Best For: Large enterprise knowledge bases
Price: $89 per agent per month
Zendesk is known as one of the best software for customer support management. But, it can handle much more than support tickets and live chat.
Zendesk also features a smooth knowledge management system called Zendesk Guide. Which you can use to setup both private and public knowledge bases to serve customers and employees.
Zendesk Guide is a part of the Zendesk software suite. When you subscribe to Zendesk you get access to several other tools. This makes it a more suitable option for larger businesses and enterprises.
Best Features Of Zendesk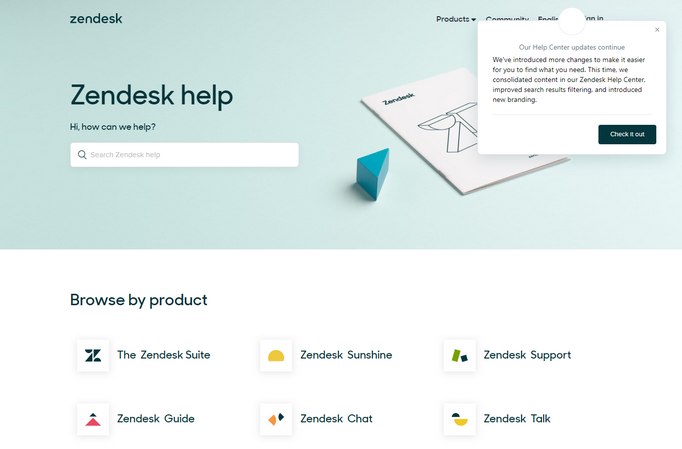 Beginner-Friendly Interface: Zendesk features a very beginner-friendly user interface. It allows you to manage your knowledge base without complications.
Manage Everything From One Place: Zendesk also has an omnichannel dashboard. With it, you can manage your knowledge base, support tickets, chat, calls, and more from a single place.
WYSIWYG Editor: Zendesk Guide includes a What You See Is What You Get style editor. You can create rich content designs using this editor.
Built-In CRM: Zendesk uses Sunshine, its own CRM that allows you to provide personalized experiences to customers.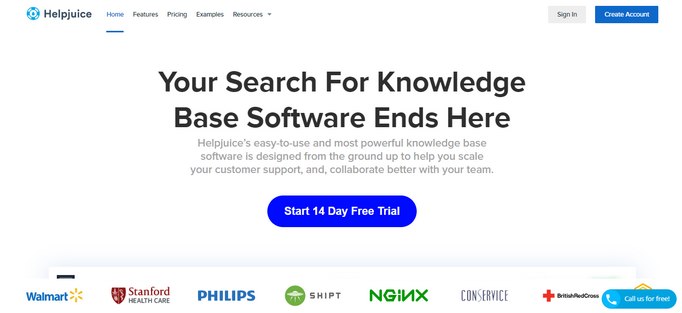 Best For: Public knowledge bases
Price: $369 per month
HelpJuice is a modern and easy to use knowledge base software that's ideal for startups and small businesses. The software is being used by many reputable big brands such as Walmart to startups like Monday.
Unlike most other KB software, HelpJuice is easier to setup and manage. It also has an innovative editor that allows you to create well-structured content while keeping change history.
Best Features Of HelpJuice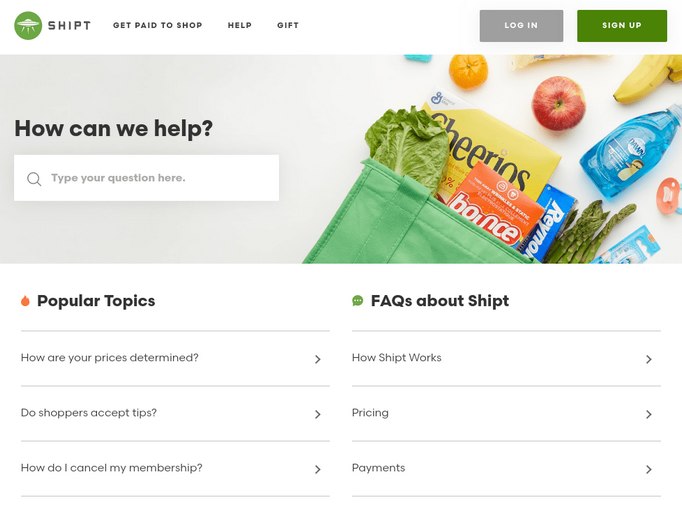 Powerful Editor: The content editor supports many useful functions. Like collaboration and controlling access.
Easy Setup: HelpJuice is so easy to setup. You can actually have a knowledge base up and running within minutes.
Themes And Customizations: You can also customize the design of your knowledge base using pre-made themes.
Third-Party Integrations: HelpJuice also supports Slack, Zendesk, SalesForce, and other integrations.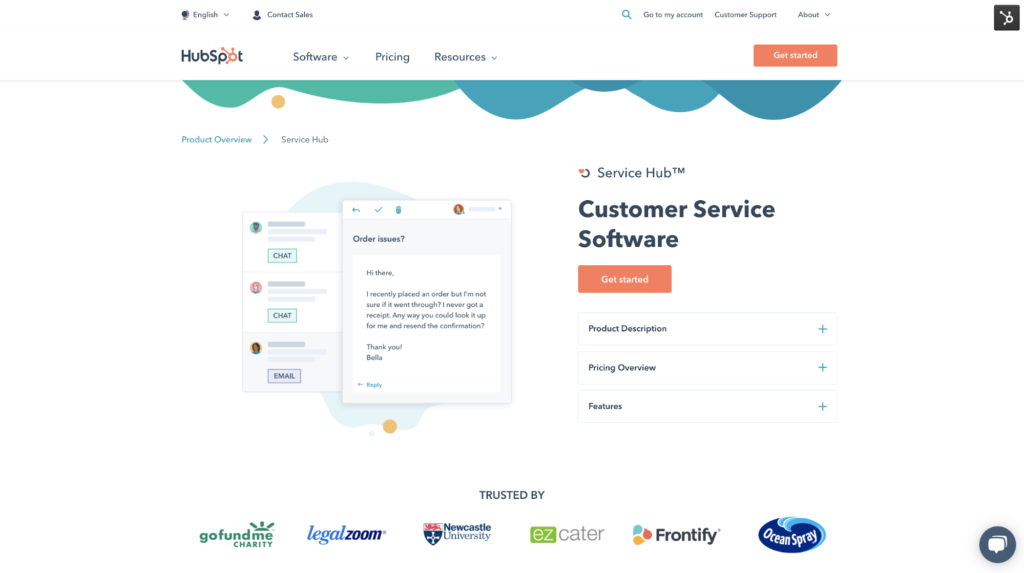 Best For: Knowledge base for larger companies
Price: Service Hub starts free. Knowledge base available in Pro plan ($400/mo for 5 users) and higher.
HubSpot's Service Hub is a full suite of customer service software that provides you with everything from live chat and help desk to knowledge base and customer feedback surveys. All of these tools are built on HubSpot's CRM, giving your business one unified view of customer interactions.

Service Hub's Knowledge Base makes it easy to create articles to help customers help themselves. Convert frequently asked questions into a searchable library of help articles, videos, and documentation.
Best Features Of HubSpot
Easy-to-use & intuitive: Getting started with HubSpot is a breeze. Create templates to make article creation easier & automatically import existing knowledge base articles.
Customizable: Adjust the design, footer, header, categorization, and more on your knowledge base pages.
Multi-language support: Create and manage a knowledge base to answer your customers' in their preferred language.
Powerful analytics: See what terms customers are searching for, monitor performance of articles, and see video engagement — to analyze your efforts and see where you need to create new articles.
All-in-one platform: Service Hub includes tools like live chat and help desk in addition to knowledge base. And since everything is built to integrate with HubSpot's other tools, you can get a unified view of customer activity from marketing to sales to service.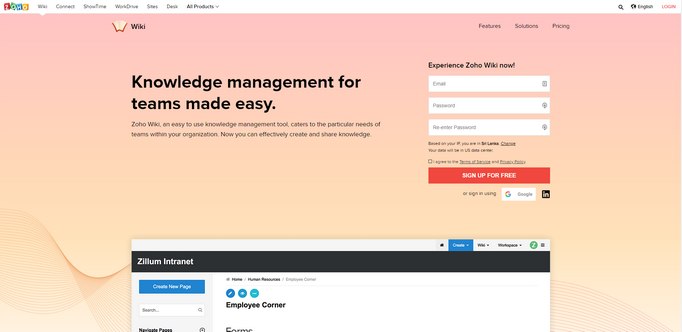 Best For: Wiki-style private knowledge bases
Price: $3 per user per month
Zoho is a platform popular for its suite of affordable business tools. Zoho is cheap but their tools are also very basic.
Similar to most of their software, Zoho Wiki is a knowledge management software with basic features. It has everything you need to setup a wiki-style knowledge base. Nothing more.
Due to its limited features and functionality, it's most suitable for creating private knowledge bases for small teams and businesses.
Best Features Of Zoho Wiki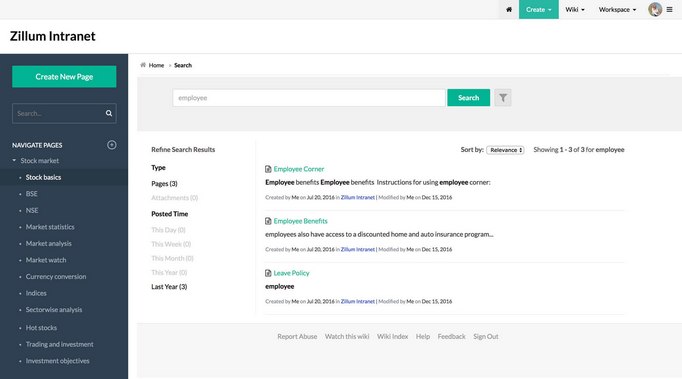 Simple Content Management: Easily create and manage different types of content.
Categorize Content: Use categories to properly organize your content.
Control User Permissions: You can control which individuals or groups can view content.
Third-Party Integrations: Zoho Wiki supports integration with many services. Including many of the other Zoho products.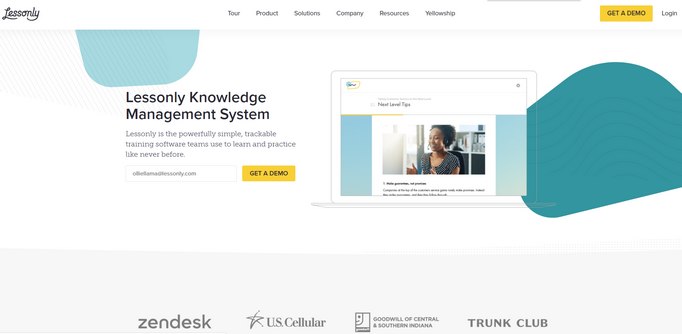 Best For: Private training knowledge bases
Price: Not specified
Lessonly is a knowledge management software made specifically for creating employee training and private knowledge bases.
It comes with a set of tools to make things easier for you to train teams. Like allowing users to practice handling support tickets, live chat practice, and much more.
Lessonly is available in 2 pricing plans. However, the company hasn't specified the prices on the website. The pricing will be calculated based on the number of users and the tools you need for your knowledge base.
Best Features Of Lessonly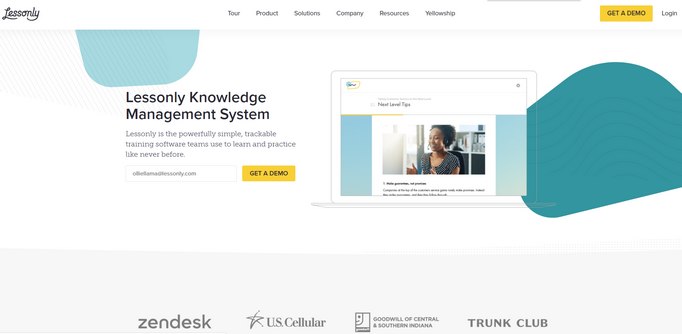 Beginner-Friendly Dashboard: Lessonly is extremely user-friendly. Content creators can easily manage knowledge. And users can learn without frustrations.
Simple Course Builder: The intelligent and simple course builder supports many useful functions. Such as screen recording and webcam recording.
Stats And Reports: With built-in analytics, you can track progress and statistics. And use the data to further improve your knowledge base.
Third-Party Integrations: You can integrate Salesforce, Zendesk, and many other tools with Lessonly.
What Is A Knowledge Management System (KMS)?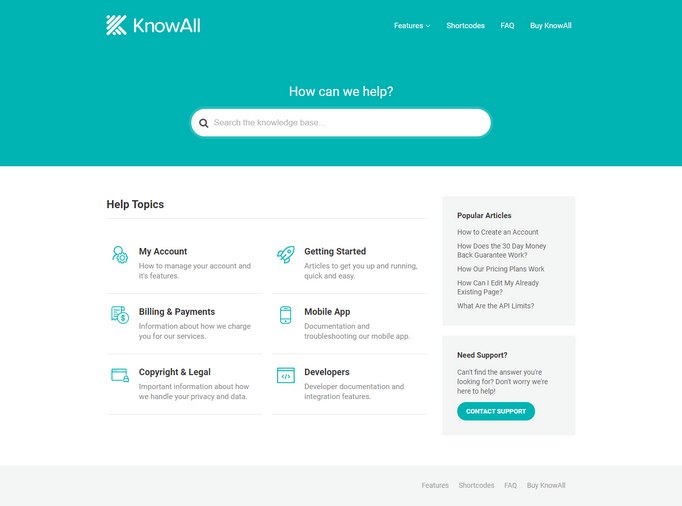 A knowledge management system can be defined in many ways. For some, it's a teaching and learning platform. For many others, it's a platform for solving problems efficiently.
Simply put, a knowledge management system is the platform or the tool you use for sharing knowledge.
For example, with a knowledge management system, you can create articles, documents, and guides. You can then make them available to your customers or employees to let them find solutions to common issues related to your product.
Whether it's to educate your customers on how to use a product. Or teach your employees how to handle different situations. We can all agree that a knowledge base can be beneficial for all types of businesses in many ways.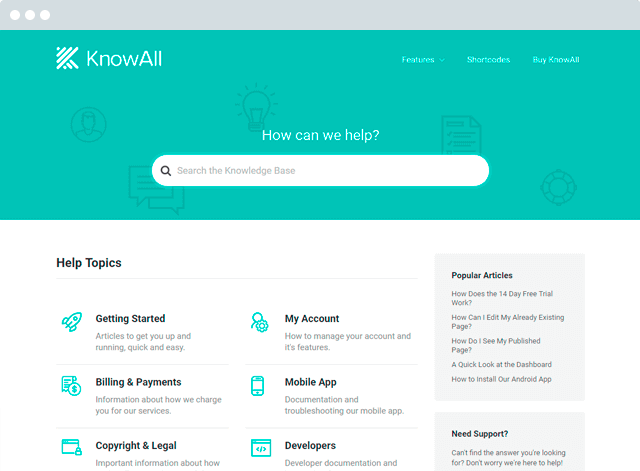 Create a Knowledge Management System - The Easy Way!
Build a searchable KMS and keep your team on the same page.
Get the Theme
Benefits Of Knowledge Management & Sharing
If you need further convincing, here are just a few of the many benefits of knowledge management.
Reduce the Costs of Customer Support
With a knowledge base, you empower your customers and employees to find solutions by themselves.
If a customer is having a problem, they can search for an answer in the knowledge base. Employees can use the knowledge base to find guides on how to handle certain situations like responding to customer inquiries.
Either way, it can help cut down the time and costs that go into answering emails and phone calls.
Train Employees and Teams
Private knowledge bases are commonly used by companies to train and educate their employees and teams. You can create multiple knowledge bases for each department. Fill it with courses, solutions, and guides. So that they can find tutorials guides to common problems all on their own.
Faster Problem Solving
Knowledge bases also help you save time by providing on-demand solutions. Customers no longer have to call and wait on hold for hours to fix a problem. Employees don't need to go through months of training to answer simple questions. It's all in the knowledge base. It's just a single search away.
Share Expert Knowledge
Consult an expert is now a thing of the past. With a knowledge base, you become an expert. Knowledge bases are filled with guides and documents made by experts. There's no need to seek help elsewhere.
Better Search Engine Ranking
Public knowledge bases can also be used as a great source for SEO. You can optimize knowledge articles and content to rank higher on search engines for specific keywords.
Different Types Of Knowledge Management Systems
The first step in developing a knowledge management system is to set clear goals. What's the main purpose of your knowledge base? Is it to serve customers or manage your own departments?
Once you have a clear goal, you can find the right KMS based on different types of knowledge bases.
Customer Support Systems
These are public knowledge base systems you make to serve customers. Customer support knowledge bases include tutorials and guides. Especially answers to common issues related to products or services. This allows customers to find solutions without needing to contact customer support.
Expert Knowledge Systems
Expert knowledge systems are often made private to serve a company's team or a department. For example, the customer support department can use an expert knowledge system to quickly find answers to common customer problems. This type of knowledge bases includes expert guides made on specific topics.
Document Management Systems
Just as the name suggests, document management systems are knowledge bases for managing documents. It's especially useful for businesses that offer multiple products or services. Document management systems help you create one large manual for all your products in one place.
Database Management Systems
Database management systems are used to store and share different types of data related to a product or business. Whether it's data related to customers or product history, database management helps keep everything well organized.
Which Knowledge Management System Should You Use?
Finding the right knowledge management system that includes all the necessary tools for your business is not that difficult. Here's our suggestion.
WordPress is the ideal choice for building knowledge bases for small to medium-sized businesses and startups. You can use it to build all kinds of public and private knowledge bases. It supports thousands of plugins for extending functionality. And it's extremely affordable.
For large enterprises and corporations, we recommend going with an all-in-one solution like Zendesk. Managing your customer service and knowledge base from one place will be worth the price. Especially when you have to oversee many departments and teams.
Of course, you shouldn't just take our word for it. Do more research and explore more options to find the right KMS for your business. You can also check out our own knowledge management products. We have a lineup of tools made just for building all types of knowledge bases.