What is help desk support and how to set it up: the complete beginner's guide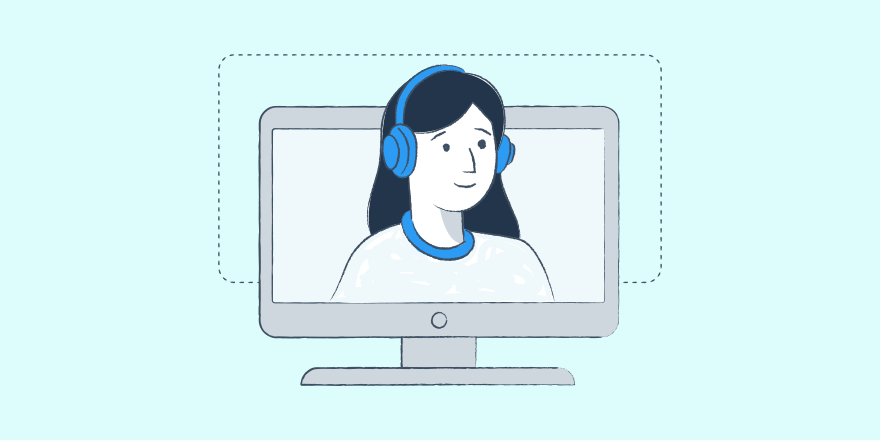 While it's crucial to give reliable customer service to your customers, that's not enough. At least, not if you want to raise the standard of your support.
Building a help desk is one of the key ways to streamline your customer service operations. And it gives you a chance to discard inefficient and obsolete protocols.
So with this guide, you'll understand what is help desk support, what are its advantages and key functions, and how to establish one at your company.
What is help desk support?
Help desk support refers to a system that consists of customer service representatives coupled with tools (known as help desk software or support ticketing platform) to organize and streamline customer service management and communication.
It acts as a resource for users to find solutions to their queries. Providing help desk support is an essential strategy for your customer support team to serve buyers and provide a seamless customer experience.
Help desks are generally divided into two types.
Internal help desk: An internal help desk facilitates problem-solving within a company. For example:
HR support – It guides orientation, employee exit, and HR complaint procedures.
Facilities support – This help desk handles issues related to workplace amenities and logistics.
IT support – An IT service desk takes care of technical grievances related to software and hardware.
External help desk: An external help desk is required to handle inquiries from buyers, suppliers, or collaborators. For example:
Customer help desk – For addressing buyer requests from a number of channels.
Business operations – For handling external issues related to logistics and supply chain.
Vendor support – To manage communication and collaboration with suppliers and partners.
In the offline world, you can just approach a physical desk in person and inquire about all your queries. But a digital help desk (or service desk) can include a variety of communication channels that let visitors submit a support ticket and receive responses. These include:
Knowledge base (FAQs)
Company website
Email inboxes
Telephone lines
Social media messaging
So for any help desk support system, the objective is to make it easier for help desk representatives to provide answers to buyers and workers promptly and systematically on their preferred channels.
Why use a help desk system at your company?
Help desk support is required to bring all the customer concerns, requests, and communication in a single unified place to understand the best approach to help them smoothly and quickly.
A report by Customer Think states that it is now more crucial after Covid to have the appropriate customer support solutions in place. Approximately 59% of buyers are now more concerned about their experience with a company when considering a purchase.
Plus, the more customer-facing teams in your company, the higher the chance that multiple support representatives are communicating with a buyer through many channels simultaneously.
So it becomes difficult to avoid repeated discussions, get the whole picture, and remember who the buyer has been in touch with before.
A help desk support solution consolidates all of a customer's communication into a single interface. This allows you to check various interactions against one another, get a holistic view of a customer's history, and understand how to best help them.
Other key features of a help desk system are:
Automating and organizing the incoming support tickets
Allocating tickets to customer service agents for problem resolution
Monitoring the status and progress of each support case
Help desk software also has analytics capabilities to provide you with the data you need to improve customer experience and team productivity. For example, you can see important benchmarks and metrics corresponding to average response time and speed of resolution.
Advantages of help desk platforms
The advantages of using help desk support include unifying all your support channels under one roof, providing prompt customer service, boosting your team's productivity, providing personalized support, and getting useful team performance data.
Want to take your customer support to the next level? A help desk is where you should begin. We have already touched on how help desk skills contribute to your business. Now let's examine each in more detail.
Merge your support channels in a single location
Do you know what annoys a buyer the most? Moving from one support channel to another and asking the same question again and again.
If you offer customer service through various platforms like telephone, text message, live chat, mail inboxes, or social platforms, using a help desk system will let you merge your communication platforms under one roof.
You will also have the buyer's past information for reference. This will allow you to provide a smooth multichannel experience.
Deliver fast customer service
Buyers don't like any delay, whether they are in a phone conversation, email thread, or queuing outside a store. They need prompt replies from your brand.
In fact, Khoros did a survey in 2021 and found that 79% of buyers wish to get a quick answer when approaching a company.
So your support representatives can't afford to waste time navigating through different browser windows, or digging past communication when preparing a reply.
Here's how help desk support software can help in this regard:
It collects all user chats on a single tab
It tags support requests for a quick glance at the problem
It organizes the requests for team members
This enables you to give customers speedy and relevant assistance.
Take your team's productivity to the next level
About 86% of customer service professionals say that employing a helpdesk boosted their efficiency, as per a HubSpot survey published in 2020.
A help desk support solution comes with a number of automation tools to reduce your employees' overhead and make the most of their help desk skills. These include:
Workflow and assignment automation
Ticket allocation
Not just that. It allows communication among members from different departments and locations. And it makes sure everyone working on your help desk has the same understanding. This results in enhanced employee productivity.
Deliver personalized communication
The right helpdesk software can help you keep every detail or chat of your buyer in a particular location. So you can check the issues they contacted you about before and the responses provided to them.
As a result, it wouldn't matter which help desk representative continues the chat. They would interact with customers smoothly without any discrepancies.
Get valuable team performance data
If you utilize different mailboxes for customer communication, it's challenging to monitor the amount, types, and successful handling of support tickets.
This data is important because it assists you in keeping track of the effectiveness of every customer service employee in particular and the support team as a whole. It also enables you to set realistic standards for new recruits. A helpdesk support tool will help you get this data.
How to set up a help desk?
To create a help desk, you should start with defining help desk goals and team structure. Then, choose an appropriate help desk software and figure out how to receive support tickets. Lastly, focus on managing interactions and bringing consistency to your outgoing messages.
Now that you understand what a help desk is and its benefits, let's discuss the steps to set up a helpdesk support process in your organization.
Define help desk goals
The first step of setting up a help desk is to establish goals. These could include: reducing friction for your buyers, minimizing friction for support representatives, lowering redundant tasks, optimizing your KPIs, and getting rid of outdated clutter.
Whether you are creating a help desk support from scratch or reviewing the current one, the first thing you need to do is to establish objectives. Depending on what help desk support means for your business, these could include:
Reduce barriers for your buyers
It is not necessary for your buyers to understand what help desk support is and how your help desk operates behind the scenes in order to receive assistance. The more you can humanize your customer interactions, the more effective your help desk will be.
Reduce barriers for your support team
All the additional work items, interactions, and protocols you include in your help desk representatives' roster may leave them less time for doing their actual job, which is assisting buyers. So you want to organize your help desk system in such a manner that maximum time, effort, and agents' help desk skills are saved for supporting customers.
Minimize redundant tasks
Any task that you or your support representatives do repeatedly has room for optimization. For example, you could put automation on select support cases. Or you could establish ready-made replies to handle frequent questions.
Determine your KPIs
You must have an explicit understanding of what you need to analyze. So you can reverse engineer and figure out the data you should fetch from your customer interactions. Once you have these insights, you can build a help desk system that regularly and easily collects the required data.
Get rid of the clutter
Does your helpdesk still have obsolete processes or facets, outdated or incorrect cached answers, or profiles of ex-teammates? Helps desks of active support representatives pile up all kinds of technological dust. So one of your goals could be to refresh all of that information to reduce the probability of your team sharing incorrect responses.
Build your help desk team structure
To create or optimize your help desk support team, make sure you have the right people to fill essential roles such as help desk admin, support manager, and support agent.
As we discussed about what a help desk is, it's a system of humans and tools organized to serve customers. So let's talk about the people part first. Here are the help desk skills and roles you will need to form a help desk team.
Help Desk Admin
This is a senior professional in a company who sets up and handles help desk operations and solutions needed for the support agents to offer superior customer service.
Support Manager
This role is generally a specialist who is in charge of fulfilling service level agreements (SLA) and handling customer service management. A support manager is also in charge of all help desk representatives. This person makes sure the tasks are shared evenly among the support team representatives, resulting in outstanding customer service.
Support Agents
These individuals answer customer service inquiries and offer solutions as the company's representatives. A support agent may be an all-rounder or a subject matter expert. Their key competencies may include tech assistance, IT help, or assistance in company processes based on the requirement.
Select the best help desk platform
To choose the right helpdesk software, make sure it is easy to use, has ticket management capabilities, and supports multiple channels and integrations. Also, look for automation abilities, customization, SLA management, performance reporting, and team collaboration features.
The second element of a help desk is the software you will employ to handle and simplify helpdesk activities.
According to a 2021 report by HubSpot, usage of help desk tools has increased by 11 points from 2020 to 53% among customer support teams.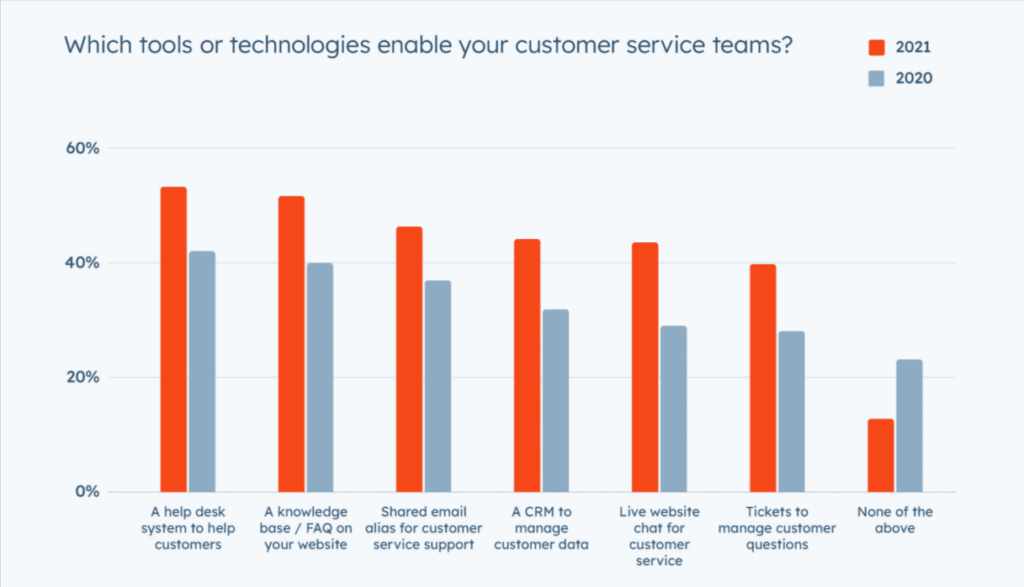 A help desk solution is a system that companies employ to arrange, monitor, and handle their customer support interactions. It enables your help desk representatives to answer each problem in a systematic manner and without delay.
A help desk solution is also known as 'customer support software' or 'support ticketing system.'
The majority of businesses that are setting up their customer service desk from scratch start with a shared inbox or tools like MS Excel. There are many help desk software available in the market. So it can be difficult to identify the best option. Make sure to consider the following questions before you make a decision:
What are our target customer communication channels?
What are the primary avenues through which you will get customer service-based requests? And do your customers need a self-help platform to post and track their support requests?
How much can we spend?
When setting aside funds for deploying new software, take into account the money needed upfront and in the near future when assessing help desk software. For instance, the pricing of $50 per month for one agent seems viable for a team of two. But will the cost still be reasonable if it expands to 20 or 200?
How many people will use it, and what are their KPIs?
What will be the headcount of the employees who would use the help desk software as support representatives? What findings or performance indicators do you wish to view to assess their help desk skills?
What level of customer support do we need?
Prior to buying a help desk support solution, check out their means of providing customer service. For instance, are they providing just email assistance? What mediums are they using to provide assistance? Are their knowledge base and help guides useful?
An excellent method to examine this is by submitting a request to their own help desk and testing the reach and effectiveness of their customer support.
Which existing apps do we need to support?
Your business may be using certain solutions already. These tools, when connected to your help desk, will free up hours, and simplify the process of managing support requests for your help desk representatives.
For example, a support ticketing solution is frequently integrated with the company solutions mentioned below:
eCommerce solutions – For example, Magento, Shopify, and WooCommerce
Sales CRM tools – For example, Microsoft Dynamics and Salesforce
Telephony solutions – For example, Aircall and RingCentral
Remote desktop management systems – For example, LogMeIn and Rescue
What functionalities are critical for your business?
A powerful help desk software must allow you and your support representatives to offer customer service in a streamlined and efficient way. So creating a checklist of your must-have and nice-to-have features is a must when evaluating different options. Here are the core features to consider:
Ease of use
Your support agents may be continuously changing. So the new hires to the support department should be able to learn what help desk support is and its functionalities fast to begin assisting buyers.
Then, it's important that your helpdesk solution is simple and easy to use. It should not baffle your help desk representatives with a complicated look and feel.
Ticket management
A ticket (also called a case) is a word that refers to a particular customer inquiry, problem, or grievance. Check the capability to convert inbound inquiries to help desk tickets to arrange, allocate and bring tickets to an effective settlement or completion.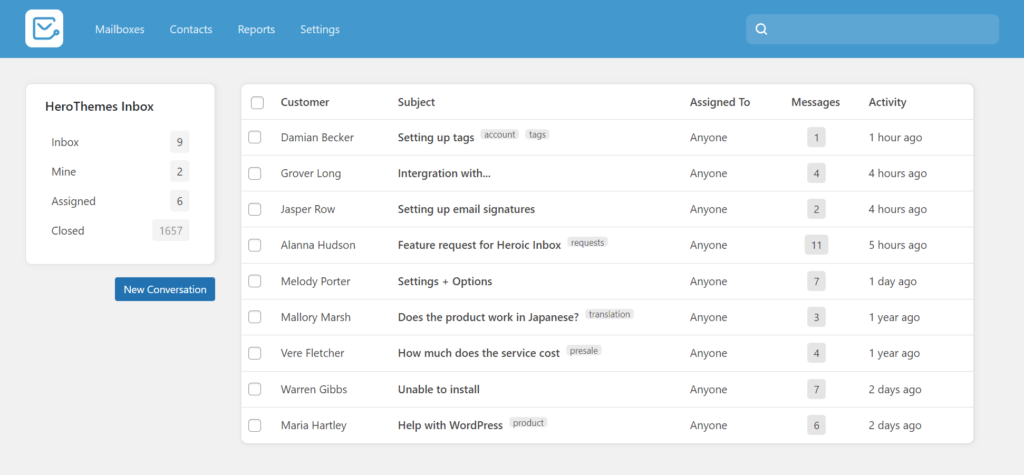 Automatic ticket routing and allocating, classifying and sorting tickets based on importance, handling flexitime, and useful SLA (or Service-level agreement) handling are important functionalities to consider for help desk ticketing.
Support across multiple channels
These days, buyers expect their preferred businesses to be accessible on various mediums like email, live chat, texting services, social networks, telephone, or websites for quick support.
Consider help desk systems that can handle inquiries from various channels and provide the option to shift from one avenue to another effortlessly.
Automation capabilities
The majority of customer support tickets require the same answers. With help desk support functionalities like auto-responder, auto-assignment, predetermined answers, automation triggers, or processes, ticket management gets highly effective.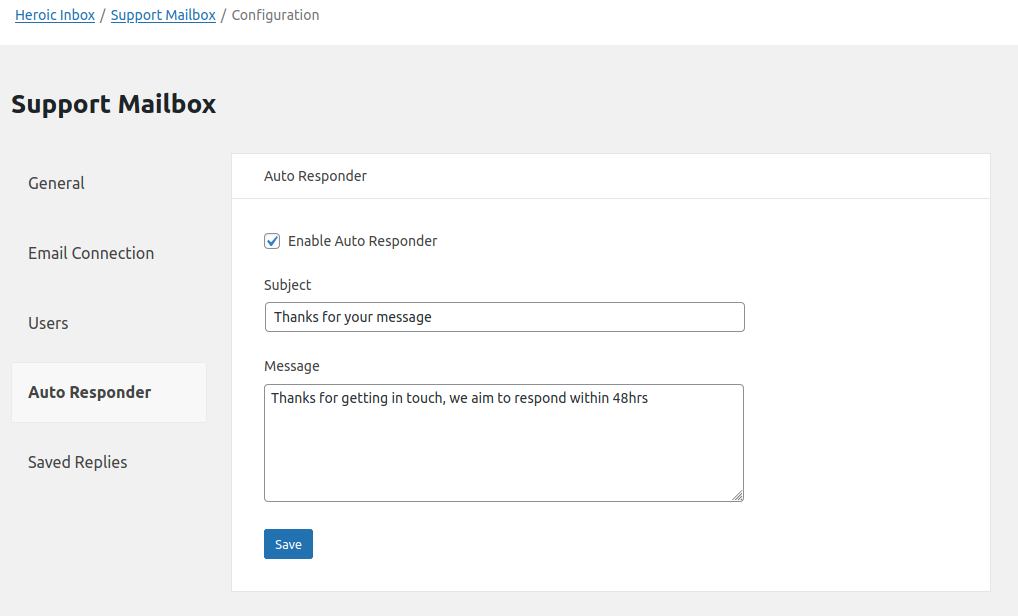 Branding and customization
The ideal system should allow you to change the interface or appearance of your help desk to merge with your website's branding. And you should also be able to customize support representatives' views and permissions based on their duties.
3rd-party integrations
If you utilize indispensable company tools like CRM, G Suite, Slack, or WooCommerce on a regular basis, connecting your help desk system with these platforms makes customer communications simpler.
The majority of help desk support tools provide straightforward syncing with widely used solutions. This assists you in getting a better idea of the wishes and requirements of your buyers.
SLA management
According to a Microsoft report, 33% of buyers believe that the critical component of effective customer service is having their problems solved in one conversation.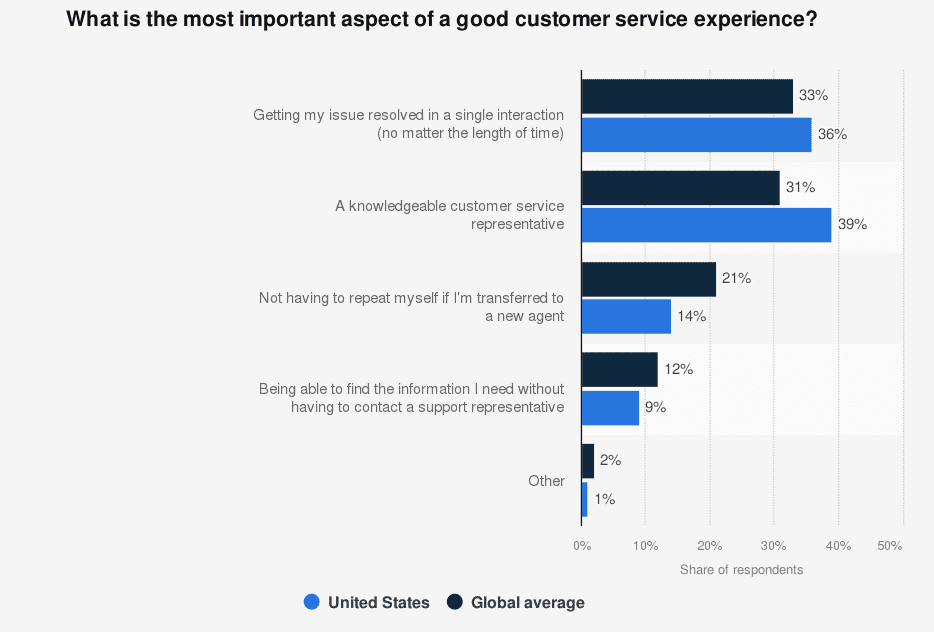 Service level agreements, or SLAs, are objectives that businesses define to satisfy buyers. For instance, how quickly the customer gets the first reply? What will be the expected timeframe to fully solve a customer problem?
A great help desk support solution will tell the business the number of times they achieve their set objectives. Not just that. It will also notify or warn the business when tickets may violate their service level agreement.
Analytics data
Analytics offers live information on ticket patterns for improved service management and allows you to view crucial support agent evaluation indicators. These include FCR or First Contact Resolution and response times on an easy-to-use console or dashboard.
You can also have collective data on support agent evaluation and their help desk skills to be sent directly to your email.
Team collaboration
Your help desk representatives will require a space to team up with other people in and out of your organization.
With effective teamwork abilities, your crew can use their help desk skills to establish the tone, provide valuable criticism on tickets and allow other collaborators to notify you every time they solve problems.
You can use the list of features we covered above to create your evaluation checklist. But if you need help in making a decision, we highly recommend a combination of WordPress and Heroic Inbox, one of the most convenient help desk solutions.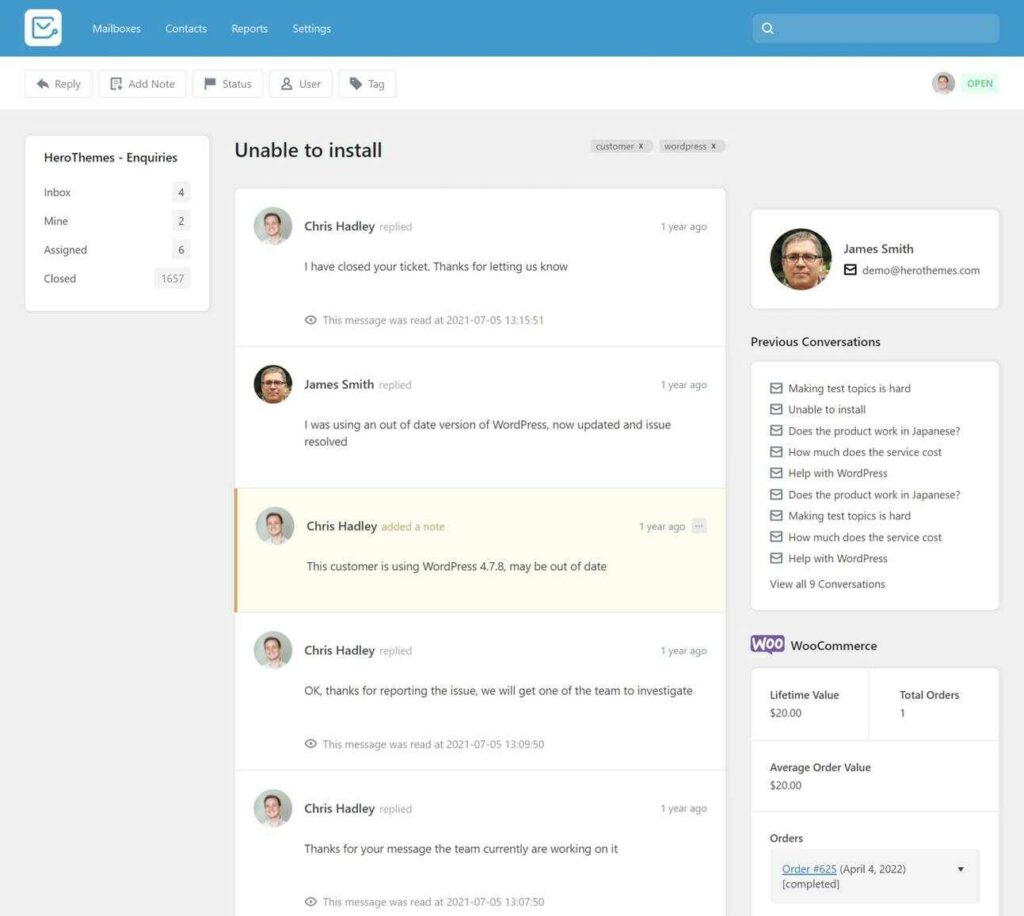 Heroic Inbox (hosted with WordPress) is a shared mailbox and ticketing tool that removes interruption and simplifies customer service management for the support team. Also, it is inexpensive in comparison to other help desk solutions, the majority of which use the more expensive Saas model.
The primary benefit of this ticketing tool is that you can handle all your sales, customer service, collaborations, and other mailboxes from one location.
Not just that. It's easy to link your help desk support tool with GSuite or Gmail inboxes. Once you do that, Heroic Inbox will begin transferring your emails to the WordPress dashboard, and you can start replying to these emails.
If you own a WooCommerce-based website, Heroic Inbox can directly extract every buyer's information from your sales data.
Configure how you receive support requests
You need to plan how you receive support tickets. Common methods include creating request forms, connecting your inboxes, checking third-party integrations, and evaluating your knowledge base.
Now that you have chosen a help desk support tool, it's time to figure out a way to determine how customers will raise tickets. Here are the methods you can implement:
Create forms for customer queries
Build and place customer contact forms in strategic locations and across your website. And share links to those forms on your chosen channels and social media profiles. You should also examine the form for simplicity, shortness, and correctness. Also, make sure the form submission is working properly.
Connect your email inboxes with the help desk system
You may already have designated email addresses for customers to contact sales, support, billing, and so on. If not, you can create these from scratch. And ensure none of your emails end up in your spam folder or are sent to the old email accounts that are no longer relevant.
Next, import data from these inboxes to your helpdesk software. Heroic inbox, for instance, offers a centralized dashboard in which you can organize and reply to emails that come to different customer service mailboxes.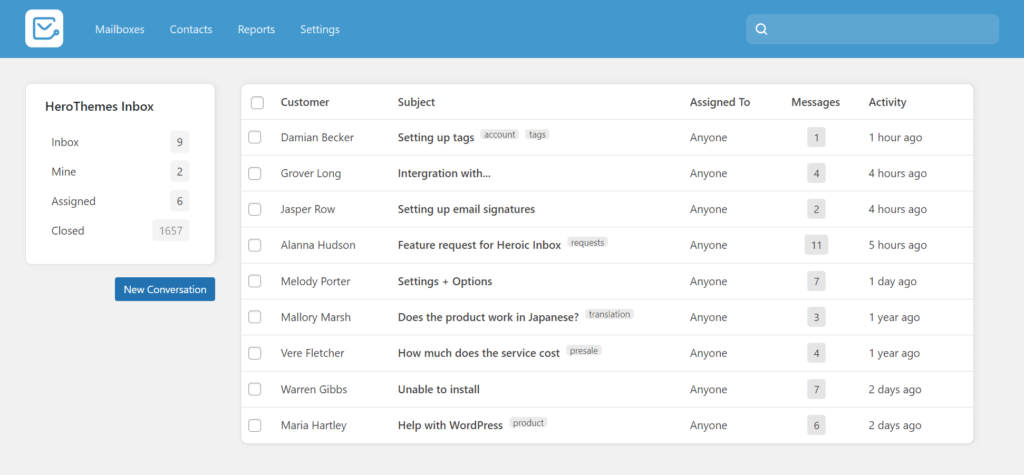 The tool lets you assemble all your communication strings systematically in one place in your WordPress dashboard.
And your help desk representatives don't have to repeatedly switch from one screen to another because now they can manage all their email threads within WordPress.
Check third-party integrations
See if you use any 3rd-party tools that need to be integrated with your help desk support platform. You can try out the tools you want to use and discard the ones you don't need anymore.
Look through your knowledge base
If you run a knowledge base, you may have "contact us" links on several pages that you need to update. If not, check where you can add them to provide the best experience to users.
But if you don't have a knowledge base already, no worries. You can always build a new one. You can create a knowledge base with Heroic KB, another top-notch plugin offered by the same company that made Heroic Inbox.
Manage and organize conversations
Establish a clear process for everyone by setting up categorization and team permissions, automating workflows, configuring ticket assignments, and documenting your process.
You should have a process that is easy to understand. So that everyone in the support staff is clear on their tasks and duties and handles the requests assigned to them according to their help desk skills. You can do this in the following ways:
Set up categorization and team permissions
Determine which help desk representatives can access particular requests and permit only them to see those tickets.
With Heroic Inbox, for example, you can permit certain users and teams to view their allocated email inboxes or support cases.
Also, tag the tickets properly, so that the customer support team doesn't waste time locating them. Make sure there are no duplicate tags or categories.
Automate workflows
Put automation on recurring chores to minimize the work pressure on the customer service team for better service management. If you already have some automation triggers in place, review them again for accuracy and usefulness.
Configure ticket assignment
In this step, determine how tickets will be assigned to different users and teams and make sure your help desk aligns with these rules. It guarantees airtight responsibility as you can specify the scope.
Heroic Inbox, for example, can help you allocate support tickets or mailboxes to particular support agents.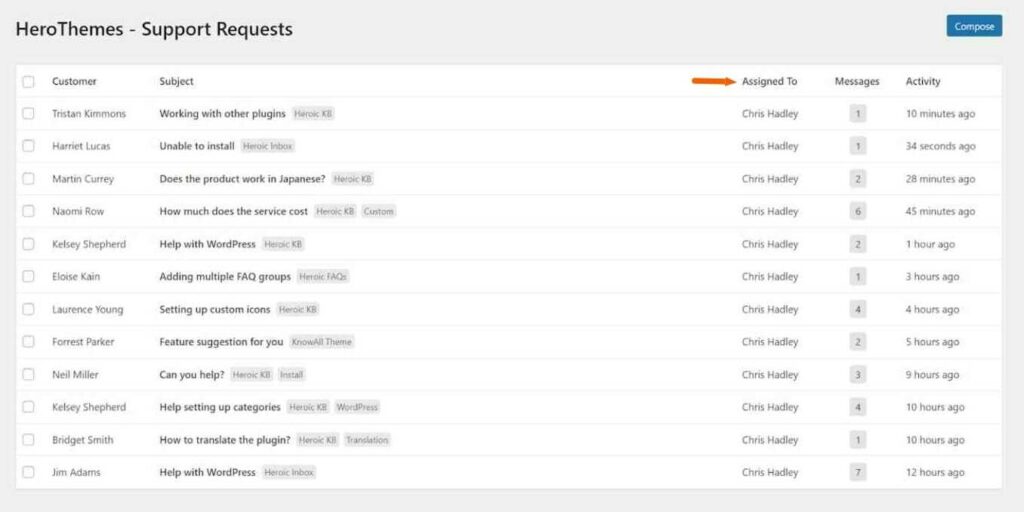 When combined with email routing, you can attain a high level of authority over which agents or teams get the support requests. Not just that. You will have features like making team notes and internal messaging to bind your team together.
Document your process
Take out some time to record or write the entire procedure that you have determined in the previous steps.
Documenting your standard operating procedures will benefit you at the time of hiring and bringing your current support staff up to speed. Here's what you can note:
What labels and tags should your team utilize, and under what circumstances
How to pass over a case to other support representatives and when to do so
Nomenclature and guidelines for employing and handing canned responses
Communicating such standards with your entire support staff increases efficiency and improves service management.
Also, it minimizes the probability of your newly structured help desk getting crumbled under the mountain of wrongly used labels and busted processes.
Bring consistency to your outgoing messages
Make your outgoing communication accurate, regular, and productive by creating and reviewing your email templates and saved replies.
The next step is to determine the ways to improve the accuracy, usefulness, and tone of your regular messages to customers. Here's how:
Review your email copies and designs
You may already have some email templates that you send to customers. Consider examining those copies for writing style, embedded links for correctness, and branding on templates. If not, you can create them from scratch.
Also, remember to review the email signatures and footer content your customer service staff puts on their emails.
Prepare or update your canned responses
To send accurate and productive messages, and save your team from writing the same emails again and again, consider preparing some standard responses in advance. And check your saved replies for the correct and latest information.
Also, ensure that the responses follow your recent guidelines and have appropriate tags so that agents can easily get them.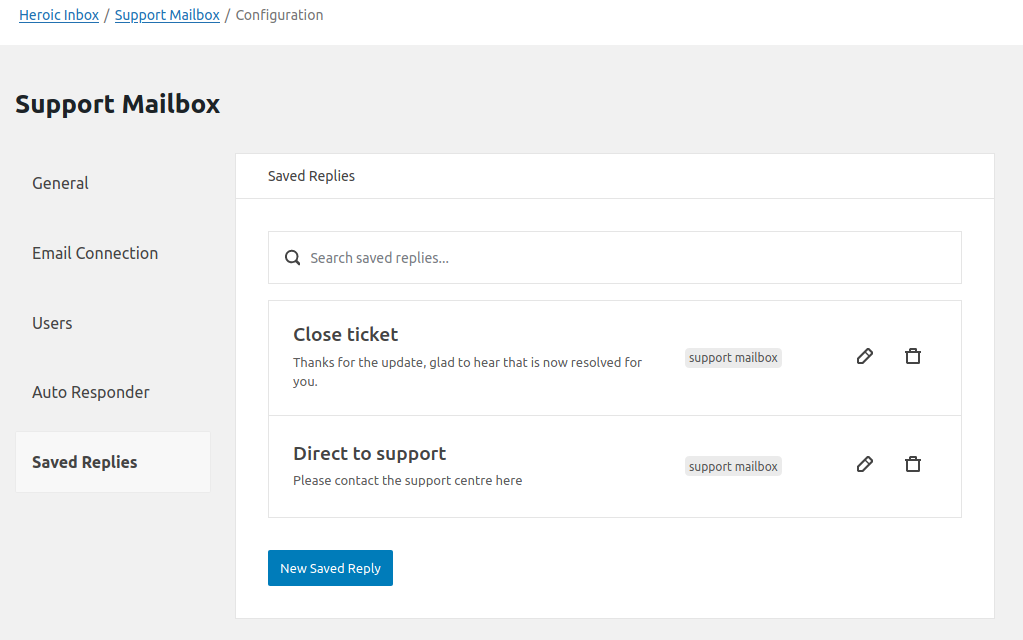 The majority of helpdesk support tools, such as Heroic Inbox, allow you to integrate canned responses and layouts in communication. As a result, this enables you to reply quickly and uniformly.
Test your new help desk
After setting up your help desk, you should run a few tests to examine if it is working properly. Review areas like automation triggers and processes, tags and labels, buyers' categories, internal documentation, and customer experience.
From learning what is help desk support to creating one from scratch, you have now come a long way.
Once you have created your help desk support system and aligned your support staff accordingly, conduct a few trials to ensure that the system is functioning as it should.
For example, you can pose as a customer and submit a few test requests to your help desk so that your support staff can respond utilizing the latest protocols. For starters, you can examine the following:
Automation triggers and processes
You should create and send test requests that must activate your automated workflows to ensure they are operating as you planned.
Common tags and labels
You should try sending queries that mimic actual customer problems that surface on a regular basis to make sure you have already generated the common categories and labels.
Different categories of buyers
Do you divide your arriving support tickets based on the types of consumers?
If yes, then create test queries for every group to ensure that only appropriate users are seeing them.
Customer experience
Lastly, reply to the emails received in your inbox and evaluate the user experience. Check if emails are delivered properly and have the correct information or not.
Keep refining help desk performance
Check common help desk performance indicators like first response time, customer satisfaction score, and resolution rate to improve your help desk performance.
Improving your help desk support is an ongoing task. And switching to new help desk software gives you an opportunity to streamline your operations and eliminate redundant information.
If you have followed all the steps correctly so far, you probably established performance metrics you want to track your support team's help desk skills. If not, it's not too late.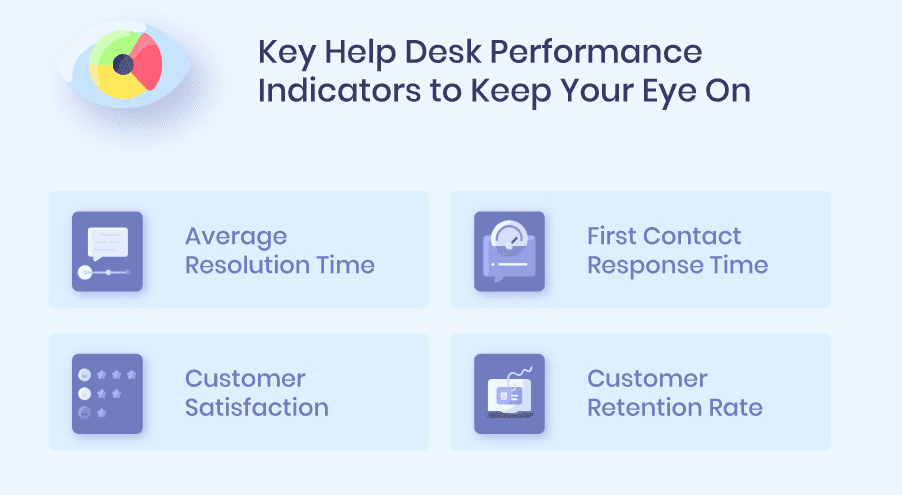 See if your help desk software can track performance indicators such as first response time, resolution rate, and customer satisfaction score. Then use this data to keep improving the efficiency of your help desk support.
Common questions about help desk support
Here are our most frequently asked questions related to helpdesk support, along with their answers.
What does a help desk do?
The job of help desk support is to collate and organize all the customer service requests and conversations across different mailboxes and channels into a single dashboard. This provides customer support representatives the help desk skills to handle customer requests and complaints quickly and easily.
What is a helpdesk ticket?
A help desk ticket (also known as a customer support case, customer service ticket, or just ticket) refers to a specific customer problem, complaint, or question. It is created within a help desk system when a customer makes the first contact with his particular issue.
On the same note, ticket management is the process of handling the entire journey of a ticket from its initial creation to resolution.
What is the difference between a help desk and a service desk?
Many people use both these terms interchangeably. But there is a minor difference between them.
The term help desk support encompasses any type of support for which a customer reaches out to a company. It includes functions such as ticket management, knowledge base, and multi-channel support.
A service desk, on the other hand, is used mostly for IT service management pertaining to both employees and buyers. Its key functions are incident management, asset management, and change request management.
What is helpdesk software?
The term help desk software (also known as support ticketing systems) is used for tools that companies use to receive, organize, and handle customer support communications.
With a helpdesk system, you can bring all your support requests to one location for easier organization and management. This allows help desk representatives to address and solve customers' questions fast.
What are the best help desk tools?
The best help desk platforms available include Heroic Inbox, Kayako, Zendesk, Freshdesk, Jira, HappyFox, and Spiceworks.
Wrapping up: help desk support
We hope this guide has provided you with an elaborate answer to 'what is help desk support,' 'how to set it up,' and other questions to help elevate your level of customer service.
The right helpdesk system can go a long way in letting your team collaborate to their maximum potential, as well as provide effortless customer support.
The majority of help desk solutions provide a free trial or money-back guarantee for a certain duration or for a specific number of people. Make the most of this limited time and try out the help desk on a daily basis to test its usability.
Here at HeroThemes, we strongly recommend a combination of WordPress and Heroic Inbox. With a simple user interface and a powerful set of features, your agents can start with an optimized help desk and begin handling customer problems in a jiffy!