What is a knowledge base: the definitive guide with benefits, steps, and examples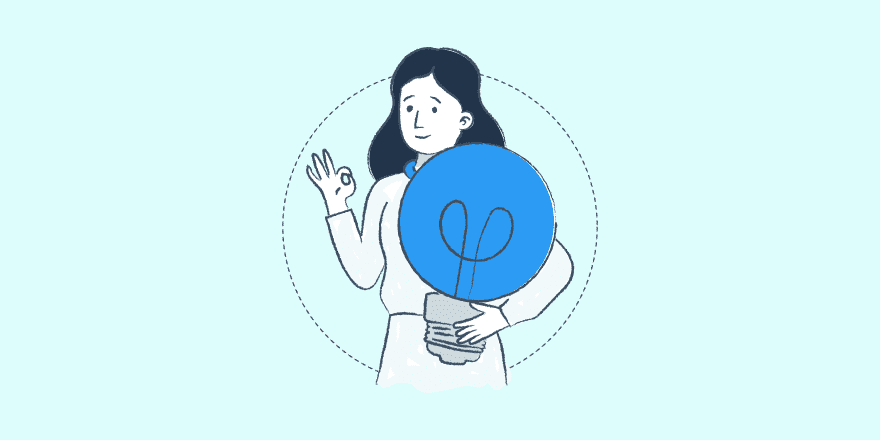 The information your staff possesses regarding your buyers, offerings, and operations is one of your business's most precious resources.
The problem is, this information is spread over many places. For example, knowledge gets clogged in emails, social media messages, forum conversations, comments, support cases, and in the minds of customer service representatives.
So to best use this information, you should consolidate the information in a central library or platform. And it should be readily available to people who need it, whether they are your customers, employees, or both.
The solution? A knowledge base. In fact, a Forrester survey found that consumers like knowledge bases more than other self-help channels. With that in mind, this guide will show you how building and deploying it can allow your company to boost customer service.
Not just that. It will also improve your team's productivity, irrespective of your business' size and sector. So let's start by understanding the meaning of a knowledge base.
What is a knowledge base?
A knowledge base is a self-help repository of guides, tutorials, documentation, and FAQs about a company's products, solutions, functions, or expertise. It is structured in a manner that users can view and use information easily.
Every organization aspires to make information easy to find. Yet 60% of employees say it's hard to get the information they need to do their jobs.
That's where a knowledge base can help. It is defined as a self-help digital repository of knowledge regarding an offering, solution, function, or subject.
The primary objective is to offer a single library of knowledge that people and businesses can effortlessly reach and consume. For example:
Nodored streamlines customer support with its external knowledge base
Scribbr uses an internal knowledge base to boost employee productivity
The information in your knowledge base can originate from pretty much any place. Subject matter experts throughout the company contribute to its growth.
Although the content of knowledge bases across organizations differs depending on multiple aspects, it commonly contains details such as:
Guides and video tutorials to assist customers in learning more about how to utilize a certain product.
Documentation for staff to improve their knowledge of the organization's products and solutions, along with its inner operations and protocols.
Internal documentation like Standard Operating Procedures (SOPs), technical manuals, and workflow guidelines that assist team members with a specific project.
Frequently asked questions (FAQs) on how to begin using the product, making the most of advanced functionalities, and handling frequent difficulties or concerns.
Human resources documentation like a staff manual, personnel assessment questionnaires, onboarding worksheets, and so on.
Overall, a knowledge base is a cornerstone for your knowledge management (KM) activities. It lets you produce, organize, distribute, use, and handle information throughout your entire organization and sectors.
Two types of knowledge bases
Knowledge bases are made for your employees, buyers, or at times for both. Their main objective is to assist the targeted group in getting an answer to their question without the involvement of a company representative or agent. And they can be classified into two forms:
External Knowledge Base
An external knowledge base helps your buyers understand everything they want to learn about your offerings, company, and industry. It is also called a customer service knowledge base or a self-service library.
Case in point: Guardian Bikes' external knowledge base. The company manufactures children's bicycles that are said to be the most harmless bikes for kids.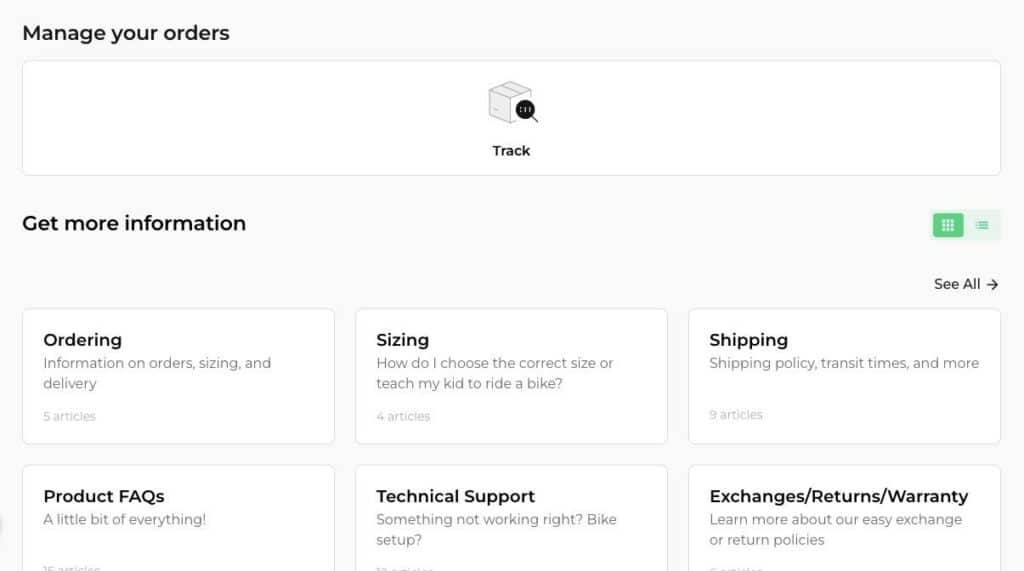 This external knowledge base for your business makes it easy to find information that a current or prospective customer might need. The topics could include ordering, sizing, shipping, product FAQs, and more to help support buyers.
Internal Knowledge Base
An internal knowledge base is commonly used as a means for company workers to interact and impart corporate wisdom and data in-house.
For example, Meero utilizes its internal knowledge base to coordinate its customer support staff as it expands into new regions.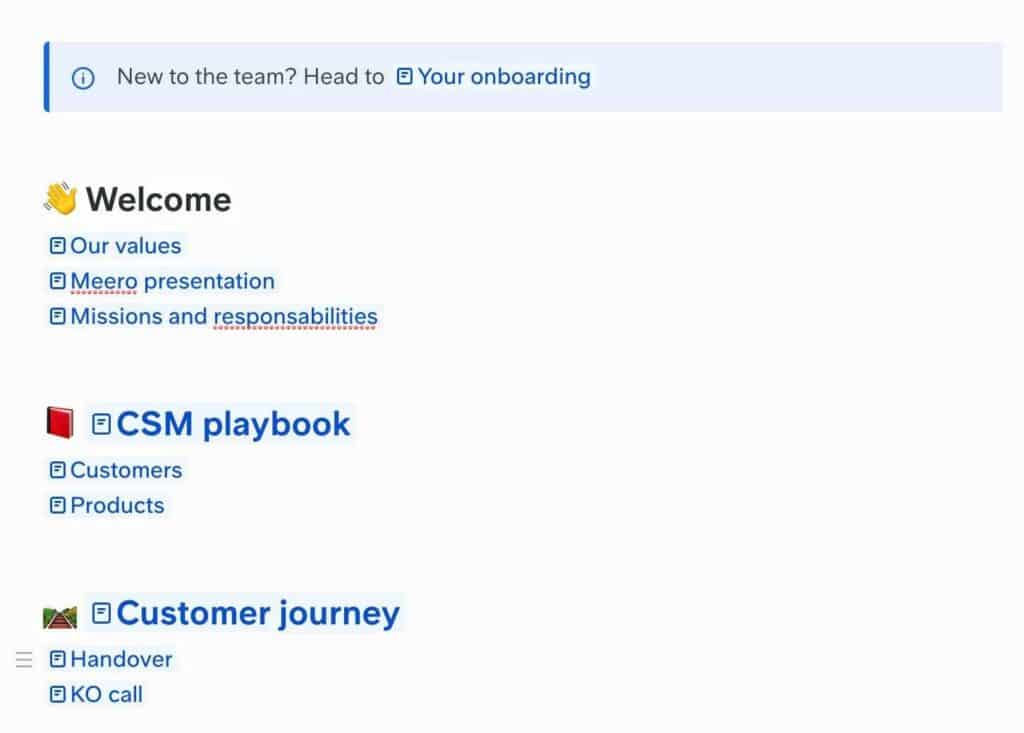 We will talk about the steps to develop a knowledge base that benefits end users in the coming sections. But before that, let's discuss why you should use it.
Why use a knowledge base?
A knowledge base enhances your brand's potential to generate, arrange, oversee, and distribute information and use it to its full potential.
In the present digital age, individuals look for and need correct documentation. But the information should be easy to navigate and consume. Making a call, submitting a support ticket, or writing a message is hardly their first preference.
They need the solution to their problem straight away. In fact, 35% of buyers believe that they should be able to fix their problems by themselves, as per an Emplifi report.
This is the reason you should have a broad, in-depth knowledge base for your business. From the definition of a knowledge base we discussed above, you already understand that it lets you share comprehensive and prompt solutions round-the-clock from a centralized database.
Plus, it aids in minimizing the work it takes to search and go through the information.
How you utilize your knowledge base relies on your business and target market. Companies utilize knowledge bases for many purposes. And they keep discovering new applications almost daily.
Having said that, below are some examples of how it can benefit different departments:
IT: Makes it easy to fix issues, onboard new hires, provide coaching, and address basic support questions.
HR: Excellent for all things ranging from joining and in-house training to sharing organization guidelines and compensation timelines.
Legal: Assists with issues in copyright, licensing, guidelines, agreements, and additional approval procedures.
Also, you can modify and manage your knowledge base frequently to make sure that all the information is still correct and useful. This means it can also assist in elevating the usefulness of the content at hand.
Let's further explore all of this a little more by emphasizing all the advantages a knowledge base offers to your prospects and team members.
What are the benefits of a knowledge base?
A robust knowledge base lets your company provide answers fast. Its benefits include boosting user satisfaction, saving on onboarding costs, increasing productivity, and improving collaboration and communication.
From what we discussed about what a knowledge base is and why use it, you may have already pictured the core benefits. But let's take a look at the advantages in more detail.
Boost user satisfaction
Over 69% of customers like to resolve their problems by themselves. And 63% mostly begin by looking through a business' digital collateral prior to contacting customer service through mobile, email, or social media.
A well-structured and intuitive knowledge base effectively enables buyers to search for the information they need at their convenience, instead of the company's.
They don't need to raise support requests again and again, stay on the line for service agents to be free, or go through any other hassle. This has the potential to significantly boost their experience with the business.
Consistency in service
Since a knowledge base is defined as a single source of all the knowledge, a company can make sure that every staff member is utilizing recent and correct data. This can increase employees' performance in general.
Everyone in your company will refer to a uniform set of guidelines that are present in your internal knowledge base. No matter the team or department you belong to (marketing, HR, and so on), you'll get at the exact same details. This is a crucial benefit of building a knowledge base for business. It minimizes uncertainty and allows departments to work reliably.
Faster resolutions
Give me a thumbs up if you like to wait for sales reps, help desk, or customer support agents who are busy helping people who contacted them first.
Yeah, didn't think so!
You're not alone though. As per a 2021 study by Freshworks, 52% of buyers anticipate a speedy solution, and 80% desire a faster reply from businesses.
In the current high-speed, connected era, most customers just cannot bear to wait for assistance. In situations where they seek solutions, they expect to get them fast.
Having a knowledge base means you will be able to enhance buyer satisfaction because it offers consumers the capability to get support right away.
With a strong external knowledge base, you don't have to keep people waiting, move them from one representative to another, or follow up with them. Overall, it is a user-friendly, self-help option to quickly address problems.
Save on onboarding expenses
Hiring and onboarding new recruits is expensive. In fact, as per the recent statistics from the Society for Human Resource Management (SHRM), the typical cost of a new hire recruit is about $4,700.
An internal knowledge base makes sure that people new to the workplace get a single source of accurate material.
For instance, if a company is launching a tool for the first time, then it can develop an internal knowledge base that includes in-depth directions and guides on how to utilize the platform.
This could help you avoid the time and cost of giving face-to-face coaching to every team member. Employees can effortlessly acquire the knowledge that is required to understand and execute their tasks efficiently.
The result? Improved workplace conditions and reduced expenses — another perk of making a knowledge base for business.
Increase productivity
According to Nintex, 67% of professionals report that their organization's chaotic workflows limit them from performing their best.
When you don't have a proper strategy to exchange knowledge in a company, you're likely to see a drop in work output.
This is where a knowledge base can help, since it is accessible 24 hours a day, seven days a week.
With all the relevant knowledge and details in a single, convenient place, customers can obtain whatever they want, whenever they want, with the least hassle.
Since the buyers can find solutions to easier problems, your customer service agents get more time to take care of difficult concerns.
Not only that. If your staff can quickly find the information they require, they will spend more hours getting work done instead of searching for guidance.
Improve collaboration and communication
As discussed in the knowledge base definition, it is a unified library of knowledge that is shaped and used by every team. This way, it lets you avoid organizational silos and boost collaboration.
Since workers get the power to convey their understanding and experience to their peers, you also encourage two-way communication.
Overall, a knowledge base benefits both workers and customers in all stages of their lifecycle with the company. And as per a study by Treasure Data and Forbes Insights, 65% of consumers will stay with the brand if the company can offer good service throughout the customer cycle.
Now that you know what is a knowledge base and its benefits, let's move on to the steps to build a knowledge base for business.
Steps to create a knowledge base for your business
To build a knowledge base for your business, start by determining your needs and goals. Then work on producing, formatting, and organizing your knowledge base content. Finally, use the right software to set up your knowledge base portal and maintain a consistent brand personality.
Considering what a knowledge base can do, you must be ready to build one. So take into account the following steps while making a knowledge base for your business.
Determine your needs and goals
Be goal-driven when building a knowledge base for business. Set a purpose that revolves around the information your audience needs to know in order to enhance their overall experience.
You should set a well-defined goal to give a particular purpose and meaning to your knowledge base. Let's take Buffer, for example. The company has used its social media expertise to build an internal knowledge base. And it effectively serves Buffer's purpose of answering staff's questions and improving the orientation process.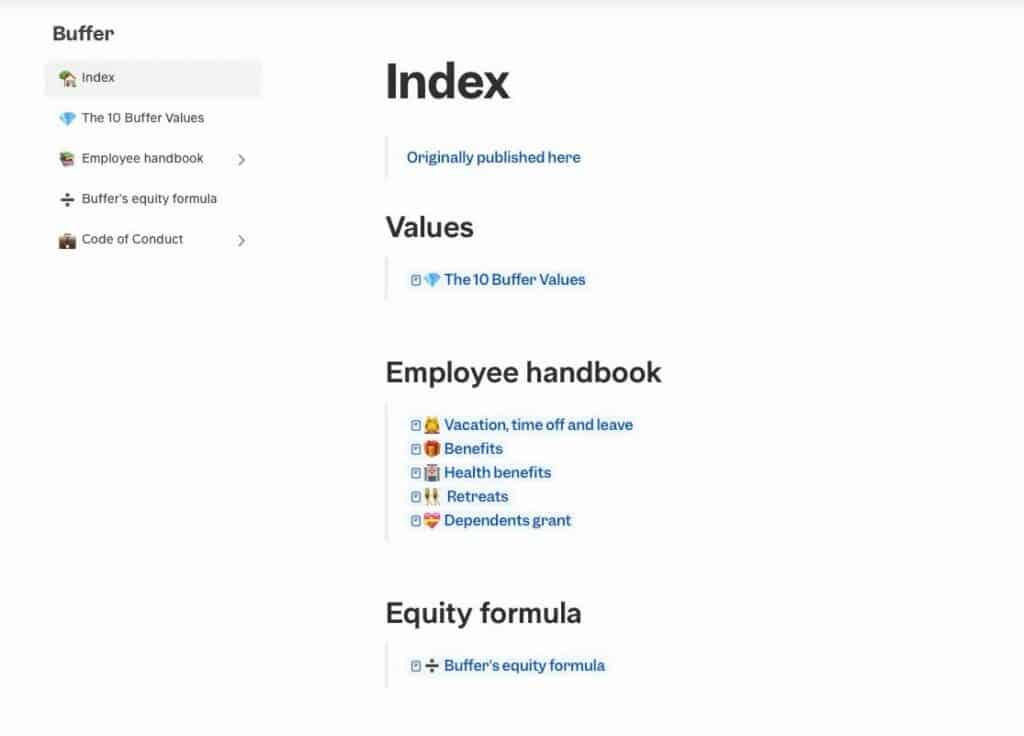 This is a perfect example of a goal-oriented knowledge base. So one of the key steps is to create articles that are related to what your users are searching for. And this is possible only when you have clear goals to begin with.
In order to find the topics and questions to address in your knowledge base, start by gathering the following information:
Which are the most frequent queries raised by your buyers?
How do consumers utilize your goods and solutions?
What is important to your target market?
Check out your customer success and employee output objectives. If there is room for improvement, a knowledge base is an excellent starting point.
Produce knowledge base content
All the teams across the organization can and should contribute to your knowledge base. Take input from employees in different departments, since every department deals with customers in different phases of the sales cycle and can provide you with a unique angle.
When developing your knowledge base, you should invite contributions from your employees working in different teams. Gather common questions and their solutions from every service-related crew.
Your sales representatives, for instance, will be aware of the type of data a potential buyer requires in the decision-making phase.
Similarly, customer support staff will be aware of the typical challenges and obstacles your existing buyers run into while making use of your products.
In the same way, feedback from the IT team is important for developing a knowledge base because they are the ones who fully understand the technical side of your solutions.
These ideas will help your employees create help content that addresses important queries for your potential customers.
To sum up, every employee in your company must and has the ability to participate in the making of the internal and external knowledge base. Plus, they need to be involved when updating the knowledge base too.
Maintain a consistent brand personality
The look and feel of your knowledge base should be consistent with your branding. You can do this with a style guide that defines appearance and tone for your knowledge base.
A knowledge base, by definition, is a collection of information. But it should also have the right amount of branding sprinkled over it. You want to stand out from the rest, but not so much that the usefulness of your articles gets diminished.
For instance, let's have a look at Billie. Their knowledge base is unconventional. Users are greeted with an aesthetically attractive hero section with the promise that Billie is there to assist.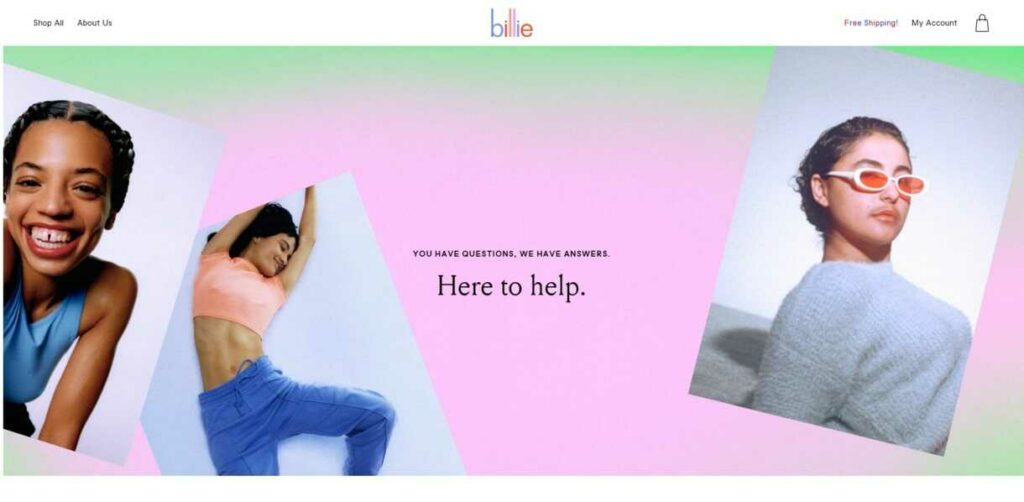 This external knowledge base is fantastic since it matches the company's vibe. When the viewer moves down the page, they can find useful options to visit major sections along with some common queries.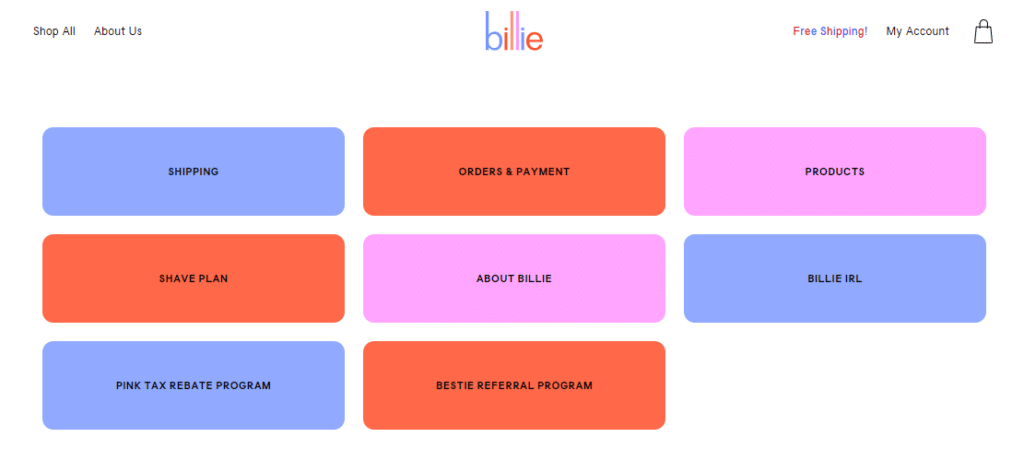 Billie is a fun, youthful company that is all about beauty and style. And this knowledge base also maintains a similar sense of fun and aesthetics.
So how can you make sure that your knowledge base matches your brand?
One of the best ways is to make a style guide to ensure that all of the content you add to your knowledge base is similar in appearance and tone. This includes aspects such as the colors, typeface, text size, and pictures as well.
Another aspect that should stay consistent is your voice. Determine how your brand communicates. And then adopt that tone and voice throughout your knowledge portal. If needed, take help from your marketing department.
Format content properly
Format articles with headings and subheadings, highlight important parts, and use lists to make your knowledge base content easy to skim.
Viewers expect instant answers. And that's why it's crucial to make sure that your knowledge base lets customers find solutions fast. A significant way of making this happen is to format your articles in a way that they are simple to scan.
Spotify is a great example. This music streaming service applies its simple, customer-friendly design also to its external knowledge base.
You can scroll and read the materials easily and swiftly. While you're going through any content, Spotify employs a dropdown feature to expand the whole article. This way, they are keeping the impression that the information is brief and organized.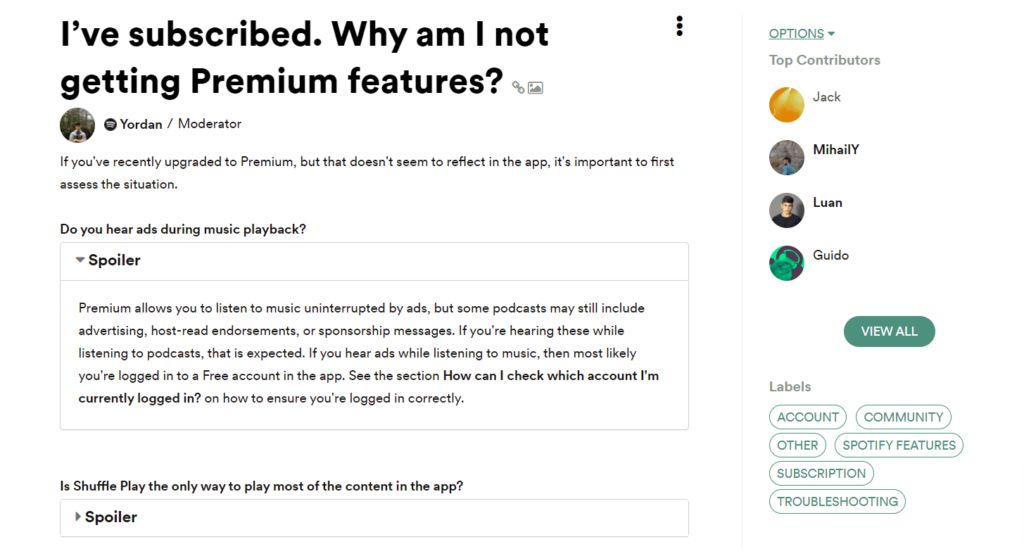 By using the dropdown feature, Spotify prevents frightening viewers with excessively long content. Besides, it provides consumers an enjoyable and natural reading pleasure as well.
To accomplish this, you can use methods to split your content. These include adding titles and sub-titles, highlighting content, lists, and so on. Also, check out our ultimate knowledge base article template.
Organize your content
Organize your content hierarchically for users to learn about a topic in detail or navigate to a broader section.
Developing a knowledge base enriched with a huge amount of data is crucial. But what good is a knowledge base if the materials aren't structured sensibly? That means its navigation should be intuitive to the user.
For instance, Canva gives a new meaning to knowledge bases. Canva's knowledge portal is visually stunning. On top of that, the basic options on the front page easily direct viewers through various sections of the knowledge base.

At the least, you should organize your content in a hierarchical structure so that your users can effortlessly explore further into a particular topic.
Set up your knowledge base portal
Choose the right software to build a knowledge base for your business. Look for key features such as intuitive content writing and structuring, extensive search, and advanced analytics.
Besides the categorization of your articles, you should make sure that your knowledge base is well-structured. Plus, the user experience should be consistent on every page. To put it another way, all the pages in your knowledge base should have a similar layout and theme.
This is possible only when you use appropriate software to maintain and control a knowledge base for your business.
The right tool offers a proper feature set to build an easy-to-use knowledge base. Your employees should be able to smoothly develop and manage information. And your target market should be able to easily access the content they need.
That means you need to look beyond the basics of what a knowledge base is. Check for the following functionalities while selecting an appropriate tool to build a knowledge base for your business:
Intuitive content writing and structuring – This implies that your solution should include a user-friendly editing interface. It should enable your staff to insert, edit, and update both written content and other media, such as pictures and video clips.
Effective search features – Considering the amount of information available for readers, your knowledge base must support powerful search to ensure that your readers can get the content they need.
Advanced analytics: Evaluating the way your information is used will allow you to optimize your articles. As a result, this will make your knowledge base an important addition to your company.
Heroic KB, for example, ticks all these boxes. Compatible with WordPress, the Heroic KB plugin is an industry-leading and full-fledged knowledge-base solution. Right from installation, the plugin is simple to use and quick to set up.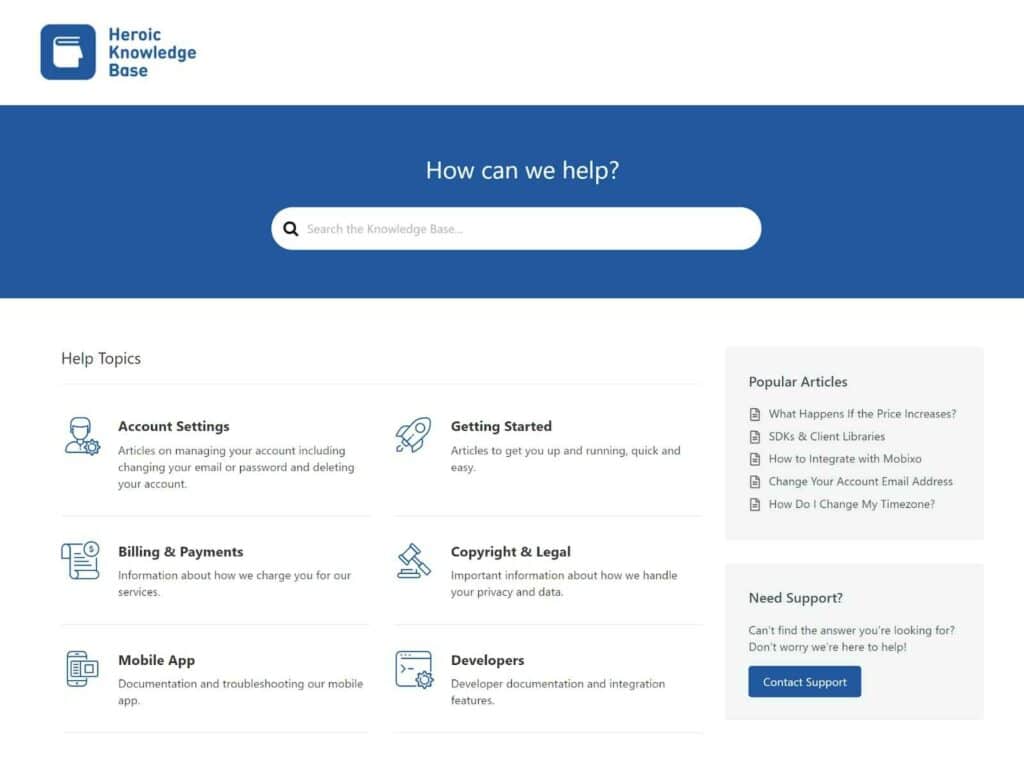 With Heroic KB, how you build a knowledge base for your business is your choice. You can make a fresh WordPress website only for your knowledge base and then install the plugin. Or you can download the Heroic KB plugin on your current WordPress website to add knowledge base features.
Heroic KB offers several functionalities to structure your information, provide an excellent user experience, and enhance the definition of your knowledge base.
Live AJAX search with real-time recommendations, combined with categories and tags for content categorization.
Integrated reporting to analyze content usefulness, page views, number of people moving to real-time customer service avenues, and searches.
Versatile Gutenberg editor and an integrated revision system for version management.
No cap on the number of posts, members, and much more. In essence, there aren't any unnecessary restrictions like the ones you find on SaaS knowledge-sharing tools.
You have the ability to expand your knowledge base by utilizing additional plugins, as it is built on WordPress.
Complete control over your content. Your information is always stored entirely on your platform.
On top of that, Heroic KB helps you create a knowledge base that is in line with your branding, but it never allows the design to overpower the content of your business' knowledge base.
Optimize user experience
To make your knowledge base easy to access and navigate, use tags in articles, embed internal links, and insert common keywords relevant to the content.
Most visitors who go through your knowledge base don't do it just for fun. They are looking for solutions to their queries. So your knowledge base should mean business.
Make sure the users can find the required information within your knowledge base quickly and easily. To make this happen, you will have to make your knowledge base simple to browse.
You can enhance the user experience of your knowledge base with the help of the following methods:
Tag your knowledge base content to enhance searchability.
Use internal links within articles that point to related articles.
Add structural links to let visitors access the high-level topics of your knowledge base.
Utilize tags and keywords to organize articles and make them simple to locate.
Structure the information that suits your company and then remember to update it. This way, your knowledge portal will be easy to read and search, and it will provide a simple user experience to your visitors.
Keep your knowledge base up to date
Find what to tweak based on your most viewed articles and topics with the least material. Or further elaborate on your advanced content.
We already discussed what a knowledge base is. But you should also note that it is not something you set up once and forget about.
After the initial implementation, the development of a business knowledge base merges with continuous knowledge management activities.
You'll have to keep producing and updating content as your company grows in different forms. For instance, when launching a new product feature, you'll have to write articles explaining how to use and troubleshoot the feature.
Another instance could be if your business makes a change to its code of conduct or guidelines, you'd like to show these in your knowledge base.
You should also keep refining the purpose, content, and meaning of your knowledge base based on how well it's satisfying user needs. A good place to start is by checking the usage statistics and other essential data. Here are some key factors to consider:
Which articles are viewed the highest by your buyers?
Which subjects have the least content?
How could you further elaborate on your advanced content?
Which searches are not resulting in relevant answers?
If you're using a high-quality tool such as Heroic KB, this part would be easy because you'll have an analytics system built in, along with the capability to collect votes and feedback from users.
Common questions about a knowledge base
Apart from defining a knowledge base and its benefits, here are a few frequently asked questions and their answers.
What should a knowledge base include?
A knowledge base is a unified portal where all the knowledge about a business and its offerings can be saved, categorized, and accessed. It includes user manuals, product guides, troubleshooting videos, and other documentation.
What is the purpose of a knowledge base?
There can be two purposes behind creating a knowledge base for business:
An external knowledge base lets you enhance customer service by enabling your buyers to effortlessly search for answers with no need to contact your helpdesk.
An internal knowledge base offers staff a quick way to find every detail they require regarding your products, services, and standard operating procedures.
Wrapping up: knowledge base for business
In current times, customers and employees both expect and demand quick access to knowledge. But the crucial information is hidden in the files, messages, and minds of people in your company.
So use this guide to learn what a knowledge base can do, and build one that paves the path for better customer service, increased productivity, and greater collaboration.
Create an experience that minimizes any stress associated with buying from or working for your company. And the profits will follow.