[Case Study] How Nodored streamlined their customer support with Heroic KB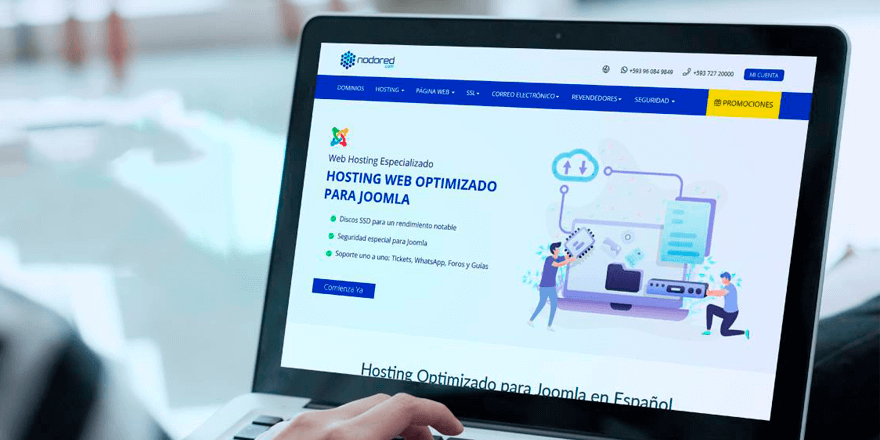 In this case study, we'll take a deeper look at Nodored's experience with our Heroic Knowledge Base Plugin. Alexis Garcia, the founder of Nodored, took the time to share how Nodored is streamlining their customer support with Heroic KB.
Q: Can you tell us a little about Nodored, its history, and what you do for the company?
Nodored started in 2011 as a web design agency in Ecuador, was founded with the aim of differentiating the Web Design service that was offered in the region.
In 2013, Nodored acquires its first server and implements its first hosting plans focused on CMS Joomla, and thus begins its Web Hosting service line as a B2C approach.
In 2016, the company already had a fairly solid client base distributed in Ecuador, offering services of Web Hosting, Reseller Hosting, Web Design, Domain Registration and SSL Security. It is in this year that Nodored is established as Netgocios Cia. Ltda. Turning its service focus as a B2B company mainly and welcomes new commercial partners such as neGO (Digital Marketing Agency) and Yamburara (Another hosting company that was acquired in 2014).
Currently Nodored has diversified and specialized in Web Hosting services optimized for various CMS such as WordPress, Joomla, Prestashop, etc. In addition to introducing various web security solutions. Nodored currently maintains administrative offices in Ecuador and Bolivia and has a growing client base throughout Latin America.

Q: What are the most typical questions your customers ask of your support team?
How to create email accounts?
How do I access cPanel?
How do I access my service?
How do I upgrade my service?
How to validate my EV SSL Certificate?
Where do I download my SSL Certificate?
Validation options for my SSL
Q: Can you share some of the ways you tried to address your customers' needs before you made the switch to Heroic KB?
We have tried various options such as direct response channels: Live Chat and Tickets. However, after a while they were repetitive, having to answer the same thing over and over again, even using predefined answers did not alleviate the workload that this caused.
We then implemented a knowledge base using an integrated system to our billing system (WHMCS) but found it too limited in terms of SEO, functionality and was unfriendly to our customers.
Q: How does a powerful knowledge base serve your customers better than your old system?
Our support staff is happy! We have implemented a support center with effective and growing documentation. The most important thing for us is the search engine since it allows our customers to find exactly what they are looking for without having to contact Support.
The first point of consultation for our clients today, is our documentation.
Q: What initially drew you to Heroic KB, and what excited you most when you first saw it?
I found Heroic Knowledge Base implemented in one of our largest and most trusted suppliers. I loved the layout, the search engine, the organization of the topics and above all, I asked myself: If I leave my feedback on this article, will they see it? (In our previous system we had the option of feedback in the articles, but we did not have any report or analysis in this regard).
I inspected the code of that website and finally found the plugin with which they did it, and so we reached the Heroic Knowledge Base. When I saw your plugin, the first thing that fascinated me was the complete analytics options, for us they are a powerful tool because we want to maintain an updated database of articles that really answers our clients' questions, so the statistics that Heroic KB offers are vital.
Q: What overall effect did implementing Heroic KB have on your workflow, and was it immediate?
Almost immediately, it really took us a few weeks to adapt and socialize with our customers about this new documentation. However, the impact was the impressive decrease of technical support tickets on repetitive topics such as: How can I change the password of my cPanel?
Q: How does Heroic KB make running a customer support website easier and more efficient?
It becomes the first actor and resource of help for all our clients. As long as we maintain an updated base of articles, we will obtain as a result that our clients can self-help with ease.
Q: What features of Heroic KB have you found most valuable when providing answers to customer queries?
For us the most important thing is the search engine and the statistics.
Q: In what ways has customer communication changed since you began using Heroic KB as a support system?
The communication as such does not change, we continue offering assistance via ticket, WhatsApp, etc. But if I decrease the flow of requests to these channels with human attention, to be replaced with the queries to the documentation. In addition, in many cases the tickets are answered with "Check the following article in our knowledge base:"
Q: How has Heroic KB helped Nodored better serve its customers, and do you track any metrics that you could share with us?
Yes, for example in last 7 days we had 1973 views, and just 3 ticket transfers, that's great!
Q: Can you share some advice for new users of Heroic KB, or for those considering it as an online customer support solution?
Based on our own experience we have found that sooner or later the flow of tickets will make the first response time is prolonged, hence having a well-established knowledge base in both software and content is the most important. Generating detailed, well-related documentation that really answers the doubts of our customers, will impact the performance of the technical team.
---
Conclusion
After moving to Heroic Knowledge Base, the Nodored team was able to streamline their customer support and work more effectively.
To learn more about how you can use HeroThemes' products to create an internal, or customer-facing, knowledge base, take a look at all of our products.