20+ Help Desk Software Tools Reviewed For Customer Support Ticketing in 2023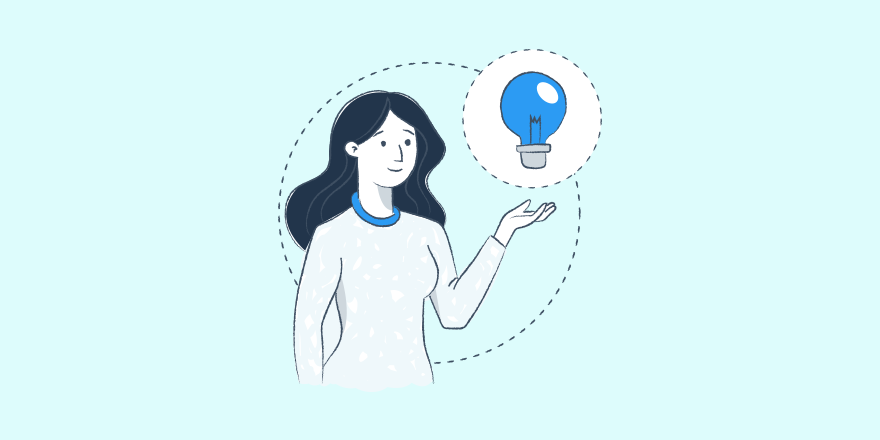 As reported by Future Market Insights, the worldwide help desk software industry had an estimated value of $9.9 billion in 2021. And it's projected to touch approximately $26.8 billion by 2032.
No doubt, the demand for help desk ticketing software is rising as companies turn to modern technology to enhance customer experience and optimize their processes.
But it can be challenging to select the best help desk ticketing software for your company. So we did the hard work for you and evaluated various options on factors such as user-friendliness, cost-effectiveness, ticket handling, 3rd party integrations, and more.
Below, you will find a summary of the leading help desk systems available, along with the capabilities to consider when choosing one.
What are the best help desk software?
The best help desk software includes Heroic Inbox, ProProfs, HelpSpot, Zoho Desk, Hiver, Spiceworks, Zendesk, and Help Scout.
With that said, here is a list of leading help desk systems and ticketing applications to consider for your business, along with their pros and cons.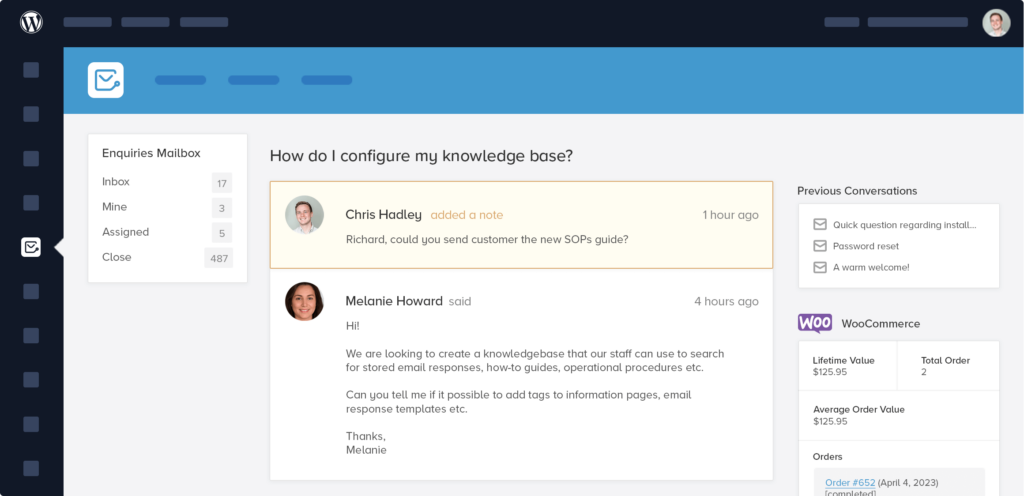 Heroic Inbox is the finest help desk ticketing software for delivering top-notch assistance and customer satisfaction at a cost-effective rate.
The key feature of this help desk software is the ability to handle all of your customer conversations, partner collaborations, and other mailboxes from a single location.
Simply connect your Google Workspace or Gmail accounts, and Heroic Inbox will bring your email messages to the WordPress admin panel for easy management and communication.
Another massive benefit of Heroic Inbox is that you can add as many agents and inboxes as you want without any extra cost. This is not the case with other software because most of them follow the SaaS model.
Pros
Just plug-n-play with minimal setup required
Allows unlimited reps, conversations, and ticket history data
Cost-effective in comparison to software as a service (SaaS) tools
Comes with a 30-day refund policy
Offers multilingual support
Cons
There is no free trial like many SaaS tools
You oversee software upgrades and web hosting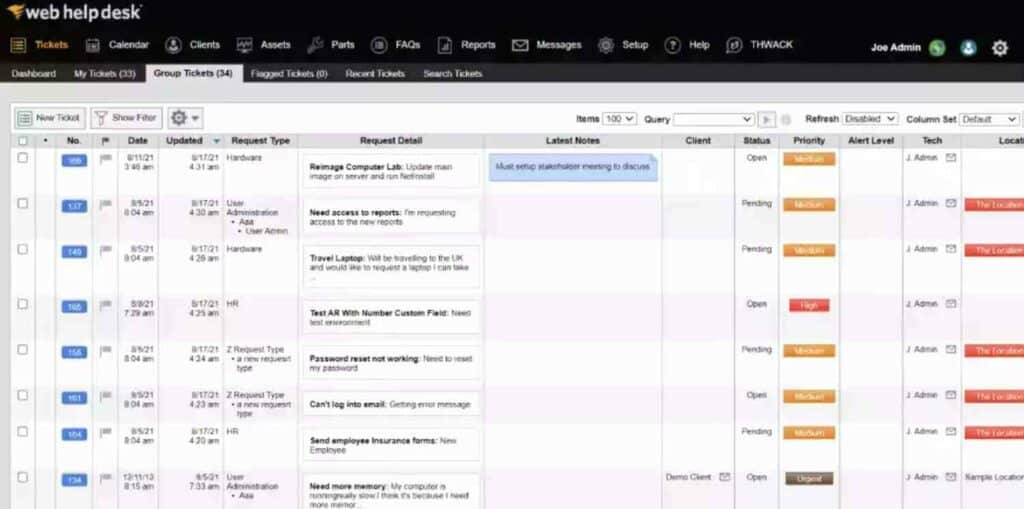 Web Help Desk by SolarWinds is a good help desk software if you are looking to handle the whole customer support process from a central location.
This help desk ticketing software comes with an integrated knowledge hub along with SLA and ticketing functions. It allows you to monitor support requests and how your agents are doing. So you can solve customer requests efficiently with the help of performance reports.
Pros
A lot of customization options
Reasonable cost
Free trial of 14 days
Supports both cloud-based and self-hosted options
Cons
The free plan is missing essential features like automation and remote help
Data analytics reports take time to load
Pricing
Web Help Desk by SolarWinds provides a 14-day, cost-free test run with complete features. You can either opt for a yearly membership or a one-time fee. The package starts with an annual subscription fee of $410 per user with 1 to 5 user accounts.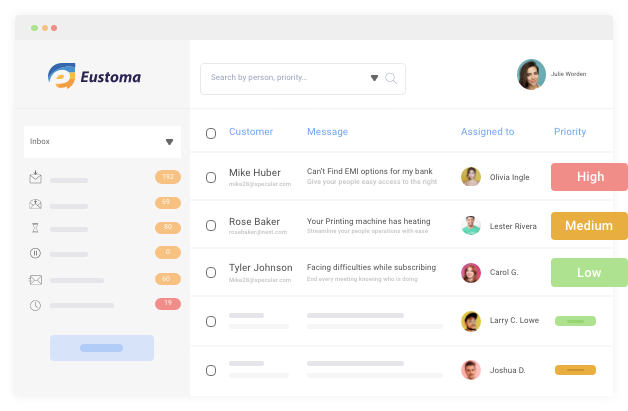 ProProfs Help Desk is a user-friendly help desk software. It helps you handle cases you get from email messages or complaints you receive from real-time chat.
The tool comes with robust automation features, including automatic ticket routing, live chat, self-help information hub, saved replies, and various others.
Customer service leaders also get a clear view of how their support employees are doing. This includes checking performance indicators like ticket resolution time and first response time.
In addition, you can evaluate customer satisfaction by providing customer satisfaction (CSAT) and net promoter score (NPS) questionnaires to let buyers grade their experience quickly.
Pros
Easy to use and has the look and feel of Gmail
Budget-friendly
Good ticket-handling features
Cons
Lacks API connections with social media apps
Does not have extensive data analytics capabilities
Pricing
The Essentials package costs $10 per agent per month when the billing is done yearly. This plan allows a maximum of 5 agents and includes shared mailboxes and the core help desk functions.
The Premium package costs $15 per agent per month and allows a maximum of 10 agents. It comes with ticket hierarchy, ticket routing, removal of "Powered by ProProfs" from the footer, and other features. All plans have a 15-day money-back policy.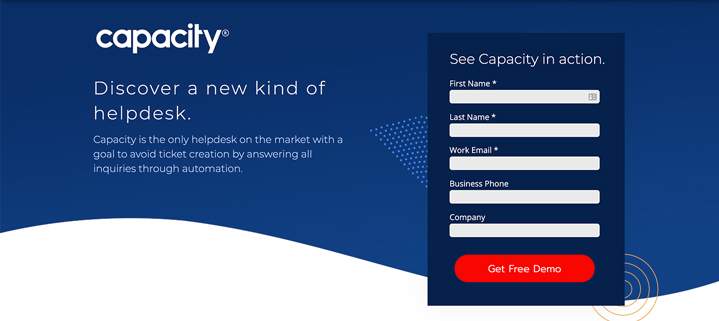 Capacity varies from other help desk ticketing software as it prioritizes resolving the problems of buyers through automation instead of ticketing alone.
If an issue is not resolved using automation features, Capacity has the option to allocate it to a specific member or team in the organization. And it uses a smart filter to categorize customer requests and gather their information to enhance customer experience.
Pros
Reliable customer service
Automated live chat that you can modify to fit the needs of your business
Easy to use and understand
Cons
Chatbot could benefit from improved responsiveness
Instant messaging is not available in all packages
Pricing
The Growth plan costs $49 per agent per month and requires at least 10 agents. This plan offers analytics with three basic reports, one chatbot with artificial intelligence, help articles, cloud storage of 10GB, and a ticket management system with Kanban view.
The Professional plan costs $99 per agent per month and includes additional features like 15 analytics reports, a maximum of three chatbots, Email, Slack, and MS Teams interfaces, cloud storage of 100GB, and AI-based real-time chat.

SysAid has a unique approach to service management as it utilizes modular software. This implies that agents can begin with a single capability and add others as and when required.
SysAid enables agents to select only the tools and features they require as opposed to presenting them with an overwhelming array of options. This helps streamline the interface and avoid any sort of chaos.
The help desk software lets agents handle support requests from desktop computers as well as smartphones. It also comes with functions like automated ticketing and self-help sources like an information hub.
Pros
Effective asset management
User-friendly
Optimized ticket management system
Cons
Data analytics requires further development
Limited options for modification
Pricing information is not publicly accessible without submitting a form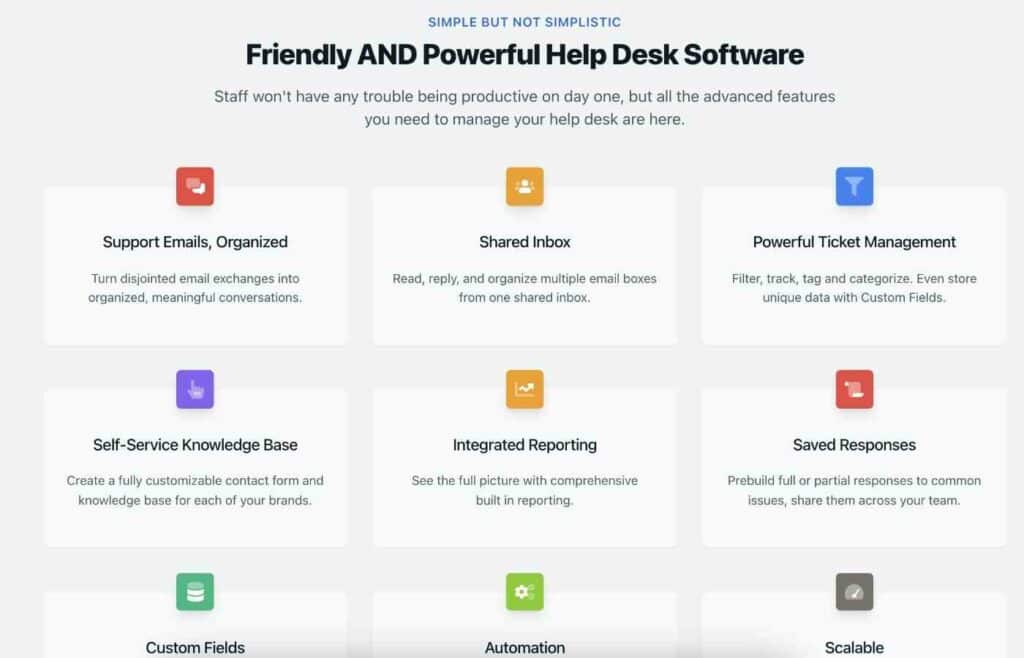 If you get service requests from a large number of buyers, HelpSpot is another suitable option for you. You can install the suite on your own machine or online. So it can also serve as your company's offline intranet.
It is simple to modify and gives you functions such as support ticket management, collision detection, and a built-in documentation portal.
Pros
Host in a workplace machine or online using cloud technology
Straightforward and easy to use
High level of flexibility
Cons
The dashboard is known to freeze at times
The data analytics part requires improvement
Pricing
Helpspot comes with three weeks of free trial. The annual billing for the premium pack begins at $699 per annum for a maximum of three representatives. The more agents you need to add, the higher you'll have to pay. The cost can go up to $59,999 per annum for 1000 agents.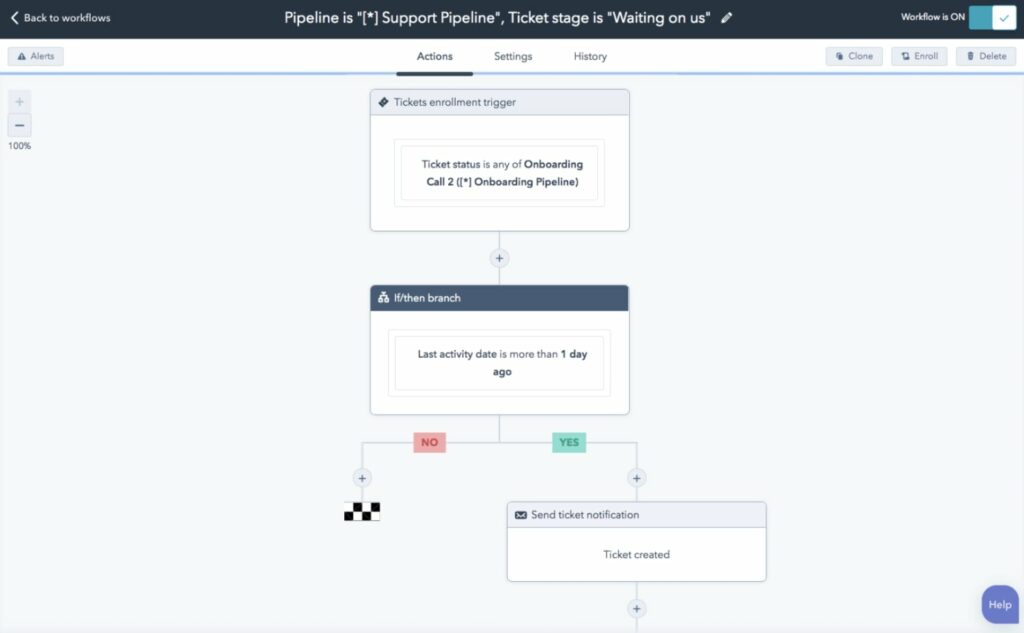 HubSpot's free help desk software and ticket management suite is an integrated customer service platform. It saves all of your buyer requests so that your whole team can effortlessly trace, classify, and handle them.
HubSpot helpdesk software also helps you set and monitor key performance indicators. Other features like ticket routing and automation capabilities help save the efforts of your customer-facing employees.
It also helps team members avoid the hassle of making entries in a database or allocating requests manually. Beyond that, you can appoint admins and create levels for specific requests. Using this as a base, HubSpot can auto-develop processes customized for each rep to step up their performance.
Pros
Free package with basic functions such as instant messaging, group mailbox, conversational bots, and standard analytics.
Automated ticketing and assigning functions.
Easy-to-use UI
Cons
Tech assistance is not available in the free package
Premium packages are costlier than alternative vendors
Pricing
HubSpot help desk software comes with a free plan. The paid plans start from $45 (monthly cost for two users) to $1200 (monthly cost for 10 users). Plus, customers can include extra agents in every pack at an extra charge. There is also a 14-day free trial on all plans.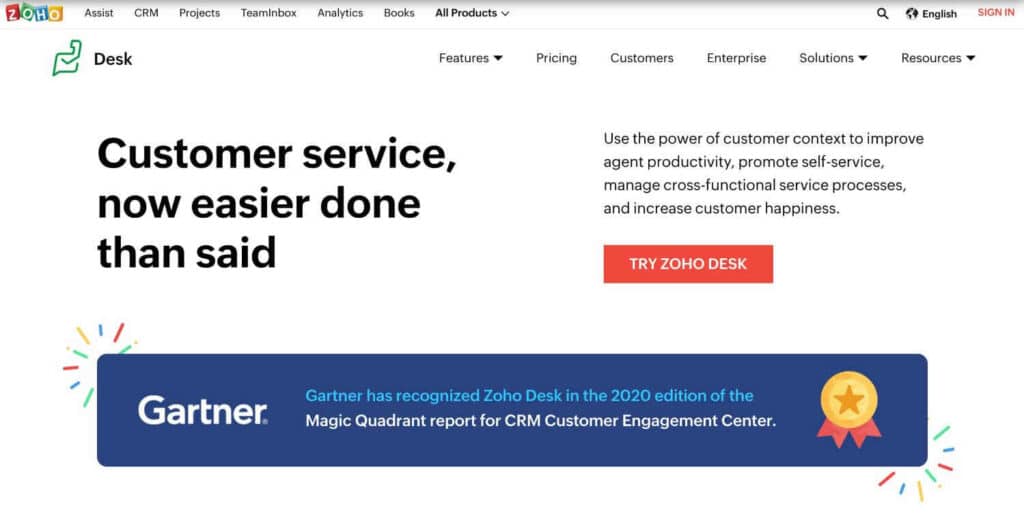 Zoho Desk is a multi-channel help desk ticketing software that can manage tickets that come through mobile, internet, email messages, instant messaging, and social media. This cross-channel functionality lets businesses offer a unified all-in-one feel.
Zoho Desk is one of the best help desk software for small businesses, as it is feature-rich but still user-friendly. And you don't need to spend more for functions like smartphone applications or instant messaging.
This help desk ticketing software also comes with a contact form widget that you can install on your site. And it's compatible with all other enterprise applications powered by Zoho, like Zoho CRM or Zoho Projects.
Pros
Provides a free package
Adherence with standards like HIPAA, CCPA, and GDPR
Compatibility with Google Workspace
All packages include 5 days a week, 24-hours assistance
Cons
Instant messaging feature is only in the Enterprise package
Integrations with Zoho CRM only in premium packages
Data analytics capabilities only in premium packages
Pricing
When invoiced yearly, Zoho Desk's cost ranges from $14 to $40 per month per agent. Zoho Desk also has a free option, though with restricted functionalities. It offers a free 15-day pilot run and assistance in migration from other platforms.

Agiloft offers help desk software that buyers can utilize to send their support tickets at any moment. If the representatives are away, the portal will record the support request and respond with a self-help resolution as an instant reply.
The help desk ticketing software can also initiate alert notifications if a ticket has been pending for a long time and requires a higher-tier representative or manager to be involved.
This is particularly useful to customer-facing agents of SaaS companies as they manage a heavy load of tech-service issues that are not typically resolved in the first contact.
Pros
High level of flexibility in customization
Easy to use
Good buyer support
Cons
Outdated UI
High learning curve for certain features
Pricing
The premium packages begin at a monthly rate of $45 per agent. If you directly approach the company, you can receive a detailed fee estimate or a customized demonstration tailored to your specific requirements.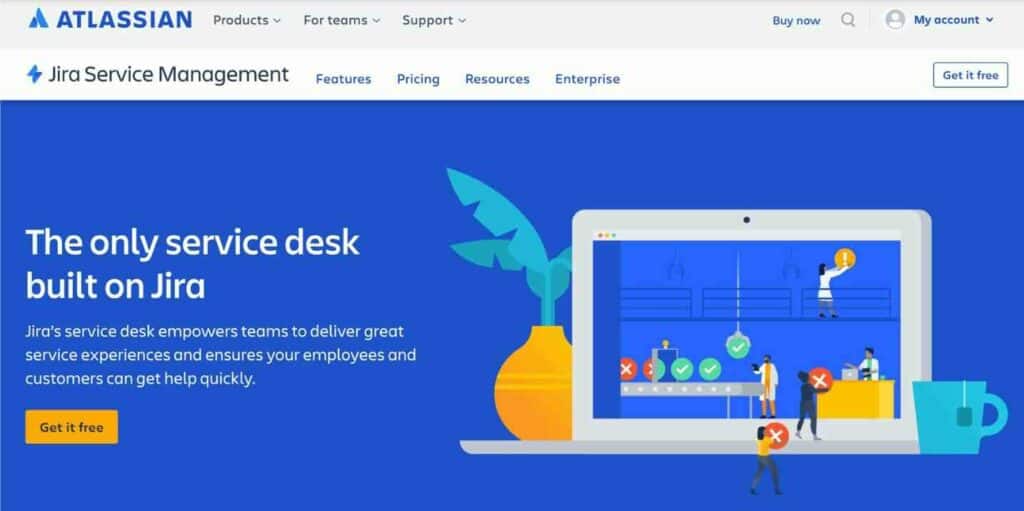 Jira is a suitable choice if you require a help desk ticketing platform that can also serve as an enterprise service management solution.
Jira provides help desk capabilities to streamline the process of handling incidental issues, timely publishing updates in your UI or product releases, and troubleshooting technical problems.
It includes in-built automation, queuing, documentation, and asset management functions. And it harmonizes with your process flows and provides several API connections with your other tools.
Moreover, there are frameworks for HR support, infrastructure management, law-based administration, general support, and customer care.
Pros
Provides a free package for a maximum of three representatives
No limit on the number of buyers' requests
Multi-lingual service capability
Cons
Free package comes with forum support only
For usage on multiple websites, you need to subscribe to the Enterprise pack
Pricing
There is a free option, which is great for small enterprises. Paid packages begin at an annual rate of $1400 for one to three representatives. And the cost keeps rising as you include more representatives.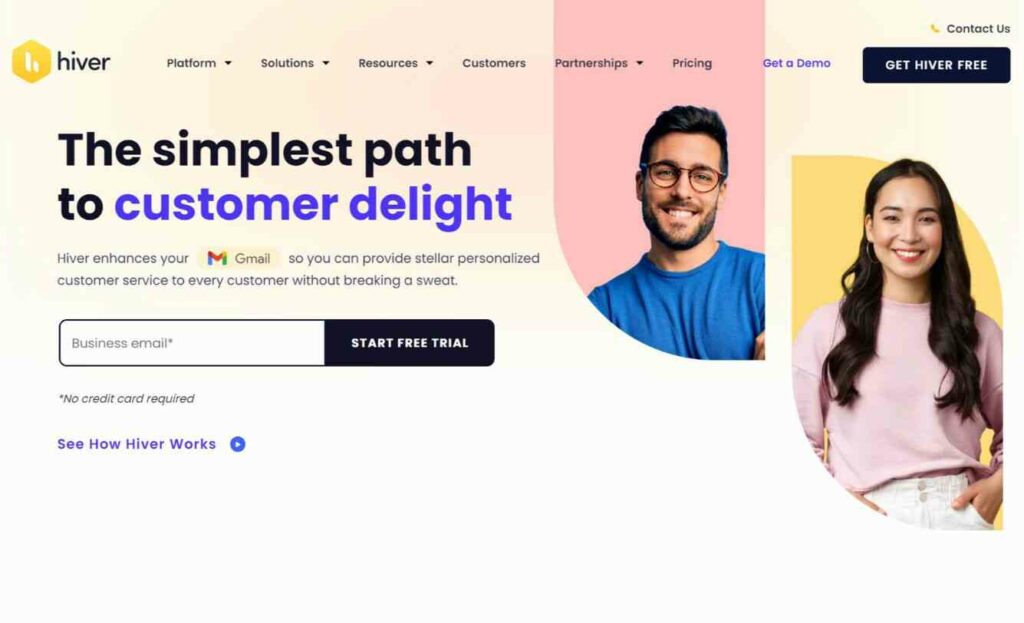 Hiver is a help desk software that facilitates teamwork in addressing buyer support requests. It's programmed to operate within Gmail. So you can handle your entire buyer support conversations from a single location.
You can also utilize it to monitor inter-company email messages and action items. And that's why it becomes a suitable choice for enterprises that wish to centralize all their email messages.
Pros
Specially developed for use with the Gmail platform
Offers a one-week free version to try
Offers limitless shared inboxes and tags
Round-the-click instant messaging and email help
Cons
Offers fewer 3rd-party software connections than alternatives
Delivers less value for the money
Pricing
Hivers gives you a one-week free trial. When invoiced yearly, it provides packages costing between USD 15 to USD 59 per agent per month. Functions include instant messaging, collaborative drafting, limitless shared inboxes and tags, and help with initial orientation.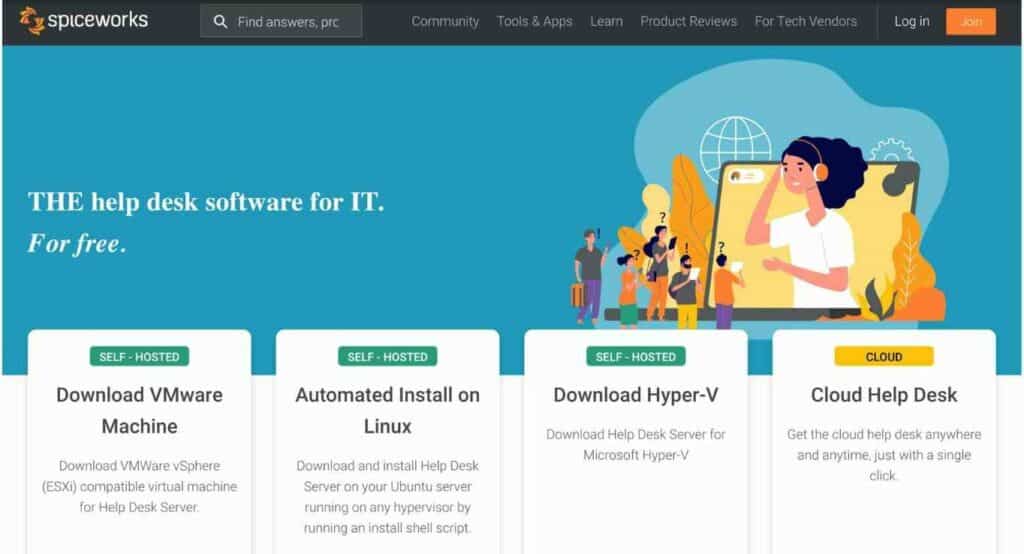 Spiceworks is a help desk ticketing software that aids enterprises in handling both in-house operations and buyer-centric activities. It is one of the best help desks if you are seeking free customer support software.
Once you set it up, buyers can sign in from either a computer or a smartphone. This helps the customer-facing support staff handle cases that may arrive outside of business hours.
You get most of the expected, fundamental service management features, like ticketing, remote assistance, notifications, automation rules, push notifications, analytics reporting, customization, Active Directory integration, a self-help portal, team collaboration, and multi-site support.
Spiceworks additionally provides inventory management capability, letting your team get details about ongoing orders. This helps your staff keep the customers up to date if their order is going to be shipped late.
Pros
It is totally free
You can provide assistance on several sites
Quick installation
User-friendly
Cons
Absence of essential capabilities like instant messaging
Little to no customization
Pricing
It's free, and there is no constraint on the number of cases or supervisors. This is possible because of collaborations with other software. Several vendors allow discounted pricing when subscribed through Spiceworks.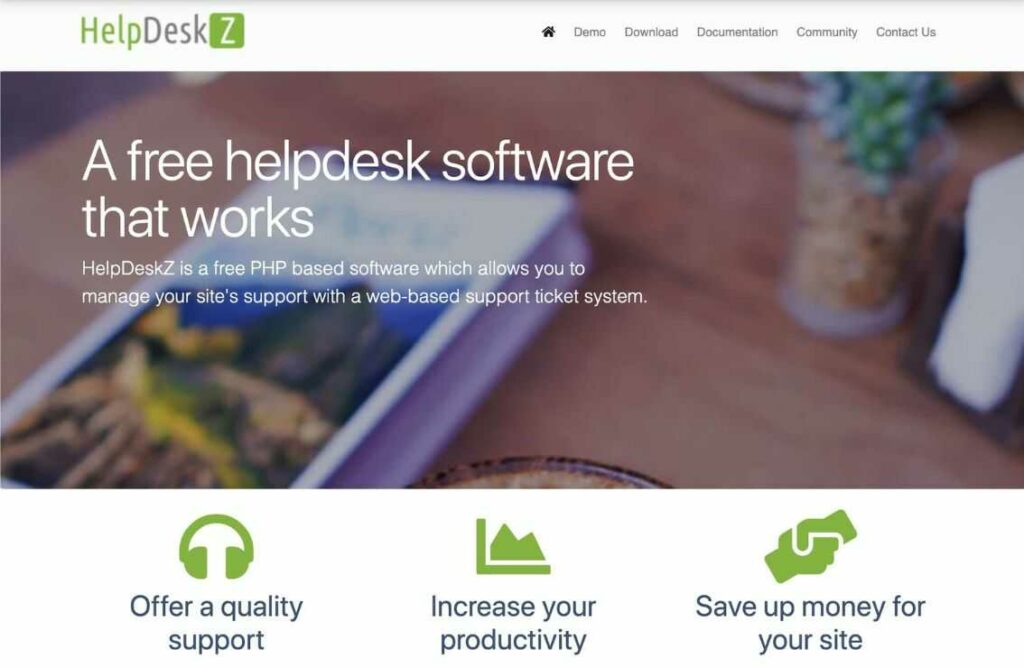 HelpDeskZ is a free help desk software for your online ticket management platform powered by PHP. You can use capabilities like bulk actions, team collaboration, and email-to-ticket conversion to boost the efficiency of your customer-facing service crew.
The platform also has canned replies and a documentation library to aid agents in managing frequently asked questions.
Pros
This help desk system is free to download
Simple to operate
Cons
Limited customer support
Does not include hosting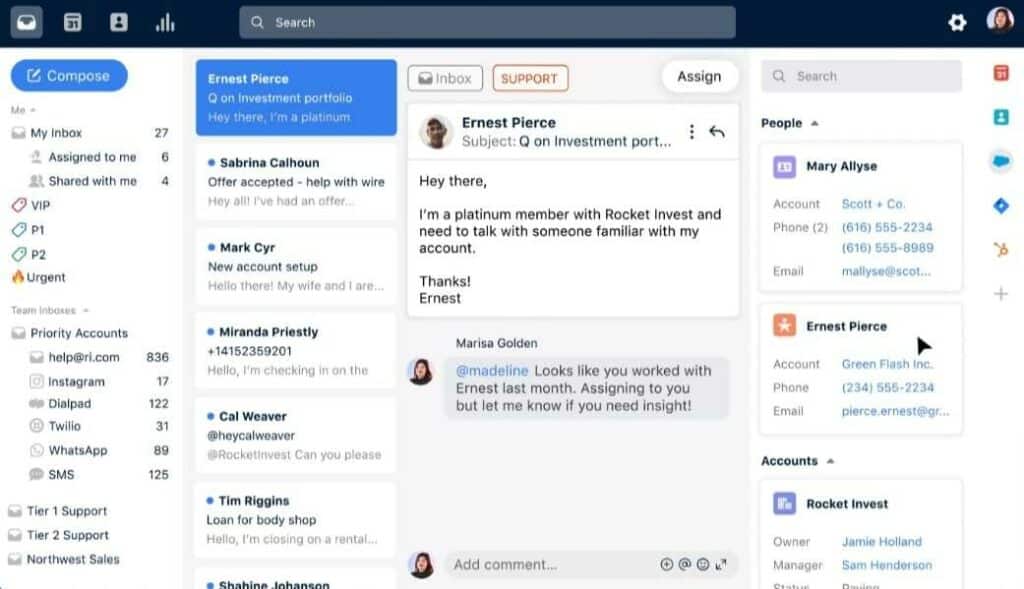 Front offers shared inboxes, ensuring that your team is working from the same stack of cases, and has in-built message allocation, allowing you to keep track of who is handling which task.
Colleagues can view communication records so that they can continue from the last communication if you happen to be out of the office. Front is also compatible with software like Salesforce and Nicereply. This aids in extending its functionalities.
Pros
Several API connections
User-friendly
Customization features to match your needs
Cons
Every plan specifies the minimal limit for agents
Known to abort accounts of users with different values and ideologies
Pricing
All the Front plans come with a free trial for a week. The Starter plan allows two to 10 agents and costs $19 per user per month when billed yearly. Features include multi-channel support, instant messaging, teamwork, appointment booking, basic automation, and 3rd party integrations.
Next is the Growth plan, costing $49 USD per person, per month, billed annually, for which you should have a minimum of 5 users. It gives you added features like analytics reporting, CRM integration, and high-level process rules. The last plan, called Scale, adds even more users and advanced features.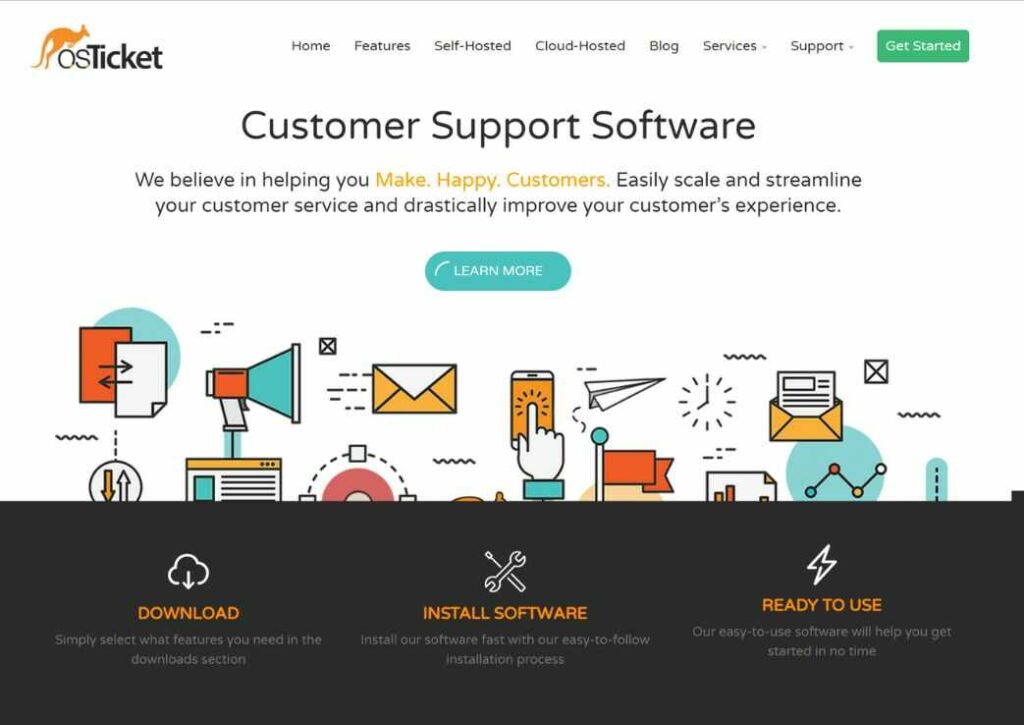 osTicket is a help desk ticketing software you can utilize to allot and handle incoming tickets. Its noteworthy capability is the filtering of cases that lets you automate the initiation and assignment of tickets.
You can also automatically allot action items to the case depending on the automation triggers you set up.
Another fascinating capability is its "agent collision avoidance" tool that averts agents taking up the same case simultaneously. The platform freezes the case so that other agents do not bombard the buyer with replies.
Pros
Uncomplicated and user-friendly design
Easy installation
Customizable as needed
Cons
Multi-lingual feature does not translate email templates
Compatibility with social media networks is not included
Pricing
You can download the software for free. But then you'll have to host, integrate emails, and implement SSL security on your own. Or you can get the cloud-hosted plan at $9 per user per month. It includes hosting, email integrations, SSL, and works out of the box. You can also try it for free for a month.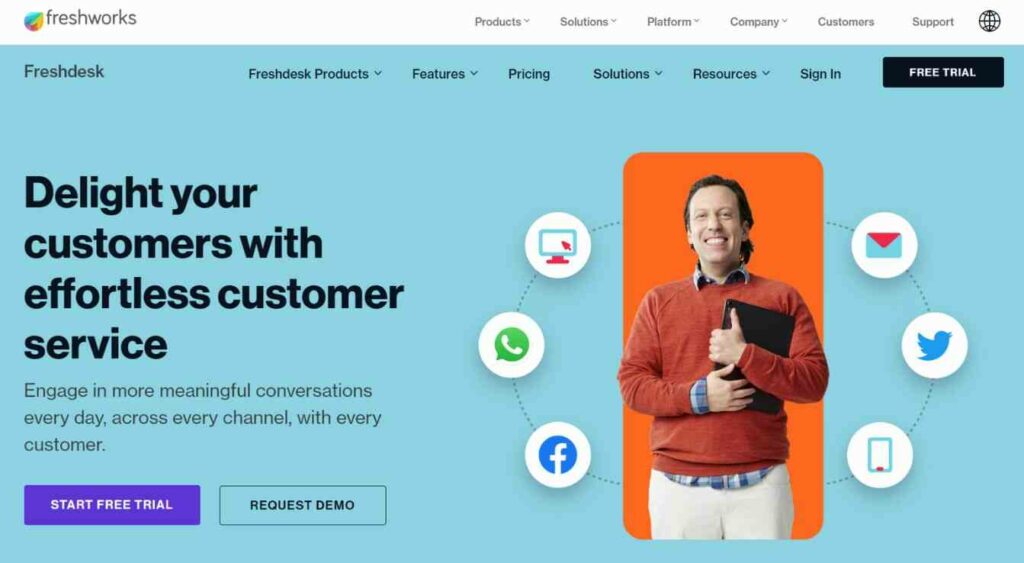 Freshdesk is an easy-to-use help desk software with an intuitive user experience. It's great for organizations seeking a lot of app integrations. And seamlessly connects with more than 1,000 apps (including social media) in all of its premium packages.
Pros
More than 1,000 integrations in its premium packages
You have the option to select your data server region
It offers easy cancellation with no fees charged
Extensive customer service functionalities
Cons
You need the Pro or Enterprise package to view the average handle time.
Field service management comes at an additional cost
Pricing
Freshdesk provides a free version for a maximum of 10 users, which is ideal for small businesses. Or you can opt for its 21-day free trial package with additional features like field service management and extra bot instances. Packages for premium options begin from $15/user/month and reach up to $79/user/month, when billed yearly.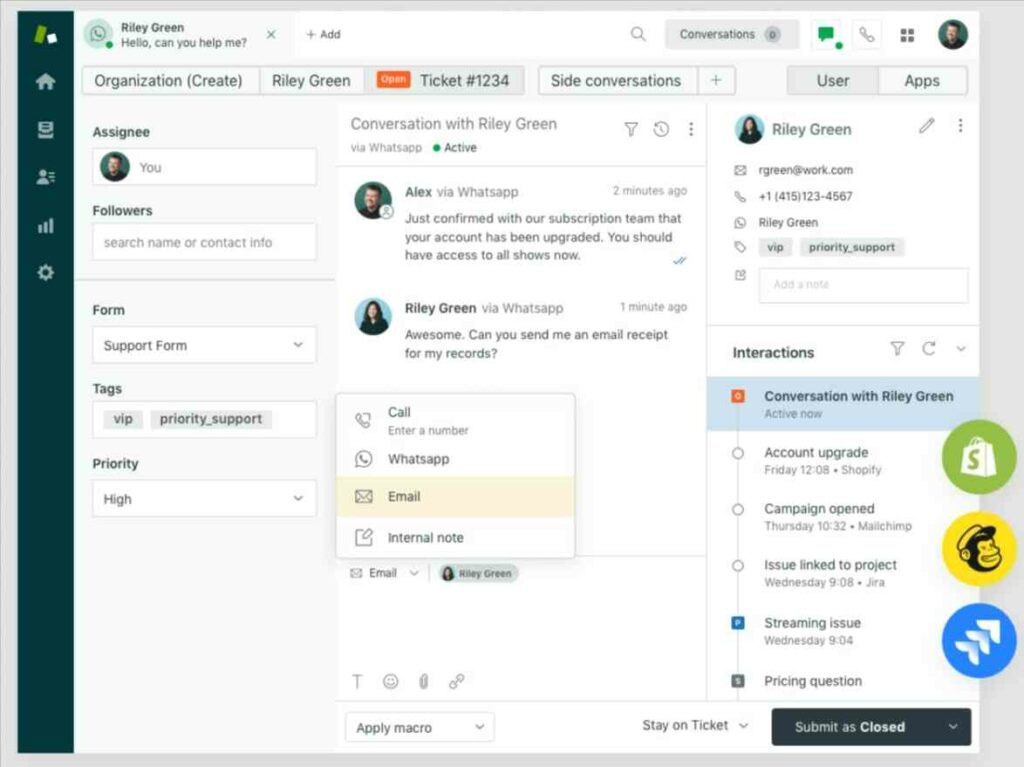 Zendesk is a comprehensive help desk ticketing software with an extensive set of functionalities and add-ons. From one unified interface, your team can communicate with consumers, monitor interactions, and prioritize requests.
With over 1,000 API connections, this software can be enhanced to increase your team's productivity, improve support, and allow for smooth integration with other apps.
Besides that, this solution features strong routing and analytical capabilities, along with teamwork capabilities to link internal and external departments. You can also create tailor-made add-ons through its API.
Pros
Over 1,000 3rd-party app connections, including social media apps
Startups can use it free for six months
Simple and easy to operate
Robust data-driven insights
Cons
Does not offer a free version
Ticket organization needs to be improved
Pricing
Zendesk offers a complimentary trial version, and its premium options begin at $49 per representative per month, invoiced yearly. If you need only essential features like ticket handling, business rules, data analysis, and communication records, there's also a basic support plan starting at $19 per representative per month.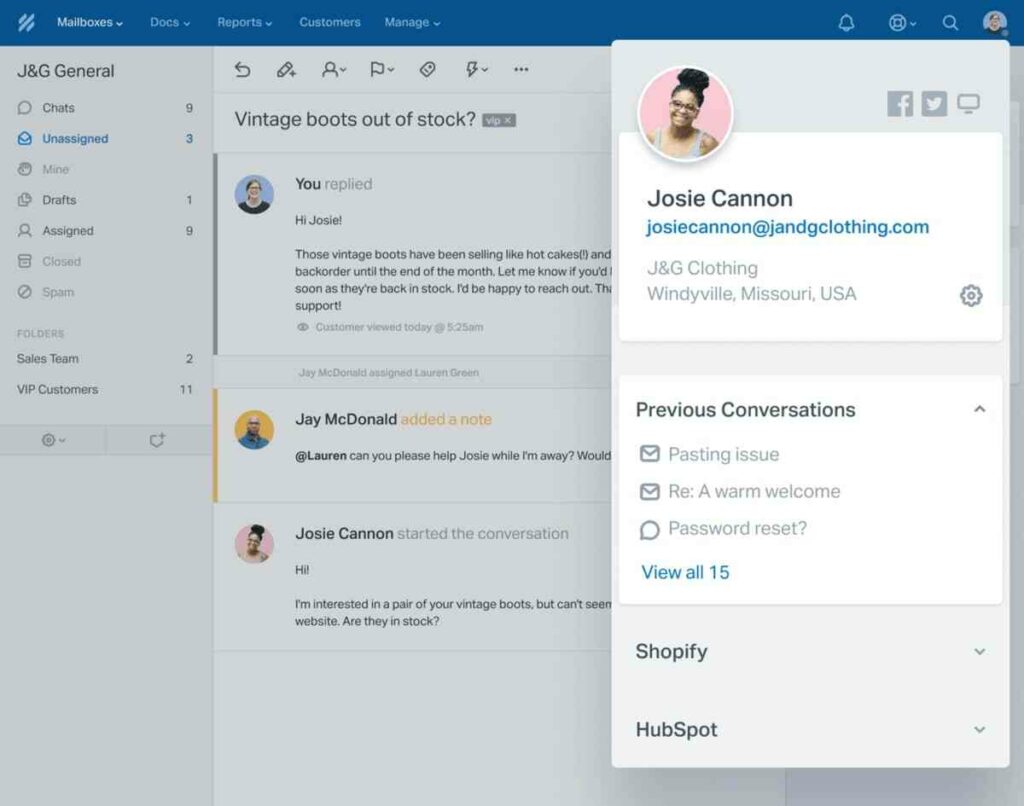 Help Scout is a help desk system intended for new firms, small businesses, or any enterprise seeking to set up its initial help desk department.
Help Scout is made to be user-friendly and straightforward. So it's a favorable choice if you want help desk software that's simple to implement and requires minimal learning.
On top of that, Help Scout offers cloud-based functionalities that are highly valued by small businesses, such as a unified mailbox and knowledge base. And all premium packages include the option to insert help widgets on your web pages.
Pros
30-day money refund policy
15-day free test run
Alignment with the standards such as HIPAA
Cons
Limited 3rd-party connections compared to its rivals
No free version
Pricing
Help Scout provides a 15-day free trial and a 30-day money refund policy. Its premium packages begin at $20 per agent per month when invoiced yearly. This B Corp certification holder even plants a tree upon your purchase.

Different agents have their unique work processes. ngDesk acknowledges this and adapts the help desk to each agent's specific requirements. With the help of this help desk ticketing software, agents can personalize their mail inboxes and highlight the data that is most significant to them.
ngDesk also provides data reporting for admins to monitor their workforce's productivity. They can analyze KPIs such as agent efficiency and consumer happiness with the help of built-in analytics.
Pros:
Effortless to operate
Highly flexible
Comprehensive set of features
Cons:
ngDesk offers fewer API connections
Pricing information is not available on the website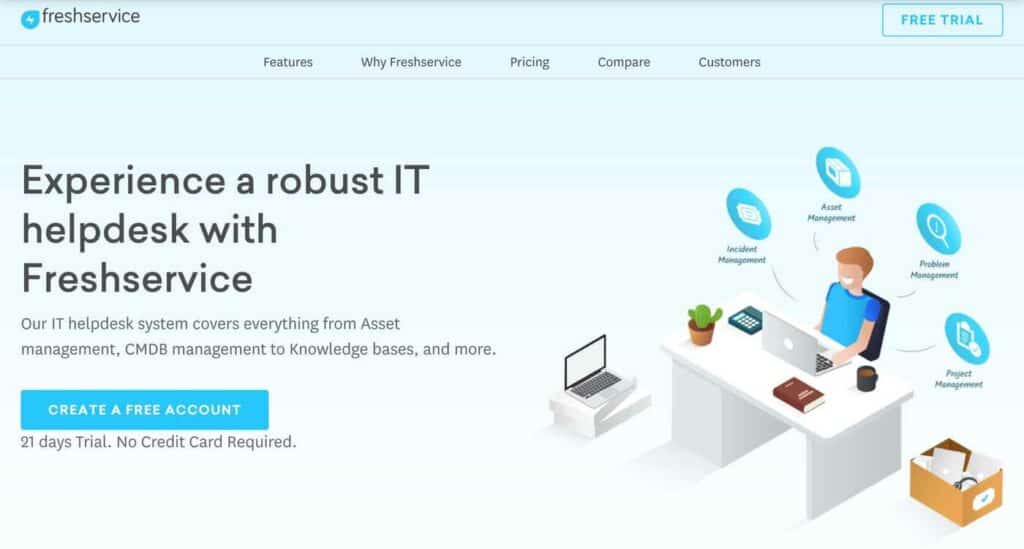 Freshservice is one of the best help desk ticketing software if you're searching for one that prioritizes incident management. It boasts capabilities for managing assets, incidents, projects, and so on.
It has all the resources you will need for faster incident resolution, such as monitoring, evaluation, and remediation.
Freshservice also features a self-help platform, process automation, and SLA management. And its user-friendly interface enables your workforce to handle concerns that need manual intervention while separating cases that can be handled with automation.
Pros
Offers 21 days of free trial
Easily modifiable and adaptable
User-friendly experience
Provision for day passes to add extra agents on busy days
Cons
Doesn't offer any free version.
Knowledge base hierarchy is limited
Ticket handling capabilities are restricted
Pricing
Premium packages begin at $19 per user each month to be invoiced yearly. And it's 21-day free trial allows you to try out the services without having to submit any credit card details. Premium packages include cloud management, review and approvals, team panels, a sandbox environment, and on-call management.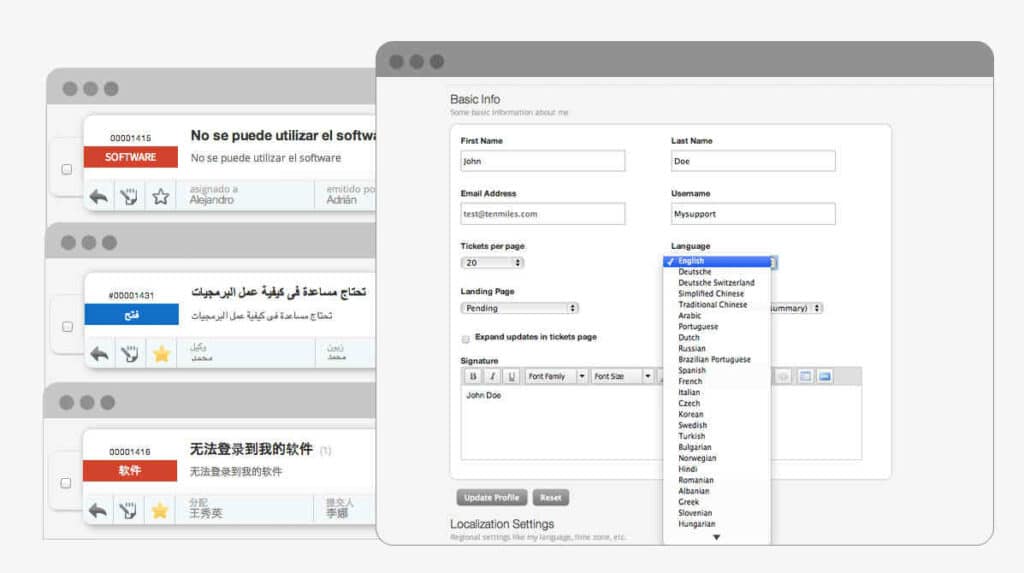 Happyfox's help desk comes with multi-language support, and it can be a solid choice if you have an international workforce. Besides English, this portal supports over 30 languages.
This means that HappyFox will convert the content by itself regardless of the language buyers use. This help desk software provides knowledge portal content in multiple languages as well.
Pros
Support for a multilingual knowledge base
Customers' texts are automatically translated
Offers packages with unlimited users
You get help in moving from another help desk
Cons
Restrictions on the number of tickets in plans that allow unlimited users
Collision detection is only available in high-tier plans
Pricing
The premium packages begin from $29/user/month when billed yearly. You can get these plans only if you have 5 or more agents on your team. There is also a separate pricing model for unlimited agents.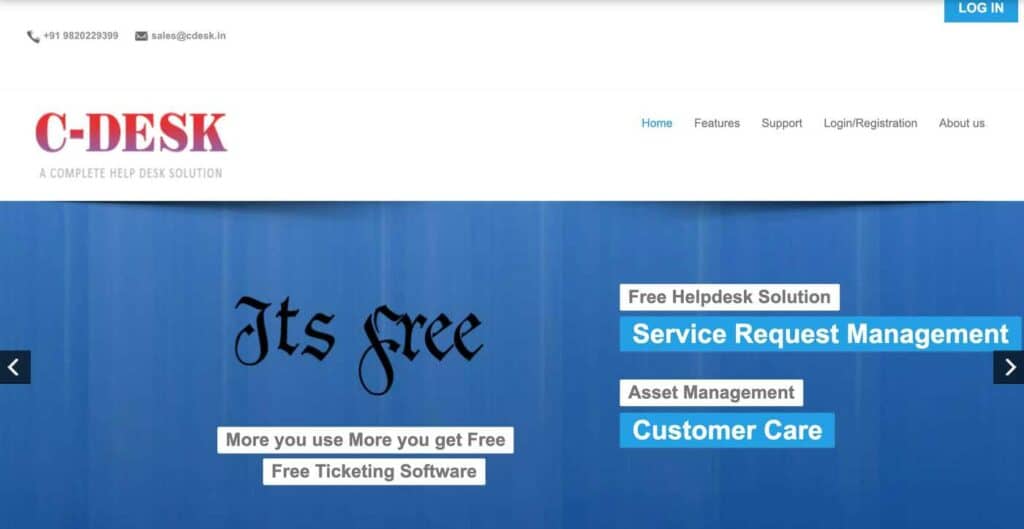 C-Desk is a comprehensive and free help desk ticketing software that provides a range of customer support features, from ticket handling to gathering buyer feedback.
This help desk software is suitable for small businesses that are looking to implement a help desk solution for the first time.
You also get features to demonstrate social proof. For instance, the gallery feature enables you to insert and group video recordings and images in the form of collections on your site. You can employ this tool to show buyer reviews to make you seem more trustworthy and professional.
Pros:
Free help desk system.
You will get 24/7 assistance on WhatsApp
Rich set of features
Easy-to-use interface
Cons:
The setup process can be a little challenging
No multi-lingual support

Hesk is a simple help desk application that is ideal for small businesses. Its straightforward and intuitive interface makes it easy to start, even for those new to help desk software.
Hesk provides a secure and dependable cloud-based ticket management solution that can be quickly downloaded and installed.
In addition, it has the ability to customize ticket fields and the display to fit your team's process. It also features a web-based ticket request form for buyers to raise tickets.
Pros
Simple to set up and operate
Supports multiple languages
Free backups every day
90-day, 100% money-back guarantee
Cons
Some essential features are only in paid plans
You need to upload it on your own hosting
Pricing
The Hesk website license can be purchased for a one-time payment of $49.99. The Hesk advanced license, which costs a one-time fee of $199.99, comes with the benefit of 5 years of prioritized assistance. Both licenses include a 90-day, 100% money-refund policy.

ServiceDesk Plus from ManageEngine has many customer service tools, such as customer feedback collection, SLAs, and a knowledge base builder.
Apart from these fundamental service management functions, this help desk ticketing software also simplifies the service procedures by automating them. Your service teams can update their status regarding their availability, and the tickets will be automatically allocated.
Pros
You can deploy on-site or on the web
Alignment with ITSM standards
Comes with an AI-driven self-help platform for recurring queries
Compatibility with other Zoho help desk systems
Cons
High learning curve
Essential tools such as analytics and AI are only in high-cost packages
Ambiguous cost structure when you need additional features
Pricing
You will need to contact them to get a custom quote.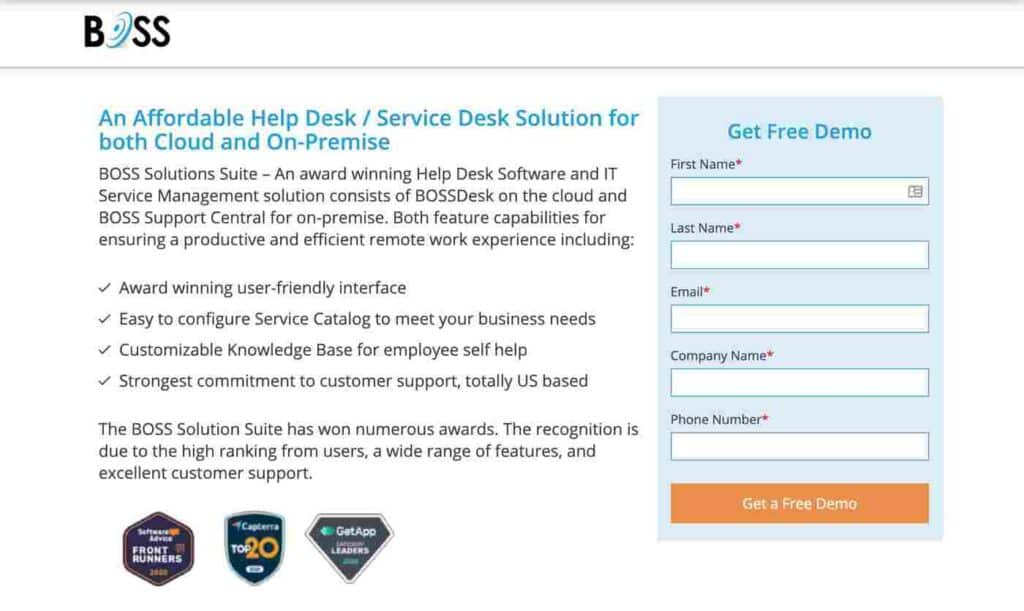 Boss Solutions Suite is among the best help desk solutions and offers both web-based and on-site support desk and ticketing software for customer-facing teams.
To handle frequently asked questions, Boss Solutions Suite gives you the ability to create a knowledge portal. Plus, it has a smartphone app that your agents can utilize to handle support requests from anywhere.
As a support desk manager or stakeholder, you will also need to make data-driven decisions about your team's performance. So it comes with a reporting panel to generate insights into your team's success in solving problems.
Pros
Great customer support
High level of flexibility
Simple to learn and operate
Cons
Data analytics not as comprehensive as competitors
The Essentials plan lacks many important integrations
Pricing
The lowest-priced plan for Boss is the Essentials package, at $19 per user per month when paid annually. It comes with features such as dashboards, remote support, a smartphone app, and active directory compatibility.
The next plan, named Professional, costs $39 per user per month. The additional features in this plan include a knowledge base, user surveys, SLA Management, team member approvals, email templates, and tagging.
To get even more advanced features like scheduling, chat, branding, and integrations, you can opt-in for the enterprise package at $69 per user per month. All plans come with a free 14-day trial.
What to look for in help desk ticketing software
Choosing the right help desk software involves considering factors like customer service, features, ease of use, ticket management, team size, multilingual support, and cost.
After reviewing our best recommendations for help desk ticketing software, it's now the time to begin narrowing down your choices. And the following aspects will help you evaluate various help desk programs.
Cost
Help desks have the potential to both increase your customer-facing department's ability to handle more service requests and enhance the consumer experience. But these tools can be expensive. So when evaluating a system, ask yourself:
How much can you spend?
What is the price of the tool?
Are you getting enough value for the money you will spend?
If you are a small business with limited money and need a good help desk program, you should weigh different plans against one another and see if there are any undisclosed charges while finalizing your choice.
Ease of use
Another important consideration is the time it will take for your team to learn and adopt the new software. Check whether the program is easy to install and user-friendly
Multilingual support
Intercom surveyed 135 support team leads and found that 29% of businesses have lost customers because they don't offer multilingual support.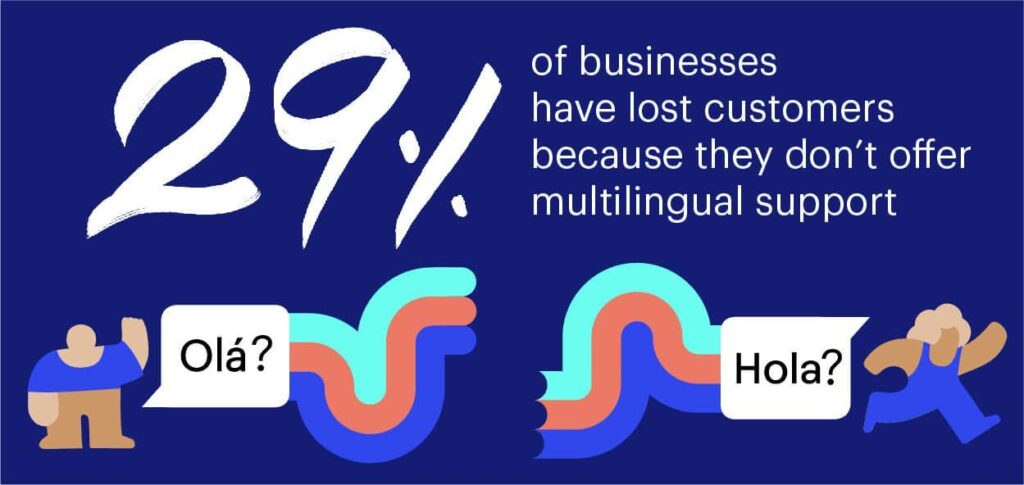 So if you cater to global consumers, you must ensure that your service desk can provide support in various languages.
Feature set
What sort of service solutions are you looking for? Are you searching for basic ticket management or more advanced functions like a knowledge center, instant messaging, and so on?
Check the list of functionalities provided by the help desk program. Does it include everything as per your requirement or lacks some of it?
Team size
How many support staff members do you require? Some support desk programs have prerequisites for the minimum number of staff and additional charges for each new user. So make sure to factor this into your selection process.
Customer service
You'd assume that a help desk software provider would provide top-notch support to their own customers. But unfortunately, that's not always the case. So make sure to check the following:
How quick and efficient is your software company's customer care?
Is there a helpful knowledge center or FAQs section available?
Can you reach them by instant message, phone call, or by mail?
Ticket management
See if the program offers a straightforward and user-friendly ticket management interface. It should also provide other crucial service management functions like automating tickets, transferring cases to higher-tier officials, and ticket sharing.
Common questions about help desk software
Here are our most frequently asked questions related to help desk ticketing software, along with their answers.
What are the common features of help desk ticketing software?
A ticketing solution typically includes functions like a help desk, knowledge base content management, real-time chat, and data analytics. Many tools even provide capabilities like compatibility with social media applications, asset management, and project management.
How much does help desk software cost?
The price of the ticketing solution differs based on the capabilities and number of reps you require. Certain help desk software offers free packages, whereas the rest of them charge a maximum of $100 per user monthly.
Why does my company need help desk ticketing software?
In case your company has multiple employees handling customer service, a ticketing solution can prove to be an indispensable resource. It allows you to effectively monitor customer requests and facilitates allotment and handling of tickets.
Bottom line: choose the best help desk software
As your organization expands and acquires more customers, your help desk staff will face the rising need for assistance. That's where service desk solutions and ticket management platforms greatly impact the productivity of the customer care departments.
For example, Help desk software such as Heroic Inbox can assign received support inquiries among staff members and enable them to handle and keep track of both simple and complex tickets.
By using a service desk platform, customer service agents will have the capability to adequately and skillfully categorize cases, handle ticket volume, and give assistance.
So as you assess the best help desk ticketing solution for your requirements, give Heroic Inbox a chance and find out if it meets your expectations.