Knowledge-Centered Support With WordPress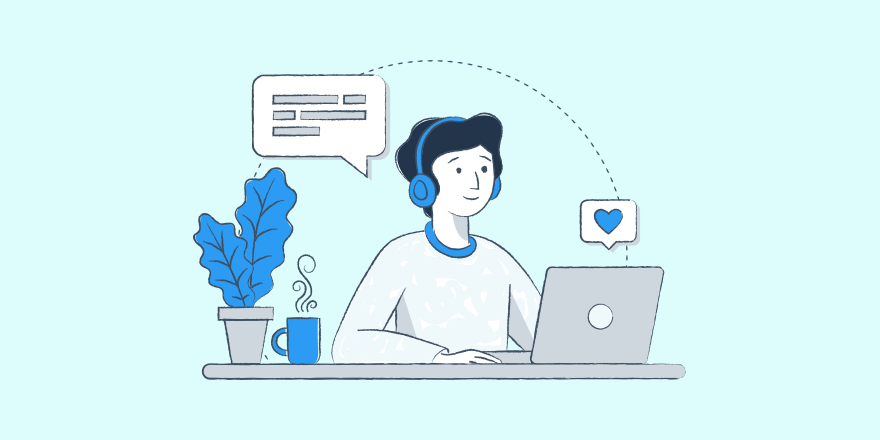 Are you looking to adopt a knowledge-centered support strategy for your business?
Then this article will help you build a path of least resistance to producing top quality customer support content – that drives results.
Let's get started…
Introduction
A customer support service with a poor approach to knowledge management is under a weighty burden of inefficiency.
In such cases, every effort for relief should be followed.
However, if the proposed solution involves yet more workload – this is counterproductive.
Instead, what we need is:
a close examination, and;
re-engineering of existing processes
…that leads to an overall efficiency gain.
In other words, thinking differently about the 'as-is' picture in order to see a way of retaining systematic value that otherwise would have been routinely lost.
Sustainability, for the knowledge economy.
This is knowledge-centered support (KCS).
KCS prepares organizations for training their staff members to swarm.
(Source)
'Swarming' or 'Intelligent swarming' is KCS lingo for a non-hierarchical collaborative approach to handling customer support requests.
Just think bees in a hive.
Highly disciplined and effective organizational workflows – but no tiered hierarchy.
Collaborative swarming in a support sense relies on the first respondent to a customer case becoming the owner. The case owner aims to solve the issue.
Between their own experience and a thorough search of the knowledge base, if a case owner doesn't solve the problem independently – they call for help.
The call for help recruits other team members into the fray to offer their support towards a resolution.
The idea is simple. If the case owner doesn't achieve a resolution, then the collective effort weighs in to topple the towering support obstacle.
And finally, the most important part is the real-time curation of expert know-how, captured in the knowledge base.
If the expertise that led to the support resolution was not present within the knowledge base (but produced within the current workflow), then the resulting information is committed to the knowledge base as an article.
If on the other hand existing articles were sufficient to satisfy the support case, then the quality of those existing articles are reviewed alongside the new support dialogue for improvement opportunities.
Any new, worthy expertise is simply added. And irrelevant, out of date or non-essential filler material is removed.
In KCS, the aim is to publish streamlined instructional content only. Just the stuff that leads to a resolution.
Nothing more.
So, with the basics understood, what are the key factors for success with KCS?
What makes KCS successful?
KCS is culture driven. An organizational mind shift in the fundamental appreciation of knowledge as a valued commercial commodity.
KCS has a philosophy and set of values that drives innovation throughout the entire knowledge workflow.
To make it work, you need the full commitment of the team behind the knowledge.
Along with that comes gaining managerial buy-in on the concept and using that top-down mandate to govern the new knowledge-centered support approach.
KCS is a team contact sport.
Captured resolutions are the goals.
Unresolved cases are opposition attacking plays which threaten your customer satisfaction record – they must be defended with bodies on the line.
And first up to the tackle is the case owner.
When presented with a support request, the case owner immediately draws upon all their available resources and expertise to put out the threat of an unresolved case.
In KCS terminology, coined by David Kay of DBKay Associates, this first phase of play or contact is called 'touch and hold' (As David remarks, "…it's a pretty simple idea, but one with profound implications + best of all it actually works.")
It's effectively a 1-on-1 contest with only their experience and knowledge base search function to win.
If the case owner succeeds, then the tackle was successful:
Resolution. (And the aim with every request, is to resolve it ASAP – with minimal time and effort taken.)
Yet, if the case owner is unable to tackle the request effectively, he drafts in his team mates for help. The combined presence of multiple team members grappling with the challenge simultaneously, should therefore result in an eventual resolution.
Tackle.
And now, for the goal:
To bank the successful resolution as a knowledge base article for the next time around.
The more goals (successful resolutions converted into knowledge base articles), the more match victories.
The more match victories, the more confidence, experience and bottled-up expertise to keep winning, ongoing.
This is how the battle of KCS is won.
How much does KCS success depend on software tools?
As mentioned above, to use KCS methodology you need a knowledge base.
But also some sort of help desk ticketing system with a shared inbox. This way, your support agents have convenient and swift means of identifying and assigning requests – plus, collaboratively interacting with the customer and each other.
Integration with a CRM also helps to maintain data integrity.
As for recommended tools…that really depends:
What's your internal tech stack or skillset?
What dedicated internal IT resource do you have?
What interface is used to generate your support requests?
These two questions are really prerequisites for recommending the ideal KCS solution.
As for any business, the path of least resistance presents economical advantage.
And the key technical detail is found in question no. 3 from the list above:
Interface used for generating support requests.
In most cases, this is a support portal or company website.
Using a web form, customers log their support request with the technical support team.
As soon as the request is submitted, the web form pushes a notification email to the shared inbox. You either have smart pre-programmed automated email routing, or a staff policy for allocating cases to owners.
Either way, each case that hits the help desk is dealt out to a named owner. From this moment, the countdown to successful resolution begins ticking.
Speed is of the essence.
For ease of real-time communication, a messaging platform, like Slack – for example, could be integrated to facilitate the swarm effect.
Here's an example of how Slack enabled case swarming might look:
(Source)
Simply put, one point of contact for the customer – no referrals or handovers.
One lead for the entire customer effort and an array of supporting team members pitching in their measures from behind the scenes.
Finally, once resolved, the case owner would need editorial access to the chosen knowledge base tool for authoring the article related to the case resolution.
Once published, it's job done.
Might sound appealing in theory, but what about in practice?
What results can we expect from KCS swarming?
Benefits of KCS
As you can probably imagine, KCS at its best provides many economic advantages. But 3 major wins for any support-based team or organization:
Increasing proportion of case resolutions originating from knowledge base articles.
Decreasing hands-on time involvement from the support staff on tackling cases.
Greater customer satisfaction, retention, sales revenue and profit.
The combination of this is deep rooted ROI efficiency.
For a closer, more detailed look…
SaaS CRM giants, Salesforce reported the following results having implemented KCS methodology using Slack integration:
"…a 26% reduction in case resolution time since introducing a tierless support model with case swarming with Slack, despite an increase in customers and case volume over the same period."
Not bad at all.
Shaving a quarter of the time spent on achieving resolutions is a major efficiency gain on any customer support function.
(And remember, that figure of a 26% efficiency gain was during a period where volume of support requests also increased.)
KCS literally supercharges your support.
On a micro-level here an outline of the benefits experienced:
Shorter times to resolution
Improved support capacity
Increased customer satisfaction
More dynamic action-packed case collaboration
Enhanced professional development & peer-to-peer learning
Growing knowledge base
More knowledge base references used in resolutions
More improvements made to existing knowledge base articles
More case owner resolutions (and at most only 1 or 2 collaborators needed)
A clear audit trail for resolution quality assessment
Quicker, simpler, more impactful answers to customer questions
No incremental knowledge capture – everything is done within the workflow
Tools only support the process, not dictate it
These are just some of the observed KCS benefits experienced by its proponents. Advocated avidly by niche business consultants like David Kay, who we mentioned earlier on.
By nature KCS is highly impactful. It really delivers results. Measurable and profitable ones too. And LOTS of them.
But coupled with its impact is its simplicity. It's largely attitudinal.
In the words of The Consortium for Service Innovation:
"KCS is a simple idea: integrate the creation and maintenance of knowledge into the process of interaction."
In other words, making the publishing of knowledge an organic fruit of your people doing stuff.
That said, there is also institutional wisdom gained from experience added as a caveat here.
And from this experience, organizations like The Consortium for Service Innovation have developed frameworks as a means of equipping KCS newbies with a shortcut to mastery.
Here's a graphic of what their KCS framework (now, version 6) looks like:
In essence, a dynamo or a flywheel would best explain it.
A self-perpetuating, momentum gathering juggernaut that once gets spinning drives the entire engine of your organization as an independent source of internal power.
Generated by nothing more than the support activity initiated by your customers and fulfilled by your agents.
Just think of a mechanical watermill, or a windmill, for example and you'll be along the right kind of lines.
The hard part is harnessing the initial force under tension to overcome the inertia of static engine components.
I.e. beginning to get your support agents to actively seek out and volunteer in collaboration wherever necessary. Plus publishing their successes in the knowledge base.
BUT…once your flywheel gains traction and starts to turn, you've got lift off. Speed of resolution picks up. Knowledge base entries multiply. Customer support quality is soaring high above where it was before.
The job then is to keep that wheel turning and never look back.
Satisfied customers will literally pay you back in ROI related gratitude.
Want proof?
Here's a KCS example case study and the material advantages gained…
Example KCS Case Study
In this case study, we're about to examine the real cost/benefit of implementing KCS within a tech company context.
Tech companies of course carry a weighted bias towards KCS benefit. Purely because of the link between customer satisfaction and customer support.
Tech is support intensive.
From the most simple support request to complex customisations, this is the daily spectrum of request, which draws support agents into action.
And this is certainly true for our KCS case study subject, Service Now.
Background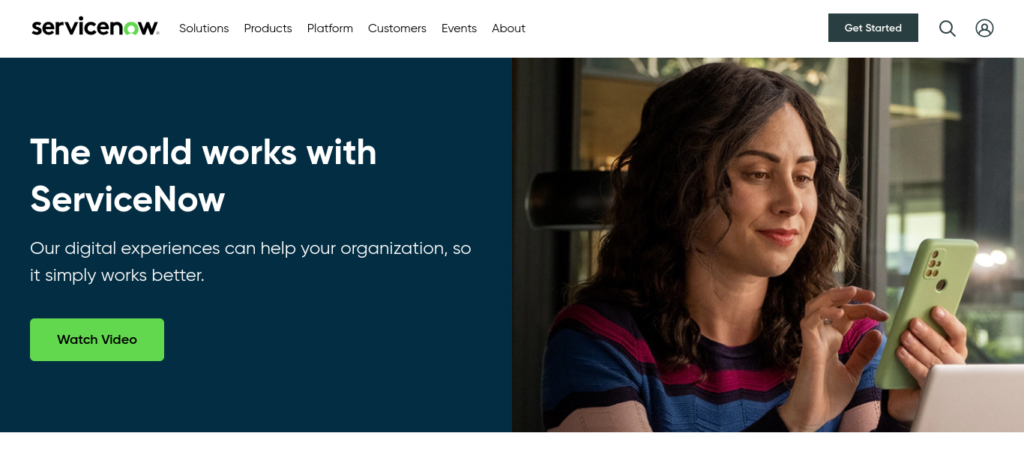 Service Now is a digital workflow SaaS platform for enterprises.
Problem
Founded in 2004, Service Now (like most successful cloud companies) quickly scaled its operation and consequently experienced sharp increases in the volume of product support demand.
From the inception of the company, technical support agents had very little formal knowledge sharing practice. Their support-related knowledge assets were siloed and in accessible real-time to agents working on support cases.
ServiceNow reported a 60% rate of duplicating existing undiscovered knowledge to satisfy support requests.
The solution?
ServiceNow knew they needed to achieve a successful adoption of knowledge-centered support (KCS).
Over the course of a 15-month period of intensive training, ServiceNow implemented a KCS transition within its global customer support function.
But no KCS implementation would be complete without a competent knowledge base software at its heart.
For ServiceNow, they insisted on hosting customer support articles within a system that automatically identifies knowledge gap opportunities and also unobtrusively solicits user feedback.
This insight-rich research collateral would literally seed the new article creation process.
KCS in action
Here's a quick graphic that outlines ServiceNow's KCS process:
Just as we outlined at the beginning of this article.
KCS begins with the customer searching the self-service materials for an answer to their request.
Failing that, they raise a case which is allocated to a case owner.
If the case owner cannot resolve the issue, they recruit help.
Once there is an answer to offer, the case owner drafts the answer (knowingly in the format of a knowledge base article) and sends it to the customer.
If the answer offered to the customer is successful in driving a resolution, then the draft article information is simply published to the knowledge base.
The results
First up, here are the metrics by which the KCS successes (hint!) were measured:
There were 3 categories of activity measured during the adoption phase of the project.
They covered:
Global adoption – how much agents (TSEs) were actively practicing the KCS discipline
Regional Progress Metrics – (the same as global, but for specific regions)
Program Performance Outcome – what quantifiable level of burden has been lifted off the support team personnel
And this is how the new strategy performed:
An 87% increase in attach rate of KB articles to cases by TSEs
Over 10,000 new KB articles created in the past year (by ~500 TSEs or agents, approximately 200 articles per team member or an article pubslihed every other day)
Cases with attached KB articles are solved 52% faster
(Source)
They literally halved the time taken to resolve cases.
Out another way, that's doubling their support capacity. Which for a growing cloud-based tech company is mission critical.
(Also worth a mention are the associated SEO gains. Here's how…because knowledge base articles are crawlable by Google and Bing, there is a background lead generation (marketing) benefit to all this hard work too.)
All in all a successful real-life case of implementing KCS for results.
And now, for the main event…I'm about to show you exactly how you too can implement a ROI-boosting KCS workflow inside your WordPress website.
Setting up knowledge centered support with WordPress
Firstly, let's ask the question: Is WordPress the ideal tool for KCS enablement or not?
The answer to this question comes in the form of a clue which we saw in the case above.
Here's that clue (again):
Over 10,000 new KB articles created in the past year (by ~500 TSEs or agents, approximately 200 articles per team member or an article published every other day)
In other words, KCS is content heavy.
Therefore to successfully implement KCS workflows within your organization, you need a competent content management system (CMS).
Currently, the market leading CMS (by miles) is WordPress.
In fact, over 41% of ALL websites operate using WordPress CMS today. And the next and nearest competitor doesn't come anywhere close to that (3.5%)…just take a look.
(Source)
The question remains though, WHY is WordPress so popular?
Here are my top 3 reasons why you should choose WordPress as your KCS tool of choice for your business…
It's free – yet exceeds many premium SaaS software, in like-for-like features.
It's highly expandable and customizable.
WordPress hosts an ecosystem worth $596.7 billion made up of performance transforming extensions (plugins) and value-added support services that make WordPress do literally thousands of specialist functions to accommodate the scope of all types of web projects…including KCS.
On that note, here is our KCS-busting WordPress set-up for establishing your very own self-perpetuating, knowledge flywheel effect!
#1 Heroic Knowledge Base for WordPress
As mentioned numerous times already, a fully functioning KCS software set-up begins with a knowledge base.
In other words, before you decide on what to do with institutional knowledge, you must decide on where it will sit first.
Your knowledge base is it.
Not all knowledge bases should be counted as equal.
The benefits offered differ product to product.
The underlying tech platform that houses your knowledge base rmakes ALL the difference.
In the case of WordPress, the right knowledge base solution will, of course, possess the native content management 'lifting power' of the industry's leading CMS.
Through WordPress:
digital content production,
editing,
taxonomy organization,
thematic siloing,
online content collaboration
…has never been easier and more effective.
Those general points aside, knowledge base functionality is very much a specialist game.
There's an art to developing the ideal knowledge base software.
Knowledge bases, expertly delivered, can many (many) multiples of times over reward an organization with outstanding ROI figures.
In the WordPress realm, the #1 knowledge base solution (and proven for many years now) is:
Heroic Knowledge Base: by HeroThemes.
It's fully featured and pound-for-pound weighs in with as much talent as leading SaaS alternatives, plus saves you time with plenty of built-in integration control for your website.
Here's a review from a Heroic Knowledge Base customer (and leading software company in the WordPress ecosystem):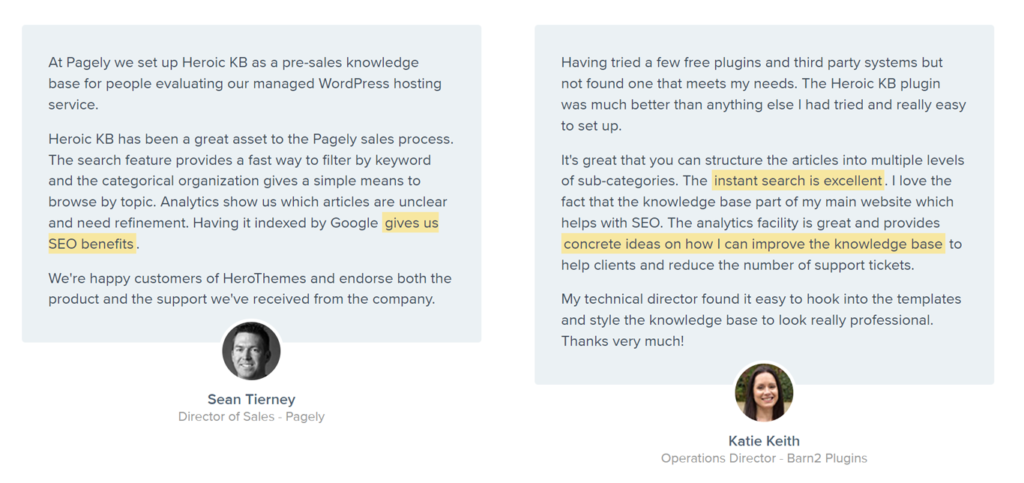 Here are just some of the highlights of the Heroic Knowledge Base plugin for WordPress:
Neatly organized silo structure
Multilingual
User restriction
Article and category ordering
Show related articles and resources
Revision history
LIVE search bar
In-built analytics engine
Article voting and feedback
Beginner-friendly CSS controls
Integrates with other tools in your KCS stack
Not only does Heroic Knowledge Base deliver the most relevant results to customers and make navigating articles a breeze…
…but it also helps you gain intelligence on where your current content fails to meet the mark.
All in all, Heroic Knowledge Base is an ideal WordPress solution for your KCS-software set up.
Download Heroic Knowledge Base Now
#2 Heroic Inbox for WordPress
Whilst the knowledge base software is the brains of the KCS system.
The shared inbox solution is the backbone.
Making it easy for you and your support agents to receive ticket requests from customers, route them smartly according to internal rules and follow up accordingly.
Whilst many email inbox solutions exist out there, one that works best alongside (or, even better yet, within) your chosen platform saves on valuable productivity.
If you have a WordPress website – then shared inbox possibilities definitely just got better!
Heroic Inbox plugins: by HeroThemes
It's WordPress's own equivalent to a comprehensive help desk offering.
With this solution you bring the functionality of a leading SaaS help desk ticketing software under the hood of your WordPress website.
Featured highlights of the Heroic Inbox plugin include:
Manage all support emails in one convenient location
A single catch-all portal for team inboxes
Assign inboxes to specific team members
Customer profile summary in sidebar (during customer conversation)
Email routing rules
WIth this plugin, your customer support team will be optimally equipped to respond swiftly to user requests and to collaborate effectively for consistent successes
#3 Slack Integration
Slack is a knowledge swarming digital powerhouse.
For many institutions with serious knowledge support reputations, Slack is the channel of choice.
Take Salesforce for example, their 3,300 strong support team discovered that by utilizing Slack as a swarm enabling launchpad they were able to resolve cases 26% faster.
They also noted a 19% improvement in their same day resolution rate.
"By swarming issues in Slack, we can bring the right experts into the case at the right time, eliminate tiers and escalations, and ultimately find the best person available to help troubleshoot the issue quickly." (Source)
There are clear advantages to using Slack for knowledge swarming.
None less than successfully engaging agents in virtually buddying up on co-solving cases with least effort and maximum workflow efficiency.
Whilst this is good news for your KCS development plans – what remains a leap, however, is the task of making Slack sync with the rest of your software infrastructure.
In other words, will Slack play well with your WordPress knowledge base and inbox?
In the case of the Heroic Knowledge Base and Heroic Inbox plugins & Slack the answer is:
Yes, absolutely.
In fact, for every new knowledge base feedback submission – the API sends a submission notification to a prescribed Slack channel. This keeps your support agents on top of handling feedback responses.
Slack and WordPress-driven knowledge support hasn't ever been more closely integrated.
Discover more about Heroic Knowledge Base and Slack Integration Now
Conclusion
Knowledge-centered support (KCS) can be a highly rewarding investment for online support-based businesses.
KCS harnesses the very real commercial asset value of support agent expertise.
Bottling up your institution's most underutilized, yet potentially most profitable intellectual resource i.e. written support advice…
…KCS is your business's answer to a sustainable support capacity expansion and improvement strategy.
It answers the question,
"…how can I both save money on support whilst delivering higher levels of customer satisfaction?"
A solid win-win. (And entirely achievable with knowledge-centered support.)
The WordPress platform in this area is a capable tech tool offering a stable KCS solution with no-code user-friendliness.
With the Heroic Knowledge Base and Heroic Inbox coupled with Slack, you can build a seamlessly integrated KCS system for converting better knowledge management into profit.
Why not get started today?