5 Best Help Center Software Compared (Pros & Cons)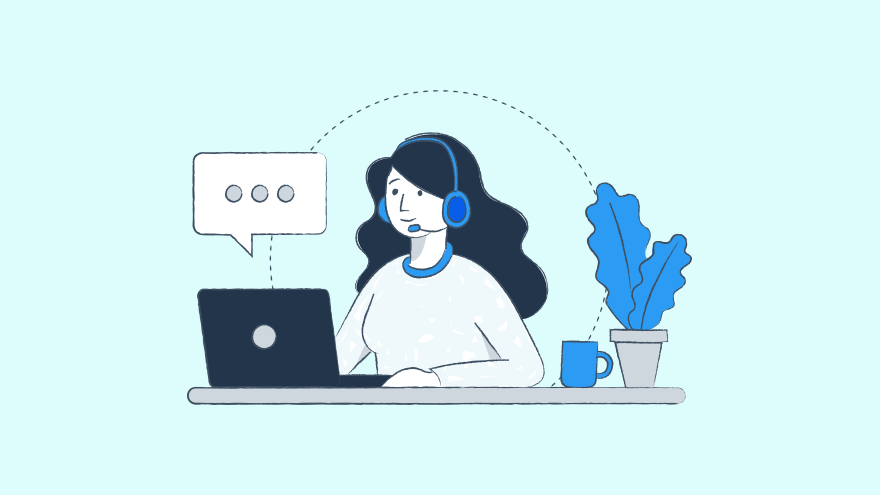 There are major upside benefits to making the right help center software investment.
After all, help center software is the glue that keeps your customer success teams most tightly engaged with your customer base.
A proactively supported customer base leads to repeat purchases & higher account retention.
Customer retention drives ROI and is the foundation for growth in both b2c and b2b/account-based business.
It's the root of commercial sustainability.
(Preserving the newly converted custom with careful, competent and considerate handling.)
And the fruit of this is keeping custom for longer.
Undoubtedly, without the fulfillment of customer lifetime value, companies suffer untapped profitability and will lose customers to more proactive competitors.
Enter the three C's:
Customer experience: knowing what customers really think of their customer journey with you.
Customer success: proactive support to help customers gain best value from their experience.
Customer service: reactive, responsive general help and assistance for either existing customers or prospects, helping them with all and sundry requests.
Of the three, customer experience is king.
In fact, 7 out of 10 leading marketers would agree, according to the 2017 Gartner Customer Experience (CX) in Marketing Survey,
"More than two-thirds of marketers responsible for customer experience (CX) say their companies compete mostly on the basis of CX."

(Source)
In other words, most companies see the goal as to: "…know your customer (KYC)."
This makes perfect sense. Unless you know what your customers really think of the customer journey you simply can't support them either reactively (responding to enquiries) or proactively (offering best value solutions for product/service use).
And all of this for the purpose of:
"…[making] every customer feel like they're involved in a one-to-one conversation with your business."

(Source)
This is the mission that is set before us, should we accept it.
And the tools we have at our disposal, can provide a major advantage in supporting our personalisation of customer service, en masse.
One such critical tool within the arsenal is help center software. This is the responsive end of 'customer communication' enablement spectrum. Yet although a customer service solution – for best ROI help center software must also intimately integrate with customer success and experience systems too.
So now, returning to 'base' on our subject for this article, let's examine what a good help center software investment should offer your business – plus, how to select the best one.
What help center software does?
Help center software is the technical glue between your company's happiness engineers and your prized customers.
By technologically enabling responsive and broad communications, help center software is a key strategic piece in your company's ROI puzzle.
In short, help desk software helps unify the handling of customer facing messages providing a single, neat interface for information exchange.
For the sake of simplicity, help desk systems are often referred to as ticketing systems. This is because they utilize ticket allocation for triaging support responses.
Help center software: best practice essentials
The principle functions of a helpdesk software are common across the board.
This is because help desks in any context essentially do the same thing.
Bring businesses and their customers together through efficient message management.
A concise article by CX Today (leading online publication for Customer Experience technology) lists the following as essential features that your help desk software should have:
An expansive knowledge base
An integrated ticketing system
Embedded live chat
A user community
Feedback and survey systems
Global search
Knowledge base
FAQs, product documentation, literature stored in a single source of truth repository accessible by both customers and support staff. Interlinked pages and thematically grouped for optimal navigation – granting customers a speedy, yet comprehensive 'self-help' option to problem solving.
Ticketing system
Itemising each customer enquiry by uniquely tagging a reference ID that ring-fences all related communications. An email based ticketing system helps your support staff members assume ownership of each enquiry through raising a ticket. The system also has in-built routing rules for watertight delegation of tickets to named personnel.
Live chat
Online instant messaging facilitates a quick and natural flow of communications between support agents and customers. Doing away with the inconvenience of scheduling, this is a highly popular method of problem solving and also one that delivers high ROI.
Online community
User generated content (UGC) is a wealthy source of technical problem solving for customers. Most businesses miss out on harnessing UGC for customer support. It's the lowest cost support method (requiring your least involvement) but in addition, it improves customer engagement through a sense of belonging, increasing loyalty.
Feedback and survey
Customer feedback enriches your understanding of the customer experience. Having a low-friction feedback mechanism interweaved within the pages of your self-help knowledge base especially will inform you of content gaps and areas for improvement.
Search
Knowledge on demand. Search is the most immediate method of your customers landing that 'must-have' product or service information. The convenience factor cannot be denied, however, it does rely on having a comprehensive enough stash of knowledge base articles at the ready. Short of knowledge base articles? All is not lost, by collecting null search data (customer searches for specific topics that resulted in 'no items found') you can tranform your shortcomings in knowledge assets into user generated feedback for what solutions to write next..
AI predictive assistance
AI (artificial intelligence) is still ahead of the adoption curve in the ITSM (IT service management) sector.
Many help desk softwares still lack the function, however its ROI benefits in lowering the service agent overhead is a major draw for many enterprises. Therefore, demand is up.
And AI not only saves on agent interaction, but can also drastically increase responsiveness. This bumps up customer satisfaction scores across the board and improves customer retention and other KPIs (key performance indicators).
The reality of AI though is that it needs to be programmed. It needs to learn. This takes developer input which of course comes at an expense. However, once your AI routines have been lined up, they'll play just like a LIVE agent should for triaging incoming enquiries.
But according to industry experts, AI can go one further.

Here's what Chris Matchett (principal research analyst for IT operations management at Gartner) had to say about the future of AI use in ITSM:
"Both chatbots and VSAs utterly depend on either scripting or a well-established knowledge management process, although we are starting to see some VSA products that also build and update knowledge bases."
So, there you have it, the advantage of AI powered help desk softwares is not only to return savings against your agent overhead, but also to discount your knowledge creation costs.
The importance of an analytical approach to ticketing
Support tickets represent system load in your support function.
With each ticket representing a unique customer contact, together, they provide a valuable evidence trail of user experience data.
From data comes insight.
And insight leads to better decision-making, with increased profitability.
So the business importance of analyzing your support ticket data is undeniable.
However, your ability to derive meaningful conclusions from your support ticket data relies on the level of detail captured.
The more granular the data, the more usable the data at the end.
Usable data offers many avenues and angels for interpretation enhancing your organisation's strategic thinking.
The key therefore is not only having a means by which to generate support tickets, but also to:
Tag tickets with a naming taxonomy that provides high-specificity granular identification.
The more detailed the tagging, the higher the search accuracy.
However, detailed tagging does come at the cost of administrative diligence and takes time.
But if the cost of additional time taken to deeply tag your support tickets amounts to less than the revenue saved or cancellations/refunds avoided, then the extra hassle was definitely profitable.
Extrapolate the savings over the long term – and for the sake of some early stage planning, your business could receive huge cumulative gains (year-on-year) .
Choosing the right help desk software
So, having discussed all the critical functions of a help desk software, we arrive at the point of decision.
But do all help desk software programs offer the same functions?
What should you look out for when comparing help desk solutions to buy?
Here's a recommended top 5 help center software solutions:
The WordPress winner: Heroic Inbox
Feature rich: Help Scout
The ticketing specialist: Help Desk
Omninchannel champion: Fresh Desk
Fully automated: SysAid
The WordPress winner: Heroic Inbox
There's a persuasive case for a native WordPress help desk.
Here are four compelling statistics:
"…the average share of customer interactions rose even higher, with digital interactions jumping from 41% in 2019 to an incredible 65% in 2020." (Source: McKinsey)
"WordPress is used by 64.3% of all the websites whose content management system we know. This is 43.0% of all websites." (Source: W3techs.com)
"…the financial value of WordPress is estimated at a staggering $596.7 billion and is forecast to reach $635.5 billion by the end of 2021 including hosting providers, plugin and theme providers, agencies, infrastructure and other technology vendors." (Source:WPEngine.co.uk)
"It takes an average of about 25 minutes (23 minutes and 15 seconds, to be exact) to return to the original task after an interruption, according to Gloria Mark, who studies digital distraction at the University of California, Irvine." (Source: idonethis.com)
What picture are we painting here?
Here are the main points…
The majority of customer interactions are happening via the internet more than ever. (FACT)
+
And almost half of all websites online run on the WordPress platform. (FACT)
+
The WordPress ecosystem itself supports over $500 Billion worth of transactions annually. (FACT)
=
A huge swathe of the global digital economy is going to be plugged into the WordPress admin backend daily, running digital communications and eCommerce.
If this is you, then this next statistic should give you a reason to consider investing in a WordPress-based help desk solution:
Every tab switch in your browser could lead you or support personnel down a 25 minute digital rabbit hole.
Having your help desk app in-built, nestled within the backend of your WordPress website will:
…save you time and make you money.
Recommended WordPress Help Desk: Heroic Inbox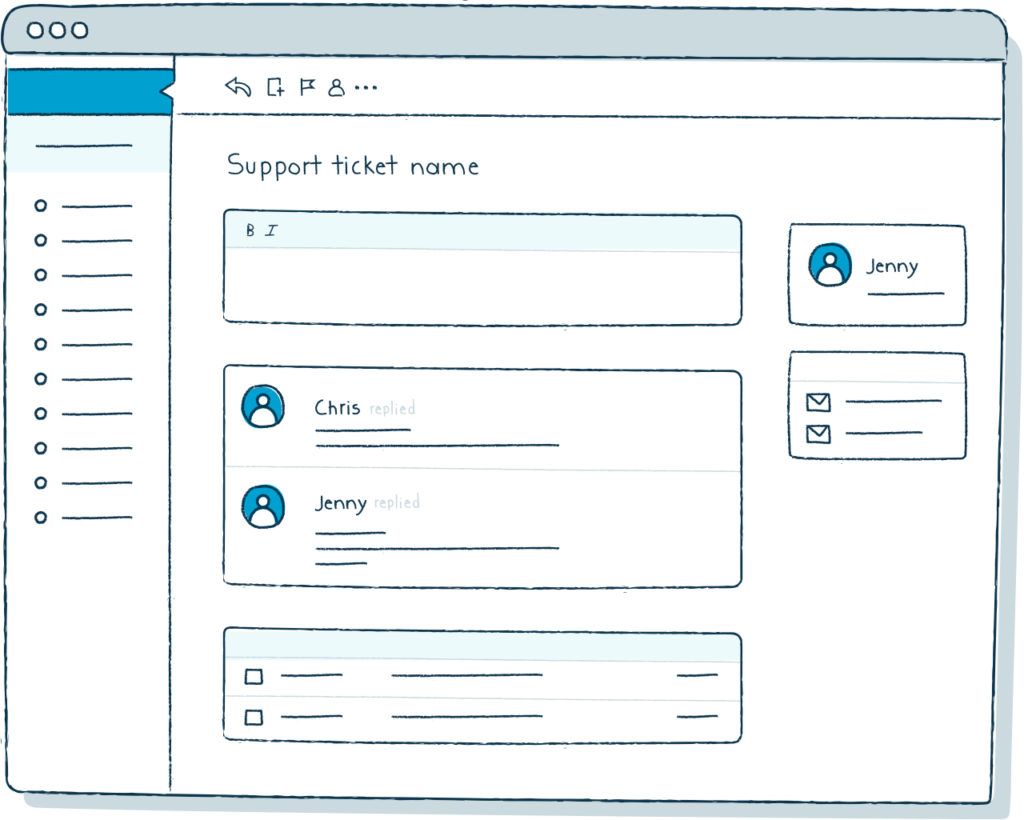 Heroic Inbox is THE ultimate shared inbox and support ticket management solution for WordPress.
It completely does away with the need for 3rd party platform involvement, integrations and APIs. Plus, it pays perfect compliment to the technical abilities of its sister plugins: Heroic Knowledge Base and Heroic FAQs. This unique toolset sets a united front for your WordPress powered help desk communications.
These are the 'instant win' features awaiting for you as a user of Heroic Inbox for WordPress:
Unlimited users
No pricing tiers or user related creeping costs like with many SaaS solutions. With this plugin there is one single license fee. And despite the number of users, the annual subscription fee remains affordable and unchanged.
Collaboration
Assign email inboxes to individual team members. This ensures water tight accountability by ring-fencing remit. Coupled with smart email routing, you can achieve a high granularity of control on where your precious support tickets land.
CRM
Always have a handy visual reminder of your customer related data when following up ticket requests. A great time saver and helpful prompt for enriching customer communications in situ. An intuitive interface for keeping on point with customer relations.
Autoresponse
When it comes to customer satisfaction, enquiry response time is a key success factor. Statistics show how the quicker your business replies to customer initiated contact, the greater chance of satisfaction. And on that note, autoresponders are gap fillers that keep customers warm whilst your team members line up for answering their 'calls to action'.
Conclusion
If you're a WordPress user, then Heroic Inbox is the most convenient help desk solution.
Sitting alongside your website backend functions this plugin eliminates distraction and streamlines workflow for support staff.
Recommended Fully Featured Help Desk: HelpScout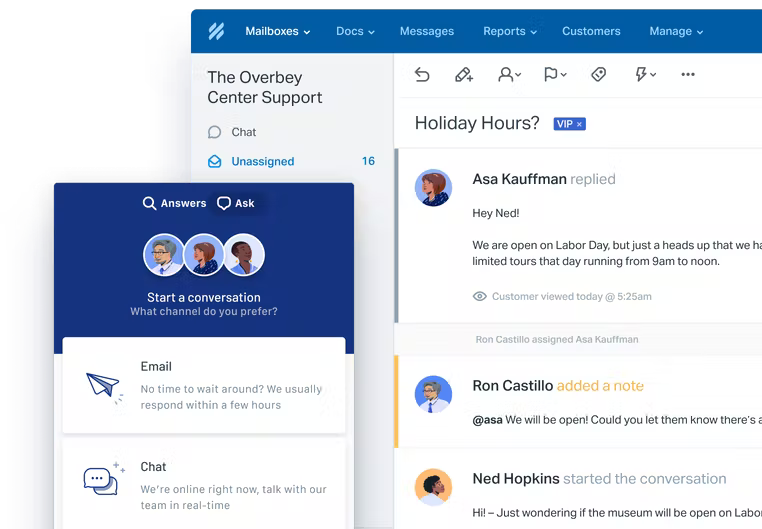 HelpScout is the complete package in the help desk software niche. Its features reach further than any other solutio, touching all bases in the way of functionality.
Pitched as a 3-in-1: shared inbox, help center and LIVE chat app HelpScout presents a convenient one-stop-shop solution for businesses wanting a single tool capable of boosting support enablement across the board, straight out of the box.
A well-earned reputation littered with industry accolades and rewards, sees HelpScout currently promoted to being the no.1 SaaS help desk software.
Here's what you can expect when you sign up to HelpScout:
Live Chat
Shared Inbox
Knowledge base
In app messaging
Collaboration tools
Reporting
Integrations
Recommended Ticketing System: HelpDesk
HelpDesk is the K.I.S.S. (Keep It Simple Software) solution for traditional ticket system fans. It promises to iron out the complexities that make other help desk software more of a hindrance.
One of 4 solutions within a related 'support themed' suite covering LiveChat, ChatBot & Knowledge Base – HelpDesk benefits from having the credentials of a competent standalone ticketing system, whilst also playing star support act to it's siblings.
Recommended Omnichannel Customer Support: FreshDesk
Freshdesk makes a big play on its omnichannel capabilities.
It presents a unified communications approach that consolidates the customer conversation. Bringing all threads and voices under one roof, FreshDesk makes for a streamline customer support experience.
Their 3 point value proposition is very persuasive:
Simplify the conversation with customers – offering them the ability to talk, but in the way they want to.
Agents have a wealth of data at their fingertips to make the best decisions on behalf of the customer, whilst in discussion.
Get tangible returns on your investment within only the first 3 months of use. A lightening quick time to value.
Recommended Automation Software: Sysaid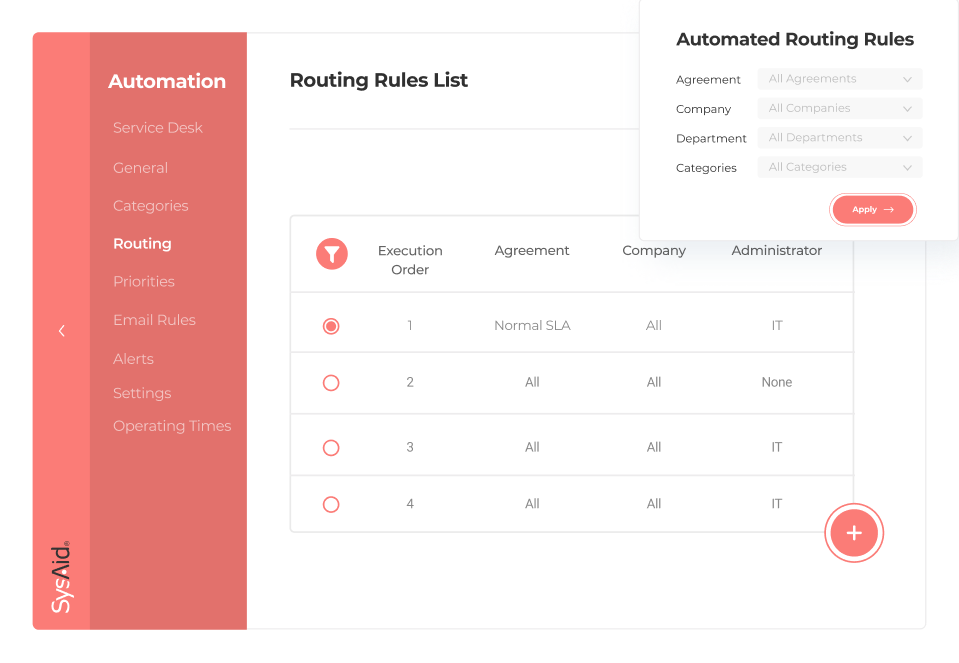 Sysaid is the automation genius among the bunch.
Everything from specific routing rules for pre-determining ticket destination according to technical expertise of agents, to prioritisation of cases is 'done-for-you' with Sysaid.
Built for immediacy of impact, this help desk solution is designed to absorb the strain of heavy lighting from off your support team's shoulders.
By doing this, the increased agility and greater responsiveness of your front line support – where it matters the most – immediately impacts customer satisfaction.
There's bags of early ROI loaded within this solution. And like with the alternatives within this line up, Sysaid likewise has a short time to first value.
Conclusion
At the heart help center software is giving your support personnel competitive advantage.
No support team is perfect.
There are imbalances of expertise, experience or personal manner etc. BUT if given the best chance to perform – they can win victories…and victories add up to championships.
So, there's a lot to gain by getting your help desk support right.
The key is knowing the right questions to ask of your software. Ask yourself, "What do I want my solution to do for me?" rather than, "What can this solution do?"
And at the root of this is a thorough examination and assessment of your internal support workflows and practices. By this you'll identify the areas of weakness and shortfall.
Armed with this information, the choice of software should be well informed.
Of course, the battle for improving support ROI doesn't end there.
There is also configuration i.e. programming the solution for best fit around the needs of your team to respond to and support customers.
Plus, there's convenience. In other words, having the solution sit in an easy to reach place.
Having weighed these together, your support team should be on to a winner – and of course, your customers too.
Why not make your help desk software investment today?