10 Best Technical Documentation Software Solutions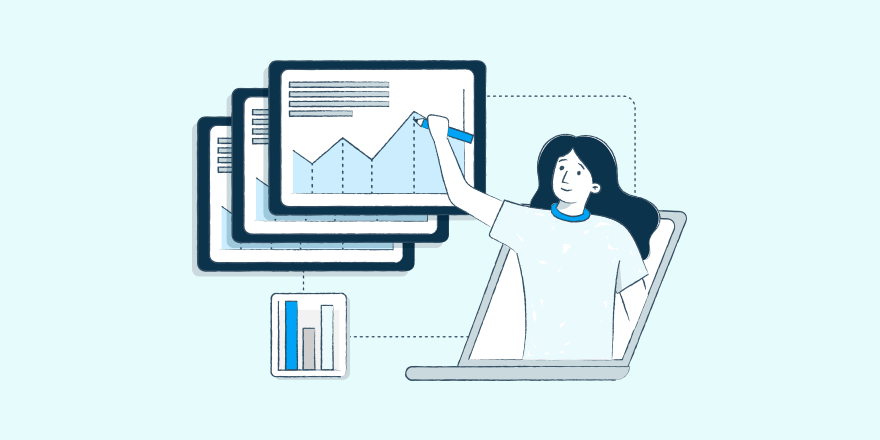 One sure way to make the process of creating, publishing, and maintaining technical documentation even more tedious is to use a half-baked technical documentation software.
So many things can feel off with it. To start with, it could come with a clunky editor that doesn't inspire your resources to do their best writing. Or, it could have restrictive pricing schemes where it just won't be feasible to get your entire team to contribute. It could also come shipped with a poor search functionality that will fail to help you find what you need among other unrefined features!
Choosing a technical documentation software is indeed a lot of work. But we've done the homework for you. Before we see our picks for the best technical documentation software, though, let's look at what technical documentation is.
So what is technical documentation?
Technical documentation can mean different things in different contexts.
In one context, technical documentation for a business might be just documenting the content that its engineers or developers or technical resources use — source code, for example.
But it goes beyond that. Here's one great way of looking at it (via Transcom):
The term 'technical documentation' refers to different documents with product-related data and information that are used and stored for different purposes. "Different purposes" mean: Product definition and specification, design, manufacturing, quality assurance, product liability, product presentation; description of features, functions and interfaces; intended, safe and correct use; service and repair of a technical product as well as its safe disposal.

Transcom
So you can see that the term technical documentation has evolved to include every piece of documentation a product uses across its lifecycle.
Following this definition, everything right from how-to guides, SOPs, product documents to release notes are all examples of it. That means your technical documentation software solution must support all of these.
Choosing a technical documentation software Solution
In addition to reviewing a solution for its support for the different documentation types, pay attention to these selection criteria.
Pricing plans: Technical documentation software solutions often come with per user per month billing plans that are capped at storage limits and page views. These quickly become a problem when you have a large support team and get a high volume of hits, these can add up fast.
Good access control: Your technical documentation is usually a mix of private and public pieces. So your technical documentation software should come with at least some level of access control.
Comfortable writing and editing experience: Of course, you need a good writing and editing experience that your technical writers and other team members enjoy.
So with all that in mind, let's drive straight into our list of the top technical documentation software solutions you could choose from.
KnowAll is the most popular WordPress-based knowledge base solution that's ideal for creating technical documentation. It beats even the slickest SaaS alternatives, giving your support content the power of the world's most robust content management system.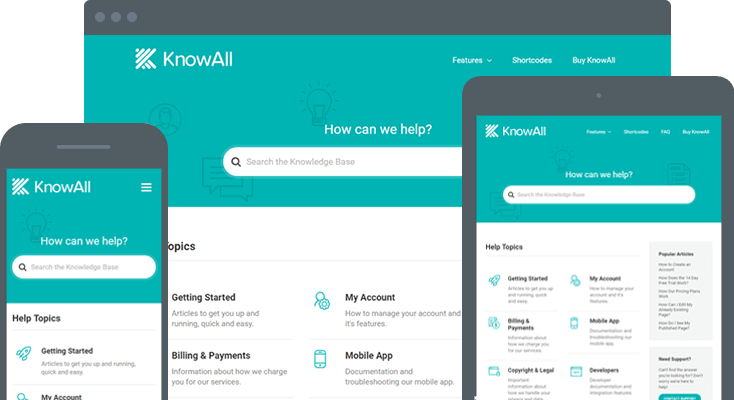 Pros
Comes with the most-loved WordPress editor (so creating and maintaining even the most complex technical documentation types is as easy as creating and updating blog posts).
Offers formatting tools like accordion elements, tabs, notices, toggles, etc. that let you create rich, refreshing technical documentation.
Comes with Google-like search and autosuggest features (so finding what you need takes moments!).
Is translation-ready (so it can speak your language).
Can be easily customized (so you can make it your own).
Supports attachments (so you can offer downloadables directly).
Comes with widgets and shortcodes.
Supports complex structures with multiple categories/sub-categories.
Works very nicely with Slack, HelpScout, and Gravity Forms.
Comes with an easy annual plan supporting unlimited users and technical documentation.
Cons
Search analytics isn't available in the $149 plan.
Although it's a very easy-to-use WordPress theme, it will take some effort to get the initial setup.
Pricing: KnowAll comes with easy annual plans starting at $149/year.
Document360 is a popular SaaS knowledge base software that can be used to create and host technical documentation. Just create a project for your technical documentation content, and you should be set.
Pros
Comes with a nice markdown and WYSIWYG editor for easy content creation.
Supports multiple formatting tools like code blocks, callouts, etc. to format the documentation nicely.
Offers in-depth insights into how people are engaging with the content.
Is multilingual.
Offers roles to streamline the technical documentation editorial workflow.
Support Customization in a way that aligns with brand guidelines.
Comes with AI- powered search feature.
Comes with a Google-like drive for attaching downloadable/files.
Supports complex categorization structures.
Works nicely with Zendesk, Freshdesk, Intercom and many more.
Cons
Can be a bit pricey for small businesses.
Pricing: Document360 plan starts at $0 per month and supports 2 team accounts.
ClickHelp is the most comprehensive technical documentation software out there. It's the "online help authoring tool" that's made for creating and hosting technical documentation. Being a SaaS solution, there's no configuration or installation to do.
Pros
Supports a host of technical documentation content types like manuals, FAQs, Knowledge Bases, Tutorials, API docs, etc.
Facilitates editorial workflows with support for multiple roles (authors, reviewers, etc).
Comes with 6 UI templates for the popular documentation types.
Sports a powerful patented search engine.
Comes with over 20 integrations.
Is easily customizable.
Comes with access control including password-protected docs .
Offers rich reporting and content analysis with over 30 metrics including ones for readability. `
Cons
Costs can add up really fast with this as you only get 150 topics in the $55/mo plan; a document counts toward a topic.
The basic plan doesn't support a custom domain.
Pricing: ClickHelp's basic plan sells for $55/month (paid monthly). It supports one author account and 150 topics.
KnowledgeOwl is a feature-packed and an easy-to -use knowledge base solution that works great at creating and maintaining technical documentation. This SaaS solution comes with a simple setup and gives you full control over how your technical content displays.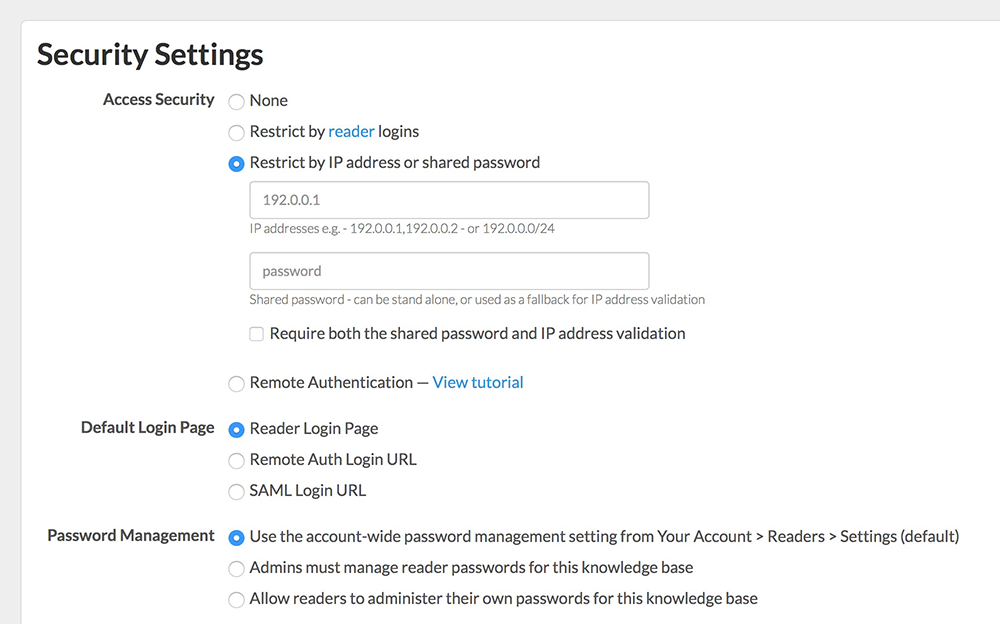 Pros
Comes with a file library with advanced user permissions (controlling who can access, edit, or delete files).
Supports complex structures with nested categories/subcategories for hosting even the most complex technical documentation.
Sports an advanced search feature with autosuggest.
Supports robust access control for restricting access to the documentation.
Offers feedback functionality to gauge how the content is doing.
Comes with features to display related content.
Ships with a glossary module among others.
Cons
Gets pricey for more users.
Isn't multilingual
Customization options feel limiting.
Pricing: Knowledge Owl's solo plan costs $79/mo and supports just one user.
HelpNDoc is another help authoring tool that lets you create technical documentation. This is a downloadable software that you can use with Windows only. Once you write your documentation with HelpNDoc, you can export it to host on your servers.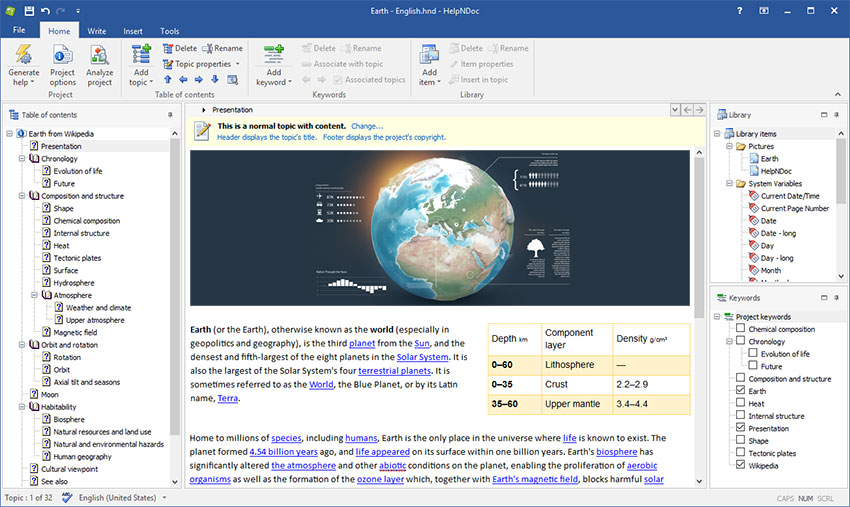 Pros
Comes with an editing experience similar to Microsoft Work with all the formatting options showing neatly using the "ribbon" design.
Offers a media library so you can add your pictures, videos, attachments, etc.
Offers several export options to convert your technical documentation into websites, PDFs, Kindle eBooks, and more.
Cons
Needs configuration.
Needs technical know-how.
Takes work to modify the inbuilt templates.
Works with just Windows.
Pricing: HelpNDoc comes with an annual plan of 99€, but it shows ads. To go ad-free and unlock all features like the export options, you need to shell out 249€/year.
If you want to build a Wikipedia-style technical documentation website, go with MediaWiki.
Pros
Comes for free!
Is open source and backed by a big community of developers.
Is extensible and customizable (as open source software often is).
Cons
You need development resources to make it work for you.
Pricing: Free.
Helpjuice is one of the most mature and thought-out knowledge base solutions that works great at creating and hosting technical documentation. As HelpJuice is a SaaS solution, there's no configuration to do, so starting is pretty straightforward.
Pros
Sports a slick editor with multiple formatting options.
Comes with an editorial/approval workflow.
Offers multiple themes and is customizable too.
Supports attachments.
Offers insights into content consumption.
Comes with a useful search functionality.
Works nicely with Slack, Zendesk, Salesforce etc.
Is multilingual.
Cons
Helpjuice's pricing can be a little steep for some users as at $120/month, it comes out at $1440 a year.
Adding images isn't so smooth.
Pricing: Helpjuice offers a $120/mo plan that supports 4 users.
Helpdocs is another good knowledge base software that works just as well at creating and hosting technical documentation. It comes packed with a host of features that help create and maintain helpful and up-to-date documentation.
Pros
Offers multiple formatting tools like callouts, tables, HTML blocks and more to write rich technical documentation.
Comes with "handcrafted" templates to give you a headstart.
Supports customization.
Offers a host of integrations including those for Slack and Intercom.
Supports multiple roles for allowing users to collaborate on docs.
Comes with a good search feature.
Offers insights into how the documentation is performing.
Cons
Features like access control and support for multiple languages come with the higher plans ($99 per month.)
Pricing: The starter plan for HelpDocs costs $49/mo and supports 5 users.
Coming from the Atlassian family, Confluence is a cool knowledge sharing and collaboration platform that doubles up as a lightweight project management solution. It actually comes with an hour-long training on how you can use it to build and host your technical documentation.
Pros
Comes with 75+ templates including ones for technical documentation.
Sports an advanced search feature.
Offers seamless Google Docs-like collaboration with real-time editing, commenting, email notifications for tags, and more.
Ships with permission settings to control access to the documentation.
Cons
Navigation isn't so intuitive.
Integrations feel limiting.
Formatting options feel off.
Pricing: Confluence offers a limited free version that supports 10 users. For unlocking features like access control, you need to upgrade to the $5/user/month plan.
So which technical documentation software solution is the best?
In addition to the technical documentation software options listed above, you can also use Google Sites to create and publish your technical documentation.
Creating a Google website is free but having Google Workspace (formerly G Suite) access for your employees gives you easier access control (especially for your internal documentation that could use restricted access). Do keep in mind, though, that using Google Sites as a technical documentation solution needs you to invest in customization.
So there you have them — the best and most complete technical documentation software solutions for your business. Already using one of them? Tell us in the comments!