How To Make a Content Hub Using WordPress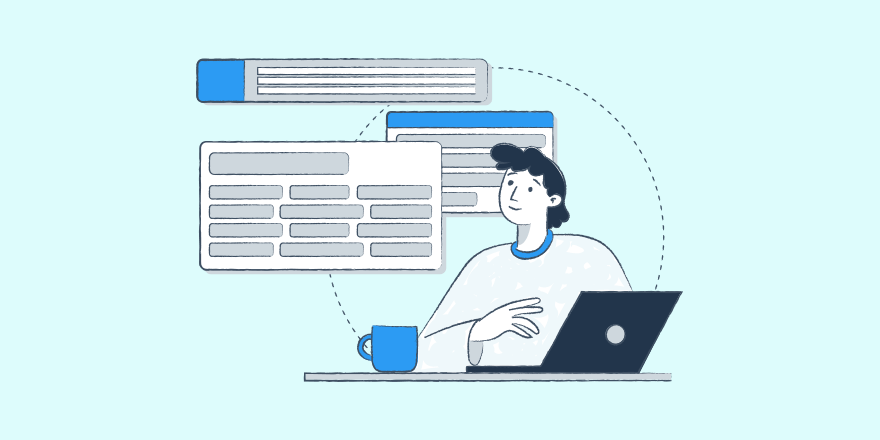 If you're trying to grow your online business, you've probably had someone tell you to create a blog.
That's generally pretty good advice, because creating quality content is a great way to rank in search engines and reach readers.
But nowadays, every business and their dog has a blog, which makes it hard to stand out when you're just posting a bunch of disjointed blog posts.
So what's a better way to use content on the internet? Creating an authoritative content hub.
A content hub lets you become the authority on a certain topic. It can help you rank in search engines, build trust with your potential customers, and – most importantly – earn a better ROI on the time and money that you invest into your content.
In this detailed guide, you're going to learn everything that you need to know about how to make a content hub using WordPress.
Here's everything that we'll cover:
What Is a Content Hub?
At a high level, a content hub is a curated selection of content that's focused on a specific topic. It's kind of in the name – it's a hub of content for that topic.
The content hub should cover the topic in a comprehensive manner with evergreen content. Basically, you want your hub to focus on one specific topic and then cover that topic really deeply.
What's more, you don't want to focus on current event topics that won't be relevant in a few months. You want the content you cover to be just as true two years from now as it is today. Of course, you might need to make some tweaks here and there, but the basic idea is that your hub should focus on these types of evergreen topics.
However, a content hub is not just a bunch of individual articles like a blog – it's an actual entity that has its own branding or microsite. For example, if you're creating a gardening content hub for a brand called Urban Garden, the content hub might have its own brand such as "Urban Garden Learning Center". You can then promote and refer to the hub using its branding.
Despite that, the hub still should be integrated into your website. You might place it in its own subdomain or subfolder, but you'll still typically want it to be on your main domain.
Real-Life Content Hub Examples for Inspiration
Sometimes the best way to understand what a quality content hub looks like is to look at some real-life examples.
Here are three content hub examples that have achieved success:
1. River Pools Learning Center
River Pools sells, installs, and manufactures inground fiberglass pools and spas. Purchasing a pool is a large financial and logistical commitment, so prospective customers naturally have a lot of questions.
To address these many questions, River Pools created a "Learning Center" content hub that covers pretty much everything about purchasing, installing, and maintaining an inground pool.
This content hub offers two huge benefits for River Pools:
It ranks highly for search queries at all stages of the pool buying funnel, which generates a huge number of leads for River Pools.
It provides crucial pre-sales qualification answers to qualify those leads and address any concerns they might have.
The end result is that River Pools is able to generate a constant stream of qualified leads. Suffice it to say, this specific content hub has generated millions in revenue for River Pools – you can learn more in Marcus Sheridan's book, They Ask, You Answer.
2. Backlinko Content Marketing Hub
Backlinko is an SEO blog and learning resource from Brian Dean, one of the most well-known SEO experts. He shares a lot of knowledge and, as part of that, he's created several hubs focused on topics such as content marketing, SEO marketing, and so on.
Here's an example of the content marketing hub: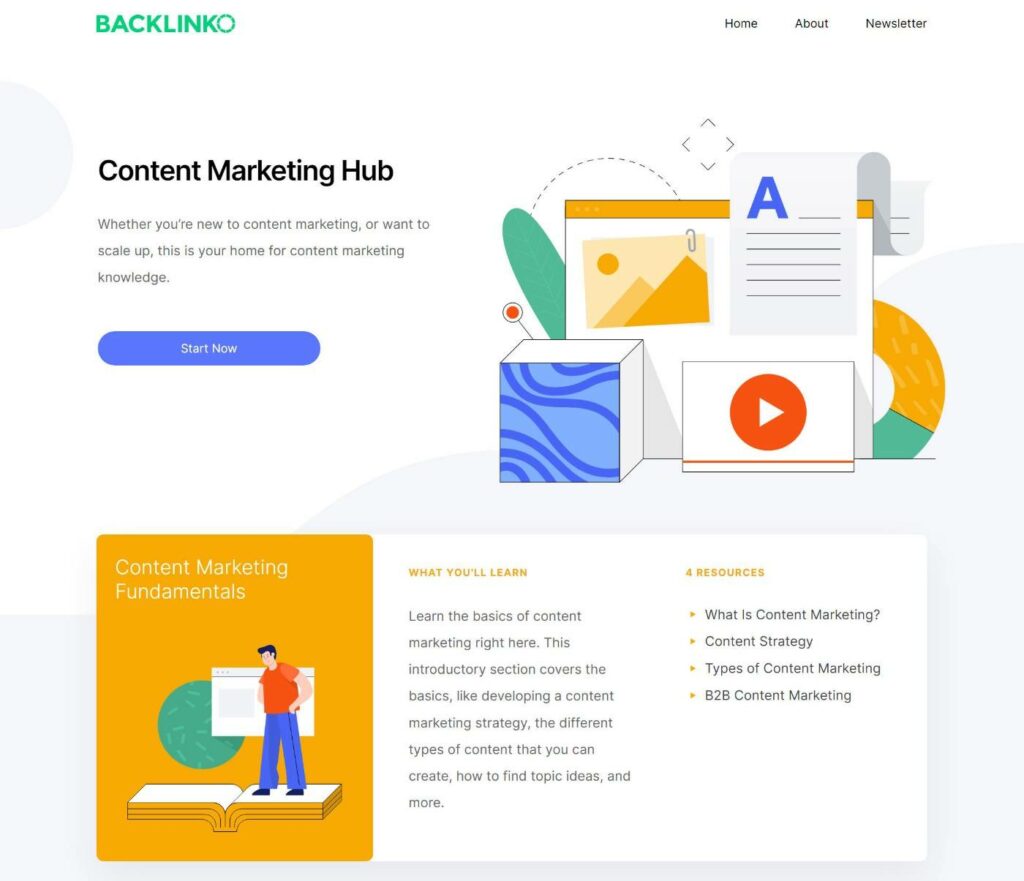 By providing these hubs, Brian is able to generate a constant stream of leads who are perfect fits for his paid online training programs.
3. WPBeginner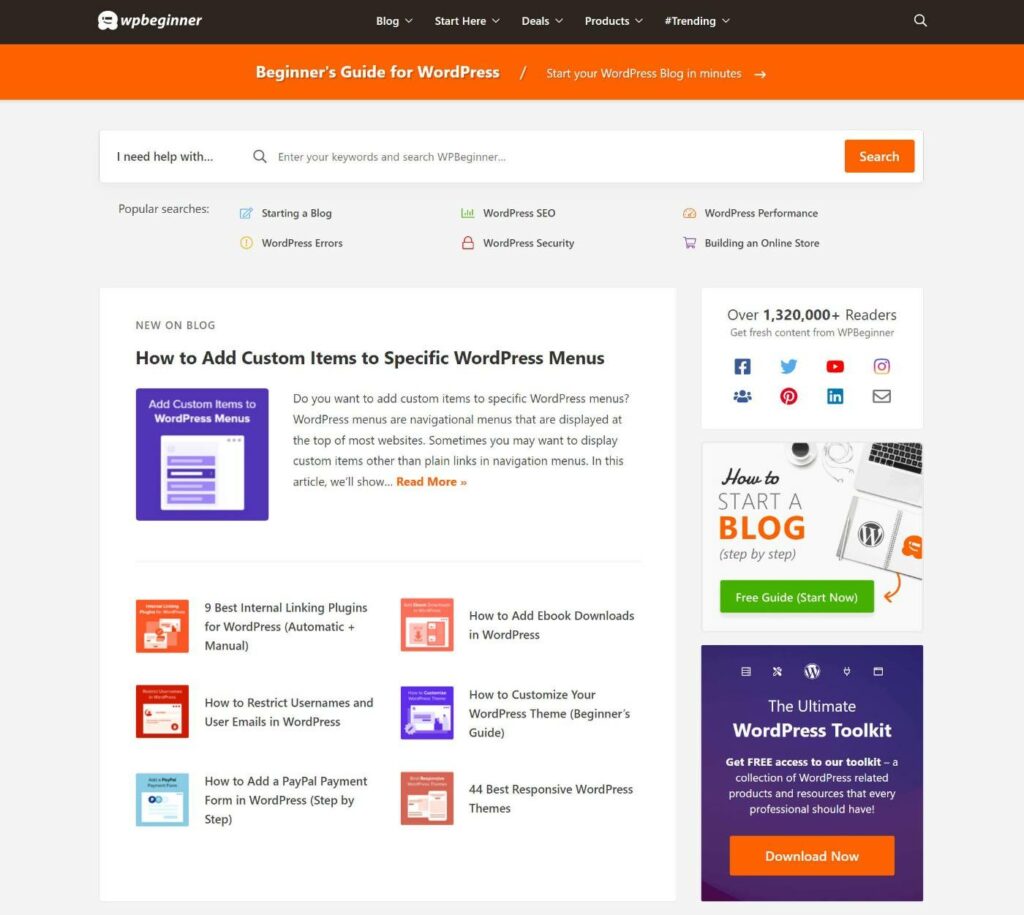 WPBeginner is a standalone site that helps people learn and use WordPress, with tons of tutorials, lists, glossary terms, troubleshooting tips, and more.
It's owned by Awesome Motive, one of the largest WordPress developers that sells a huge number of WordPress plugins.
As such, the WPBeginner content hub serves as an excellent lead gen tool for Awesome Motive's other products, which you'll see mentioned and promoted often throughout WPBeginner.
The Key Features of a Quality Content Hub
Ok, so you know that a content hub comprehensively covers a specific topic. But how does it actually do that? Here are some of the elements you should expect to see in a quality content hub:
Hub home page – a content hub should have its own dedicated home page that showcases the branding of the hub and makes it easy for visitors to browse content.
Sub-category archive pages – because your hub should be comprehensive, you'll generally want to further divide articles into categories and create listing pages for each category.
Articles – each article will obviously get its own page in your hub.
Landing pages – you might include landing pages as part of your hub, such as a landing page for a downloadable PDF or a tool that you offer. These pages are great ways to generate leads from the content hub.
FAQ page – a quick-access FAQ page can answer key questions that people might have about the topic or your hub. You can also use the FAQ to direct people to more comprehensive articles.
The idea is that a visitor can land on the homepage of the hub and then drill down into the topics that interest them thanks to hierarchical organization tactics such as categories and subcategories.
By structuring your content hub like this, you can also easily expand the hub over time by adding new articles to existing categories or creating new categories to cover a new area of your main topic.
Benefits of Building Your Own Content Hub
Beyond creating a user-friendly resource for your visitors and customers, building a content hub also has strategic and financial benefits for your business.
It can improve your search engine optimization (SEO), help you generate leads, differentiate your business from competitors, and more. Here are some of the biggest benefits of building a content hub:
Boost reader engagement – a content hub helps keep visitors on your website longer and encourages them to browse more pages. It also gives them a reason to return in the future. This increased engagement gives you more chances to connect with them and convert them into leads.
Grow your sales funnel – a content hub helps you connect with visitors at all stages of the sales funnel, from people who are in the basic research phase to those who are ready to convert. This helps you keep a full sales funnel.
Capture leads – while the primary goal of your content hub is sharing information, you'll have lots of chances to naturally convert readers into leads. This can be especially effective when you tailor your lead capture efforts to the content in your hub.
Improve E-A-T for Google – E-A-T stands for expertise, authority, and trustworthiness. Google uses it as a ranking factor, especially in certain niches (such as health and finance). By building a content hub, you demonstrate your expertise and authority in that niche, which can help you boost your rankings.
Build trust with visitors – E-A-T isn't just for search engines! Comprehensively covering a topic also builds trust and authority with your human visitors, which can give them the confidence to go with your business.
Differentiate yourself from competitors – creating an authoritative content hub is an excellent way to stand out from your competitors. This builds on many of the other benefits, such as increased trust and engagement.
Building a content hub can also be a great financial investment. While there's definitely an upfront cost to building a content hub in the form of the time/money to create content plus the tools that you need, the important thing is that these are one-time costs for the most part.
Because your hub is built around evergreen content, the same content will help you generate leads both today and years from now. While you might want to spend a little time updating content as needed, the long-term costs are very low, which means your long-term return on investment will be very high.
Content Hub Best Practices
Maintain topical integrity – one of the defining features of a content hub is that it's focused on a specific topic, so you'll want to make sure that you stay within the boundaries of that topic for the most part.
Provide well-structured articles – try to use the same structure for all of your articles. This not only ensures that each individual article is easy to understand, but it also makes it easier for people to use your hub as a whole because they'll know what to expect from each article.
Use different media types – we'll talk about this more in the next section, but it's always a good idea to incorporate different types of media such as images, GIFs, video, audio, tools (calculators, quizzes, etc.), and more.
Create long-form content – long-form content provides depth, which is what people want in a good content hub. It can also help your hub rank in search engines, as there's data that suggests search engines like long content. For example, Backlinko found that the average result on Google's first page is ~1,500 words.
Offer evergreen content – evergreen content is content that's true and useful, today, tomorrow, and a year from now. You want to focus your hub primarily on evergreen content, rather than covering breaking news (unless the breaking news topic is one that will have staying power going forward).
Brand your content hub – creating a special brand for your hub helps it stand out and makes it easier to promote. We'll show you some content hub examples in a second, but one example of a branded content hub would be something like "The [Your Brand] Learning Center".
What Types of Media to Include in a Content Hub
There are no specific rules on what types of media you can include in a content hub. In fact, successful content hubs often make use of different media types to engage visitors.
Here are some of the most useful media types to include in your content hub:
Text articles – text articles will form the bedrock of most content hubs. They're easy for visitors to consume and they're essential for your hub's SEO efforts.
Images – images and GIFs can help you break up your text articles while also providing value to readers. As the old saying goes, an image is worth a thousand words.
Video – videos can engage visitors and keep them in your hub longer. You can also share your hub's videos on YouTube to create another traffic generation source for your hub.
Audio – for example, many brands have started creating podcasts that build on the content hub topic with more in-depth discussions and/or interviews.
Tools – you can offer calculators, quizzes, and other useful tools. Done well, these tools are highly shareable, which can help you generate backlinks and social shares for your hub.
Downloads – offering special content downloads is useful to visitors and can also be an effective way to collect contact information.
To build consistency within your content hub, you'll want to invest the time to build a style guide and template for as many media types as possible. For example, you'll want to use the same format for your video title images, use the same image format for featured images, and so on.
You'll also need to choose a software system that's capable of handling different types of media. One of the reasons that we recommend WordPress for your content hub is that it's fully capable of handling pretty much any media you throw at it.
How to Plan the Launch of Your Content Hub
Ok, so hopefully at this point you understand what a content hub is, the benefits it can have for your business, and what a quality content hub looks like.
Now, let's start pivoting away from the theory and into the actionable sections where you learn how to create your own content hub.
However, before you jump in and start building, you'll want to take some time to plan out your content hub and define the objectives that you want to achieve.
Here are some key areas to focus on and questions to answer while planning your content hub:
Project control – who will be in charge of the content hub?
Goal definition – what is the goal of your hub? Are you trying to generate leads? Increase visibility in search? Differentiate yourself from competitors? By having clear goals in mind you can structure your hub to achieve them and also measure how successful your efforts are.
Audience profiling – who is the target audience for your content hub? By thinking about this in advance, you can tailor every part of your hub to connect with that audience.
Scope of content – while you can tweak your content scope later on, you'll want to have a pretty good idea of how broadly or specifically you'd like to cover the topic.
Content planning – plan out the individual content pieces that will need to go into your hub so that you can better assess how much work needs to be done. You can always add more content later, of course.
Information architecture – think about how to organize those articles in the way that makes the most sense. You want the information architecture to make sense to your target audience profile. Read our information architecture guide to learn more.
Content production – how will you be creating content? Do you have an in-house team who can create the content or will you need help from a content agency or freelancer?
Wireframe – create a rough wireframe of what you want the key pages in your content hub to look like.
Build and integration – plan out the tools you'll need to build your hub. We'll cover this in more depth in the next section.
Content search – plan how you'll add content search functionality. Do you just need a search box? Or do you want to add other elements such as faceted search?
How to Make a Content Hub Using WordPress
Now that you have the planning done, let's talk about the actual technical part of creating a content hub using WordPress.
With the right tools, you can eliminate any technical complexity while also accessing frontend features to create an engaging content hub experience for your visitors.
WordPress, the open-source software that powers more than 43% of all websites on the internet, is well-suited to creating a content hub, especially if you pair it with some relevant plugins.
If you already have a WordPress site, you can install plugins to add your content hub as a sub-area of that existing site. However, for the most flexibility, you might want to create a dedicated WordPress install just for your content hub (which you can then link to from the main site).
If you opt to create a dedicated WordPress install, you can set it up as either a subdomain (contenthub.yoursite.com) or a subfolder (yoursite.com/contenthub).
Choose a Content-Focused WordPress Theme
Your WordPress theme controls the basic design of your site. If you're adding a content hub to an existing WordPress site, you might want to stick with your current theme.
However, if you're creating a standalone WordPress install to power your content hub, you'll need to choose a flexible base theme. Lightweight multipurpose themes like GeneratePress and Astra can make a good foundation for your hub.
Use the HeroThemes Suite of Plugins to Make Content Accessible
Once you've chosen your theme, you can start using plugins to add the key features that your content hub needs.
To access pretty much all of the features that you need for a content hub, you can use one or more plugins from HeroThemes.
The Heroic Knowledge Base plugin can form the foundation of your content hub. It lets you create a separate, branded area for your content hub that includes all of the user-friendly features you need to help visitors navigate your hub:
Unlimited categories to organize content hub articles.
A homepage that lists all categories and articles, as well as dedicated listing pages for each category.
Multimedia support so that you can include images, video, audio, and more. You can also upload file attachments to each article.
Built-in search as well as real-time Ajax search suggestions to show results as soon as a visitor starts searching.
Here's an example of what your hub's homepage might look like: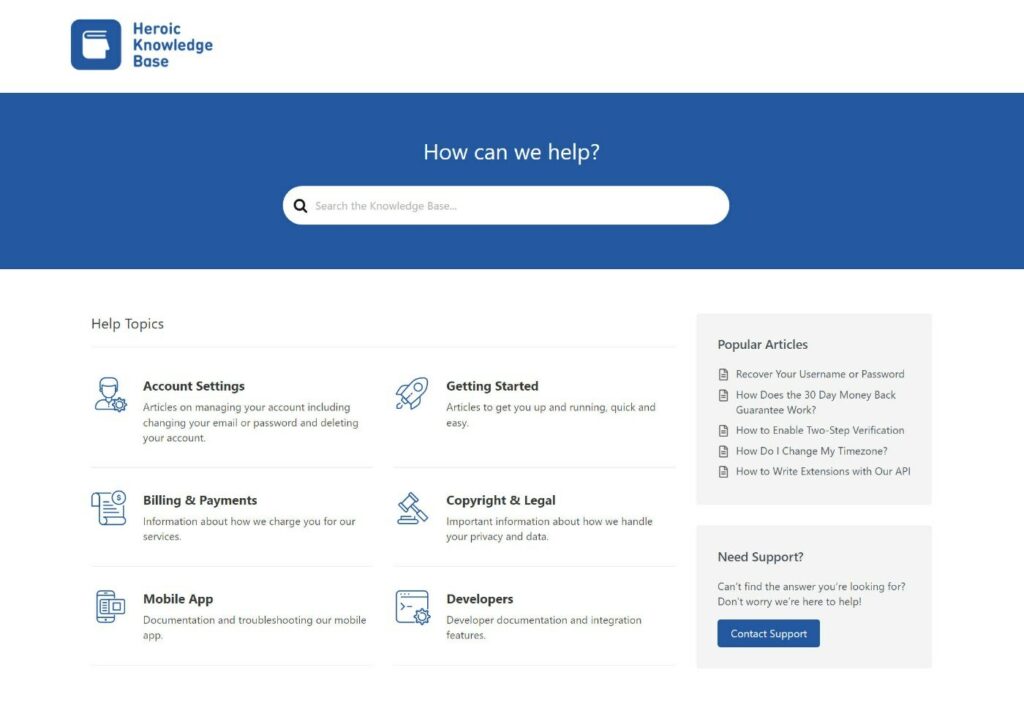 Here's a category listing page: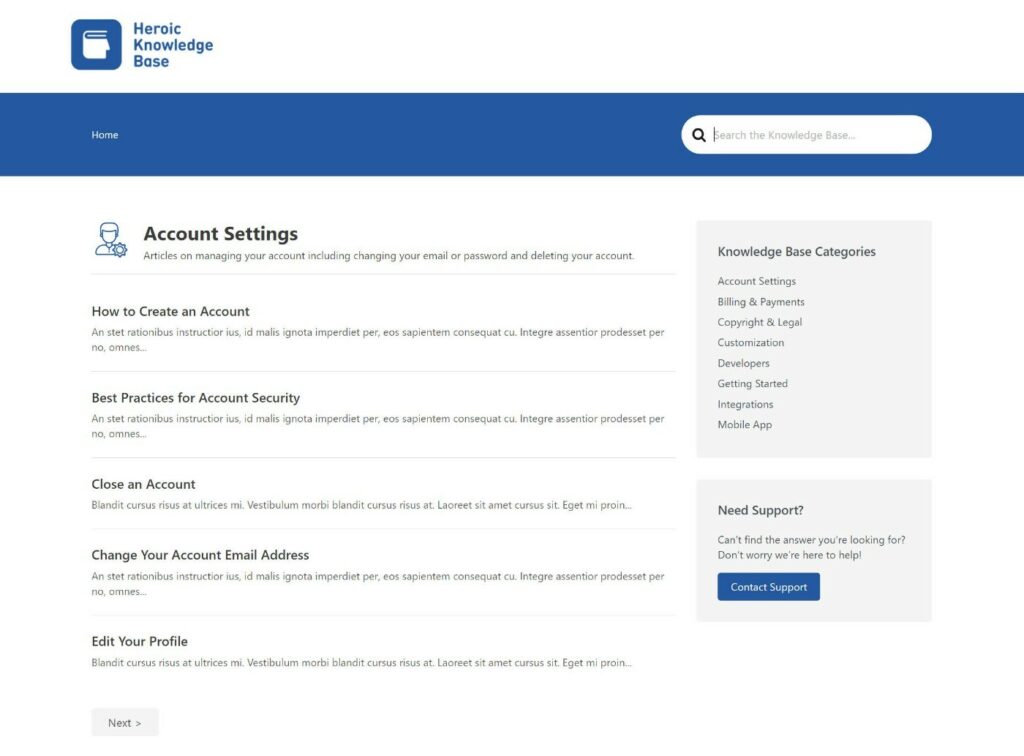 And then here's what an individual article in your hub might look like:
Heroic Knowledge Base also includes features to help you analyze and optimize your content hub going forward. You can track what visitors are searching for, which helps you expand your hub's coverage when needed. Visitors can also provide feedback about how helpful each article is, which lets you know where you can improve.
Beyond Heroic Knowledge Base, HeroThemes also offers other useful plugins that can add other key features to your hub:
Heroic FAQs – you can use this plugin to create a top-notch FAQ page for your content hub.
Heroic Glossary – you can use this plugin if you want to include a glossary as part of your hub.
Heroic Table of Contents – while Heroic Knowledge Base already includes a table of contents feature, this standalone plugin can give you a little more flexibility if needed.
Consider Posts Table Pro to List Content Hub Articles
While Heroic Knowledge Base can already create the key pages for your content hub, you might have situations where you just want a straightforward list of all the content in your hub.
To accomplish this, you can use the Posts Table Pro plugin, which lets you create a table listing of every article in your hub, along with a built-in search and filter option.
This provides an easy way for visitors to fully browse your content hub. For best results, you can pair it with Heroic Knowledge Base's default listing pages to give visitors multiple ways to engage with your hub's content.
Create Your WordPress Content Hub Today
Creating a content hub is a great way to improve your business's visibility in search engines, differentiate yourself from competitors, and generate leads at all stages of the sales funnel.
Once you create your content hub, you'll have a long-term, evergreen asset that will continue working for you years into the future.
For the easiest, most effective way to create a content hub, you can use WordPress and the Heroic Knowledge Base plugin.
WordPress provides the foundation for your hub and then Heroic Knowledge Base adds all the features that you need to help visitors navigate your hub and discover the content that's relevant to them.
Do you still have any questions about how to make a content hub using WordPress? Let us know in the comments section!