How To Build An Affiliate Website (That Sells!)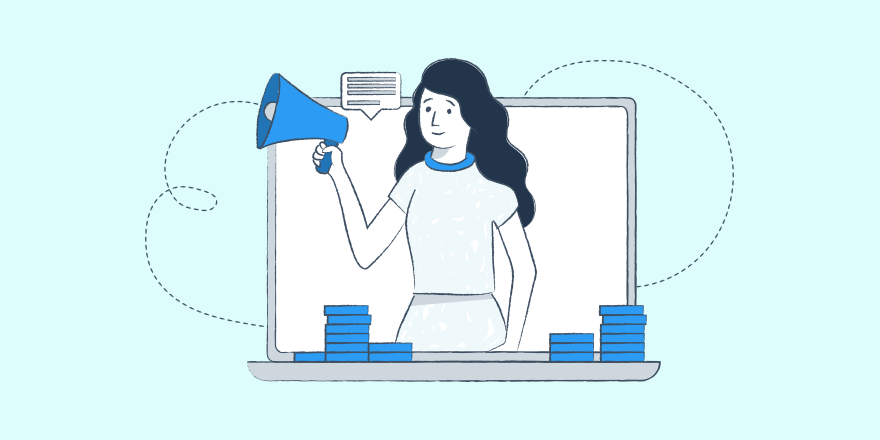 Affiliate marketing is the internet's version of an age old commercial practice: referral marketing.
Working by an acting agent passing on a recommendation to buy the products or services of a preferred or affiliated supplier.
In simple terms a business back rub.
"Buy from my friend, he's stuff's really good."
The benefit for the potential buyer, is a firm product or service recommendation from someone trusted that will save you time, hassle, disappointment and money.
The seller gets another stream of incoming interest to make more sales.
The referrer gets some compensation from the seller when a sale is made, plus if all goes well – a buyer who might trust them again.
Now, put the internet in the middle of all of that…
…and you've got, "Affiliate Marketing".
And being web-based, affiliate marketing is, of course, anchored by a website.
The affiliate website is the engine that powers the entire process.
It draws in the enquirers and seamlessly palms them off to the vendor's deal opportunity for a successful sale.
(Or, at least it should do.)
And like any other sales-based middle man role, "…it's a numbers game", as they say.
To make it worth your while (profitable), you need:
To attract enough of the 'right' prospective buyers (prospects) to your site.
To engage prospects adequately and authoritatively to earn their trust.
To convert enough on-site interest from prospects into 'leads' (i.e. prospects who actually go to 'check out' the recommended product/service on the vendor's website)
To convert leads into sales at your vendor's website.
So, in short, building a successful affiliate marketing website is quite an art.
Plenty of space for imaginative methods of presentation and engagement…
…but at the root of it, a meticulously engineered online marketing masterpiece, optimized to generate quality leads and sales.
With so many solutions for web-building on the market, you'll find the web littered with recommendations for A-Z software systems with which to build your affiliate site.
One thing is for sure though in the affiliate marketing business (as typified by the motto of some, "…quick and easy wins" – speed is of the essence.
The longer your affiliate site takes to make revenue and surpass breakeven, the more out-of-pocket expense the project will cost you (+ longer it will take to reach target ROI).
And it all rests on the content.
For speed of execution, user-friendliness and robust performance a content management system (CMS) is your best bet.
And among the world's best content management systems, WordPress CMS stands tallest.
With 64.8% share of the global CMS market (at the time of writing this article), WordPress is a proven solution for taking the 'grunt' out of grunt work with online content.
And as far as affiliate marketing is concerned WordPress is a favourite weapon of choice for many experienced full-time professionals including: Pat Flynn (Smart Passive Income), Spencer Haws (Niche Pursuits) and many others.
It's quick to set-up (minutes), simple to customize (blocks), is SEO-friendly and has countless niche plugins that are tailor made to make affiliate site management a doddle.
But with all that said, you might still be asking – "How do I build an affiliate website in WordPress?"
Here's our step by step guide to building a pro affiliate website (..that sells!)
What is an affiliate marketing website?
An affiliate website is a commission-only middleman website that attracts potential buyers for specific products and services and refers that buying interest direct to a vendor website.
Like a commission-only middleman or sales agent, the owner of an affiliate website only makes money when a referred prospect successfully completes a 'qualifying purchase'.
What is meant by qualifying purchase?
Affiliate marketing is underpinned by formal contractual arrangements.
Each affiliate has to be vetted and approved in order to join a vendor's affiliate program.
The measures of assessment for this are a wide spectrum.
No matter how definitive or loose in description, 'the affiliate contract' outlines terms by which the marketer will get paid.
Truth is, the arrangement between a vendor and affiliate marketer exists witin the context of a wider marketplace.
This is likely to include MANY other avenues (including other affiliates) which the vendor uses to generate sales.
Consequently, the terms of the affiliate contract must be transparent and specific enough to give affiliate scheme participants confidence to invest their extended efforts.
The affiliate marketing arrangement being commission-based is front loaded in favour of the vendor.
In other words, vendors only pay out when successful sales are made and the financial proceeds (sales revenue) is already in their hands.
This way, the affiliate marketer bears the initial risk.
But to provide an equitable balance, the commission % and supporting terms are weighted heavily enough in favour of the affiliate to be well worth the efforts and risk.
Affiliate websites are 3rd party agents operating on behalf of vendors who will value their brand equity and reputation.
Because of this, there are general housekeeping rules of engagement that apply as to what an 'approved' affiliate marketer can and mustn't do.
These rules are particular to each brand owner, and therefore will be different from program to program.
Affiliate programs are managed either independently by the vendor themselves, or managed by affiliate program specialists who recruit vendor's to join their program for a fee.
In such 3rd party managed programs, the specialist company will handle all of the program administration from affiliate approval to commission payouts, leaving the vendor to focus solely on running their business.
Benefits of running an affiliate website vs. other passive income
It's difficult to be exhaustive about making such a blanket pros vs. cons comparison between running an affiliate website vs. other modes of passive income.
But to give you a well rounded appreciation of some comparative points, here's a quick picklist of relative benefits to expect from starting and running an affiliate site.
The Pros of running an affiliate site:
Zero capital start-up: nothing more than an approved affiliate agreement, a domain name, a simple website and the time to write.
Ready made products and service to pitch: there is no product development overhead – no need to research and produce your own, nor to devise bespoke partnership arrangements. This allows affiliate marketers to do what they do best – sell more and get more leads.
High level of analytics and performance tracking: affiliate programs are all pre-configured, tracked and geared for automated lead verification and compensation payouts. Integrated back-office dashboards save affiliate marketers time on administration – with done-for-you systems.
Vendor support: vendors clearly are incentivised to push as many sales as they can via the affiliate channel because the upfront risk lands firmly on the marketer's plate (i.e. commission-only). As such, vendors offer affiliate marketers varying degrees of marketing support that usually includes – branded collateral like banners and ad graphics. Affiliate's save time and effort on design costs for promotion.
No management or stock inventory: all the headaches related to maintaining adequate supply to meet customer demand is the problem of the vendor. Affiliates carry no responsibility in this matter.
No customer service overhead: the actual sale, plus pre-sales and post-sales support is the remit of the vendor. Affiliate marketing is essentially a way of the vendor bolting on a lead generation pipeline performed by the marketer. Converting leads to sales, however, is the work of the vendor. A classic marketing/sales, layup/slam-dunk relationship.
Crossover potential: a great untapped potential for many affiliate web businesses is cross-pollinating relevant vendor deals across the same audience. You might start the project with 1 or 2 affiliate vendor contracts, but as the project matures you might have the potential to pull in other complimentary deals into a bundle.
Unlimited growth potential: there just is no limit to the sales or vendors you can attract. Much like an uncapped sales job. Also, like many affiliate marketers you might choose to start a portfolio of sites in different niches to spread your risk.
The Cons of running an affiliate site:
Commission-only earnings: affiliate marketers only make money when a referred prospect makes a qualifying purchase with a vendor. Affiliate marketers efforts are therefore limited by how well a vendor's sales funnel converts.
Lower margins: vendors do try to incentivise affiliate sales as much as possible, especially by offering generous kick-back percentages on the sale. That said, the money made via an affiliate marketing sale is not as much as if you were directly selling your own product or service. So typically, you need more sales to make a meaningful living.
Brand use restrictions: some brands are particularly picky about what you can and can't do with their brand. For more imaginative campaigners this can be a drawback.
If built on a brand – risky: some affiliate businesses are entirely built around a single brand. Thinking things through, this is a risky approach. You can never be assured that your vendor will stay in business or maintain the program.
Delayed payout: commission payouts are usually delayed from vendor to affiliate. Some is 30 day cycle, others 60 day or more. Whatever the program though, your vendor will enjoy the funds first, before you get a sniff.
Vendor fragility (amends terms ro closes): vendors always have the right to change their terms or to close their programs down entirely. Amazon famously changed it's commission structure by slashing its compensation rates. So, for the same effort, an affiliate marketing site may incur drastically reduced revenue, simply because the rates have been down-sized.
Choose wisely and in full knowledge of risks and rewards.
Discovering the metrics of affiliate marketing
As we said previously, affiliate marketing is a numbers game.
This doesn't rule out quality, but it does put an emphasis on having enough volume for it to make sense to the marketer.
But what are the key metrics or measures of performance that a new affiliate marketer should keep in sights?
Here a quick checklist of key performance indicators used by affiliate marketers to assess project viability and success:
Potential market size (particularly keyword volume estimation): the numbers begin with the market size i.e. how many potential customers could I potentially bring to my chosen vendors? This is the root number for beginning your affiliate business planning projections. Using a free tool like Ahref's Keyword Generator will give you some ballpark estimates for online demand within your niche.
Organic rank: next, you want to consider what share of the market is feasible for you to gain from a high enough organic Google rank? There are 10 organic positions to rank, plus ad slots, map positions, featured snippets etc. Each attracts its own share of the overall traffic. But how much exactly?…
Click through rate (from search engine): SmartInsights.com have published the results of research studies that give accurate estimates for what proportion of overall keyword traffic each organic Google search position attracts. In other words, Click Through Rate…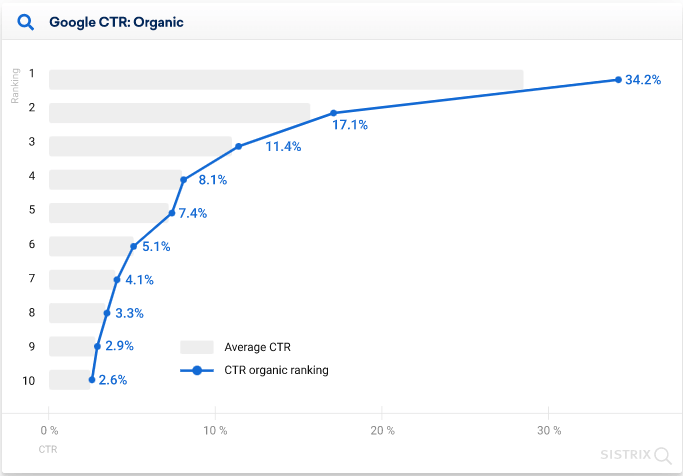 Want to estimate what volume of traffic you should expect from ranking on Google for a particular keyword?
Step #1: Find out the average monthly keyword volume associated with a particular keyword.
Step #2: Multiply that number by the percentage that you think best represents the organic Google ranking that you think you'll achieve.
Done.
Visitors: The answer to the 2-step calculation above is your estimate of how many visitors you can expect to receive from ranking for that related keyword on Google (per month). The next move is to run the same calculation for as many keywords as you hope to rank for building up an overall picture of your website's traffic.
Unique Visitors: Be sure that you make the distinction between total visits and unique visitors. Total visits including visits to your website by the same person within the chosen time frame. Unique visitors are the individual visitors who have visited your website within a given time frame.
Bounce Rate: although a little more technical in actual definition. 'Bounce rate' is a percentage of visits to a web page or websites that resulted in a visitor leaving the website via the page they arrived at – without viewing any other pages of content.
Time on Page: a mean average of the amount of time that visitors spent viewing the content on a particular page. This metric is used as a measure of audience engagement and content/market fit. A longer time on page would indicate a good fit between audience and content where visitors are more engaged to digest the content on page.
Referrals to vendor site: a key contributor to the affiliate sales cycle. This is the number of visitors that your site referred to a vendor's site (by a clicked web link), within a given period of time.
Number of sales: this the number of successful 'qualifying' sales conversions that have resulted from referral originating from your affiliate site, within a given time period.
Sales conversion rate: simply, the number of referred visitors clicking through from your affiliate site to the vendor's site divided by the number of 'qualifying' sales.
Average order value (AOV): an estimated unit price per sale for the affiliate marketer. A useful number to have on hand for ramping up a quick estimate on earnings…something like, AOV x expected sales x commission percentage = affiliate earnings
Products purchased per order: this tells you how many products ended up in the basket on any given 'qualifying' purchase.
Demand growth: this is a projection of how future demand will emerge. A tool like Google Trends can provide this kind of insight.
How to earn a living from affiliate marketing
It's true, affiliate marketing scores only incremental margins on each transaction.
But let's remember affiliate website earnings are a function of web traffic often powered by organic search.
This is both cumulative (snow-balling) and passive (keeps going long after you put in the initial work).
With consistent efforts, it is possible to generate the equivalent of a professional wage in earnings within months of starting a project.
However, you need a plan.
And this is it:
Step #1: Reverse engineer desired earnings
Start from the top down.
Determine your desired income or ROI on the project first (and as with any sales based role remain goal oriented) – so not to become demotivated or disillusioned along the way.
Set yourself a benchmark. Perhaps an equivalent salary or quantifiable lump sum.
Set it to a time frame and add a degree of tolerance to the measure
i.e. what level of shortfall you would accept that would still hold the project as being worthwhile.
Step #2: Build a business case around required earnings
Now, with the destination in mind – it's time to bring into alignment all other supporting factors within a neat business case.
The key here is justification.
Take account of all related costs including your time involvement. Make sure the project has a positive return that compensates you fully.
Step #3: Extrapolate market share into targeted earnings
Using the metric measures and calculations in the section above entitled, "Discovering the metrics of affiliate marketing" – map out the exact amount of traffic your website would have to reach to achieve the recurring earning potential you require.
Bear in mind that web traffic is a function of search rankings and keyword potential.
Rankings fluctuate.
They could be subject to seasonality or popular trends.
Step #4: Setting up your affiliate marketing website
DIY (do it yourself), DFU (done for you), ADC (age-domain content sites) – these are just a few of the types of approaches you might take to set-up or acquire your affiliate website.
They each have their pros and cons – therefore it pays to research thoroughly, do your due diligence and proceed with caution.
But all in, you pay more for an expert team to deliver on your behalf, than taking on the labour load yourself.
However, the immediacy of results can be positively impacted by expert help.
Step #4: Build a body of quality content to attract vendors and program operators
Remember that approval process?
Every quality vendor will ask for a URL to your affiliate site.
To vet the you meet their rules of do's and don'ts
To get a gauge of how large or small an audience you have at the time of application
Satisfying both of these points above will impact your success rate in application.
You'll find that having the necessary administrative pages in place like privacy policy along with busy blog pages will help up your approval rate to premium programs.
Step #5: Program application approval
There is a lead time with this. There's always an element of hands-on intervention which slows things down.
But generally you might not have to wait any longer than 2-4 weeks for a verdict.
If you fail approval, that doesn't have to mean the end either. Double check their rules and get your site looking 100% legit.
Step #6: Examine tiered commission rates (if applicable)
Sometimes the rate of compensation on programs is tiered.
There might be varying levels of compensation for different combinations of products or services sold.
And perhaps like with Amazon, each product category fits within a multitiered commission rate.
Alo, qualifying purchases i.e. purchases that are a direct match for what you advertised via the link are rewarded with a much higher level of commission that other purchases made in the same basket.
These would all be considerations in your projecting earning expectations.
Step #7: Estimate feasibility of generating enough site traffic to convert into income
Gauge the overall estimated traffic required to generate your target income and try to build a keyword plan toward it.
Remember to calibrate your keyword estimations by ranking as demonstrated in the "Discovering the metrics of affiliate marketing" section of this post.
Consider using a keyword difficulty checker, like this one from Ahrefs, to give you an idea of the competition related to ranking for certain keywords.
Step #8: Vendor policies and program rules
Read vendor and program policies thoroughly.
Make sure before you start that you will satisfy all points.
What's perhaps worse than not being approved is starting off only to be rejected later on down the line.
Remember that affiliate marketing is not a carte blanche for doing whatever it takes to get clicks and traffic. Most vendors have very stringent rules about where you are permitted to place their links.
So rule out email marketing, for example…so you don't want to make presumptions.
Step #9: Write a content marketing, conversion rate optimisation and promotional strategy/plan
Searchers.
Visitors.
Leads.
Customers.
This is the ladder that you want to get your audience on.
It begins with the conversation. It begins with your content.
Plan a pipeline that draws in your audience via a chain of collateral that begins with:
informational material (satisfying the prospect at the beginning of their research journey)
…and ends with…
buying answers (to meet cash in hand prospects at their point of need to fulfill a transaction)
Besides this you'll need to stick to best practice for making sure that your website converts visitors i.e. those who come to your website to read the content into leads i.e. people clicking through to the vendor's website.
This art is called conversion rate optimisation and involves a blend of front end design and UX disciplines that perfect the smoothest route to buy.
Lastly, despite all of the onsite fine-tuning – websites need promotion to succeed. External references that point to your site increasing domain/page authority and ranking – plus refer traffic.
A single plan that seamlessly brings all of these activities together is needed.
Step #10: Draft a content schedule
Google rankings are influenced by regularity of content updates, volume of pages in the index and of course the thematic relevance of content around the main topic.
Your ability to push the rankings needle will largely depend on your commitment to prolific content production.
Studies like this one from Hubspot (published on the Marketing Insider Group website) make an evidence based connection between total volume of blog posts, words per opost and how often you post with ranking on Google/traffic.
Step #11: Produce a content brief and article template
Achieving consistent quality with blog posts and web content is critical to engaging the right audience.
Having a formula helps you deliver the kind of results that really sell – every time.
A brief or template will help you achieve conformity – especially where you have a distributed content production team.
Step #12: Launch articles
WIth a brief, keywords and a solid looking site in hand – it's time for launch.
Stick to schedule and overcome the lull of a fresh start (if you are beginning with a blank domain). Momentum of new content does drive indexing of pages on Google, spider visits and better rankings.
According to Fabrizio Ballerini, Organic Growth and SEO at Wise.com (formerly Transferwise) says: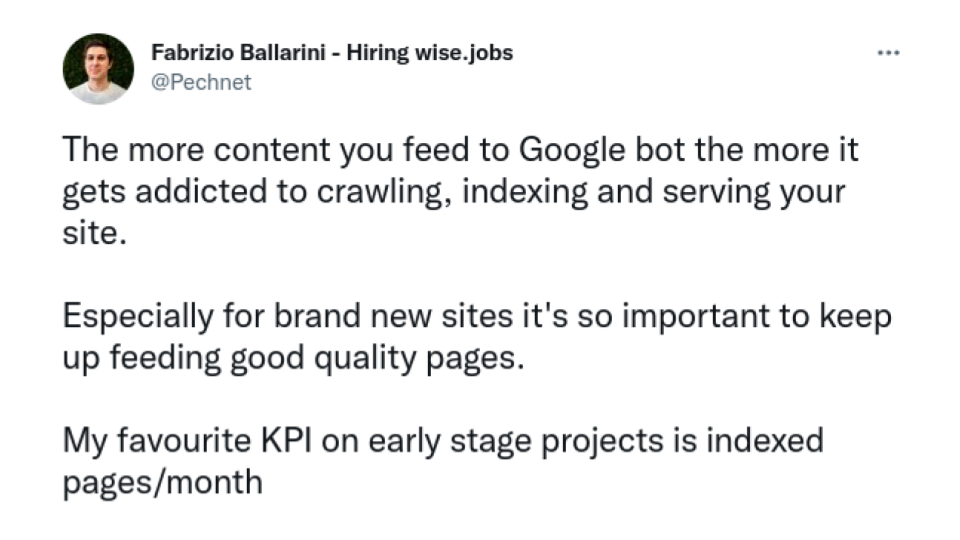 Step #13: Begin promotional activity
Of-site promotional activity will tie in with your on-site content delivery and the combination of both should drive your rankings considerably.
And it needn't take long to get results either, take Adam's case:

Does going from 0 – 131,782 visitors per month in just 12 months sound good to you?
This is what happened to Adam Enfroy with his blank WordPress install affiliate website.
The best thing about it is that it only took Adam 15 days to kick off this colossal rise in web traffic.
His guest blogging strategy scored him both masses of hits and $1m in earned income within his first 2 years.
You can read Adam's case study here.
Step #14: Monitor performance & tweak for optimization
SEO is an iterative sport.
Tons of tiny micro-adjustments craft a winning outcome. You need to wear all the hats too (just not the black one)…CRO (conversion rate optimisation), CTR (click through rate), BR (bounce rate), CPM (cost per mille/thousand) GTM (Google Tag Manager) etc.
The composite picture of your overall affiliate site traffic is a result of your attention being paid to all the sub-discipline. None is too small to overlook. Gains can be made everywhere and anywhere.
Affiliate marketing case study
And now for a practical demonstration.
Our chosen subject for the model affiliate website?
A choice favourite of many a listicle article on the subject:
Articles like the "7 Successful Amazon Affiliate Websites" from Ahrefs provide a technical breakdown of many of the things that Dog Food Advisor is doing right from an SEO perspective.
But in today's inspection, we're going to examine the website's features that contribute most to its overall affiliate marketing successes.
Introduction
Site: www.dogfoodadvisor.com
About: "The Dog Food Advisor is a public service website designed to help you make a more informed decision when buying dog food." Written by Mike Sagman, a nutritional expert.

Traffic:

Nearly 2million web visitors per month.
And ranking for over 270,000 keywords ranked for.
Web UX Analysis
Dog Food Advisor began its existence as a simple wordpress install in 2008.
Owned then, by the now owner, Mike Sagman – the site's original content was more of an opinionated personal blog style of presentation.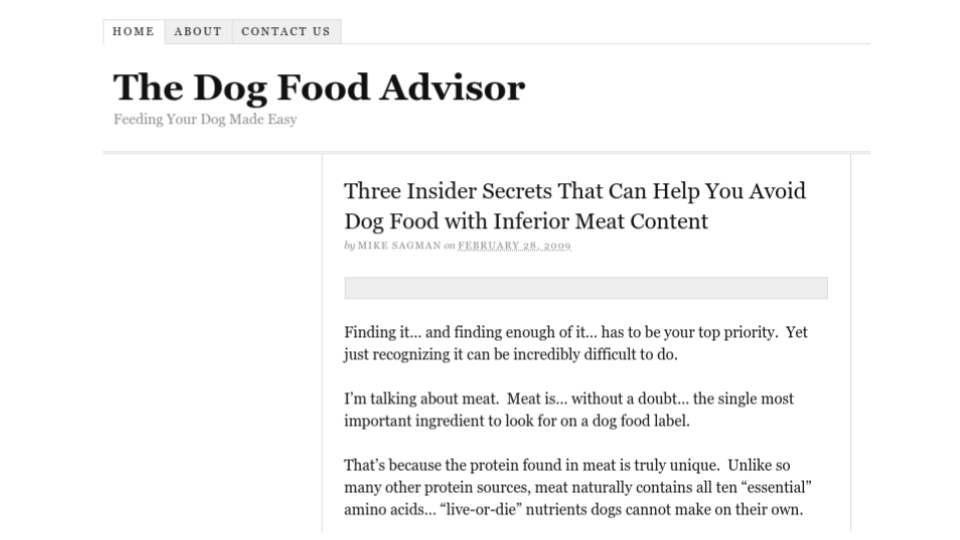 By April 2010, Sagman got savvy and decided to flip his pet project into a fully fledged affiliate site.
One BIG step was that he nicheed down on topic, handling only Dog Food Reviews.
Not only did his content focus sharpen, but he also decided to adopt a tightly themed silo structure for his site content to boost usability and organic Google rankings.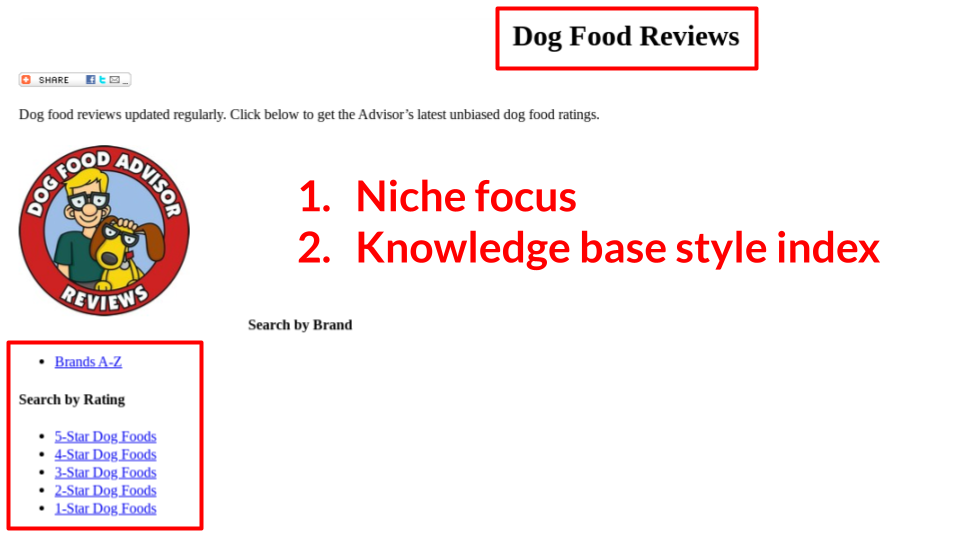 Did it work?
Just take a look at the comments reel…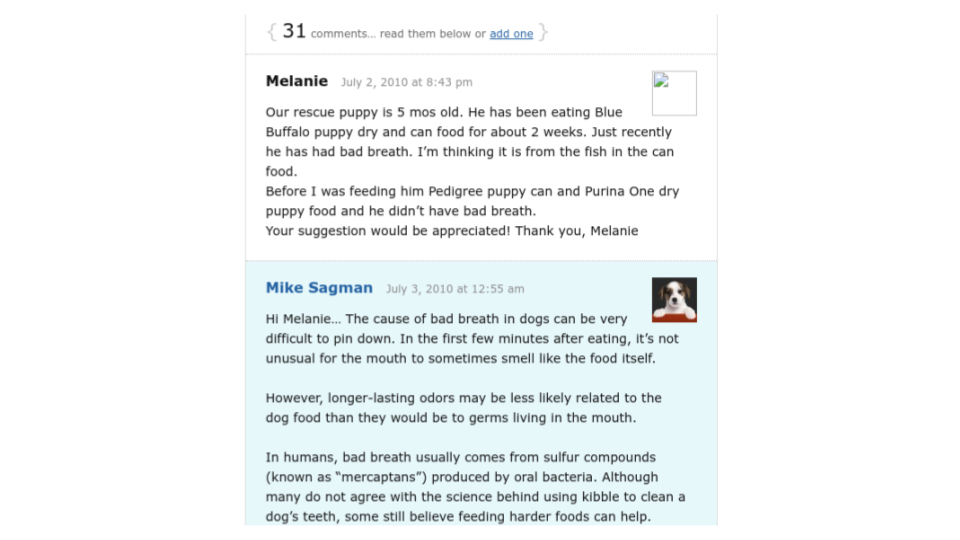 The site got littered with quality comments from scores of dog owners.
A success.
But more than evident today is Mike's iterative tweaking over the years which has consistently groomed the site into a highly effective, market leading affiliate website in one of the most rewarding (competitive) niches.
Here's what a quick case study we see of Mike's on-site strategy that has assisted his success:
Point #1: Quality Brand

A simple but professional and timeless brand logo. Matches the character of the site. Authoritative and reliable.
The tag-line voices the mission statement of the site: "Saving Good Dogs from Bad Dog Food."
Reinforcing the owner's perception of their dog being a 'good dog' and that they need to be protected from unscrupulous pet food manufacture processes.
A brand that from the top inspires the trust of the owner. Smart positioning given the bent of the topic is mistrust of big business and what they put in our pet food.
Point #2: Search bar

The search bar is a UX mandatory.
Although the desire to have a search bar is double edged however – if you've not enough content to search for, the scarcity will be exposed.
It's something to bring in once you've got enough scope covered to make it worthwhile to the user.
Point #3: Primary navigation

Primary nav is critical.
Here, Dog Food Advisor presents in logical fashion the most relevant resources (most probably in order of popularity):
Best Dog Foods – this allows readers to search by product type i.e. Best Dog Food for Sensitive Stomach
Reviews A to Z – gives the ability to search dog food product by brand name i.e. Acana Highest Protein Dog Food Review | Canada (Dry).
Recalls – this touches on the emotive subject of dog food recalls. Whilst the rest of the content on the site is relatively long lasting (as long as the products are being retailed), recalls is the latest news. Topical with a sharp peaking interest.
FAQ – this is a general archive of FAQ related blog posts. A neat cache for content that doesn't fit into the dog food review categories.
Library – this is a site map, as a long list. The good thing about this feature is that every page within the website – even deeper pages – get a home page follow through.
More – this tab hosts the 'About' page amongst others. An affiliate website with author ID assures readers of the authenticity of the recommendations.
Point #4: (Home Page) H1 heading and sub-title

This is the principal heading for the entire website.
It says in a nutshell exactly what the entire site is about.
The combination primary | secondary keywords of:
Dog Food Reviews | Dog Food Ratings
Plus, a byline that informs Google of the nature of the related content.
"Expert opinion. Trusted advice. We help you choose the best food for your dog."
To help anyone choose the best dog food, you would have to be an expert and therefore a voice to trust on this matter.
From the top down, this website gets the content hierarchy right. A benefit for both readers and Google.
Point #5: (Home Page) Social share buttons

These allow for pet loving groups and owners who care can share the reviews and more importantly the update alerts on recalled dog food.
Over the years, Dog Food Advisor has attracted quarter of a million Facebook shares.
Point #6: (Home Page) Sticky Promotional Bottom Bar

This bar is a high impact call-to-action tool that attempts to funnel visitors into a newsletter service that Dog Food Advisor runs.
This newsletter gives Mike Sagman and his team a compelling reason to return on an often basis, drawing readers on the newsletter back to the website regularly.
We haven't sampled the newsletter, but it would make sense if he recall alerts newsletter also included a dog food recommendation or two, driving revenue.
Point #7: (Home Page) Main category cards

A visually cued arrangement of links heading again to the main category archive pages.
This keeps the site navigation consistent for site users and Google search spiders.
Point #8: (Home Page) Latest posts refreshable links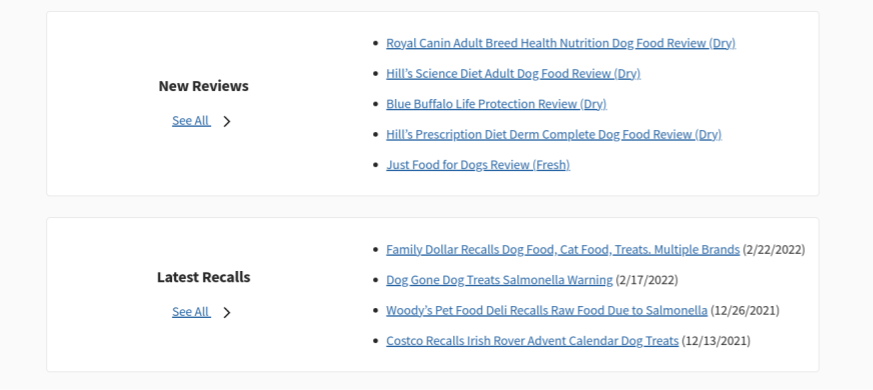 This is a great freshness feature on the home page (keeps visitors and search engine spiders busy).
It also spreads some home page link equity (SEO importance and prominence) to individual posts directly, not just to category archive pages.
Point #9: (Home Page) Newsletter call-to-action

Again, an emotionally charged call-to-action to persuade dog food owners to join the newsletter.
The urgency driver here being 'alert' you'll be the first to know when manufacturers recall food – so you won't put your dog at risk.
For the sake of an email address, dog owners could save their pooch's life.
Point #10: Footer Credentials

The customary affiliate disclosure page, amongst a T's & C's, privacy policy and contact us covers the obligatory website admin pages.
The Sitelock graphic assures visitors that the site is free from Malware as they browse.
Items like the one above will answer visitor objections on credibility or security of their information should they submit personal identifiers.
Point #11: Price incentive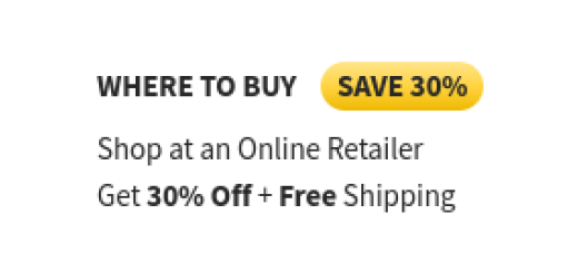 This is a quick win call-to-action which sits at the top of the sidebar on the product or archive pages.
The prospect of saving 30% with Free shipping off the next order is a no-brainer for someone interested in researching the 'best' dog food.
A quick way of getting people into the funnel.
Point #12: Archive page navigational tools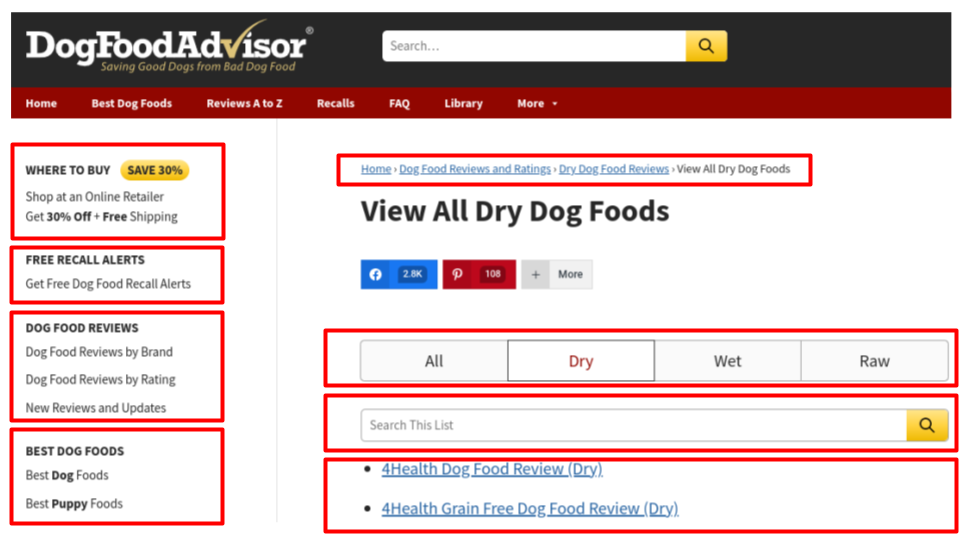 This is a layout of one of the main post archive pages.
It contains many navigational cues which pass visitors onto the relevant dog food resource within the website.
The sidebar contains:
Price discount call-to-action
Newsletter sign up
Dog food reviews (by brand, rating, updates)
Best dog foods (by description – listicle articles)
The main page content contains:
Breadcrumb links
Filter
Search bar
Post links
These 8 points above give the visitor useful instructions of where to go next on their journey.
These make navigation simple and logical for the user.
Point #13: (Product post) Intro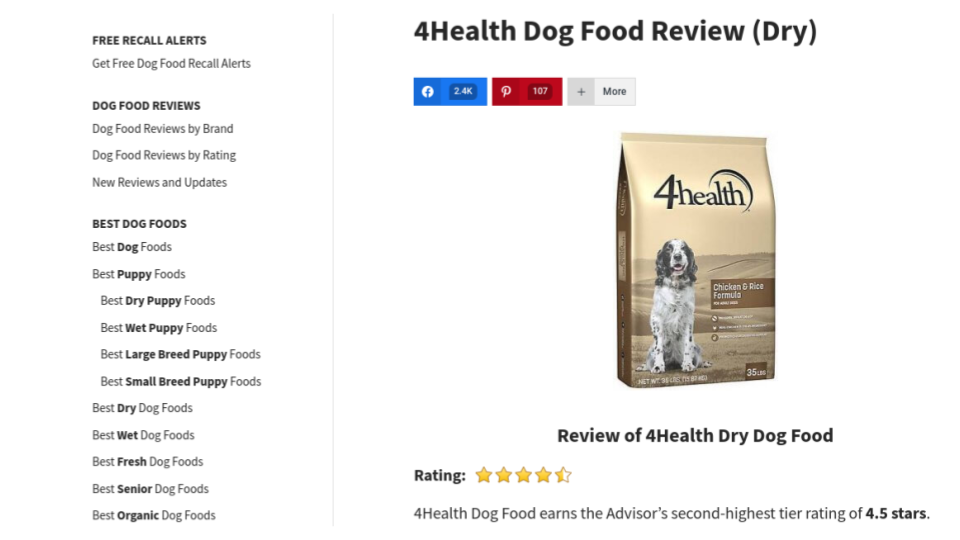 Simple product presentation…header, product shot and rating 1st.
This is what the visitor sees immediately, but should they want to continue browsing, down the left sidebar are links to main categories.
Point #14: (Product post) Overlay pop-up triggered by scrolling & exit intent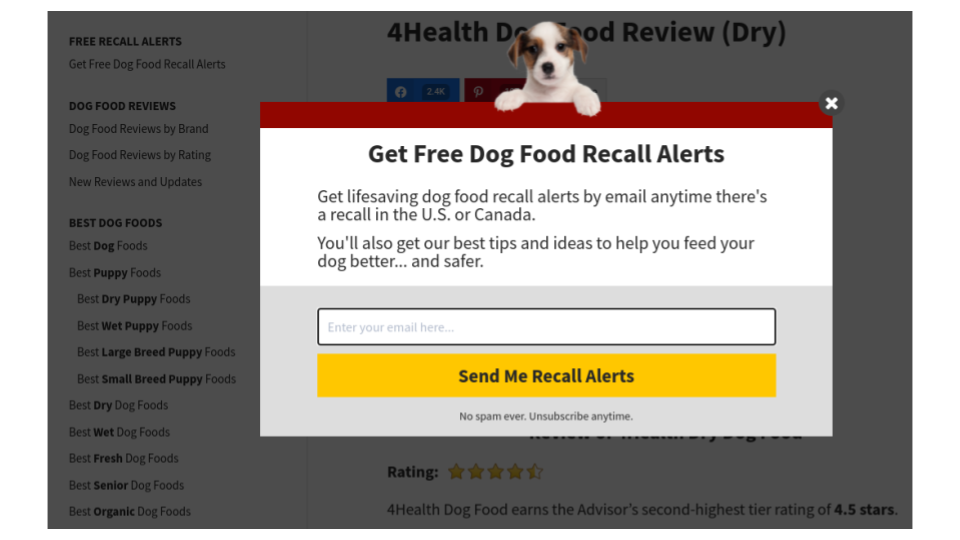 A great example of a sensible 'exit intent' offer. Rather than money off or some price incentive offer, Dog Food Advisor goes for the emotionally driven conversion – "…save your dog's life". A far more compelling reason to subscribe.
Point #15: (Product post) Top level category comparison link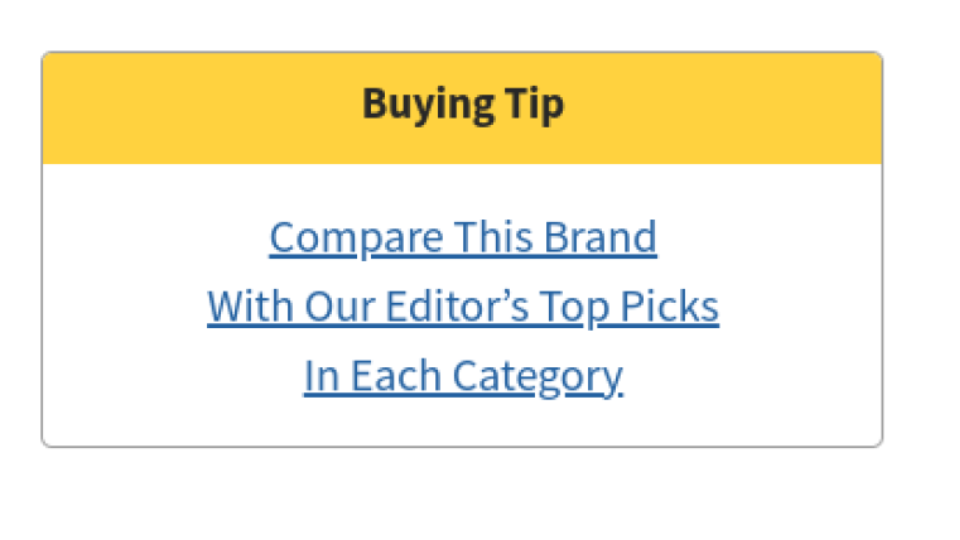 In product posts, directly underneath the featured image is this box (above).
The box (above) appeals to readers who land on a buying page, but are still uncertain about how that product measures up against the competition.
A way of introducing the breadth of content on the website to new arrivals who perhaps found the product page on Google, but have come across Dog Food Advisor for the 1st time.
This is most certainly a tactic to dampen the bounce rate by getting visitors early on within their visit to click a little deeper.
Point #16: (Product post) Product variations table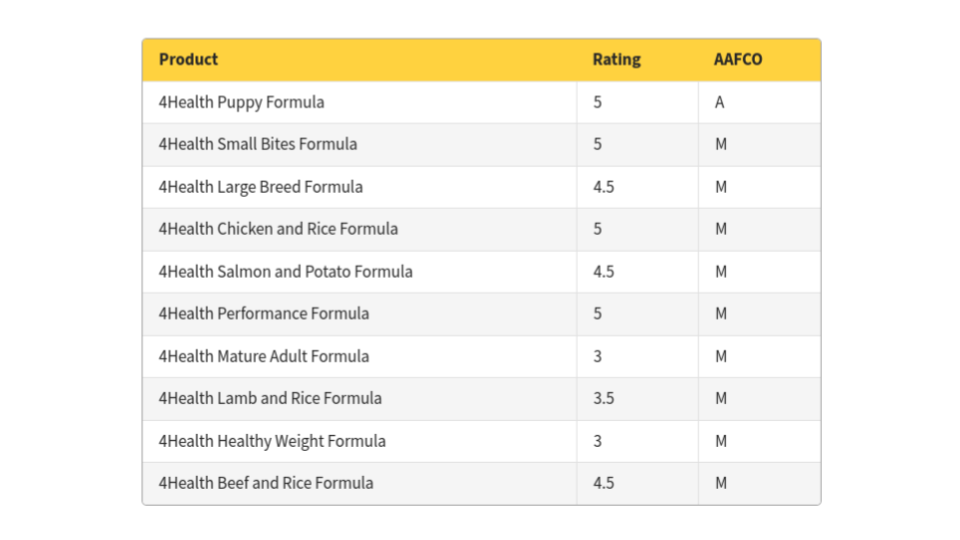 This style of table appears on every product post.
It's a simple & effective way of summarizing the variations of a particular product (and of adding all the possible product-based long tail keyword variations to the page).
Point #17: (Product post) Label small print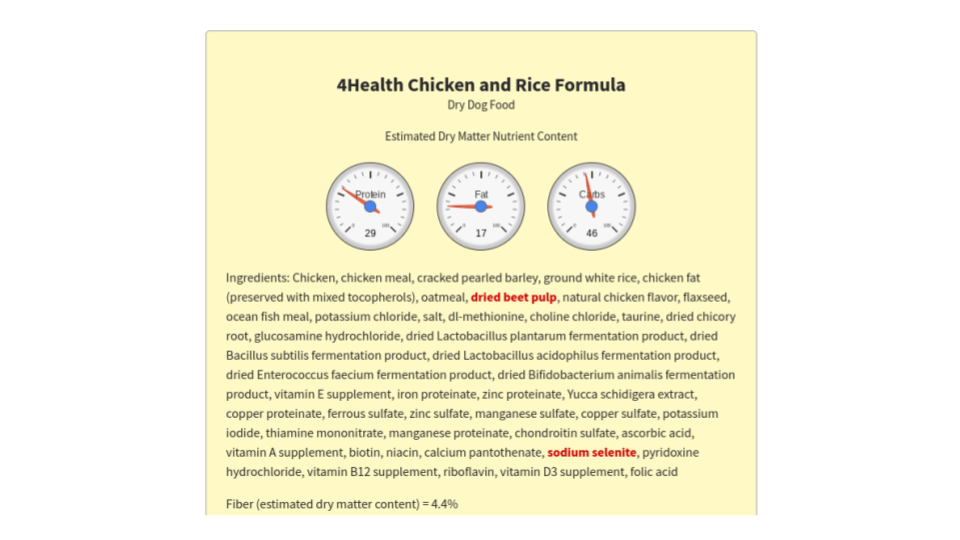 A feature-rich and memorable way of introducing what otherwise would be a long bland-looking list of ingredients.
Point #18: Ingredient analysis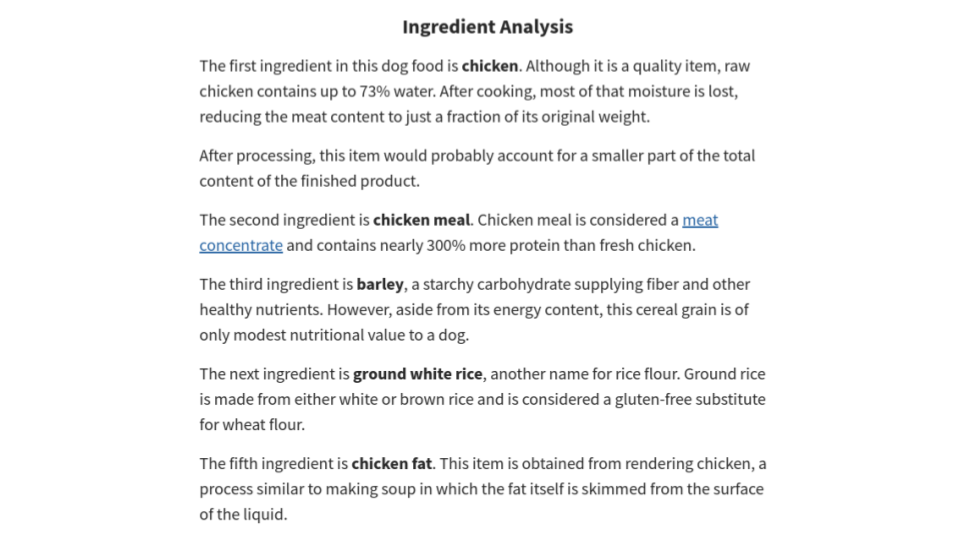 This section provides a truly value adding professional analysis of the ingredients list. It's the part where Mike Sagman can really express his authority as The Dog Food Advisor.
It's a far more focused way of delivering his previous efforts of opinionated blog narrative.
Plus, within the context of a booming affiliate site like this – his opinions are paying him back, no doubt, a full time salary.
Point #19: (Product post) You may also like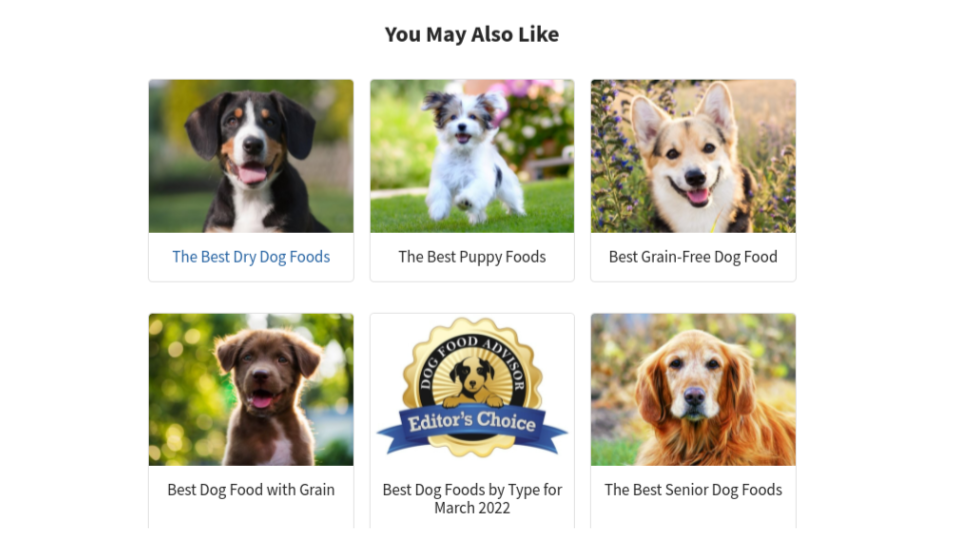 At the tail end of each post, there is this eye-catching invitation to view recommended category archive pages.
It works the same as a list of text links, but has more visual appeal.
Point #20: (Product post) Comments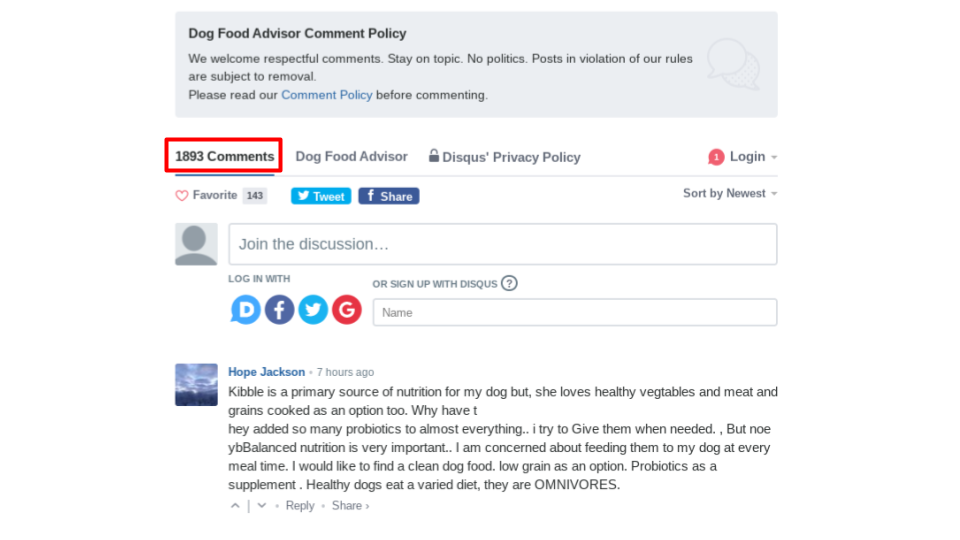 An avalanche of engagement in comments.
Almost 2,000 for one single product.
This speaks volumes for the site quality and success of execution.
Well done, Mike Sagman and team!
And speaking of Mike…
Point #21: About us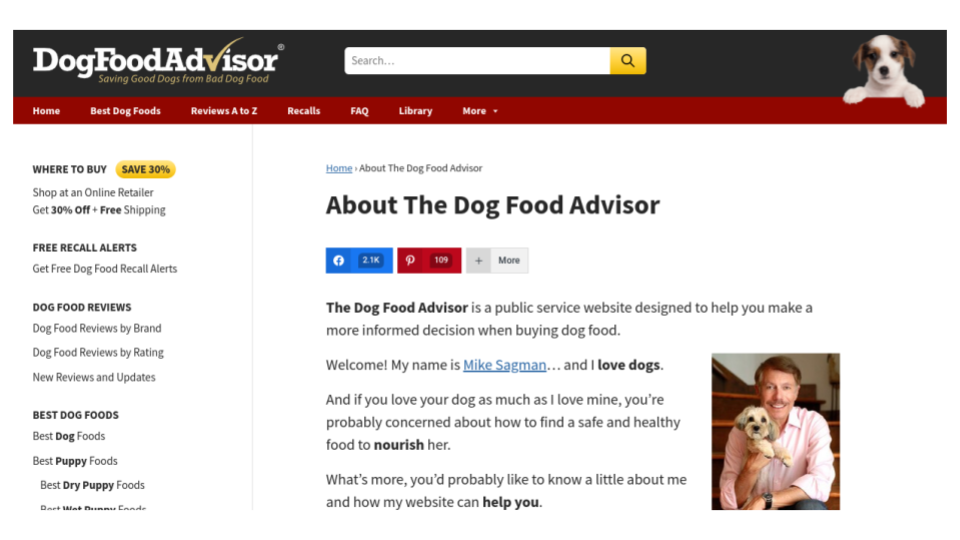 A high quality, transparent 'About us' page.
Welcoming, trust-worthy and authoritative.
What about Dog Food Advisor's earnings?…
You're not going to find any blog income reports from Mike Sagman on Dog Food Advisor.
So, there's no way of being sure.
But have a go at a ballpark estimate, we could apply a simple industry standard benchmark conversion rate.
Awin, a leading affiliate marketing network, has published that their average affiliate marketing conversion rate is 3.6%.
Applying this average to Dog Food Advisor's monthly organic Google search traffic, of 1.8 million and you get…
…54,000 sales per month from organic search traffic alone.
Exclusively looking at volume of sales – let's just say, Dog Food Advisor is likely to provide its owner with a full-time livable professional salary.
But where should you start with your project?
Choosing your niche
So, we have evidence above that the pet niche is a profitable affiliate marketing angle.
Having said that, it's by no means the only one though.
There are countless niche markets out there – some more viable than others.
And remembering the numbers game of affiliate marketing, you need to choose a niche that from the top end can carry expectations.
But how should you choose?
Here's a few tips:
Be specific – in the case of Mike Sagman and Dog Food Advisor, his niched-down product selection looked like this:
e.g. pet products -> pet foods -> dog foods -> Dog foods for US and Canadian market
But even sharper was his content type selection.
He started generally blogging, but then lasered in on dog food reviews and ratings.
The natural add-on to that was dog food recall alerts – although that could be a niche approach in itself.
Strong primary keyword (with long tail potential) – again, our focus returns to numbers. Choose a primary keyword that has LOTS of long tail advantage. Here's what we mean:
According to Ahrefs Keyword Generator the primary keyword like 'dog food' generates about 148,000 searches per month in the US. A substantial volume, which is great.
However, the downside is the keyword difficulty is rated at 78/100. An Everest to climb for any new affiliate site owner. A long play.
Remember it's taken Dog Food Advisor a number of years to topple dog food reviews.
What to do in the meanwhile?
Go long (-tail).
Otherwise known as the low hanging fruit of the SEO world, these super-descriptive, multi-word phrases are the cutting edge of the online buying cycle, AND…
…as search terms go, long tail keywords are relatively easy to rank for.
High buying intention, low online competition.
Customer motivation – this is critical to understand and is the difference between successful sales and guesswork sales.
Knowing what customers buy is one thing and knowing this is probably more harm than good.
Knowing customers buy is golden.
Taking the example of Dog Food Advisor, the underlying customer motivation is the health and welfare of their pet.
Cheap isn't the desire.
It's about getting the right food in to support the optimal growth and wellbeing of their dog.
With this in mind, Dog Food Advisor took advantage of dovetailing recall alerts with reviews.
This aligns well with the motive and will convert deeper audience engagement.
Diversify format – what do you do when someone's already got your choice niche tied up? Switch the format.
The majority format for affiliate websites is review guide articles.
But what about…:
Knowledge base?
Forum?
Q&A?
Newsletter?
All of these alternatives give the audience another way to engage and to receive value.
For example, in the dog food niche an alternative might be a dog food newsletter. A platform that offers advice via an exclusive free newsletter instead of a blog. The monetization could be affiliate driven, but the presentation is slightly different. Although the same results.
Build high quality affiliate website, confidently
And now, to build your own.
Before we dive into the creative, let's remember the nuts and bolts beginnings of the hugely successful example of Dog Food Advisor: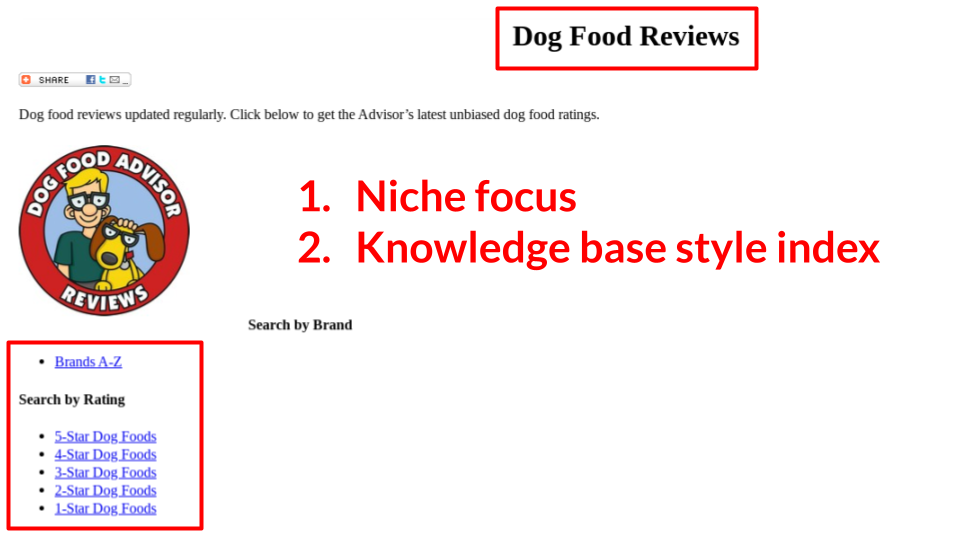 No frills, simple, knowledge base 'style' categorized links. With the home page as the root.
Nothing to look at, but it was the tipping point (as seen in the case study above) to massive audience engagement.
Taking note of the events, it was switching the focus from blog to 'knowledge base' that led to the affiliate marketing successes that are now seen of Dog Food Advisor.
But what is the best way to approach this using WordPress?
There are 2 ways:
Custom design – which could run into $'000s of dollars spent upfront.

For example, Dog Food Advisor is a custom build by Bill Erickson (freelance WordPress developer)

Robust plugin – which is much more beginner friendly, helping you get started profitably.

A starting price of only $129 with no-code, professional-feel customisations at your fingertips
So, here's our recommendation for plugin solutions for building your affiliate marketing website with WordPress:
The line-up…
Knowledge base style presentation and architecture
Subscriber management
Mega menu
User feedback
Analytics
Customer support
Knowledge base 'style' presentation and architecture: in an instant, produce a custom-feel knowledge base style affiliate website primed for optimal user experience and Google search rankings.
Use the Heroic Knowledge Base plugin to produce an SEO-friendly category based index site, that offers your niche affiliate website usability and Google ranking benefits.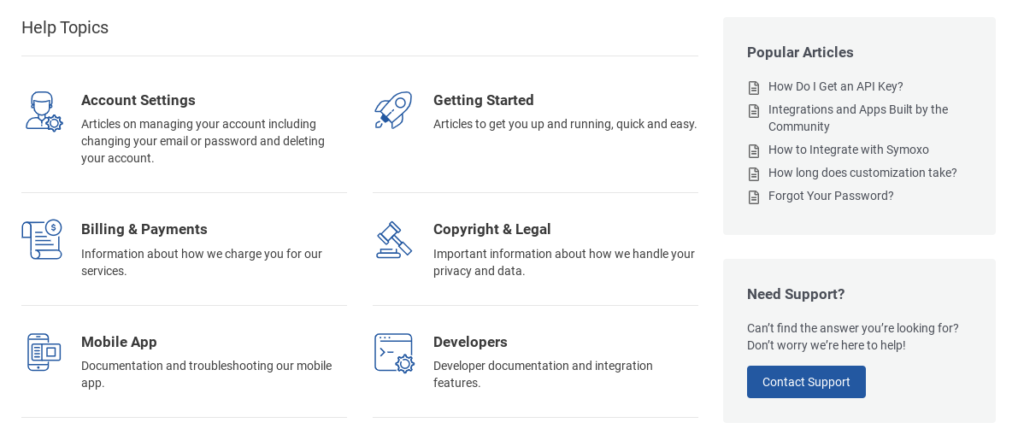 Faceted and filtered search: offer faceted Amazon-like search options on archive pages assist users with pinpoint accuracy with finding the solutions they are looking for.
Use the Facet WP plugin to convert any archive page into a fully faceted search experience to increase your audience engagement and satisfaction.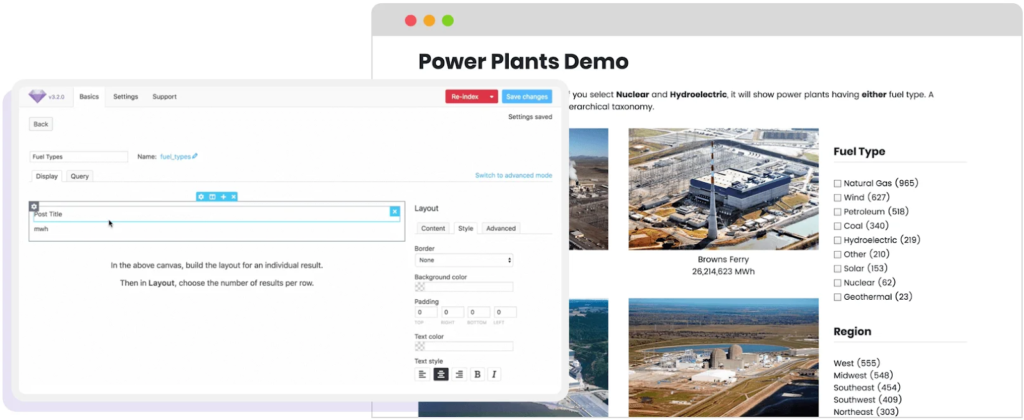 FAQs: mop up long tail question-based search traffic with an FAQ feature on every product page. Using tools like Ahrefs Keyword Generator to find questions that your audience ask Google most and then answer them in purpose-built content blocks.
Use Heroic FAQs plugin – an FAQ builder for WordPress websites, enabling you to produce and manage multiple FAQ sections from a common pool of assigned questions. A very streamline and economical method of scaling your FAQ use within a growing affiliate website.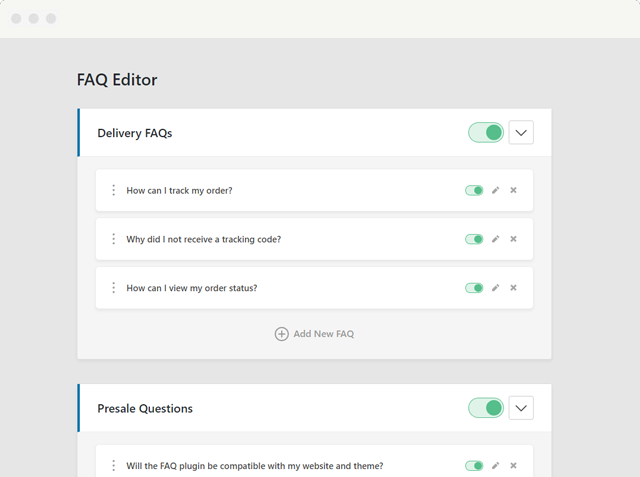 User feedback: generate user generated content through in-page feedback tools that canvas your audience for opinions on the quality of content. A great way of developing user insights to lead site-wide improvements.
Use the Heroic Knowledge Base plugin to install a voting system and discrete feedback forms into your WordPress affiliate website, effortlessly.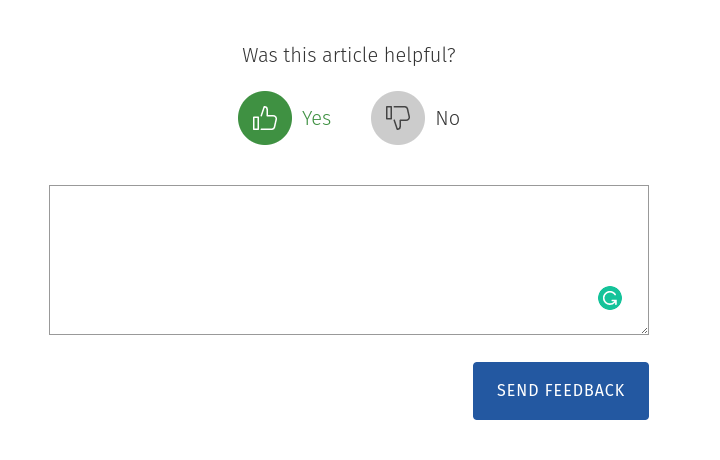 LIVE Search & Analytics: as we said before, search is mandatory in a quality affiliate website. Give users open-ended search ability through this LIVE search bar. Better still, discover search trends through dashboard analytical data from tracking site searches.
Use the Heroic Knowledge Base plugin to monitor the patterns in search topics performed by your web users. It's a fully featured search analytics engine, plugging into the knowledge base that gives insights to help you plug in the demand gap.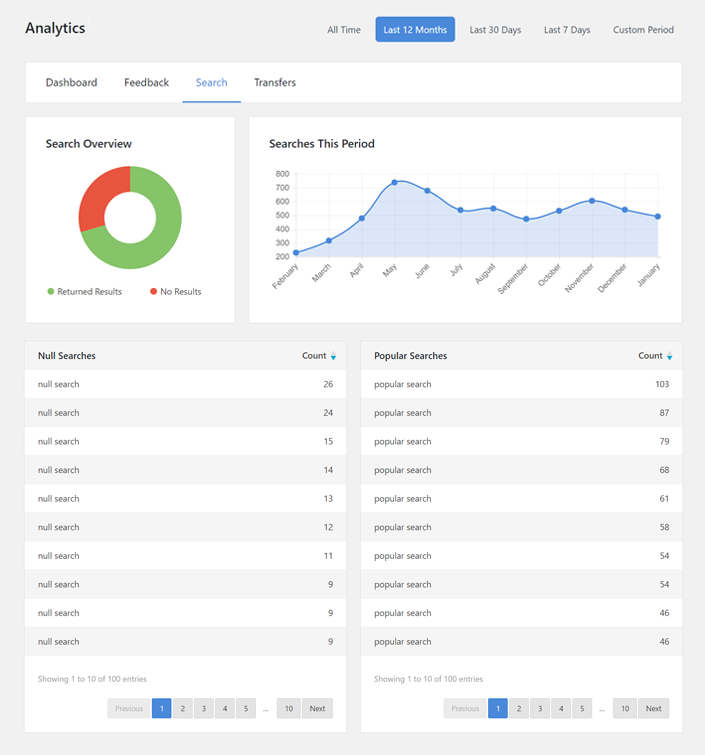 Take home points
Building an affiliate website is really an art.
There's a certain approach to doing it successfully.
Whilst being driven by the financial feasibility that each opportunity presents, you must also have design and information architecture sensibilities that lead to optimal conversion.
Being keen to understand buyer motivation will give you sight of profitable content angles which lead to deeper audience engagement.
Although piecemeal in reward, running an affiliate site can be significantly rewarding. In fact, a study by PayScale, estimates the average annual passive earnings of an affiliate marketer as $51,217.
Building an affiliate website is relatively simple and affordable.
(Especially if leaning on the advantages of a 1st class web builder – the most popular choice being WordPress.)
It's important when starting out to get the SEO basics right. The foundation of which is a knowledge base style architecture.
A fully featured plugin like Heroic Knowledge Base plugin is a leading solution and also comes with performance enhancing features like LIVE search bar with analytics to keep you ahead of the demand curve.
All in, affiliate websites are a favoured route to earning a living online for many – and today you could join them.