Medium vs WordPress: Which One Should You Choose?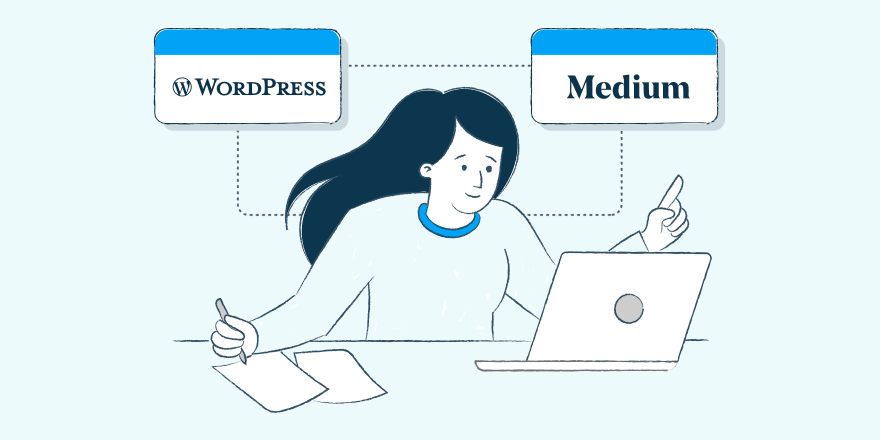 Trying to decide between Medium vs WordPress for your blog or website?
Both platforms make it easy to start sharing content online, but they do so with radically different approaches. Neither is inherently better than the other, but you'll want to understand the pros and cons of each approach before you pick your platform.
To help, we're going to share the key differences between the two platforms and then recommend one or the other based on your needs.
Before we do that, it's important to share one quick definition, though. When we talk about "WordPress", we're talking about the open-source WordPress software that you can find at WordPress.org. This is different from the for-profit website at WordPress.com. Basically, all the comparison points here apply mainly to WordPress.org, though there is some overlap with WordPress.com.
Medium vs WordPress: The Introductions
Before we get into a more specific comparison, let's go through some basic introductions so you understand the high-level differences between these tools.
Medium is a "place to write big ideas and important stories". Anyone can sign up and start creating content for free, and it also makes it easy for visitors to discover content from all the various authors. Beyond the free content, there's also a paid version for people who read content, which also offers some monetization options to writers who participate in a partner program.
While Medium is a platform, WordPress is a piece of open-source software. You can install it on your own web hosting and use it to create a website at your own domain – like yoursite.com.
WordPress started as a blogging platform, but you can now use it to create any type of website, including everything from a blog to a portfolio site to an eCommerce store and more.
With WordPress, you'll have your own platform that's 100% your own, rather than using someone else's platform (as with Medium).
Five Reasons to Choose WordPress over Medium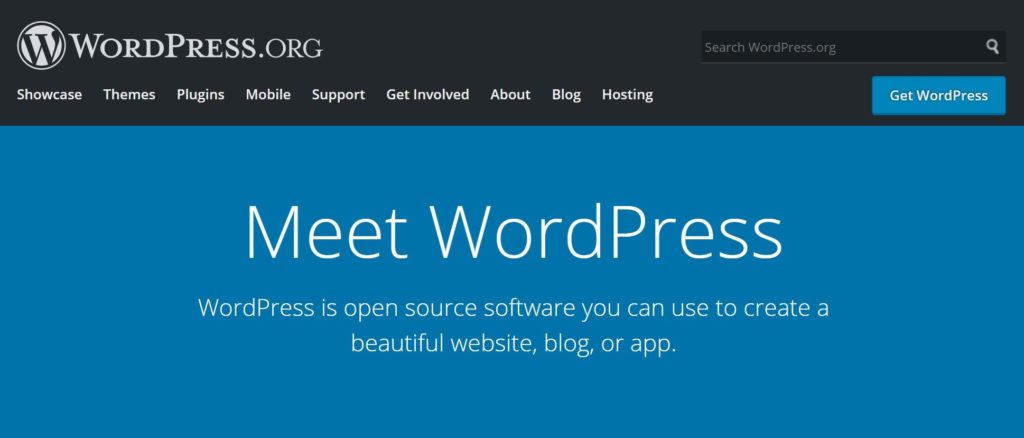 Let's start off with some of the advantages of WordPress…
1. WordPress is Popular
While popularity alone isn't a reason to choose something, the sheer popularity of the WordPress platform is a selling point all by itself.
According to W3Techs, WordPress powers around 34% of all the websites on the Internet.
Let that number sink in, because it is indeed as crazy as it sounds.
More than one-third of all the websites you interact with are powered by WordPress.
Even the US White House uses WordPress for its site! So does Facebook, and Microsoft, and Home Depot, and Yelp, and…you get the idea – it's popular!
This popularity leads to a huge WordPress community and ecosystem that makes it super easy to find help for pretty much anything related to your WordPress site.
So while WordPress is undoubtedly a little more technical than Medium, creating a WordPress site is really something that anyone can do.
2. You 100% Own Your WordPress Site
When you create content on Medium, you're publishing your content on Medium's platform. While you get credit for that content in the form of your author byline, you don't truly own your platform. For example, if Medium decides tomorrow that they don't like what you're writing, they can technically wipe your Medium account off the face of the earth.
Now, most of Medium's content rules are pretty common sense. For example, they don't allow harassment of individuals.
However, there are some lines that get a bit hazier. For example, you cannot "review businesses or products in a gratuitously harmful or abusive manner". If you have a bad experience, where's the line between genuinely sharing your bad experience, and being considered abusive?
With WordPress, you don't have to worry about that, because you can publish literally whatever you want.
3. WordPress Lets You Monetize Your Site However You Want
Beyond being able to write about whatever you want, WordPress also gives you the option to monetize your site however you want.
Medium does let you include affiliate links (with disclosure), but you won't have the ability to add your own banner ads or any other type of third-party advertising or sponsorship.
So if you're starting your website or blog with the goal of making money, you'll have a lot more flexibility with WordPress.
4. WordPress Lets You Create Any Type of Site
With Medium, your only option is blogging.
On the other hand, WordPress can also do blogging…and a whole lot more.
In fact, with WordPress, you can do pretty much anything.
For example, our products here at HeroThemes let you use WordPress to create your own knowledge base. Or, you can use WordPress to create a podcast site, or a resume/CV, or…well, yeah – anything else.
What's more, WordPress makes it easy for you to add functionality without needing to be a developer or know how to code. Instead, there's a huge array of plugins that you can add to your site with just a few clicks to add new functionality.
For example, you'll find plugins for:
So even if you only want to start a blog right now, WordPress will still give you the flexibility to expand in the future.
Basically, if you think there's even a small chance that you'll want to go beyond just writing articles, that would be another reason to choose WordPress over Medium.
5. WordPress Lets You Change How Your Site Looks
Tying to the point above, WordPress gives you full control over your site's looks using another type of extension called a theme.
While Medium gives you a tiny bit of control, WordPress lets you customize every single detail. And again, you can do this without needing any special technical knowledge thanks to WordPress themes.
As with plugins, you'll find specialized WordPress themes for a variety of uses. For example, while you'll find plenty of general blogging or business sites, you'll also find niche themes like:
Four Reasons to Choose Medium Over WordPress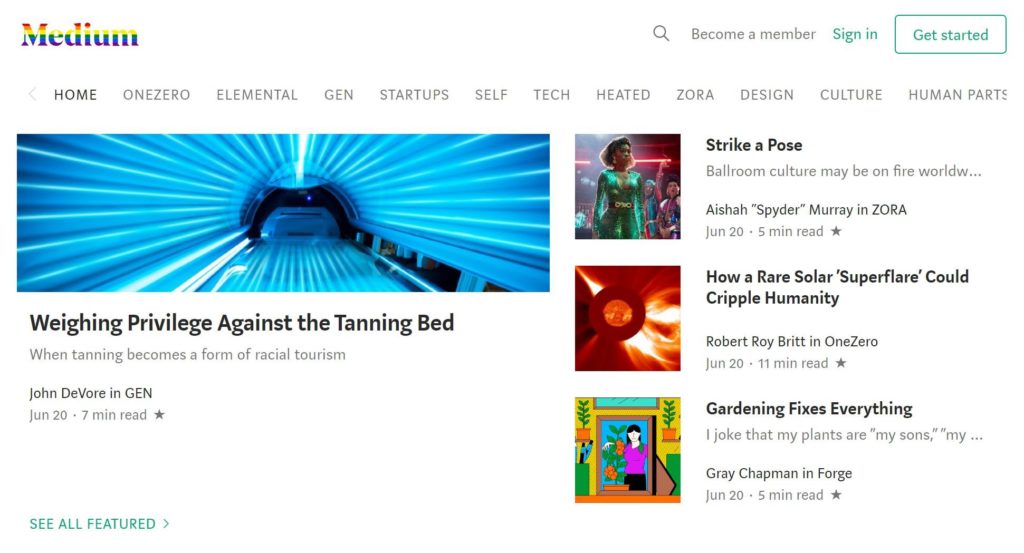 Lest the first section had you thinking WordPress was the runaway winner, there are some definite high points to Medium, as well.
1. Medium Has a Built-in Audience
The biggest advantage of Medium is that it has a built-in audience. Millions of people read content at Medium, and that gives you a chance to reach those eyeballs, especially if your content gets featured.
With a WordPress site, you'll have to build your audience entirely from scratch. That's totally doable, and the advantage is that you'll have full ownership of your audience once you do that.
But it's a long uphill slog to get eyeballs on your WordPress site's content, and Medium can give you a shortcut there.
2. Medium is Simpler
While WordPress' popularity makes it pretty simple, there's no argument that Medium is still simpler.
To start creating content, you pretty much just register and post content. On the other hand, with WordPress, you'll need to sign up for hosting and configure some WordPress basics before you get started.
3. Medium is Free
Beyond being simpler, Medium also has the advantage that it's free. While the core WordPress software is free, you will at least need to purchase some basic hosting and a domain name, which will run you at least ~$60 per year.
Now, $60 for an entire year of running your WordPress site isn't exactly breaking the bank, but it's still not free like Medium is.
4. Medium Has a Built-in Monetization Option
While one advantage of WordPress is that WordPress lets you monetize your site however you want, Medium does have its own pre-made monetization option called the Partner Program that, when combined with the built-in audience, offers a really simple way to make money.
Now, you probably won't get rich with Medium, but it is a really simple way to get started with monetization, and some people do pull in a few hundred dollars per month.
If you're trying to run your blog as a business, that's not much. But if it's just a hobby that you're doing for fun, it's a heckuva lot better than nothing, right?
What's the Actual Content Creation Experience Like?
If we were writing this post a year ago, we would tell you that Medium's editor was a lot simpler than WordPress.
However, that changed in December 2018 when WordPress released its brand new block editor that, quite frankly, pulled a lot of inspiration from Medium's editor.
So now – in 2020 – the content creation experience is actually quite similar.
With Medium, you'll get this nice distraction-free editor that really puts the focus on your text: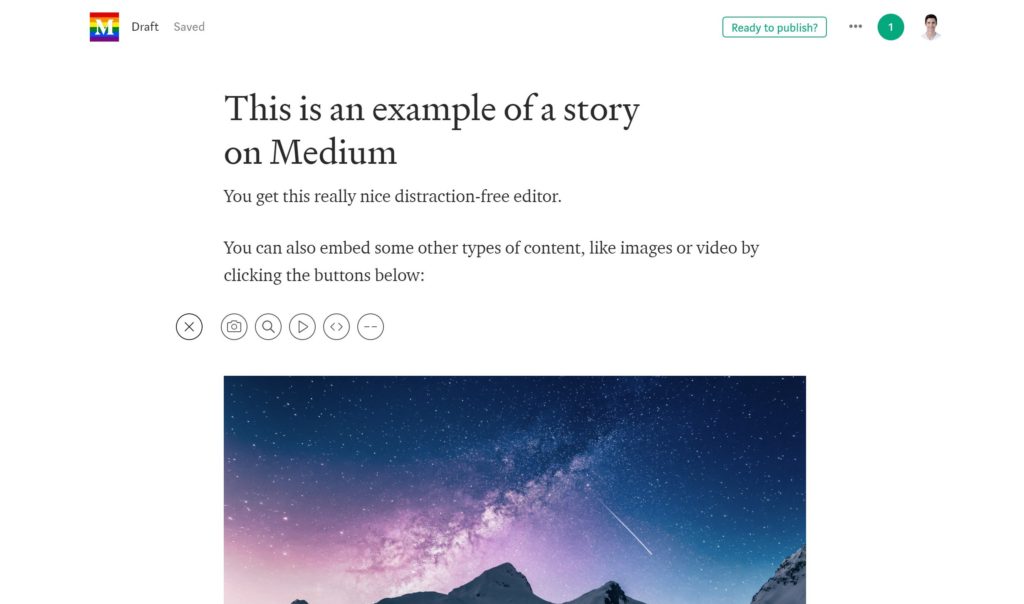 WordPress also offers a distraction-free experience that offers a lot of similarities, though a lot of people don't find it quite as nice for writing long-form content pieces: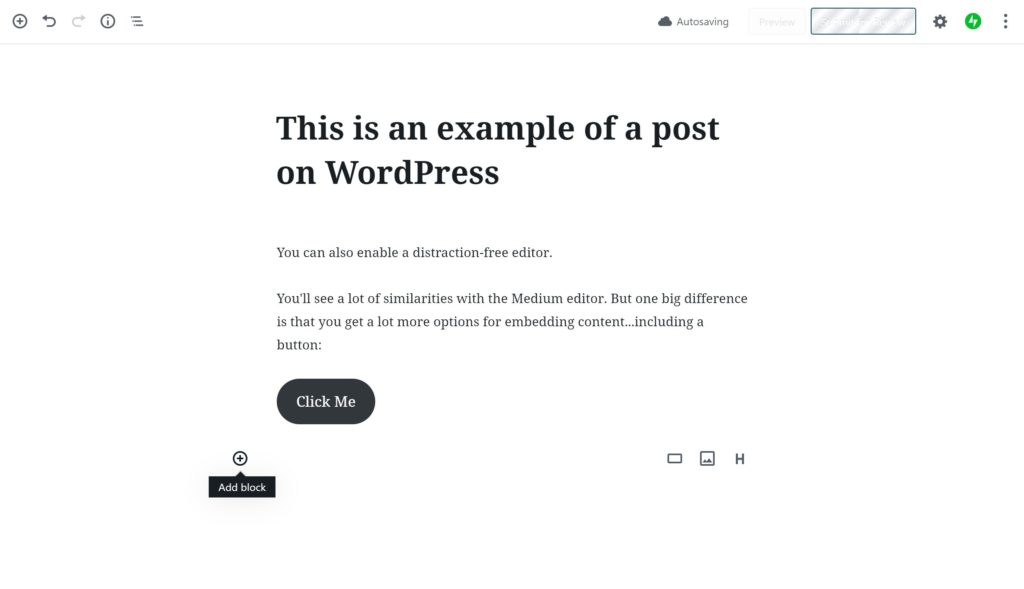 However, while Medium, on the whole, edges out WordPress for the writing experience, WordPress is the clear winner for flexibility because you get access to a lot more content and layout options in WordPress' editor. For example, WordPress lets you create multi-column layouts, add buttons, and a lot more.
So in the end:
If you're planning to create straight text content, with maybe a few images and videos embedded, then you might prefer Medium's editor.
If you like the idea of being able to create more styled layouts and bring in more elements (like buttons or countdown timers or testimonials), then you'll probably prefer WordPress.
Should You Use WordPress or Medium?
Now for the fun part – which one should you use?
This is not some winner take all scenario, and both Medium and WordPress have their place.
So rather than trying to declare a singular winner, we're just going to help you pick the best tool for your needs.
Let's start with Medium…
Medium is a great option if you're just looking for the absolute simplest way to create content and share it with an interested audience.
You won't have as much flexibility or ownership as WordPress, but if you're just looking to get your ideas out there, it makes a great place to start, especially because of the built-in audience.
For pretty much anything beyond that, you'll likely be better off with WordPress. While there's a little more setup involved because you'll need to purchase hosting and your domain name, the upshot is that you'll have full ownership, as well as the ability to:
Create content with no restrictions.
Monetize your site however you'd like.
Add new functionality, like a forum or even an eCommerce store.
Change how your site looks.
And that wraps up our WordPress vs Medium comparison. Any questions? Ask away in the comments section!