How to use SearchWP with Heroic Knowledge Base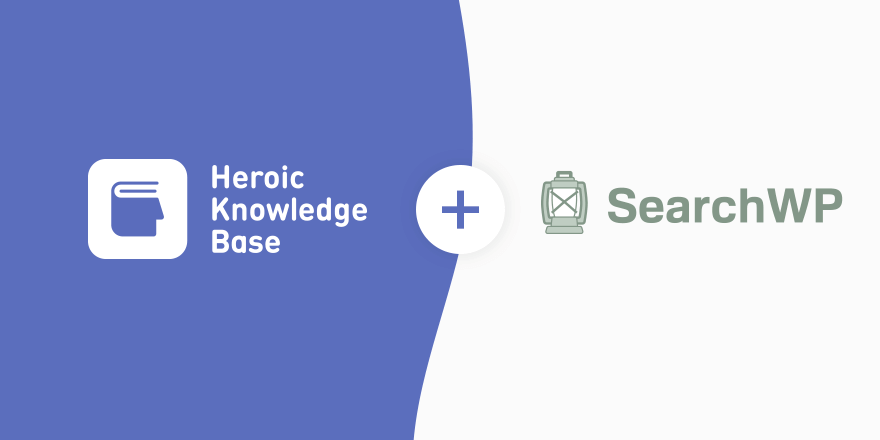 Are you building your knowledge base and want to make sure that your customers and employees can find the answer to their questions easily?
SearchWP is a great tool to boost the search functionalities on your knowledge base. Let me show you how you can integrate it easily with Heroic KB.
Why use SearchWP with Heroic Knowledge Base?

Not only does SearchWP allow you to scan all the content on your site, not just the posts and pages, but all your articles and media such as video or infographics, but it also ranks the results to show the most relevant ones.
Ranking the search result by relevance is a great feature if you have a big knowledge base with a lot of content that could overwhelm whoever is looking for answers.
You've not built your knowledge base yet? Check out our Heroic KB plugin. With it you can easily create a knowledge base for your WordPress site. It integrates with any theme so you can easily add it to your site.
How to integrate SearchWP with Heroic Knowledge Base
Step 1: Install and activate Search WP
From your Dashboard's Sidebar click on Plugins then on Add New.
Upload the SearchWP zip file and click on Install
Then make sure to activate it in Plugins
Step 2: Configure the search engine.
From your Dashboard's Sidebar browse to Settings > Search WP
You'll find the search engines. That's where you can set up the settings for the search.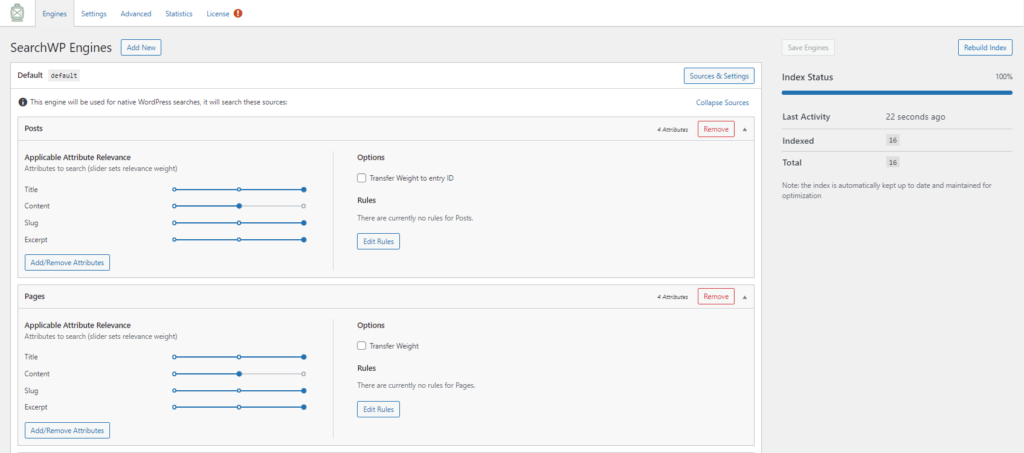 What's a search engine? That's a set of rules that define the search. You can have several search engines if you want to set up different types of searches, for example a user profile search that will only return users with a username or profile that match the terms in the search. Or you could create a knowledge base search that will only scroll and return content from the knowledge base articles, and not from the rest of the content.
That's particularly useful if your site has several purposes, for example if you have a shop with a knowledge base all in one site, you might not want the research from the knowledge to appear when your customers are searching on your shop.
The default search engine will be the one that will integrate itself with the search functionality that already exists on your knowledge base.
If you want a specific search for your knowledge base this is where you add a search engine and set it up. Then click on Source & Settings on the top left of the engine to choose which type of content the search will scroll through. In our example we only selected the articles from the knowledge base.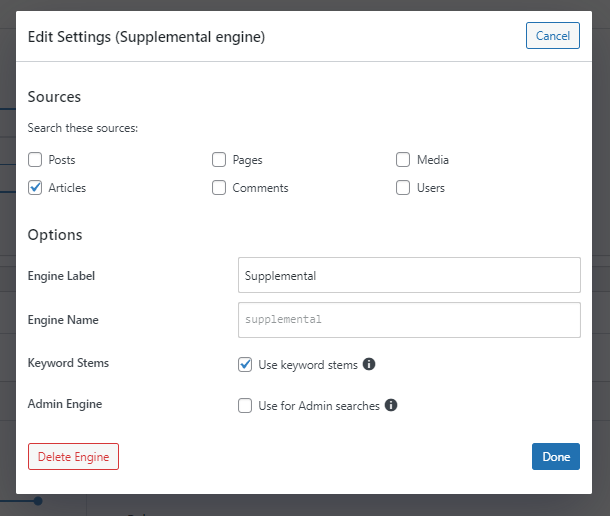 Step 3: Set up the parameters for the knowledge base
The search parameters for the knowledge base are displayed in Articles.

In there you can set the relevance of a match depending if it's in the title, content, media, excerpt… For example finding a match in a post title could be more relevant than a match in the content itself. Chances are if the match is in the title it's going to help, more than if it's just a quick mention in a paragraph. So you can set up that the matches found in titles are to be prioritised and displayed first, compared to the matches found in the post content.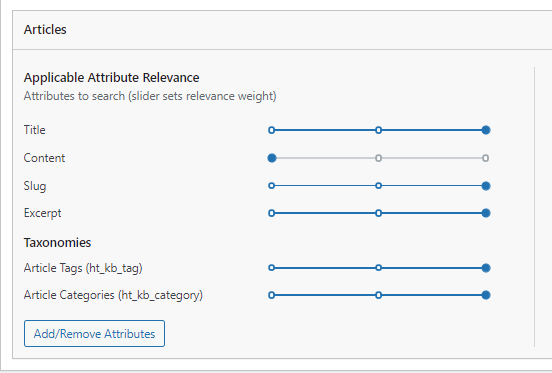 You can even add custom fields and taxonomies to scroll by clicking on Add/Remove Attributes. You can also decide to exclude some if you don't think it's relevant to the search. It will speed up the search.
In our example I wanted the search to also look at categories and tags to find matches.

And that's it, you just need to save your engine and it's ready to go. You don't need to do anything else, SearchWP default engine will integrate itself with the existing search code. So you don't need to modify your existing search bar, it's already working with SearchWP
PS: if you want to set up different searches you'll need a bit of code to set up your forms. You can find more information here: https://searchwp.com/documentation/search/supplemental-engine/
Amy Hadley
Cheshire based WordPress developer, Envato elite author and WooCommerce Partner. I write tech content about everything WordPress at
Copyific