Everything You Need to Know About the Best WordPress Question and Answer Plugin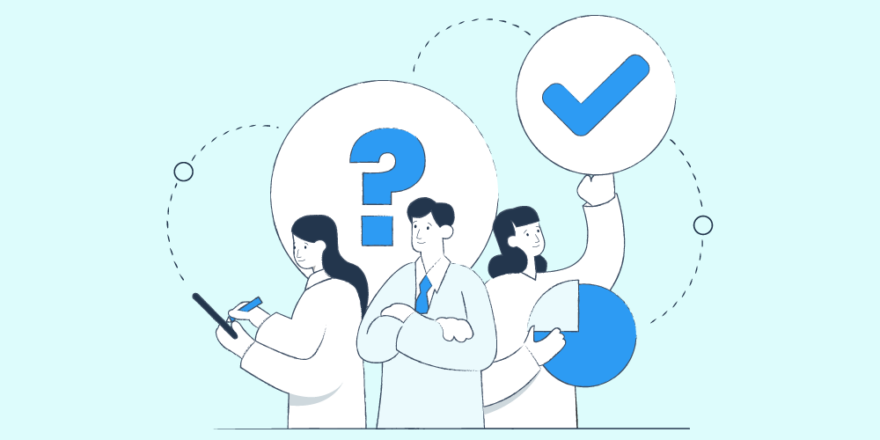 If you run a WooCommerce store or other online business, you're probably used to fielding several similar queries from potential customers on a regular basis.
However, managing hundreds of the same types of concerns can get overwhelming, repetitive, and time-consuming.
Fortunately, there's a smart way to overcome this problem with WordPress — using a plugin to publish a collection of frequently asked questions and their answers on your website.
In fact, a research study revealed that 79% of customers expect companies to help them find answers on their own, instead of contacting support.
The bottom line: Customers love FAQs for the convenience, and businesses love FAQs for their potential to cut support costs.
So in this post, we'll dive deeper into the best way to create and publish a WordPress Q&A section, and how a great WordPress question and answer plugin can help your business provide better support.
Why Your Site Needs a Question and Answer Section
By adding questions and answers anywhere on your WordPress website, especially the product pages, question & answer sections can help you:
Accelerate the Conversion Process
An FAQ page or section plays a major role in boosting conversions. The sooner potential customers can find answers to their questions, the faster they'll be able to make up their minds about purchasing your product.
On the other hand, waiting for a response from the customer support team (or worse, a discussion forum or question and answer site like Yahoo Answers or Quora) can cause their interest to fizzle out and die, which can have an adverse impact on sales.
Offer a Great Support Experience
A question and answer system helps you provide instant access to all the answers your customers need in one place, making them more likely to feel satisfied and happy.
And guess what happy customers do? They rave about your business to their friends and colleagues. A Salesforce research report shows that 72% of customers share their good customer experience with others.

Hence, it's only a matter of time that the word about your brand will spread, adding to the reputation and authority of your business.
Offer Round-the-Clock Support
Being available to your customers 24/7 might be a challenge in terms of resources, especially if you're a budding company with a small team.
In such a case, having an FAQ page on the product page or other areas of your WordPress site can help your customers solve their queries by themselves.
In other words, a WordPress question and answer section enables you to provide round-the-clock support without stretching your staff too thin.
In a nutshell, by adding Q&A sections to your site, you can make way for a type of "self-serve" customer service, fielding a significant percentage of live support volume (along with knowledge bases), answering many kinds of simple user requests effectively at both the pre-sale and post-sale stages.
So it's a good practice to always include FAQs answering the most common customer questions, with links to pages on your website which expand further on the given topics.
Creating FAQs on a WordPress Site
If you are familiar with WordPress, the most obvious way to add questions and answers is probably just as plain text. You can simply add a new post or page, type in your questions and answers, and hit publish.
However, there are several downsides to this approach. If you have a lot of questions and answers to add, the post or page can quickly get long and cluttered.
As a result, visitors will find it hard to navigate your WordPress Q&A section, and it will take them longer to find the information they need.
Therefore, it's far better to use a series of collapsible tabs (otherwise known as an Accordion). On the front end, each tab corresponds to a single question, and it expands to reveal the answer when a user clicks on the tab. It then collapses again when the user clicks on another tab to view another answer, preventing the FAQ page from getting too long.
But Accordions aren't built into WordPress by default, and so cannot be implemented by just creating a simple post or page in WordPress as you normally would. That's where a WordPress question and answer plugin like Heroic FAQs can fill the gap.
Apart from the ability to add questions and answers in a professional way and making them easy to read, a WordPress Q&A plugin offers several other benefits, which we'll look at below.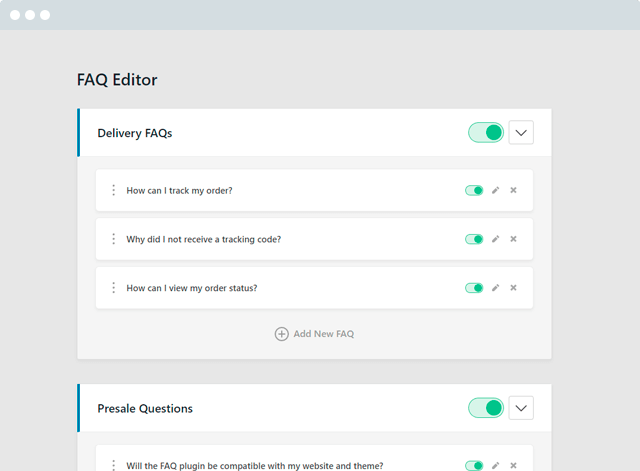 Heroic FAQs Plugin
A complete Frequently Asked Questions management plugin for WordPress.
Get the Plugin
Heroic WordPress FAQs: The Best WordPress Question and Answer Plugin
When it comes to adding frequently asked questions and answers to a WordPress site, you can't go wrong with Heroic FAQs premium Q&A plugin.
Its wide assortment of impressive features makes it an ideal solution for you and your visitors alike.
Intuitive, Drag and Drop Interface
Heroic FAQs features a drag and drop interface which allows you to add, reorder, edit, and group items with ease. This makes it a breeze to manage your questions and answers and structure them however you like.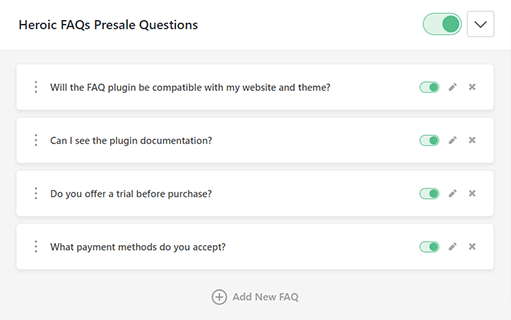 Moreover, with the FAQ builder, you can manage all your questions and answers on one screen, leading to a far better experience than offered by the default WordPress post or page editor.
Visual Editor With Rich Content
With a visual editor, the Heroic FAQs WordPress plugin allows you to add and edit questions and answers without any coding knowledge. Moreover, you'll see the changes you make in a way similar to how they would appear on your website.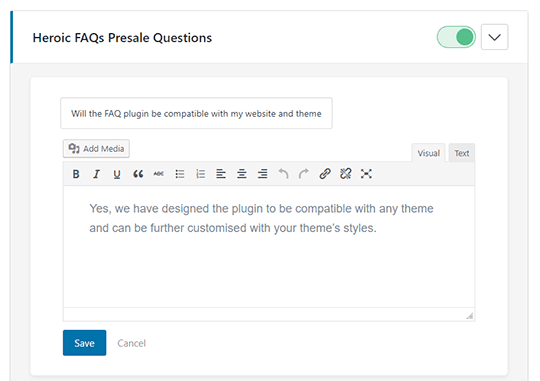 In addition, the visual editor enables you to add not just text, but also images, blockquotes, lists, videos, and more. So you can ensure that you're answering your visitors' questions in the best format possible. But don't worry; Heroic FAQs also allows you to write and format your Q&As in HTML, if you're the kind of person who just loves markdown.
Add Your FAQs Anywhere
Another great feature you get with the Heroic FAQs WordPress plugin is the FAQ configurator. It gives you the ability to add on your FAQs to any post, page, or sidebar widget area on your website.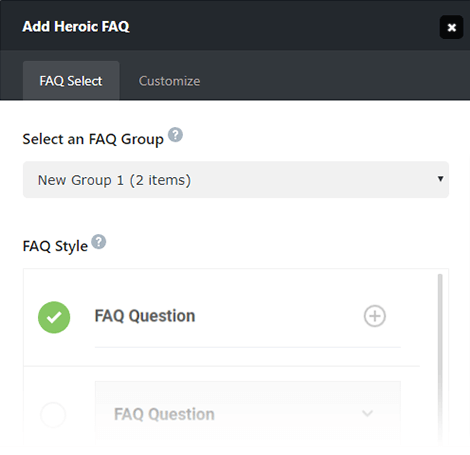 You can also add FAQs to posts using a shortcode or the FAQ block in the WordPress 5 editor. Click the + icon at the top of the editor window and select the Heroic FAQ block to add it to your post or page.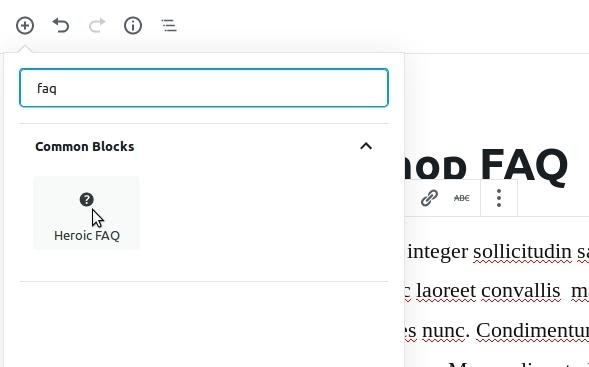 Easy Styling and Customization
You can choose from 5 ready-made styles and templates with unlimited configuration possibilities that work with any WordPress theme.
The plugin also allows you to customize elements like icon style, color options, FAQ behavior, and more to match your website's design and brand identity.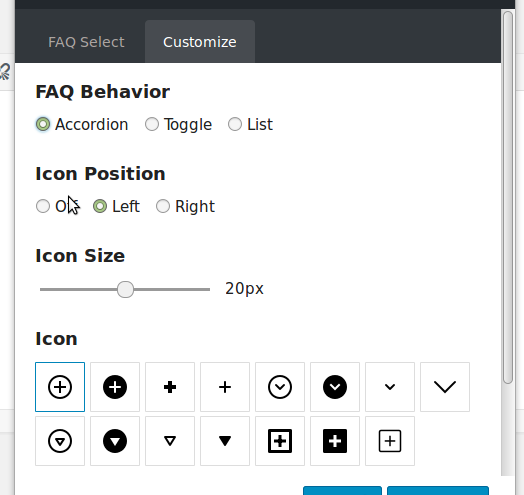 In addition, the FAQs you create are optimized for mobile devices as well as touchscreens. So you can ensure that your Q&A site will offer a great experience regardless of whether your visitors are using a mobile, tablet, desktop, or laptop.
That's not all. Other impressive functionality offered by the Heroic FAQs plugin includes:
Schema markup to improve your website's SEO score
CSS3 animations to elevate user experience
Easy translation into other languages
Fantastic customer support to assist with any issues
All these features combined help you create a beautiful, functional, and professional-looking FAQ page that impresses customers and increases trust in your brand.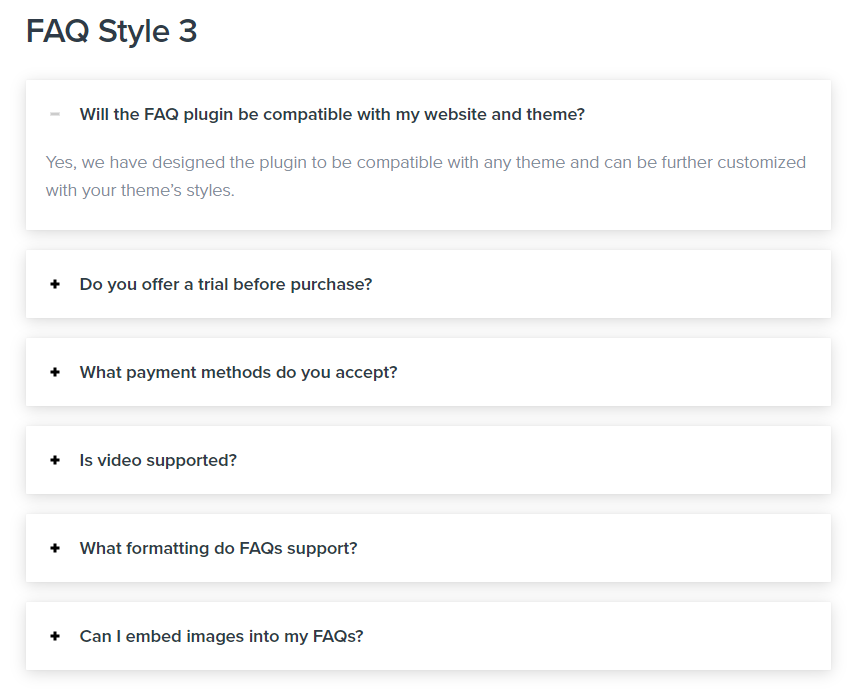 Wrapping Up
As you can see, Heroic WordPress FAQs is the best question and answer plugin in the market. It's extremely simple and convenient to use, and can help you go a long way in meeting the expectations of your current and potential customers.
If you're looking to create an FAQ page or answer section for your site, there's no better choice than giving Heroic FAQs a go and see how it helps transform the user experience on your site.