What payment methods do you accept?
We accept all major credit and debit cards – Visa, MasterCard and American Express, via our secure payment provider, Stripe.
Payment details are encrypted and secure. No card details are stored on our server.

Do you accept PayPal?
Yes, we also accept PayPal, simply select the PayPal option at checkout.
Do you accept Purchase Orders?
We do not accept purchase orders for sales. All orders are processed through the online checkout. If required, the cart page can be printed for any internal approval processes. All payments must be made at time of purchase.
Do you provide quotes?
We do not offer quotes as the price you pay is calculated at checkout. If required, a screenshot or printout (CTRL/CMD + P) can be taken in place of a formal quote.
Do you offer an invoice?
Yes. A purchase invoice is available after checkout.
If you are VAT registered (EU/UK), you can obtain a VAT invoice from Your HeroThemes Account. From the Purchases tab, select the View Invoice link next to purchase for which you wish to display an invoice.

You can print or save the invoice as a PDF using the Print and Download PDF buttons at the bottom of the invoice display screen.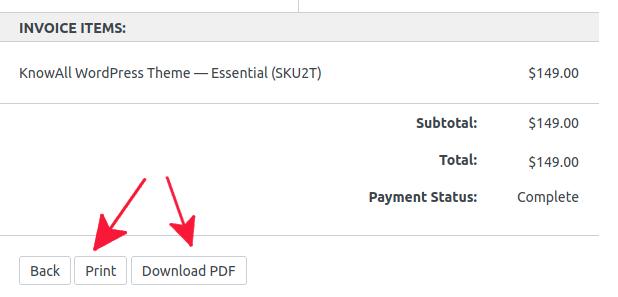 If you need to update your details, you can click the Update button where your details appear in the Invoice To section.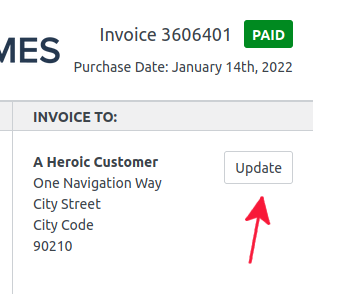 For additional assistance, please contact our support team.
Do you charge VAT?
Non- EU/UK customers are not subject to VAT.
As a UK and EU VAT registered company, sales may be subject to VAT to EU/UK consumers where applicable, this will be calculated and applied automatically at checkout.
EU customers with a valid EU VAT registration will be reverse-charged at checkout, subject to a valid VAT ID being supplied during the checkout process.
Do you offer a certificate of Tax Residence?
Invoices include our UK company number, address and EU VAT number. This can be validated through the VIES service where required. We do not provide any additional tax documentation to customers.