The Heroic Inbox plugin requires a Google App to access Gmail inboxes, send and receive mail on behalf of the plugin.
Once the App creation is complete, a Client ID and Client Secret will be generated, which can be entered in the Heroic Inbox setup assistant during installation.
1. Register a New Project
Clicking the Enable Gmail API button in the Heroic Inbox Setup will launch the Google cloud console in a new window, to register a new application for the Gmail API in the Google Cloud Platform.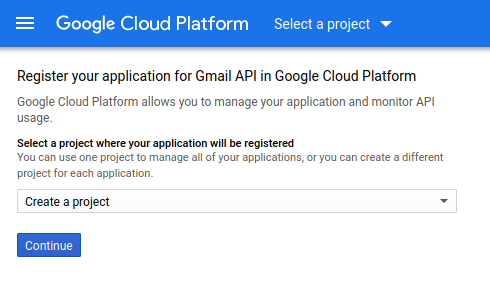 Ensure the option to Create a project is selected, and click Continue.
The project is created and the Gmail API is automatically enabled. This can take some time, so you may need to wait a short while.
Once done, you will receive confirmation the new project has been created and the Gmail API is enabled for this project.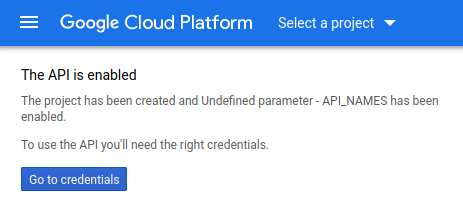 Click Go to credentials to begin selecting the required permissions.
2. Create Credentials
On the Credential Type, ensure Gmail API is selected. 
What data will you be accessing, select User data.
Click NEXT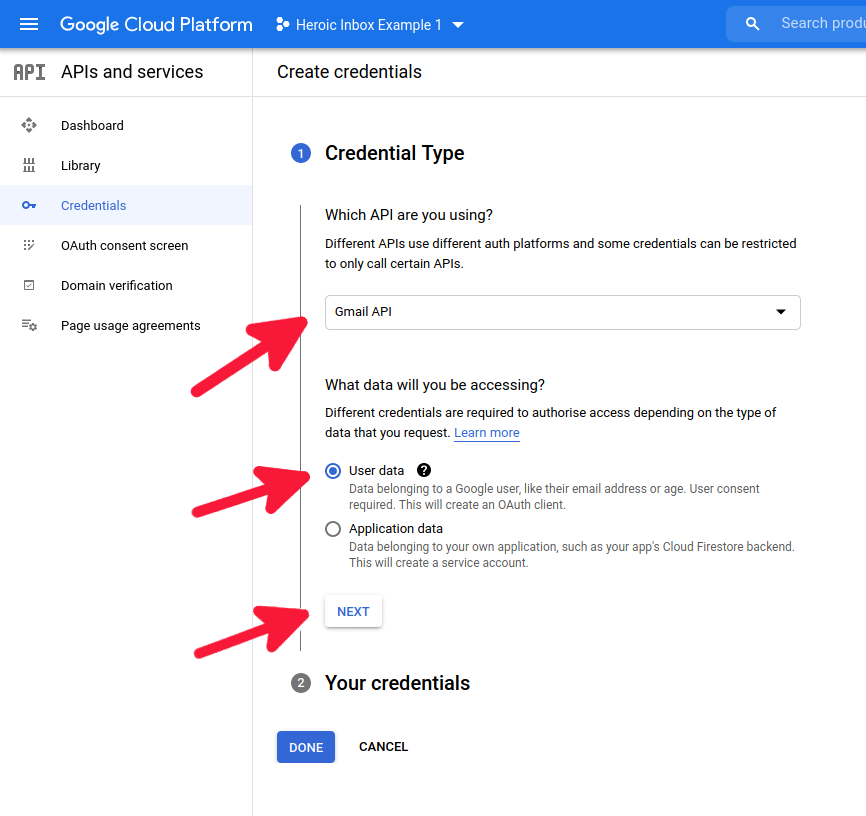 3. OAuth Consent
App name – enter a meaningful name such as Heroic Inbox WordPress client.
User support email – select an email from the drop-down.
An App logo is not required.
Developer contact – enter the same email address as above.
Select SAVE AND CONTINUE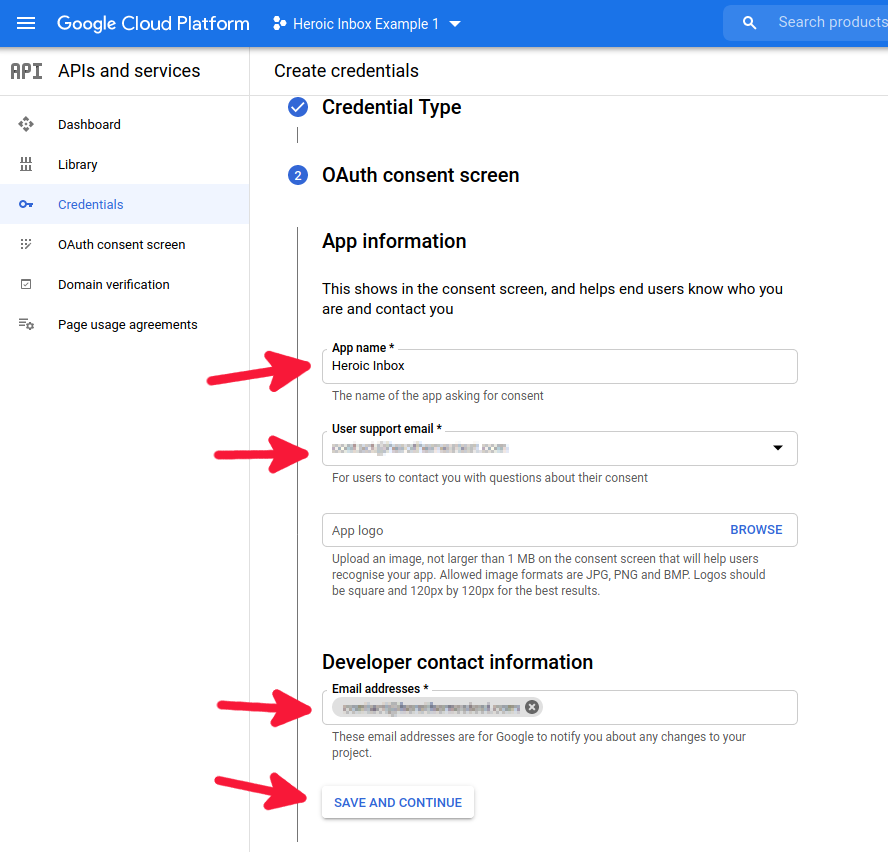 4. Scopes
No scopes are required, these are set automatically by the plugin on first use. Skip this section and select SAVE AND CONTINUE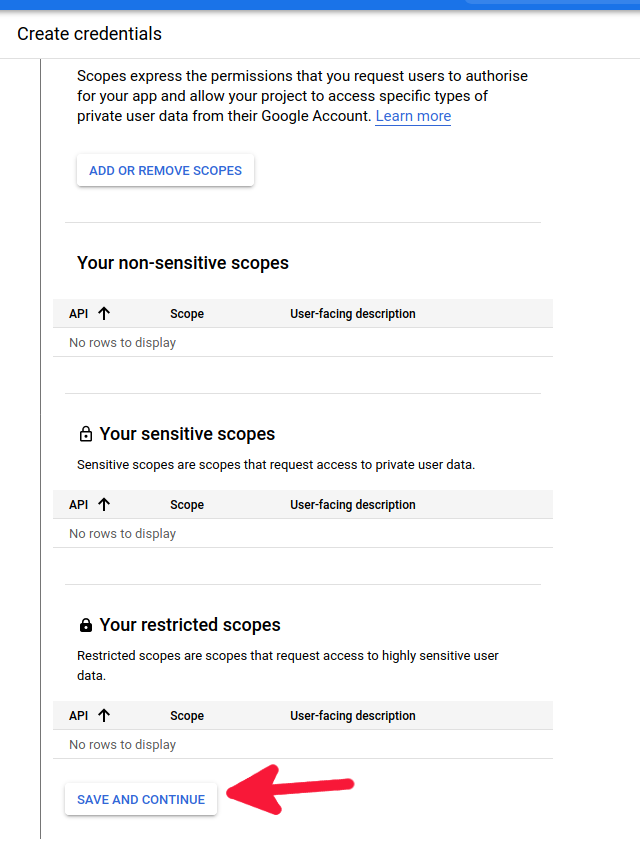 5. OAuth Client ID
Select the application type as Desktop app. While this seems counter-intuitive, it is because Heroic Inbox is able to simulate a desktop email client.
Enter a name for the client, eg Heroic Inbox WordPress Plugin.
Click CREATE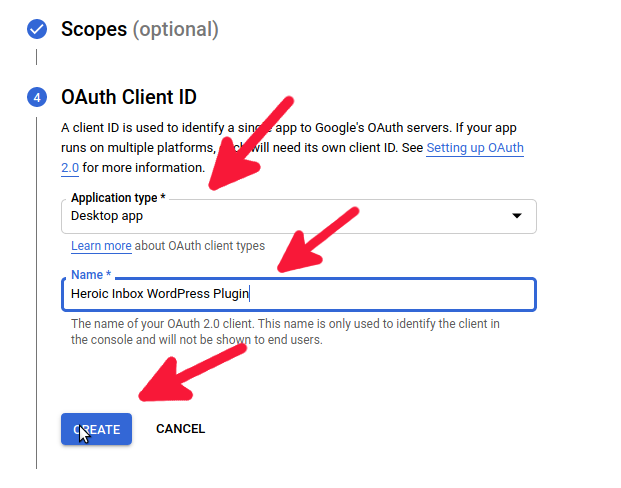 6. Obtain Credentials 
Once the client has been created you can download and save the credentials for later use.
The Client ID and Secret can be extracted from this file (.JSON) [option 1], or obtained from the Credentials screen as follows [option 2].
Click DONE to complete the App setup.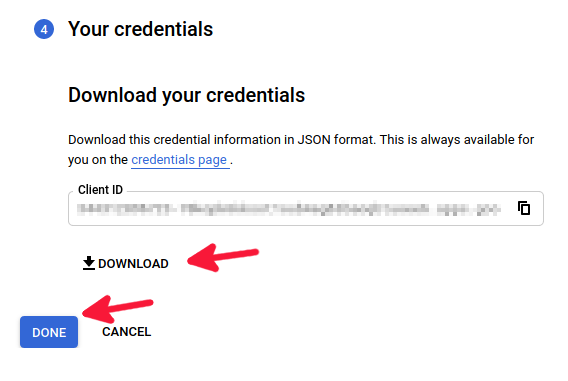 To download/view the client details later.
Select the Credentials screen from the menu, in the OAuth 2.0 Client IDs section, select the Client name.
The client Credentials detail will be displayed. From here the Client ID and Client secret can be copied.
Paste the Client ID and Client secret obtained from the .JSON or the Credentials details screen into the Heroic Inbox setup assistant screen.