How to pick and use a knowledge base builder in 2023: the complete beginner's guide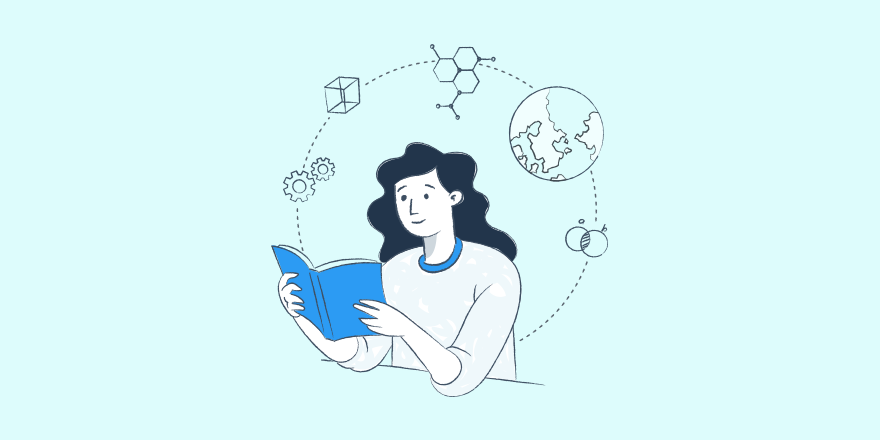 The more your company expands, the more customer issues you'll have to handle. In fact, Gartner has predicted that a billion support requests will be handled by automated bots by the year 2030.
Worry not, though. Because there's another trend growing just as fast. Buyers like to get solutions on their own at first, if possible. That means they typically search for self-help alternatives or FAQs before raising a support ticket. And the demand for self-service avenues is only increasing.
So what can you do? Fulfill it with a knowledge base. An organized repository of information lowers the amount of customer service tickets and enables users to help themselves. And to create a knowledge base, you need a knowledge base builder.
That's why in this article, we'll talk about the meaning of a knowledge base builder, its benefits, how it works, and how to buy one for your business.
What is a knowledge base builder?
A knowledge base builder is a software platform utilized by a company to consolidate its information on a particular product, subject, or process into a central repository.
This allows for convenient saving and handling of knowledge. With a knowledge base builder, you can arrange articles, FAQs, guides, and other documentation in appropriate categories. So your customers or employees can search for the information they need and address their problems themselves.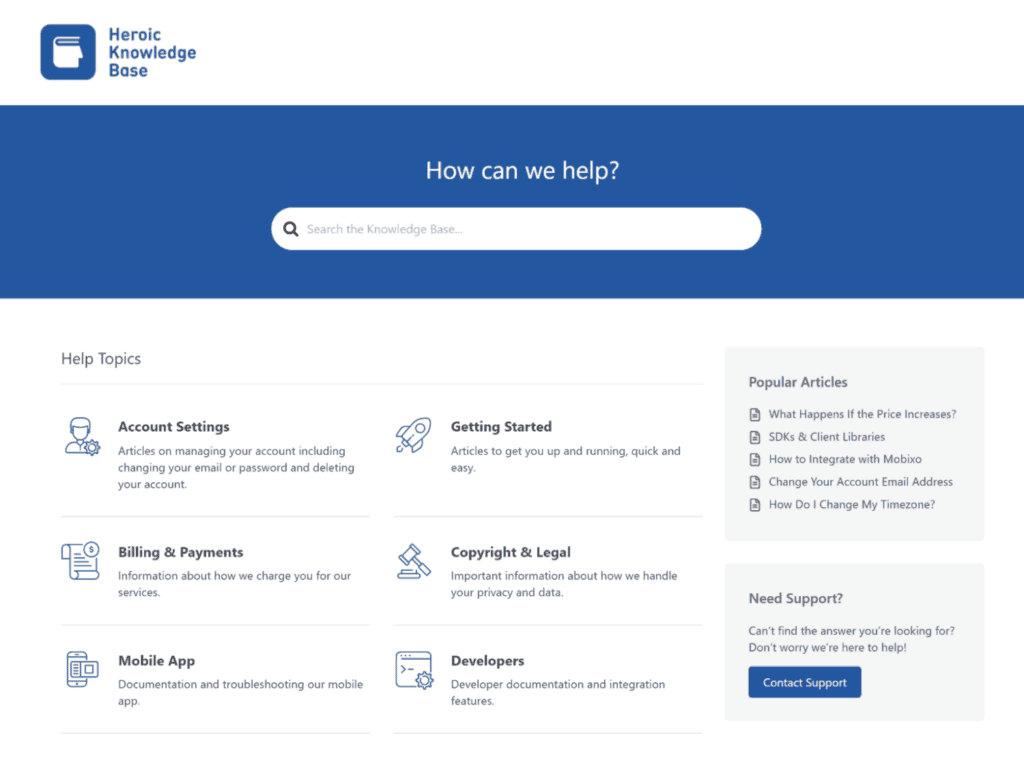 For example, if you create an internal knowledge base for your staff members, they can use it to better understand your products and services. And if you make an external knowledge base for customers, they can use it to get quick answers without having to contact your customer service team.
What are the benefits of a knowledge base builder?
The benefits of a knowledge base builder include providing a centralized hub for users, bringing users up to speed on their own, offering 24/7 assistance, saving time, and offering multilingual support.
According to a survey by Panopto, workers waste around five hours a week trying to get a hold of individuals that possess the details they require.
That's not all. It's common for 1 out of 10 employees to spend two times longer than that. In that period, projects get late, paused, or stopped completely. Imagine the potential wasted and productivity lost!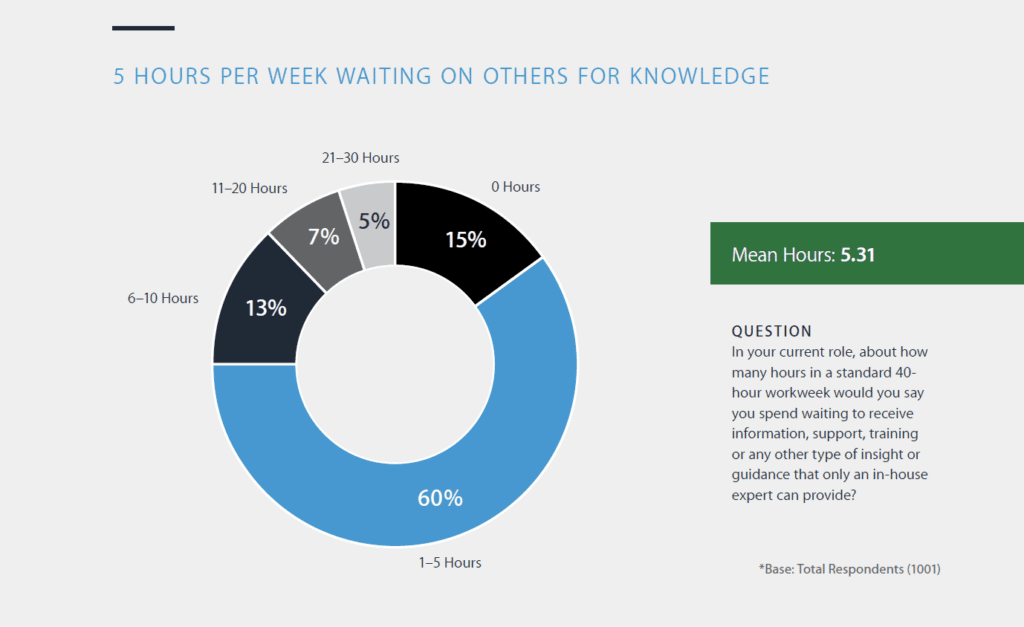 This shows that companies require solutions to improve time management, handle their growing information, and remove repetitive operations.
So here's how a knowledge base software can help:
It stores essential knowledge in a centralized hub for both staff and buyers
It lets new hires and first-time buyers bring themselves up to speed
It offers buyers 24/7 assistance, which further improves customer experience
The self-help option is faster compared to reaching out to customer support
You can serve your employees and customers in many languages
Users can frequently leave comments or suggestions for improvements
All in all, a knowledge base builder is a great tool to take your company's productivity and customer satisfaction to the next level.
What to look for in a knowledge base builder
An ideal knowledge base builder should be search-friendly, and it should have a user-friendly dashboard with easy-to-understand data visualization allowing users to create and organize documentation easily.
Let's discuss some basic functionalities you must keep in mind when selecting a knowledge base platform.
Comprehensive search
Your buyers expect quick answers. So, your knowledge base must have a simple search function for users to easily obtain solutions by using their intended keywords.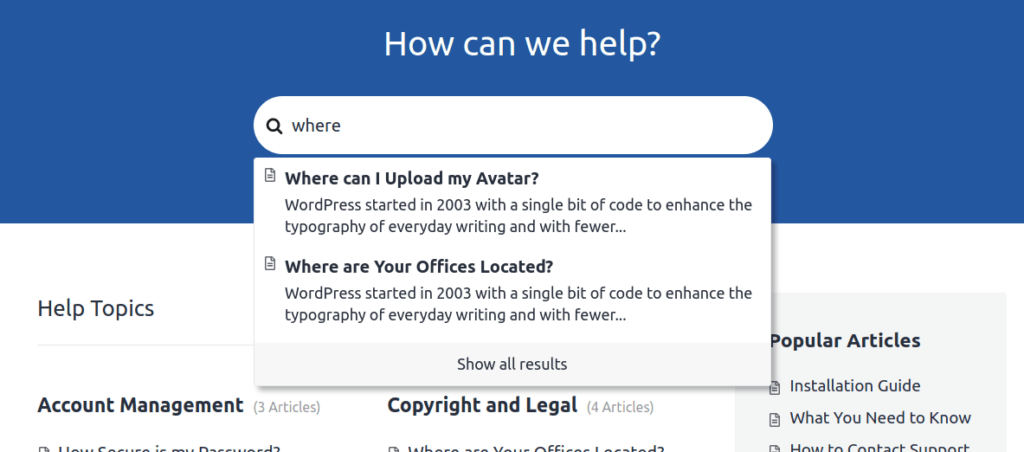 Also, your knowledge base should be effective enough to show correct suggestions even if a user enters misspelled keywords by accident.
An intuitive dashboard and content organization
You need to choose knowledge-base software that is simple and user-friendly for you and your visitors. It should have an intuitive admin panel that allows you to effortlessly organize and modify multiple pieces of content or manuals.
A knowledge base platform must also be capable of classifying new content added to it. So you can organize your content into files and groups, allowing users to find them without any trouble. Besides, with a well-managed system, you will be able to monitor and improve your content on a regular basis.
Easy content creation
A knowledge base builder is not a tool where content is published just once. Rather, content developers are needed to constantly monitor and modify your knowledge management strategy. That way, they can enhance both employee and consumer satisfaction.
So, a knowledge base builder must provide a straightforward admin panel to produce, maintain, and categorize content effectively.

For instance, WordPress + Heroic KB enables your team to produce articles and solve issues by themselves. They don't have to write any code, nor do they require any technical experience.
Feedback and analytics reporting
You want to select knowledge-base software that enables you to get user opinions and analyze critical performance indicators.
For example, by identifying your most effective content, you can analyze what you did right and replicate the same approach in other documentation.
Your knowledge base platform must display information such as visitor traffic for any content and search performance. On top of that, the tool must offer easy-to-understand graphical data analysis for deeper understanding.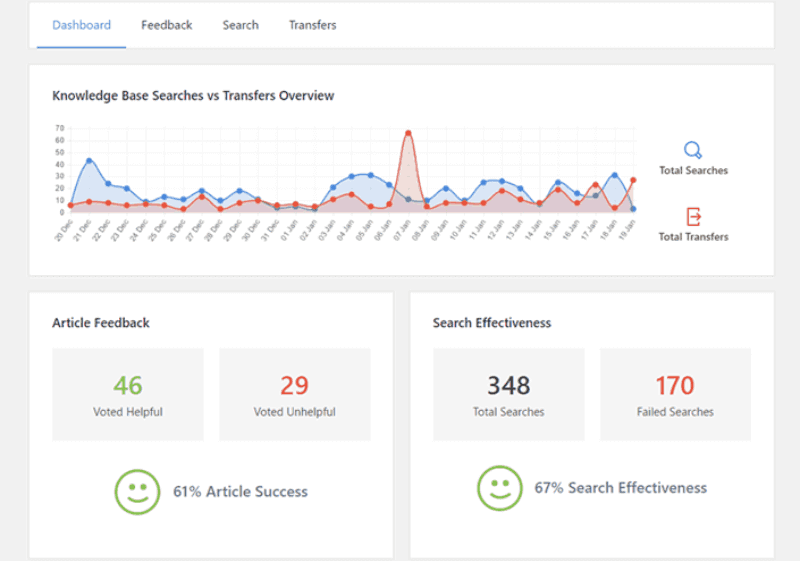 Moreover, an effective knowledge base builder must also allow consumers to submit comments and opinions on the relevance of help center information. In-depth analysis and insights will keep your knowledge base relevant and up-to-date.
Support for search engine optimization
Your knowledge base software must be capable of producing search engine-optimized documentation and guides. It should support common SEO factors such as headlines, mobile-friendly layouts, and meta tags.
What are the best knowledge base builders?
The top knowledge base builders include Heroic KB, Hubspot, Zendesk, HelpJuice, Freshdesk, LiveAgent, ProProfs, and Guru.
Here's a listing of today's leading solutions to build a knowledge base.
WordPress + Heroic KB
WordPress is a website or blog creation tool that comes at no cost. And it has been serving as a foundation for 43.2% of all websites.
It's simple to operate and offers many of the same article development and administration functionalities as a knowledge base builder. This helps you develop articles, modify, and organize them as per your preferences.
So if you already own a WordPress-powered website, you can use a plugin such as Heroic KB to build your knowledge portal. This way, you will cut the time and effort of educating your employees about several platforms. Plus, you will have no stress about software compatibility.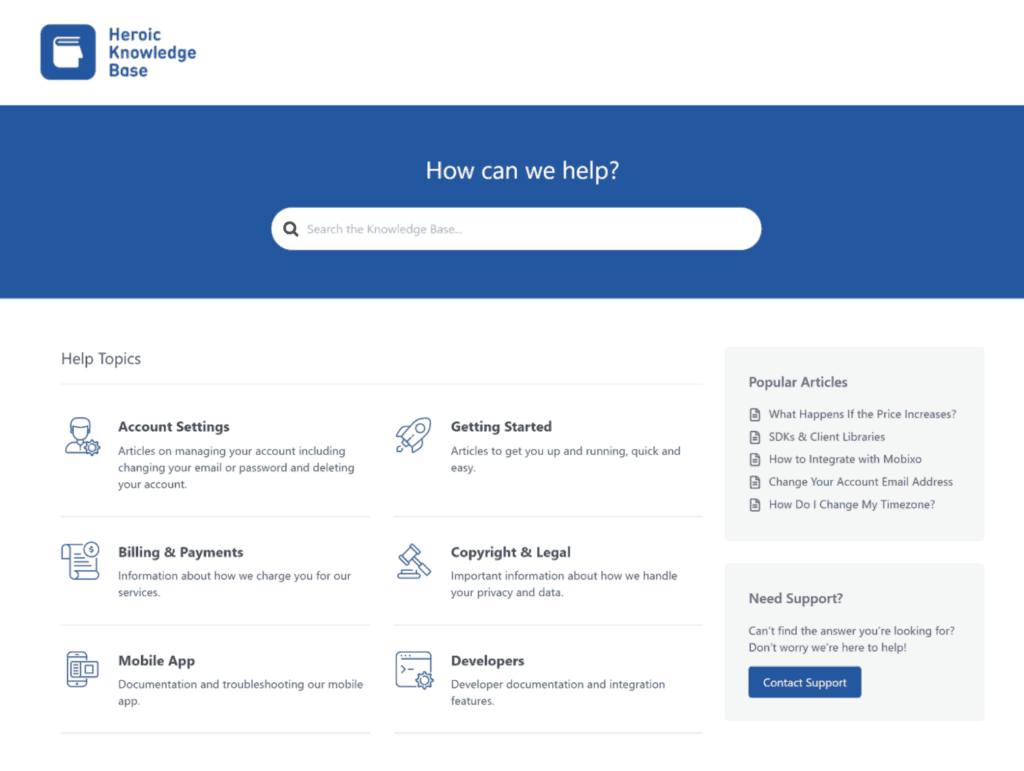 Even if you are not using WordPress, getting fresh WordPress hosting and installing Heroic KB for knowledge management is still the right choice.
Granted, it would cost you about $40/year and $10/year to get hosting and a domain name. But even with this extra charge, utilizing WordPress to build your knowledge base is still more cost-effective than the SaaS solutions available in the market.
Plus, there is more to WordPress than just cost-saving. Several businesses use WordPress to build their customer service portal due to many other benefits.
For example, you can fully change the styling and other aspects of your knowledge base. It's flexible and can be extended with the help of programmers, themes, and plugins.
With the Heroic KB plugin, you can add a full-featured knowledge base to your website with search functionality. This will help users find solutions to their queries easily. And it will let you build a distinct knowledge portal segment full of documentation authoring and organizing features.
Heroic KB has all the capabilities that a solid knowledge base builder should have.
Key features
Simple administration of content – Heroic KB's dashboard, content editor, and knowledge management are easy even for first-time users.
Feedback and data reporting functionality – It lets you discover how your knowledge base performs with respect to meeting user requirements.
For example, there can be instances where user queries do not get any answers on your service portal. And Heroic KB's data analytics features can highlight them. You can then use this intel to upgrade your content.
Comprehensive search feature – Live search powered by AJAX supports users in discovering the most accurate documents. Even if the search fails, you can route your users to manual support.
Simple installation and customization – Once you install Heroic KB, you can start using it out of the box. A coder's help is not required. Besides, you get easy-to-use customization options to blend your knowledge portal with your branding style.
Pricing
The price of Heroic KB's Essential pack is $149 per annum per site. If you need to increase that limit to three websites, along with additional features like data analytics and content feedback, you can purchase the Plus pack costing $199 per annum.
The third option is the Pro pack, which provides compatibility with tools such as Slack and Helpscout, at a price of USD 399 annually. There's a 30-day money-back guarantee on all plans.
Hubspot knowledge base
HubSpot Knowledge Base is a popular knowledge base builder. It can study your tickets, commonly held discussions and users' most frequently asked queries to develop knowledge documents.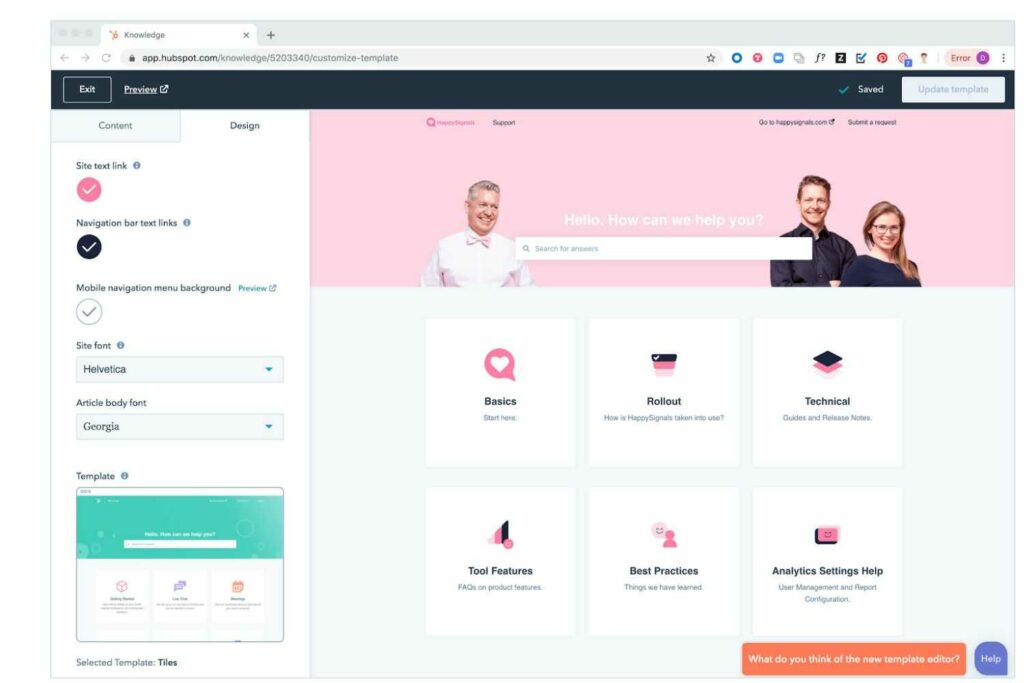 In addition, with HubSpot, search engines can also easily crawl your knowledge base material and documentation. Plus, it integrates with online inboxes and instant messaging tools to ensure that your customer service portal and related content are quickly reachable.
Another notable feature is that it allows you to change the appearance of the content portal. All in all, HubSpot lets users effortlessly use the knowledge base, skim through it, find solutions, learn, and view media.
Key features
SEO support – With this knowledge base software, you can write SEO-friendly content to earn high positions in SERPs and quickly deliver relevant results.
Automated tracking of user actions – HubSpot's CRM can automatically skip content that is already seen by users. This prevents the same articles from getting sent repeatedly in customer interactions.
Recording usage and effectiveness – The inbuilt analytics panel locates any voids in documentation by studying the impact of pages and documents. It can collect user feedback and show data about usage. You can use this information to update support documentation.
Pricing
The starter pack costs $45 per month. It supports 2 agents. And you need to pay $23 for each extra agent. In this plan, you get instant messaging, an appointment scheduler, documentation, and a direct emailing facility.
The professional pack costs $450 per month and supports up to 5 agents. The features include an automated service desk, ticketing routing, knowledge portal, and Service Level Agreements.
Zendesk
Zendesk is a knowledge management software that also offers a ticketing solution. And it also lets you sync support content with help tickets.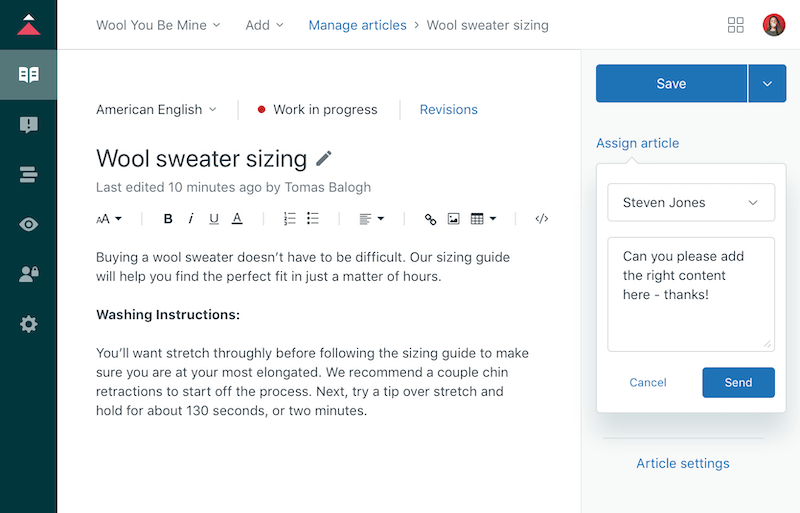 This knowledge base builder allows your agents to draft new articles and documents and flag older articles that need improvement. And it provides you with readymade templates to retain the content layout and develop easily readable content with advanced formatting.
You can also add self-service content in different locations, like landing pages, blogs, and other parts of your website.
Key features
Up-to-date discussion board – "Team Publishing" gives the latest information on user difficulties by gathering findings from the customer service staff. This lets you upgrade your FAQ section, offerings, procedures, etc.
Multi-language support – This knowledge base software lets you convert your knowledge base content into more than 40 different languages to render customer service across the globe.
Editable dashboard – You can change the appearance of your knowledge base with editable themes and organize articles. Plus, you can develop more than one documentation portal to serve diverse types of users, geographies, or business segments.
Inbuilt reporting – Zendesk can reveal any voids in documents and defines opportunities to develop more content.
Pricing
Zendesk pricing starts with the Team Suite package. It comes with one knowledge portal and is priced at $49 per user per month. The second plan, Suite Growth comes with many knowledge bases, along with support for content in different languages. It is priced at $79 per user per month. Finally, the Suite Professional pack comes with extra features like community discussion boards, costing $99 per user per month.
Helpjuice
Helpjuice is a knowledge base builder that lets you arrange, retrieve, and share knowledge among a particular set of people, such as your employees and buyers.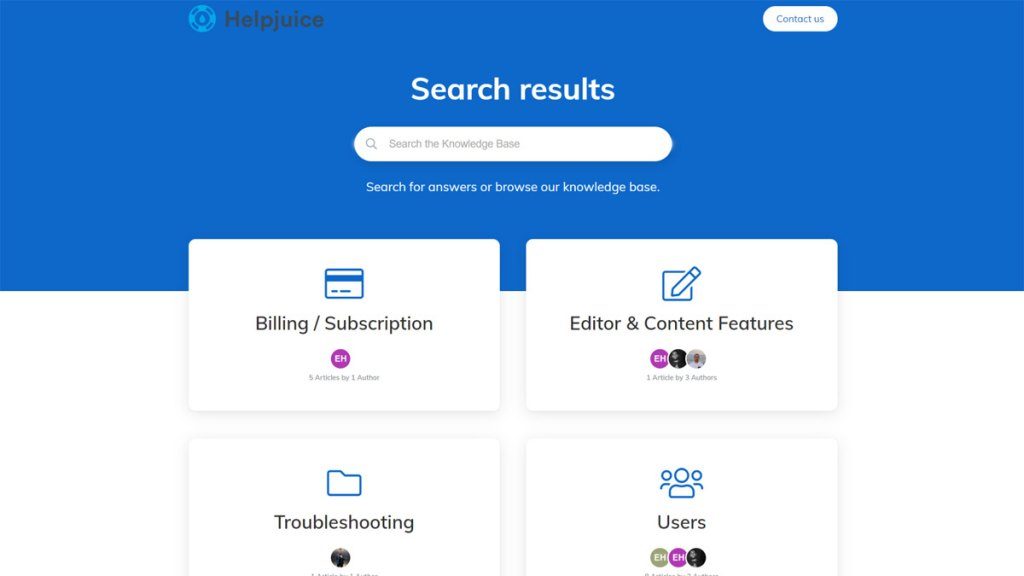 Besides, Helpjuice offers many knowledge management options like editable templates and customization options to let you tweak your content.
On top of that, this knowledge base software offers functionalities like content styling, simple content creation, SEO-friendly settings, and content version history. And you can set distinct visibility permissions for the information.
Key features
Quick search – It offers an easy lookup functionality to find content not just from articles, but also in PDF files and photos.
Analytics reporting – This knowledge base platform notifies you about what articles your users are looking for, which articles you must add to your knowledge hub, and which pieces require updates.
Translation-ready – You can change the language of your knowledge base from the admin dashboard to serve a variety of international users.
Real-time teamwork – You can work simultaneously with your co-workers using the commenting option. And you can view the changes happening live.
Pricing
Helpjuice has four pricing packages ranging from $120/mo to $499/mo. The Starter package allows a maximum of 4 agents. If you want to add up to 12 more agents, you can go for the Run-up plan at $200/month. And there are higher plans for allowing even more agents.
Freshdesk
Freshdesk is an online knowledge base builder that offers ways to build an information hub for an easy self-help experience for buyers.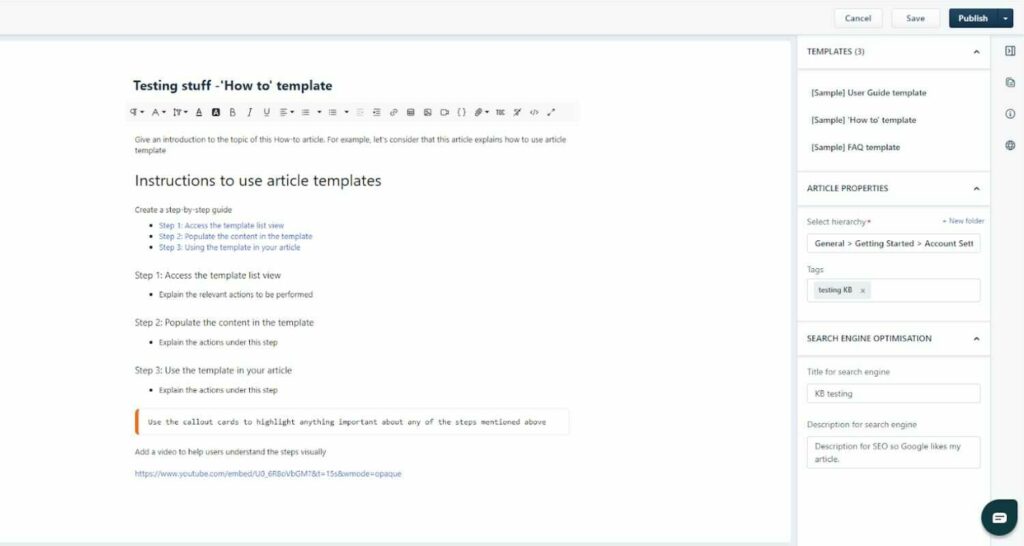 Freshdesk comes with a content authoring tool that offers various word-processing features to format your articles and FAQs. And it simplifies adding photos and other visuals to explain processes.
This knowledge base software also allows you to maintain your content, handle roles and accessibility, and arrange articles.
Key features
Multi-lingual support – You can share articles in various languages and offer translations to assist buyers globally.
Limitless storage capacity – This knowledge base platform offers infinite space for your files, folders, and content. You can publish as many guides and graphical manuals as needed.
SEO functionalities – It incorporates headings, meta tags, and other elements to boost your search platform visibility.
Pricing
Freshdesk offers four packages starting from $0 to $95/month, billed annually, and offers a free test period of 21 days.
The free package lets you add a maximum of 10 agents and includes an information hub, reporting tools, and integrated support cases over social media and email.
The premium plans pack more features like collision detection, software integrations, time-zone management, and advanced automation.
LiveAgent
LiveAgent is a service portal solution that allows you to incorporate information hub documents, develop discussion threads, and allow user feedback.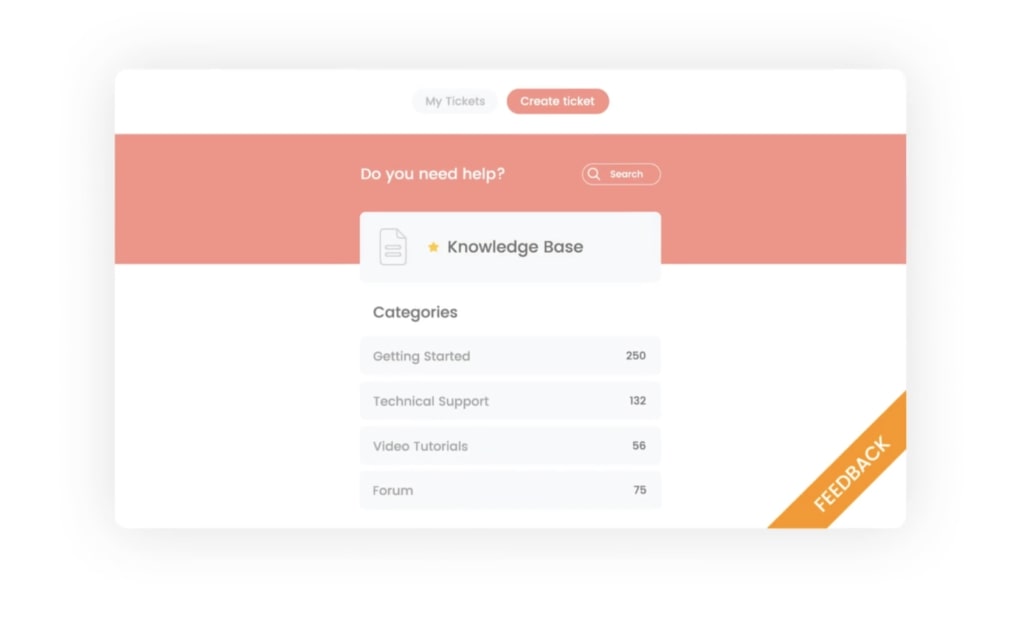 Businesses that have multiple offerings and solutions can set up as many help centers as they want from one user account. And you can create every knowledge hub with a distinct appearance, articles, and design framework.
On top of that, LiveAgent can be linked with several communication platforms such as Gmail, Slack, Facebook, Twitter, Viber, and more.
Key features
WYSIWYG editing – The editor allows you to customize your help center articles with headers, colors, and images.
Flexible structure – The content, feedback sections, and community forums can be incorporated into the information hub depending on the company's offerings and buyers. You can also design and add dynamic search boxes for quick browsing.
Ready-made templates – It offers three kinds of themes — Classic, Minimalist, and Montana. You can change the colors of different symbols, objects, options, and headings according to your company's image.
Pricing
There is a free version. But it comes with a few restrictions, such as keeping only a 7-day historical data for each support case, one chat button, a single knowledge base, and a discussion community.
For unlimited features, you can choose the Ticket plan, which is priced at $15/user/month. It comes with an unrestricted backlog of support cases, infinite mailbox integrations, robust analytics, a knowledge portal, a community, and API connections.
Higher plans include extra functionalities like infinite chat buttons, live user tracking, feedback handling, call center assistance, video conferencing, and IVR.
ProProfs
Proprofs is a knowledge base builder that enables you to develop tutorials, help documents, questions and answers, and wiki platforms. You also have the ability to produce video tutorials to make your content more appealing and interactive.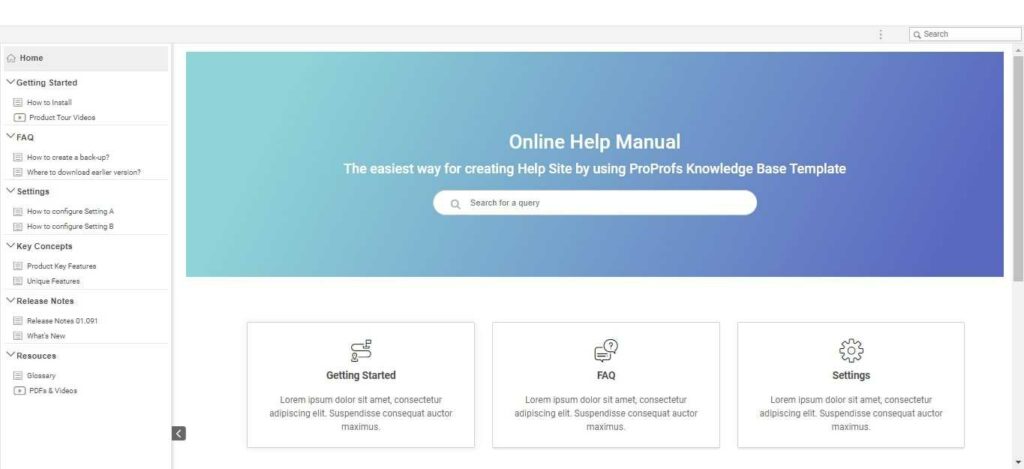 It comes with unrestricted edits, knowledge management, content permission control, and accessibility on multiple devices.
This knowledge management tool is compatible with a variety of communication platforms like instant messaging, service desk portals, data reporting software, and so on. Some of the compatible tools worth mentioning are Freshdesk, ProProfs Help Desk, Google Analytics, Wufoo, ProProfs Live Chat, and Salesforce.
Key features
Search-friendly – With ProProfs, you can produce mobile-compatible and search-friendly documentation and guides.
Employee coordination – This tool enables you to form teams and designate different user profiles to employees effectively, such as administrator, editor, viewer, and contributor. Also, you can impose restrictions on the availability of information according to their responsibilities.
Data analytics – ProProfs offers you a deeper understanding by analyzing search words used by your viewers, productive keyword analysis, suggesting necessary content updates, and so on.
Pricing
ProProfs pricing starts with the Essentials plan, costing $30/author/month to be billed annually. It has a limit of 3 users, up to 500 articles, and a single knowledge base.
As you go towards the higher plans, you get the ability to add more users, articles, and knowledge bases. On top of that, with this plan, you'll get access to features like multiple language support, user profiles, and teamwork capabilities.
Guru
Guru is a knowledge base builder that lets you categorize corporate knowledge and also enables remote retrieval of the same.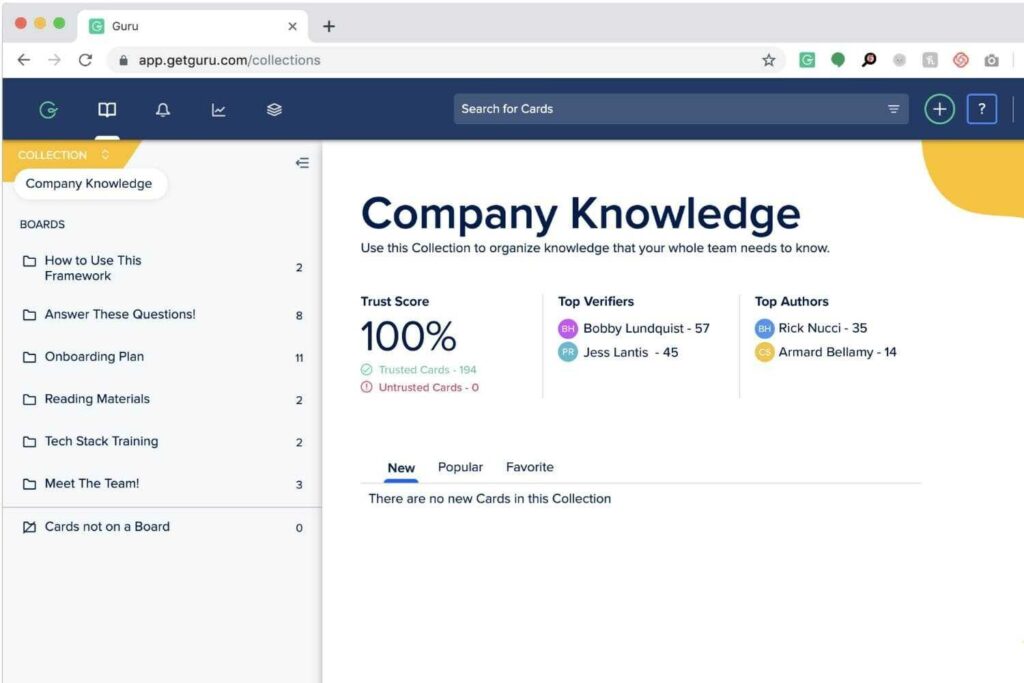 Guru not only handles your company's knowledge base. Its distinct "capture" tool extracts important data from Slack threads, your firm's web application, Google Docs, and so on.
This software employs artificial intelligence to recommend articles, so you don't have to look for the required details by yourself. Its AI/ML-based tool also enhances its capabilities gradually depending on your regular activities.
Guru also comes with browser add-ons and approval processes to enable the timely availability of pertinent knowledge for teams.
Key features
AI-powered suggestions – Guru enables you to modify already published articles, generate new content depending on programmed recommendations, and so on.
Simplified organizational communication – This tool efficiently informs all members about live publishing, edits, and updates.
Categories and boards – You can manage your knowledge better by categorizing data and articles with the help of various boards, collections, and categories.
Detailed reporting – This software offers you detailed analytics so that you can monitor and enhance your knowledge base.
Pricing
Guru offers three different premium plans to match their clients' varied requirements.
The basic "Starter" pack is free for three or fewer members. If you have a larger team, then you will have to pay $5/user/month. The features offered along with this pack include FAQs, an AI-assisted search function, automatic content validation, a knowledge clipper, and so on.
The "Builder" plan costs $10 per user per month. It includes additional functionalities like duplicate content detection, restricting information according to roles, and data analysis.
How to use a knowledge base builder (with example)
Using a knowledge base builder like Heroic KB involves getting hosting, installing the knowledge base plugin, creating articles, setting up your front page, and customizing its styling.
Most modern knowledge base builders come with many similar functions and characteristics. So let's take an example of our top recommendation, Heroic KB, to demonstrate the rough process of using a knowledge base builder.
Get WordPress hosting
First, you'll need a WordPress-based website. If you don't have one already, begin by purchasing a web hosting service.
A brand new WordPress website will cost you roughly $3 every month with an affordable web host. With respect to other cloud-based knowledge base software, this option costs substantially less.
Install WordPress + Heroic KB
A majority of website hosting providers give a single-click setup of WordPress, as it is a well-known CMS. After choosing a web host and setting up WordPress, you just have to install the Heroic KB plugin.
Start documenting
To write your first piece of content, click on the Knowledge Base option and select Add New Article in your WordPress dashboard.
Once you begin installing Heroic KB, allow the welcome screen to take you through the setup stages. This is where you can create a knowledge base with sample articles with a single click or begin creating your actual content.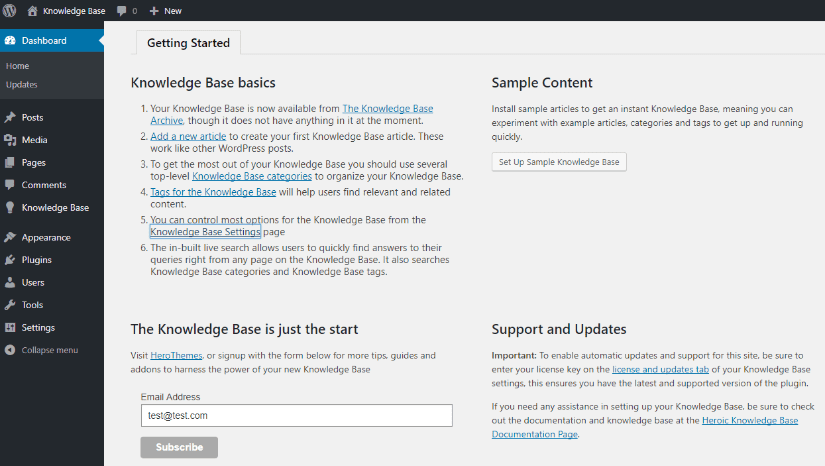 To write your first piece of content, go to Knowledge Base → Add New Article. Here you can create a support doc with the standard WordPress editing tool, and with some extra options. For example, you can include tags and categories on the right-hand sidebar.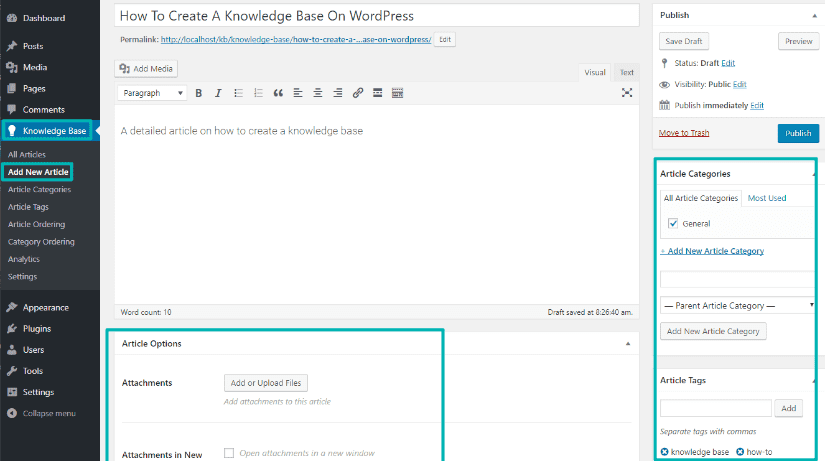 You can also manage document file uploads and customer feedback voting preferences in meta fields underneath the editing area.
Set up your front page
To organize the categories or articles in your knowledge base platform, navigate to Knowledge Base, and then either Article Ordering or Category Ordering.
Heroic KB automatically builds the front page for your information hub at: yourwebsite.com/knowledge-base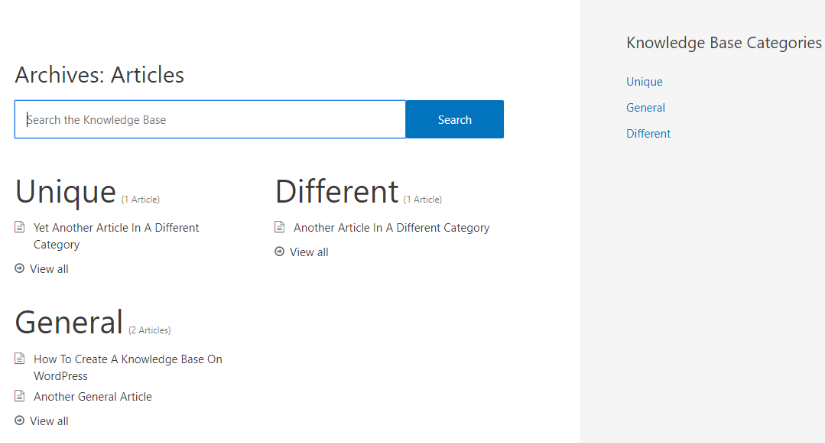 But you may need to organize the articles and categories as per your preferences. For that, you can navigate to any one of the two following options:
Knowledge Base > Article Ordering or
Knowledge Base > Category Ordering
Here, you can change the order of the content as required with the drag-and-drop functionality.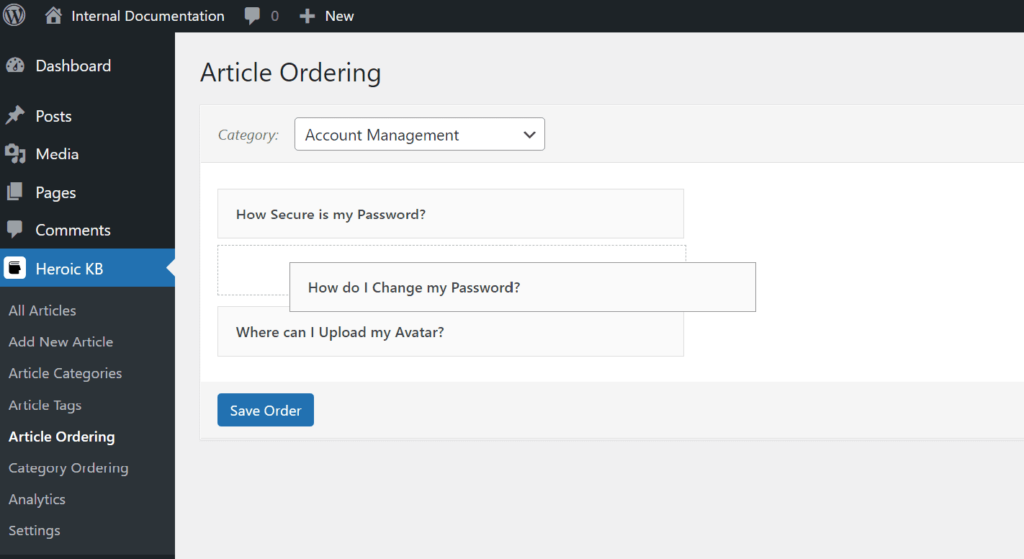 Add knowledge base widgets
The Heroic KB plugin comes with a variety of widgets. This allows you to show your information hub content anywhere on your website. To select your widgets, navigate to Appearance → Widgets and pick the ones you want.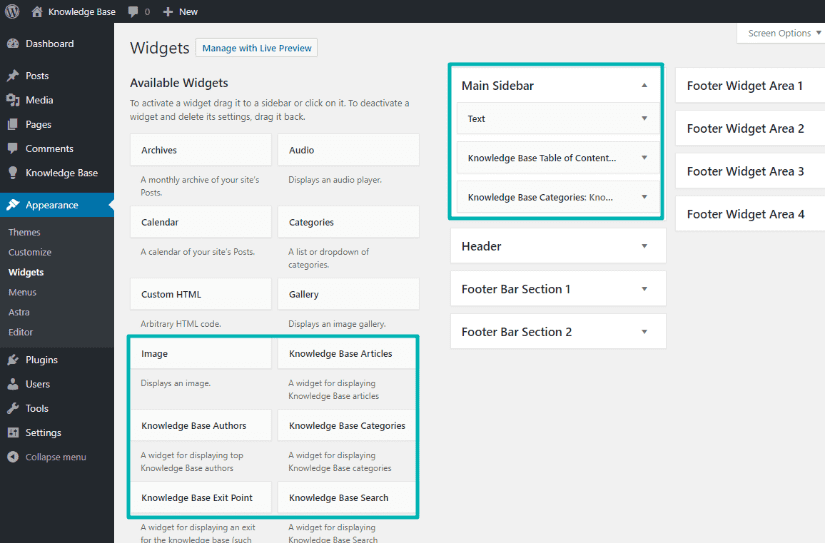 Customize your knowledge base
By now, your information hub must be almost complete. But if you like to customize its features and appearance, you can head to the configuration menu by navigating to Knowledge Base > Settings.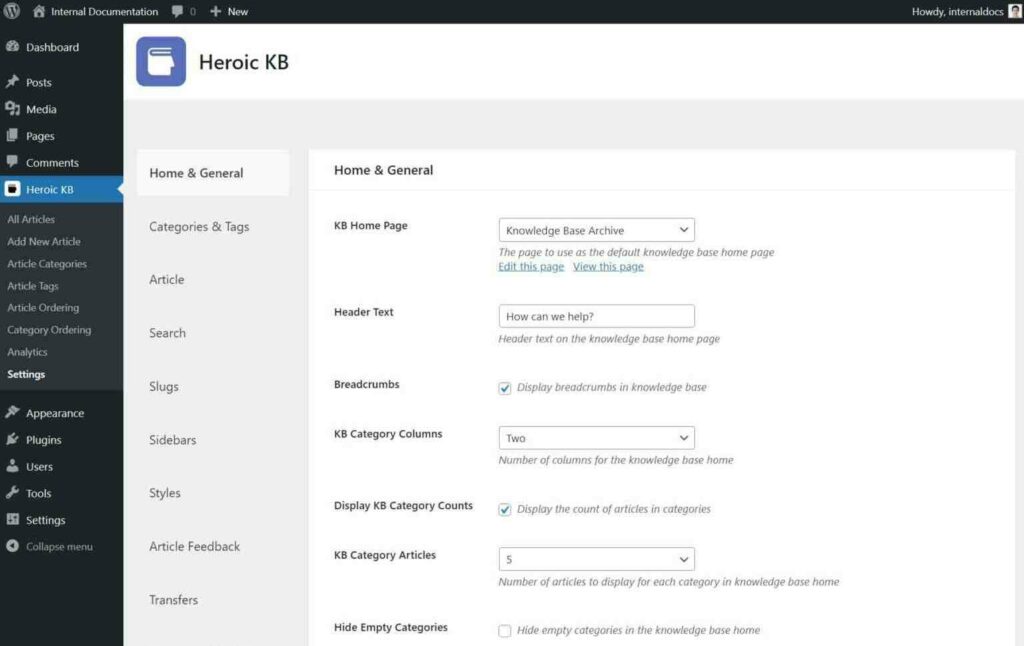 For the most part, this is everything you have to do in order to implement a WordPress information hub.
Over to you: get started with a knowledge base builder
Companies are producing a ridiculous quantity of information every day in the form of tutorial videos, user data, corporate records, and digital support content. This is why gathering, categorizing, and providing easy access to this data is essential.
In today's information-centered market, proper knowledge management is a real advantage. Still, many companies waste precious time and resources by not utilizing the correct software or processes to share knowledge with workers and buyers.
Do not make this mistake. Begin using a superior knowledge builder like Heroic KB now and take your customer satisfaction to new heights.