How to Prompt Users to Read Support Content (Before Reaching Out to You)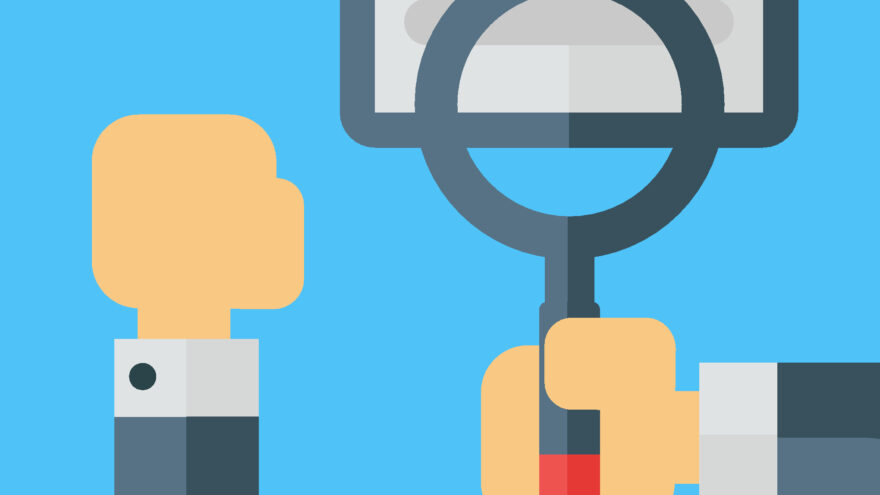 What is the ROI of your support content? To answer, try filling out this sentence: "My support content saves me ___ tickets each week. Thus saving me ___ hours every 7 days, which is like freeing up ____ days a month."
Now, if you realize while answering that you aren't saving much time with your support content, then perhaps you aren't leveraging it.
Here's the thing with such content:
Unless it gets read, it will NOT help bring down your support team's workload and will have little or no ROI.
Look at it this way – every time a user contacts you about something that's already covered on your site, they're costing you time. And when lots of people do it lots of time, it's a SIGN that you need to ASK them to go and read the help material FIRST.
Luckily, getting customers to do so is easy. The following 3 ways go a long way in inspiring users to access self-help channels before contacting support.
1. Tell users about your help content
The biggest reason that customers fail to find help in your help content is perhaps because they don't know it exists.
And you aren't entirely to blame here:
Maybe when you started out, you didn't need a full-blown self-help channel like a knowledge base. However, as your user base grew and you discovered your users' most taxing questions, you decided to create one.
But that's not enough … because your users still don't know about it.
A good way to inform them is to send an email.
For example, if I had to write such an email for HeroThemes, I'd write something like this:
Hey there,

Thanks for being a HeroThemes user.

We're thrilled to have you!

We know setting up useful support content can be demanding. You might need a little help here and there. While we're just an email away, we'd certainly not want you to have to WAIT at all.

So, to make HELP available instantaneously, we've put together an exhaustive Knowledge Base. It has all your questions neatly categorized for quick access. Plus, there's a search option for finding topics lightning fast.

Oh and yes, if you have any question, check out our FAQs. Start by searching for your question – chances are, the answer's already there.

For anything that's not covered, you can raise a ticket via herothemes.com/support

Cheers
HeroThemes' Support Team
2. List your help content under the "Support" menu label
Almost all businesses that offer support include the item "Support" in their site menus. Mostly, clicking on this menu item takes people to a page from where they can raise support tickets. (Look at the following screenshot from WPEka's support site, for instance.)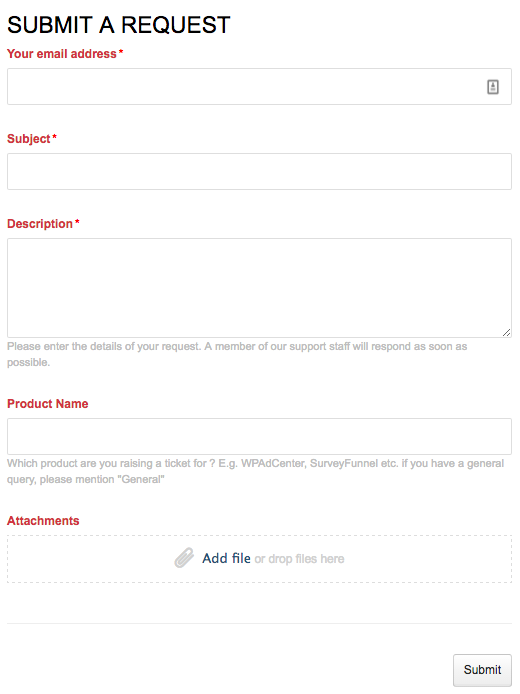 Now, the problem with this approach is that it doesn't help users help themselves.
It's not that these sites don't have support content. They do. But mostly this content is buried under some random footer menu items like "Documentation", "Help articles" and more, which we'll all agree aren't as clickworthy as SUPPORT.
So, instead of making your support menu item lead to such a page, make it point to a page with links to your support content (and a provision that lets people raise tickets). Basically, we're trying to take the spotlight away from the "Raise ticket" option.
For example:
On HeroThemes, we use the menu label "Support" to lead people to our support content page.
This works for 2 reasons:
The big search bar prompts visitors to search for a solution themselves.
Links to the knowledge base and documentation act as cues for the users to find their answers on their own.
And then, maybe, as the last resort, they can use the "Submit A Ticket" option.
If we used the Support menu item for just showing the ticket submission page, it would be unlikely that our visitors would try to resolve their issues on their own.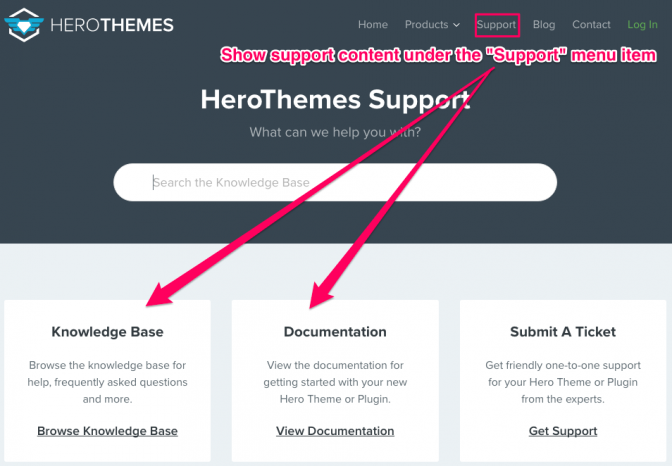 Also, please note the layout of our support page – it's one that stresses on the self-help support channels.
Remember: Your support content page's layout is as important as your support content. To recreate our elegant support content experience, get our Knowledge Base plugin — it's designed to help you maximize self-help channels.
3. Direct readers to support content in all support interactions
As soon as I sat down to write this post, I remembered about a chair that I recently ordered (I'm redoing my workspace and had ordered the chair for the same.) Ever since I placed the order, a question was bugging me – I wanted to know if the store arranged someone to assemble it or if I had to find help on my own.
So before writing, I went to the site, logged into my account, and clicked on the live chat button. Within a minute, a friendly agent responded to my request. Here's how the chat session went:
Me, "Hey I just ordered this chair (my order number) and wanted to know if you'll arrange the assembling."
Agent: "Sure, please give me a few minutes."
After 2 minutes…
Agent: "Thanks for waiting. I just saw your order, and yes, we do arrange the assembling service for the product you ordered in your area."
Me: "Great – thanks so much!"
Agent: "Happy to help. If you've any such questions about assembling for your future orders, please visit this help content (link). It lists all the products and areas for which we provide assembling services. Thanks for reaching out."
Wow!
The support agent prompted me to read the support content before reaching out. Thanks to her little prompt, I'm now going to refer to the resource she shared whenever I order new stuff.
If you too want to save precious support hours, become smart. Just like the agent from the above instance. Ask your readers to READ the self-help material before requesting help in all your support interactions.
In addition to explicit requests, you can also add gentle reminders on the page that users contact support from. Just like we've done: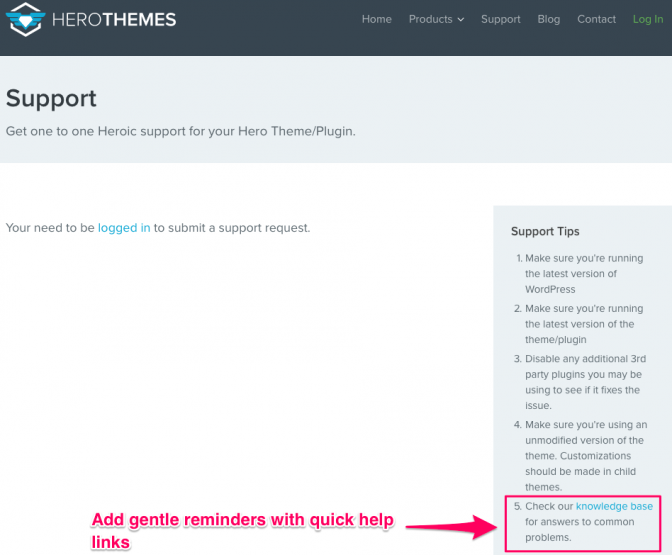 Conclusion
Investing in self-help channels pays off because they're the new-age customers preferred channel for accessing support. They also provide the fastest means of offering support — one without the delays that long email exchanges cause.
But for self-help content to work, you need to get people to read it, which you can do with the above tactics.
Have you ever been asked to read through FAQs or other similar content when you reached out for support? Do share in the comments!