How To Build A Customer Engagement System In WordPress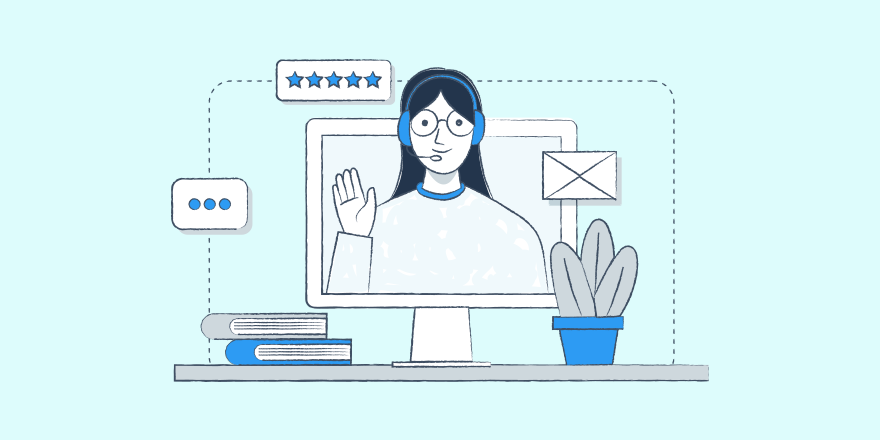 A customer engagement system that does its job well cradles your customer experience with care, delivering bundles of ROI through loyalty & repeat purchase.
Are you looking to implement a customer engagement system that can transform your business fortunes?
Then this article has the blueprint for achieving exactly that.
Within the next few minutes, you'll discover how to transform the world's most popular content management system (CMS), WordPress, into a feature rich customer engagement system.
And here it is…
Introduction
The personal touch.
By far the most powerful sales and marketing tool.
(And yet perhaps the most underrated.)
This perfectly sums up customer engagement in a digital marketing sense.
But traditionally, quality service delivery was alway fronted by an expert customer engagement specialist.
Take the hospitality industry for example.
Hotels, to be specific.
Consider the concierge. A concierge performing a front-of-house masterclass with customers can single-handedly generate a hatful of repeat business for the establishment.
A customer engagement goldmine, if executed well.
But how many hotels make use of this advantage? Well, actually, much fewer than you'd think.
"…[only] an estimated 1.9% of luxury hotels in the US employ concierges."

As of 2013, 50% of guests used the concierge in their hotel, despite a surge in usage of online or app-based concierge services."

(Source: Ask Wonder quoting .TR Market Research, and Les Clefs d'Or.)
The personal touch works. Customers always prefer it. Vendors (of all kinds) should trust in it more.
But what about when face-to-face interaction is not possible?
Do customers operating within the digital landscape expect the 'concierge effect'?
Taking a look at a data-driven answer, we find…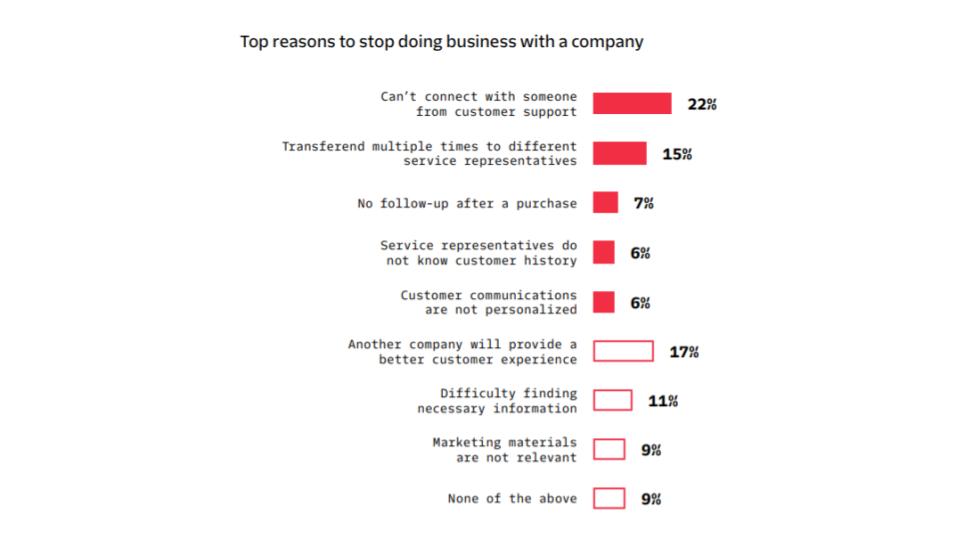 The evidence above from Twilio's State of Customer Engagement Report clearly indicates that even via a computer or phone customers we're all hard wired to want to relate.
All understood, but where businesses have adopted mass marketing methods as a substitute for frontline staff coverage…
…how can personal customer engagement be accurately replicated?
Returning briefly to our example of hospitality, we ask the former world no.1 hotel concierge Frank Laino – what the secrets to his success are:
"An ability to listen and have empathy with the guests. Guests often do not know what they want; they might be jet-lagged and stressed. Be resourceful, which requires a good network and a determination not to take no for an answer. Be a rounded, balanced person—never stop learning. Have the ability to engage clients in intelligent and informed conversation. But never be opinionated."

(Source: Conde Nast Traveler)
In short, you've got to be consultative.
Good consultants (in all trades) take the time and effort to:
really qualify what a client needs
discover how they can be of help
consider who or what they would recommend
be a champion and 'win' for your client
learn more
relate well
Now, returning to our digital perspective, how can we design a customer engagement system that does by email, let's say, the equivalent of what Frank does in the hotel lobby?
To reiterate Frank's model, we've got 3 primary steps:
Listen and learn
Keep many options and solutions to hand
Hold meaningful conversations
It all begins with listening (or consultants would say):
Qualifying.
And digitally, this translates to data.
Through data acquisition and analysis, companies are able to gain detailed customer insights from which to demonstrate genuine empathy and present solutions.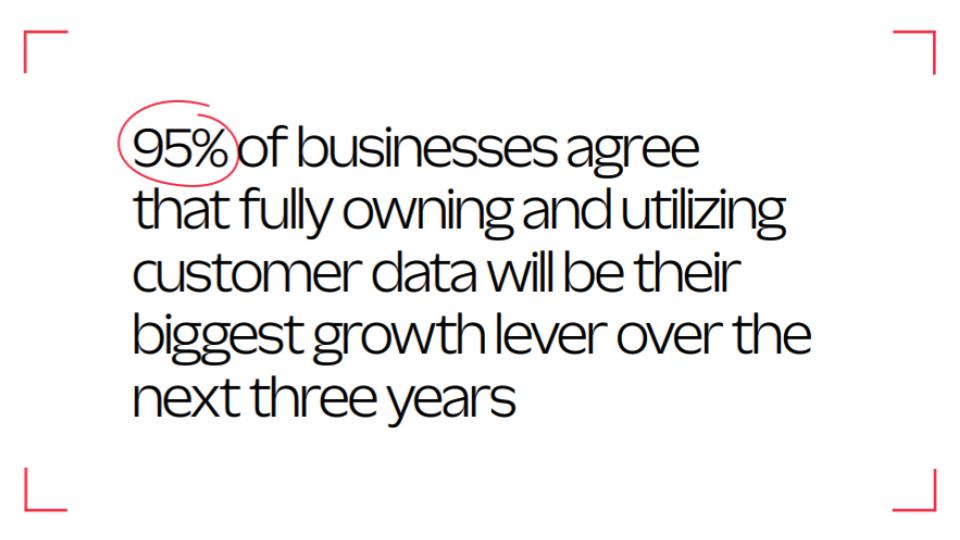 So most businesses agree that fully owning and utilizing customer data is key to converting more business.
But revising the sentence above, the word 'data' jumps out as being the subject, but owning and utilizing as the operative words. And that's the tough part: 'owning' customer intelligence and then putting what you have to good use.
So, what is meant by owning?
As is the case with most businesses, customer data is often held on multiple disparate systems.
It's hardly ever all in the same place.
The first step is therefore consolidating your data.
Once achieved, with all data sitting in the same place, your following priority is to connect the dots.
Unconnected data is meaningless. Connected data, on the other hand, is meaningful.
(And as customer relationships ought to be meaningful, you must therefore get your data…connected.)
To establish 'well thought out' connections between our related data points, the first step is segmentation:
"Customer segmentation is the process of dividing customers into distinct, meaningful, and homogeneous subgroups based on various attributes and characteristics. It is used as a differentiation marketing tool. It enables organizations to understand their customers and build differentiated strategies, tailored to their characteristics."

(Source: O'Reilly)
Once segmented, your customer data can be manageably investigated and interpreted by trends and patterns observed.
Armed with some informed logic, next is digging deep and getting resourceful.
This is where as businesses we should make the most of our creative license to 'solve' and advise customers of the best route to overcoming their problem.
Again, referencing our award-winning concierge, Frank Laino, opinionated discourse will damage trust and may even offend.
Maintaining professional discretion at all times is key to demonstrate:
You have the customer's best interest at heart, and;
You respect the customer's ability and sovereignty in making their own decisions
If your job was executed successfully (and your business's solutions offer best value) – your engagement should bear abundant financial fruit.
Repeat purchase
Upgrading of products/services
Complaints dropped and customer retained
These points above are only just a few benefits of delivering excellence in customer engagement.
Now, as mentioned before, customer engagement in a digital sense (remotely and not in person) requires a systematic approach.
And speaking of which – deciding on the right customer engagement system can be quite a complex process.
So, gladly, at your service, we've put together a guide for building your own tailor-made customer engagement system using the world's #1 web builder, WordPress.
A Guide To Building A Customer Engagement System Using WordPress
What is a customer engagement system?
A customer engagement system is a software that helps businesses makes sense of their varied customer data and gain a unified view and rounded understanding on how best to serve them.
At the heart of a customer engagement system is a central database that acts as a central repository for all 3rd party data sources.
Coupled to the database is an integrated assortment of software helpers that collaborate to perform necessary:
data management,
processing,
analysis, and;
customer communications
Why is customer engagement software important to the success of your business?
Customer engagement software makes it possible for businesses to engage personally with customers – without the need for having met them personally.
Using a combination of:
data sources,
processing programs and
communications channels
…customer engagement software aims to produce a seamless commercial conversation that builds upon understanding and leads to best customer outcomes.
With a personal, meaningful engagement at every touchpoint throughout the customer journey, businesses can achieve:
Longer customer retention
More upsell and cross sell closes
Increased customer loyalty
More customer recommendations
Better reviews
More customer feedback
Greater profitability
These are only some of the benefits experienced by businesses that successfully implement customer engagement systems.
4 winning features of an effective customer engagement system
As indicated in the sections above, a customer engagement system is a connected solution rather than a single software.
That said, it does have some common features which apply to most applications.
Here is a quick breakdown of the typical components that comprise a customer engagement system:
CRM database
This is the anchor for the entire solution. Aside from being a storage facility for the entire system, the CRM also should also possess some innate functions that assist staff to query, organize and utilize customer data in a variety of scenarios.
Views, dashboards and reports are also an advantage as they provide managerial level snapshots of customer segments and cohorts.
Help desk
Essentially, a shared inbox which acts as a central exchange for all customer support tickets.
This is the email handling center of the platform keeping tabs and a continual thread of written customer communications initiated via support avenues.
Self-service knowledge base
Knowledge resources are critical to delivering value to customers. They need to know 'how', 'where', 'when', 'which' – they might have so many questions relating to the use and value of your products and services.
Publishing a knowledge base with answers, tutorials and in general 'answers' to customer questions prevents costly duplication of content and provides a pre-made convenience for agents and customers alike.
Web chat
LIVE web chat is a very effective substitute for telecommunication online. In fact, it often performs better than a phone call in that:
the waiting times can for web chat can be shorter
you have the advantage of visual cues like screenshot or sharing docs
you have an auditable record of the discussion to review
Much of the advice given within a web chat dialogue can actually be AI generated limiting agent interaction only where it is necessary.
By no means are the components above supposed to represent a comprehensive array of customer engagement software programs, but rather regular players in the line up.
3 essential plugins for building a WordPress customer engagement system
Just in case you were wondering, why WordPress? First, hear our reasoning…
A critical feature of a customer engagement system is integration. Although in practice the system is a composite, made of many parts – the benefit it is purposed to deliver is a single, unified intelligent conversation with customers.
Therefore, the solution has got to gel together. And there can't be any schisms.
In all honesty, it's better to accept the limitations of an incomplete system, than try to force a system that tries to go beyond its capabilities and repeatedly drops the ball.
(i.e. underpromise and over deliver vs. overpromise and disappoint)
So, a core competency of any customer engagement system is integration.
It's got to link up with and maintain watertight joins at the junctions between parts.
For this reason, we recommend WordPress – the world's #1 web builder and content management system.
Why a web builder?
Most of the 3rd party data sources if not all will be cloud-based.
Therefore, a web application that can plug into those sources via API and connect the data dots is mission critical to establishing data utility.
And at its heart, WordPress is a great web-based integration platform.
With an ecosystem worth $596.7 billion made up of development vendors including hosting and plugin vendors, WordPress presents a rich digital realm of functional flexibility for your customer engagement project.
Plus, it's open source and available on General Public License which means there is no limit to how you might adapt the code to implement custom changes to suit.
That's the general advantage of WordPress in a nutshell.
But it doesn't stop there.
WordPress also possesses some very specialized functions that more directly relate to customer engagement – by proxy of some premium plugin extensions…
..and here they are:
Heroic Inbox
We begin with the Heroic Inbox plugin. It's the premium shared inbox solution for WordPress projects. It's essentially a natively in-built solution for bringing together customer support emails into one neat place for your agents to handle. It comes with time-saving features like autoresponders and resource managing control mechanisms like allocation rules.
Use the Heroic Inbox for collaborative email workflow between support staff, conveniently tucked away behind your WordPress admin dashboard.
Heroic Knowledge Base
Heroic Knowledge Base plugin is the forerunner amongst WordPress knowledge base plugins. With over 27,000 sales and a comprehensive array of features that not only make your institutional knowledge accessible and easy to find, but also help you see round corners on content creation with null search reports – the Heroic Knowledge Base is the winning choice for your WordPress project.
Use the Heroic Knowledge Base to install a highly indexable repository for holding advantageous knowledge resources for both your support agents and customers alike.
Gravity Forms with Gravity Bot
Gravity Forms plugin is the axle that turns many a data collection process in WordPress projects worldwide. Since its launch in 2008, Gravity Forms had not only earned a reputation for being a pioneer premium plugin across all categories, but also (as held until this current day) the leading form builder for the WordPress platform.
However, Gravity Forms is much more than a form builder. It's a framework that acts as a multi-faceted tool for receiving user inputs and processing submissions into meaningful outputs of various kinds. With Gravity Forms you can therefore build CRMs, ERPs, inventory management systems, learning management systems, ecommerce stores and more…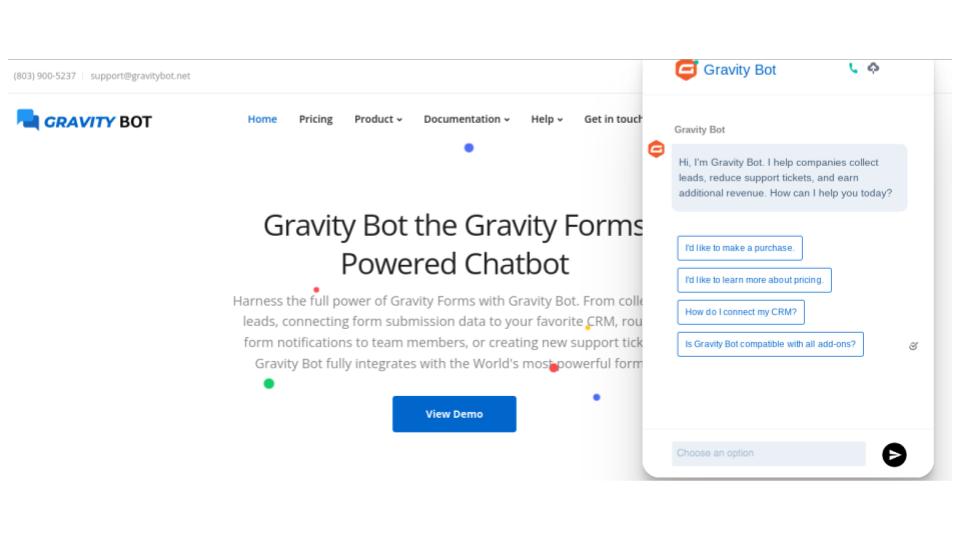 Gravity Bot plugin is a chatbot extension of the Gravity Forms plugin. Leaning on the in-built conditional logic of Gravity Forms, Gravity Bot mimics an AI-responsive chatbot software with integrated web form / data collection enabling customers with the ability to escalate their problem.
Use the Gravity Forms and Gravity Bot plugins to install a highly indexable repository for holding advantageous knowledge resources for both your support agents and customers alike.
Conclusion
So, to round off – a customer engagement system will assist you in delivering a personalized customer journey, every time.
Built around a connected, single database the system provides a reliable means of nurturing customer relationships to maximum profitability and satisfaction.
The good news is…
… you need nothing more than just your very own WordPress website to implement and with plugins for extended functionality – there is no code necessary for most applications..
Why not get started today?